7 Highest-Quality Frozen Seafood Brands
Dietitians recommend these trusted brands.
There is a certain stigma around frozen foods–and particularly frozen fish. Consumers often assume that it is somehow inferior to fresh seafood and that it offers less in the way of health value. And it's easy to understand where they're coming from: the copious amounts of heavily breaded fish sticks, which often take over the freezer aisles, can skew this perception.
But, the scuttlebutt now is that frozen fish and seafood can be just as high quality and tasty as fresh if you know how to choose wisely. Not to mention, frozen seafood can be stored for much longer, giving it an unbeatable convenience factor.
If you find yourself confused when trying to decide which frozen seafood brands to purchase, follow the advice of Lisa Young, PhD, RDN, internationally recognized nutritionist and author of Finally Full, Finally Slim. Her top recommendation is to always read the packaging for various hints about where and when the seafood was sourced.
"The first thing you can do is look to eco-labels," Young says. "This will vouch for the best freezing process when the fish was caught. In particular, look for the Friend of the Sea and Marine Stewardship Council stamps—these companies certify sustainably sourced fish that meets the highest quality standards."
Additionally, opt for locally caught fish when possible, or fish sourced from areas within the United States such as Alaska, the Gulf of Mexico, or the Gulf of Maine. Registered dietitian Amy Goodson, MS, RD, CSSD, LD echoes this point, also noting that "the United States has the world's strictest, most highly regulated fisheries." So your catch of the day is less likely to include harmful chemicals like mercury and will be an overall more sustainable and healthy choice.
How your fish was frozen is additionally just as important as where it was caught. "To further understand the quality, you can look at the labels for how it was frozen," Goodson continues. FAS stands for Frozen at Sea and, according to Goodson, is the ideal fish to buy because it was frozen right on the boat it was caught, resulting in optimal freshness. "You may also see labels such as 'previously frozen,' which means it was frozen when caught and then thawed, processed, and re-packaged in a factory, resulting in some quality loss.
Be sure to select frozen fish and shellfish packed in a close-fitting moisture-proof package with no signs of funky odor, freezer burn, ice crystals, or discoloration.
Here are the top dietitian-approved seafood brands you can trust.
Sam's Choice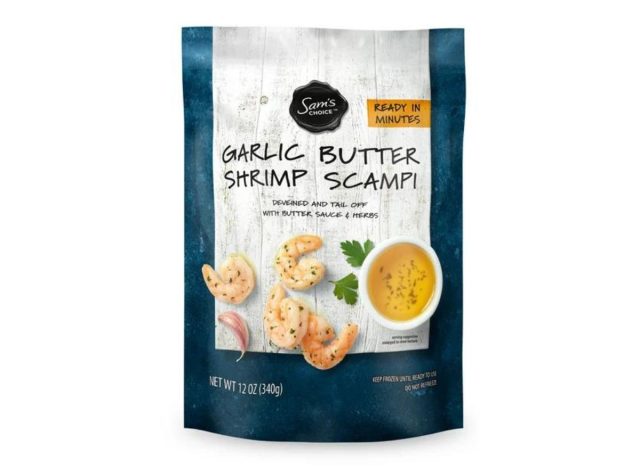 Young says that the brand Sam's Choice–sold at Walmart–makes a splash and, specifically, the brand's selection of wild-caught fish from Alaska has caught her eye. She explains that the frozen fish is always sustainably sourced and since it is wild caught–meaning it was caught in a natural habitat like a lake or ocean–it tends to be higher in omega-3 fatty acids and other essential nutrients like zinc and iron.
"The reviews for this fish show that it is a great product that tastes high quality," she adds. "Alaska's state policy focuses on sustainable and wild-only fishing practices so you know you will be eating the highest of quality when choosing Sam's choice."
In addition to wild-caught Alaskan fish, Walmart also carries a wide variety of other seafood under the Sam's Choice name including all-natural mussels, cold-water lobster tails, snow crab legs, sea scallops, and more.
Orca Bay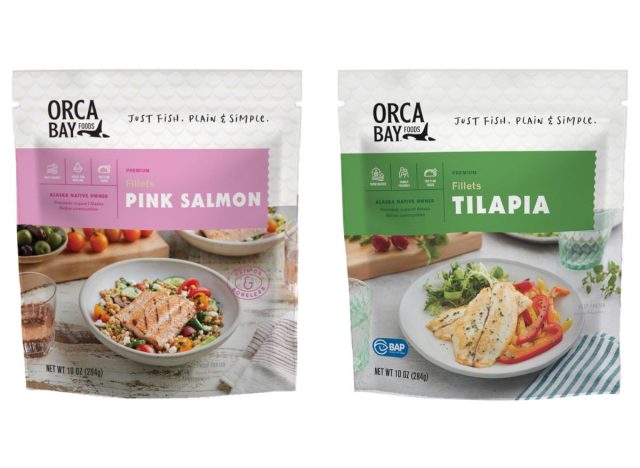 Young champions Orca Bay products for similar reasons as Sam's Choice. The company holds itself and all its suppliers to high standards and adheres to the rules and regulations set by the Marine Stewardship Council (MSC), Best Aquaculture Practices (BAP), and the Alaska Seafood Marketing Institute (ASMI).
Orca Bay provides a diverse lineup of seafood options with something for everyone. It even has pre-marinated and seasoned frozen fish options that make for the ultimate quick and easy meal. If you're dipping your toe into the Orca Bay brand for the first time, Young suggests going with a classic like the Alaskan Cod fillets. "This non-GMO sustainable option is great as it was wild caught in Alaska, " she says. She also mentions that this choice is a crowd favorite because the fish is both juicy and dense while the breaded exterior achieves the perfect degree of flakiness.
Amazon Fresh Brand
You order everything else you need from Amazon, so why not give their frozen fish a try too? Amazon carries groceries across every product category and even throws its own products in the ring under its Fresh Brand.
Young has found a hidden gem among these items in the Fresh Brand Wild Caught Yellowfin Tuna Steaks, and she's certainly not the seafood's only fan. Amazon didn't even have to fish for compliments, customers were quick to praise the tuna, and it has earned a 4.6 out of 5-star rating from over 2,600 reviews.
"These tuna steaks are high quality, hand-cut fish that has been flash frozen," says Young. "Moreover, they are wild-caught and sustainable. This fish is ranked pretty high as customers said it was extremely fresh tasting for a great price."
The tuna is additionally phosphate-free, stamped with an MSC certification, and comes both skinless and individually vacuum sealed for convenience.
Vital Choice
Vital Choice is another noteworthy option if you're looking to reel in a great catch without ever leaving your house. The brand is actually a delivery service, under parent organization 1-800-Flowers.com, Inc., and is "a trusted source of premium sustainably wild-caught fish and shellfish from around the globe, along with a growing list of organic fare and marine-derived nutritional supplements", according to its website.6254a4d1642c605c54bf1cab17d50f1e
All fish and seafood from Vital Choice is wild-caught, making it non-GMO and free of any antibiotics or pesticides. Plus, many options are MSC-certified, and the company also adheres to the standards of Friend of the Sea–a project and certification process of the World Sustainability Organization which promotes sustainable fisheries and seafood.
When Young shops the Vital Choice brand, she tends to go for the wild salmon. "This salmon is flash frozen and vacuum packaged," Young says. "Flash-freezing is essential to avoid the formation of ice crystals, which can indicate that the fish has been refrozen or frozen for long periods of time; this is not a good quality fish. So choosing Vital Choice wild salmon you know you are making a smart choice in your fish."
Morey's Fine Fish and Seafood
In Goodson's opinion, a different player in the fish game reigns supreme. "Morey's Fine Fish and Seafood is the best-frozen seafood brand," she asserts. "They offer four different types of fish: salmon, tilapia, flounder, and cod, with multiple flavor profiles. Morey's gets my pick as the best because of their variety of products, rigorous standards, and high levels of sustainability from their supplies. Nearly all of their wild-caught salmon, which accounts for 60% of their products, is sourced from suppliers certified by the Marine Stewardship Council."
What's great is that the pre-marinated frozen fillets come individually packaged and can be cooked thawed or from frozen–so the easily forgotten task of taking the fish out of the freezer ahead of time will no longer delay dinner.
Morey's is part of the Seapak family, the "#1 retail brand in the frozen specialty seafood category", according to its website. You've likely seen both brands if you shop at major retailers like Kroger and Walmart.
The Better Fish
"The Better Fish goes toe to toe with Morey's concerning sustainability and standards," Goodson says. "In fact, Better Fish is the first ocean-farmed fish to receive the Monterey Bay Aquarium Seafood Watch best choice rating."
Goodson reveals that she placed Better Fish in her number two spot only because it offers only one variety of fish: Barramundi. Although it's true that Better Fish lacks in the diversity department, it has truly mastered its art and is continually striving to turn more people onto this sustainable yet less mainstream fish option.
Barramundi is a kind of Asian sea bass which has a mild, "approachable" taste, as Better Fish puts it, with just half the calories of salmon. It is also free of mercury, antibiotics, and hormones, and is responsibly caught through ocean farming. Find flavors of the Barramundi like Tuscan Herb Butter, Garlic Teriyaki, or even Crispy Fish Tenders at stores like Whole Foods, Sprouts Farmers Market, Albertsons, or Safeway.
Open Nature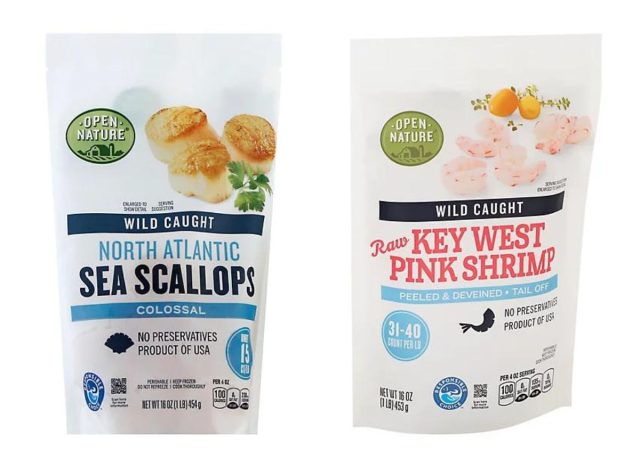 If you shop under the Albertsons banner at stores such as Safeway, Vons, Acme, or, of course, Albertsons, then high-quality frozen seafood has been right under your nose. The company's Open Nature brand provides earth-friendly and wholesome foods that contain no artificial coloring or preservatives, no antibiotics, and no added trans fat–making it an option that dietitians can be proud to recommend and eat themselves.
"Open Nature comes in at number three," Goodson says. "Open Nature's mission is to provide high-quality, minimally processed products, and their seafood options are all wild-caught, which many believe has a better taste profile."
While not all Open Nature products disclose the exact geographical region where the fish was sourced–Goodson's reason for the lower overall spot–all packages do reveal that they are a "Product of the USA" and most are also marked with a Responsible Choice logo.