10 Store-Bought Juices Made With the Best-Quality Ingredients
Don't fall for phony fruit drinks. Check this list of delicious real juices that are rich in nutrients.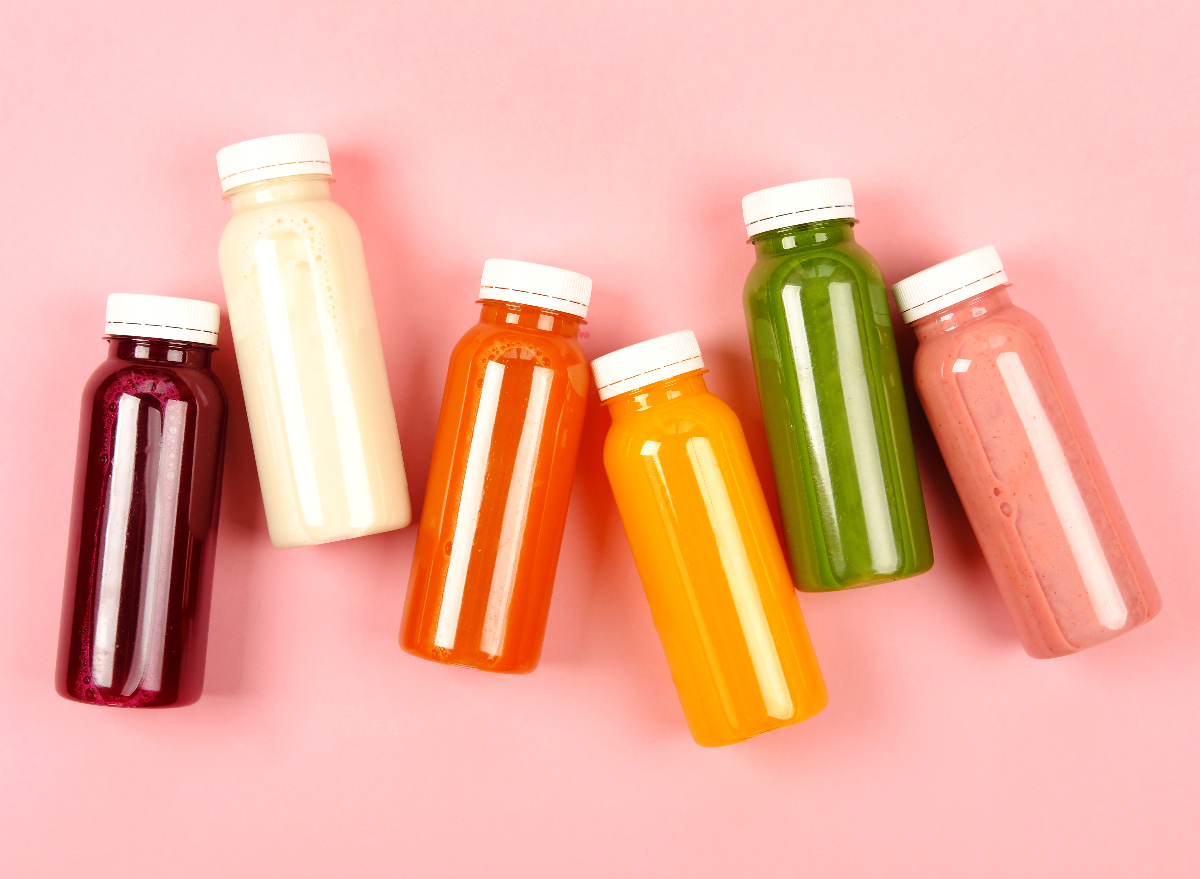 The product recommendations in this post are recommendations by the writer and/or expert(s) interviewed and do not contain affiliate links. Meaning: If you use these links to buy something, we will not earn a commission.
It's a topic of contention, but opting for a glass of apple juice over a crisp, shiny apple can be a common pitfall of "healthy" eating. The reason? Most juices are missing all the fiber and are topped up with sugar to make the drink more delicious, but less nutritious.
By now, you've probably heard that it's better to eat your fruits and vegetables than to drink them. But that doesn't mean that all juices should be considered unhealthy. In fact, they can still be a part of a balanced diet—as long as you know what to look for.
"Since only 10% of Americans are meeting the recommended amounts of fruits and vegetables every day, leaning on 100% fruit juice can help people fill nutritional gaps," says Lauren Manaker, MS, RDN, registered dietitian and author of The First Time Mom's Pregnancy Cookbook and Fueling Male Fertility. "People may be turned off by juice because of the lack of fiber, but that shouldn't be the reason to avoid these juices, as they contain micronutrients and plant compounds that many of us can use more of."
When it comes to picking the right juice, though, it's not always straightforward. There are certainly many options that aren't particularly worth it. Many juices will concentrate all the sweetness and flavor of fruits and vegetables without providing any nutrients. Some even include preservatives and additives that outweigh the potential benefits, so choose wisely.
"The best ingredients would include more whole fruit or fruit juice and as little added sugar as possible," says nutritionist and adjunct professor Lisa Young, PhD, RDN, author of Finally Full, Finally Slim and The Portion Teller Plan. "Any real juice would be better than something with sugar added. So grape juice would be better than a grape cocktail with added sugar. And the fewer ingredients, the better."
Seeking out real, natural juice often means you should look for "cold pressed," indicating that the juice is produced without heating, which helps to preserve more nutrients. It also means you should read the ingredients list and avoid anything artificial, like colors or flavors, according to Manaker: "While there are many fruit 'drinks' out there, not all are packed with nutrients."
If your goal is to drink more of your daily nutrition, here are the dietitian-approved fruit and vegetable juices you should look for on store shelves. These options are nutrient-rich, are lower in sugar than conventional drinks, and have minimal added ingredients.
Uncle Matt's Organic Juice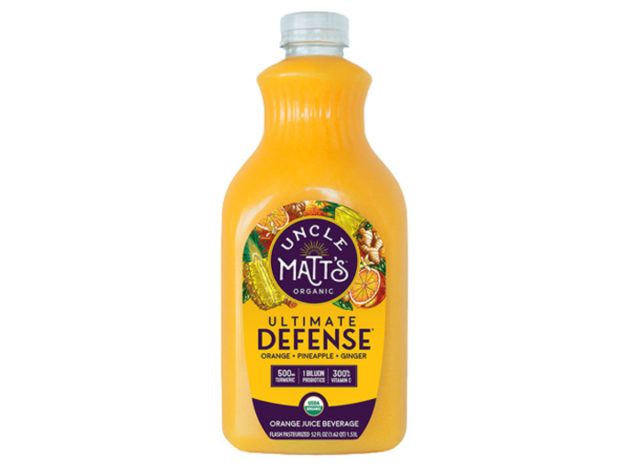 If you want a built-in vitamin kick with breakfast, swap your morning OJ for this health-supporting alternative from this organic-first company. Uncle Matt's specializes in juices that are 100% organic and free from synthetic pesticides, GMOs, and glyphosate residue, like this Ultimate Defense orange juice, and it's something that Manaker reaches for in her own kitchen.
"This juice has 1 billion live probiotics plus lots of other anti-inflammatory ingredients like turmeric, ginger and pineapple," Manaker says. "Plus, it's boosted with 300% of your RDA for vitamin C. It's so delicious and really packs a powerful punch of nutritional benefits."
And if you feel like you're coming down with a cold, you can try Uncle Matt's Ultimate Immune, which is full of antioxidants and key vitamins and free of pesticides and artificial ingredients, so you don't have to worry about consuming harmful toxins and chemicals, adds Young.
"As another immune health-supporting OJ, this organic juice is made with organic orange juice, organic elderberry, and a boost of the immune health-supporting nutrient trifecta—vitamin C, vitamin D, and zinc," says Manaker. "No added sugars or anything artificial makes this drink a go-to in my home. Bonus? The added elderberry makes this drink the most beautiful purple color, resulting in a uniquely-colored drink that my whole family loves."
You can find these on the brand's online store, but Uncle Matt's is also available at grocers nationwide such as Whole Foods.
Suja Organic Probiotic Juice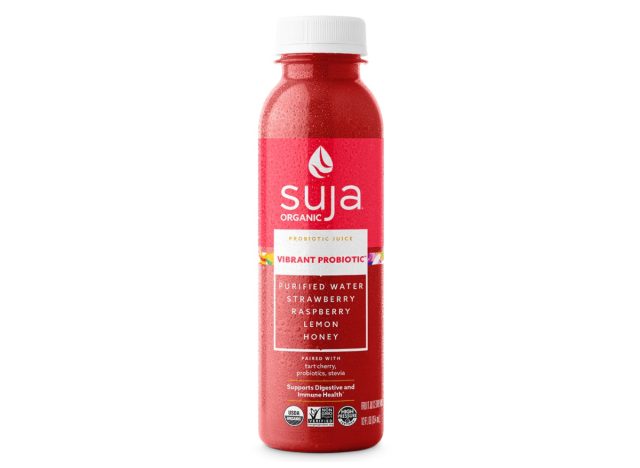 For a juice that does it all, Suja has a high-quality option that's also good for your digestive system. The company says they use "innovative High-Pressure Processing (HPP) instead of heat, to help maintain the nutrients and fresh taste, while also extending our products' shelf life without using preservatives," according to its website. Because it's not heat-pasteurized, you're more likely to reap the benefits of the added probiotics.
"This is a great healthy drink option, since it contains probiotics which are essential for gut health and keeping our immunity strong," says Young. "It also contains organic fruits and vegetables, which increase the vitamin and mineral content of this drink. This beverage contains no additives and will keep you hydrated due to its purified water."
Find Suja at supermarkets like Target, Whole Foods, and others.
POM Wonderful
Pomegranates not only taste delicious, but their powerful polyphenols can also help fight free radicals, improve blood pressure, and reduce inflammation. As the "first premium, natural pomegranate juice made exclusively from California Wonderful pomegranates," according to its website, POM produces juices from this superfood with high-quality and local sourcing. And most importantly, POM doesn't add any sugar or synthetic ingredients to its product.
"POM Wonderful 100-percent pomegranate juice is whole-pressed to release the polyphenols in the rind, pith and arils, to optimize its potential antioxidant benefits," notes Manaker.
If you're a fan of other types of healthful fruits, POM also carries a blend with blueberry and another with cherry, both from concentrate. "This juice is rich in antioxidants, which is essential for our immune system, as it can reduce the risk of many chronic health conditions, as well as fight off free radicals," says Young.
You can find POM juices at most grocery stores.
Sunsweet Growers Amaz!n Prune Juice with Lemonade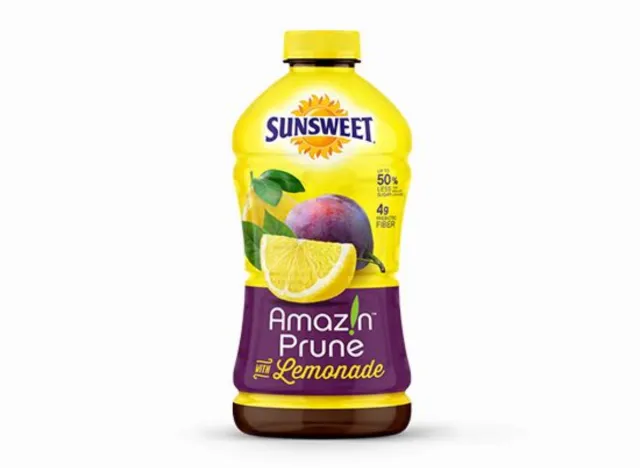 Prune juice is great for your health, as it's a source of potassium, vitamin C, and zinc. And when you want to support your gut wellness, you should reach for this Sunsweet option, since it leaves out the added sugar and includes four grams of dietary fiber. Plus, the lemonade mix-in makes it extra palatable.
"Prunes are packed with bone health-supporting nutrients and prune juice has been linked to digestive health," says Manaker. "Adding lemonade adds a unique zing to this prune juice….but with only 50% of the sugar you typically get in a lemonade."
You can buy Sunsweet at most grocers, including Target, Walmart, Jewel Osco, and Wegmans.
Bolthouse Farms Juices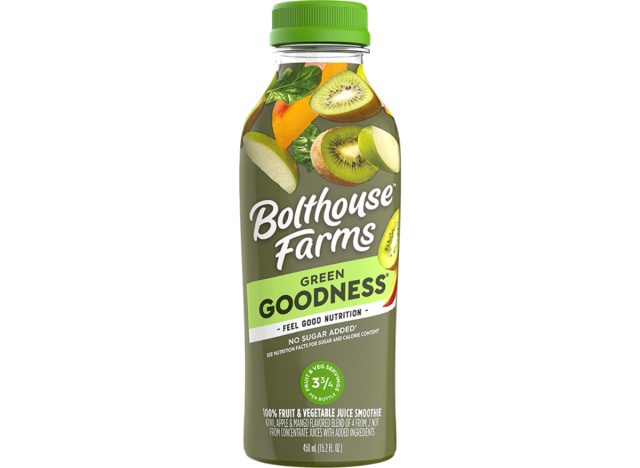 Originally a carrot-farming company, Bolthouse Farms now specializes in healthy beverages, and it's one of the best quality options for getting your daily dose of fruit and vegetables in a bottle. Just look at smoothies like its Green Goodness, a combination of fruits and spinach, with three grams of fiber and no added sugars.
"Vegetable juice can be a convenient way to sneak in key nutrients, especially if people are falling short on their fresh veggie intake," says Manaker. "Many veggie juices are packed with added sugars, but this one leans on the natural sweetness of fruit juice. Each bottle provides over three fruit and veggie servings, and it is made with only high-quality ingredients."
For a strictly vegetable juice option, Manaker recommends the 100% Carrot Juice. With only 13 grams of total sugar, 1 gram of fiber, and one single ingredient, this drink is also free of GMOs, preservatives, artificial colors and flavors, and added sugar. "If you have a hard time eating enough veggies, drinking carrot juice can help fill your nutritional gap," she notes. "Made with 100% carrot juice, this drink is packed with veggie goodness in every sip."
Bolthouse Farms drinks are sold at stores nationwide, such as Target and CVS.
Evolution Fresh Organic Super Fruit Greens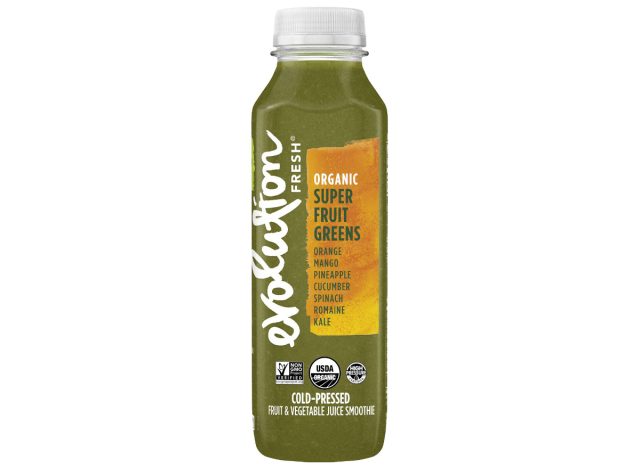 If you frequent Starbucks for your coffee fix, you've probably seen these juice bottles in the refrigerated section. This top-tier beverage is made up of a mix of vitamin-packed fruits and vegetables, like orange, mango, spinach, romaine, and kale, along with two types of supplemental algae. "This juice actually provides fiber—two grams per serving to be exact—and it packs in nutrient-dense ingredients like chlorella and spirulina that most of us can benefit from," says Manaker.
This one is sold mainly at Starbucks locations, but you may find it at other stores like CVS.
Wtrmln Wtr Watermelon Cold Pressed Juice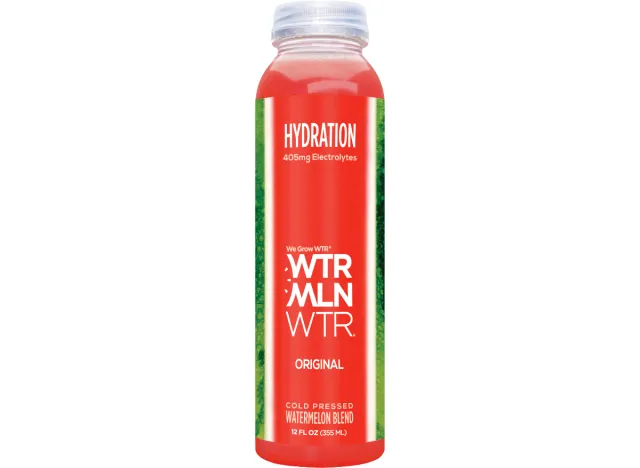 Nothing is better on a warm, summer day than this refreshing fruit, and when you're flitting between errands and the gym, you can take this drink on-the-go. It's a blend of watermelon, filtered water, and lemon juice that contains natural electrolytes and no added sugar.6254a4d1642c605c54bf1cab17d50f1e
"Watermelon is a hydrating fruit, thanks to the electrolytes that it provides," says Manaker. "This juice is made from real watermelon, fueling the body with hydrating nutrients that can help support our health." Just make sure to keep it cold, because the juice is cold-pressed, and it doesn't include preservatives, so it's as fresh as it gets.
Wtrmln Wtr juice can be found at Target, Whole Foods, Walmart, and other large retailers.
V8 Low Sodium 100% Vegetable Juice
When you think about vegetable juice, V8 probably comes to mind. While some of its flavors should definitely be skipped at the store, this 100% juice gets the seal of approval from Young, especially because it only has one-third of the sodium content you'd find in regular vegetable juice.
"V8 is my favorite go-to. Because [vegetable juice] is high in sodium, I opt for low sodium. This juice is a great healthy option as it contains a variety of nutrients, similar to the ones you'd find in whole vegetable form," says Young. "V8 juice contains mostly tomatoes, carrots, beets, celery, lettuce, parsley, spinach and watercress. Additionally, this juice has no added sugar, which makes it a healthful drinking beverage."
V8 can be purchased at most supermarkets, like Walmart and Target, as well as convenience stores like Walgreens and CVS.
Garden of Flavor Turmeric Tonic Cold Pressed with Living Raw Probiotics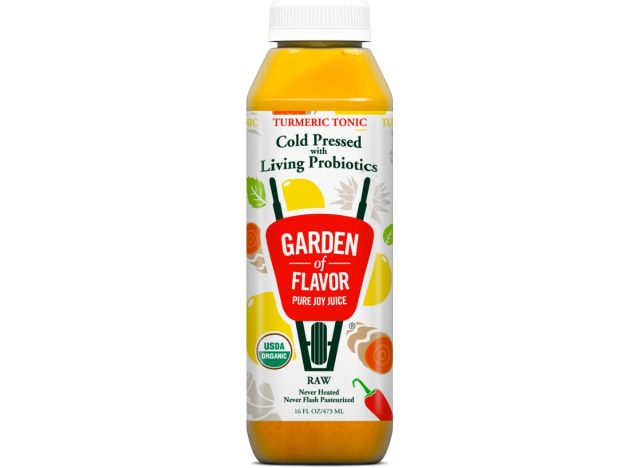 The name of this drink evokes freshness, and that's just what you'll find in the anti-inflammatory, gut-healthy juice. All of the ingredients are organic, and the Hawaii-grown turmeric root is juiced whole, according to the Garden of Flavor website. It also includes 1 billion CFUs of probiotic cultures to keep your digestive system balanced.
"These juices are made through a slow, cold-pressed process, which keeps the content of the drink rich in vitamins and minerals," notes Young.
You can find this unique juice at Kroger and Mariano's stores or purchase it directly on the company's site.
Lakewood's Cherry Organic Pure Tart Cherry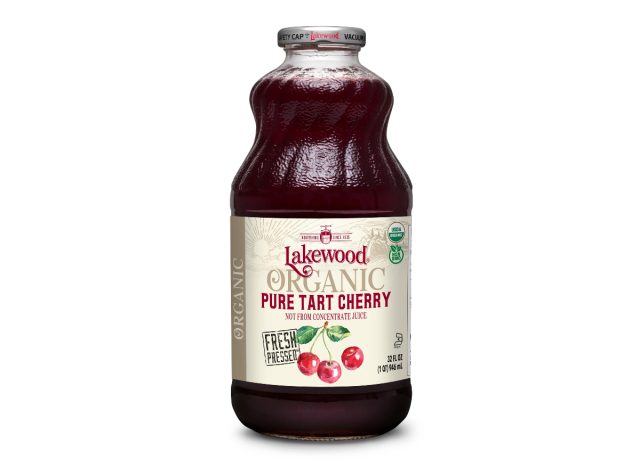 The secret's out: tart cherry juice can aid your immune system, support your cardiovascular system, and help with your metabolism, due to its high levels of polyphenols, anthocyanins, and other antioxidants. It also has been shown to help improve your sleep quality, since it increases your body's availability of tryptophan, an amino acid that gets converted into melatonin.
While Lakewood's cherry juice is pasteurized, the cherries are fresh-pressed, and the drink is made without preservatives, GMOs, or added sugar, which is why it makes the list for Young. "Incorporating cherry juice in your diet can help to fight inflammation as well as strengthen your immune system," she says.
You can buy this cherry juice at Whole Foods and other health-minded grocers.
Sarah Wong
Sarah studied at Northwestern University, where she received a bachelor's degree in computer science and experimented with mixing tech and journalism.
Read more about Sarah