25 Most Beloved Snack Foods Of All Time
Warning: this deep dive into America's favorite munchies through the decades may induce strong cravings.
A snack is typically described as a light meal or a small amount of food that is consumed between regularly scheduled meals. But, for many of us, it is so much more than that. The savory or sweet bites–depending on your preference or mood–provide comfort during those midnight treks to the kitchen. They help to hold us over during the day as we bounce from meeting to meeting or chore to chore. And, they are something that can be shared as people come together for holidays, sporting events, parties, or even just family movie nights.
Basically, snacks have long been an underrated category of food. But, more recently, the tide has begun to shift in their favor. In fact, according to data from the Specialty Food Association, snack foods became the highest-selling specialty food category for the first time in 2022, surpassing both cheeses and even meats. The category reportedly reached over $6 billion in annual sales–that's an enormous batch of cookies, chips, pretzels, and more.
Since snacks are finally receiving the credit they deserve, we've decided to keep the ball rolling by highlighting 25 of America's most popular and most cherished snack foods of all time. Starting with a snack that has roots dating back to the late 1800's and ending with a few current obsessions, take a sweet and savory stroll through our exceptionally delicious snacking history.
Nowadays, there's a sort of stigma around Fig Newtons–some people just do not prefer the soft, fruit paste-filled pastries and they're not afraid to let you know. But, these bite-sized cookies made by Nabisco once had quite a hold on the people of the early to mid 1900s, and back then, you would have been hard pressed to find a kitchen cabinet that was missing one of the recognizable yellow boxes.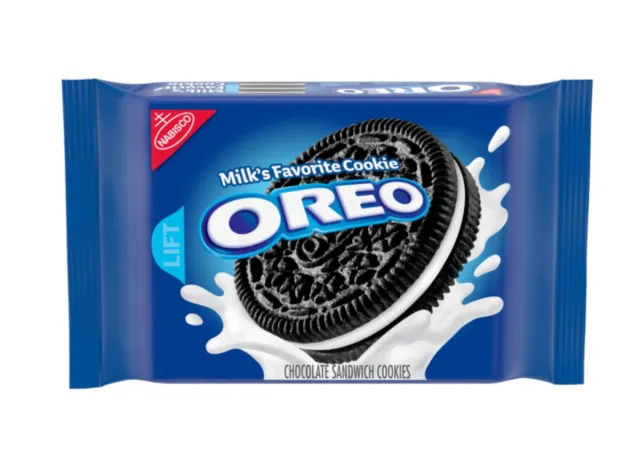 Did you know that Oreo celebrated its 110th birthday just last year? That's right: "Milk's Favorite Cookie" was first introduced back in 1912–although, at that time, they were being marketed as "Oreo Biscuits." The simple recipe, consisting of a layer of cream sandwiched in between two circular chocolate cookies, was immediately a slam dunk and Oreos have dominated the packaged cookie category ever since.
And, the new flavors and renditions just keep on coming. Double Stuf Oreos with nearly two times the cream filling were, of course, a knockout. Oreo Minis and Golden Oreos have both had their heydays, too. And, the brand has released too many limited-edition flavors to count, including everything from Watermelon to Waffle and Syrup to the most recently released The Most Oreo Oreo, which actually contains bits of Oreo within the cookie's cream.
If you've never had a fluffernutter, you're truly missing out. The sandwich is a comfort-food icon, mostly popular within the Northeast region of the country. It's similar to a classic PB&J, but with one key difference: the jelly is swapped for a generous dollop of Durkee Mower's Marshmallow Fluff. The result is something that is highly addicting and that probably fits better within the category of desserts rather than sandwiches.
Of course, Marshmallow Fluff–not to be confused with Kraft's Jet-Puffed Marshmallow Creme, which is an inferior product depending on who you ask–can be used for other purposes beyond fluffernutters. Mixing it into cookies or fudge, making it into an icing, or using it as a fruit dip are just a few of the creamy possibilities.
This has been the real "it" snack for decades. Cheez-It's were first created by the Dayton, Ohio-based Green and Green company in 1921, and have since landed in the hands of Kellogg's. Adults and kids alike can appreciate the toasty baked squares, always made with real cheese and always perfectly crunchy. In more recent years, the salty snack has even become so popular that it now has a college football bowl game named after it: the Cheez-It Bowl.6254a4d1642c605c54bf1cab17d50f1e
Of course, as with any snack food worth its salt, Cheez-Its can now be found in a collection of different flavors. White Cheddar, Pepper Jack, Cheez-It Grooves, and Extra Toasty Cheez-Its are among the most notable.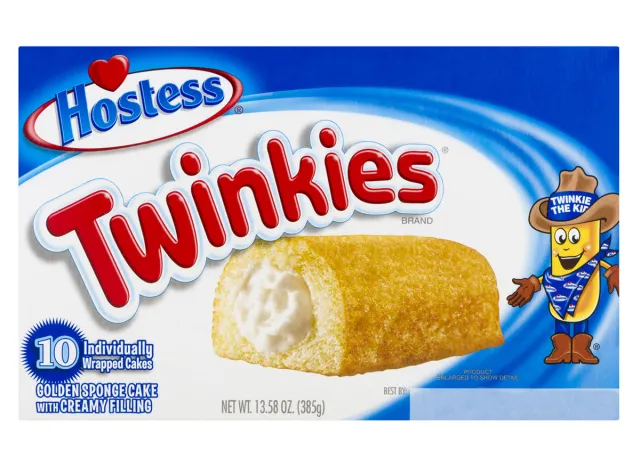 Hostess produces over 1 million Twinkies every day for a grand total of 400 million per year. The sheer volume of the snack cake's production alone should tell you everything you need to know about its popularity.
And, it should put your mind at ease knowing that whenever the cravings hit for those spongy cream-filled logs, a hearty stock can always be found at any random gas station, convenience store, or supermarket across the country. To really show your Twinkie appreciation, you can even celebrate National Twinkie Day each year on April 6–the anniversary of the delicacy's inception.
Fritos are the "original corn chip," first produced in 1932. And, to this day, the chips still only contain their three original ingredients: corn, corn oil, and salt. Fritos are widely loved for their crunch and scoopability (something that Fritos Scoops takes to the next level). Plus, now the brand even makes something to dip those curvy chips in. You can pair your Fritos with Jalapeno Cheddar, Mild Cheddar, Bean Dip, or Hot Bean Dip.
Ritz Crackers have to be one of the most versatile foods on the planet. You can go the conventional route and pair them with cheese. You can crunch them up almost to a fine dust to use as bread crumbs or sprinkle them on top of a casserole. Or, you could even slap some peanut butter in between two and then dip the whole thing in chocolate for a perfectly balanced sweet yet salty dessert. Nabisco really knew what it was doing when it first manufactured these gems back in the 1930s.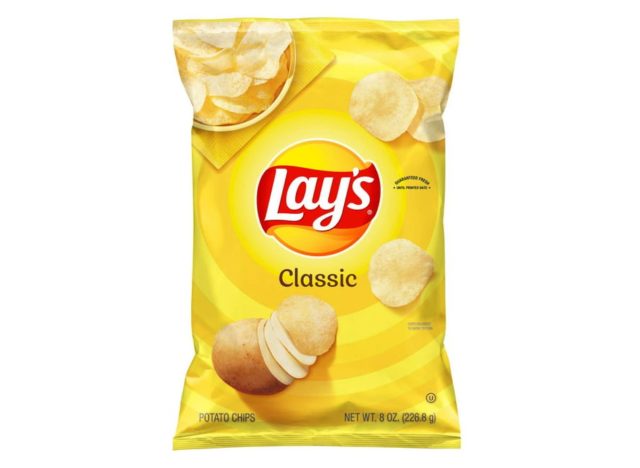 Lay's are probably the first thing that comes to mind when you think of a standard bag of potato chips. They have ruled the chip world for over 75 years and everyone has their own unique opinion on which flavor is best. Some people prefer the classics like Barbecue or Cheddar & Sour Cream.
Others take a walk on the wild side with flavors like Adobadas and Chesapeake Bay Crab Spice. And, yet another group of customers would rather reach for the Baked, Poppables, or even Kettle Cooked varieties. No matter where you stand, there is no wrong answer here.
Chester the Cheetah is one of the most beloved food mascots out there with his cool guy aesthetic and daring stunts. But, to be fair, Chester has had a pretty easy gig even from the beginning since the "dangerously cheesy" snack he promotes was popular for nearly 40 years before he ever came around.
Cheetos–both the original skinnier version and Cheetos Puffs–are the epitome of finger-licking good and have been one of Frito-Lay's top-selling brands for decades, alongside Doritos, Fritos, Lay's Potato Chips, and Tostitos–pretty good company indeed.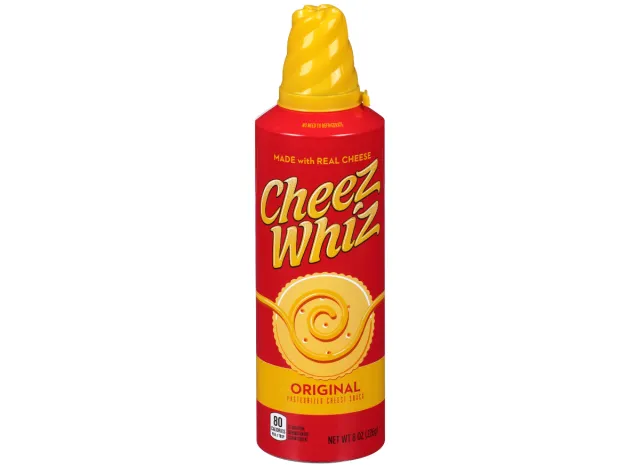 It's everybody's favorite shelf-stable cheese spread–even though it's technically not real cheese. Cheez Whiz–not to be confused with Easy Cheese, the squirtable cheese option–is made by Kraft Heinz. The product first oozed onto grocery store shelves in 1952, and ever since people have been testing the limits of what can be paired with the cheezy dip. Socially acceptable choices include hot dogs, chips, or soft pretzels. You can use your imagination to figure out what other not-so-appetizing combinations have been attempted.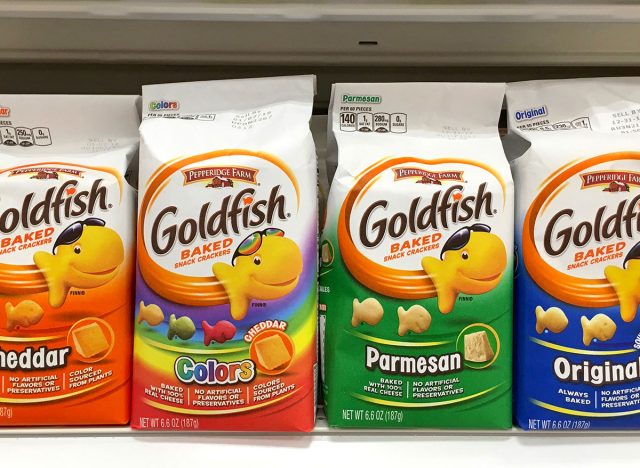 This snack has been smiling back since 1962. Kids have always loved Goldfish crackers for obvious reasons: they are cute, tasty, and they also make it easy and acceptable to play with your food. But, the smiley treats also fare swimmingly well with adults because of their nostalgia factor, and the fact that they are convenient to bring along on nearly any trip, hike, or other adventure.
The Cheddar Cheese Goldfish flavor is the most iconic by far. But, did you know that Cheddar Cheese was actually just one of five originally released flavors? Lightly Salted, Barbecue, Pizza, and Smoky Goldfish were all included in the product's initial debut.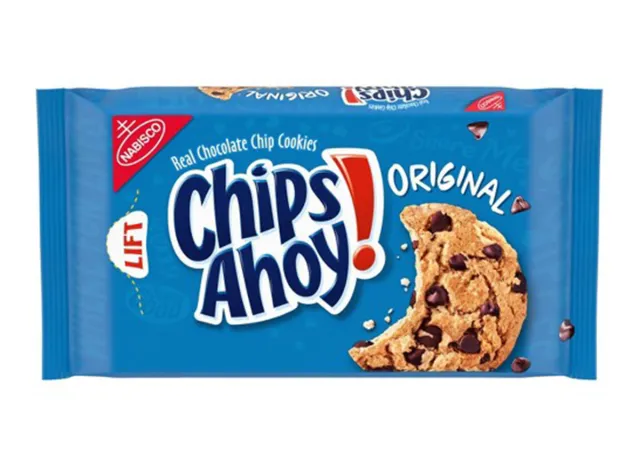 Chocolate chip cookies are often cited as America's absolute favorite kind of cookie. And, what could be better than a chocolate chip cookie you don't have to bake yourself? Insert: Chips Ahoy. The cookie brand with sweet chocolate morsels in every bite is produced by Nabisco under the Mondelez International umbrella and has historically trailed Oreo by just a small margin in terms of overall popularity in the United States.
The best part about Chips Ahoy is that it caters to all kinds of cookie lovers. Its original recipe is perfect for those who enjoy crispy and crunchy cookies. Soft cookie lovers can pick up the Chewy variety. And, those who need even more chocolatey goodness can't get enough of the Chunky Chips Ahoy.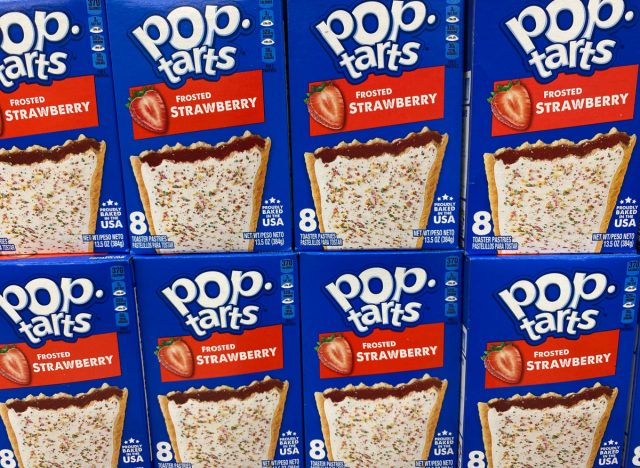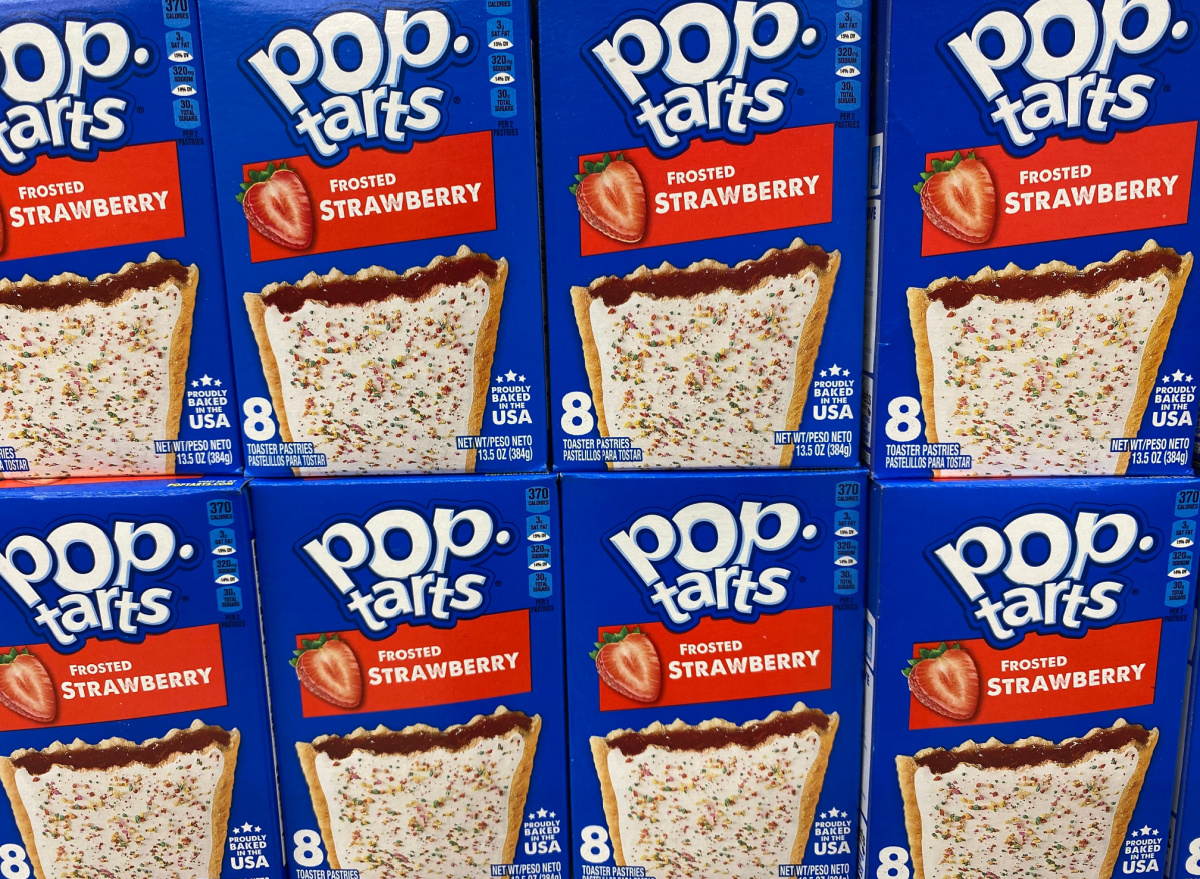 These sweet pockets of heaven will celebrate 60 years in business in 2024. Pop-Tarts—which originally came out in flavors of Strawberry, Blueberry, Brown Sugar Cinnamon, and Apple Currant—make for a delicious part of a balanced American breakfast or a filling on-the-go snack. It's hard to distinguish what makes these family-favorite toaster pastries so "crazy good." It could be the flaky crust. Maybe it's the sugary frosting or fillings. Or, perhaps it's the fact that they taste just as delicious straight out of the foil as they do fresh from the toaster.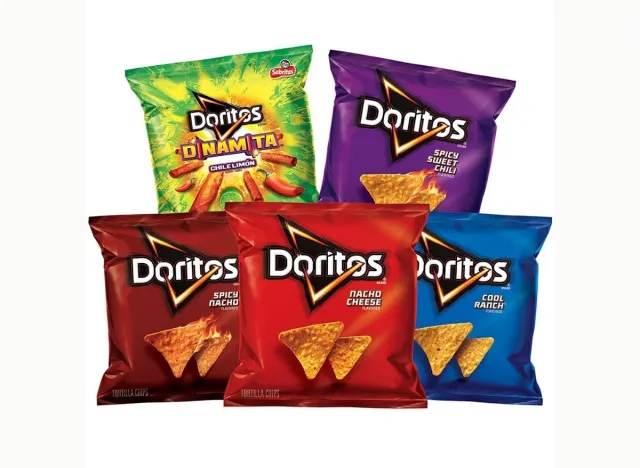 Doritos are not only a household favorite in America, they have an enormous global footprint as well, leaving happy customers and a delicious powder wherever they go. The triangular-shaped bites are technically classified as tortilla chips and they were originally released in a Toasted Corn variety in 1966. Today's well-known Nacho Cheese flavor was introduced shortly after, as well as Sour Cream and Onion and Sesame Seed variations–both of which were only available for a short time. For all of our Cool Ranch lovers out there, you may be humbled to learn that these blue-colored bags actually didn't appear until 1986–20 years after the chip brand's initial conception.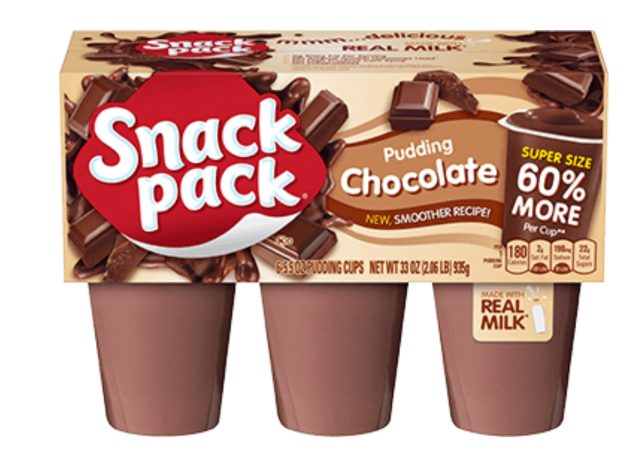 Back in grade school, you were living large if you unzipped your lunch box to discover a Hunt's Snack Pack waiting for you. The individual-sized pudding cups were a revolutionary invention of their time as a shelf-stable milk product and immediately took off among busy parents and their hungry kids. Since then, Snack Packs have even become a pop culture sensation making appearances in productions such as Adam Sandler's comedy film "Billy Madison" and the Netflix TV series "Stranger Things."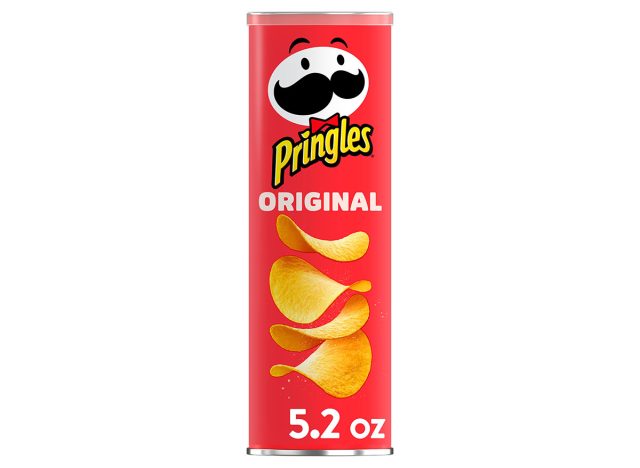 Pringles were the result of one man's quest to create the perfect chip packaging–a mission which later proved to be very successful. Gauging by the product's popularity, little to no faults were found with the packaging or its crunchy contents–aside from the possibility of getting your hand stuck in the slender tube (a risk we're all willing to take).
To this day, Pringles still line grocery store aisles, now in a colorful array of flavors. And, they're still one of America's favorite snacks to munch on, stack, or use to create the original "duck lips."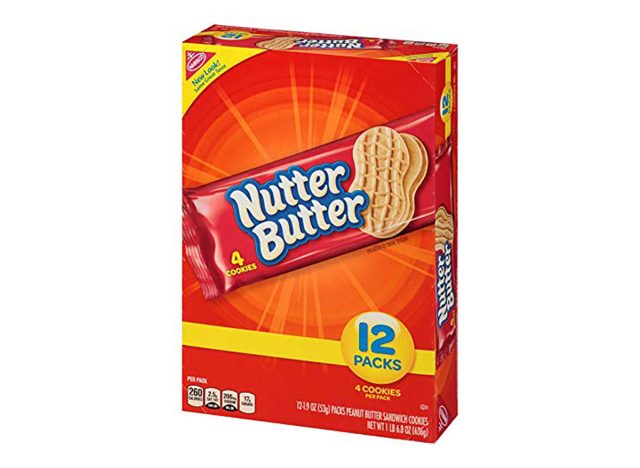 This sandwich cookie, introduced by Nabisco in 1969, has an extremely memorable, rhyming name and an even more memorable taste. If consumers couldn't initially pick up from the term Nutter Butter that the crunchy confection was largely peanut butter-based, then its peanut-like shape provides another great hint.
Nutter Butters have become one of the best-selling sandwich cookies in America, and nowadays you can even justify eating the treat for breakfast with the Post Nutter Butter cereal.
Famous Amos cookies were named after the product's founder, talent agent and cookie lover Wallace "Wally" Amos. In the chocolate chip cookies' early stages, Amos was able to leverage his connections to celebrities such as Marvin Gaye and Helen Reddy to help finance and promote the new bite-sized confections. This plan worked like a charm, as the company ended up selling $300,000 worth of cookies in its first year, and subsequently reached $12 million in revenue by 1982.
Unfortunately, business slowed shortly after, with strong competition from other packaged cookie brands—ahem, we're looking at you Chips Ahoy! Famous Amos is still around and chugging along, but most recently the brand is heavily promoting its Wonders From the World cookie collection.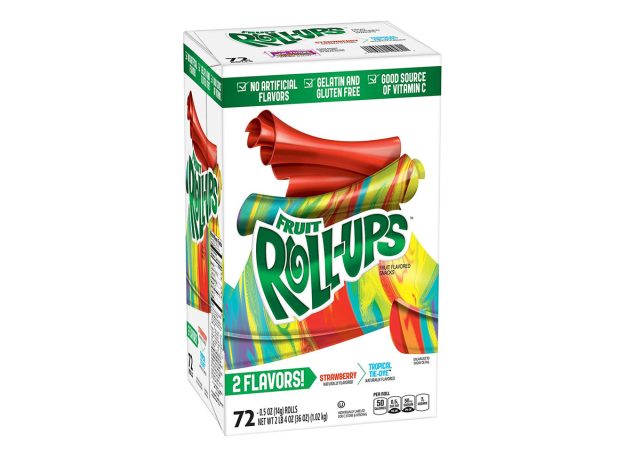 Thanks to Fruit Roll-Ups, kids over the past several decades have been able to experiment with tattoos well before their 18th birthdays. The square-shaped gummy snacks were first debuted by General Mills–under the company's Betty Crocker division–in 1983 in four distinct flavors of cherry, apple, apricot, and strawberry. Multiple variations have additionally been rolled out which include crazy flavors ranging from Boo Berry to Jolly Rancher, fun punch-out shapes, and, everyone's favorite, temporary tattoos for your tongue.
The cellophane-wrapped snack even had a recent resurgence thanks to a viral TikTok trend. Apparently, if you wrap up a scoop of ice cream inside a Fruit Roll-Up, the candy will harden, creating a satisfying crunchy layer and an all-around delicious sweet treat.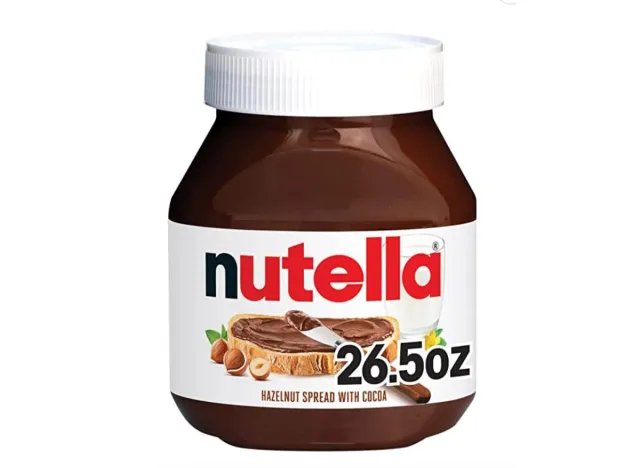 You could probably put Nutella on or inside of virtually anything and it would still taste delicious. The world's favorite chocolate and hazelnut spread first became a household name in Europe before making its way stateside in the early 1980s. Since then, the novelty has gained something of a cult following.
But, did you know that the Nutella we enjoy here in the United States is not identical to what Europeans eat across the pond? Our version is reportedly sweeter and more oily with a slightly altered ingredient list.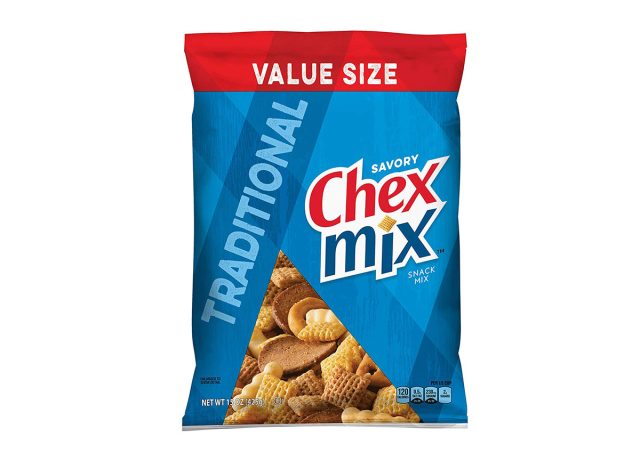 After years of killing it in the breakfast cereal game, Chex decided to throw a craveable salty snack into the mix. Chex Mix–the unbeatable fusion of corn and wheat Chex, pretzels, bagel chips, mini breadsticks, and, everyone's favorite, rye chips–started out as just a recipe on the back of the Chex cereal boxes and was finally sold commercially in 1985.
The perfect shareable party snack is now available in other savory flavors as well including Cheddar, Honey BBQ, Sour Cream and Onion, and Bold. Plus, sweet tooths can now rejoice with Turtle, Honey Nut, or Chex Mix Muddy Buddies–the brand's version of puppy chow.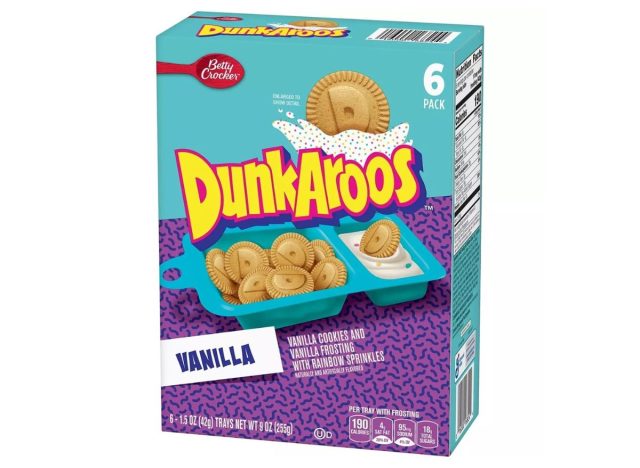 Kids in the '90s were quick to hop on the Dunkaroos train when the tiny cinnamon cookie and sweet frosting combination hit the market. Customers swore by the treat and were absolutely devastated when it went MIA back in 2012.
After a great deal of begging and pleading in the form of both petitions and social media outcries, General Mills finally gave in, bringing Dunkaroos back to the United States in 2020. Not only is the original vanilla frosting with rainbow sprinkles variety available yet again, you can now also indulge in the new chocolate frosting packs.
Teddy Grahams offer the same initial appeal that goldfish crackers do with their adorable appearance–some of the tiny bears are even raising their arms in a manner which looks like they're going in for a warm hug. Nabisco released the graham cracker-like bites in 1988 in flavors of Honey, Cinnamon, and Chocolate–all of which are still available today and arguably still the most popular.
Other options have additionally sauntered onto the lineup over the past couple decades including Chocolatey Chip, Vanilla, Birthday Cake, Apple, and Mixed Berry, but Chocolatey Chip is the only one which has stood the test of time.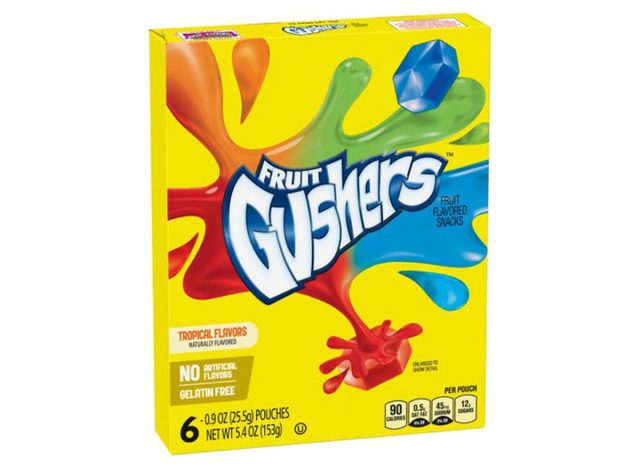 Gushers burst onto the snack scene in 1991. Since then, consumers have been trying to solve the mystery of how the center of each fruity bit is always so perfectly juicy. Well, Betty Crocker's secret is a laundry list of unrecognizable ingredients. But, that hasn't stopped consumers from guzzling them down, and even going back for seconds since we all know one bag is never enough.
Takis represent a new era of snack food. The rolled and flavored corn tortilla chips are actually a Mexican munchie, but their popularity caused them to spread like wildfire and the product officially entered into the United States in 2004. The majority of Takis flavors are described as both spicy and acidic—a one-of-a-kind flavor profile that will have you puckering and reaching for the milk at the same time. But, most popular by far is the Hot Chile Pepper & Lime Fuego–this is likely the purple bags you now see at nearly every store or gas station you visit.