Two New Viral Ice Cream Trends Are Taking America By Storm
TikTok is here to help you step up your frozen dessert game.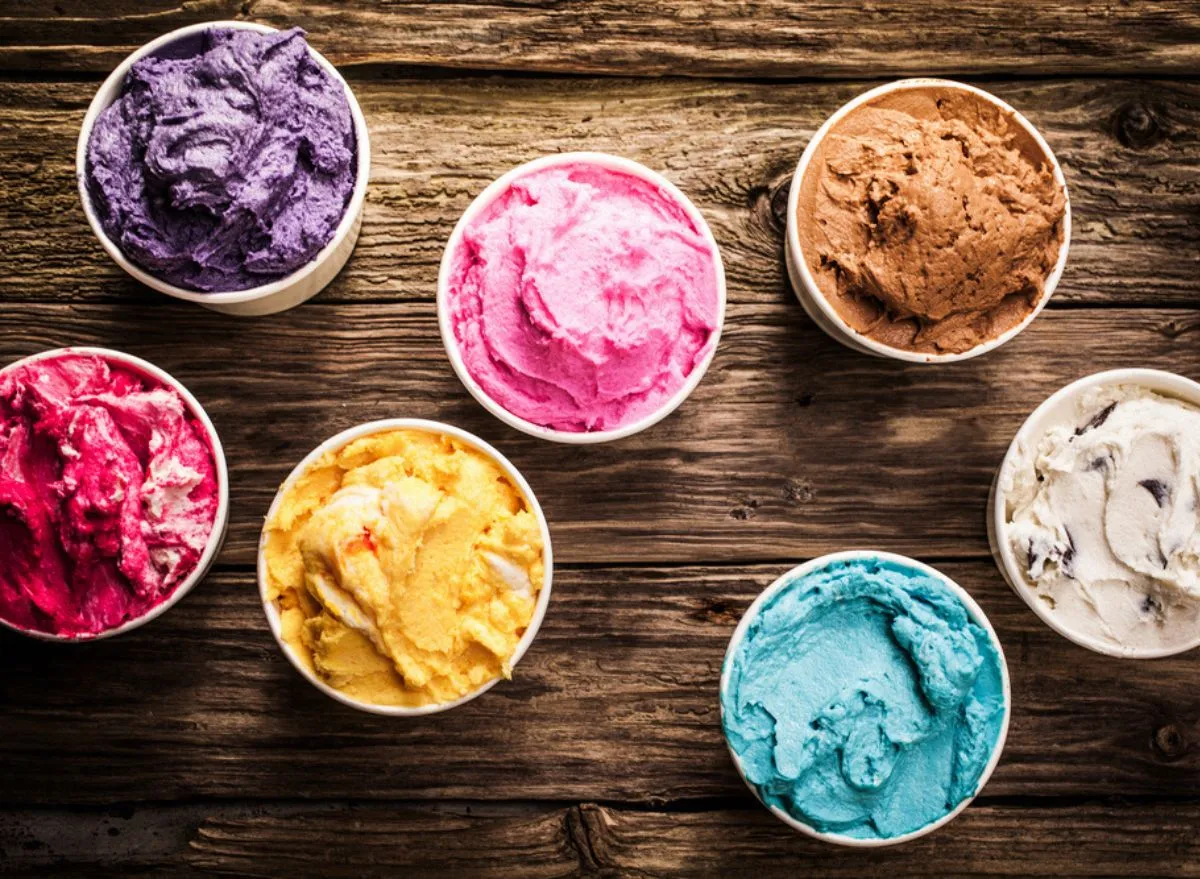 Cloud bread. Pasta chips. Butter boards. These were just some of the countless food trends that have flooded social media feeds over the past few years.
Thanks to TikTok, a variety of innovative and eye-catching culinary creations have captured the attention of the masses, inspiring social media users to put their own unique spins on the trending recipes. Now, two frozen desserts are dominating the social media platform, each one involving ice cream.
The first trend was popularized by TikTok user Golnar Ghavami, aka @golisdream, who shared her "sweet guilty pleasure"—ice cream wrapped in a Fruit Roll-Up. After folding a strawberry Fruit Roll-Up around a scoop of mango ice cream, the TikToker took a bite, calling the snack "the best and so satisfying." Unlike the chewy texture of a Fruit Roll-Up you'd eat at room temperature, adding ice cream to the fruit-flavored sheet allows it to instantly freeze, producing a pleasantly spine-tingling crunch sound upon biting into it.
"I gasped! Didn't expect the crunch factor! Wow! Thank you!" one TikTok user commented. "How did I go my ENTIRE childhood not knowing that fruit rollups freeze so easily…?" another one wrote.6254a4d1642c605c54bf1cab17d50f1e
Since being posted on Feb. 25, Ghavami's TikTok video has racked up 13.9 million views, with the hashtag #fruitrollupandicecream garnering another 93.7 million views. Numerous social media users have shared their own versions of the food trend, opting for different Fruit Roll-Up and ice cream flavor combinations.
This isn't the first time the Fruit Roll-Up ice cream trend has hit the social media scene, though. As BuzzFeed pointed out, in 2021, Trinh Carreon, who goes by the TikTok username @trinhdoesthings, shared a video of herself eating the ice cream treat after someone suggested the food pairing in a comment on a previous video. "You guys have to try this. 10 out of 10," Carreon said in the video, which has since accumulated 10.7 million views.
The second viral ice cream innovation taking over TikTok is intended to be a better-for-you dessert: cottage cheese ice cream. On March 23, content creator Lainie Kates shared her recipe for strawberry cheesecake cottage cheese ice cream, raving, "I still can't get over this healthy ice cream hack that has almost 60 grams of protein."
The TikTok user proceeded to blend Good Culture-branded cottage cheese, maple syrup, and strawberries together. She then tossed in more strawberries, along with crushed graham crackers, poured the combination back into the cottage cheese container, and let the mixture sit in the freezer for a few hours.
"You literally have the creamiest, easiest, strawberry cheesecake ice cream that's loaded with protein," Kates said in the video, which now has 1.2 million views.
"Cottage cheese is the new cauliflower," one TikToker commented on the post. Meanwhile, another user, who tried Kates' cottage cheese creation, added, "[I]t's amazing. best and easiest recipe I've come across."
Although Kates is the one whose recipe went viral, Today reported that Kenzie Akers is the "apparent originator of trend," noting that Akers shared her recipe for cottage cheese ice cream back in March of 2022.
Social media is now filled with a range of cottage cheese ice cream recipes, with users whipping up different flavors such as birthday cake, Snickers, and banana cream pie—though the flavor combinations are truly endless.
Brianna Ruback
Brianna is a staff writer at Eat This, Not That! She attended Ithaca College, where she graduated with a degree in Journalism and a minor in Communication Studies.
Read more about Brianna