19 Best Spicy Snacks To Try if You Love Hot Stuff
If you can't handle the heat, then get out of the kitchen.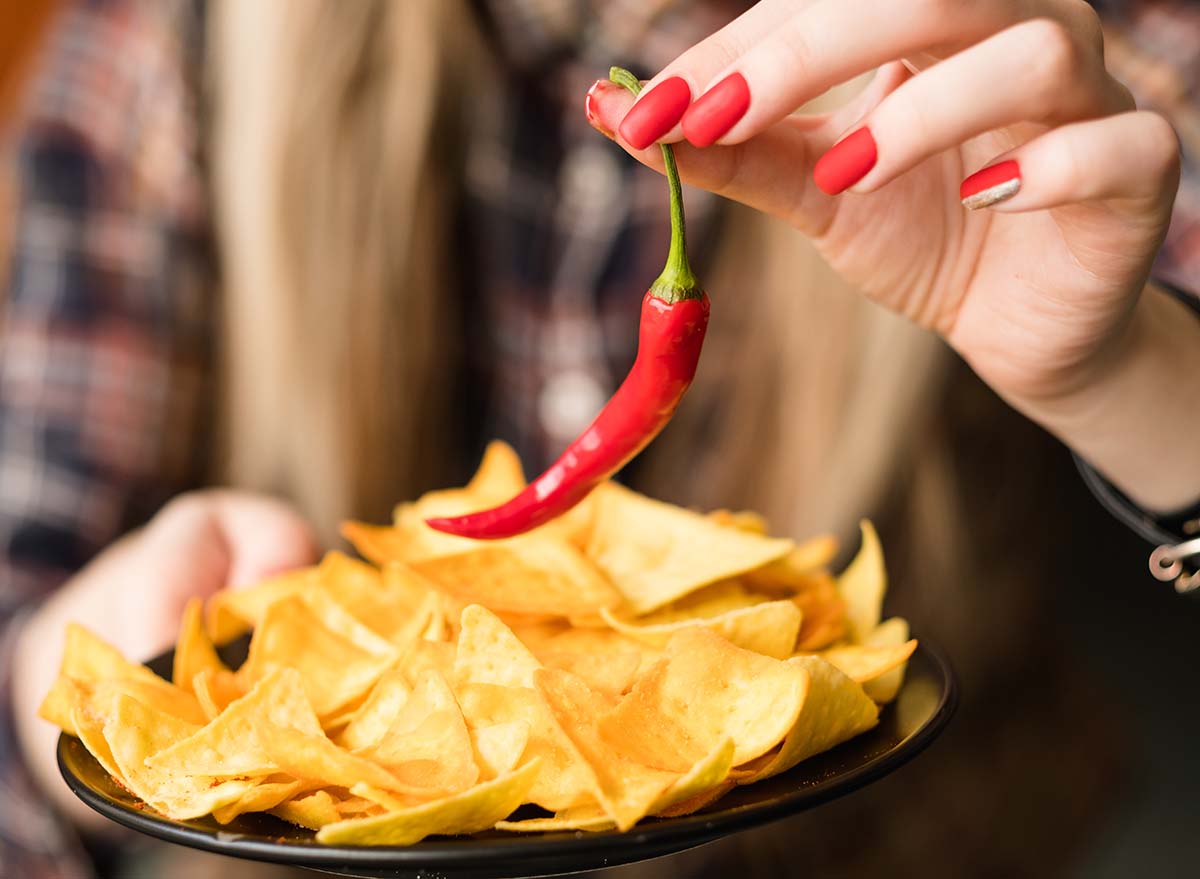 This post contains affiliate links. If you use these links to buy something, we may earn a commission.
When it comes to spice levels, your snacking options go from mild to medium, bold, and beyond. For those brave enough to handle an extra kick in their food, you're probably looking for flavors that will make you tear up from the fire in your mouth. And as much as it burns, you know you'll keep going back for more because you love the thrill and taste.
If you're someone who loves to test the waters when it comes to spice, then read on. We've come up with the best spicy snacks that will have you feeling hot, hot, hot! And after you're done checking these, be sure to take a look at The 10 Best Spicy Fast-Food Sauces of All Time– Ranked!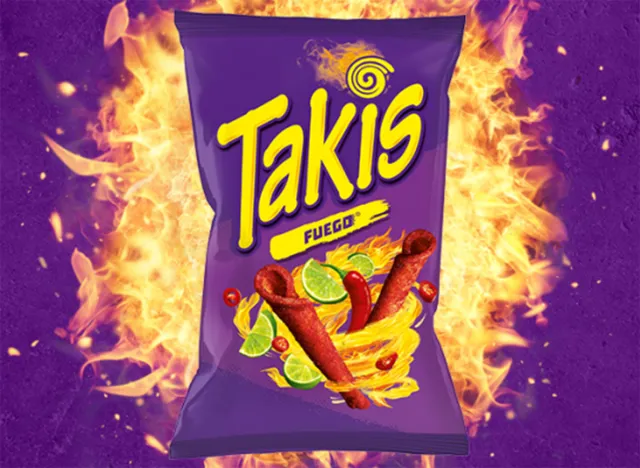 Takis Fuego are rolled tortilla chips that pack serious heat in every bite. As far as heat intensity goes, they are described as "a bite of lava" and "extreme." Within every chip comes a powerful duo of hot chili pepper and lime that is sure to give your tastebuds a little zing.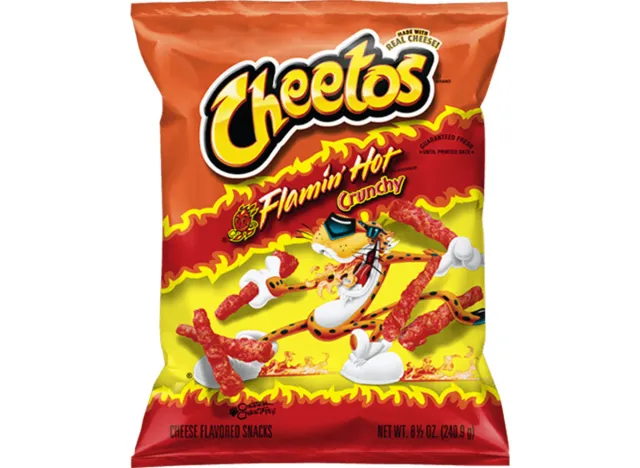 Cheetos has a wide array of flavors, including an entire product line dedicated to burning hot flavors. From Flamin' Hot crunchy or puffs to popcorn, even to mac and cheese, Cheetos has covered all your bases for all your spicy snack needs.
Stryve's Spicy Peri Peri Sliced Biltong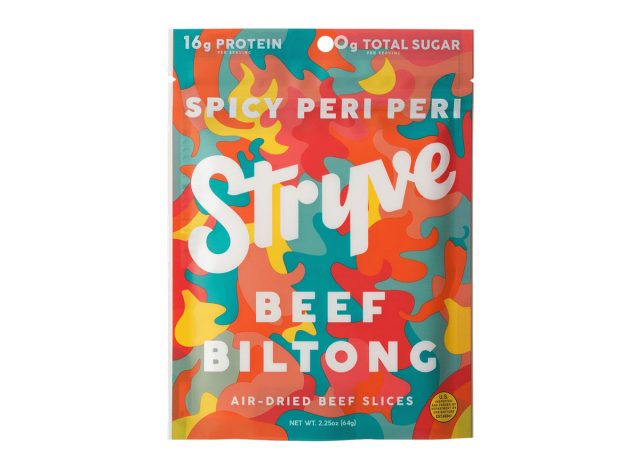 Beef biltong is a high-protein snack. Styve's Spicy Perri Perri Sliced Biltong snack, in particular, is one that you might find yourself eating by the bagful all day long. Its tender beef is matched with intense heat from the African Red Devil pepper, so don't be surprised if you just so happen to break into a sweat while eating this snack.
Whether you want to eat it on its own or add it to some sort of snack mix, dried fruit is a great treat. Chuza has a variety of dried fruit coated with their signature chili powder to create a sweet and spicy flavor palette, and their Spicy Pineapple flavor really turns up the heat on this delicious tropical fruit for a sweet and savory spicy snack.
Outstanding Puffs Hella Hot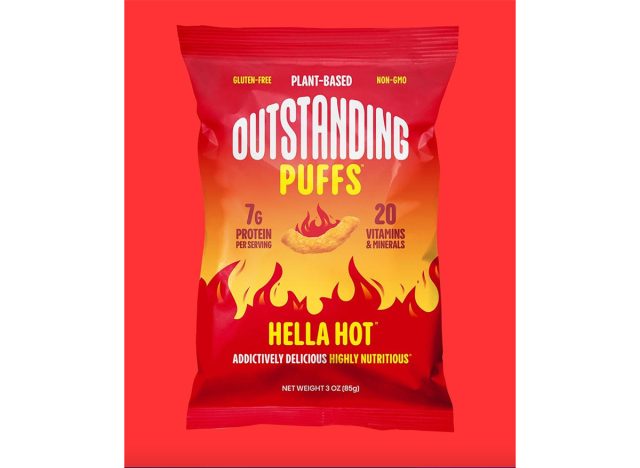 A snack that's literally quite outstanding, the personal-sized bags of Outstanding Puffs Hella Hot are a perfect portion size for snacking. Additionally, the "Hella Hot" variety adds heat to its 7 grams of plant protein per serving and 20 vitamins and minerals.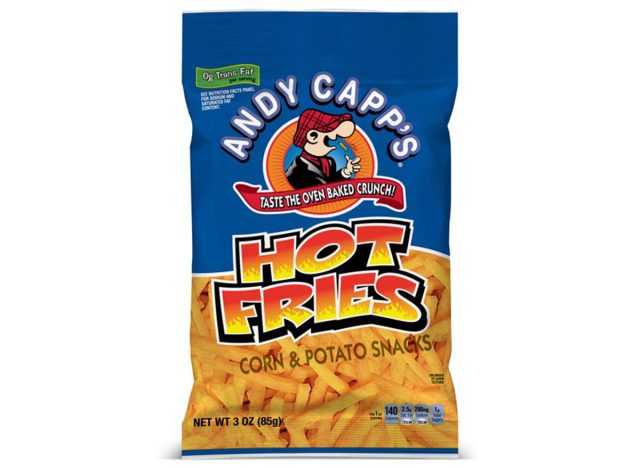 Andy Capp's Hot Fries are a classic spicy snack that has graced vending machines, grocery stores, and delis for decades. A great snack to pair with your sandwich—which you might crave in order to subdue the spice—these little French fry-like corn crunchies are oven-baked alternatives to potato chips.
The Doritos brand is known for its Super Bowl commercials as well as its wide variety of flavors. Its Spicy Nacho flavor is a twist on its original nacho cheese chip, but with a more powerful kick. When you're done devouring this bag, you won't be able to resist licking your fingers clean of the cheesy, spicy powder.
Planters Spicy Nuts & Cajun Sticks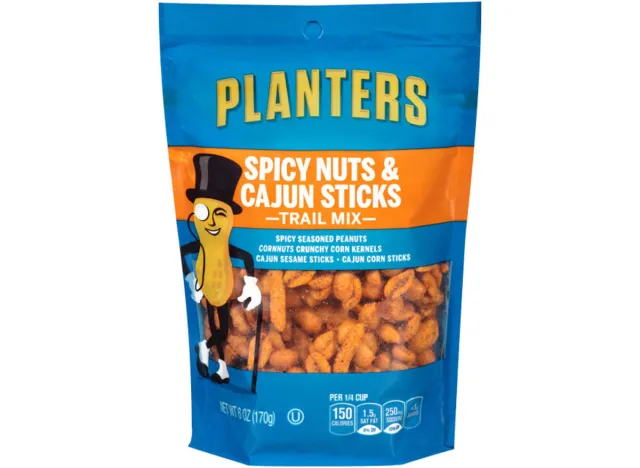 A perfect trail mix for spicy food fans, Planters Spicy Nuts & Cajun Sticks take the brand's classic peanuts and brushes them with spicy seasoning. Combine that with crunchy corn kernels and Cajun sesame sticks, and you have one heated, delicious munchie on your hands.
Chomps Cranberry Habanero Beef Jerky Stick
Cranberry Habanero Beef are jerky sticks made with grass-fed beef. They are loaded with flavor, thanks to the unique combination of sweet dried cranberry and spicy habanero peppers. However, don't like the tart cranberry fool you! This jerky is packed with heat, so prepare those tastebuds!6254a4d1642c605c54bf1cab17d50f1e
Oh Snap! Pickling Co. Hottie Bites
Pickle lovers will go crazy for these snacking cuts of real pickles from Oh Snap! Pickling Co. Hottie Bites. But they're not your average pickle slices; they're marinated with dill and spice to create a hot and spicy gherkin. Each slice gives you some tang and heat. Whether adding pickles to your sandwich or snacking solo, you're sure to enjoy every crunchy bite.
Honey Mama's Spicy Dark Cocoa Truffle Bar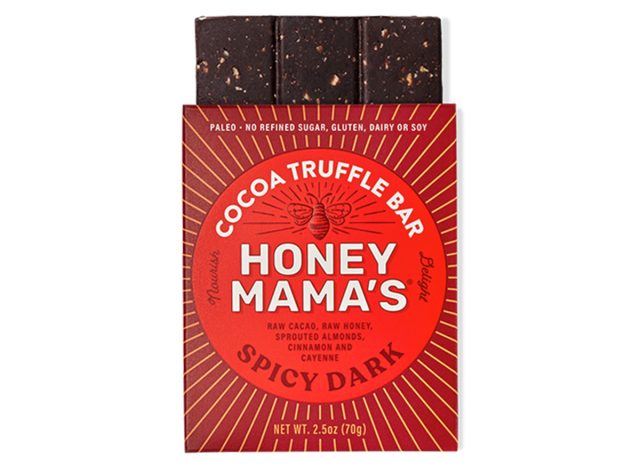 Honey Mama's Spicy Dark Cocoa Truffle Bar takes this sweet and spicy combination of chocolate and peppery, smokey spices to a whole new level. This chocolate bar infuses organic Saigon cinnamon and cayenne pepper with organic honey and bright cacao.
Sensible Portions Screamin Hot Garden Veggie Straws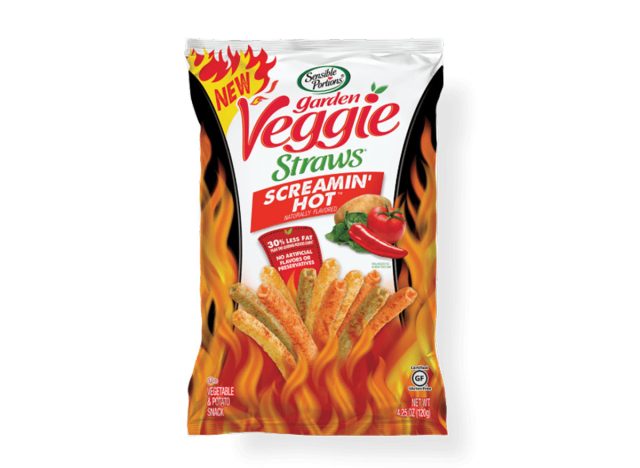 The crunch of Sensible Portions Screamin' Hot Garden Veggie Straws are light and airy, and yet satisfying. The name says it all—this snack is a "screaming hot" version of their original flavor that might make your eyes water. At the same time, you get the taste of produce, like potatoes, tomatoes, and spinach, blended into each stick. Also, they are 30% less fat than potato chips and contain no artificial preservatives.
Cheez-It Hot & Spicy Snack Crackers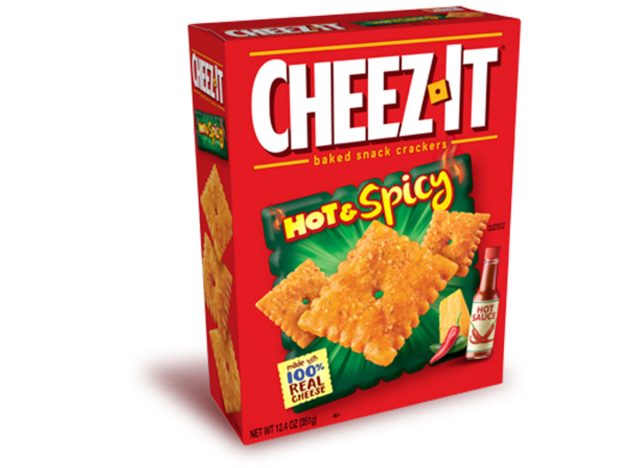 Once you open a box of deliciously cheesy, baked Cheez-It crackers, it can be hard to stop yourself from finishing the entire thing in one sitting. Spicy snack lovers who can relate are sure to get a kick out of Cheez-It's Hot & Spicy flavor and love the added dash of spice.
Blue Diamond Almonds Bold Spicy Dill Pickle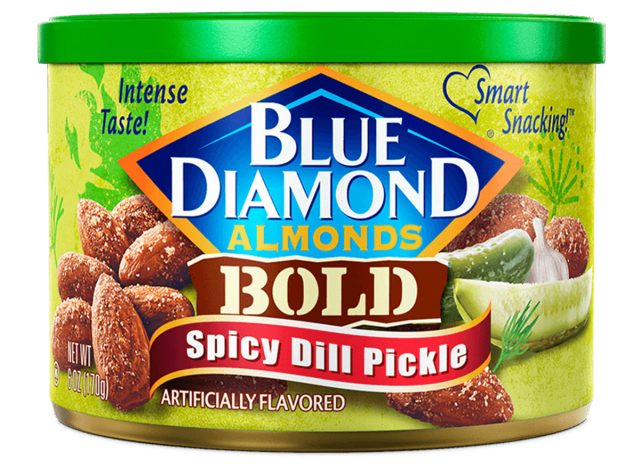 Blue Diamond Almonds are adding a lot of unique flavors to their nuts. The Spicy Dill Pickle flavor from Blue Almond's line of bold products packs a zesty punch with each almond. They're full of savory garlic and vinegar seasoning that will dance in your mouth.
A cross between popcorn and chips, PopCorners are snacks that are as innovative as they are tasty. Queso is a beloved cheese chip dip, so it makes sense to add this flavoring to PopCorners for a winning snack combination. This Tex Mex-inspired flavor has hints of black and red pepper with cheddar cheese, so you can feel as if you're eating chips and dip all in one.
Max'd Spicy Dill Chex Mix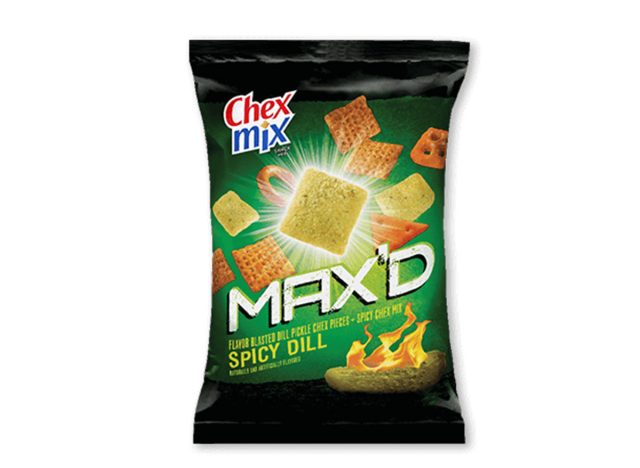 Chex Mix is known and loved for its iconic snack blend of pretzels, corn and wheat Chex, rye chips, and mini breadsticks. Now, they've taken the same ingredients but added two new flavors to give a powerful taste. This particular mix is flavor blasted with dill pickle Chex, and then combined with hot and spicy flavored pieces. Your mouth won't know what to do next, but you will be sure to keep eating it!
Kettle Brand's Jalapeño Potato Chips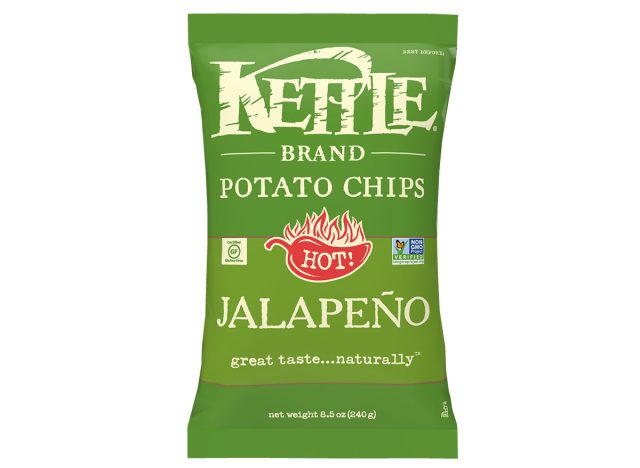 Kettle Brand's thick-cut, kettle-cooked potato chips provide a perfectly satisfying crunch, and its spiciest flavor gets its kick from authentic jalapeño peppers. Even those with the highest tolerance for spiciness will likely want to keep a glass of water or milk on hand when snacking on these munchies, as one bag might make you feel like you're eating a whole pepper.
Lesser Evil's Power Curls Spicy Salsa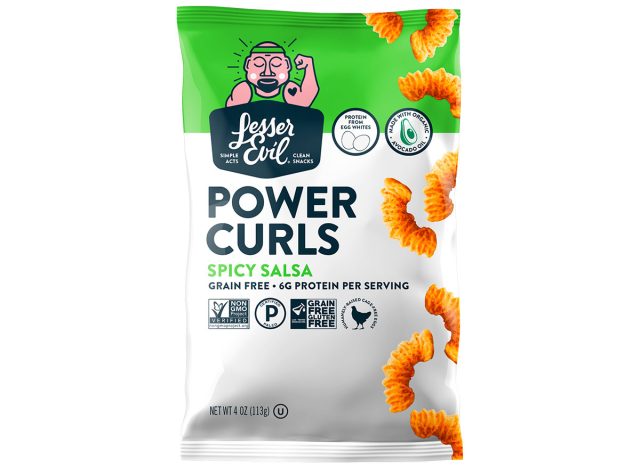 Who needs the chips and salsa when you can put it all into one snack? Lesser Evil's Power Curls in its Spicy Salsa flavor is a protein-packed, salty, and savory snack with a bit of spice. This snack is perfect for those who enjoy milder smoky flavors, but would prefer not to test their luck with burning hot spicy snacks.
Sugarwish Spicy Buffalo Popcorn
Full of different popcorn flavors, Sugarwish is a great delivery snack service to surprise your favorite people. If you're looking to send a gift to someone who loves spicy snacks, their Spicy Buffalo Popcorn might have them breathing fire like a dragon.
Kayla Garritano
Kayla Garritano graduated from Hofstra University, where she majored in Journalism and double minored in Marketing and Creative Writing.
Read more about Kayla