20 Hurts-So-Good Ways to Eat Hot Sauce
From popcorn and hot cocoa to salad dressings, try these creative ways to use the caliente condiment!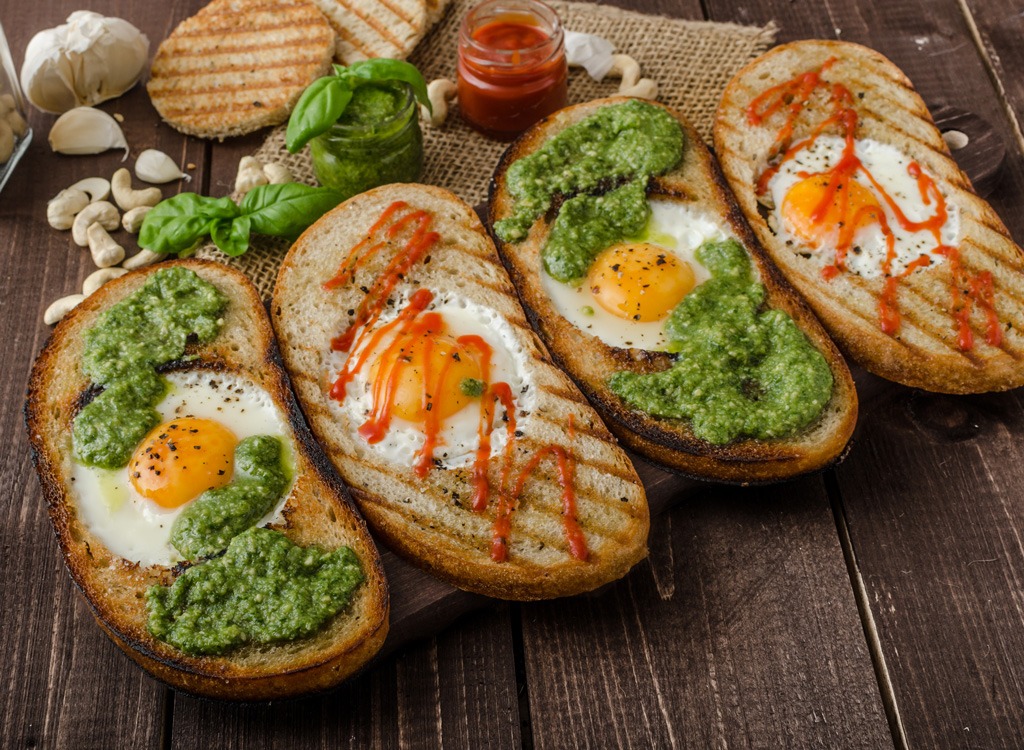 From Apple and Oprah to The Patriots and Crossfit—and everything in between, it seems that cult-like followings will form for just about anything these days, even food. Think about it: People don't just like Starbucks, they're obsessed with it. To that same point, people don't just "sort of enjoy" hot sauce they're fully committed to the stuff, attaching mini bottles of Sriracha to their key rings and hiding small packets of Sambal in their purse à la Beyoncé. In fact, the superstar loves the stuff so much that she even sings about it in her new hit single, "Formation" which debuted at the Super Bowl. "I got hot sauce in my bag, swag," the slim and toned superstar sings in the song. And it's really no wonder why Bey loves the caliente condiment so much. Not only does it have an addicting, fiery taste (spicy food releases stress-easing endorphins that boost pleasure), the heat may be to thank, in part, for her bangin' bod. Capsaicin, the compound that gives chiles their signature kick, has been shown to increase body heat, boost metabolism and decrease appetite. In fact, scientists are currently looking at turning capsaicin into an all-natural anti-obesity supplement for its ability to activate our "good," calorie-burning brown fat stores. Plus, eating hot sauce is a bit painful, which lowers the odds you'll pig out, nutrition experts say.
If you have a tendency to pack heat—but are a little bored of simply adding the stuff to your chicken wings and tacos—we've scoured the web and tapped into our inner foodies to uncover some of the most interesting ways to get more of the fiery sauce you crave. From popcorn and hot cocoa to oatmeal, salad dressing and beyond, we've got you covered. And for even more slim down hacks from Hollywood's hottest stars, check out these 31 weight loss secrets from celebrities.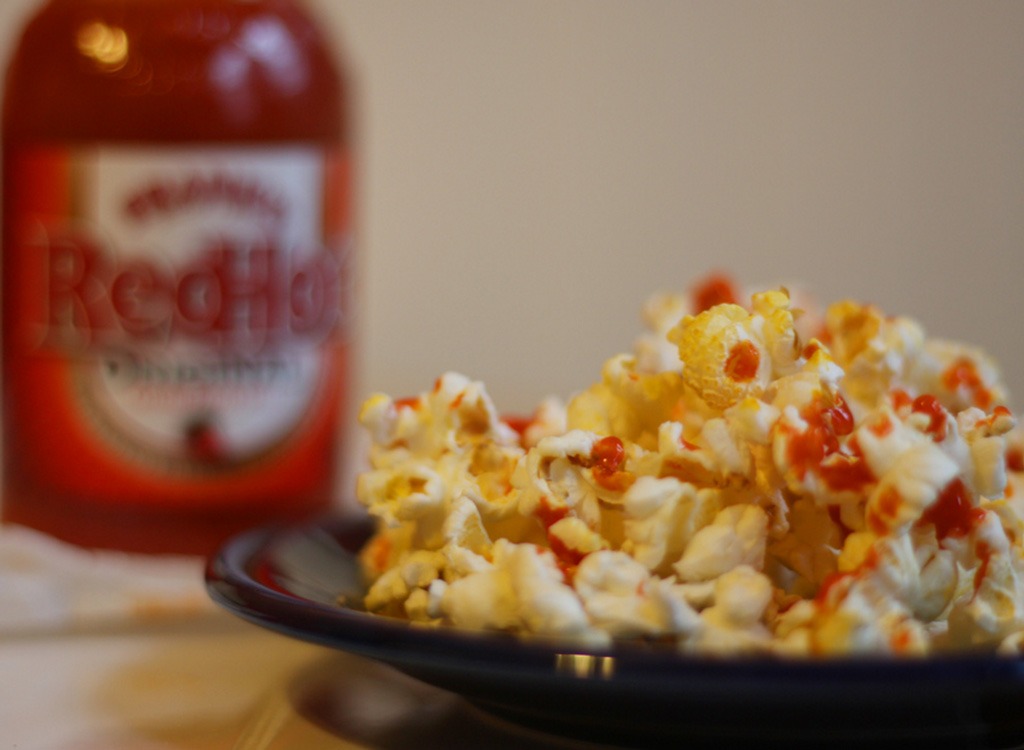 Cue up Netflix and flip on the AC! Thanks to spicy popcorn, movie night with bae is about to get even hotter. We're huge fans of the snack because it's low-cal, easy to make, and packs a major flavor punch. To whip it up, melt some butter in a small saucepan along with a tablespoon or two of hot sauce. Pour the fiery butter mixture over popped kernels and sprinkle with black pepper, Cajun seasoning, and Parmesan cheese.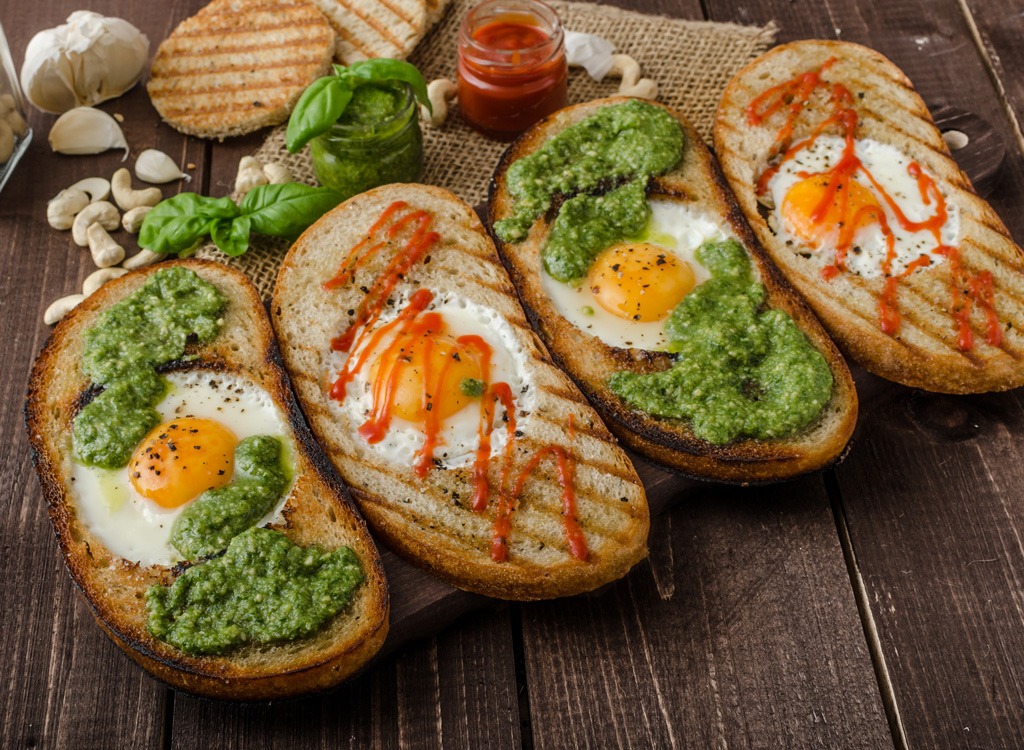 Hot sauce can take just about any egg dish from "meh" to "wow!" but the spicy topper pairs especially well with Tex-Mex flavor combos like bell pepper, onion, and ham. Toss our suggested veggies and meat into a free-range scramble and top with your favorite spicy sauce to make breakfast a little more interesting.
Make a Flavor-Packed Greek Yogurt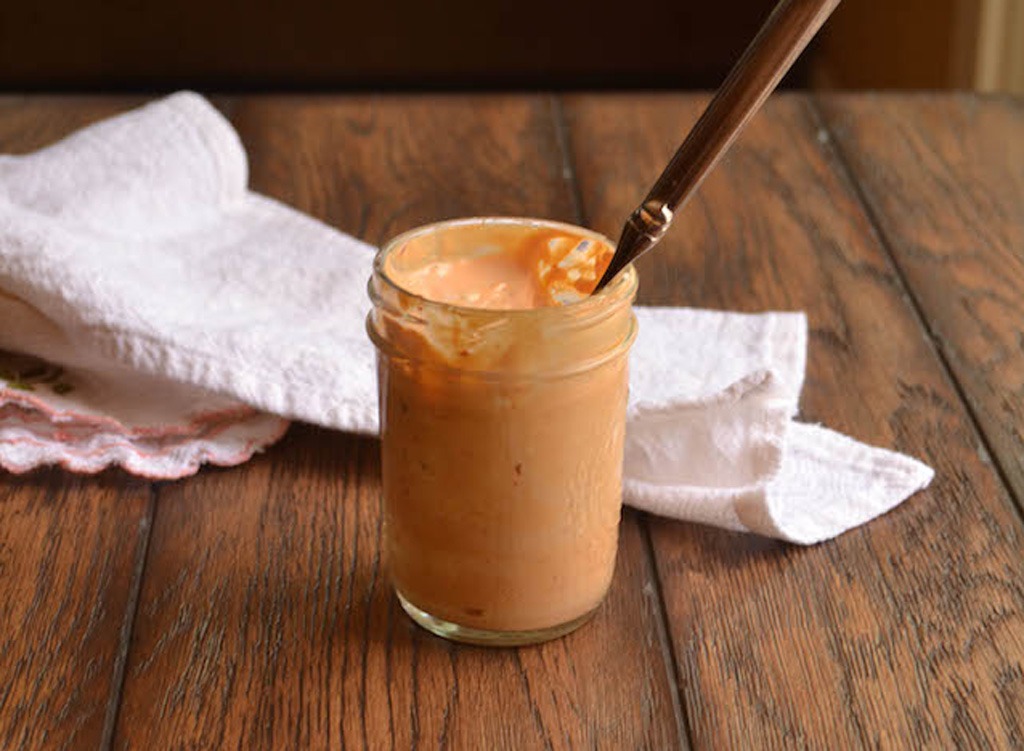 Ditch the fatty chipotle mayo and make a homemade version with a protein-filled Greek yogurt base instead. To whip up a batch, mix a container of plain Greek yogurt with pepper, onion powder, minced garlic and hot sauce to taste. Store in a Mason jar or Tupperware container and use on sandwiches, grilled fish, and burgers or even set it out with some veggies for last minute appetizer.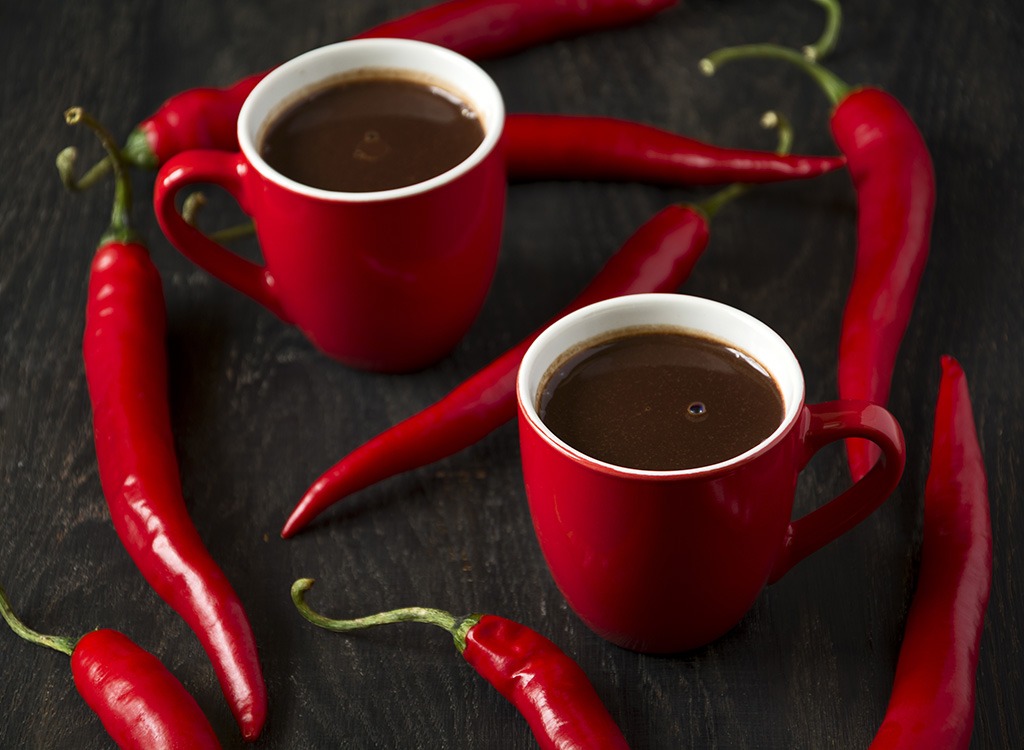 Instead of making Mexican hot chocolate from scratch this winter, whip up your favorite instant hot cocoa and top it off with a dash of habanero sauce, and a sprinkle of cinnamon instead. (We like Nestlé Hot Cocoa Mix Dark Chocolate.) No one wants to wait to warm up when it's freezing out.
Add to Baked Apples & Pears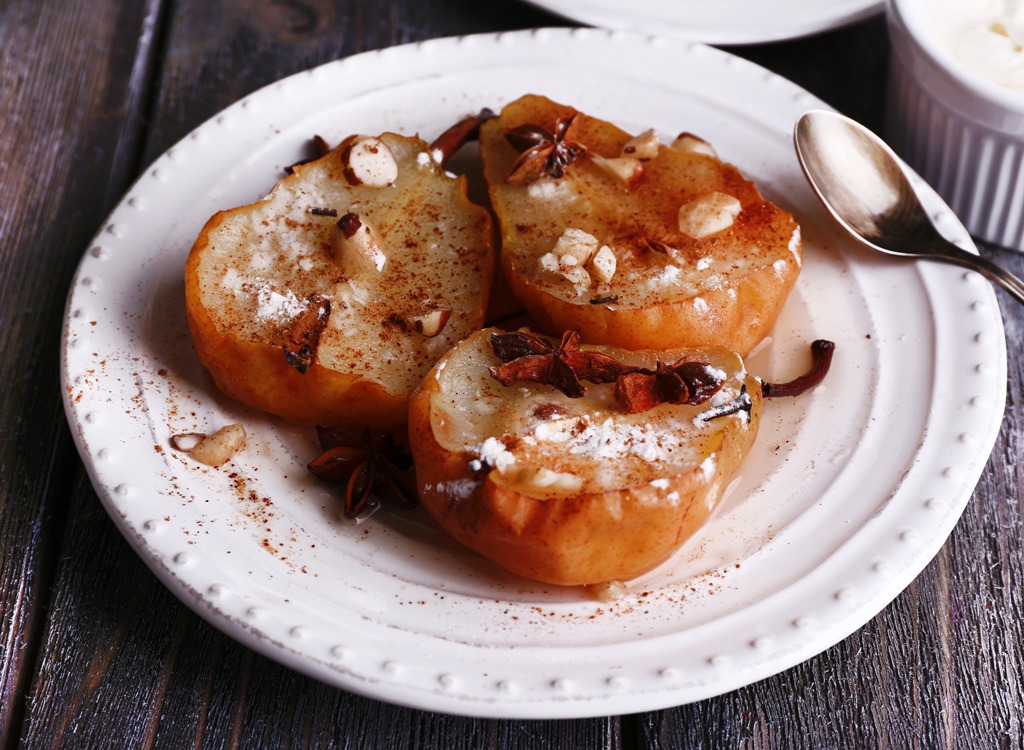 Next time you're craving a slice of pie or another fruit-infused fattening dessert, preheat the oven to 350°F and grab an apple or a pear. Cut your fruit of choice in half and scoop out the seeds. Fill the cavity with a mixture of chopped walnuts, brown sugar, melted butter, hot sauce, and ground cinnamon. Place the filled fruit on a tray and bake for 25 minutes, or until soft. Top with a dollop of plain Greek yogurt and enjoy warm. You're sure to love the combination of sweet, warm and spicy—we sure do.
Sure, berries and cinnamon are great oatmeal toppers, but going the sweet route can a bore afterwhile. To spice up your a.m. routine, mix scallions and hot sauce into your bowl instead. The combination also makes for a lazy—yet flavorful—dinner.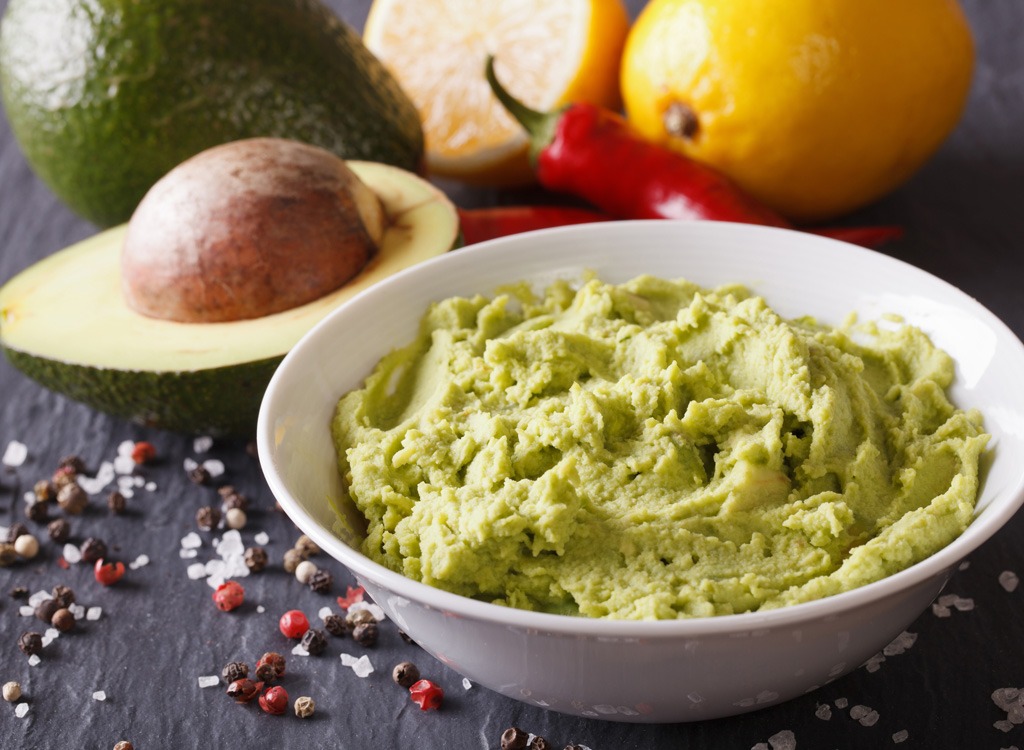 Amp up the taste of your apps with the help of some Sriracha-infused sauces. Simply mix the piquant condiment with cocktail sauce or guac to give your guests a fiery flavor they'll keep coming back for. Oh, and if you want to keep things on the healthier side, consider pairing your Mexican-inspired dip with one of these delicious healthy chips.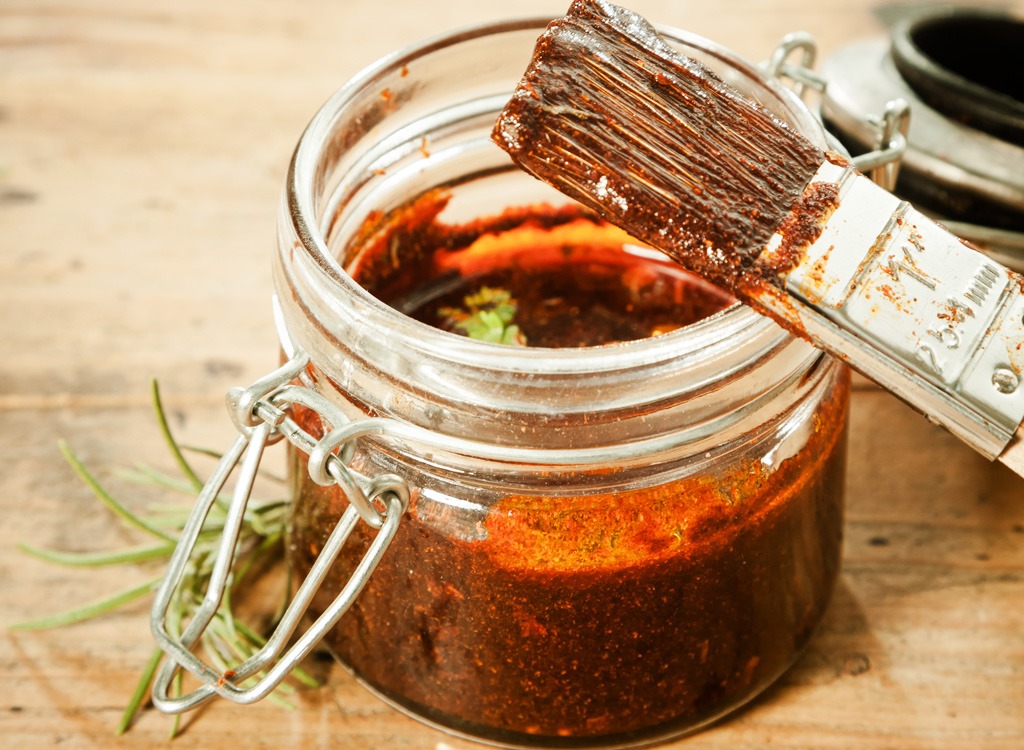 Boost the flavor profile of your favorite meats in seconds with the help of a homemade spicy marinade. Simply whisk your favorite hot sauce with minced garlic, chopped scallions, olive oil, and fresh lime juice—all ingredients you likely already have at home.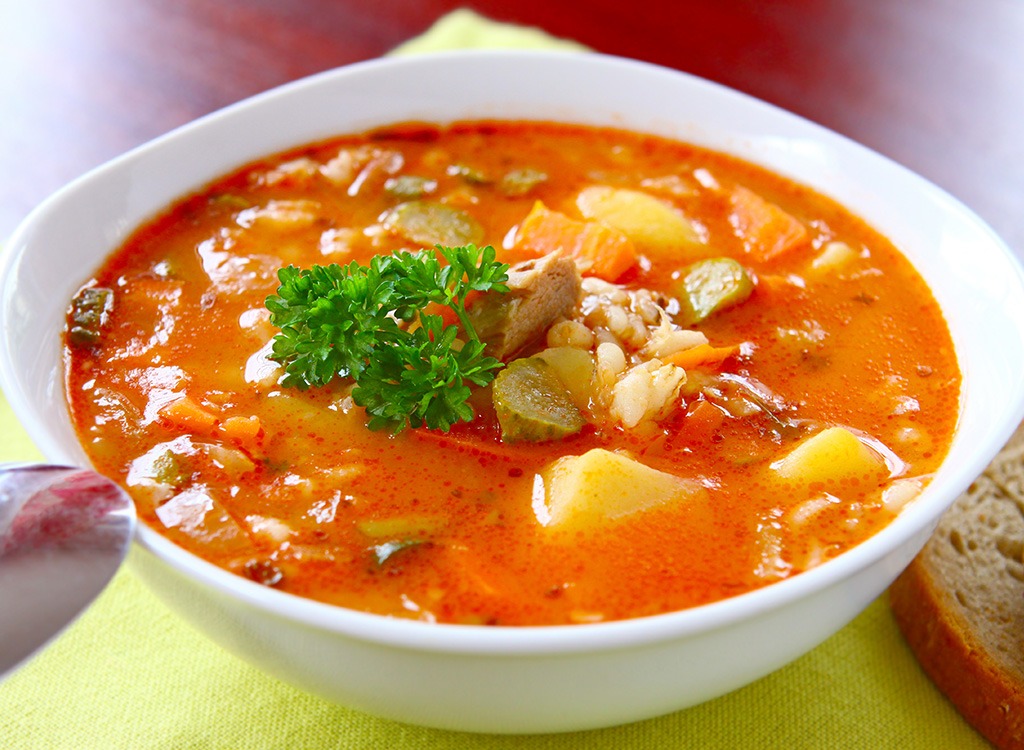 Add a splash of Sriracha into your favorite Mexican- or Asian-style soup to ease congestion and warm your soul from the inside out. We're big fans of the Healthy Asian Soba Noodle Soup in our recipe round-up, best-ever fat burning soups.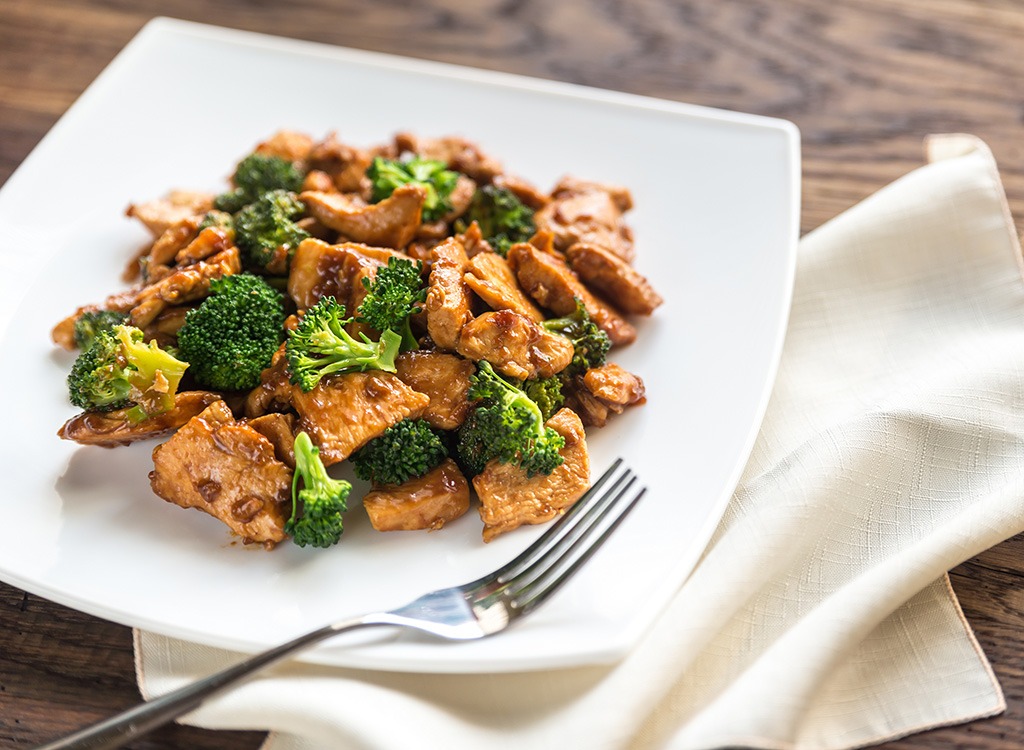 Hey, take-out addicts, listen up: Getting a flavor-packed, healthy meal on the table in under 20 minutes isn't just possible, it's stupid simple—and a great opportunity to use up those last few squirts left over in your hot sauce bottle. Next time you're at the market, pick up some chicken breasts, a package of plain stir-fry vegetables and a bag of frozen brown rice. After you've cut the chicken into strips, add the meat to a hot, greased saucepan and allow it to cook for a few minutes. Then, add the veggies and the rice and put the top onto the pan. (The moisture from the frozen food will steam the food if the lid is on nice and tight.) Next, in a bowl, mix soy sauce with a bit of chicken broth, hot sauce, cornstarch and grated ginger. Add the sauce to the pan and allow the flavors to fuse as the food cooks through. Not only is this play on a classic Chinese dish lower in calories and sugar than take-out, but it will also likely arrive on your plate faster, too.
Whisk Up a Salad Dressing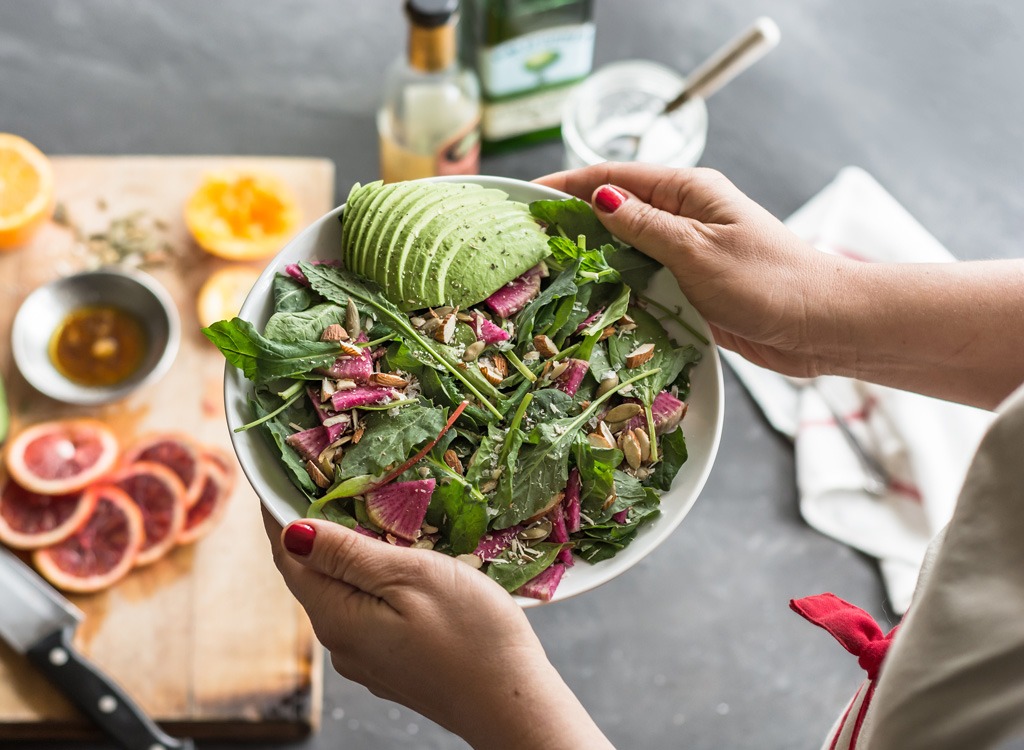 Most bottled dressing are filled with chemicals and excess sugar. To bypass the junk and rev your metabolism, make a homemade vinaigrette with hot sauce, mustard, vinegar and olive oil. Giving life to a bowl of greens and veggies has never been easier!
Make a Buffalo Chicken Caesar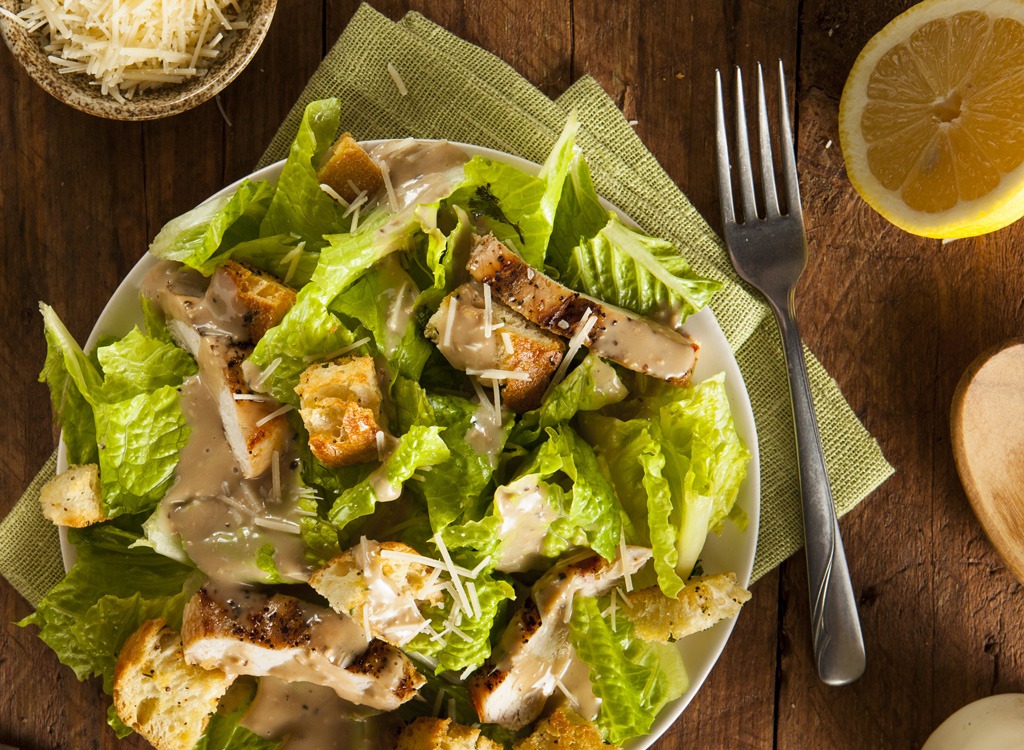 And speaking salads, there's another mouthwatering way to spice up your greens: make a Buffalo Chicken Caesar Salad. All you need is a better-for-you Caesar dressing (we like Annie's Naturals Organic Caesar) and some hot sauce. Mix the two together and toss a small amount with grilled chicken, lettuce, and some croutons (don't go too crazy with those—they're basically empty calories) for a tasty twist on a lunchtime classic.6254a4d1642c605c54bf1cab17d50f1e
Make an Fiery Fruit Salad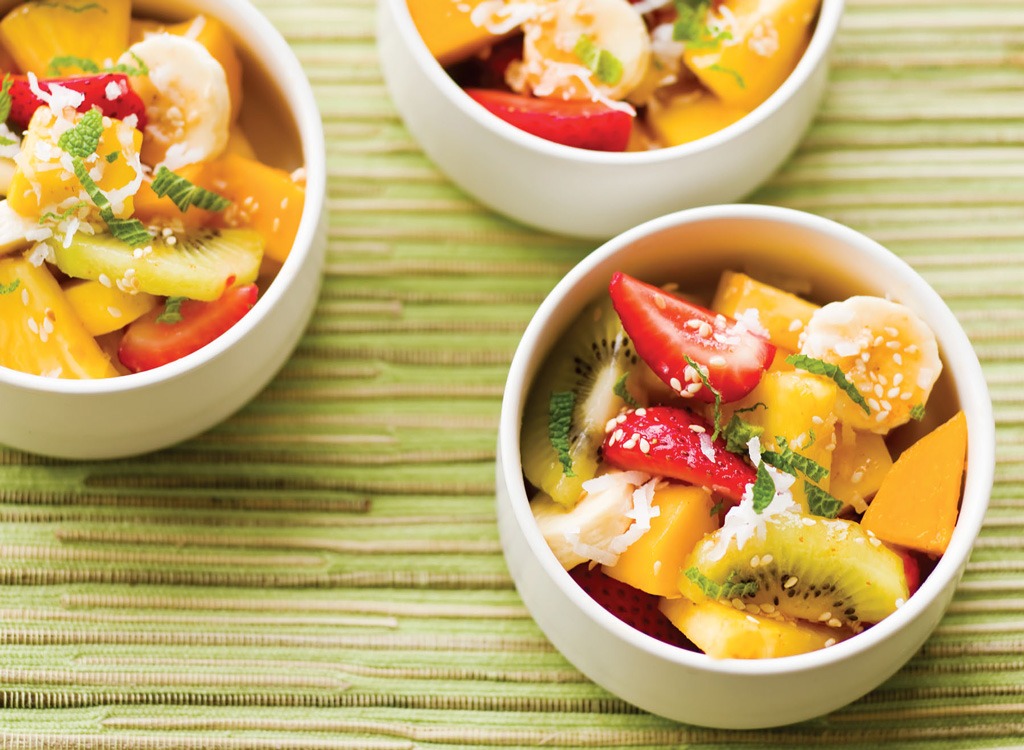 Is your simple fruit salad starting to feel like a total snooze cruise? Add some heat to intrigue your taste buds again. Randy Clemens, the author of The Sriracha Cookbook: 50 Rooster Sauce Recipes that Pack a Punch suggests topping chopped mangos, papaya, banana (one of the best breakfast foods for weight loss), kiwi and strawberries with a vinaigrette made from equal parts toasted sesame oil and seasoned rice vinegar, honey, Sriracha, white sesame seeds and a low-sodium soy sauce. Top your bowl with some coconut flakes and fresh mint leaves to round out the flavor palate. Sound a bit too involved for you? Toss chopped pineapple, cucumber, and mango and sprinkle with a pinch of salt and a few shakes of your favorite hot sauce. Both recipes are winners in our eyes.
Make 10-Second Arrabiata Sauce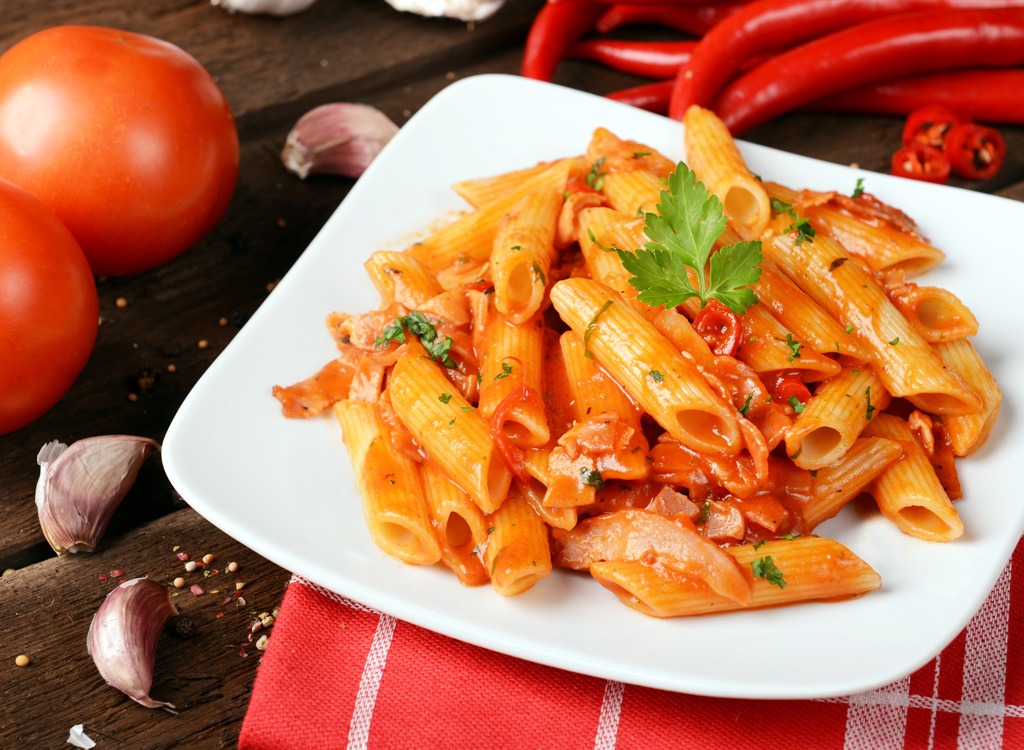 Traditionally, an arrabbiata sauce is made from garlic, tomatoes, red chili peppers and olive oil. We love the clean ingredient list, but it can take between 40 minutes to an hour to prepare which isn't realistic for busy weekday evenings. To get the flavor you desire in a more reasonable amount of time, simply combine some hot sauce with a low-sugar tomato sauce like Ragù No Sugar Tomato and Basil. Nuke the mixture until hot and stir in a bit of Parmesan cheese. Toss with whole grain pasta or zucchini noodles, for a quick and spicy weeknight dish that's easy on the waistline.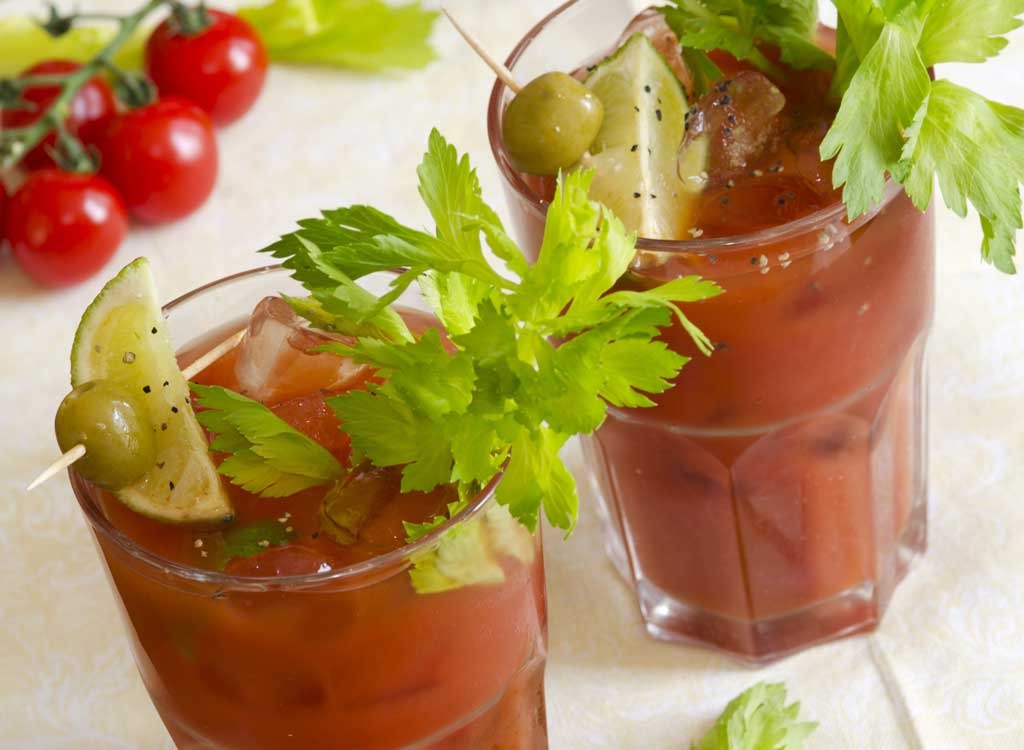 —just don't make it bottomless. Sure, all-you-can-drink booze is a fun way to start the day, but alcohol is loaded with calories and has been shown to increase appetite. Totally lame, we know. Next time you're at a festive brunch, skip the free-flowing bellinis and order one (yes, we said one) delicious hot sauce-spiked Bloody Mary instead—and savor it. There hasn't been a study to confirm our suspicions yet, but we'd like to think that the appetite-crushing capsaicin in the hot sauce counteracts the appetite-fueling vodka.
Boring burger, be gone! Mix some Sriracha into your ketchup and spread onto your burger bun for a fiery twist on an American classic.
Make a 5-Minute Shrimp Dinner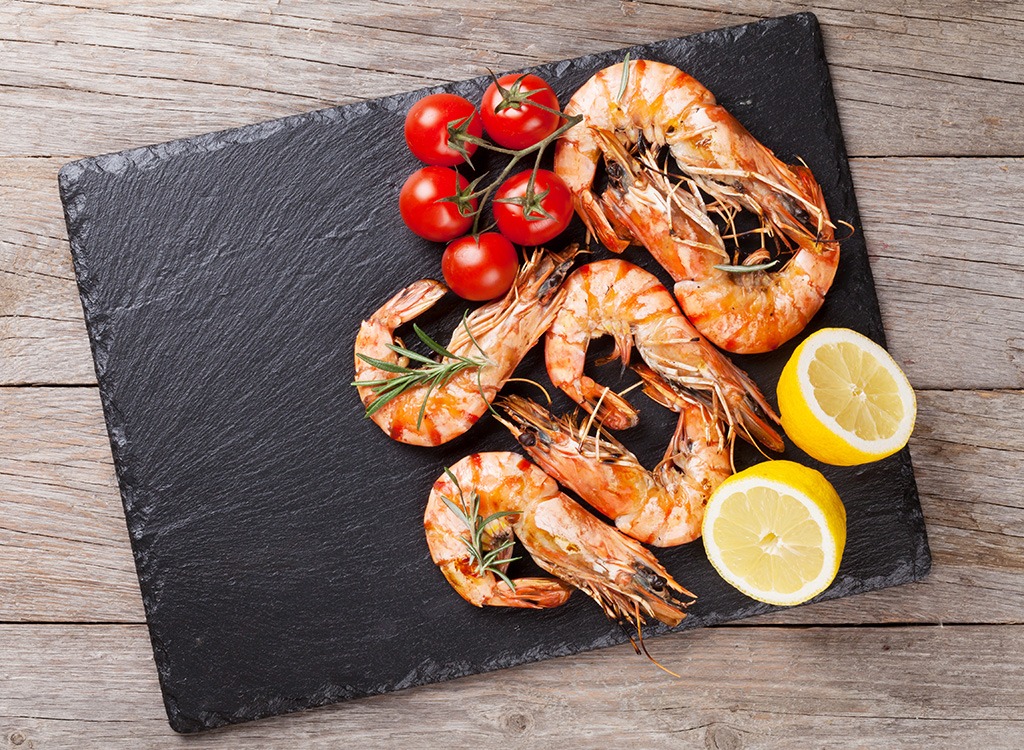 The most widely consumed seafood in the US is shrimp, a crustacean packed with protein and iodine, a building block of your metabolism-running thyroid hormones. So while there are some great reasons to nosh on the stuff, there's only so much Old Bay you can sprinkle on those little guys before you crave a recipe that's a little more exciting. To kick up the flavor—without dirtying every pan in your kitchen—saute some shrimp in butter, Sriracha, and garlic mixture until it begins to pink up. Then, top the shrimp with some lemon zest, fresh mint, and basil. Allow the herbs to wilt before removing it from the heat. Serve with some heat and eat veggies or greens mixed with a light vinaigrette.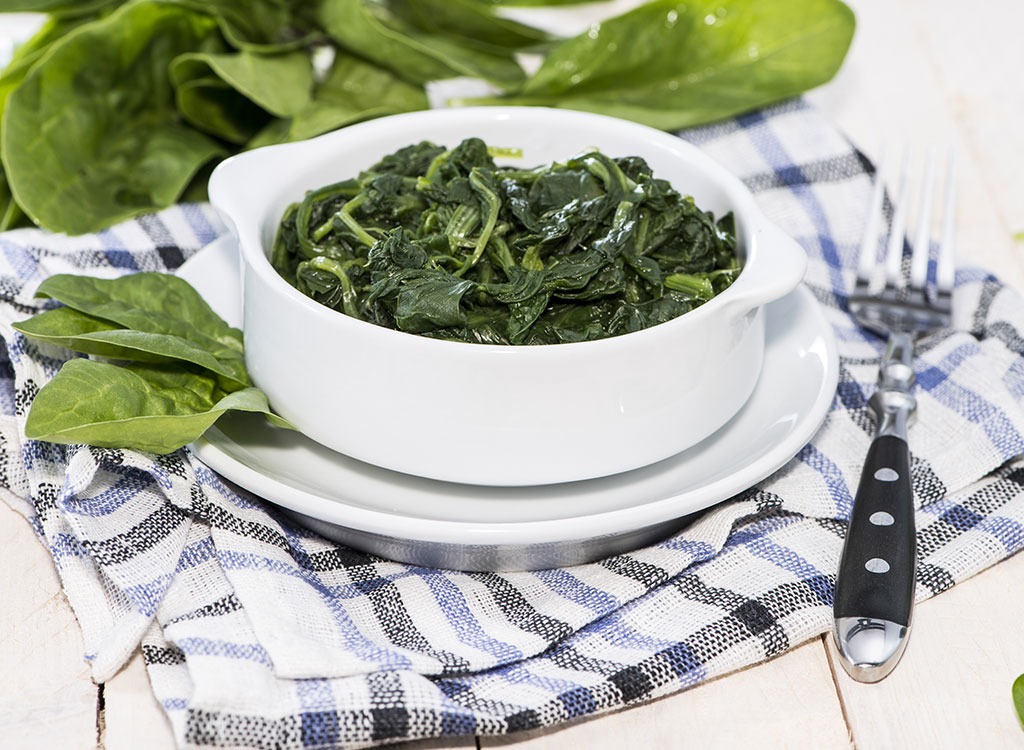 Even the biggest veggie lover is bound to get sick of sad, wilted greens time and again. Keep things interesting, by adding a few shakes of hot sauce to your go-to garlic and olive oil sautee. The mix of flavors pairs well with just about any green—collards, spinach (one of the best foods for a toned body), chard, you name it.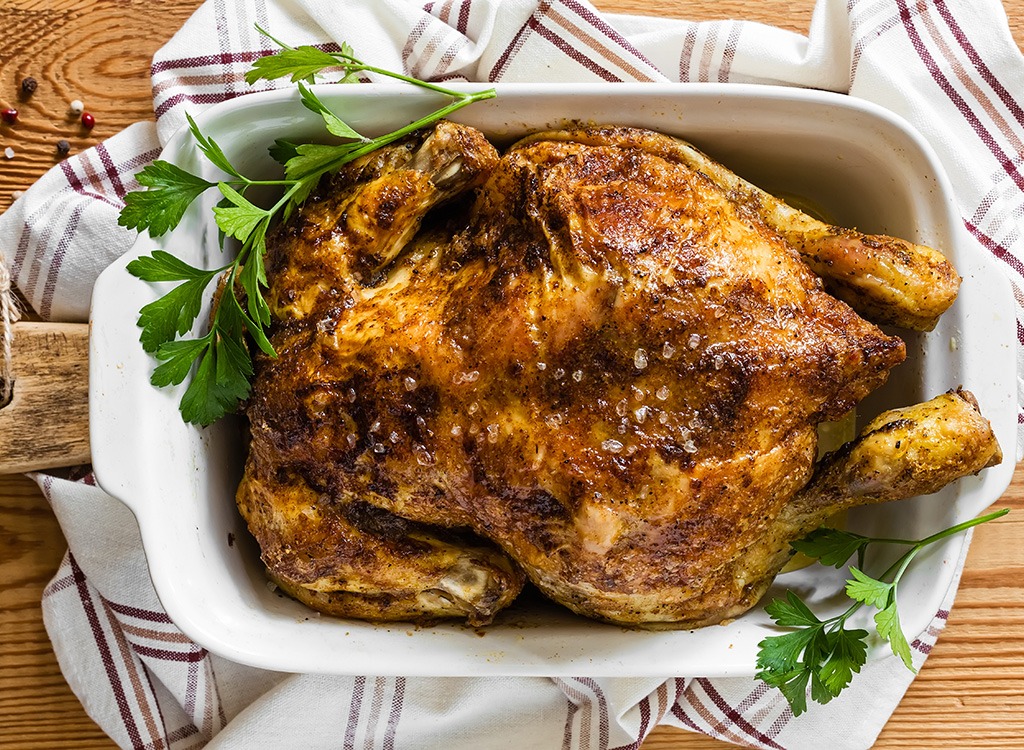 Brining is a great way to lock in moisture and add an intense, well-rounded flavor to meats— and there are endless flavor combinations to try. To spice up your chicken or turkey, make a mixture comprised of 1 gallon of water, ½ a cup of kosher salt, and 4.5 tablespoons of Tabasco Sauce. Let the bird sit in the mixture for at least 8 hours before throwing it into the oven. Word of warning, though: Brines may be low in calories, but they're typically heavy on the sodium, say University of California nutrition experts. To keep belly bloat and dehydration at bay be sure to drink extra water with your meal and avoid salty dishes throughout the rest of the day.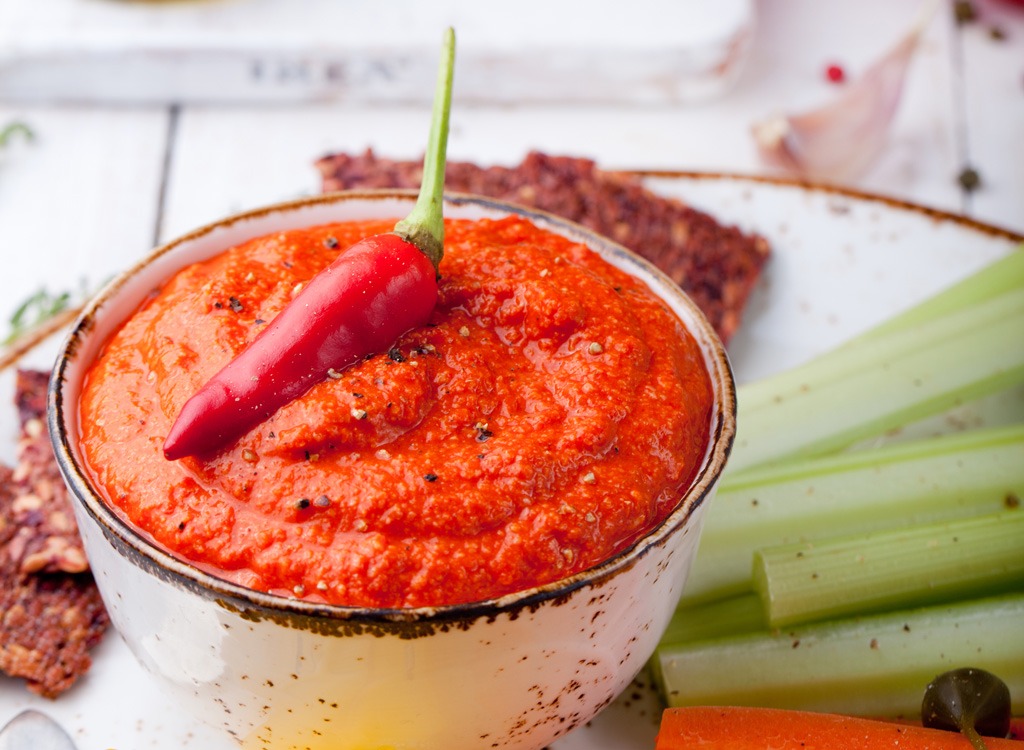 If you're an avid Eat This, Not That! reader, you likely already know that we're big fans of using hummus on sandwiches instead of other, nutrient-void spreads. To spice up your sammy a bit—without piling on those spicy and fatty Italian meats—mix your favorite hummus with some hot sauce and spread onto your bread. Pair with Ezekiel bread, avocado, kale, cucumber, and provolone for a tasty vegetarian meal that's packed with flavor and protein.
More content from
Recipes