6 Hot Sauces With the Highest Quality Ingredients
Keep it hot, hot, hot with these high-quality hot sauces.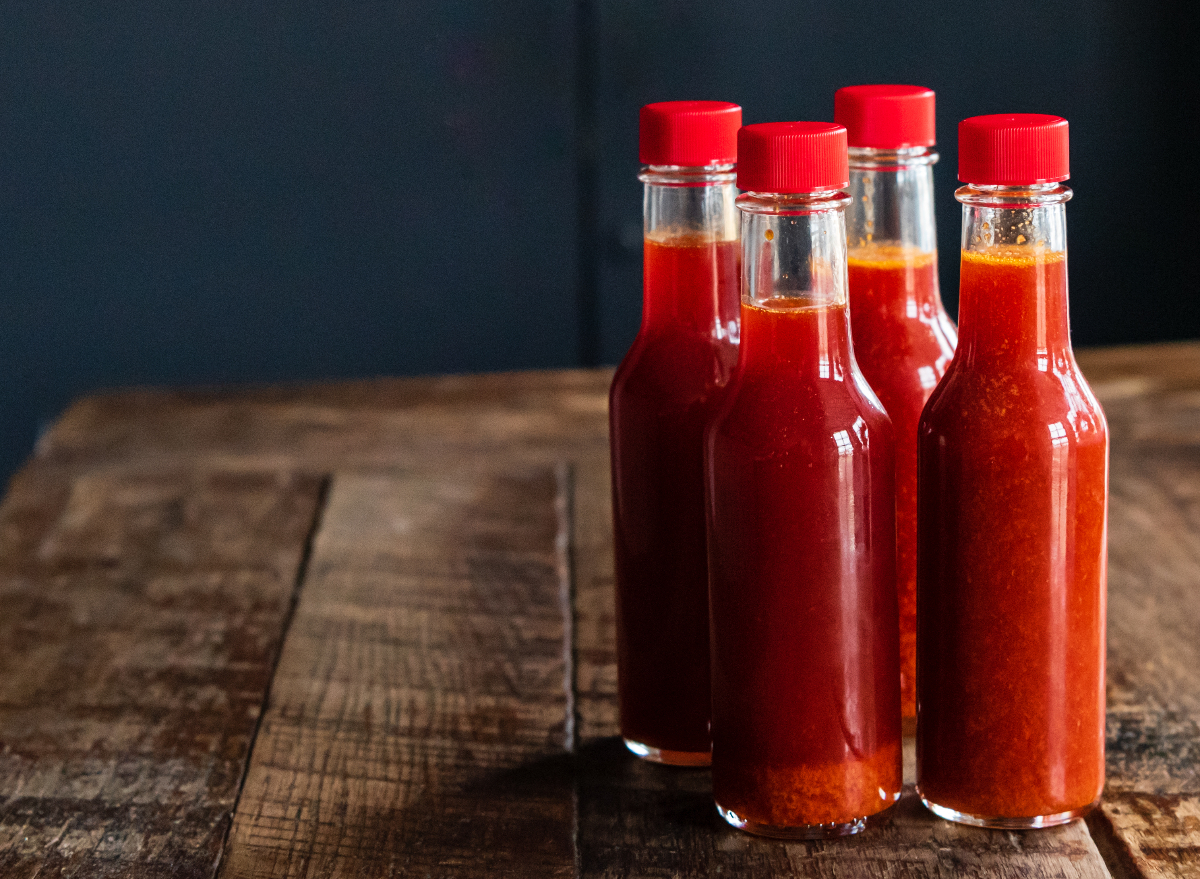 Ranging from mild to medium, scorching, and beyond, hot sauce has skyrocketed in popularity, taking on the world by storm. Companies continue inventing their own special variations, sometimes making it difficult to decide which to pick when at the grocery store. But for those who love the thrill of setting their mouths on fire, adding this condiment to your plate means more than just flavoring your food.
Whether you're pouring a drop or dousing the whole meal, you're going to want to find high-quality hot sauces that won't wreak havoc on your health.
"What makes a high-quality hot sauce is its ingredients," says Dr. Lisa R. Young, Ph.D., RDN, and author of Finally Full, Finally Slim and The Portion Teller Plan. "Chili peppers are the key ingredient. They also include vinegar, lemon, lime, spices, salt, and often pickled vegetables or fruits. I love ones with added vegetables and fruit."
Amy Goodson, MS, RD, CSSD, LD, and author of The Sports Nutrition Playbook, also suggests that "whole" ingredients, such as peppers, onions, garlic, and spices, are good additions to hot sauce. When hot sauces can include other components, such as carrots, tomatoes, spinach, or even avocado, they provide an extra nutrition boost.
At the same time, hot sauces can contain excess preservatives and additives. This is why, when on the hunt for the good stuff, Goodson advises checking the nutrition labels.
"Next time you reach for a hot sauce, be sure to look out for any preservatives and additional additives that top the list of what to avoid," Goodson told Eat This, Not That! "This includes xanthan gum, a food thickener that, for many people, causes an upset stomach. [Also] sodium benzoate is used to extend shelf life that has been potentially linked to inflammation."
While hot sauces are generally low in calories, Dr. Young says many hot sauce brands tend to be high in salt. So when choosing your favorites, peep at the sodium content.
With all of this in mind, here are 6 dietitian-approved hot sauces with the highest quality ingredients. And for more shopping tips, check out 6 Store-Bought Salsas With the Highest Quality Ingredients.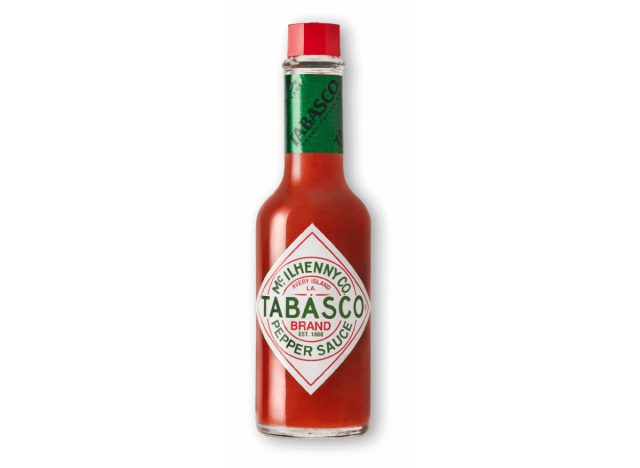 This beloved hot sauce brand has been around for centuries—literally. Tabasco first got started in 1868, and its Original Red Pepper flavor continues to be a staple on restaurant tables and at home. I suspect that the reason for this is because the brand has consistently remained true to its original recipe over the decades.
According to Dr. Young, Original Tabasco only has 35 milligrams of sodium and just three simple, wholesome ingredients: peppers, vinegar, and salt. With nothing else added, it should be a top contender for those who seek simple yet high-quality hot sauce.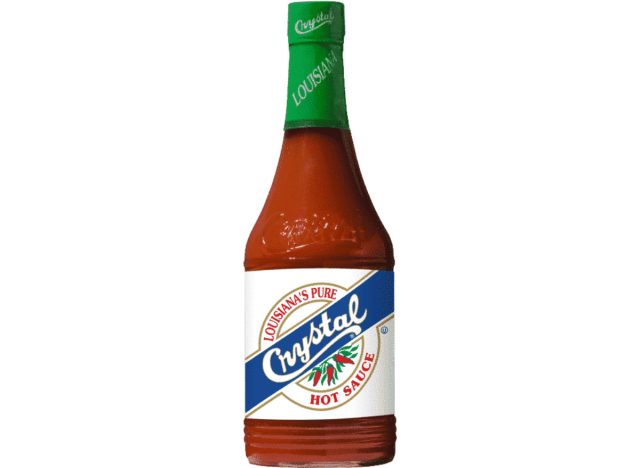 Crystal Hot Sauce keeps its ingredients crystal clear, containing all the good-for-you basics. Once this New Orleans-based family business figured out its "recipe for success" in 1923, it established a legacy of excellence based on quality flavor that has continued to thrive across three generations.
"Like Tabasco, Crystal's has a simple ingredient list of cayenne pepper, distilled vinegar, and salt," says Goodson. "A simple hot sauce with whole ingredients that do not include any preservatives or additives."
Melinda's Original Habanero Hot Sauce
For those who don't need too much spice in their everyday lives, Melinda's Original Habanero Hot Sauce is the perfect high-quality find. Containing only 80 milligrams of sodium, it's also a favorite choice of Dr. Young because of the extra bits of flavor.6254a4d1642c605c54bf1cab17d50f1e
"I like this option because it is made with carrots, garlic, and lime—all of which are good for health," she says.
Carrots are full of vitamins and antioxidants, which can do wonders for your health, including supporting your vision and ocular needs, reducing the risk of cancers, and strengthening your bones. Add in brain-boosting garlic and immunity-improving limes, and it's no wonder why this hot sauce is a high-quality pick!
TrueMade Foods Veggie Sriracha (Veracha)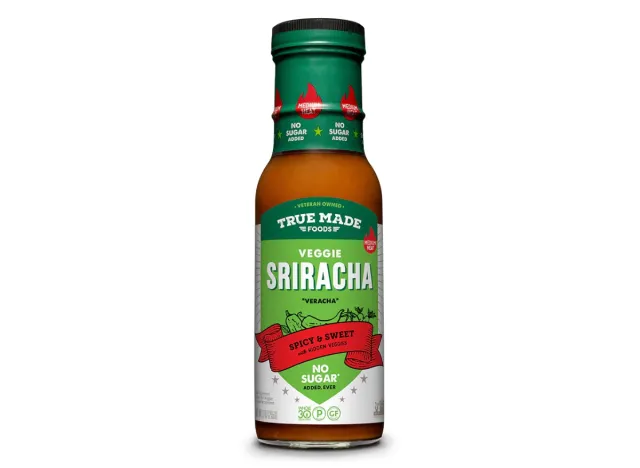 With the word "veggie" in the name, it's no surprise that TrueMade Foods Veggie Sriracha makes the list. This sriracha sauce—or as the brand calls it, "veracha"—is a mix of spicy and sweet that is perfect for a little kick with some bonus benefits. Because this sauce is rich in veggies, it's chock-full of vitamins and nutrients. To sweeten the deal, there's also no sugar added "ever," according to the bottle.
"This hot sauce puts a twist on the original sriracha with powerhouse ingredients like butternut squash, spinach, and carrots to give you extra antioxidants," says Goodson.
Secret Aardvark Habanero Hot Sauce
Defining themselves as "not your average hot sauce," Secret Aardvark Habanero is a blend of Caribbean and Tex-Mex flavors made with powerful habanero peppers plus some other delightful additions.
"With a list of whole ingredients, including carrots, tomatoes, and mustard, this hot sauce adds a unique flare," says Goodson. "Mustard is also a great way to get a dash of iron and calcium in your hot sauce."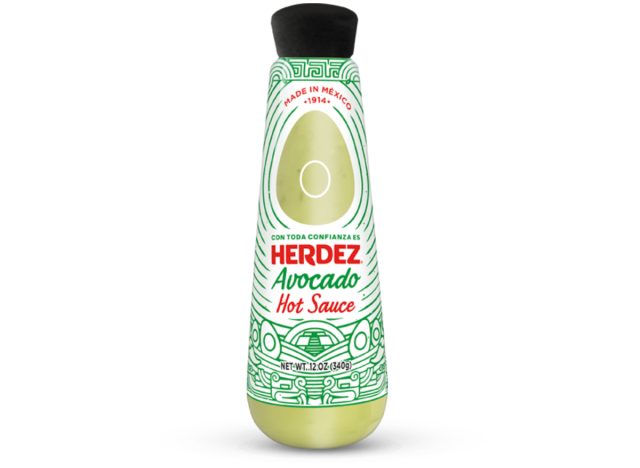 When you think of hot sauce, you probably wouldn't expect avocados to serve as the basis for its recipe, but the use of this pitted fruit is precisely what makes Herdez Avocado Hot Sauce so special. According to the company website, avocado is their "secret weapon," as their version of hot sauce brings a "creamy touch of heat" to your palate and contains only 35 milligrams of sodium.
"This hot sauce actually contains fresh avocados as well as tomatillos, onions, and cilantro," says Goodson.
Avocado has many health benefits, like lowering the risk of heart disease, improving eye health, increasing good cholesterol levels, and even upping your fiber, mineral, vitamin, and antioxidant intake. It's no wonder why this company wanted to find a way to incorporate this fruit into a unique, tasty, and healthy hot sauce.
Kayla Garritano
Kayla Garritano graduated from Hofstra University, where she majored in Journalism and double minored in Marketing and Creative Writing.
Read more about Kayla