8 Amazing Sauces Available at Costco Right Now
A great sauce can make your meals so much tastier. Find your next favorite condiment at the warehouse club.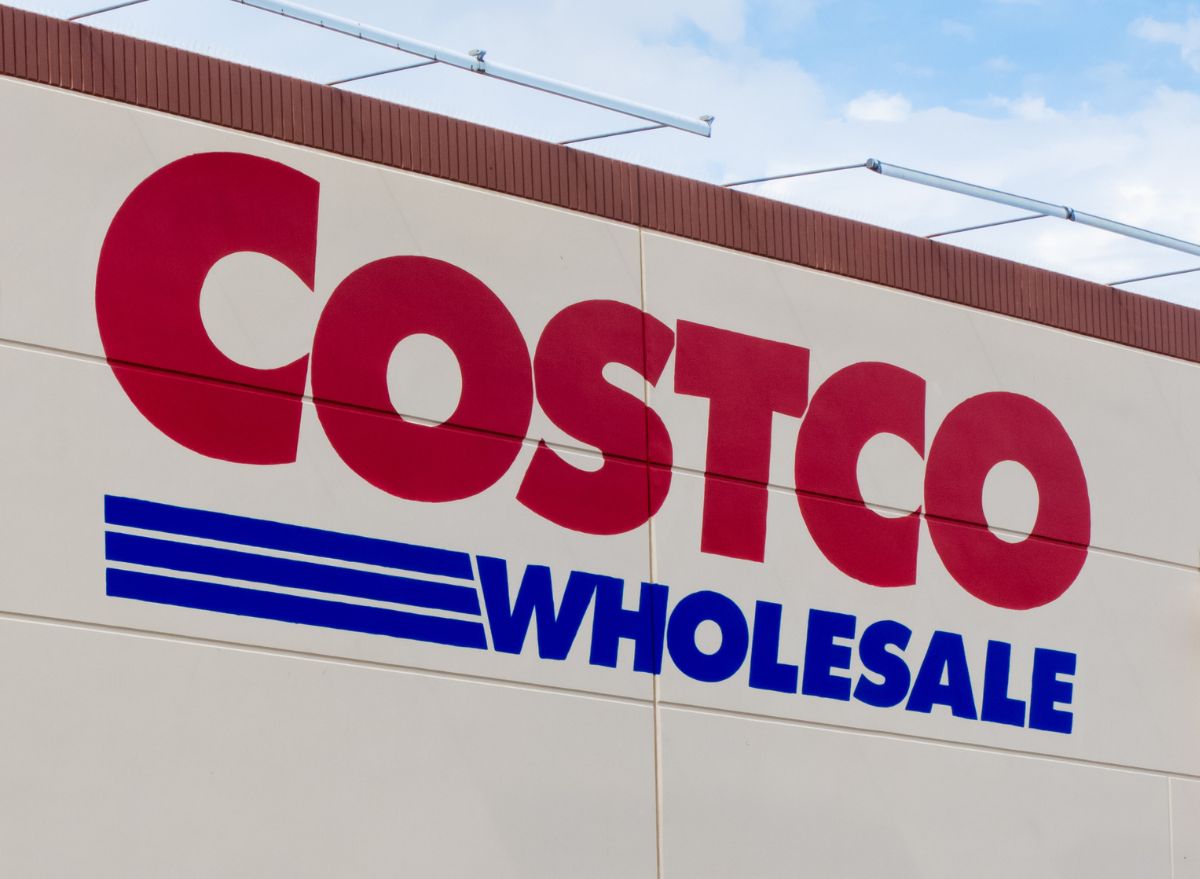 The product recommendations in this post are recommendations by the writer and/or expert(s) interviewed and do not contain affiliate links. Meaning: If you use these links to buy something, we will not earn a commission.
Sauces aren't really a necessity for a nutritious diet, but they do have the potential to make dining so much more delicious and exhilarating. After all, burgers wouldn't taste nearly as good without the obligatory squeezes of ketchup and mustard, pasta would fall flat without a dollop of marinara, and breakfast sandwiches wouldn't be nearly as satisfying without a healthy splash of your favorite hot sauce.
Like any other major retailer, Costco sells a range of sauces that should be a staple in anyone's pantry, from classic soy to salsa. But the beloved grocery chain also stocks some especially unique and beloved options that garner major praise from Costco shoppers. Luckily for members who haven't had the opportunity to sample Costco's entire sauce lineup, many Costco fans love to rave about their favorite sauces on social media. So we've rounded up some of the most popular options the retailer offers in 2023.
From a versatile teriyaki sauce to a fan-favorite pasta topping, here are eight amazing sauces available at Costco right now.
Kinder's The Chicken Dipping Sauce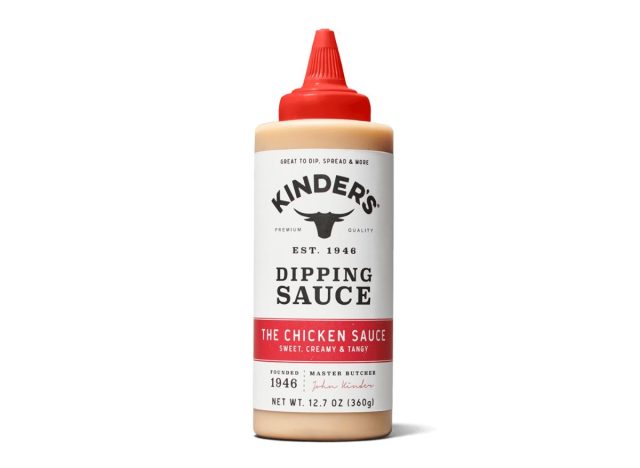 Per Serving (2 tbsp.)

: 190 cal, 20 g fat (3 g saturated fat), 160 mg sodium, 4 g carbs (0 g fiber, 3 g sugar), 0 g protein
Any Chick-fil-A fans who don't know about The Chicken Sauce should get acquainted with this product immediately. Kinder's describes the item as its "signature creamy sauce with a hint of BBQ and a touch of mustard." Some Costco shoppers swear that it's shockingly close in taste to the fast-food chain's iconic Chick-fil-A sauce. Others say that it's even better than Chick-fil-A's signature dipping option.
"It tastes like a slightly better version of Chick-fil-A sauce. I'm not sure exactly what it is, but it feels like it has a smokier taste. I've been basically drinking this stuff," one fan wrote on Reddit.
Kewpie
Deep-Roasted Sesame Dressing & Marinade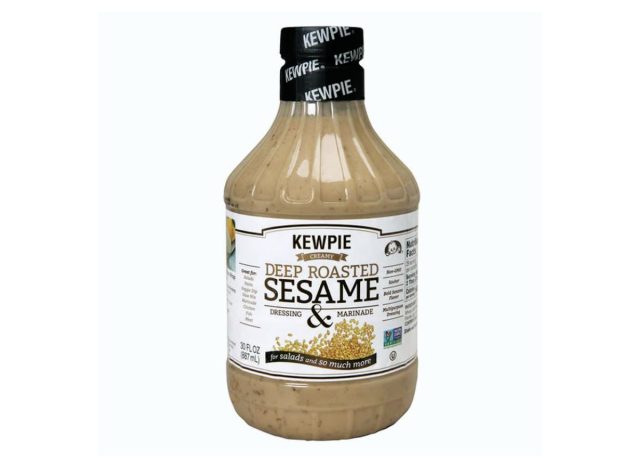 Per Serving (2 tbsp.)

: 140 cal, 14 g fat (1 g saturated fat), 320 mg sodium, 4 g carbs (0 g fiber, 3 g sugar), 1 g protein
"Amazing," "delicious," and "absolute best" are only some of the ways that Costco shoppers have described this super popular sauce. They not only love it for the taste, but also for the myriad of ways that they can use it.
Kewpie's Deep-Roasted Sesame Dressing & Marinade is a creamy concoction that highlights the flavors of deep-roasted, whole sesame seeds. In a Reddit thread with more than 500 comments this past spring, Costco shoppers raved about the dressing and chimed in with all the inventive ways that they put it to use. They recommended tossing it with chicken wings, using it as a dipping sauce for seared ahi tuna, marinating salmon in it, and even just tossing it with a simple salad.
"I bathe in it, it's that good," one Redditor gushed.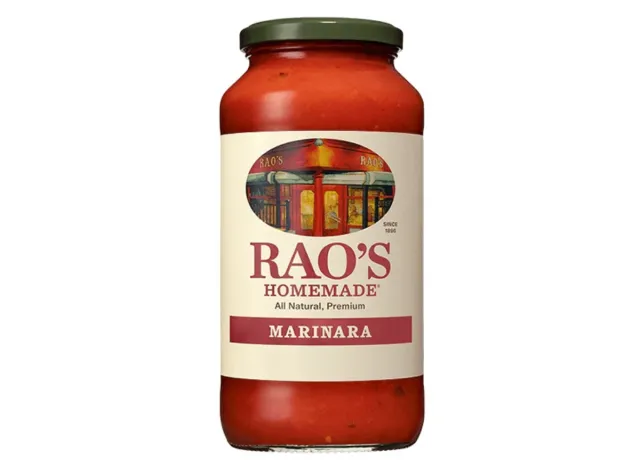 Per Serving (1/2 cup)

: 90 cal, 8 g fat (1 g saturated fat), 380 mg sodium, 4 g carbs (1 g fiber, 3 g sugar), 1 g protein
If you're going to buy pasta sauce at the store instead of making it yourself, customers say that Rao's is the brand to opt for. Though the popular brand is not exclusive to Costco, the members-only warehouse club offers substantial savings by selling bigger jars in bulk quantities. A two-pack of 28-ounce jars can cost less than $12 at the warehouse. 
The signature marinara is slow-simmered, made in small batches, and highlights high-quality ingredients like pure Italian olive oil and hand-picked tomatoes from southern Italy. Better yet, Rao's products don't contain any added sugar, filler, colors, starch, water, tomato blends, or tomato paste, so the product is very straightforward.
"I literally can't eat any other type of sauce," one customer raved on Reddit.
Bachan Japanese Barbecue Sauce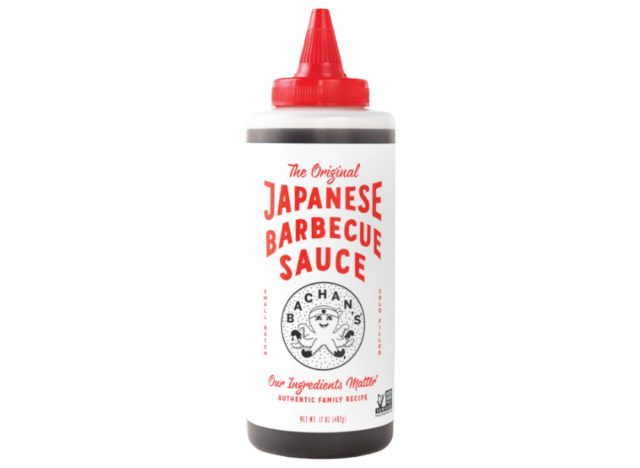 Per Serving (1 tbsp.)

: 35 cal, 0 g fat, 520 mg sodium, 8 g carbs (7 g sugar), 0 g protein
Bachan's Japanese Barbecue Sauce is another item that Costco shoppers adore for both its taste and versatility. But don't pop open a bottle expecting it to taste like an American-style barbecue sauce. 
Customers say this product is looser and the taste is more akin to a teriyaki sauce, making it a superb addition to plenty of recipes. Costco shoppers said that they pair it with sushi, stir fry, veggies, and fried rice. They also recommended using it as a marinade for chicken, salmon, tofu, or any other protein that would pair well with the savory, umami-filled sauce.
"I personally put it on everything," one shopper noted in a Reddit thread about the sauce.
Kirkland Signature Italian Basil Pesto
Per Serving (1/4 cup)

: 330 cal, 30 g fat (5 g saturated fat), 630 mg sodium, 5 g carbs (4 g fiber, 0 g sugar), 6 g protein
Jarred pesto is a staple at many grocery stores, but Costco has developed an especially fierce following for its Kirkland Signature Italian Basil Pesto. This intense fanfare isn't really a surprise considering that Costco crafts its pesto with 100% imported Italian basil.
Costco customers love to toss the pesto with pasta, swap it out for the tomato sauce on homemade pizza, and even mix it with mayo to create a creamy, flavorful sandwich spread.
"That's my one repeat purchase. I'm always going to have it in my fridge," one customer said of the product on Reddit.
Luckily for any shoppers who might have trouble finishing such a large jar before it spoils, customers said it keeps well in the freezer.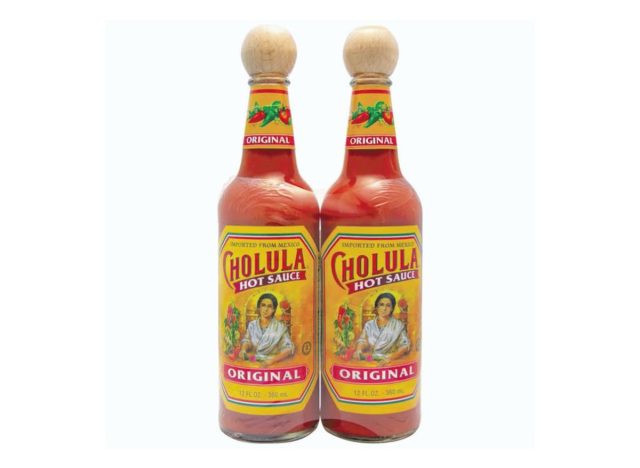 Per Serving (1 tsp.)

: 0 cal, 0 g fat, 110 mg sodium, 0 g carbs, 0 g protein
There are tons of different hot sauces on the market, but few are quite as legendary and highly regarded as Cholula. This condiment—a blend of arbol peppers, piquin peppers, and spices—frequently sits near or at the top of rankings of different grocery store hot sauces.6254a4d1642c605c54bf1cab17d50f1e
Cholula's iconic wood-capped bottles are available at pretty much any grocery store that you can think of, including Costco. And in true Costco fashion, the retailer offers a steal of a price for the condiment. Two 12-ounce bottles of the sauce cost $11.57 online at a Costco near me in New Jersey right now, while Walmart currently lists one 12-ounce bottle for $7.63 online. So shoppers could theoretically save a few bucks by buying this sauce in bulk at Costco rather than at a non-warehouse club like Walmart, though prices may vary by location for both retailers.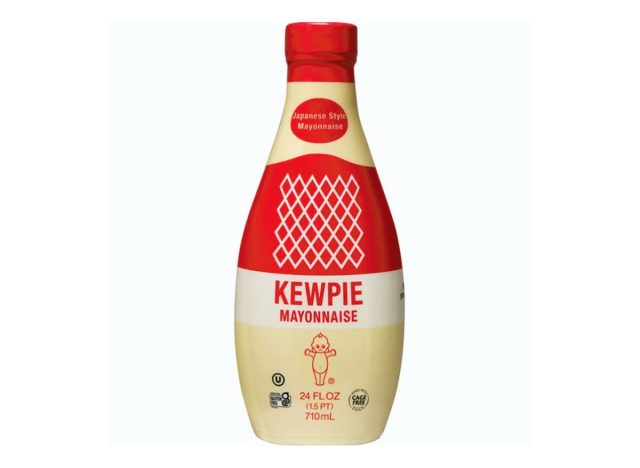 Per Serving (1 tbsp.)

: 100 cal, 12 g fat (2 g saturated fat), 115 mg sodium, 0 g carbs, 0 g protein
Kewpie seems to have a knack for crafting fan-favorite sauces—and the brand's mayonnaise quite literally isn't your average mayo.
Kewpie mayo is extra rich and flavorful because it uses egg yolks rather than whole eggs. Costco customers say that it makes a stellar topping for fried rice or chicken katsu, and also makes a great swap for regular mayo when you're making chicken salad, tuna salad, and potato salad.
"​​Once I tried Kewpie I never went back. It is far and away better than mayo and Miracle Whip," a Costco customer wrote on Reddit.
Robert Rothschild Pineapple Habanero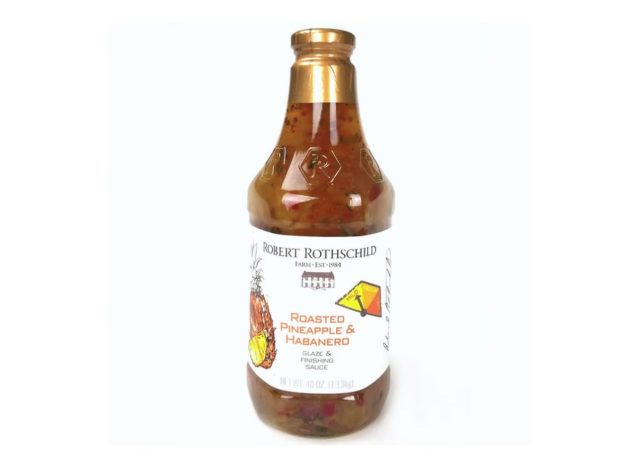 Per Serving (2 tbsp.)

: 70 cal, 0 g fat (2 g saturated fat), 5 mg sodium, 18 g carbs (0 g fiber, 17 g sugar), 0 g protein
The Robert Rothschild brand Roasted Pineapple & Habanero Glaze & Finishing Sauce is sweet and slightly spicy concoction, made with roasted vegetables, pineapple, and a hint of mango.
Costco shoppers love to slather a plethora of different food items with this sauce, from slow cooker meatballs to pork chops. Overall, they attest that it's super adaptable so customers can use their imagination to concoct unique, tasty, and tantalizing flavor pairings.
"This stuff is super versatile," one shopper noted on Reddit.
Zoe Strozewski
Zoe Strozewski is a News Writer for Eat This, Not That! A Chicago native who now lives in New Jersey, she graduated from Kean University in 2020 with a bachelor's degree in journalism.
Read more about Zoe