We Taste-Tasted 5 Stuffing Mixes & This Is the Best
Here's what brand we'd buy again and which we'd leave at the store.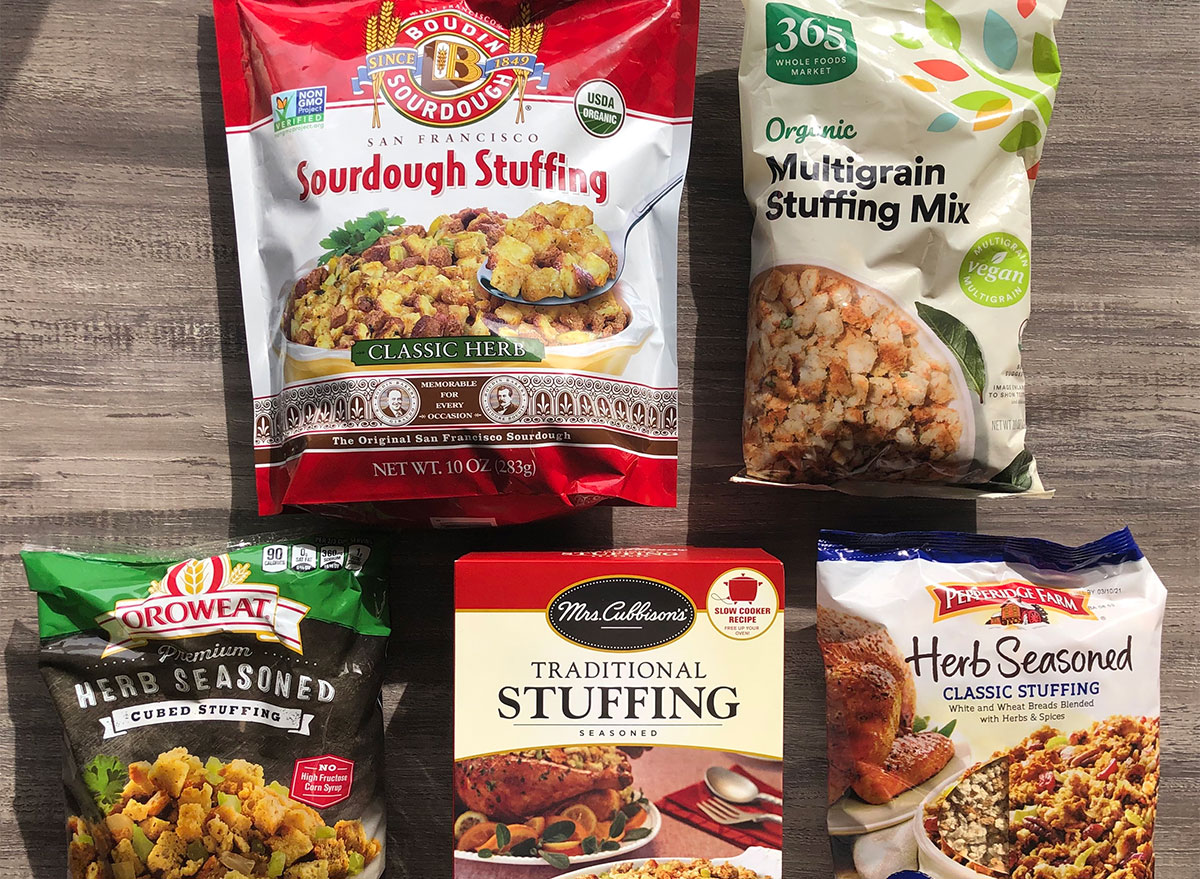 Cubes or tears? Stovetop or oven-baked? Multigrain or sourdough? Homemade or with help from a box? Those are just some of the stuffing options you'll likely be presented with for Thanksgiving when it comes time to plan your menu, and it can be overwhelming.
If you're in a pinch and have ruled out preparing stuffing from scratch, there's still time to snag a box or bag from your local grocery store. But which to choose? With a myriad of choices on the shelves, it might not be easy to make a decision on the fly that still offers the best attributes of a homemade dish—moist yet crunchy, retains the shape well without getting soggy—and that's where we come in.
Here's how five different stuffing mixes stacked up against each other, ranked from worst to best.
And for more, check out these 17 Chefs Share Their Must-Have Thanksgiving Dishes.
Mrs. Cubbison's Traditional Seasoned Stuffing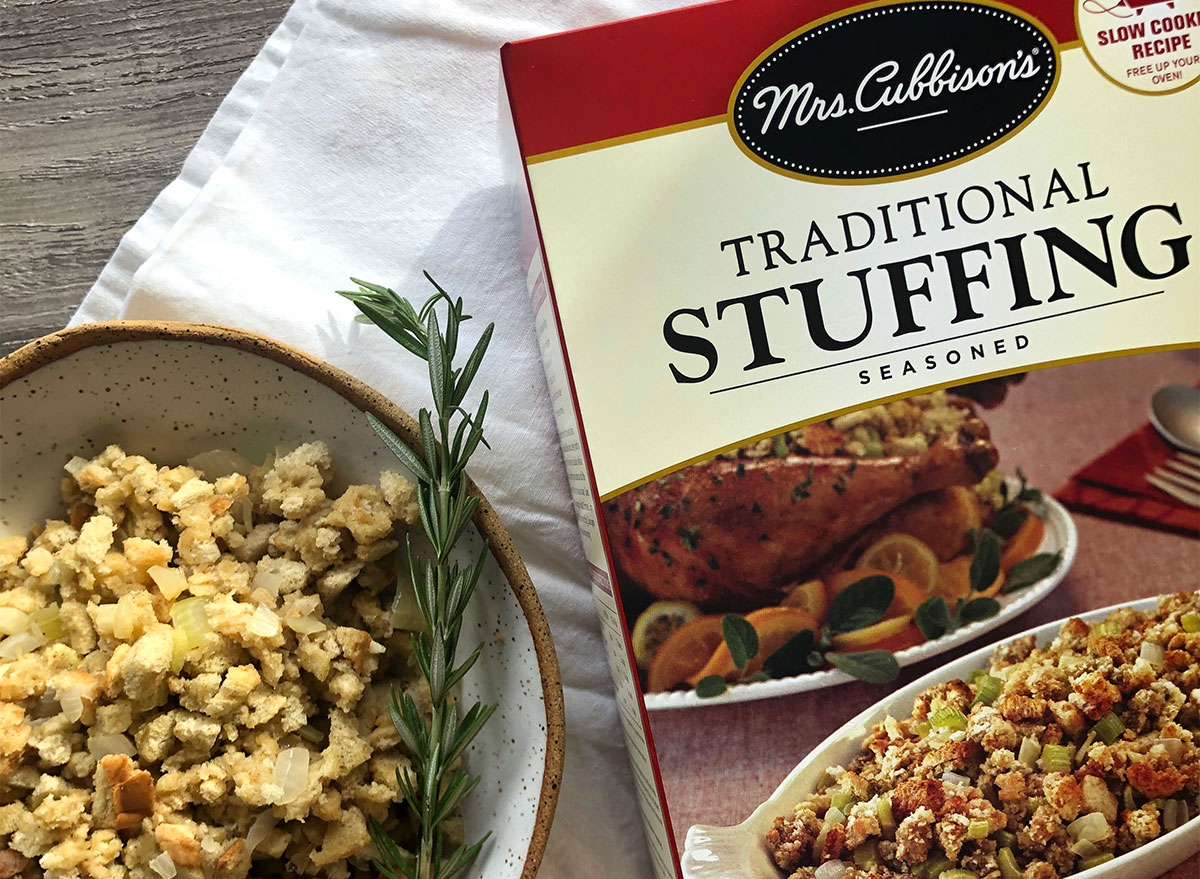 Per 1/2 cup dry mix (34 g)
: 130 calories, 0.5 g fat (0 g saturated fat, 0 g trans fat), 330 mg sodium, 25 g carbs (0 g fiber, 1 g sugar), 4 g protein
I wasn't too impressed with this simple stuffing from Mrs. Cubbison's, which ended up being a bit too soggy even when it was finished in the oven after cooking on the stove. To boot, there was very little flavor in the bread itself, which was a mix of relatively small shapes, leaving much to be desired overall.6254a4d1642c605c54bf1cab17d50f1e
Boudin Bakery Sourdough Stuffing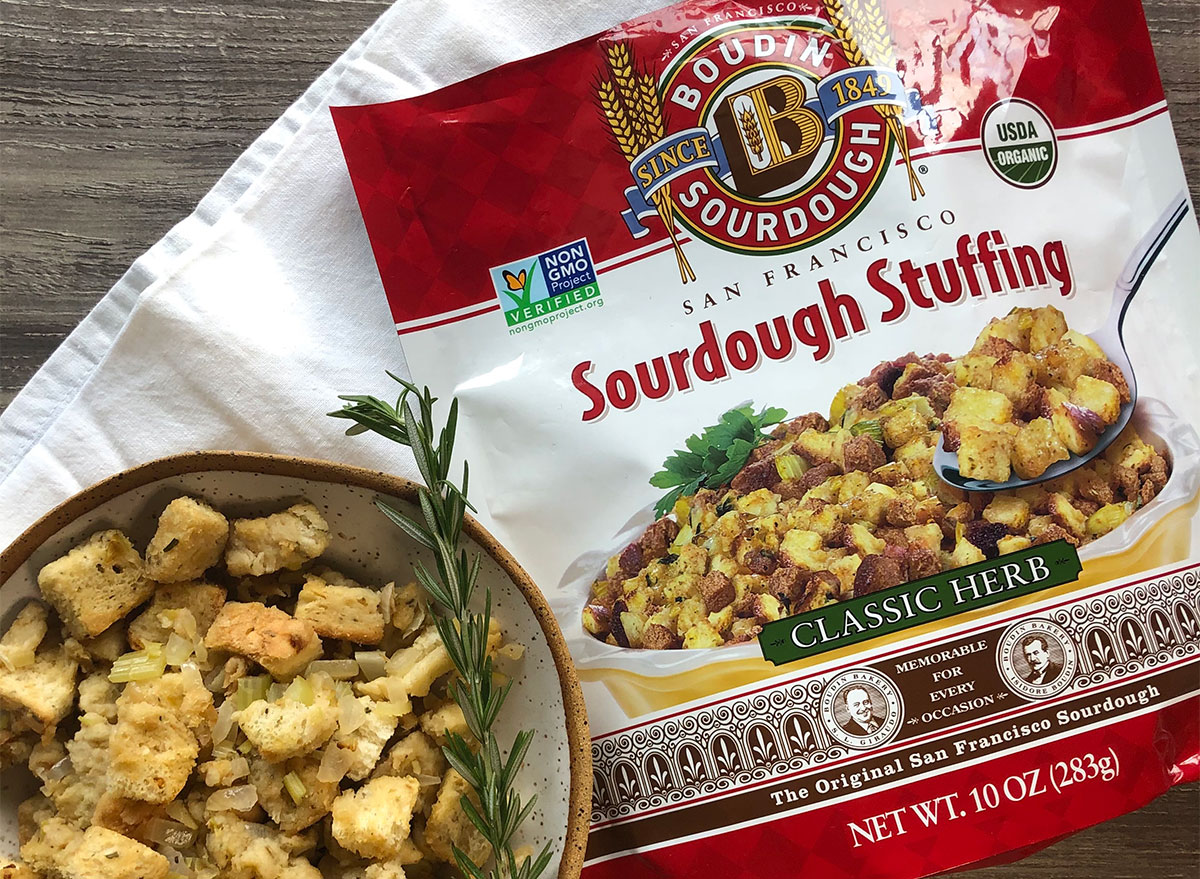 Per 1/8 cup
: 110 calories, 3 g fat (0 g saturated fat, 0 g trans fat), 180 mg sodium, 18 g carbs (less than 1 g fiber, 0 g sugar), 3 g protein
As a fan of sourdough, and Boudin's in particular, I was looking forward to a tasty stuffing option from this San Francisco-based brand. However, this didn't tick all the necessary boxes, mostly because the pieces were simply too big to handle. With some pieces that absorbed the buttery veggie stock just the right amount and others that were left more like a crouton, this is an option you can pass on come Turkey Day.
Whole Foods Organic Multigrain Stuffing Mix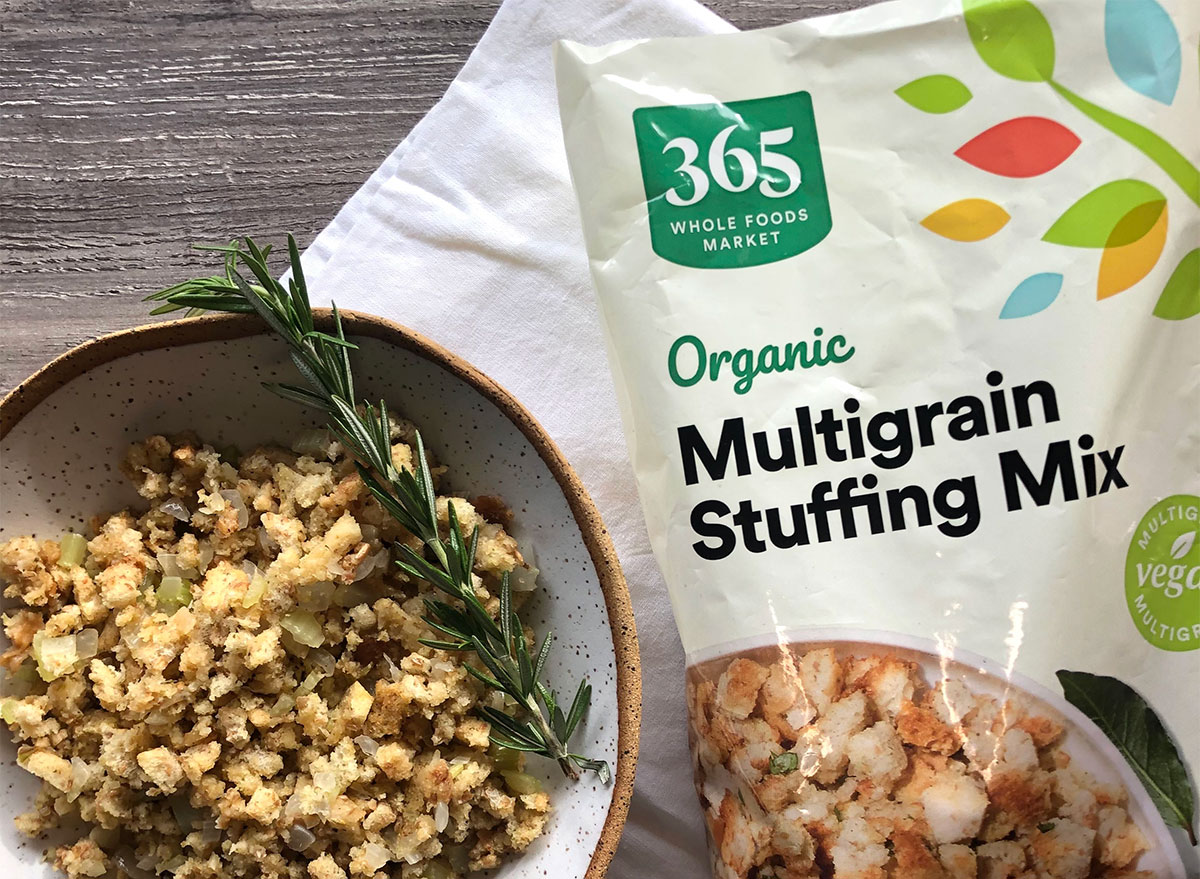 Per 1/3 cup dry mix (28 g)
: 110 calories, 2 g fat (0 g saturated fat, 0 g trans fat), 360 mg sodium, 19 g carbs (1 g fiber, 1 g sugar), 4 g protein
If you're looking for a fast option without too much muss or fuss, this Whole Foods option is the one for you! For the sake of consistency, celery, onion, butter, and veggie stock were added into the cooking process despite the directions not calling for any. This is a fast, stove-top-only option that gives you a bit of crunch from the multigrain pieces but also fluffs up well when you take a fork to it.
Oroweat Herb Seasoned Cubed Stuffing
Per 2/3 cup (24 g)
: 90 calories, 1 g fat (0 g saturated fat, 0 g trans fat), 360 mg sodium, 17 g carbs (<1 g fiber, 1 g sugar), 3 g protein
Though my preference is stuffing that has a sampling of bread sizes in the mix, this all-cubed bag from Oroweat gave the perfect blend of texture and flavor. Each piece of bread was well-seasoned and could pass for being homemade. You'd never know that this wasn't thrown together from scratch!
Pepperidge Farm Herb Seasoned Classic Stuffing
Per 1/2 cup (29 g)
: 110 calories, 1 g fat (0 g saturated fat, 0 g trans fat), 410 mg sodium, 22 g carbs (<1 g fiber, 2 g sugar), 2 g protein
I was pleasantly surprised that Pepperidge Farm was the ultimate winner of this taste test! There was a good variety of tears and bigger chunks of bread in the bag. It was just what I was looking for, and I imagine will be perfect for leftover sandwiches. Combine that with a mix of softer bits of bread and pieces that got a bit toasty in the oven, and this was the clear top choice.
And don't forget! Just because you're making stuffing from a package doesn't mean you can't dress it up and make it semi-homemade. Try adding in a variety of your favorite seasonings, fresh herbs, and even a few extra veggies like butternut squash and carrots to make it your own.
Read more tips and tricks for a healthy Thanksgiving:
Jacqueline Weiss
Jacqueline is a blogger and writer, passionate about making healthy eating and cooking accessible to all.
Read more about Jacqueline