The #1 Best-Tasting Tortilla Chip Brand to Buy Right Now
Your favorite go-to dip deserves the perfect tortilla chip to alongside it.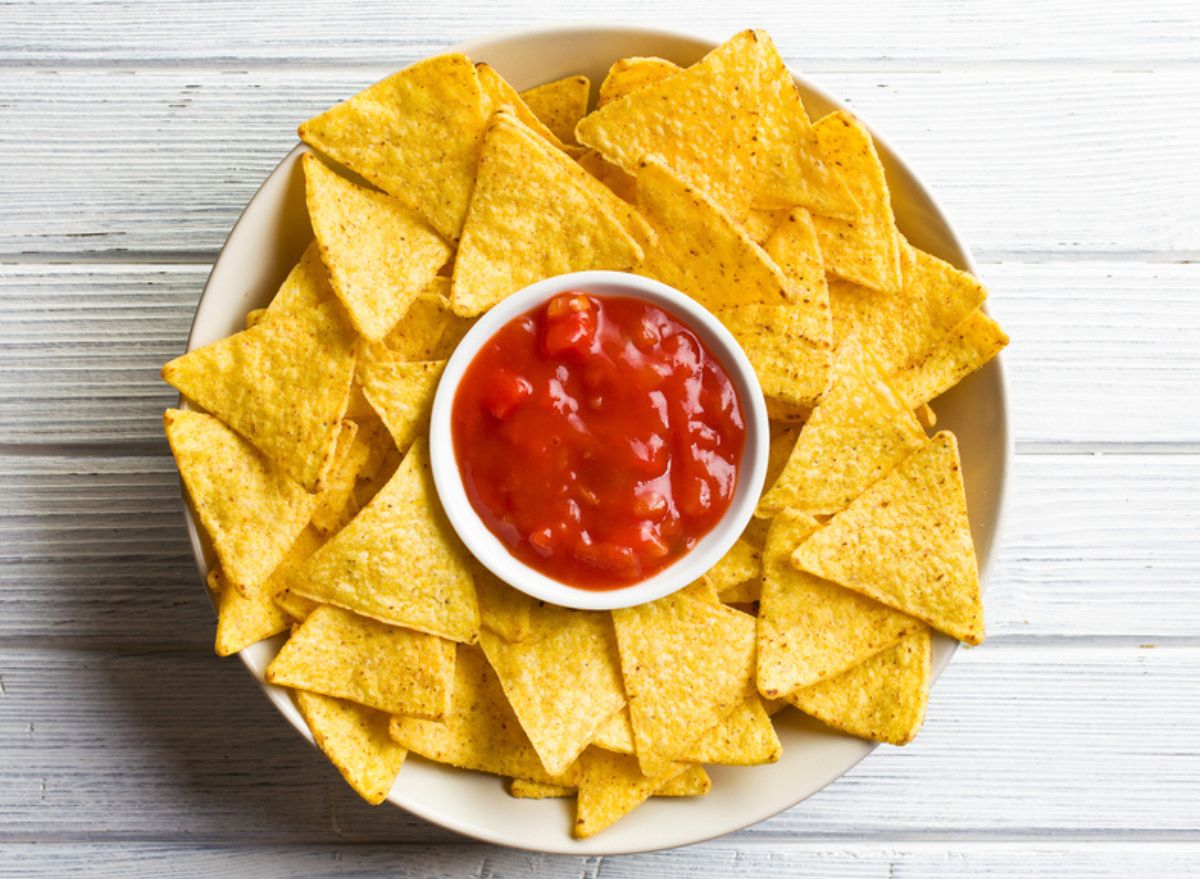 The first place I head towards at a party is the snack table. You'll probably find a charcuterie board and some vegetables, but inevitably there are also always tortilla chips and salsa. When in doubt, it's almost impossible to go wrong with this classic party snack that's easy to eat and delicious.
While I am a huge fan of tortilla chips, I don't eat them often. However, when I do, I look for a few important qualities: crunch, flavor, and size (yes, that matters.) I want to make the most of the surface area on my tortilla chips—and you should too.
To help make the decision easier for your next party or movie night, I made a trip to the grocery store and grabbed every bag of tortilla chips I could get my hands on. With so many brands out there, you want to know what tortilla chips are worth the money and I'm here to help.
Without further ado, I tried 6 store-bought tortilla chip brands to find the very best-tasting one. Here are the results listed from worst to best.
What we tasted:
Brad's Organic Salsa Verde Organic Tortilla Chips
Food Should Taste Good Sweet Potato Tortilla Chips
Late July Snacks Organic Chia & Quinoa Restaurant Style Tortilla Chips
Simply TOSTITOS Organic Blue Corn Tortilla Chips
SOMOS Unusually Thick And Crunchy White Corn Tortilla Chips
Tia Lupita Cactus Tortilla Chips – Hot Sauce Flavor
Brad's Organic Salsa Verde Organic Tortilla Chips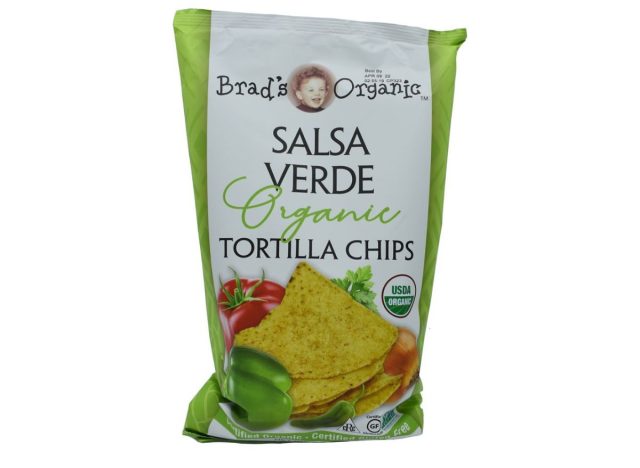 The Look:
These tortilla chips are massive. Unless you have a huge gape, you probably can't eat one chip in a single bite, but they have a ton of surface area to hold salsa and other dips. Unlike SOMOS, they are more yellow in appearance and have clean sharp edges.
The Taste:
I wasn't a fan of the taste of the flavor of these tortilla chips, but they tasted pretty average. They left a filmy coating in my mouth between each bite which prevented the flavor from coming through after a while. The redeeming factor here was the crispiness—they gave that satisfying crunch that tortilla chips are most known for.
Late July Snacks Organic Chia & Quinoa Tortilla Chips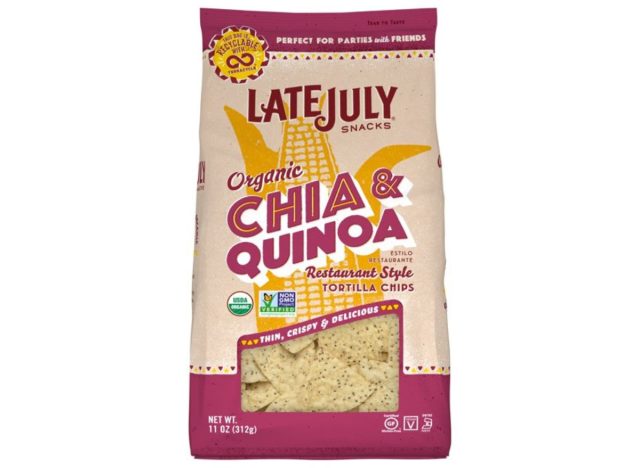 The Look:
If you didn't know they were store-bought, then you might mistake them for those from a restaurant by their thin and crispy appearance. The chia seeds are visible to the naked eye and add additional color and texture to these tortilla chips.
The Taste:
I thoroughly enjoyed the taste of these chips upon the first bite. I couldn't really make out the flavor of the quinoa or chia, but they more so added to the texture which was a nice touch. I'd definitely suggest adding some type of topping or dip to these because they can be a bit bland on their own.
Food Should Taste Good Sweet Potato Tortilla Chips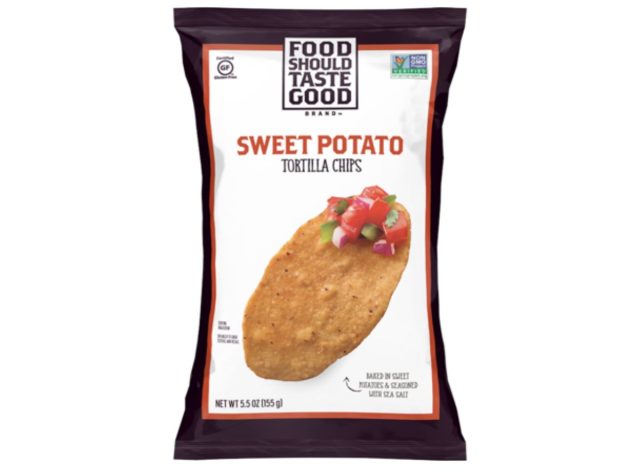 The Look:
Instead of being triangle-shaped, these are more circular/ovalish and narrow. They don't have that much room to hold sauces and salsas, but you don't even need it with these. They are so flavorful on their own so the tiny size works just fine.6254a4d1642c605c54bf1cab17d50f1e
The Taste:
For the sake of this taste test, sweet potato tortilla chips count. Not only are they crunchy and flavorful, but have a sweet element. If you aren't craving spicy and hot, these offer the same crunch without the burn. They reminded me of a chip version of sweet potato fries and with the light dusting of salt, they were scrumptious.
SOMOS Unusually Thick And Crunchy White Corn Tortilla Chips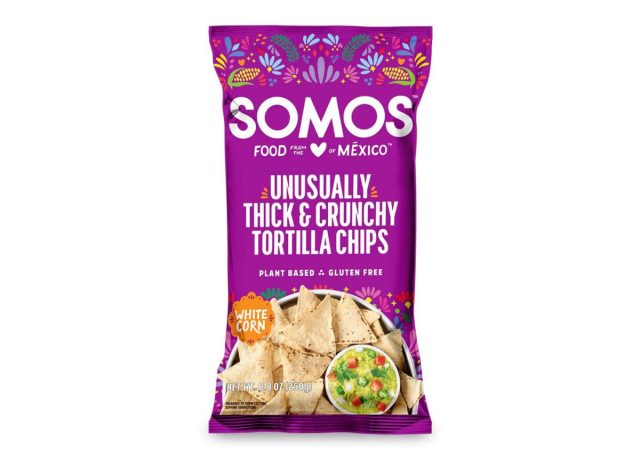 The Look:
Unlike the other tortilla chips, these were thick, hence the name. You could tell it wasn't just one layer of chip, but multiple combined. Honestly, I was a bit skeptical at first because the tortilla chip was so white. Normally, they have a more yellowish tint, but this one didn't. As the famous saying goes, "don't judge a book by its cover," I tried it with an open mind.
The Taste:
I didn't find them to be super flavorful, but more on the bland side. However, the density and consistency made up for it. They held a lot of salsa and were extremely satisfying. Sometimes it's easy to feel hungry after eating a bowl of chips, but not with these. After 8-9 chips, I was pretty stuffed in the best way possible.
Tia Lupita Cactus Tortilla Chips (Hot Sauce Flavor)
The Look:
These tortilla chips looked similar to the others I tried with their triangular shape. The flavor came from the crummy coating on the outside which did trace back onto my hands, but nothing a little napkin can't fix. My main qualm with these tortilla chips was the size. I wish they were bigger because if I had side dipping sauces they wouldn't hold too much.
The Taste:
I'm normally not a fan of spice, but every once in a while it can be satisfying as was the case with these tortilla chips. They were crispy just like I had hoped and had a slight kick that made them enjoyable—I wasn't running to a glass of milk to soothe the spice by any means. I ate these on their own, but I can only imagine how great they'd taste with some salsa. In terms of crunch, it was just the right amount making each bite delicious.
Simply TOSTITOS Organic Blue Corn Tortilla Chips
The Look:
Reminiscent of my favorite airplane snack, these blue corn tortilla chips are pretty big and have a porous texture. The best part? These chips have a slight curve to them making them the perfect choice for holding salsa, guacamole, and other beloved dipping sauces.
The Taste:
These blue corn tortilla chips are the best ones in my humble opinion. With just the right amount of sea salt that didn't leave my lips burning and a satisfying crunch, these were all around the best of the bunch.
Casey Clark
Casey Clark is a current journalism student at Hofstra University with a passion for food, beauty, and entertainment.
Read more about Casey
More content from
Groceries