We Tasted 6 Salsas and This Is the Best One!
Don't overlook salsa verde when you're at the grocery store.
This post contains affiliate links. If you use these links to buy something, we may earn a commission.
As a lover of Mexican food, I take my salsa selection very seriously. Obviously, the best salsa is homemade salsa, with freshly chopped vegetables and a curated blend of spices that meet your specific taste preferences. But, if you don't have time to whip up a bowl from scratch, there are plenty of jarred options to curb your craving. The question is, which premade recipe meets your requirements?
Like anything else, the only way to find the best store-bought salsa is through trial and error. You also have to know what type of salsa you're looking for: There are red tomato-based salsas and yellow tomato-based salsas, salsas that have a lot of liquid, and salsas that have a similar consistency to a chili or pasta sauce. Spice is also key: Do you like your salsa mild, or so spicy it makes your nose run? These are all things to consider when shopping for the perfect jar of salsa, and all things we considered when putting some of the most popular picks to the test.
And for more, check out these 15 Classic American Desserts That Deserve a Comeback.
Chi Chi's Medium Thick & Chunky Salsa
Chi Chi's salsa tastes strongly of tomato, and that's about it. It's almost like a thick tomato soup that's been loaded with spices—too many spices. Hard pass on this one.
Nature's Promise Organic Medium Salsa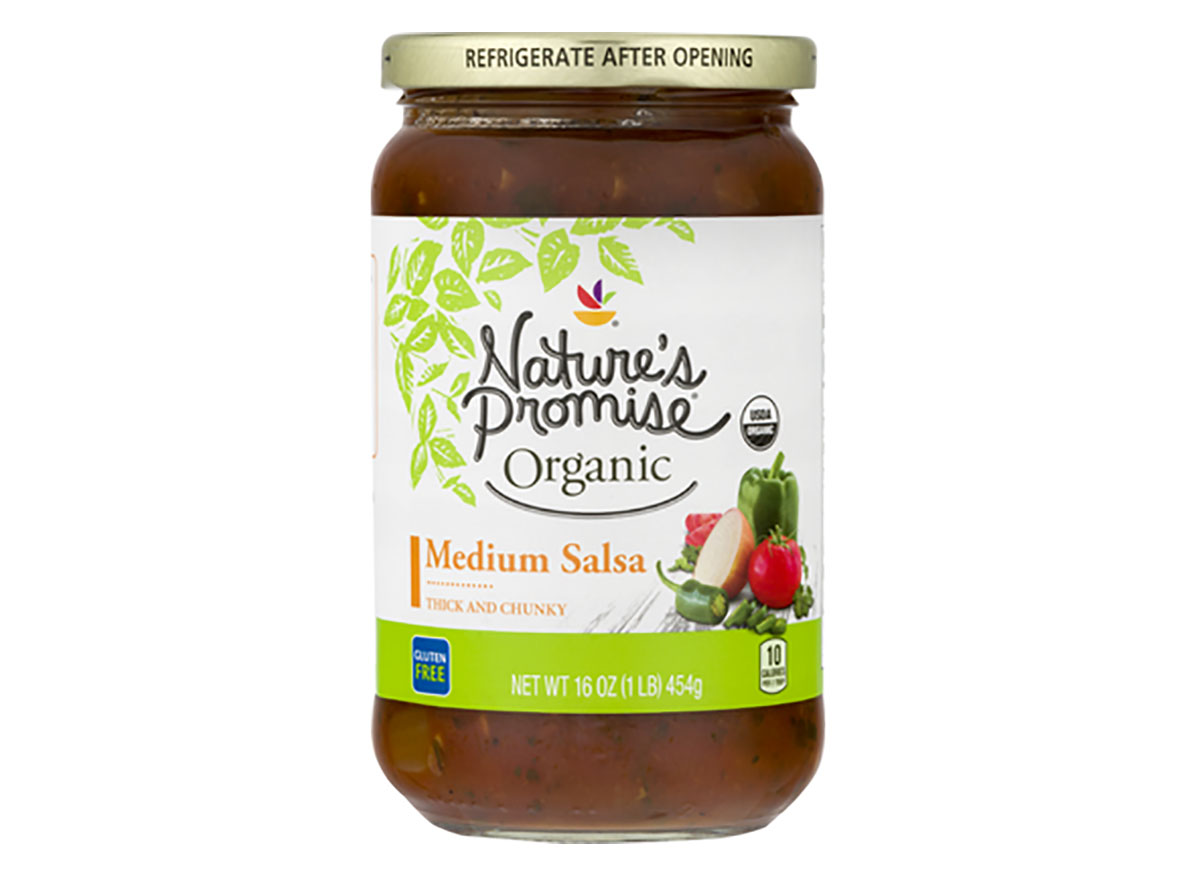 Take it or leave it; Nature's Promise Organic Medium Salsa is just OK. It comes in a pasta sauce-shaped jar and looks like something you'd pour over noodles or eat with a spoon. It's loaded with veggies like diced tomatoes, bell pepper, and jalapeño, and it's also heavy on the spices like cumin and chipotle powder. It tastes more like chili than it does salsa. It's good, but not great.
On The Border Medium Salsa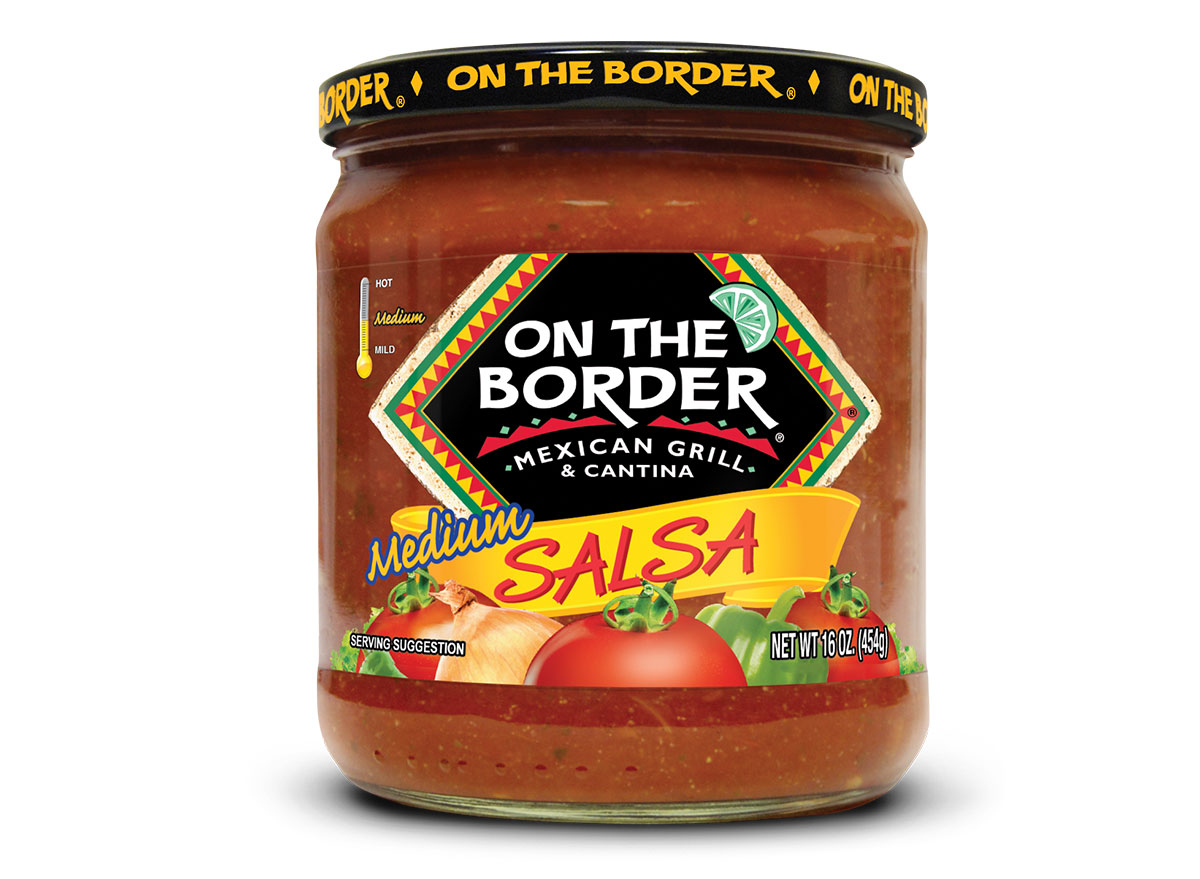 If you, like me, like your salsa super chunky, then get your hands on this jarred salsa from On The Border. It has a thick consistency, with huge chunks of tomato mixed with jalapeños, onions, tomatoes, and garlic in every bite. However, if you can't take the heat, put it back on the shelf. It has a medium spice profile that sneaks up on you and stays in the back of your throat.
Desert Pepper Peach Mango Salsa
6254a4d1642c605c54bf1cab17d50f1e
After tasting Desert Pepper's Peach Mango Salsa, I turned to my husband and said, "This is a dessert salsa," and felt just like Jan from Grease.
This is the type of salsa you'd pair with cinnamon sugar-dusted pita chips. It has chunks of peaches soaked in a light, sugary syrup, plus mango puree and brown syrup, in addition to traditional salsa ingredients like tomato, jalapeño, and onion. It's on the sweeter side and isn't spicy at all.
Tostitos Restaurant Style Medium Salsa
As far as traditional red salsas go, Tostitos' Restaurant Style Salsa tastes like something you'd be served at a restaurant. It's heavy on the liquid but still packs a ton of flavor. Chunks of veggies like onion and jalapeño feel like they were diced specifically for that jar and contribute to the salsa's fresh taste. As far as spice goes, it has a kick, but it's one that's just enough to satisfy a wide range of taste buds.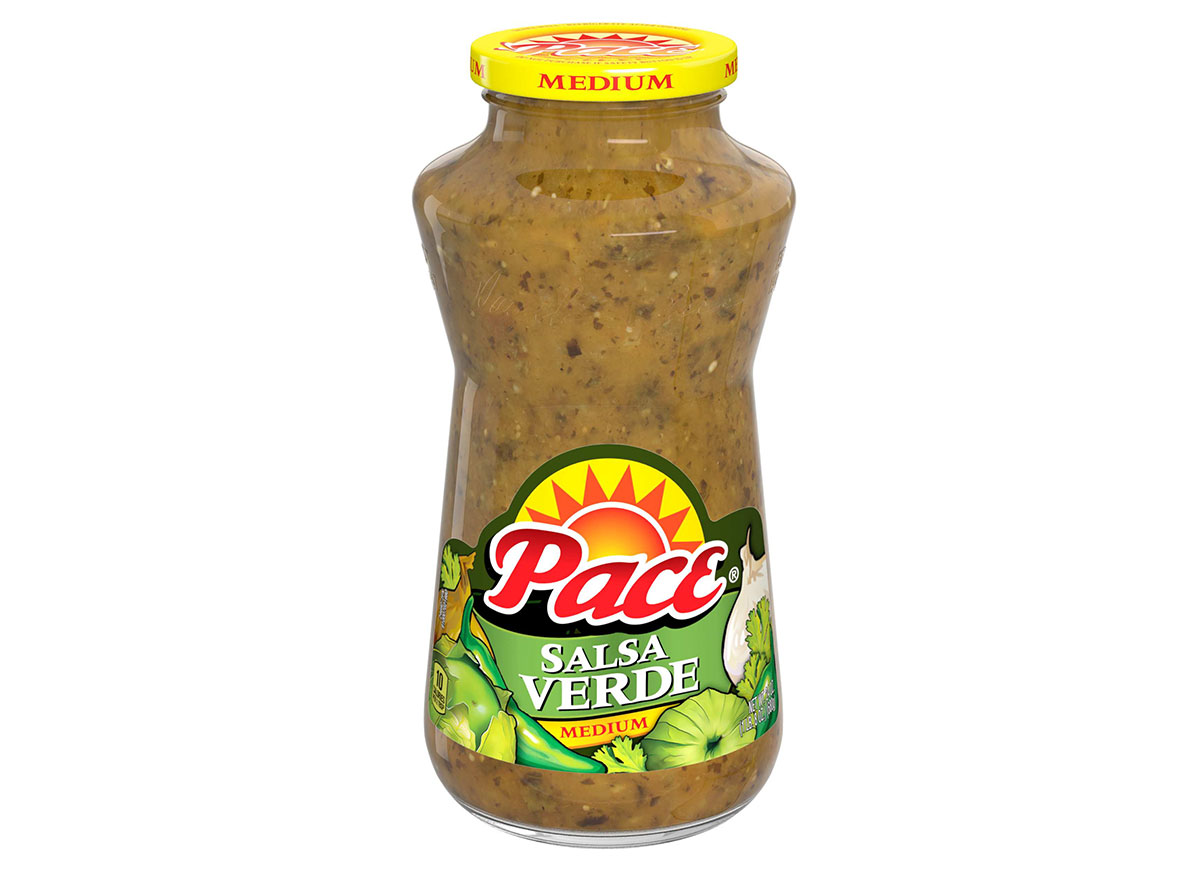 When I spooned a generous helping of the Pace Salsa Verde salsa onto my tortilla chip, I knew it would be love at first bite. And it was. When the brand says it's serving up "bold Texas flavor," it delivers with a masterful combination of yellow tomatoes, tomatillos, jalapeños, crisp onions, and cilantro. Every bite tastes so fresh and packs the perfect amount of heat. I want to put this on everything—chips, tacos, burrito bowls, eggs. The possibilities are endless, and the result is always delicious.