I Tried All the Ice Creams at Trader Joe's & These 2 Flavors Blew the Others Away
Trader Joe's has more than a dozen different ice cream flavors, but only one can be the best.
The product recommendations in this post are recommendations by the writer and/or expert(s) interviewed and do not contain affiliate links. Meaning: If you use these links to buy something, we will not earn a commission.
If you couldn't tell from Trader Joe's constantly crowded freezer aisles, the beloved retailer has some highly coveted gems hidden in its frozen section. There, customers can find a variety of tasty frozen entrees, appetizers, pastries, snacks, and of course, desserts. Trader Joe's ice cream in particular has garnered major acclaim among shoppers, but which flavor of these popular frozen desserts is the absolute best?
I recently set out to answer that question by sampling every single permanent and seasonal ice cream flavor I could find at the retailer, from classics like vanilla to more offbeat options like purple yam. This taste test was limited to scoopable ice creams and non-dairy ice cream alternatives because Trader Joe's has so many other ice cream sandwiches, cones, and mochi flavors that they warrant their very own category.
I judged each ice cream by two main criteria: flavor and texture. Good ice cream is smooth, creamy, and truly delivers the flavor that the packaging promises. I also want any mix-ins to add more flavor and a nice textural boost, though I don't think they're a must for every ice cream.
Fourteen ice creams (and one sugar headache) later, I've come up with a verdict on what I think is the best scoopable frozen dessert that Trader Joe's has to offer, though the winner only beat the second place option by a hair. Here's what I thought about each option in order from my least favorite to my favorite. I've also noted which flavors are seasonal and included the price I paid for each item, though prices may vary depending on the Trader Joe's store.
Strawberry Non-Dairy Oat Frozen Dessert
Trader Joe's Strawberry Non-Dairy Oat Frozen Dessert has a vegan oat milk base with pieces of candied strawberries and almond brittle. I paid $3.99 for a pint.
The look: The dessert was a nice subtle pink color, but not so pink that it looked artificial. It looked surprisingly creamy for not having a traditional milk or cream base.
The taste: Strawberry has been one of my favorite ice cream flavors ever since I was a kid, so I was excited to see how this vegan version held up to the real thing. And…I was disappointed. I generally like oat milk but something about this frozen dessert tasted a little off and the strawberry flavor was nowhere near strong enough to make up for it. The candied strawberry pieces had a nice chewy texture and helped a little with the flavor issue, but they were too few and far between  to make a really big impact. I won't be buying this again, but it is nice to see TJ's providing at least some options for non-dairy eaters.
Cold Brew Coffee and Boba Coconut Non-Dairy Frozen Dessert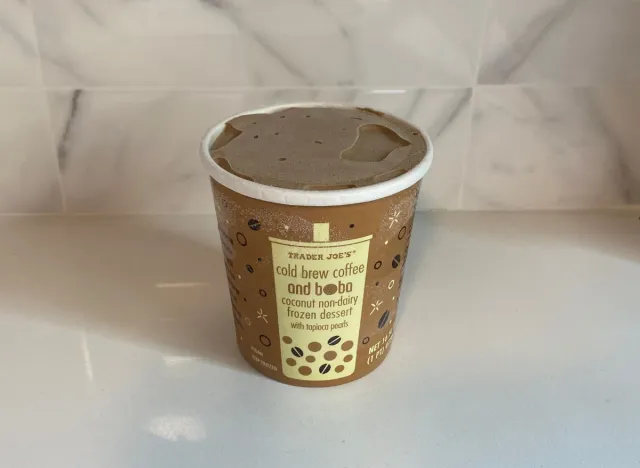 Trader Joe's Cold Brew Coffee and Boba Coconut Non-Dairy Frozen Dessert made with a non-dairy coconut base that's flavored with cold brew coffee and has boba (chewy tapioca pearls) mixed in. I paid $4.49 for a pint.6254a4d1642c605c54bf1cab17d50f1e
The look: I like my cold brew—and any coffee for that matter—seriously dark and strong, so I was a little disappointed by the slightly pale color on this option. The boba also weren't visible from the surface, so it's hard to say exactly how many were in there.
The taste: This was my first time ever having an ice cream or frozen treat with boba in it, and I really enjoyed the chewy texture they added to this option. However, while the "frozen dessert" part did taste of cold brew, the flavor just wasn't strong enough for me. The texture was good enough for a non-dairy option, but the coconut milk didn't provide the same luxuriousness you get with real milk and cream.
Trader Joe's Yuzu Ripple Coconut Non-Dairy Frozen Dessert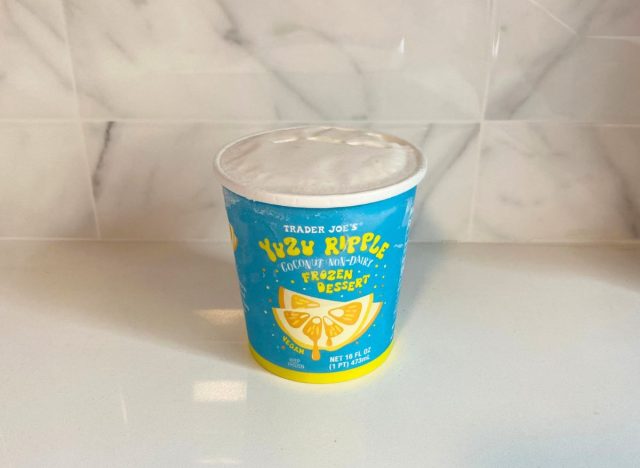 Trader Joe's Yuzu Ripple Coconut Non-Dairy Frozen Dessert is also made with a non-dairy coconut base flavored with yuzu and has a ripple of yuzu curd. Yuzu is a citrus fruit that tastes like a blend of grapefruit, lemon, and mandarin orange. This flavor debuted in February this year, but it isn't currently listed on the Trader Joe's website, so it's unclear if this is a seasonal item. I paid $4.49 for a pint.
The look: The coconut base on this item looked like an extra creamy version of a sorbet, with visible flecks of orangey-yellow curd throughout.
The taste: I love anything citrus and genuinely enjoyed the first bite of this frozen dessert. There's no discernible coconut flavor from the base and the citrusy yuzu flavor was really bright and fresh, while the texture was mostly smooth and not too icy. But the more I ate, the less I enjoyed it. After a few bites, the frozen dessert started to taste cloyingly sweet, and the yuzu took on a slightly medicinal quality. There are a lot of Trader Joe's customers who adore this option, but it's not really for me.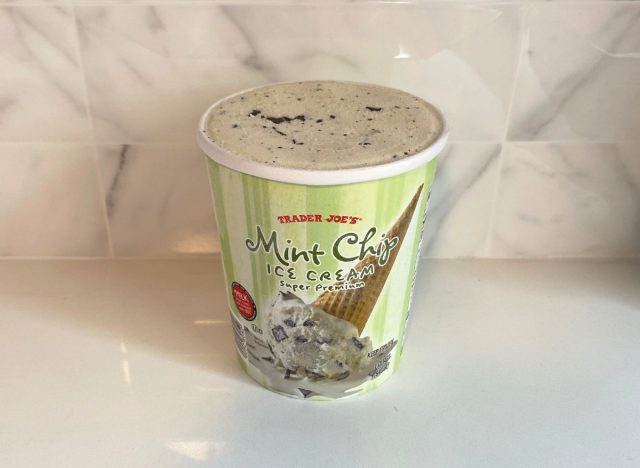 Trader Joe's Mint Chip Ice Cream is flavored with peppermint and packed with chocolate chips. This and several other ice creams sold at TJ's have the prestigious "super premium" designation, which means that they use very high quality ingredients, come with a higher fat content, and have a very low overrun, a term that refers to the amount of air incorporated into the product. A lower overrun and higher fat content means that the ice cream will be extra dense and creamier than lower grade options. I paid $4.49 for a quart.
The look: I was expecting to see a vibrant pop of artificial green when I first cracked open the lid to this ice cream, but I was pleasantly surprised to see that TJ's didn't feel the need to load it up with dyes. The ice cream looked thick and creamy and absolutely packed with chocolate chunks.
The taste: I'll be completely honest—I usually dislike mint chip ice creams. They almost always taste like toothpaste to me instead of a craveable sweet treat. That being said, Trader Joe's take on good ol' mint chip was surprisingly tolerable. The mint flavor was similar to Andes Chocolate Mints and the chocolate chunks provided a nice bitter balance to the mint. I put this near the bottom of my ranking just because mint chip will never be close to my first choice, but I'd imagine that mint chip lovers would really enjoy this. The actual ice cream was very luxurious and definitely the creamiest I'd tried yet.
Speculoos Cookie Butter Ice Cream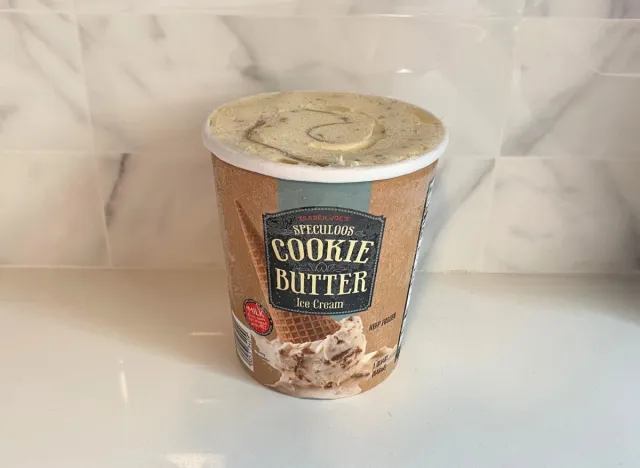 Trader Joe's Speculoos Cookie Butter Ice Cream has a vanilla ice cream base with swirls of Speculoos Cookie Butter, a creamy spread made from ground up cookies with a flavor slightly similar to gingerbread. This is another product with the super premium designation. I paid $4.99 for a quart.
The look: Trader Joe's promised a swirl, and it did not disappoint. There was a very visible ripple and smaller chunks of cookie butter goodness running through this dense ice cream.
The taste: I'm not above eating cookie butter straight from the jar with a spoon, but swirling it into an ice cream seemed like a much more dignified way to enjoy this iconic Trader Joe's treat. Unfortunately, this option fell a little flat to me. The cookie butter swirl was noticeable, but I still didn't get enough of those gingery, warm spice flavors. Overall, it was too sweet and slightly disappointing in terms of the taste, but the creamy, dense texture was great.
Chocolate Non-Dairy Frozen Dessert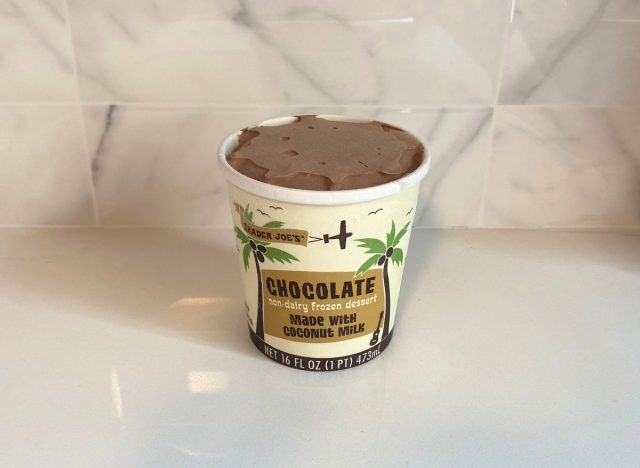 Trader Joe's Chocolate Non-Dairy Frozen Dessert is a non-dairy take on classic chocolate ice cream with a coconut base. I paid $3.99 for a pint.
The look: There's not much to be said about the look of your typical chocolate "ice cream" with no mix-ins. I do prefer dark chocolate, so I was a little disappointed to see a paler chocolate color in this option.
The taste: If you told me that this was real deal ice cream instead of non-dairy, I would have believed you. The texture was amazingly creamy for something lacking actual cream, and the chocolate flavor was really solid, though I do still wish that it was a darker chocolate. Regular chocolate ice cream will never be my top choice, but I had no complaints about this surprisingly good pint.
Black Tea and Boba Coconut Non-Dairy Frozen Dessert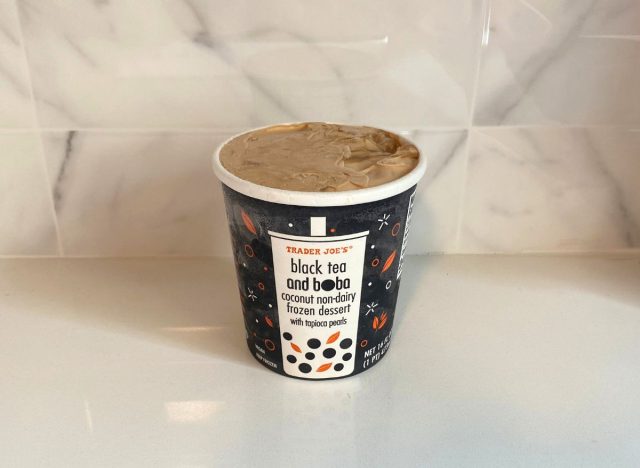 Trader Joe's Black Tea and Boba Coconut Non-Dairy Frozen Dessert is another coconut-based frozen treat made by the same supplier that manufactures the cold brew non-dairy frozen dessert. It's flavored with black tea and a brown sugar swirl and has more boba mixed in. I paid $4.49 for a pint.
The look: I could immediately see that brown sugar swirl and bits of boba when I opened up this frozen dessert. The texture didn't look super luxurious, but the color indicated that there would be a nice strong tea flavor.
The taste: While this wasn't as creamy as some of the other ice creams I tried, which isn't all that surprising considering it's non-dairy, I was really impressed by the taste. The black tea is an aromatic, earthy, and slightly bitter flavor that coats your whole mouth, while the bites of chewy boba elevated the whole experience. Though I didn't get a ton of flavor from the brown sugar swirl, I didn't really need it considering that everything else tasted so good. This is a really satisfying and flavorful option for people seeking a cold treat that isn't too sweet or heavy.
Chocolate Raspberry Swirl
Trader Joe's Chocolate Raspberry Swirl is a mix of regular chocolate ice cream and raspberry sorbet. Customers first spotted this product in early 2023 and it is currently marked as a seasonal item, though it is unclear when Trader Joe's may stop stocking it. I paid $3.79 for a pint.
The look: I was hoping for more of the "swirl" that the name of this ice cream promised, but I still liked to see some of that raspberry sorbet peeking out from beneath the chocolate ice cream.
The taste: Chocolate and raspberry is a classic combination, so it's no surprise that the pairing worked wonders in this impressive frozen treat. The chocolate ice cream was thick, creamy, and flavorful, while the sorbet was sharp, bright, and packed with natural-tasting raspberry flavors. Everything was in perfect balance.
When Life Gives You Lemons Make Ice Cream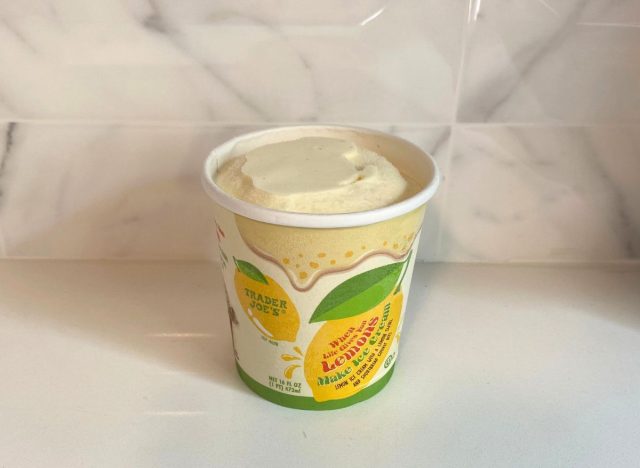 Trader Joe's When Life Gives You Lemons Make Ice Cream features an ice cream base flavored with lemon juice and zest, plus a lemon swirl and bits of shortbread cookies. This is a seasonal item that debuted in spring 2022 and returned for another limited run earlier this year. I paid $3.79 for a pint.
The look: I love that Trader Joe's doesn't load up its ice cream with artificial dyes that make it look unnatural. The color of this ice cream is a pleasant, light yellow and the texture looked really soft and creamy.
The taste: The name of this item alone should tip you off that you're in for something special. In this citrusy standout, Trader Joe's took the humble lemon and made it the star of the show. The ice cream is sweet, tart, and creamy, while the shortbread cookie pieces provide great balance with some buttery, almost salty flavors.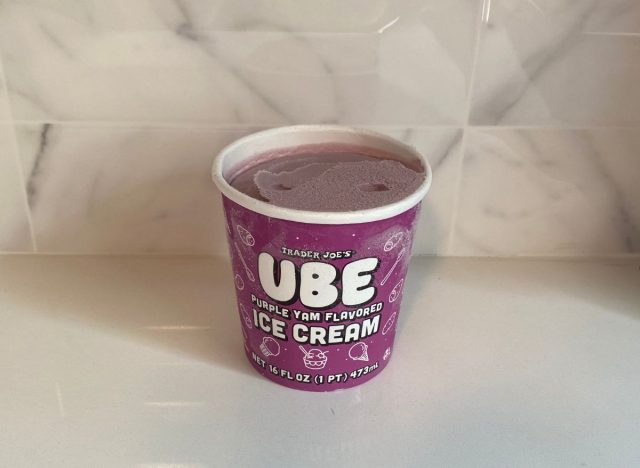 Trader Joe's Ube Ice Cream is flavored with ube, or purple yams, which are popular in the Philippines and have a sweet, earthy flavor. This is a seasonal flavor that typically comes back each spring. I paid $3.79 for a pint.
The look: It's not everyday that you get to see a purple ice cream, so this option won the whole taste test in terms of appearance alone. The frozen treat looked thick, creamy, and unlike any ice cream I'd ever seen before.
The taste: Half the reason that this Ube Ice Cream ranks so high on my list is that I've truly never tried an ice cream like it before. On top of the novelty of eating purple ice cream, it's also just really darn good. The texture is thick and creamy, and the flavor is like a vanilla ice cream that studied abroad and came back all the more interesting. It's mellow, sweet, slightly nutty, and even a little coconutty. This is another great option for consumers seeking a good quality ice cream that isn't crazy heavy or sweet.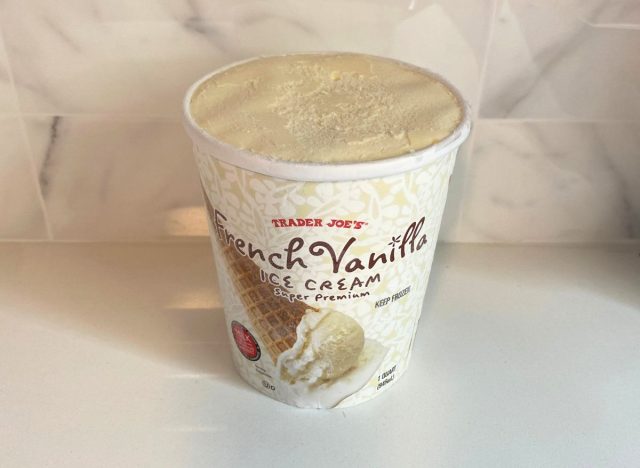 Trader Joe's French Vanilla Ice Cream is your classic vanilla that's slightly heightened with that super premium texture. I paid $4.49 for a quart.
The look: This ice cream was a super attractive, custardy white color. I didn't have to dig a spoon into the quart to tell that it was extremely dense and creamy, but I was slightly disappointed to see that it didn't have actual vanilla bean flecks.
The taste: In terms of flavor, Trader Joe's take on this iconic ice cream flavor was really similar to your typical grocery store vanilla. It's super nostalgic, pleasant, and not too sweet. The absolute best part of this ice cream, however, was the texture. This was the creamiest, richest, smoothest ice cream out of all the options I tried, even the other super premium ice creams. I know from buying this ice cream in the past that it's great by itself or scooped on top of a myriad of warm desserts like pie or Trader Joe's Chocolate Lava Cakes.
Wildberry Cheesecake Ice Cream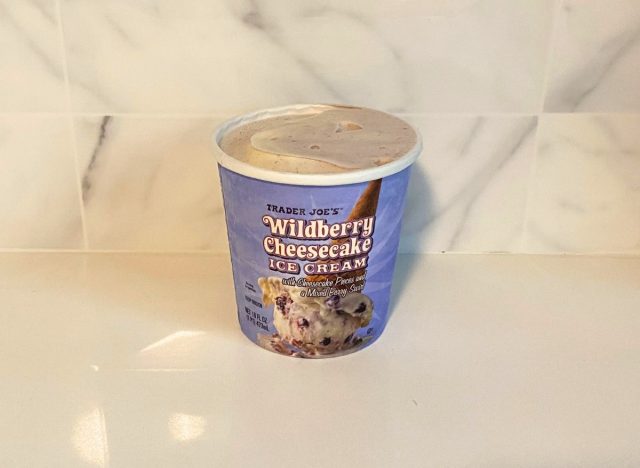 Trader Joe's Wildberry Cheesecake Ice Cream features a sweet cream base with bits of cheesecake and a mixed berry swirl, which includes blueberries, elderberry juice concentrate, and a blend of raspberry, strawberry, and blackberry purées. I paid $3.79 for a pint.
The look: The swirl in this ice cream wasn't visible from the very top, probably due to the little bit of meltage from the journey home. As soon as I dug in with a spoon, I could see beautiful swirls of purplish-blue berries throughout the creamy, white ice cream.
The taste: Some Trader Joe's fans tout this ice cream as the best that the retailer offers, and while it isn't my personal favorite, putting it in the top three was a no-brainer. The bits of cheesecake were tangy, rich, and a little chewy. The swirl was flavorful and fruity. The sweet cream base was indeed sweet and creamy. There are only two things I would change with this ice cream. For one, I wanted the mixed berry swirl to be more tart in order to enhance those fruity flavors. I also wish that the ice cream base was cheesecake-flavored in addition to having those cheesecake bits. You can get a great bite of this ice cream when you get a little bit of each element. Otherwise, the flavor falls just a little bit flat in comparison to my top two picks in this taste test.
Coffee Bean Blast Ice Cream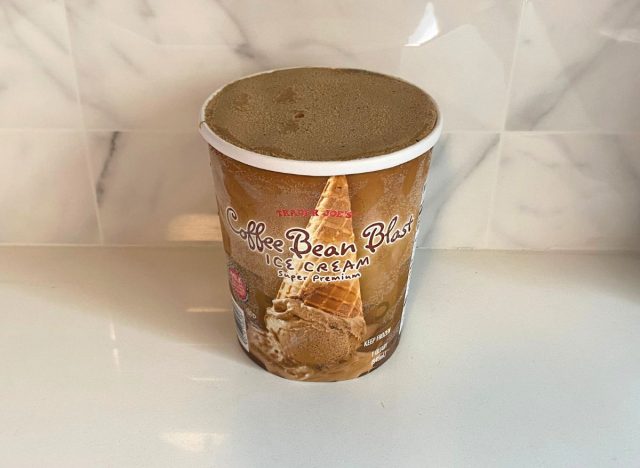 Trader Joe's Coffee Bean Blast Ice Cream is the final super premium option currently available at the retailer. It's flavored with brewed Colombian coffee and has bits of finely ground French Roast Colombian coffee beans. I paid $4.49 for a quart.
The look: As I mentioned earlier, I prefer my coffee super dark, strong, and flavorful, so I was really excited to see the extra rich coffee color and specks of ground coffee in this thick ice cream.
The taste: This is everything I've ever wanted in a coffee ice cream. Trader Joe's left absolutely no chance that customers would find the coffee flavor lacking. It's the perfect blend of bitter, bold, and sweet. Though the ground coffee added just a touch of grit that slightly took away from the creaminess, the texture was still really rich and dense. This very nearly stole the crown as my favorite ice cream at Trader Joe's, but the real winner blew me away just a little more.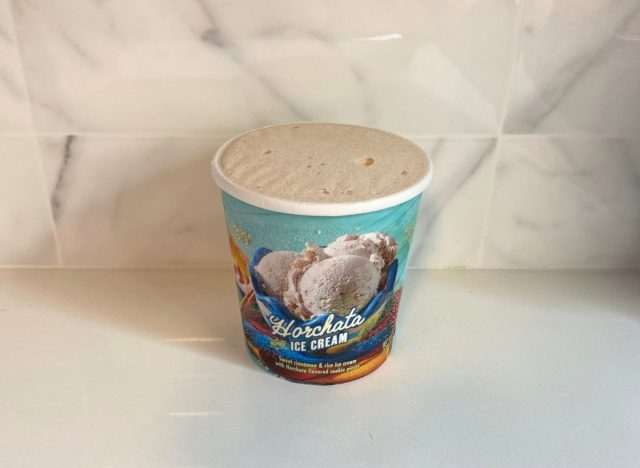 Trader Joe's Horchata Ice Cream takes inspiration from the traditional Latin American beverage made by soaking nuts or grains in water and mixing in sugar and spices. The ice cream base is flavored with cinnamon, brown rice flour, and a touch of sea salt. Trader Joe's also folds in pieces of horchata-flavored cookies for a textural boost. This is another seasonal flavor that debuted for the first time in the summer of 2022 and just recently returned this month. I paid $3.79 for a pint.
The look: This beige-colored ice cream didn't look all that exciting at first glance. However, a closer inspection showed me that it was heavily spotted with spices, indicating the ice cream wasn't quite as unassuming as it may seem.
The taste: There's some major hype surrounding Trader Joe's seasonal Horchata Ice Cream, and it only took me one bite to understand why. I love strong, warm spices and I was immediately hit with a potent cinnamon flavor that's so much better than anything you can get in your grocery store spice aisle. While it wasn't as dense and lush as some of the super premium ice creams, the ice cream was still extremely smooth, creamy, and not too sweet. The pieces of horchata-flavored cookies were also packed with more spice flavors and added a lovely crunch to every bite. While I equally adored the flavors in this ice cream and the Coffee Bean Blast Ice Cream, that extra textural element gave the horchata flavor the boost it needed to secure first place. I'll certainly be back for more Horchata Ice Cream throughout this summer, and I'll grieve alongside other Trader Joe's customers when it sadly reaches the end of its seasonal run.
Zoe Strozewski
Zoe Strozewski is a News Writer for Eat This, Not That! A Chicago native who now lives in New Jersey, she graduated from Kean University in 2020 with a bachelor's degree in journalism.
Read more about Zoe