10 Best Items You'll Find at Trader Joe's Right Now, According To Our Editors
Follow our lead and get your grub on.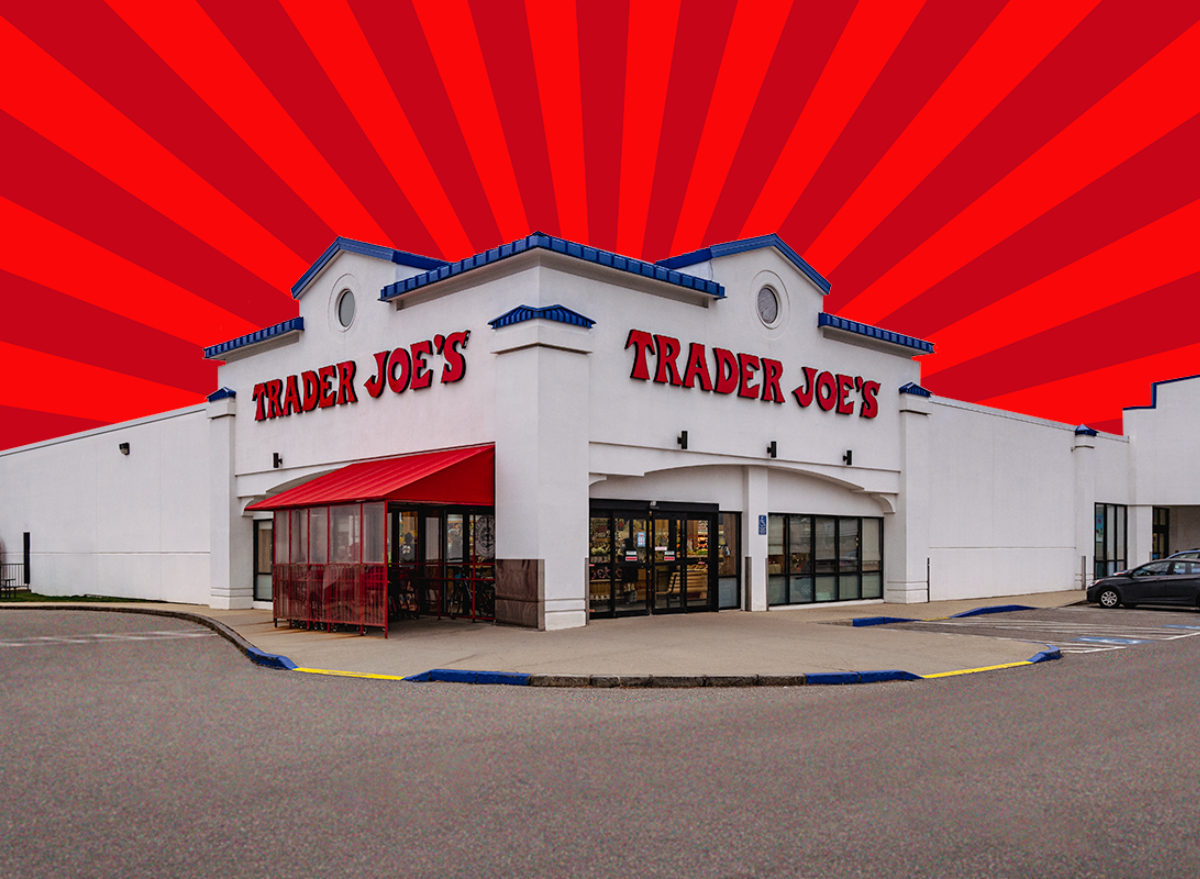 Specialty grocer Trader Joe's has attracted legions of fans over the years with its unique food products, reasonable prices, and West Coast-cool vibe. Quite a few TJ's partisans work right here at Eat This, Not That!
As regular shoppers, we all have our favorite items, from exciting new finds to limited-time specials to trusty old reliables.
Check out these 10 excellent picks, which our editors just can't recommend highly enough.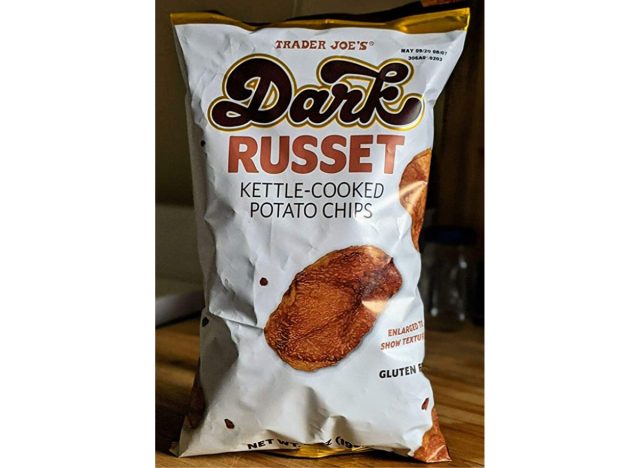 Your kids are going to hate the look of these. "Ew! Is that burnt?" my third-grader recently shrieked when I offered her a taste. That's totally fine, too, because you'll have the whole bag to yourself. Priced at $2.49, TJ's Dark Russet Potato Chips recently returned to stores after a brief hiatus. Made in Canada with a "special variety" of Russet potato, according to the package, these thinly sliced chips are cooked to a dark caramelized color and dusted with sea salt for a satisfyingly, crunchy snack that more mature palates will surely appreciate.—Chris Shott, Deputy Editor, Groceries
If you're like me and devour the Mac & Cheese Balls at The Cheesecake Factory, then you will happy to know you can make them at home! The crust on the outside of TJ's
Mac and Cheese Bites
 gets perfectly crispy every time and there's no Kraft pasta in the center. It's creamy and flavorful Mac & Cheese that melts in your mouth.
—Jordan Summers-Marcouillier, Editorial Assistant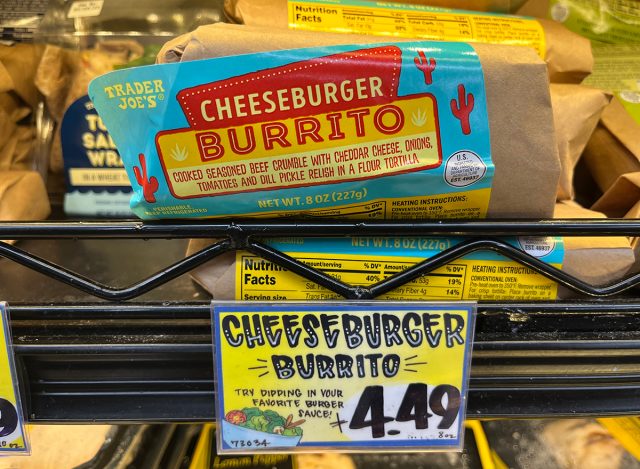 I'll admit it: I had not tried Trader Joe's unique, tortilla-wrapped twist on the classic American cheese-smothered beef patty ($4.49) before it was crowned "Grocery Item of the Year" this past December by TV writer Bill Oakley's Steamed Hams Society. Then I did. And now I get it. The cheesy, seasoned beef crumble inside reminds me of New York City's classic bodega staple, the chopped cheese, which is itself basically a chopped up cheeseburger. The burrito version, though, is a lot less messy than either of those, but just as delicious.—Chris Shott6254a4d1642c605c54bf1cab17d50f1e
Steamed Chicken Soup Dumplings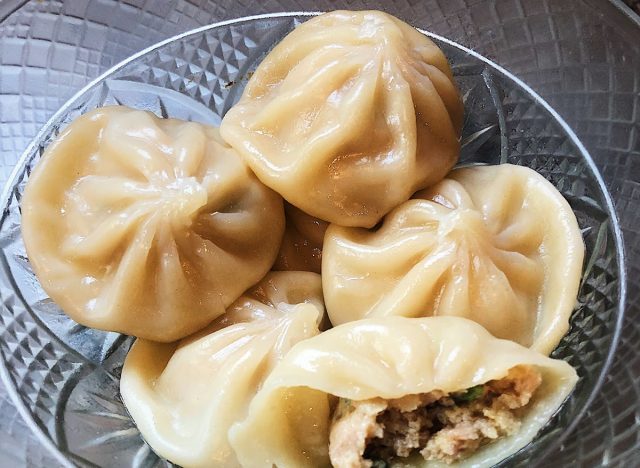 Trader Joe's Chicken Soup Dumplings ($3.99) have become my go-to frozen food. They're so flavorful and comforting, and they make for the perfect snack or pre-dinner appetizer. I also like to top them with TJ's Chili Onion Crunch to give them a little bit of heat!—Brianna Ruback, Editorial Assistant
Gluten Free Cinnamon Coffee Cake Muffins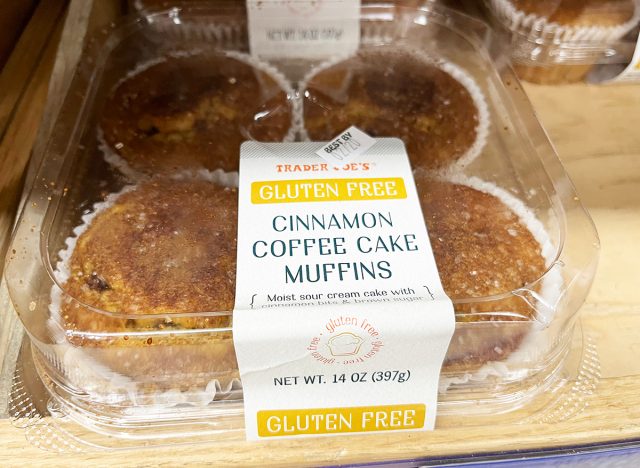 I don't typically find myself eating gluten-free foods, mostly because I don't need too, but these muffins ($5.49) are some of the best I've ever found at a grocery store. They have a soft, lovely texture and an incredible cinnamon flavor. They come in packs of four, so don't be surprised if you find yourself picking up multiple boxes during your next Trader Joe's run.—Zoe Strozewski, News Writer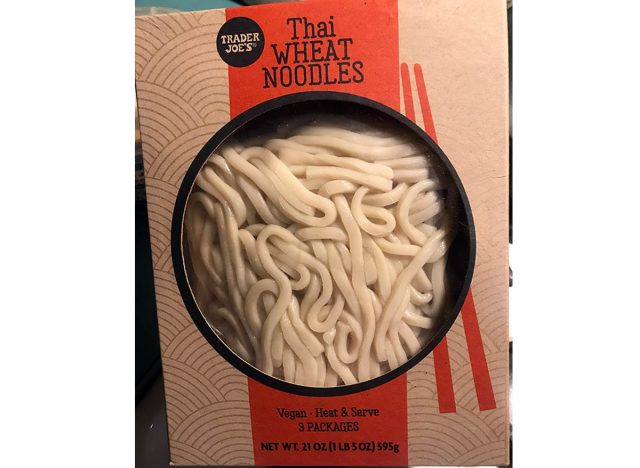 I'm a big fan of these Thai Wheat Noodles. I always have them in my pantry for last-minute dinners like cold sesame noodles, chili garlic noodles, or my favorite gochujang-sesame noodles. I love them because they come fully cooked so all you have to do to heat them up is pop the bag in the microwave for a minute or drop them directly into your stir fry and they'll be ready in the same amount of time for the sauce to warm up. They're the perfect balance of pillowy soft and chewy, which is something I've had a hard time finding with other noodles—I just can't get enough!—Olivia Tarantino, Managing Editor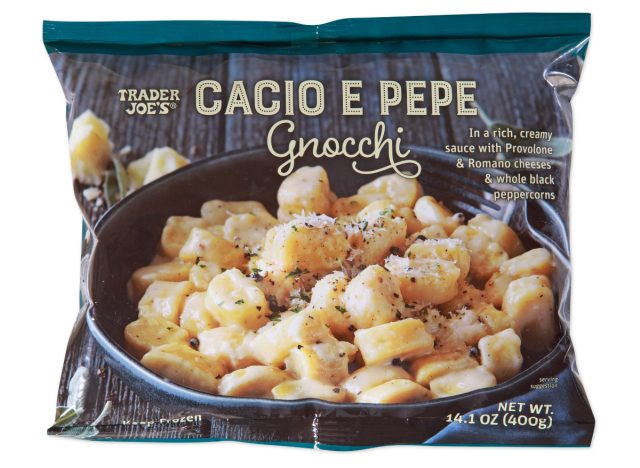 One of my absolute favorite items to always add to my shopping cart at Trader Joe's is the Cacio e Pepe Gnocchi. All you do is take it out of the freezer, cook it for a few minutes in a sauté pan, and you have the most delicious, impressive, seamlessly prepared weeknight meal. It tastes like you spent hours perfecting it!—Alexa Mellardo, Deputy Editor, Mind + Body
Gluten-Free Egg Fettuccine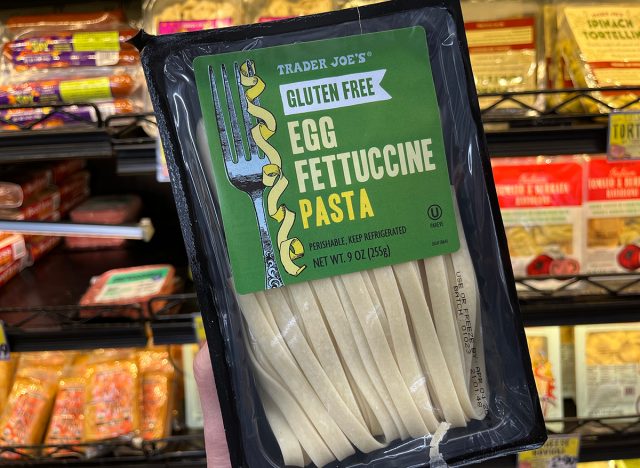 If you follow a gluten-free diet and thought the days of fresh pasta were behind you, think again. Trader Joe's Gluten Free Egg Fettuccine is fresh and delicious, with an al dente texture just like the real thing. Look for it in the refrigerator section next time you're shopping.—Marisa DiPaolo, Social Media Editor
Arguably the best-tasting, easiest-to-peel, most-interesting-looking, and generally excellent overall variety of all citrus, the California-grown Sumo is now in peak season. Sure, you can find these beauties at a lot of supermarkets, but you should get yours at Trader Joe's for one simple reason: the price. At Whole Foods, Sumos would cost you $3.99 per pound. At TJ's, they're just $2.29 each.—Chris Shott
Sublime Ice Cream Sandwiches
I strictly make a trip out of my way in order to get my hands on
this dessert
. I don't how TJ's makes the cookie
soooo
soft and gooey, while still maintaining a frozen ice cream treat. The spread of mini chocolate chips (the most superior of chocolate chips) around the outside of the sandwich is my favorite part because it adds a really nice crunch and extra chocolate in every bite.
—Jordan Summers-Marcouillier