The Best Vegan Cookie Brands To Buy at the Grocery Store
Nutritionists share how to pick the healthiest vegan cookie brands.
This post contains affiliate links. If you use these links to buy something, we may earn a commission.
While following a vegan diet comes with immense health benefits, it also comes with sacrifices. The most obvious? Giving up all dairy products. Sure you can replace yogurt with dairy-free yogurt alternatives and swap milk for plant-based milk alternatives. But when it comes to butter-rich desserts… Houston, we have a problem. Making vegan cookies taste as good as their dairy-rich counterparts has traditionally been a struggle—until now.
You've probably been wondering if there are store-bought options for you to have your cake (er, cookie) and eat it too. Luckily, there are dozens of vegan cookie brands that are making vegan desserts that stand up to their animal-based inspirations. With the help of dietitian nutritionists, we paired down that list to pick the best of the best vegan cookies.
Are vegan cookies healthy?
If you've ever wondered if vegan cookies are better for you than their non-vegan counterparts, there are some important things to keep in mind.
"Vegan cookies aren't necessarily healthier than regular cookies. 'Vegan' simply means no animal products are in the cookie; the cookie could still be loaded with sugar, saturated fat, and calories, and it could contain refined flours and contain highly processed and/or artificial ingredients," say Lyssie Lakatos, RDN, CDN, CFT and Tammy Lakatos Shames, RDN, CDN, CFT, The Nutrition Twins, cofounders of the 21-Day Body Reboot.
How to pick the best vegan cookies.
How's a sweet tooth to choose the healthiest vegan cookie for them? We talked to dietitian nutritionists to get their tips.
Less than 150 calories. "Each cookie should have less than 150 calories per serving," says Keri Gans, RDN, Nutritionist and author of The Small Change Diet.
Less than 8 grams of sugar. "There are some cookies that have added sugar and added sweeteners. There are other types of cookies that may be sweetened naturally by the ingredients in the cookie (i.e., sweetness from tart cherries)," says Amanda A. Kostro Miller, RD, LDN, who serves on the advisory board for Smart Healthy Living. "To find 'healthier' vegan cookies, strive to find a cookie product that has the least amount of 'added sugars' on the Nutrition Facts Label." Gans recommends having less than eight grams of added sugar per serving.
Search for fiber. If the cookie label says there's some fiber, that may indicate a healthier choice, says Kostro Miller.
The best vegan cookies you can buy.
However you cookie, a good starting point will be these awesome vegan cookie brands that make the indulgent goodie as nutritious as possible, given the fact that we're typically working with flour, sweeteners, and chocolate chips here. And who knows healthy-ish cookies better than the experts who study and advise on nutrition for a living?
Below, nutritionists weigh in on the absolute 10 best vegan cookie brands—and three you should definitely avoid.
These are made good—ahem, well—indeed. "These cookies are made with real organic ingredients like oats, apples, bananas, spinach, carrots, broccoli, beets, tomatoes and shitake mushrooms," says The Nutrition Twins. "They come in portion-controlled packs with 110 calories, only six grams of sugar and the nutrients from one serving of vegetables." Surprisingly, they taste glorious and are free of the eight major allergens: Peanuts, tree nuts, dairy, egg, wheat and gluten, soy, sesame, fish and shellfish (we'd hope so on the pescatarian front).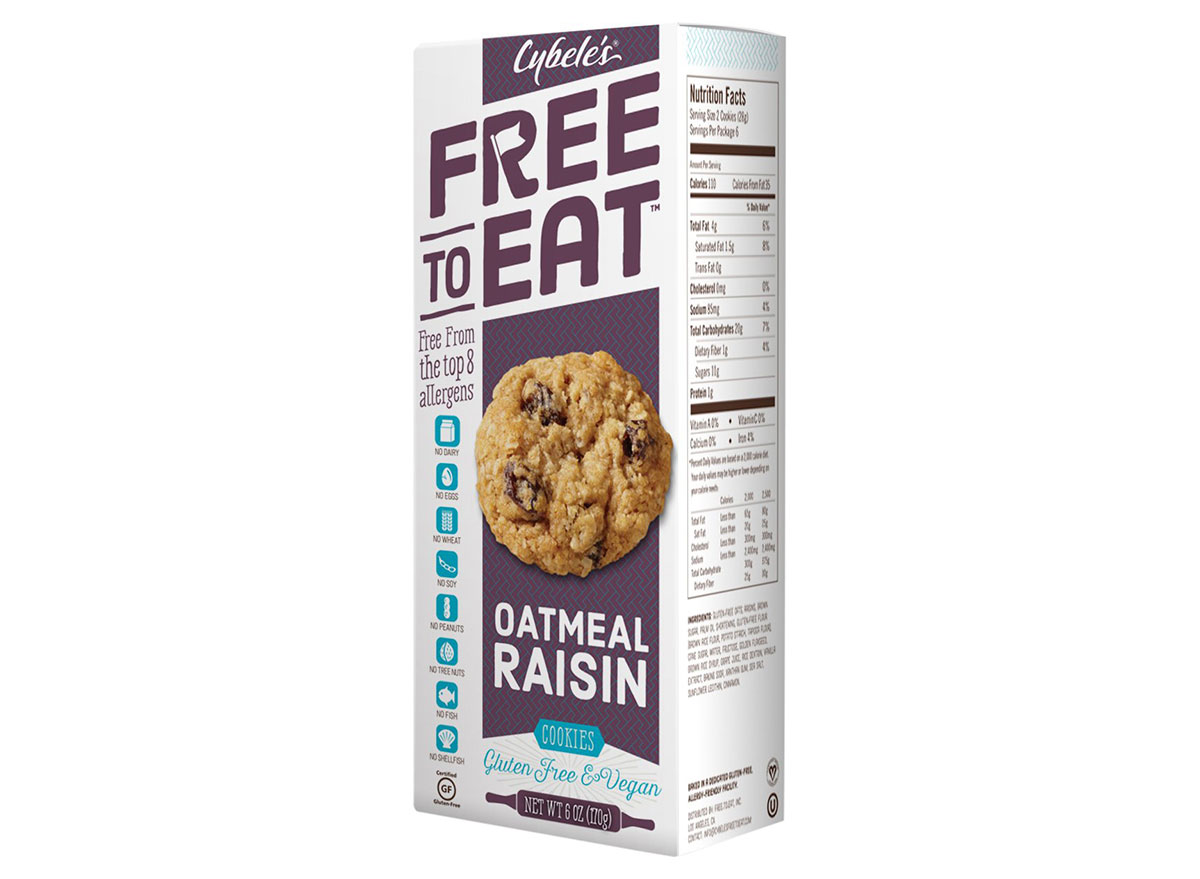 "These cookies have high-quality ingredients, no artificial flavors and are 'top 8' allergen free, gluten-free, and vegan," says Jodi Greebel, MS, RD founder of Citrition nutrition consulting practice. Greebel also adores these cookies because they have that "fresh baked" taste, uncommon for many packaged cookies varieties.
"Many vegan cookies are made with nut-based ingredients, but these are vegan and allergy-friendly, produced in facilities free from major allergens," says Chelsey Amer, MS, RDN, CDN, NYC-based nutritionist and owner of Chelsey Amer Nutrition and author of Thrive in 5. "Plus, they're even made with some whole grains (like sorghum, brown rice, and buckwheat flours)." For those who like a crunch in their cookies, you'll certainly find these more appealing than many of the chewier, softer varieties on the market.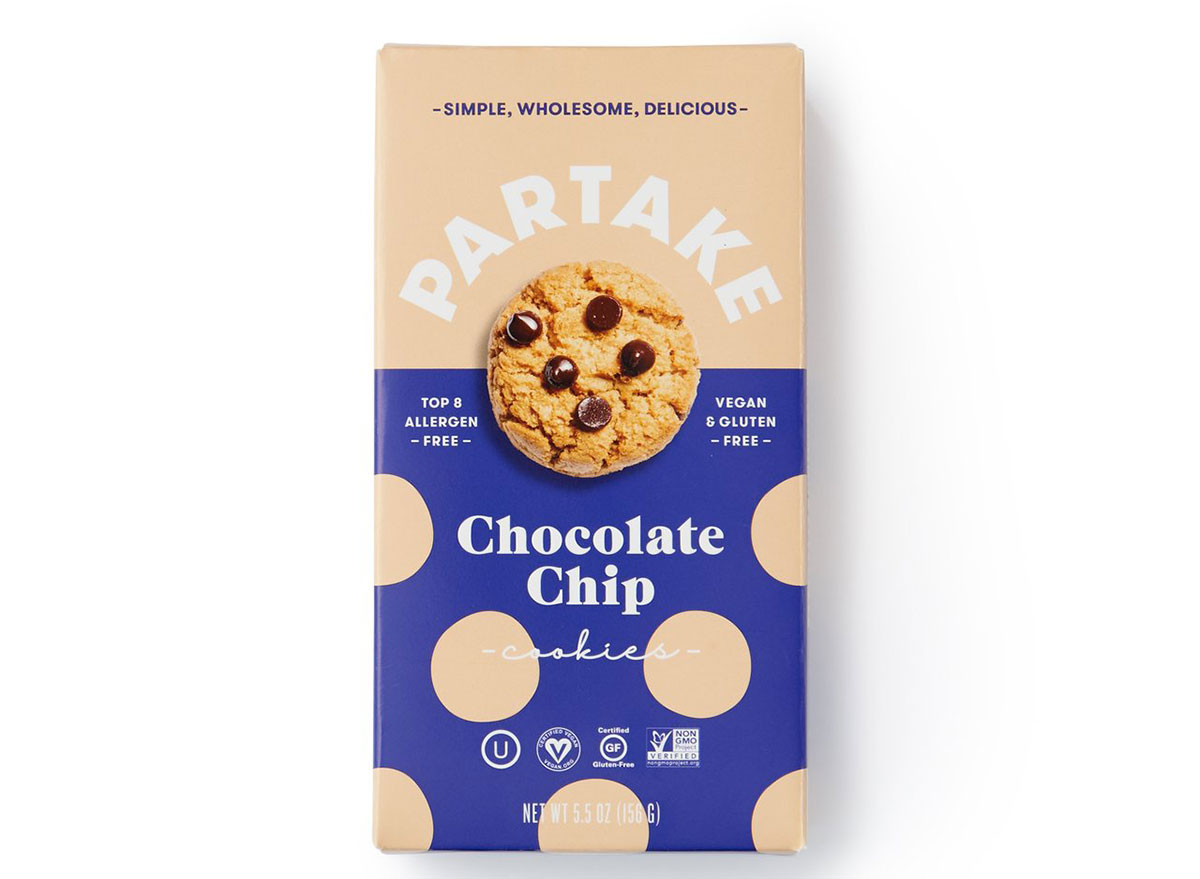 "I like that these cookies are on the smaller side—you can eat three for 140 calories," says Amy Gorin, MS, RDN, owner of Amy Gorin Nutrition in the New York City area. Sticking to her simple advice to avoid cookies where the first ingredient listed is sugar, she notes that the first ingredient for these delicious chocolate chip cookies is gluten-free flour, in this case, a blend of cassava flour, sprouted buckwheat flour, and gluten free oat flour.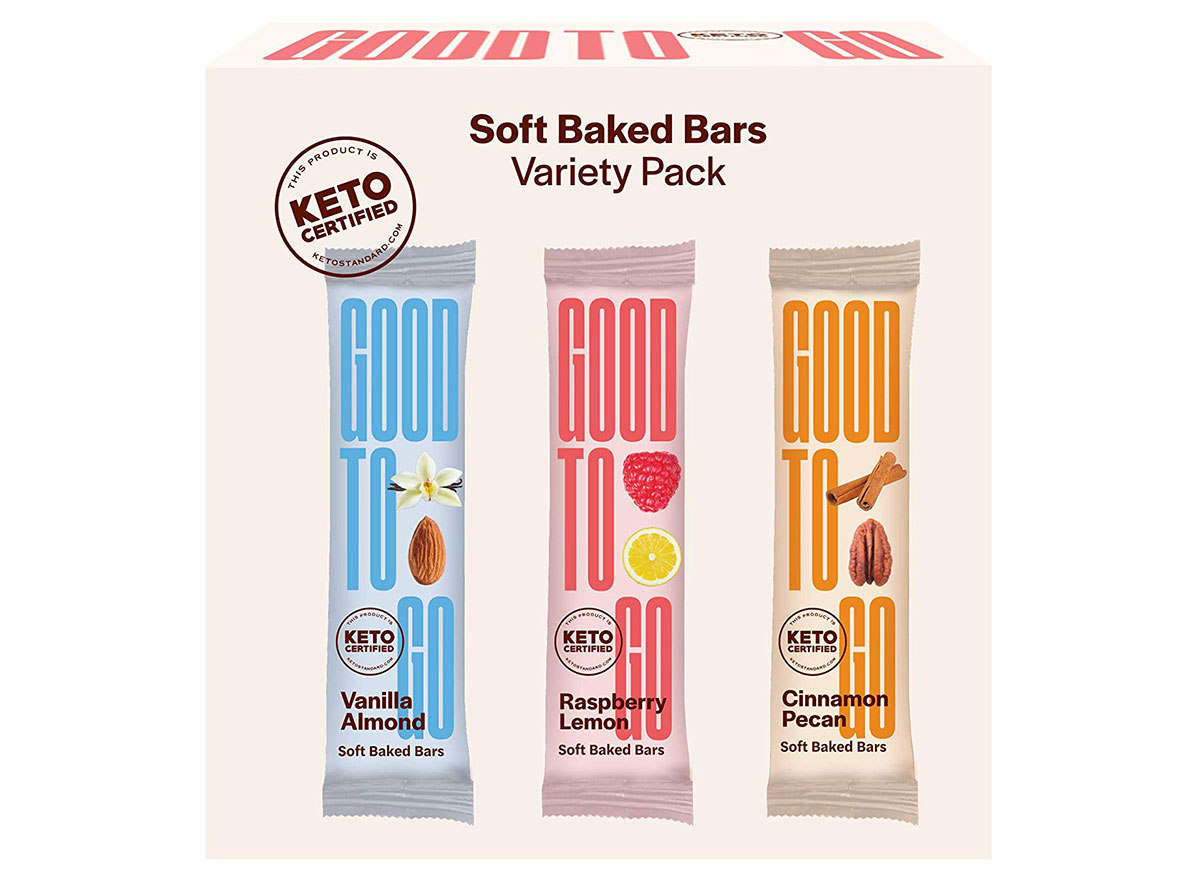 6254a4d1642c605c54bf1cab17d50f1e
While technically a "bar" these soft-baked snacks pretty much replicate the taste and texture of a cookie, just in a rectangular shape. "We love that these are made with real ingredients like chia seeds, raspberries and coconut and contain less than two grams of sugar per bar, which is rare to find, especially when there is no artificial sweetener," says the Nutrition Twins of this delectable dessert. "Each serving also contains 7 grams of fiber, which packs in gut-healthy prebiotic fiber. They're made with mostly organic ingredients, are non-GMO and gluten-and peanut-free so they're great for people with celiac disease or gluten sensitivities and those with peanut allergies."
6. Trader Joe's Soft-Baked Snickerdoodles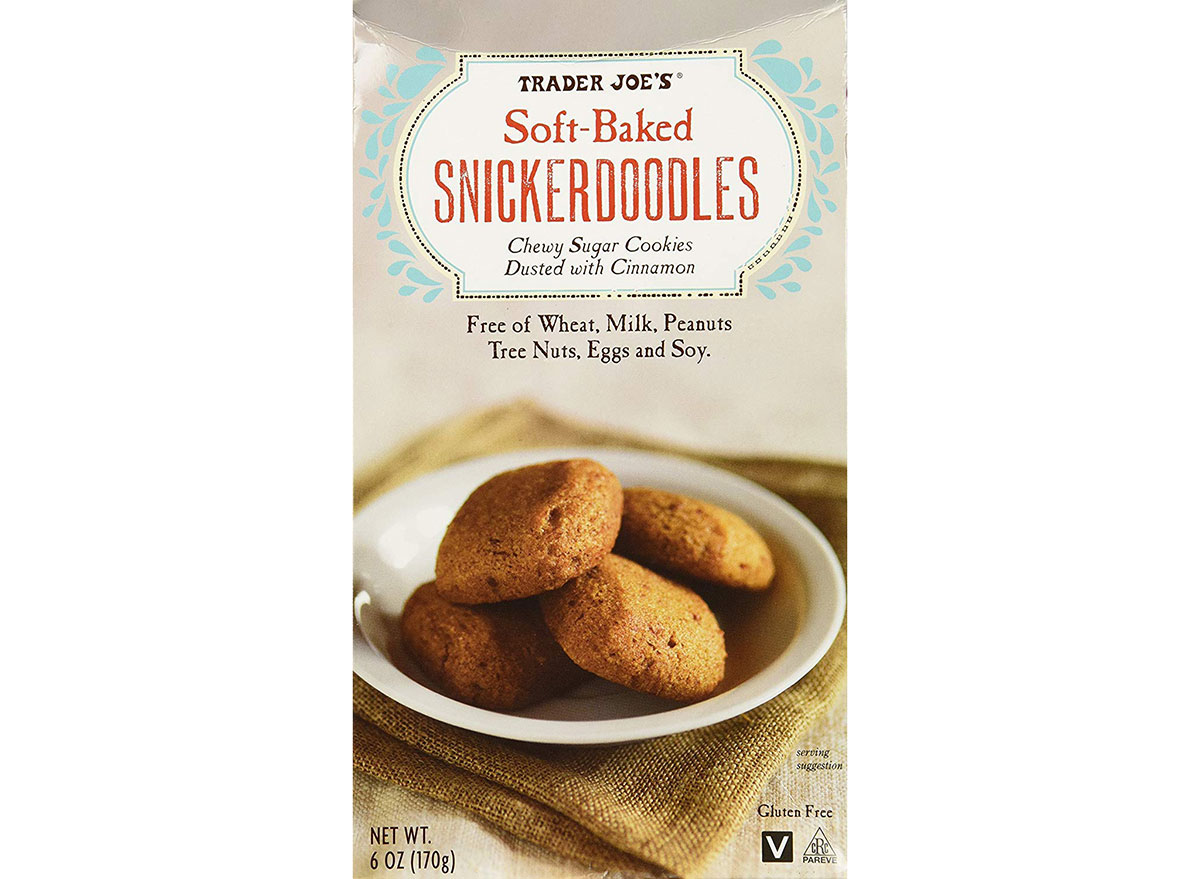 You don't have to tell us twice to load up our carts with these treats next time we're at Trader Joe's. Or, if you're feeling really antsy to stock up, order 'em on Amazon. Greebel is a fan of these cookies for being very allergy-friendly (they don't have any wheat, milk, peanuts, tree nuts, eggs, or soy) and says they're good to have on hand if you have kids for playdate options, since they work for so many kids' diets.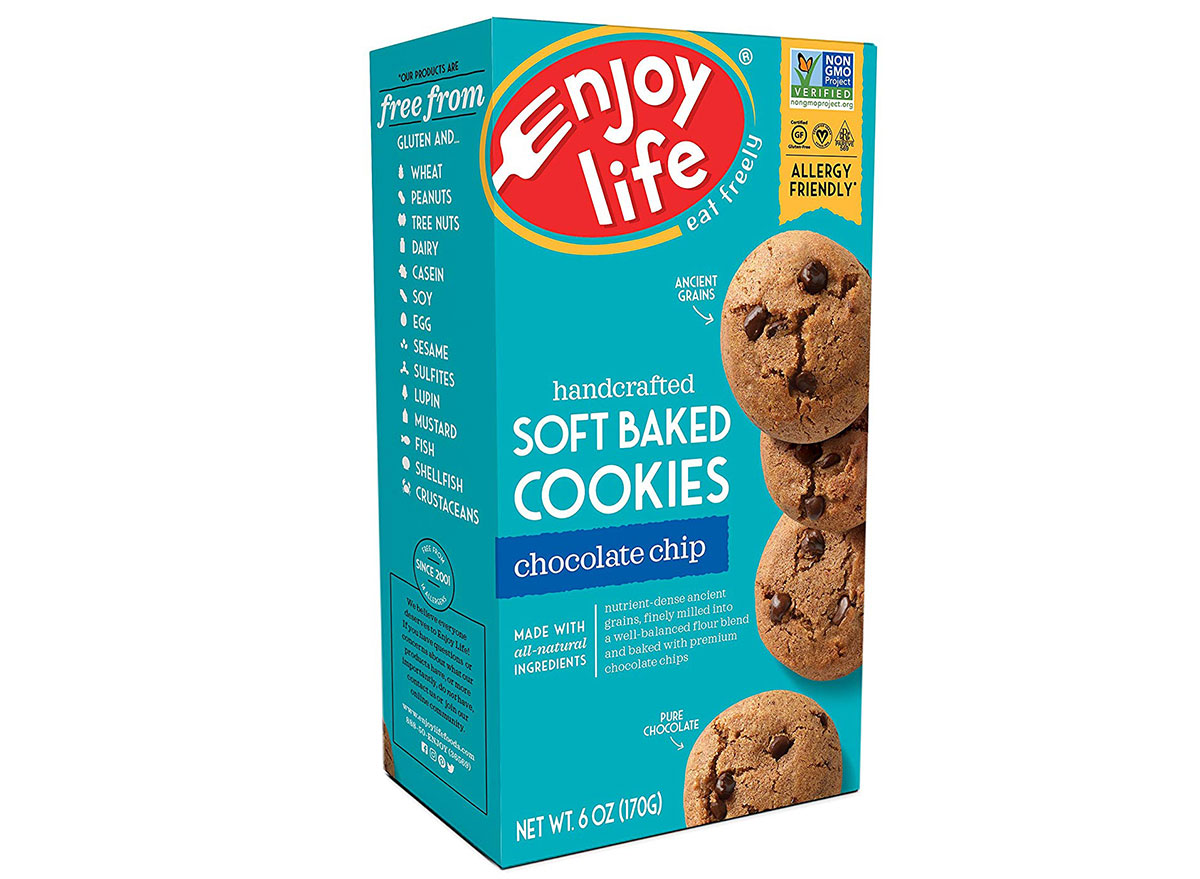 Again revealing their penchant for soft and chewy treats, The Nutrition Twins explain why they love these cookies so: "We like that unlike most cookies that are made from refined white flour, these are cookies are made from a flour blend of only whole grains, including sorghum, brown rice and buckwheat." The non-GMO cookies have 120 calories and 10 grams of sugar per serving—two whole cookies.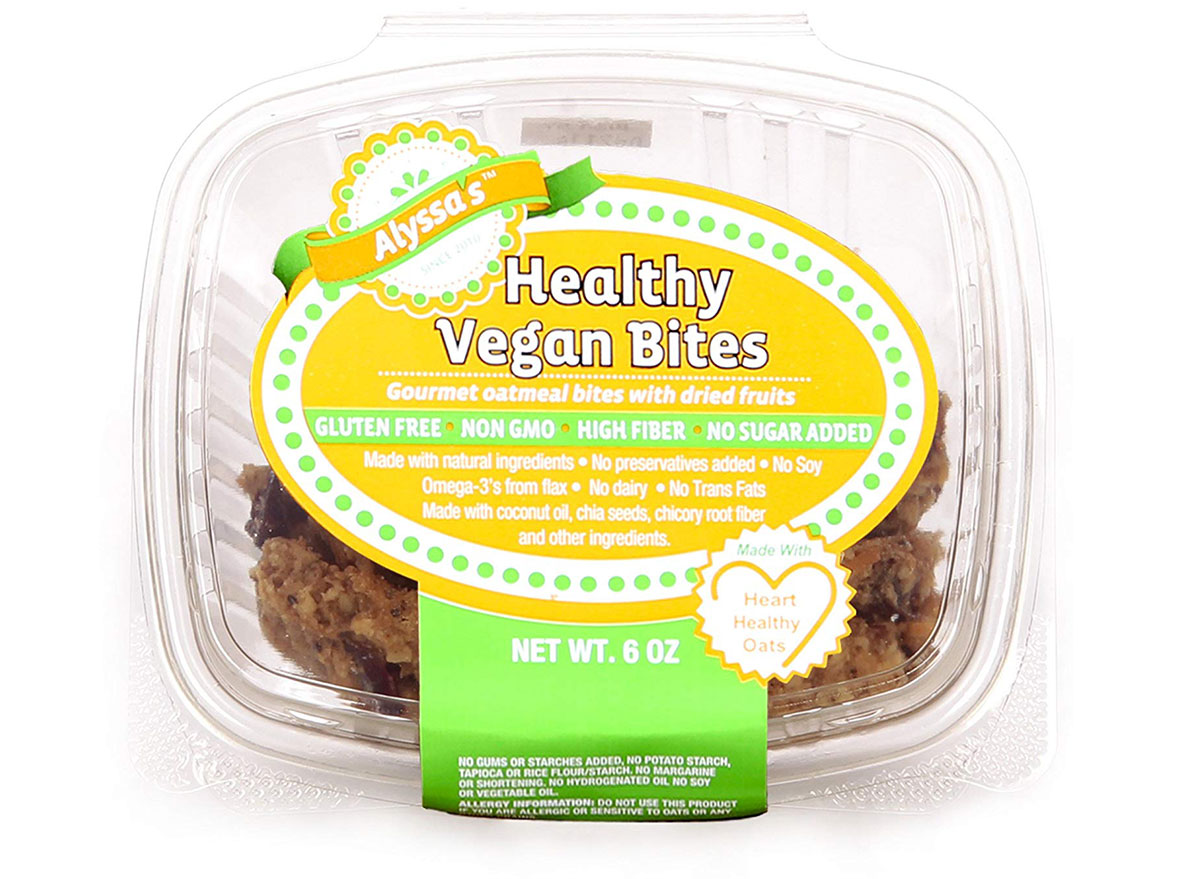 "These cookies are only 90 calories per two-cookie serving, have eight grams of heart-healthy fiber, which is extremely rare for a cookie, and only two grams of sugar which comes from dried fruit not added sugar," says Gans. But what she prizes about these tasty morsels the most? They taste absolutely wonderful.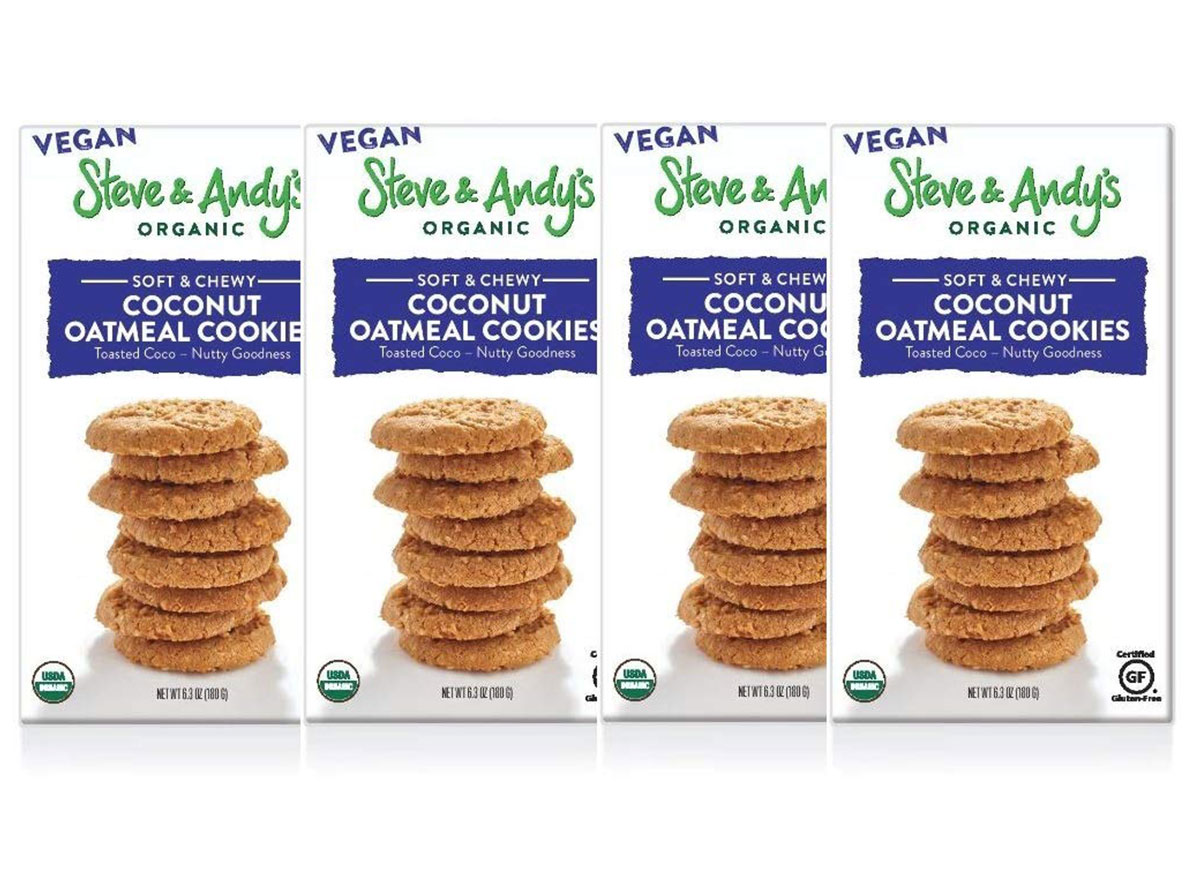 "This is a great option for vegans who also want to watch their sugar and calorie intake," says Kostro Miller. "The Steve and Andy's cookie has only 70 calories per cookie and only four grams of added sugar." If you want to splurge on two cookies, that means you're still clocking in under Kosto Miller's suggestions to keep treats to under 200 calories a day. Also worth noting: "It has one gram of fiber per serving, which is not significant, but Americans typically only get half of the daily fiber recommendations, so you can get one gram from this cookie." Better than zilch, friends. P.S. Looking to boost your fiber intake? Check out 43 Fiber-Rich Foods For a Healthy Diet.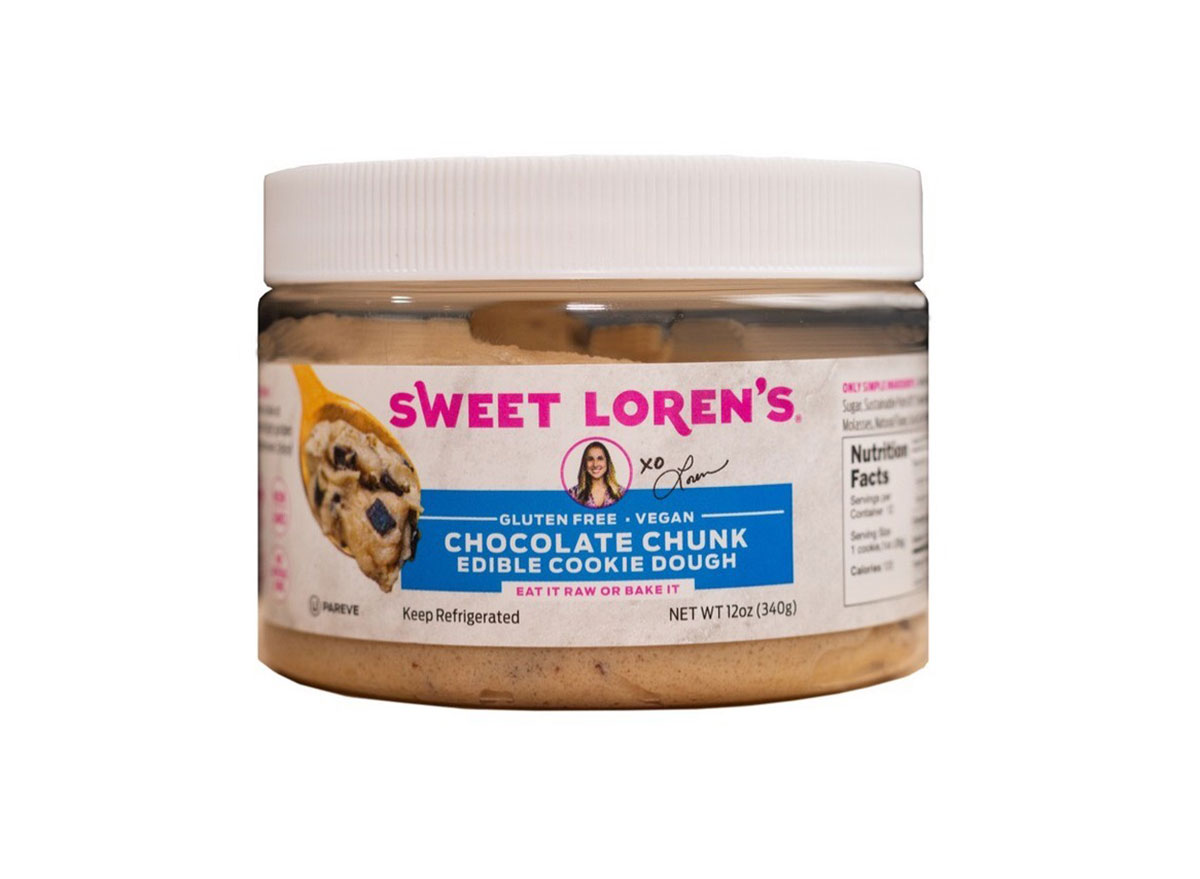 "I'm a fan of Sweet Loren's allergy-friendly vegan cookie dough you and break and bake," says Amer. "The short ingredient list of whole food ingredients make these a standout allergy-friendly choice." Whether you're gluten-free, plant-based, nut-free, or none of the above, these cookies prove a welcome addition to any dessert lover's life.
The 3 worst vegan cookie brands.
When it comes to bad-for-you cookie choices, RDs are unanimous: Avoid a lot of added sugar, high sodium counts, and artificial ingredients.
1. OREO Cookies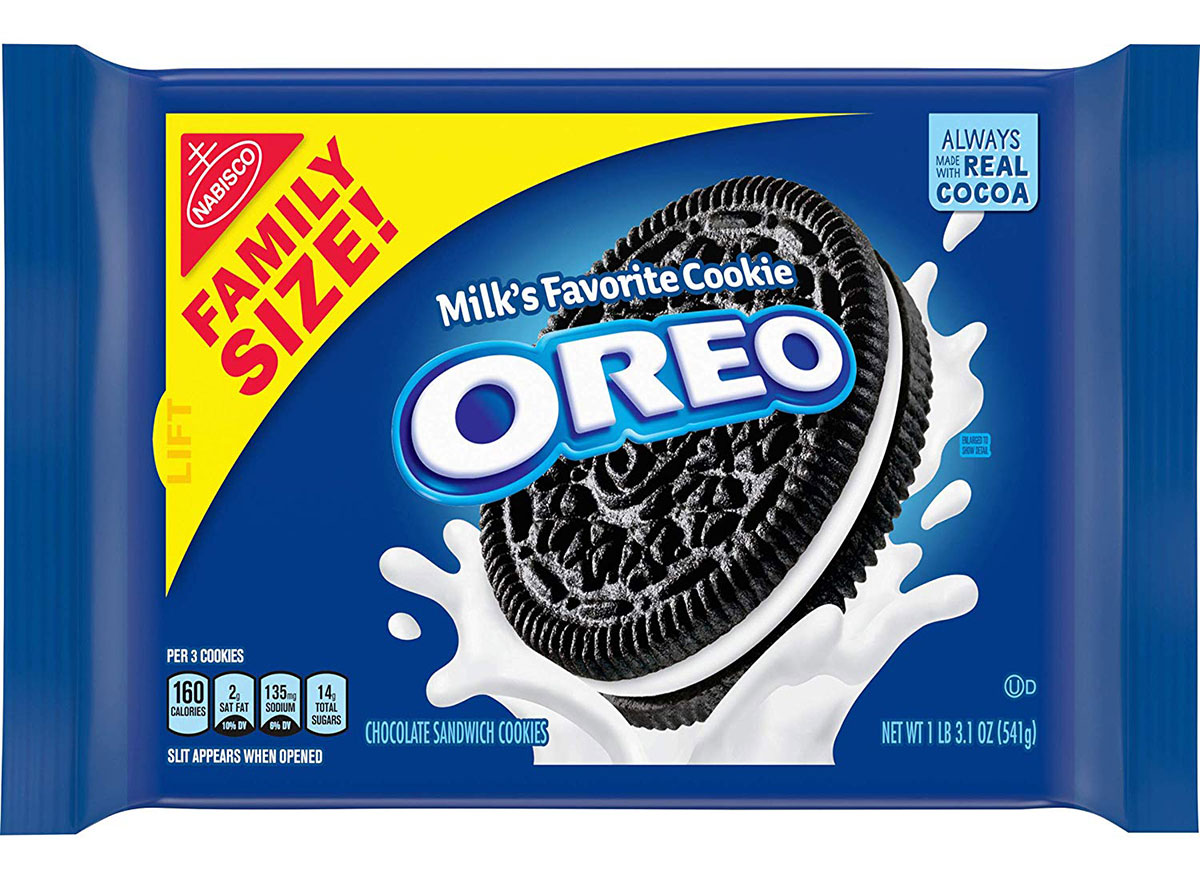 We hate to break it to you, but while OREO cookies are vegan, they aren't exactly a boon for your health. Yes, it may be vegan, but one serving or three cookies clocks in at 160 calories and contains 15 grams of sugar "no surprise, given the first ingredient is sugar" says Gorin. It's also made with high fructose corn syrup, artificial flavor, and the attractive addition of "canola and/or palm oil." There's even more non-nutritious news: "You also get no protein and no fiber in this cookie."
2. Nutter Butter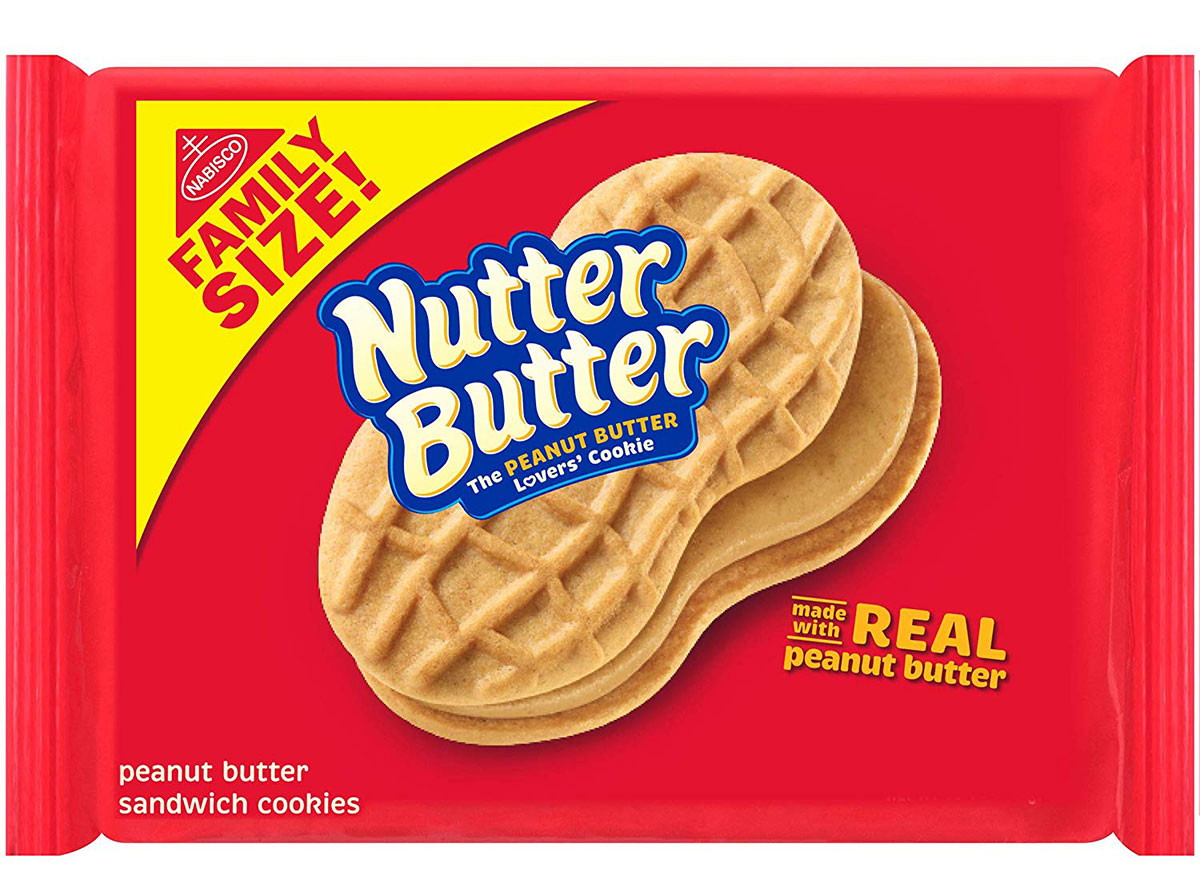 Say no thanks to the Nutter Butter, dear readers. "These cookies are loaded with junk ingredients. They have corn syrup, hydrogenated oils (the unhealthy fats), artificial flavors…" says Greebel. In addition to the sugar overload, Greebel comments that these cookies are also very high in sodium and fat, especially unhealthy fats.
3. Len & Larry's The Complete Cookie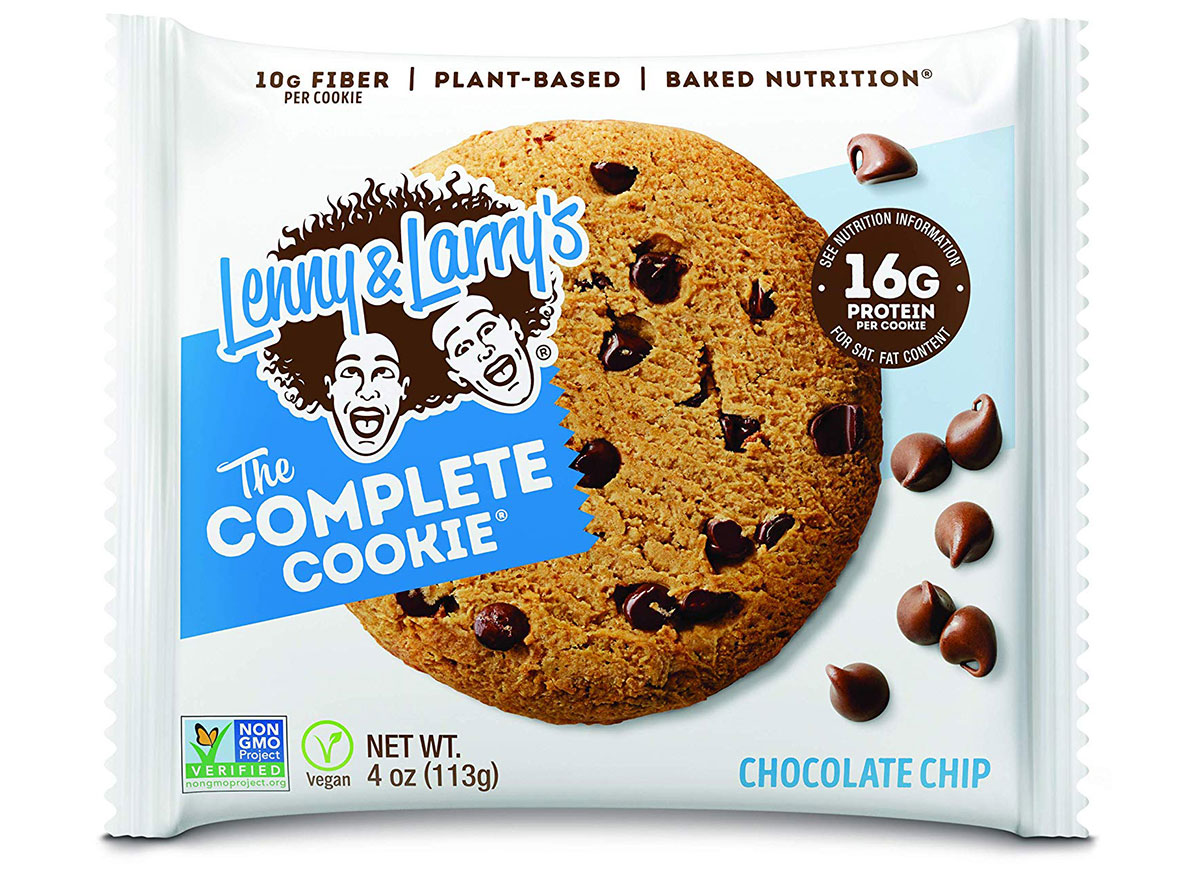 Your waistline will want to take a pass on these, and your energy levels to boot—talk about a sugar crash. "Each cookie has 420 calories and 19 grams of added sugar. That's more calories than many small women should have at an entire meal and nearly the maximum of added sugar a woman should have daily and more than half the maximum added sugar a man should have daily," say The Nutrition Twins. "Given that the first ingredient is wheat flour (refined and processed white flour that starts off from wheat), getting a full meal's worth of calories from refined flour and sugar is not a good idea."