The Best Way to Reheat Fried Chicken So It's as Crispy as Night One
An executive chef gives us the lowdown on how to correctly reheat fried chicken so that it isn't soggy.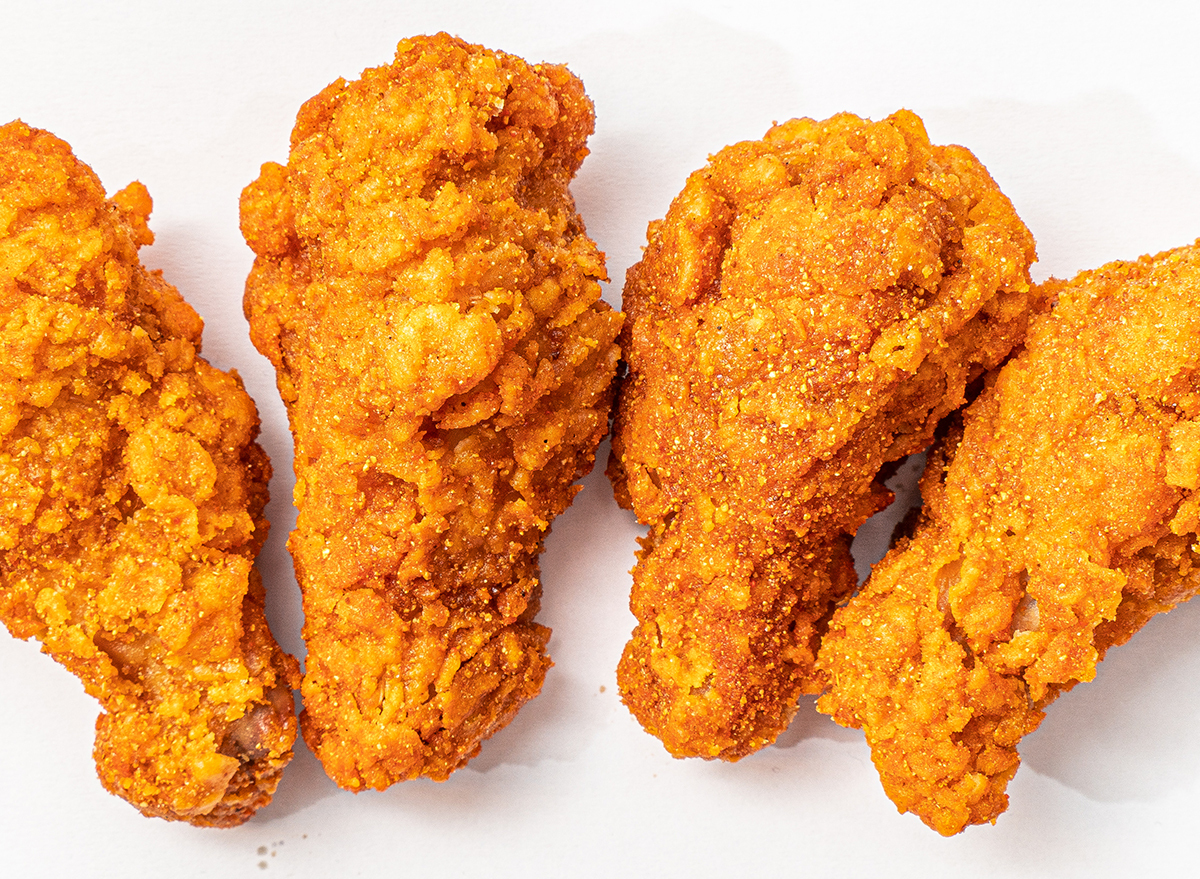 Fried chicken is beloved by many, and whether you are at a restaurant, ordering in, or making it right at home, you're bound to have leftovers. How many times have you reheated fried chicken the next day for lunch and found it to be a bit soggy, mushy, and…not as appealing as it was just the day before? Probably more times than you're willing to admit. So what's the key to ensuring your day-two fried chicken tastes just as crispy as it did on day one?
Joseph Paulino, the executive chef of Wall Street Grill, gave us a helpful tip on how to reheat fried chicken so that it tastes just as crispy and delicious as it did the first day you sunk your teeth into it.
What's the best way to reheat fried chicken breast?
"The best way to reheat fried chicken is to take the chicken out of the fridge, let it come to [room] temperature, and then place it in a 350-degree oven for 8 minutes," says Paulino.6254a4d1642c605c54bf1cab17d50f1e
Keep in mind this is how the chef suggests reheating one fried chicken breast; this does not apply to fried chicken drumsticks, wings, and thighs. If you are trying to reheat a handful of smaller fried chicken pieces, bump up the time in the 350-degree oven to anywhere from 10-15 minutes. Halfway through re-heating, consider flipping the chicken wings or thighs to ensure that each side becomes equally warm—and equally as crispy!
Do you have a fried chicken recipe?
Of course, you can't have great fried chicken leftovers without a delicious recipe from the start. Paulino shares a recipe for frying chicken thighs and drumsticks. And for the fried chicken taste without the mess, you can also make an Oven-Fried Chicken Recipe, too!
Ingredients
6 chicken thighs
6 chicken drumsticks
3 cups buttermilk
1/2 cup Buffalo Hot Sauce (optional)
2 teaspoons salt
1 teaspoon pepper
For the dredging mixture:
3 cups all-purpose flour
1/2 cup cornstarch
1 tablespoon salt
1 tablespoon paprika
2 teaspoons onion powder
2 teaspoons garlic powder
1 teaspoon dried oregano
1 teaspoon dried basil
1 teaspoon white pepper
1 teaspoon cayenne pepper
1-quart vegetable oil for frying
Instructions
In a large mixing bowl, whisk together buttermilk, hot sauce (optional, for added flavor), salt, and pepper. Add in chicken pieces. Cover the bowl with plastic wrap, and refrigerate for four hours.
When ready to cook, pour the vegetable oil in a skillet until it is about 3/4 inch deep. Heat to 350 degrees.
Prepare the breading by combining the flour, cornstarch, onion powder, garlic powder, oregano, basil, white pepper, cayenne pepper, paprika, and salt in a gallon-sized resealable plastic bag or shallow dish. Mix it thoroughly.
Working one at a time, remove chicken pieces from the buttermilk mixture. Shake it gently to remove the excess. Place it in the breading mix, and coat thoroughly. Tap off the excess.
Place the breaded chicken into the 350-degree oil. Fry three or four pieces at a time. The chicken will drop the temperature of the oil so keep it as close to 350 degrees as possible. Fry each piece for 14 minutes, turning each piece over about every 2 minutes, until the chicken reaches an internal temperature of 165 degrees F.
Remove from the oil and place on paper towels. Let them rest for at least 10 minutes.