7 Best Wendy's Items On the Menu Right Now, According to Customers
The chain's fans frequently weigh in on their absolute favorite options.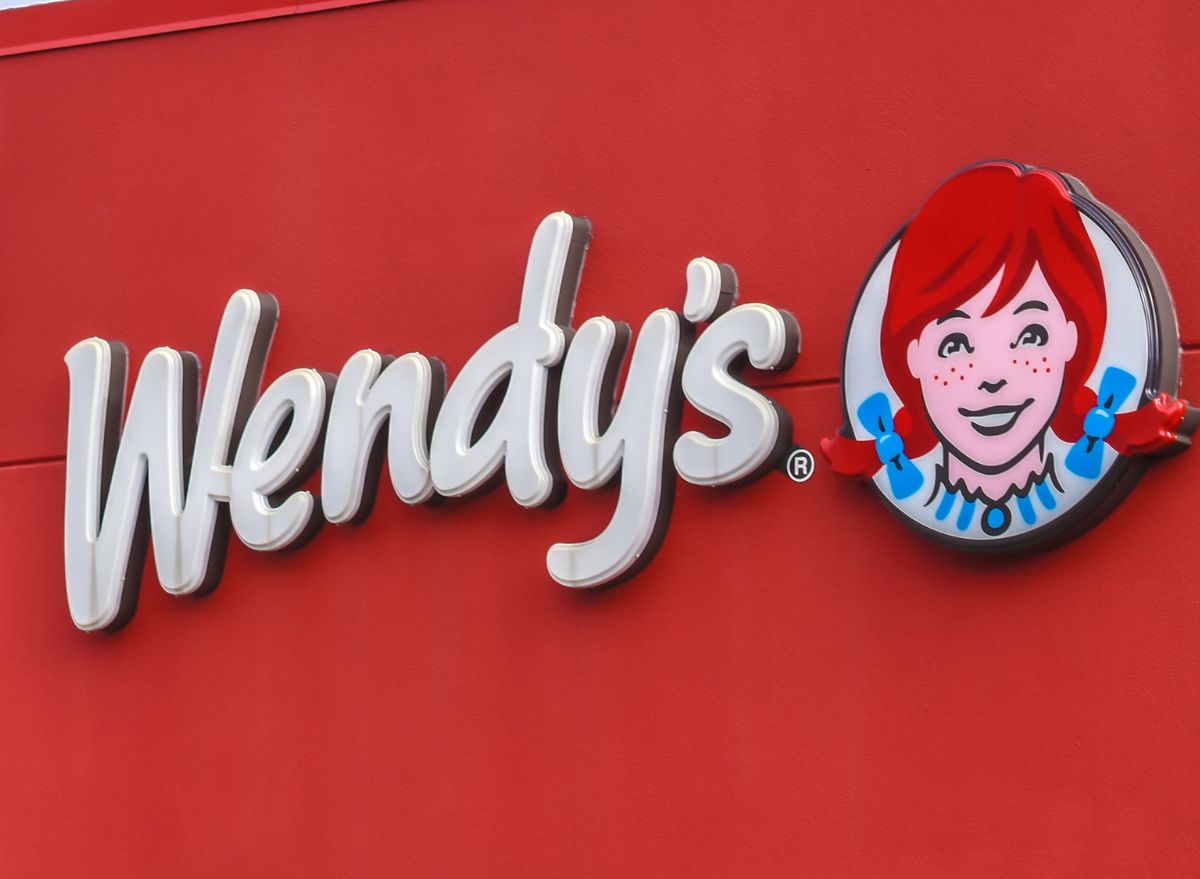 The product recommendations in this post are recommendations by the writer and/or expert(s) interviewed and do not contain affiliate links. Meaning: If you use these links to buy something, we will not earn a commission.
Like with any major fast-food chain, Wendy's menu is almost constantly changing. The fast-food giant frequently expands its food offering with exciting, fresh choices, like the English muffin breakfast sandwiches slated to debut next week. Wendy's also frequently removes other items to make room for the new additions, like when it replaced its limited edition Vanilla Frosty with the seasonal Strawberry Frosty in May.
Because the Wendy's menu may look different from one month to the next, you may have trouble pinpointing the standout food options at the chain. Luckily, the most devoted Wendy's customers have built up a wealth of knowledge on which items are definitely worth your time. They frequently share their absolute favorite items on social media, so we've rounded up some of the most frequently mentioned picks in recent discussions to give customers insight into the most popular options in 2023.
Here are the seven best items on the Wendy's menu right now, according to customers.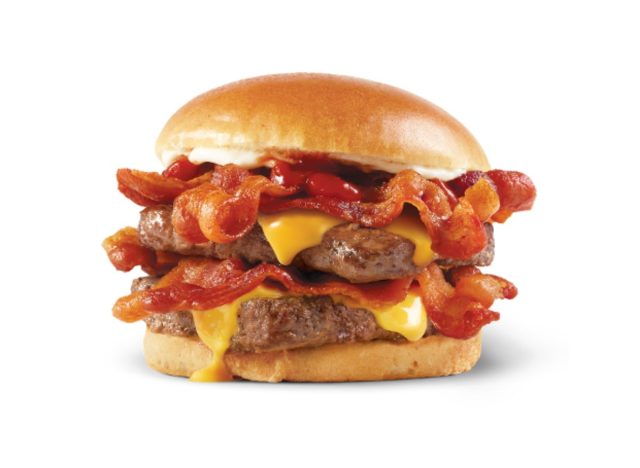 Per Item

: 960 cal, 66 g fat (27 g saturated fat, 3 g trans fat), 1,540 mg sodium, 36 g carbs (1 g fiber, 7 g sugar), 57 g protein
No list of the most popular Wendy's items would be complete without the Baconator. In several recent Reddit threads where customers discussed their absolute favorite Wendy's items, this sizable sandwich was one of the items that popped up the most.
It features a half pound of beef, American cheese, ketchup, mayo, and a whopping six pieces of crispy Applewood smoked bacon. While it may not be one of the healthier choices at Wendy's, there's no denying that it can help carnivores satisfy even their most intense cravings.
A Baconator costs $8.99 near me in New Jersey right now.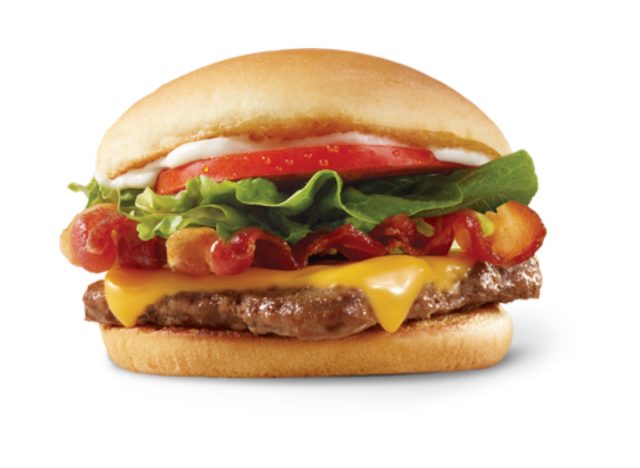 Per Item

: 370 cal, 23 g fat (8 g saturated fat, 1 g trans fat), 650 mg sodium, 25 g carbs (1 g fiber, 5 g sugar), 18 g protein
For many, the Jr. Bacon Cheeseburger (JBC) is a consistently dependable and tasty choice. 
It features a fresh beef patty, Applewood smoked bacon, American cheese, crisp lettuce, tomato, and mayo. While not quite as outrageous as the Baconator, Wendy's customers say it's hard to go wrong with this classic option.
In the words of one fan: "JBC is always good." 
A Jr. Bacon Cheeseburger costs $3.19 near me in New Jersey right now.
Per Item

: 710 cal, 48 g fat (19 g saturated fat), 1,740 mg sodium, 37 g carbs (1 g fiber, 7 g sugar), 33 g protein
Wendy's has only been in the breakfast game since 2020, but customers attest that the chain serves up a superior fast-food breakfast. One of the most iconic options from Wendy's popular breakfast menu is the morning version of its most famous burger: the Breakfast Baconator.
It features grilled sausage, American cheese, Applewood smoked bacon, a fresh-cracked egg, and swiss cheese sauce for an undeniably hefty breakfast option. While nutritionists do consider it to be one of the more unhealthy options out of Wendy's breakfast lineup, there's no denying the love that customers have for the breakfast sandwich. It received plenty of mentions in the Reddit threads where customers shared their favorite orders.
A Breakfast Baconator costs $4.79 near me in New Jersey right now.
Per Item (small order)

: 310 cal, 9 g fat (6 g saturated fat), 180 mg sodium, 49 g carbs (1 g fiber, 40 g sugar), 10 g protein
The times are always changing, but one thing that never budges is people's love for the Frosty. After all, these cool treats have been a staple at Wendy's ever since they were created in 1969.
The Frosty isn't exactly ice cream or a milkshake, but it's creamy, cold, and perfectly enjoyable with either a spoon or a straw. In multiple Reddit threads where customers discussed their go-to Wendy's orders, customers frequently mentioned the Classic Chocolate Frosty and the limited edition strawberry and vanilla varieties (though vanilla isn't currently on the menu).
One especially passionate fan described the sweet treat as one of the "greatest gifts to man" in a Reddit post.
A small Chocolate Frosty costs $2.19 near me in New Jersey right now.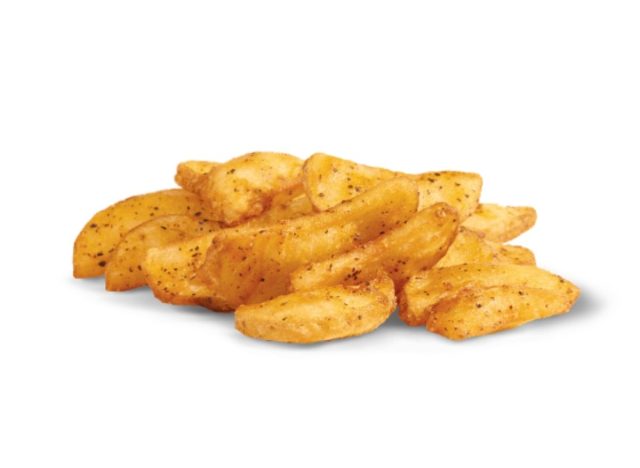 Per Item (small order)

: 230 cal, 10 g fat (2 g saturated fat), 630 mg sodium, 32 g carbs (3 g fiber, 1 g sugar), 3 g protein
The Seasoned Potatoes joined the Wendy's menu in 2020 as part of the refreshed breakfast lineup—and they're already a major fan favorite. Some customers adore them so much that they wish they weren't just available in the mornings.
"I would kill for them to be served all day," one fan wrote on Reddit.
The item consists of natural-cut, skin-on potatoes that are cooked and seasoned with cracked black pepper and garlic powder. If you have the patience, consider following in the footsteps of one Wendy's customer who likes to crisp them up in an air fryer until they're "sizzling hot."
A small order of Seasoned Potatoes costs $1.79 near me in New Jersey right now.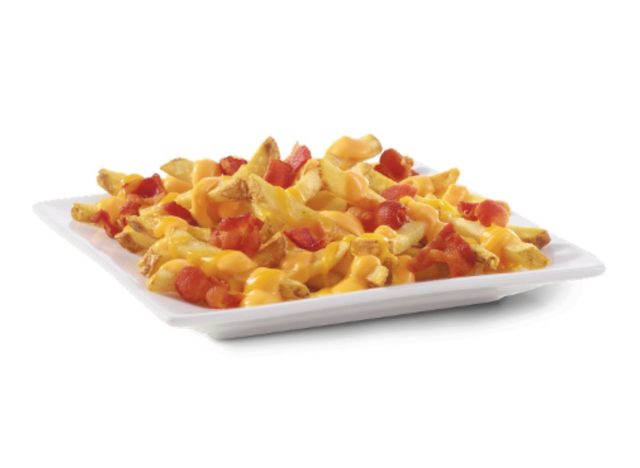 Per Item

: 460 cal, 26 g fat (9 g saturated fat), 1,090 mg sodium, 43 g carbs (3 g fiber, 1 g sugar), 14 g protein
Any Wendy's item with "Baconator" in its name seems to be a winner with customers. This indulgent side dish is a ramped-up version of classic cheese fries, featuring creamy cheese sauce, shredded cheddar, and crispy Applewood smoked bacon atop a bed of skin-on fried spuds.6254a4d1642c605c54bf1cab17d50f1e
With all the hype surrounding Wendy's classic Baconator burger and Breakfast Baconator, it's really no surprise that customers adore this option as well.
"The Baconator Fries are so fire," one fan raved in a Reddit post last year.
An order of Baconator Fries costs $4.19 near me in New Jersey right now.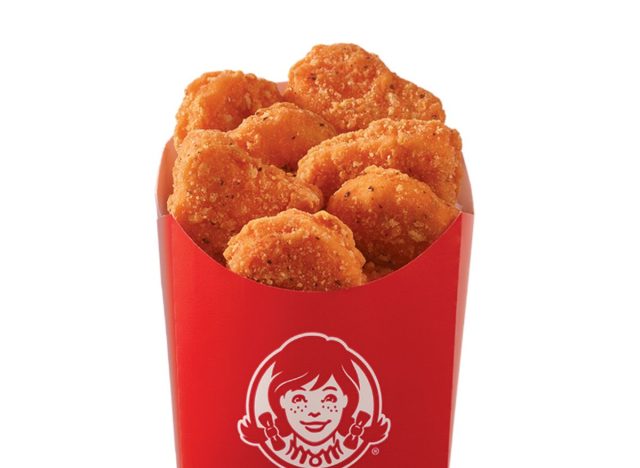 Per Item (10-piece order)

: 470 cal, 31 g fat (7 g saturated fat), 1,190 mg sodium, 22 g carbs (2 g fiber, 0 g sugar), 26 g protein
Wendy's fans were devastated when the chain pulled its popular Spicy Chicken Nuggets from menus in 2017. But their immense popularity (and a Twitter campaign from Chance the Rapper) inspired the chain to bring them back in 2019.
The nuggets are made from 100% white meat chicken, which is breaded and marinated in Wendy's "unique, fiery blend of peppers and spices."
While several major fast-food chains have concocted their own takes on a spicy chicken nugget, many customers view Wendy's version as a classic. In fact, one Redditor declared that Wendy's is the only chain that can "do it right" when it comes to a spicy fast-food chicken nugget.
Zoe Strozewski
Zoe Strozewski is a News Writer for Eat This, Not That! A Chicago native who now lives in New Jersey, she graduated from Kean University in 2020 with a bachelor's degree in journalism.
Read more about Zoe