Wendy's Breakfast Menu Is Available Today—Here's Our Honest Review
With 22 items now up for grabs in the morning, the chain is giving McDonald's some major competition.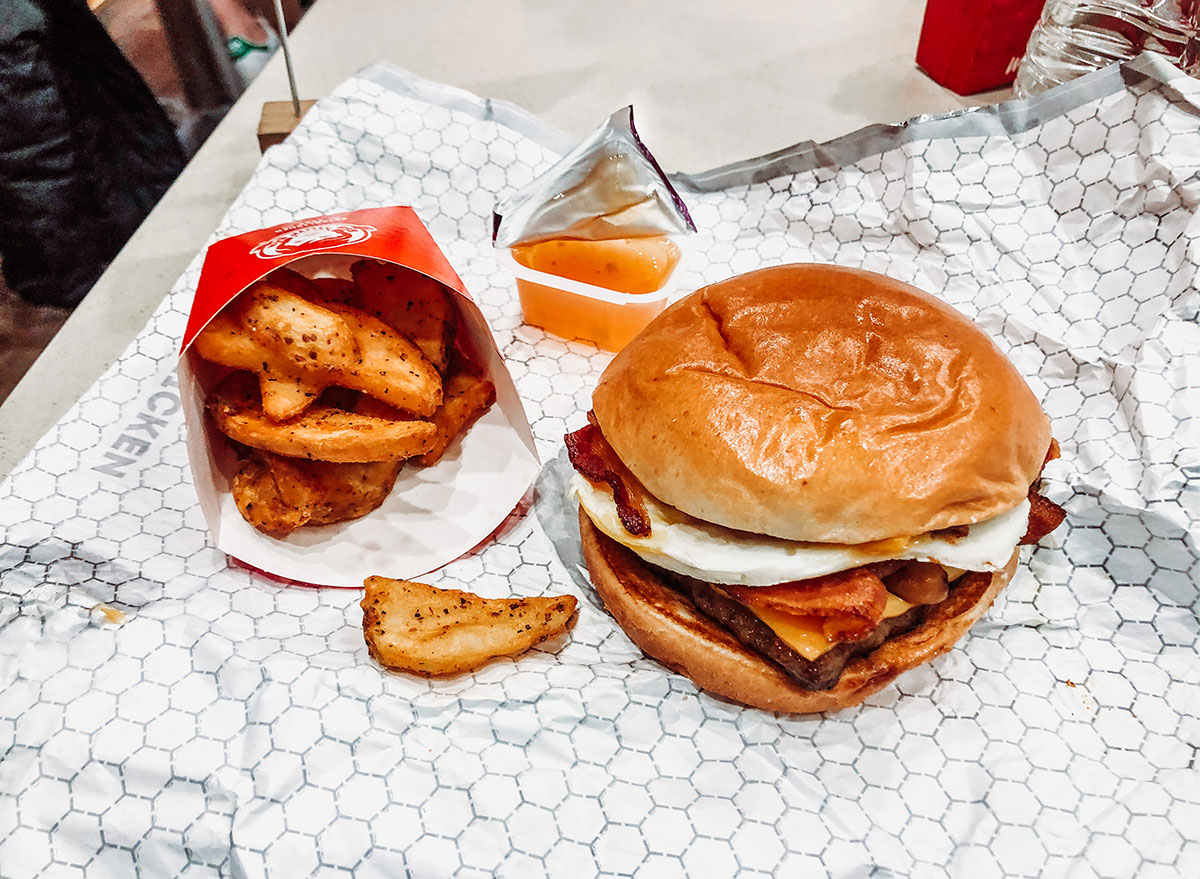 PSA: Wendy's new breakfast menu is now available nationwide.
And recently, the Eat This, Not That! team was invited to an exclusive tasting of the fast-food chain's A.M. offerings, and, we gotta say, the fresh ingredients used to make these new items are noticeable. Wendy's philosophy behind its breakfast sandwiches, for instance, is "eggs should be cracked, not poured," so don't expect to find a strange, circle-shaped egg patty in-between your biscuit here.
In our opinion, this is what truly sets the new menu apart from its competitors. Below is a full breakdown of what you can expect.
What's on Wendy's breakfast menu?
Wendy's currently offers nine breakfast combos, but here's an exhaustive list of all 22 breakfast items available that you can mix and match. (John Li, vice president of culinary innovation at Wendy's, said at our tasting that each can be modified to fit vegetarian needs.)
 Croissants
Biscuits
Sandwiches
Sides
Beverages
Here's what we tried:
Seasoned Potatoes
Per small
: 230 calories, 10 g fat (2 g saturated fat, 0 g trans fat), 630 mg sodium, 32 g carbs (3 g fiber, 1 g sugar), 3 g protein
To kick off the tasting, we sampled Wendy's seasoned potatoes—breakfast potatoes that have been sprinkled with a similar blend of seasonings typically found on an everything bagel. They tasted more like a steak fry, with notable hints of cracked black pepper and garlic powder. In terms of flavor and texture, this menu item got our stamp of approval.
Breakfast Baconator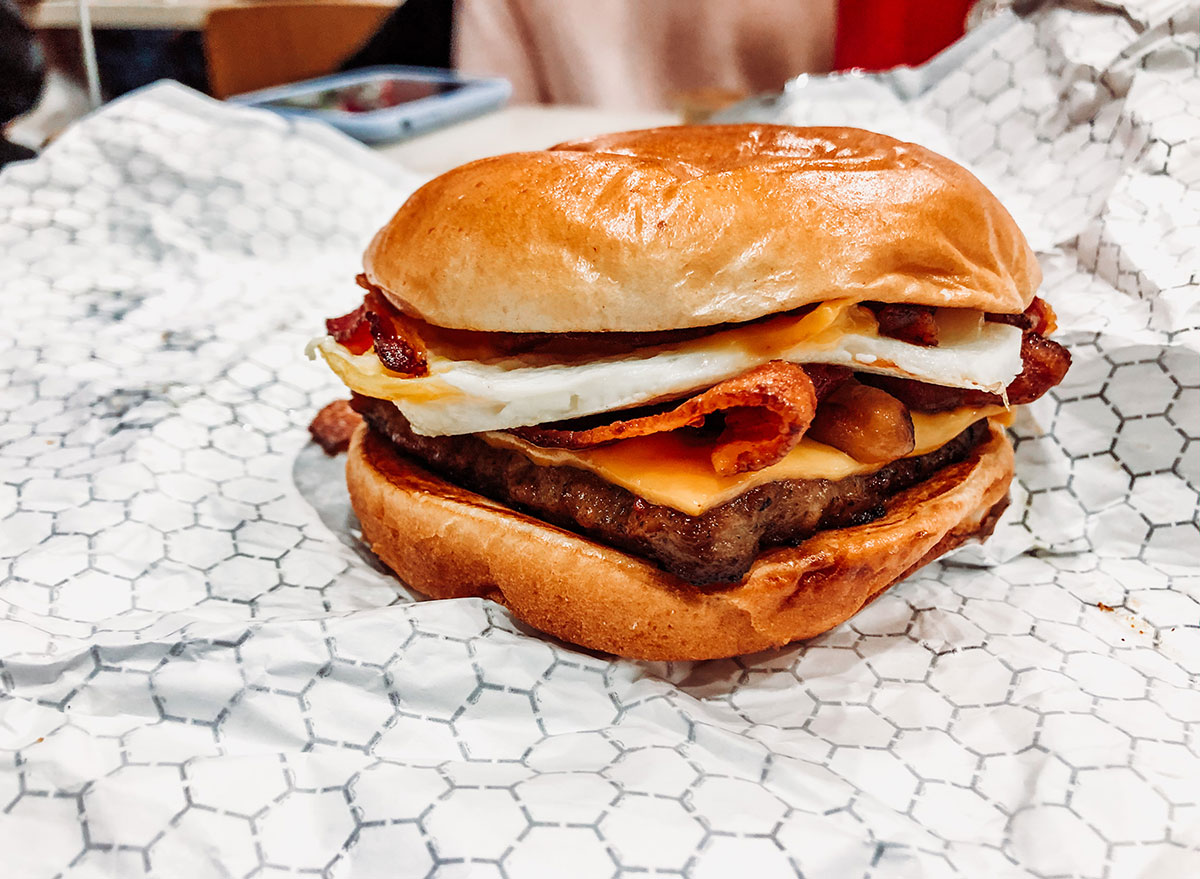 730 calories, 50 g fat (19 g saturated fat, 0.5g trans fat), 1,750 mg sodium, 36 g carbs (1 g fiber, 7 g sugar), 34 g protein
We know what you're thinking: You can't just put an egg on a Baconator and call it breakfast. Not to worry, because the square patty here is actually made from sausage, not beef.
The other ingredients that are piled in between the glossy, buttery bun include American cheese, Applewood smoked bacon, a fresh-cracked egg, more cheese, and bacon. It's then drizzled with a special Swiss cheese sauce. One word: Delicious. But at a whopping 730 calories, this is a splurge breakfast pick through-and-through.
Honey Butter Chicken Biscuit
500 calories, 29 g fat (9 g saturated fat, 0g trans fat), 1,260 mg sodium, 44 g carbs (2 g fiber, 9 g sugar), 14 g protein
A crispy chicken fillet is slathered with sweet, maple honey butter and enclosed in a fluffy, buttermilk bun. Out of all of Wendy's breakfast menu items we tried, this was arguably our favorite taste-wise. But, with a startling 1,260 mg of sodium, it's not something we'll be ordering on the regular.
Bacon, Egg & Swiss Croissant
410 calories, 23 g fat (11 g saturated fat, 0g trans fat), 890 mg sodium, 34 g carbs (1 g fiber, 6 g sugar), 18 g protein
We have to be honest: This bread situation doesn't resemble a true croissant. When we think of a croissant, we think of a fluffy, pastry-like bread that melts in your mouth. While this bun was flaky, it wasn't exactly what we were hoping it'd be. That said, if you don't want a breakfast sandwich that's bogged down with meat, this is an ideal option, but beware: It has 11 grams of saturated fat.
Chocolate Frosty-ccino
Per small (20 fl oz)
: 220 calories, 5 g fat (3.5 g saturated fat, 0g trans fat), 105 mg sodium, 36 g carbs (0 g fiber, 28 g sugar), 6 g protein
Last, we tried the Frosty-ccino. On our team, we have a non-coffee drinker, a non-sweet coffee drinker, and a sweets-lover. Surprisingly enough, this drink satisfied all of our taste preferences—so much so that we even took another to-go. The best part? The Frosty-ccino has half the calories of Starbucks Caffé Vanilla Frappuccino Blended Beverage, a Venti size (24 fl oz) of which clocks in at 510 calories.6254a4d1642c605c54bf1cab17d50f1e
Hungry for more? Now that you have a full run-down on Wendy's breakfast menu, be sure check out The Best & Worst Fast Food Breakfast Sandwiches—Ranked to see how some of these menu items compare.
Update: In celebration of the launch, Wendy's is offering a free Honey Butter Chicken Biscuit with the purchase of any breakfast food item via the mobile app. The offer will only last a limited time nationwide, so be sure to redeem your freebie while you can!
Ann Marie Langrehr
Ann Marie is the Social Media Editor for Eat This, Not That! running the brand's social media accounts.
Read more about Ann Marie