7 Healthiest Wendy's Orders, According to Dietitians
When you're craving some fast-food but want to stick to your goals, try these healthy Wendy's orders.
Discovering healthy options when dining out can be a challenge, but Wendy's is here to prove that fast-food doesn't have to mean sacrificing nutrition. We've teamed up with dietitians to bring you the ultimate guide to healthy Wendy's orders. From satisfying salads to protein-packed sandwiches, get ready to indulge guilt-free while making smart choices that align with your dietary goals. Say goodbye to the notion that fast-food and health can't coexist–Wendy's is here to redefine the game.
And with a few expert-recommended tips on what to look for when you're in need of some healthier fast-food options, you'll be able to make healthy choices at any time.
What to consider when ordering healthier fast-food
When it comes to making healthier choices at fast-food spots like Wendy's, several factors come into play. Prioritizing the nutritional content of menu items is essential.
Lean protein: Opt for menu options that contain lean sources of protein.
Portions: Managing calorie intake by choosing smaller-sized meals or healthier side items is crucial for healthy Wendy's orders.
Customization: Pay attention to condiments and toppings that may contribute extra calories, and customize your order accordingly.
Sugar-free beverages: Select water or unsweetened beverages to avoid the intake of added sugars.
By adhering to these guidelines and selecting healthier menu options, you can enjoy a satisfying meal at Wendy's while still making choices that promote your overall well-being. Stay tuned as our experts share their approved menu items from Wendy's, then, for more helpful fast-food tips, check out 11 Healthy Fast-Food Orders, According to Dietitians.
Crispy Chicken Sandwich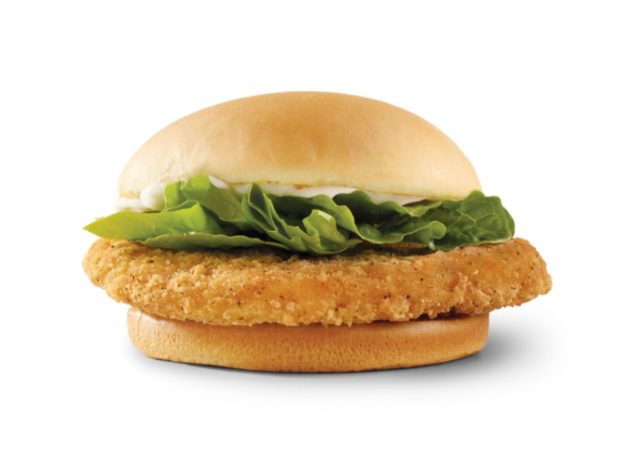 Per sandwich
: 330 calories, 16 g fat, 680 mg sodium, 33 g carbs (1 g fiber, 4 g sugar), 14 g protein
Wendy's Crispy Chicken Sandwich is made with lean, white meat chicken for a good source of protein, and it clocks in at just 330 calories. Topped with crispy lettuce and mayo, this sandwich is balanced with protein for fullness, carbs for extra energy, and fat for flavor.
Grilled Chicken Ranch Wrap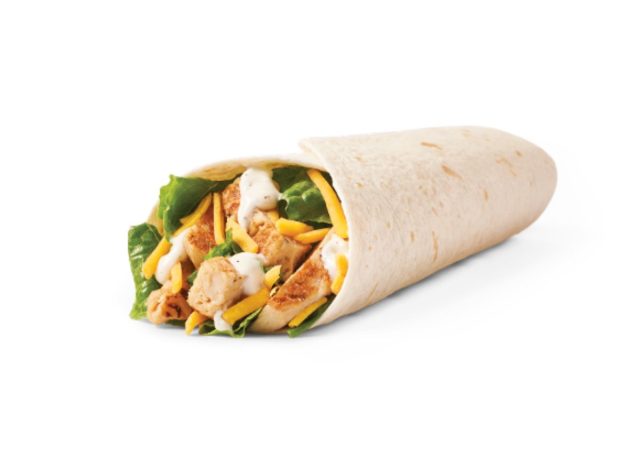 Per wrap
: 420 calories, 16 g fat, 1230 mg sodium, 41 g carbs (2 g fiber, 2 g sugar), 27 g protein
Jessie Hulsey RD, an Atlanta-based registered dietitian shares her favorite Wendy's order: "I'm always on the lookout for nutritious and satisfying meal options, and Wendy's Grilled Chicken Ranch Wrap hits the mark. Packed with tender grilled chicken, crisp lettuce, and juicy tomatoes, this wrap offers a protein-packed punch without excessive calories. The ranch dressing adds a creamy touch without overwhelming the overall healthfulness of the meal. Whether you're on the go or looking for a lighter option, the Grilled Chicken Ranch Wrap is a perfect choice that will leave you feeling satisfied!"
Apple Pecan Salad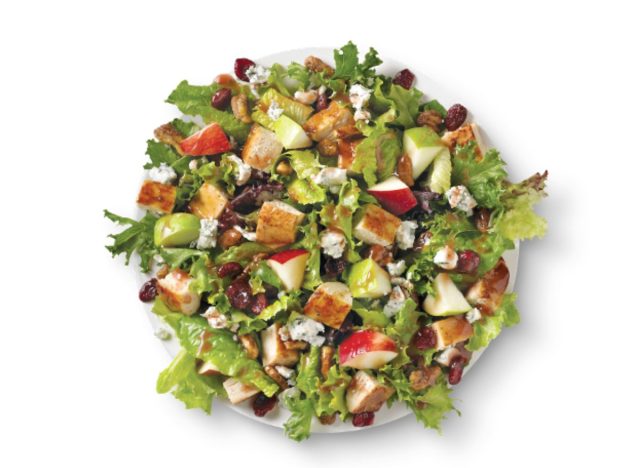 Per salad
: 450 calories, 25 g fat, 1230 mg sodium, 28 g carbs (5 g fiber, 19 g sugar), 32 g protein
"The Apple Pecan Salad has a whopping 32 grams of protein! Plus, the pecans help offer heart healthy unsaturated fats along with blood pressure lowering potassium, magnesium, and calcium. To keep sodium levels down, you may consider saying no to the blue cheese or asking for it on the side to be able to add just a small portion," shares Kimberley Wiemann, MS, RDN, a Long Island-based registered dietitian.
Classic Bacon, Egg and Cheese Breakfast Sandwich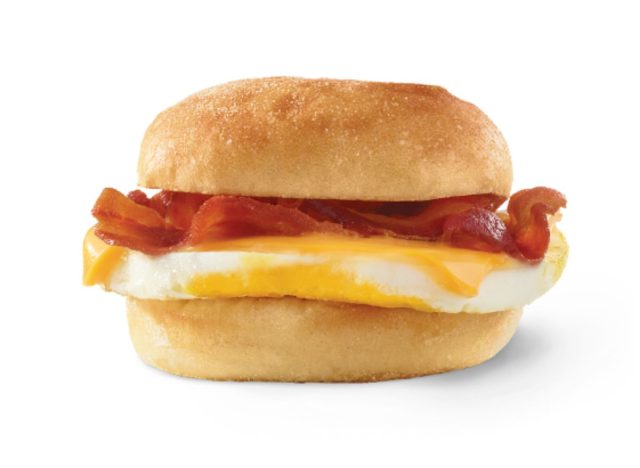 Per sandwich
: 320 calories, 17 g fat, 840 mg sodium, 25 g carbs (1 g fiber, 2 g sugar), 18 g protein
Miranda Galati, MHSc, RD, dietitian and founder of Real Life Nutritionist, gives us her breakfast order. "The Classic Bacon, Egg and Cheese Breakfast Sandwich is a hidden gem to enjoy any time of day. For just 320 calories, you'll get an impressive 18 grams of protein to keep you full for hours. It's a balanced and satisfying option that can easily support your health goals. Try adding lettuce and tomato to your breakfast sandwich for a little extra color and crunch too!"
Jr. Deluxe Cheeseburger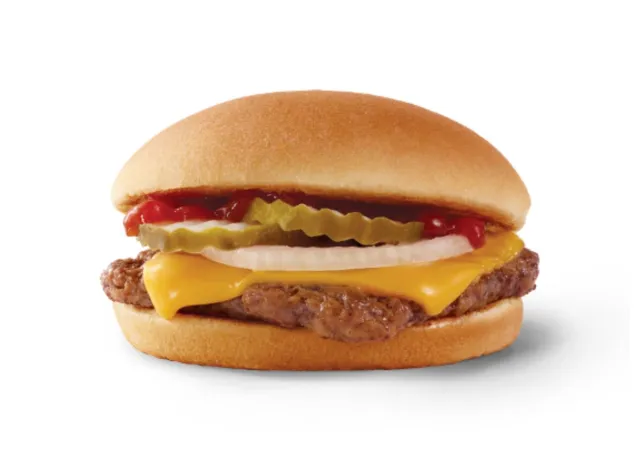 Per burger
: 340 calories, 20 g fat, 610 mg sodium, 27 g carbs (1 g fiber, 6 g sugar), 15 g protein
Amanda Sauceda, MS, RD recommends the Jr. Deluxe Cheeseburger. "The Jr. Deluxe Cheeseburger is a good option when you're in the mood for a burger and don't want to overdo it. You'll get a good amount of protein at 15 grams and your carb count is lower than a Dave's Single. I often remove half the bun and order a small fry. This helps me balance out my carb intake but still enjoy my fast-food meal!"
Wendy's Chili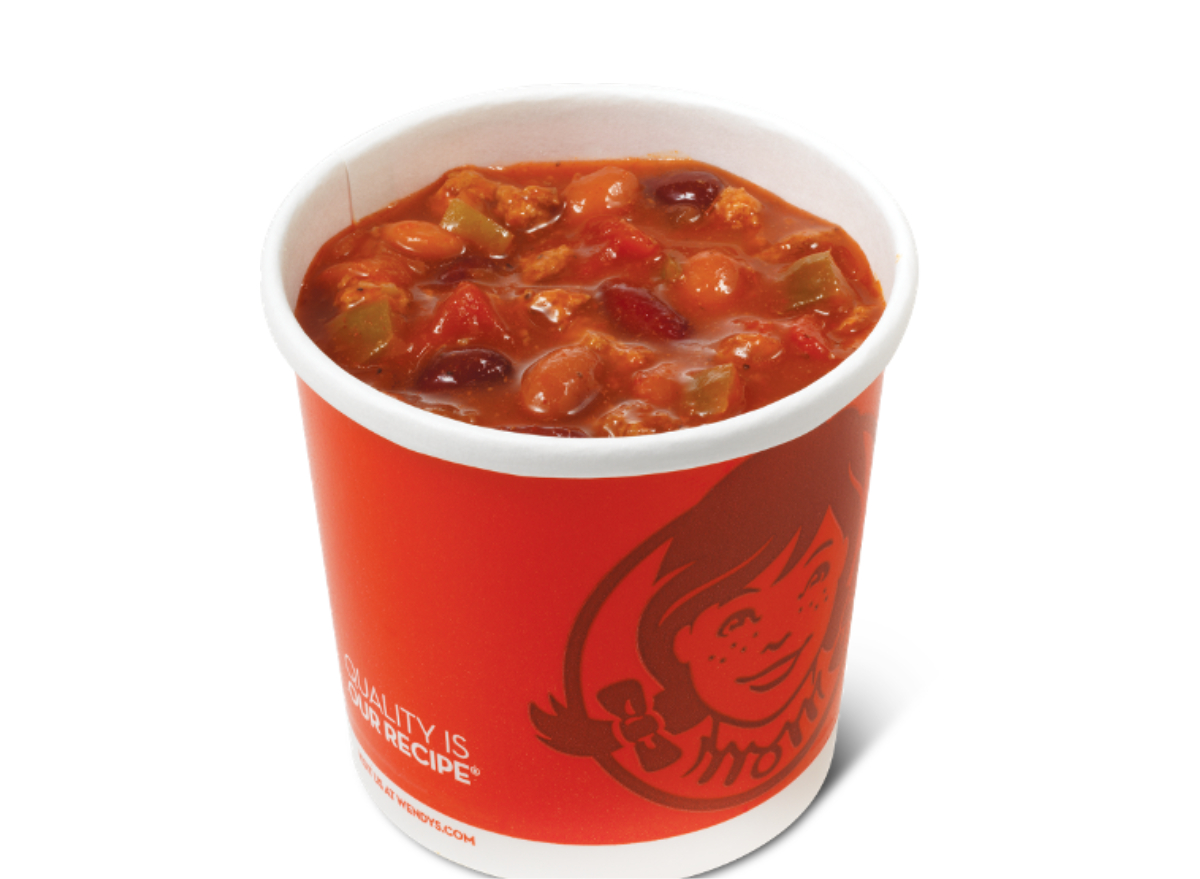 Per regular serving size
: 240 calories, 11 g fat, 920 mg sodium, 22 g carbs (6 g fiber, 6 g sugar), 16 g protein
"Wendy's famous chili is a hearty and satisfying option that is relatively low in calories and fat. It is made with ground beef, kidney beans, tomatoes, onions, peppers, and a blend of spices. Serve this with Wendy's baked potato for an even more satiating and filling meal," recommends Wan Na Chun, MPH, RD.
Kid's Chicken Nuggets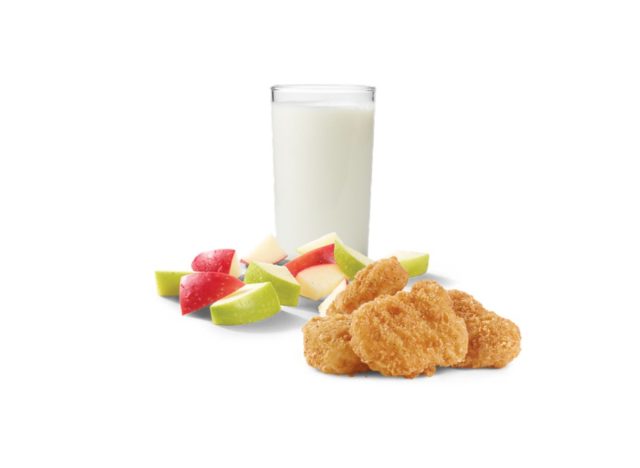 Per meal
: 395 calories, 19 g fat, 660 mg sodium, 32 g carbs (2 g fiber, 16 g sugar), 22 g protein
You can't discredit the kids menu at Wendy's, which is full of balanced meal options. The chicken nuggets come with a side of milk and apple slices for a balanced meal. You'll get a healthy dose of protein, fiber, and added vitamins and minerals from your milk and fruit. Plus, the nostalgia of eating a kids meal is fun, too!6254a4d1642c605c54bf1cab17d50f1e
Caroline Thomason, RDN
Caroline is a women's health Registered Dietitian and diabetes educator based in Northern Virginia.
Read more about Caroline