The Best & Worst Avocado Oil-Based Snacks, According to Dietitians
Not every item containing the heart-healthy fat is good for you.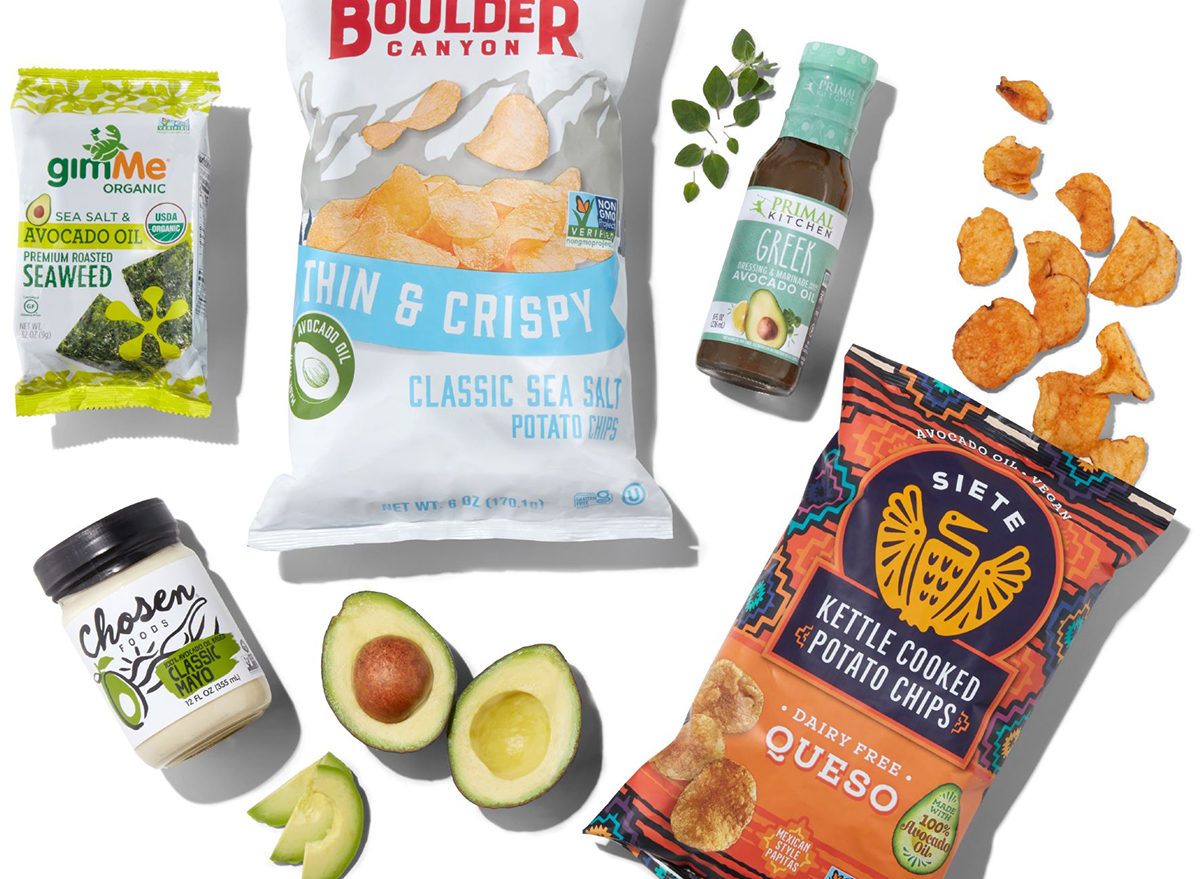 The product recommendations in this post are recommendations by the writer and/or expert(s) interviewed and do not contain affiliate links. Meaning: If you use these links to buy something, we will not earn a commission.
First, it was extra virgin olive oil. Then coconut oil slid into the limelight. Now, avocado oil is having its moment as the trendy cooking fat du jour. You know what that means: more and more food brands are looking to capitalize.
Whole Foods Market recently listed the "avocado oil craze" among its Top 10 Food Trends for 2023, citing all sorts of chips, dips, sauces, dressings and other products that  prominently feature the heart-healthy ingredient. Heck, even the beauty industry is now putting avocado oil in shampoos and soaps! 
The snack aisle in particular is booming with items proudly advertising their avocado oil content. We reached out to nutrition experts to get their thoughts on this burgeoning new genre and some of the more popular avocado oil snacks on the market right now.
If you're wondering if you should jump on the avocado oil bandwagon and spend more money on these snacks—avocado oil is, in fact, more expensive than other oils—here's what you need to know.
What are the health benefits of avocado oil? 
Avocados and the oils made from the fleshy pulp of this creamy, delicious fruit most definitely have healthy properties. 
"[Avocado oil is] high in the unsaturated fatty acid oleic acid, monounsaturated fats, and vitamin E," according to Amy Goodson, MS, RD, CSSD, LD, author of The Sports Nutrition Playbook. "Its monounsaturated fat content has been linked to helping reduce LDL or bad cholesterol. It can also help raise HDL or good cholesterol."
Goodson adds that avocado oil is also an excellent source of lutein, which is a carotenoid, a powerful antioxidant that promotes eye health. Other fruits and vegetables like watermelon, carrots and tomatoes are also rich in carotenoids, but low in fat, which the body needs in order to absorb these important nutrients. One study found that adding avocado oil to a salad substantially increased carotenoid absorption because of the healthy fats it contains.
Goodson further pointed out that avocado oil is only approximately 12% saturated fat, which is low for an oil, and it contains approximately 13% polyunsaturated fats, such as omega-3 fatty acids. Omega-3 fatty acids are necessary for many functions in the body, including cell growth and muscle activity.
Is avocado oil healthier than common seed oils? 
A lot of snack products today are commonly made with seed oils: sunflower, safflower, canola, and the like."Seed oils are used in everything now because they are cheap, they are shelf stable, and can be cooked at high heat," explains registered dietitian Amy Shapiro, MS RD, and founder of Real Nutrition NYC.
In order to make them shelf stable, seed oils are cleaned, bleached and processed, Shapiro notes. "A lot of them are from GMO foods so you're getting some byproducts and other things our bodies just don't understand," she adds.
For these reasons, a product made with avocado oil is generally going to be better than one made with canola or other overly processed seed oils.
"While everyone should look to eat less fried foods, foods fried in avocado oil have a lower risk of containing trans fats, the type of fat we should consume as little as possible," Goodson says. "Many brands are looking to improve the ingredients in their products. Swapping avocado oil for some other oils can help improve the fat profile of a food."
Should you stock up on snacks made with avocado oil? 
Based on conversations with a few registered dietitians, the general consensus is that avocado oil definitely has some health benefits, but just because a food item says it's made with avocado oil doesn't necessarily make it the best, healthier choice for you and your health goals. 
That's why it's important to always read the label. "It's not just about the avocado oil," says Toby Amidor, MS, RD, CDN, FAND, award-winning nutrition expert and best-selling author of The Family Immunity Cookbook. "Yes, it's a healthy ingredient, but it depends how it's being used together with other ingredients."
Amidor is especially wary of snacks that are fried using the otherwise healthy oil. "Most chips are typically fried," she says. "Frying is not a healthy cooking method."
The healthiest avocado oil snack is not some processed product from the store, says Amidor—it's the one you make yourself using the actual oil. "That's the best thing," she says. "You control it in your own home."
But, if you want to try the trend and promise to read the labels, check out the list below, which includes some good choices and other not-so-good-for-you options.
Just remember portion control and be mindful of how much fat you are ingesting, advises Shapiro. Be an educated consumer and eat proper portions. This way, you can still eat your "junk food" and feel better about it.
The 3 best avocado oil snacks you can buy
Dietitians picked these snacks because of their simple ingredient list of whole foods with no chemical additives or flavorings, which can be inflammatory.
Gimme Organic Seaweed Snacks Sea Salt & Avocado Oil
Serving 4.5 g: 25 calories, 0 g fat, 2 g saturated fat, 1 g carbs, 1 g fiber, 55 mg sodium, 0 g sugar, 1 g protein
Shapiro says she likes this one from Gimme because it has three whole food ingredients (premium organic seaweed, organic avocado oil and sea salt), is super low in calories, plus eating this snack promotes other health benefits. 6254a4d1642c605c54bf1cab17d50f1e
"If you're looking for snacks with avocado oil, this one will get you to eat seaweed, a plant-based food that's high in iodine and minerals, and it promotes you getting other nutrients," she says.
Jackson's Sea Salt Sweet Potato Chips with Avocado Oil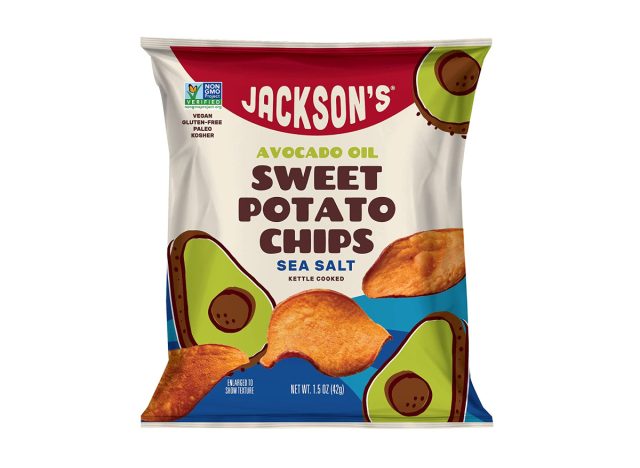 Serving 1 oz: 150 calories, 9 g fat, 1 g saturated fat, 16 g carbs, 2 g fiber, 150 mg sodium, 3 g sugar, 1 g protein
Again, this snack from Jackson's Chips contains only three ingredients: non-GMO heirloom sweet potatoes that are kettle cooked in avocado oil and sprinkled with sea salt. 
"Sweet potatoes provide vitamin A and beta carotene nutrients that boost immunity and eye health," Shapiro says.
Boulder Canyon Avocado Oil Classic Sea Salt Chips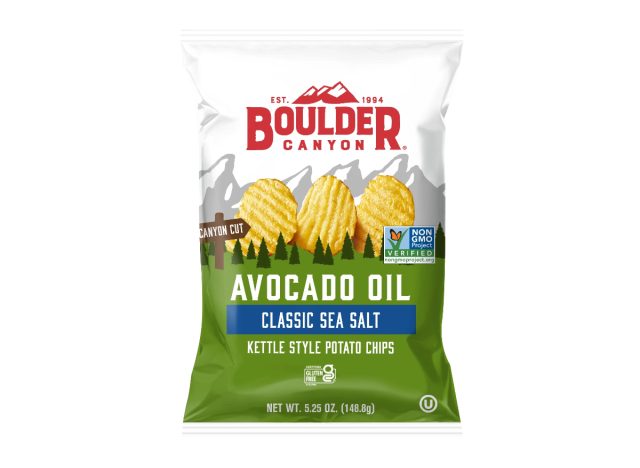 Serving 1 oz: 160 calories, 9 g fat, 1.5 g saturated fat, 120 mg sodium, 16 g carbs, 1 g fiber, 0 g sugar, 3 g protein
Shapiro likes these chips from Boulder Canyon because they are "simply made" with just three whole-food ingredients: potatoes, avocado oil and sea salt.
Non-GMO and cooked in pure avocado oil, the Boulder chips are "definitely one of the better ones," she says, noting that other chips made with avocado oil usually contain a lot of extra things like powders and dextrose.
The 3 worst avocado oil snacks you can buy
Dietitians singled out the following products because of questionable ingredients or how they're cooked.
Pili Hunters Nuts Fried in Avocado Oil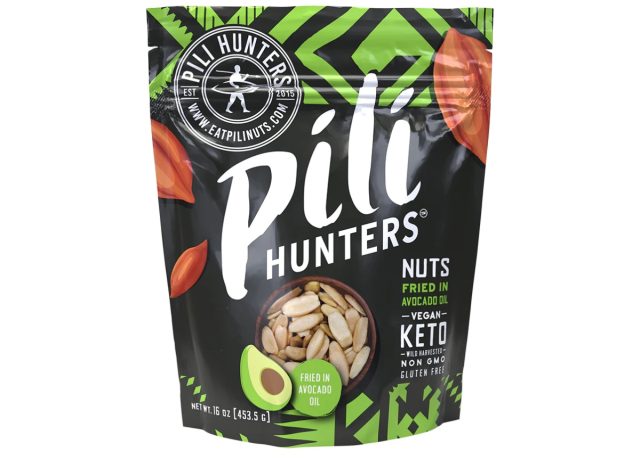 Serving 1/3 cup: 380 calories, 42 g fat, 16 g saturated fat, 19 g monounsaturated fat, 2 g carbs, <1 g fiber, 240 mg sodium, <1 g sugar, 6 g protein
Pili nuts have surged in popularity lately because of their "superfood" status, but this fried variety from Pili Hunters is a classic example of how the mere presence of avocado oil doesn't automatically make it a healthy product, says Shapiro.
Amidor agrees. "Nuts are absolutely healthy, but I recommend choosing dry roasted or raw nuts to minimize the fat," she says. "Nuts already have a ton of fat; frying isn't healthy for your heart or waistline. Although [Pili Hunters Nuts Fried in Avocado Oil] may appear healthier because it's made with avocado oil, IT IS STILL FRIED."
Stonewall Kitchen Avocado Oil & Sea Salt Down East Crackers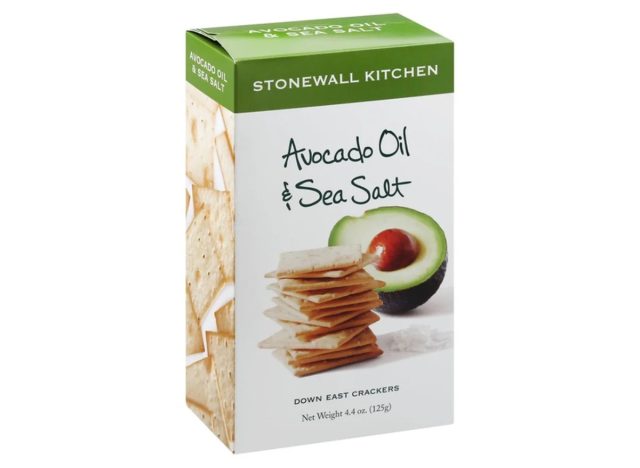 Serving 11 crackers: 120 calories, 3.5 g fat, 0.5 g saturated fat, 19 g carbs, <1 g fiber, 290 mg sodium, 2 g sugar, 3 g protein
Shapiro is not a fan of these crackers from Stonewall Kitchen. "The first ingredient is unbleached flour, so it's not even 100% wheat flour," she says. "It might have avocado oil, but it's still made with low-fiber flour. [These crackers] have less than one gram of fiber, so it's not necessarily better for you. In terms of fat, it is better, but in terms of carbs and processed flour, it's not as good."
Good Health Avocado Oil Lime Ranch Kettle Chips
Serving 28 g, about 20 chips: 150 calories, 9 g fat, 1.5 g saturated fat, 17 g carbs, 1 g fiber, 125 mg sodium, 1 g sugar, 2 g protein
While the front of the this label screams "really good for you," you'll find the ingredient list from Good Health is, well, not so good. It includes maltodextrin, sugar, dextrose, malic acid, and other chemical ingredients and flavorings. "All these things on the surface look pretty good and then you flip [the package] over and you don't know what the ingredients are," Shapiro says.
"This is another example of healthy ingredients—so you may think it is a healthy choice— but it's still chips," Amidor adds. "I would recommend choosing these chips once in a while as a side to a well-balanced sandwich or as a snack paired with a fruit or veggie."
LaRue V. Gillespie
LaRue V. Gillespie is a journalist, freelance writer, and content creator who has written about health/wellness, mental health, fitness, nutrition, beauty, and lifestyle for the last two decades.
Read more about LaRue