The Best and Worst Fast-Food Chicken Sandwiches, According to a Dietitian
An RD ranks the healthiest and unhealthiest contenders in the fast-food chicken wars.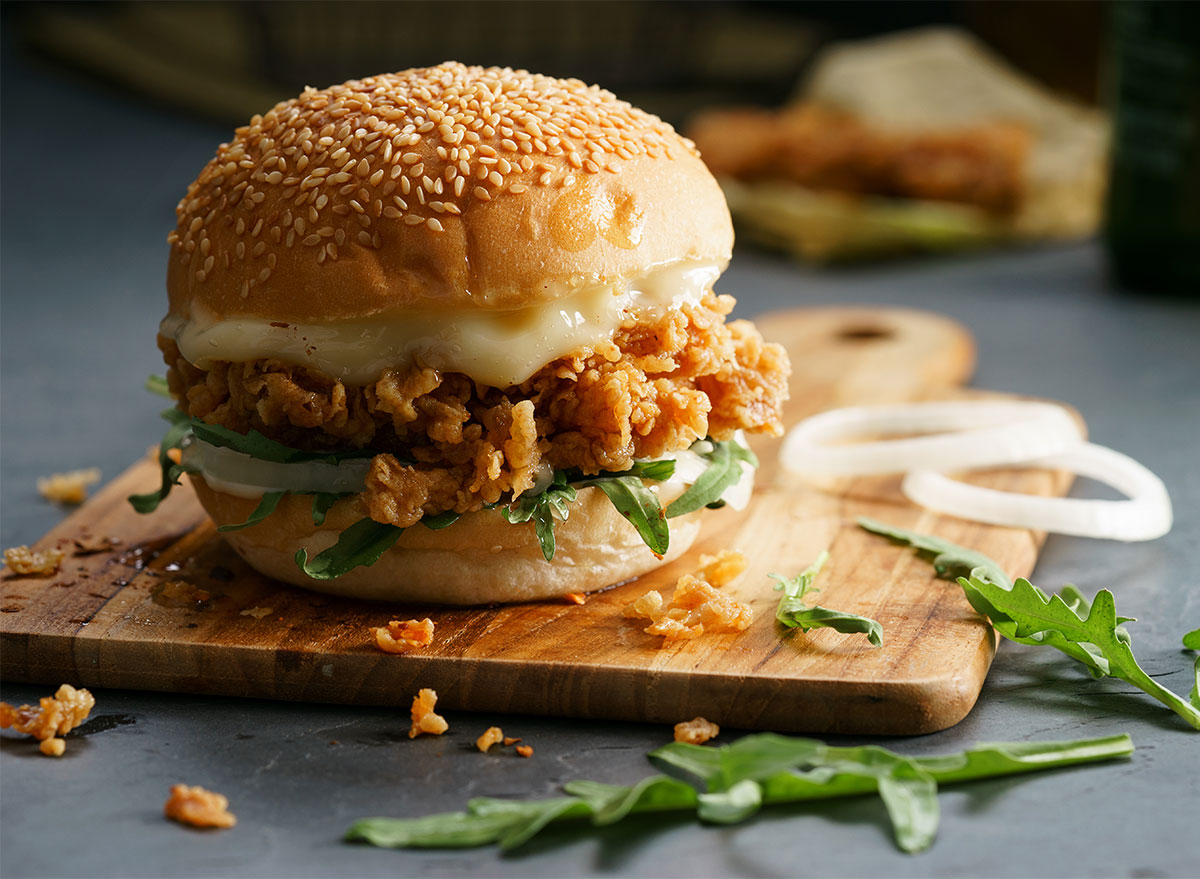 We've already found a winner for the crispiest, most flavorful fast-food chicken sandwich (hint: it's not Popeyes, which actually came in third, but another beloved restaurant chain's creation).
But now it's time to focus on which chain has the healthiest option. Considering more and more brands have been joining the chicken wars by releasing their own signature sandwich, these offerings definitely aren't all made the same—and their ingredients and nutritional info should be put to the test. We enlisted the help of Lindsey Pine, MS, RD to find out which sandwiches at 14 popular fast-food chains are worth the hype health-wise.
The results are truly juicy, but there's one important caveat to this ranking: "First and foremost, if I'm defining 'healthy' as a diet consisting of primarily whole foods… I wouldn't consider any of these sandwiches necessarily 'healthy,'" Pine says. "Most contain tons of sodium, a lot of refined carbs, additives, food dyes, refined oils, and very long ingredient lists. However, life is about balance, and it's okay to eat fast food once in a while."
Keep reading below to see which fast-food chicken sandwiches to skip ordering and which are the best option to enjoy every once in a while. Instead, be sure you stock up on any of The 7 Healthiest Foods to Eat Right Now.
Worst
Zaxby's Kickin' Chicken Sandwich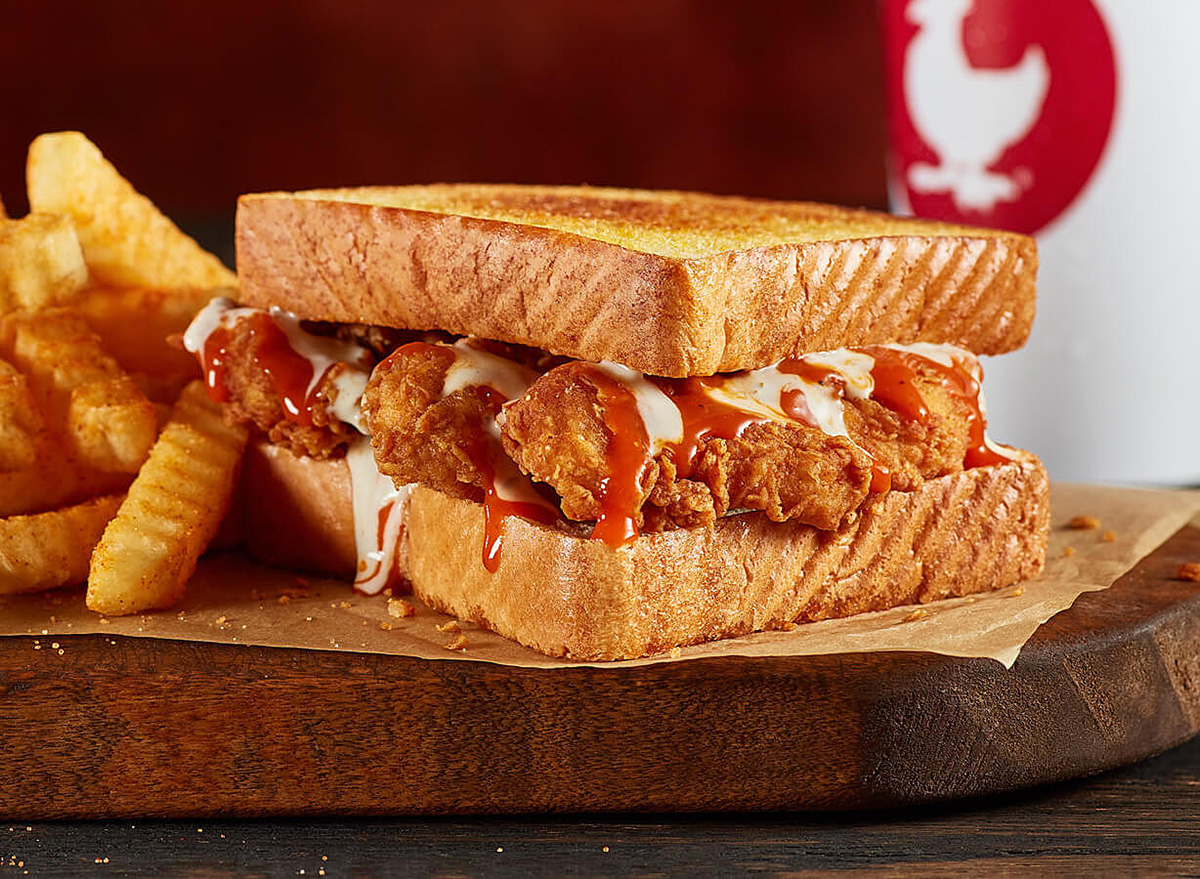 730 calories, 41 g fat (6 g saturated fat, 0 g trans fat), 2,790 mg sodium, 55 g carbs (3 g fiber, 5 g sugar), 37 g protein
"The number of calories and total carbs in this sandwich are almost double that of a number of the other sandwiches listed," says Pine.
Make this a Zaxby's meal (instead of just ordering the sandwich alone), and the carbs double while the sodium skyrockets by almost 600 milligrams. "The sodium content [of the meal] blows me away at a whopping 3,370mg," explains Pine. "That's the equivalent of approximately 11 pickle spears! To put this into perspective, the sodium recommendation from the American Heart Association is no more than 2,300 mg per day."  (Related: The Best and Worst Menu Items at Zaxby's.)
Popeye's Classic Chicken Sandwich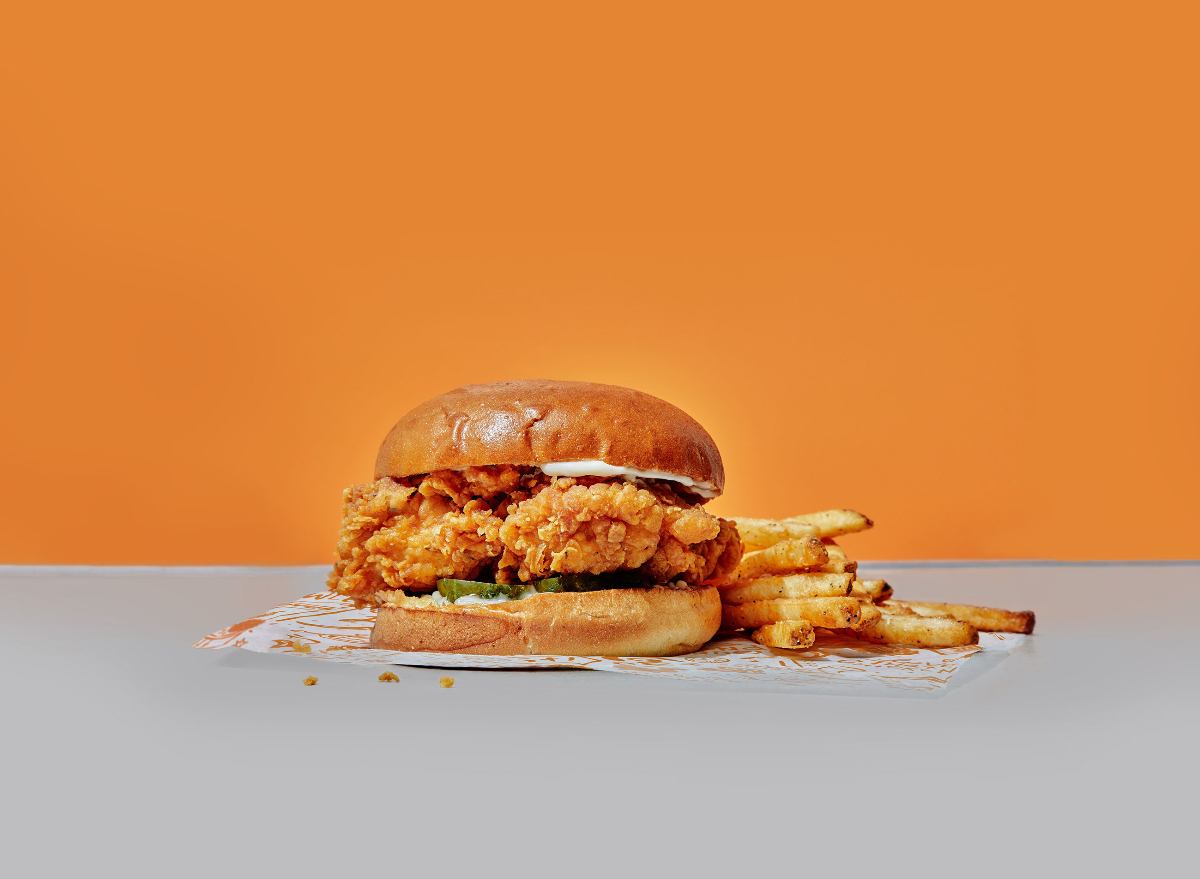 699 calories, 42 g fat (14 g saturated fat, 1.5 g trans fat), 1,443 mg sodium, 50 g carbs (2 g fiber, 7.5 g sugar), 28 g protein
We know, this is devastating. But Popeye's, as we've warned before, is not the best chicken sandwich from a health standpoint. "Popeye's Classic Chicken Sandwich is the only item listed that contains a sizeable amount of trans fat (1.5g)," Pine says.
This means that the Louisiana seasoned, buttermilk hand-battered and breaded chicken with barrel-cured pickles and mayo on a toasted and buttery brioche bun can be the difference between good and bad cholesterol. "If there's one type of fat to avoid completely, it's trans fat," says Pine. "This substance contributes to not only increasing LDL cholesterol (bad), but also lowers HDL cholesterol (the good kind)." (Related: The Most Popular Items at America's Biggest Chain Restaurants.)
Raising Cane's Chicken Sandwich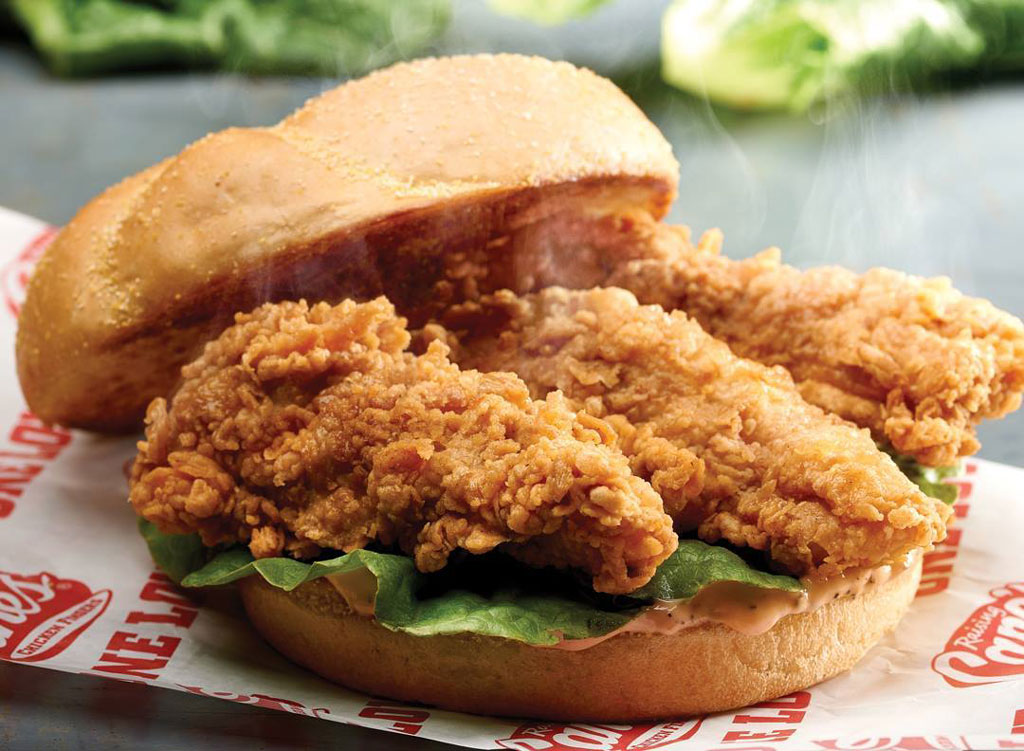 840 calories, 41 g fat (6 g saturated fat, 0 g trans fat), 1,470 mg sodium, 70 g carbs (5 g fiber, 9 g sugar), 48 g protein
Raising Cane's sandwich meal is a lot with three chicken fingers, Cane's sauce, and lettuce on a Kaiser roll. Add crinkle-cut fries, a drink, and Texas toast, and this meal tops out at around 1,320 calories, more than 55 grams of fat, 1,710 milligrams of sodium, and 107 grams of carbs. (Related: The Best and Worst Menu Items at Raising Cane's.)
Best
Wendy's Classic Chicken Sandwich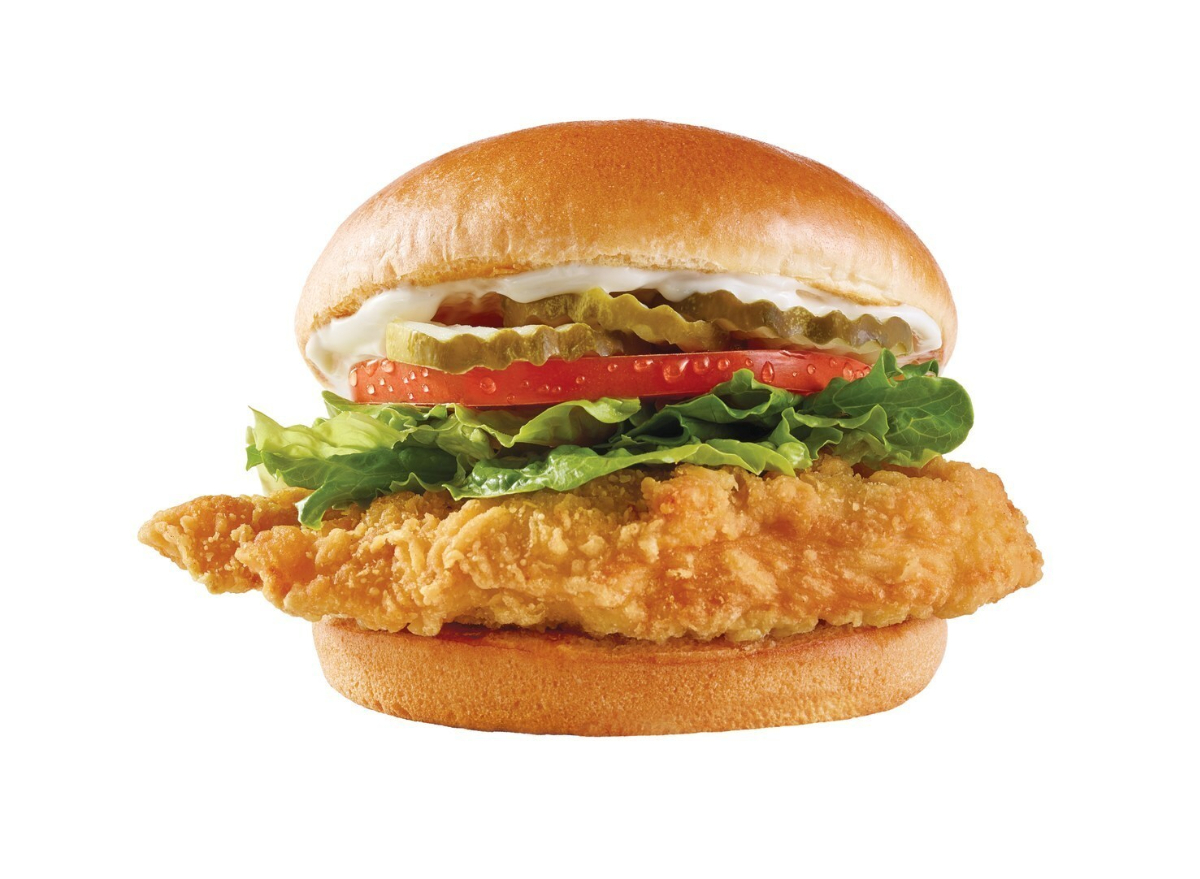 490 calories, 21g fat (3.5 g saturated fat, 0 g trans fat), 1,450 mg sodium, 49 g carbs (2 g fiber, 5 g sugar), 28 g protein
Wendy's considers its Classic Chicken Sandwich "lightly breaded," and the nutritional info is there to back up that statement. This option has significantly fewer calories and fat than the worst three.
The chain is also very transparent about what's in the sandwich and how it's made. Pine says this is a great way to really know what you're eating—especially if you have any food allergies. "Not only do they list the ingredients and potential allergens, but they also list possible sources of cross-contact of allergens, such as frying oil and shared cutting boards," Pine says. (Related: The Unhealthiest Wendy's Burgers Ever.)
Culver's Crispy Chicken Sandwich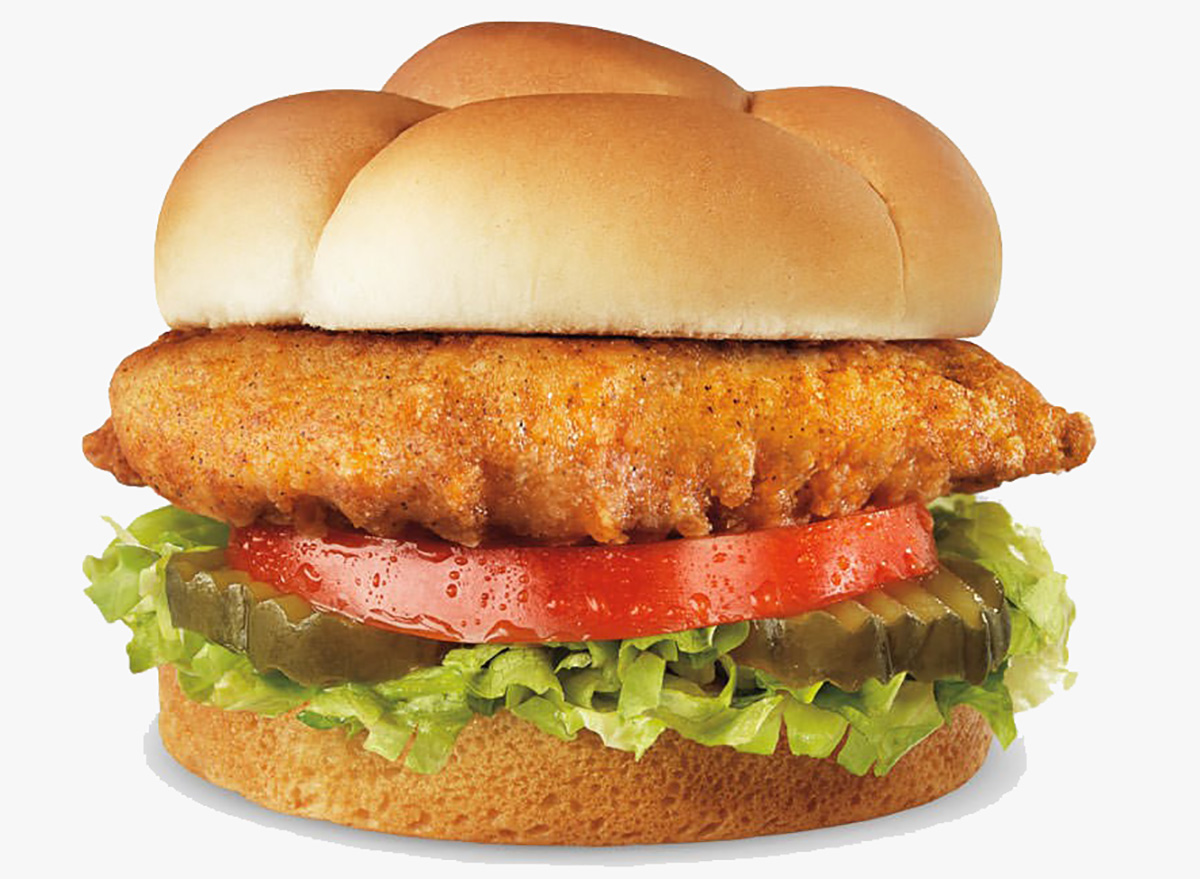 6254a4d1642c605c54bf1cab17d50f1e
460 calories, 14 g fat (3 g saturated fat, 0 g trans fat), 1,110 mg sodium, 56 g carbs (1 g fiber, 6 g sugar), 25 g protein
Culver's Crispy Chicken Sandwich is lower in just about everything in comparison to its competitors… except sodium. But what sets this sandwich apart from the others is also the amount of fat: It has 66% less fat than Zaxby's, Popeye's, and Raising Cane's chicken sandwiches (which all have 41 or 42 grams).
However, watch out for ordering additions with your sandwich. For example, ordering a Tall Salted Caramel Concrete Mixer with the Chicken Sandwich can add 1,630 calories, 83 grams of fat, 1,1oo milligrams of sodium, and 156 grams of sugar to the meal. Consuming that amount of sugar is like drinking four cans of Coca-Cola, or eating over 15 Krispy Kreme Hot Original Glazed doughnuts.
Chick-fil-A's Chicken Sandwich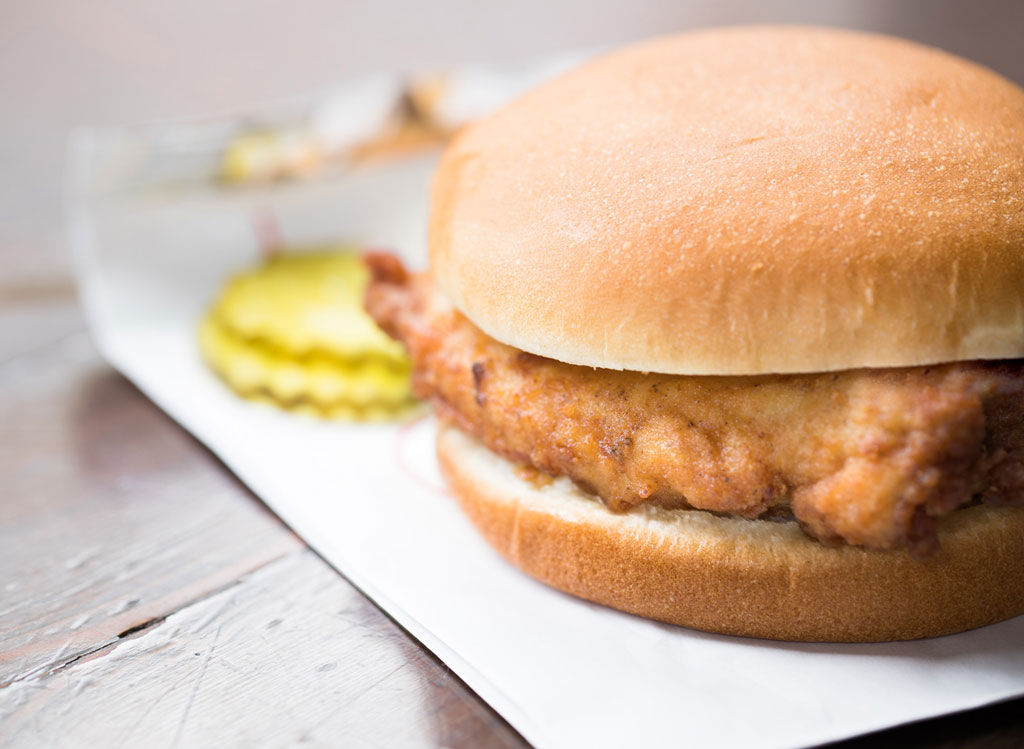 440 calories, 17 g fat (4 g saturated fat, 0 g trans fat), 1,400 mg sodium, 41 g carbs (1 g fiber, 6 g sugar), 29 g protein
Chick-Fil-A's chicken sandwich is a classic for a reason, but it's also one of the lowest-calorie options out of all the fast-food chicken sandwiches.
However, "the issue that I have with this sandwich is that it is pretty basic with only the bun, chicken, and pickles," Pine says. If you're looking to customize it, make the right choices. "Adding lettuce, tomato, and zesty buffalo sauce are the best options."
Pine also warns against choosing the multigrain bun option, because "while the bun does have some whole grains, the first ingredient listed is regular, ol' white flour."
So, there you have it! Chick-Fil-A wins.
For more healthy eating tips at your favorite restaurants, sign up for our daily newsletter!
Amanda McDonald
Amanda has a master's degree in journalism from Northwestern University and a bachelor's degree in digital journalism from Loyola University Chicago.
Read more about Amanda