Your Meal Prep Guide to a Quick, Healthy Breakfast
Score the easy tips and recipes for smart mornings that will lead to a slimmer you!
We're about to let you in on an oft-forgotten, weight-loss secret…
It's not to guzzle green juice or go gluten-free to drop 10 pounds in a week. It's a simple but powerful habit: preparation. Without it, even the most dedicated dieters can fall off track.
That's because willpower doesn't always win. And when stress and life get in the way, your attempt to eat healthy is usually the first to go. Why is that? It's often because healthy options aren't as accessible as the waistline-wrecking junk coming from the drive-thru. And as a result, we consume the convenient, diet-derailing options and our slim-down progress suffers.
But what if you could always have healthy options on hand? And what if we told you that you don't have to slave over a stove every day to make them? By simply dedicating just an hour of your Sunday to meal prepping, you'll be fitting into your skinny jeans in no time.
We know it can be overwhelming to overhaul your entire routine, so we thought it best to get you started with meal prep by tackling one meal: breakfast. With a few recipes (courtesy of your friends at Eat This, Not That!), you can easily prep a week's worth of flat-belly morning meals over the weekend, ensuring your diet doesn't fall off track during the hectic work week. We've come up with simple recipes that are easy to prepare and even easier to store. When you make preparation a priority, healthy foods are never out of reach! And for more ways to stay on top of your weight loss goals, follow these 44 Ways to Lose 4 Inches of Body Fat.
A meal you can make in under 30 seconds and sip on the go? It sounds too good to be true—but it's not! Studies have found that high-protein, low-sugar smoothies are highly effective at rushing nutrients to your muscles, and that blended smoothies, which include all the fiber of the fruits and veggies they're made of, will actually keep you fuller longer than their juice peers. Here, we share the easy meal-prep version of one of Dave Zinczenzko's, author of New York Times-best-selling book Zero Belly Smoothies, favorite smoothies. For more recipes, don't miss these 56 Best Smoothies for Weight Loss.
WHAT YOU'LL NEED
Bag of frozen mixed berries
Bananas
Peanut butter
Flax seeds
Vanilla plant protein powder
Ziplock baggies/glass mason jars
Cuppow Mason Jar Drinking Lid
HOW TO MAKE IT
Toss in ¾ cup frozen mixed berries, ½ banana, 1 tablespoon of peanut butter, 1 tablespoon flax seeds, and 1 scoop plant protein into either a zip-top baggie or a 12-oz mason jar that will double as your serving cup. Freeze. When ready to use, dump contents into a blender, measure 1 cup of your favorite nut milk using the mason jar, and blend until smooth. Fill mason jar and top with Cuppow's lid so you can sip on the go!
CHOCOLATE BANANA NUT SMOOTHIES
WHAT YOU'LL NEED
Bananas
Cacao nibs or cacao powder
Walnuts
Vanilla plant protein powder
Ziplock baggies/glass mason jars
HOW TO MAKE IT
Toss 1 whole banana, 1 tablespoon cacao nibs or cacao powder, ¼ cup walnuts, and 1 scoop plant protein into either a zip-top baggie or a 12-oz mason jar that can be your serving cup. Freeze. When ready to use, dump contents into a blender, measure 1 cup of your favorite nut milk using the mason jar, and blend until smooth. Optional: add ½ cup Greek yogurt to make it taste even more like your favorite Ben & Jerry's ice cream flavor!
Muffin-Tin Southwestern Frittatas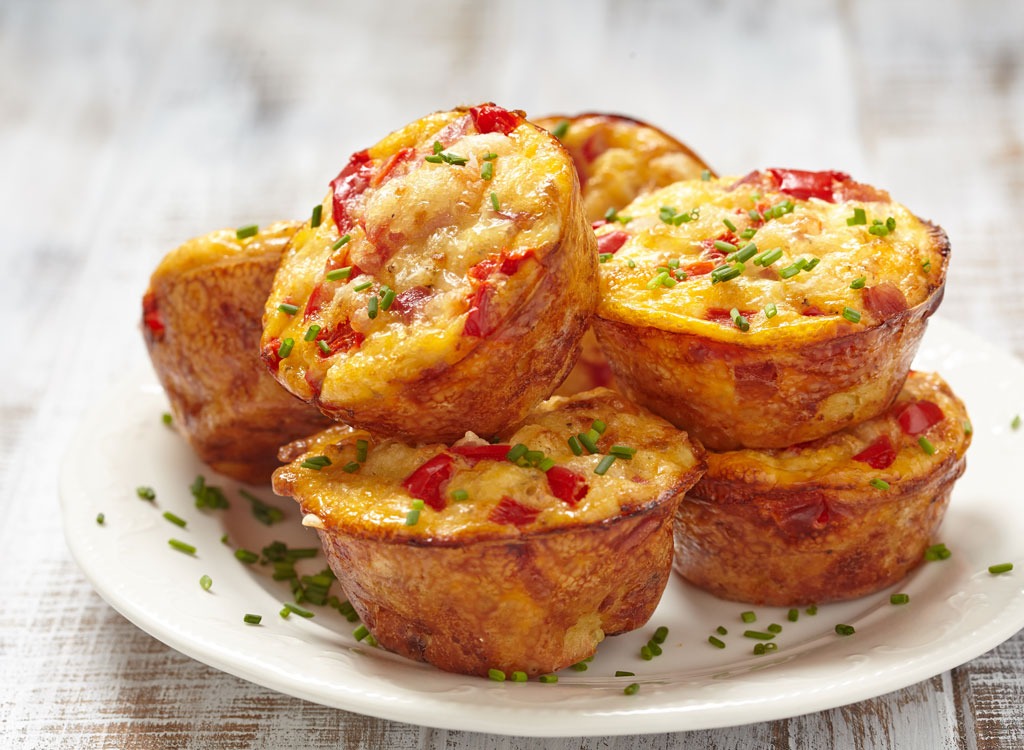 Eggs are a great way to start off the day, but not everyone has time to fry a couple up and clean the dishes. To get your protein fix for only a couple hundred calories, bring two of these frittata muffins on the go! The combo of eggs, vegetables, and cheese is a complete balanced breakfast that will give you that perfect boost of energy that will last all morning thanks to the slow-digesting proteins.
WHAT YOU'LL NEED
Eggs
Red and green peppers
Yellow onion
Ham or Canadian bacon
Spinach
Cheddar cheese
Silicone 12-Cup Muffin Pan
HOW TO MAKE IT
Start by dicing up your veggies—including the baby spinach—and ham. Saute the heartier veggies first (onions and peppers) in a tablespoon of extra virgin olive oil for about 5 minutes, then add the spinach and ham and cook for another 2 minutes. Add the cooled, sauteed veggies and meat into a bowl of 8 whisked eggs. Add a cup of shredded cheddar cheese and combine. Pour egg mixture into greased 12-cup muffin tin. Bake in 350°F oven for about 15 minutes or until a toothpick inserted into a muffin comes out clean.
HOW TO STORE IT
Allow to cool on wire rack. Once cooled, you can store in an airtight container in the fridge for up to four days, or freeze immediately up to a month. To reheat, simply pop in the microwave (even straight from the freezer) until they come to temperature.
Blueberry Muffin Overnight Oats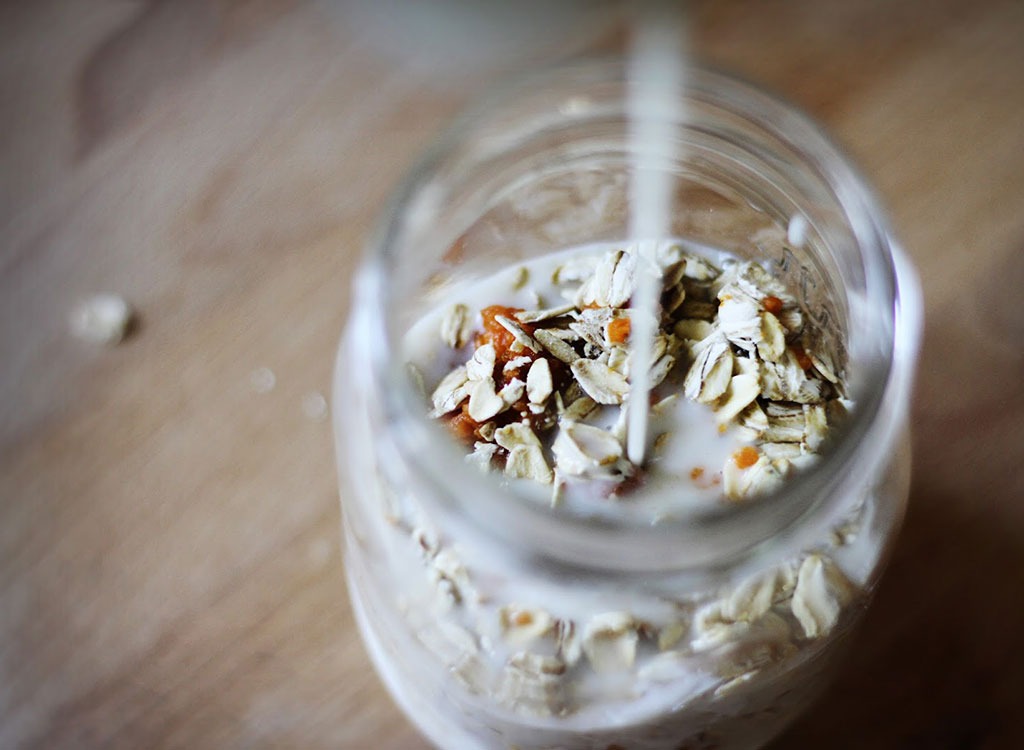 You won't even remember what hungry feels like after meeting your new best friend: overnight oats. Their super power? Because they're made with raw oats, overnight oats are high in a special type of carb called resistant starch. This magic nutrient—you guessed it—resists digestion, which makes you feel full without the calories! Instead, it acts as food for your gut bugs who then turn it into anti-inflammatory fatty acids. Sounds like a great deal to us. Check out the recipe below, and for more inspiration, we have these 50 Overnight Oat Recipes for Weight Loss.
WHAT YOU'LL NEED
Rolled oats
Blueberries
Lemon
Chia seeds
Pecans
Cinnamon
Nut milk
8-oz Mason jar
HOW TO MAKE IT
In the bottom of a mason jar, combine ¼ cup fresh or frozen blueberries with a splash of lemon juice. Microwave for 45 seconds and stir. Now you have blueberry jam! Stir in ½ cup old fashioned rolled oats, ½ cup vanilla almond milk, 2 tablespoons chia seeds, some cinnamon and chopped pecans. Allow to sit overnight in your fridge.
HOW TO STORE IT
Overnight oat mixes can be made weeks in advance, but wait until the night before to add your milk.
Fruit On The Bottom Yogurt Cups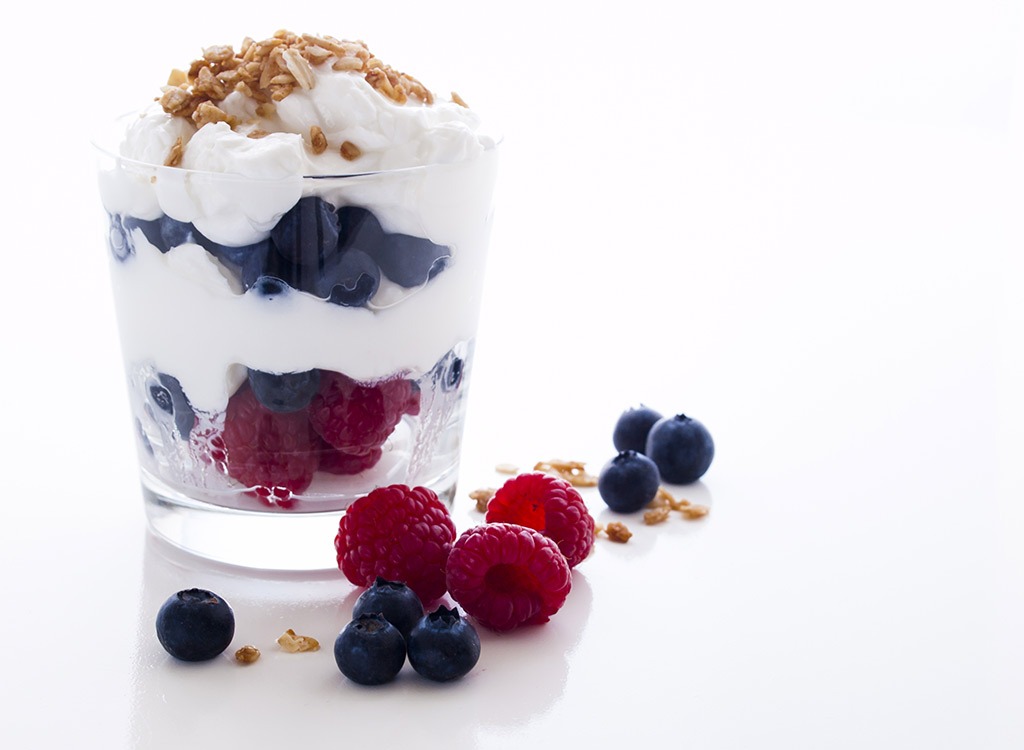 6254a4d1642c605c54bf1cab17d50f1e
Greek yogurt is the new frozen waffles of breakfast. It's super easy to eat and mighty delicious. There's only one difference: Greek yogurt has over 14 times the muscle-building, belly-filling protein than those frozen discs of refined carbs.
WHAT YOU'LL NEED
Greek yogurt
Fresh or frozen berries
Lemon juice
Granola
Nuts
8-oz Mason jars or Tupperware
HOW TO MAKE IT
In a saucepan, add a pint of berries and splash of lemon juice and heat until berries begin to break down. You can lightly crush them with the back of a spoon. This should only take 4 minutes. Once you've made your "fruit on the bottom" layer it into your storage containers. Top with ¾ cup of yogurt, and sprinkle with some nuts and granola.
HOW TO STORE IT
Will keep in the fridge until the yogurt's expiration date!
Chocolate-Covered Strawberry Chia Pudding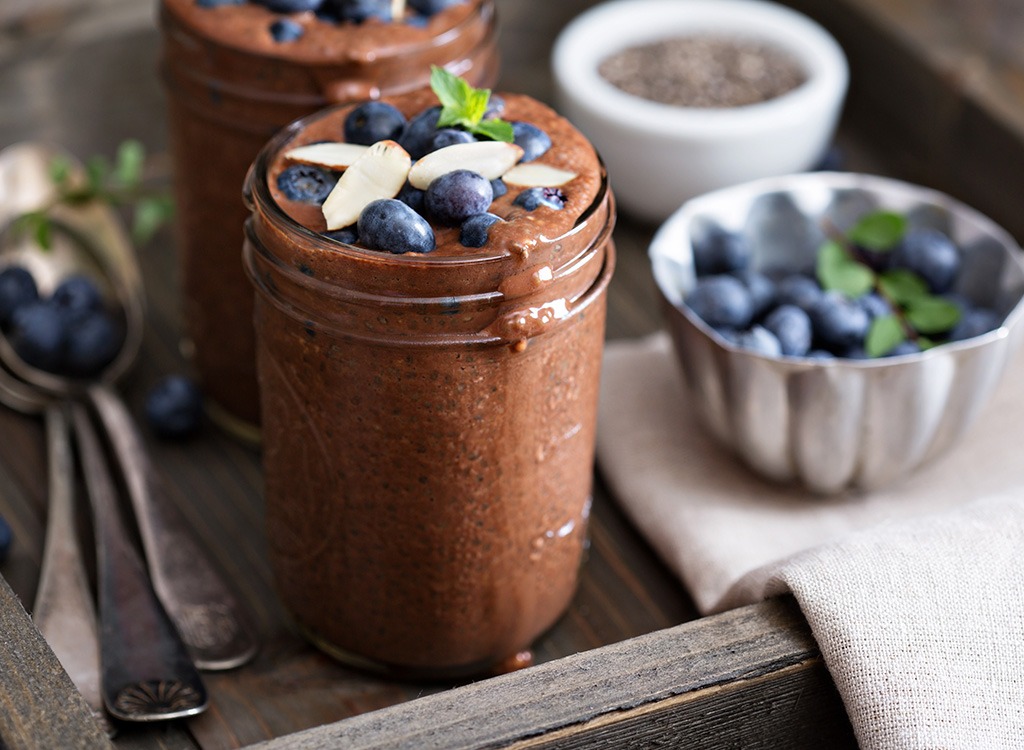 Never heard of chia seed pudding before? It's essentially one of the tastiest—and easiest—ways to work the fibrous superfood into your daily diet. And better yet, it can be easily adapted to fit nearly any flavor profile, including pumpkin.
WHAT YOU'LL NEED
Chia seeds
Almond milk
Cacao powder
Strawberries
Honey
8-oz Mason jar
HOW TO MAKE IT
To a blender, add ¾ cup almond milk, ¼ cup chia seeds, 1 tablespoon cacao powder, ¼ cup strawberries, and a teaspoon of honey. Blend until mixed. Pour into a mason jar, cover, and let sit overnight. While you're sleeping, the recipe liquids expand the seeds, forming a tapioca-like texture—no cooking required! For even more ways to add chia to your diet, don't miss these 50 Best Chia Seed Recipes.
HOW TO STORE IT
The pudding will keep in your fridge for up to a week.
Oatmeal is a great source of complex carbs that fuel your body. Steel cut oats, in particular, have even more belly-filling fiber than the rolled kind. The only problem? It takes 45 minutes to cook. While you don't want to do that every morning, it's not too much of a bother to do it once on Sunday, and have a whole batch ready for the whole week.
WHAT YOU'LL NEED
Makes 24 muffin cups or 12 servings
2 cups of steel cut oats
6 cups of liquid
Coconut oil
Unsweetened shredded coconut
Almonds
Dark chocolate chips
HOW TO MAKE IT
Bring water and a ¼ teaspoon salt to a boil in a saucepan over high heat. Stir in your 2 cups of oats. Reduce heat to a simmer and cook oats until soft, about 40 minutes. Grease up muffin tins with a little bit of coconut oil, and fill each cup with a quarter cup of oatmeal. Top with coconut flakes, almonds, and dark chocolate.
HOW TO STORE IT
Once you pour the oatmeal into the lightly greased muffin tin cups, don't head to the oven! You just simply stick the pan in the freezer and let that sit for about 3-4 hours. Remove the pan from the freezer and allow the oats to slightly thaw for 8 minutes (you don't want the whole cup to thaw). Use a butter knife to pop them out of the pan and seal them up in a freezer bag. Put them back in the freezer (for up to 3 months) until you're ready to indulge. Microwave to reheat.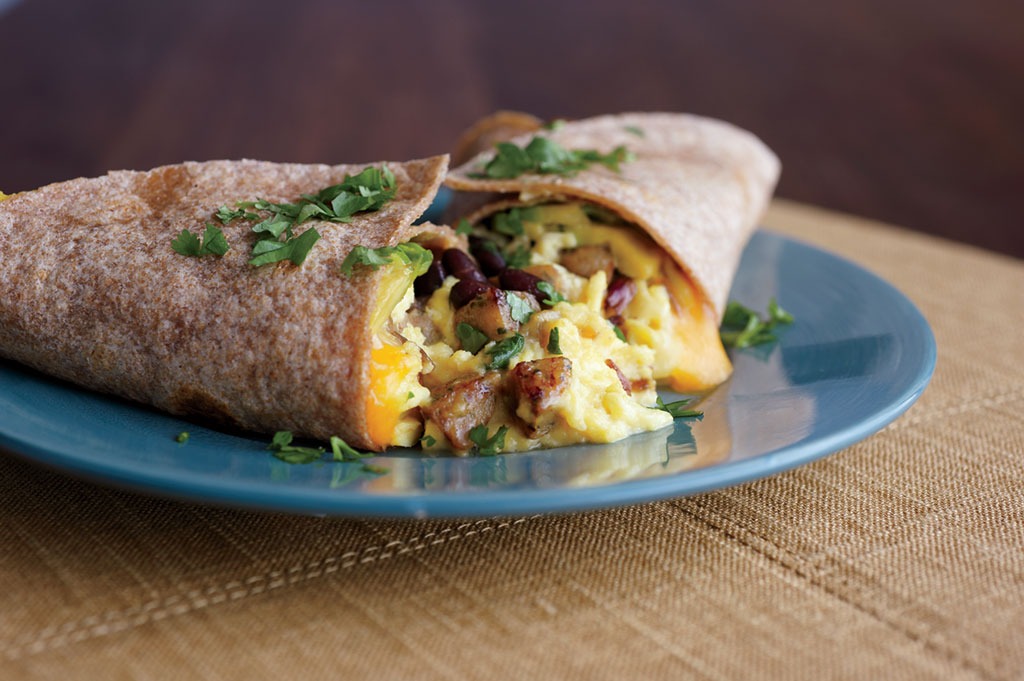 Grab one of these oversized tortilla's from a fast-food restaurant, and you're looking at consuming nearly half of your daily recommended intake of bloat-inducing sodium. Make it at home, and you have the calorie-cutting power in your own hands. Pick a low-sodium, high-fiber tortilla and you'll make your way to your daily intake of whole grains, which are rich in energizing B vitamins.
WHAT YOU'LL NEED
Makes 4 Servings
½ Tbsp olive oil
2 cooked sausage links, crumbled
1 red onion, diced
6 eggs, lightly beaten
Chopped cilantro
4 whole-wheat high-fiber tortillas (10")
1 cup black beans, rinsed, drained
1⁄2 cup shredded Cheddar cheese
1 avocado
Salsa
Salt and black pepper to taste
HOW TO MAKE IT
Heat the oil in a large skillet or sauté pan over medium heat. Add the sausage and onion; cook for 5 minutes or until lightly browned. Turn the heat to low. Pour the eggs into the skillet. Cook slowly, constantly stirring with a wooden spoon until the eggs are firm but still moist. Remove from the heat, season with salt and pepper, and stir in the cilantro. Wrap the tortillas in damp paper towels and heat in the microwave for 45 seconds. (Or heat them individually in a dry pan until warm and lightly toasted.) Divide the eggs, beans, cheese, and avocado among the tortillas. Roll into tight packages and top each burrito with salsa, more cilantro, and jalapeños (if using).
HOW TO STORE IT
Cover each burrito tightly with plastic wrap and then aluminum foil. They can be kept frozen up to 1 month. When reheating, remove packaging and heat in microwave or bake in the oven.
Caramelized Onion, Mushroom, and Spinach Quiche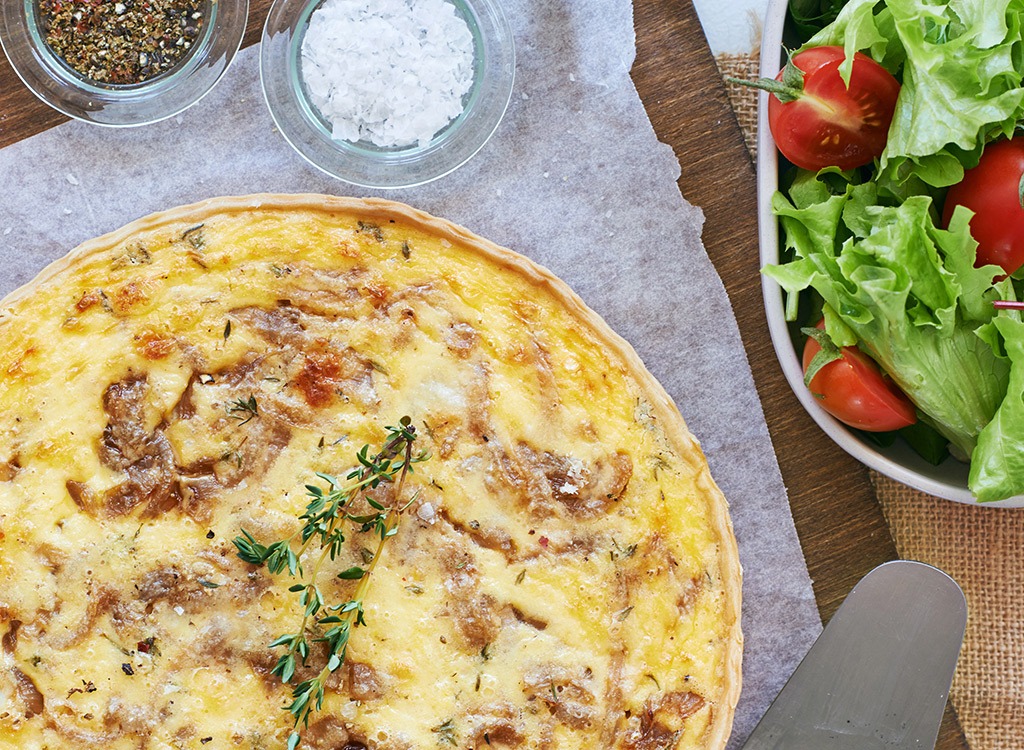 Packed with protein and full of healthy fats from the milk, this quiche recipe is sure to keep you satiated until lunch. The meaty taste from the mushrooms pairs perfectly with the naturally sweet caramelized onions. We also love how easy it is to cook once and be able to eat for the whole week!
WHAT YOU'LL NEED
10-inch baked pastry shell
5 eggs
1 cup whole milk
Nutmeg
Sweet onion, sliced
Bag spinach
Button mushrooms
Swiss cheese
Butter
Salt and pepper
HOW TO MAKE IT
Start by whisking eggs in a bowl, then add the milk, a pinch of nutmeg, and season with salt and pepper. Set aside. In a pan over medium heat, saute thinly sliced onions in a pat of butter until they just begin to become caramelized, about 14 minutes. Add mushrooms and cook for another 3 minutes, and then add chopped spinach and cook until the spinach is wilted, about 2 more minutes. Pour veggies and egg mixture into pastry shell, top with cheese, and then bake for about 45 minutes or until a skewer stuck in the quiche comes out clean.
HOW TO STORE IT
The quiche will keep in your fridge for 5 days. If you won't finish the whole quiche by the end of the week, freeze slices in plastic baggies. They can be reheated in the microwave or oven.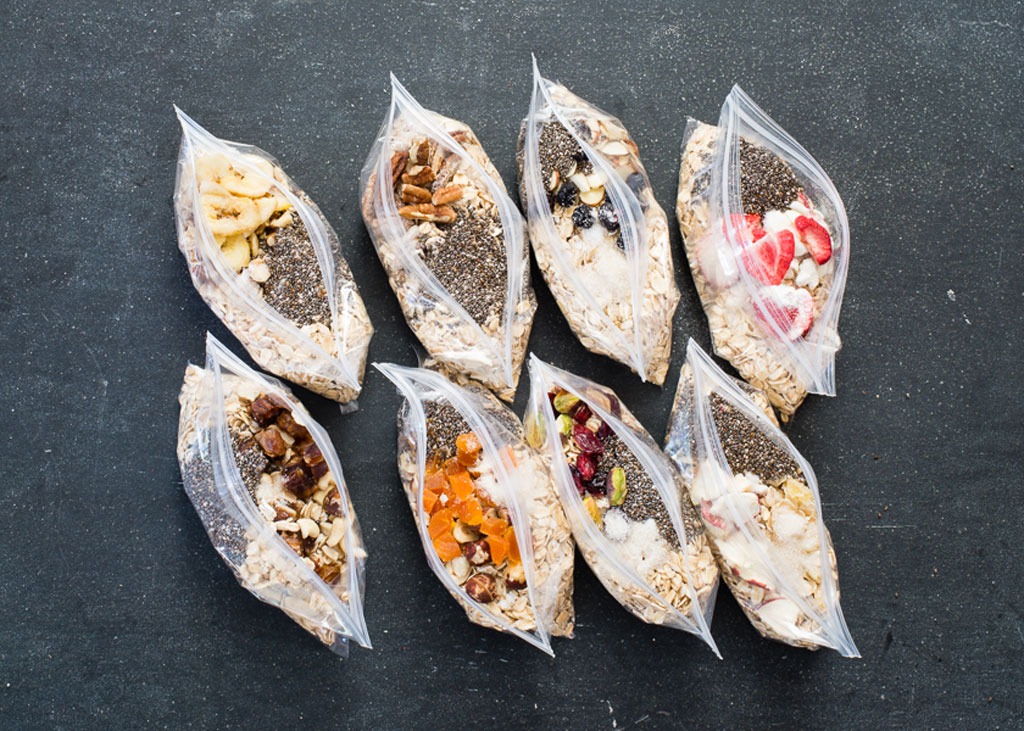 If you love the portability, flavor, and convenience of those pre-flavored oat packets, but hate their high sugar counts and creepy chemicals, consider making your own "to-go" packs. To make 'em, simply spoon oats and mix-ins like chia seeds, nuts, no-sugar-added dried fruit, and spices into small snack-sized baggies. This way you can grab one, toss into a ceramic mug, and combine with hot water at your office.
WHAT YOU'LL NEED
Ziplock baggies or 8-oz Mason JarsBob's Red Mill Old Fashioned Regular Rolled Oats
Chia seeds
Cinnamon Nut Raisin
Chopped walnuts
Raisins
Cinnamon
Banana and Peanut Butter
Dried bananas
PB2 Powdered Peanut Butter
Cherry Nut Cardamom
Dried cherries
Sliced Almonds
Cardamom
Cinnamon
HOW TO MAKE IT
Into each baggie or mason jar (which serves as both storage and a serving bowl!), add ½ cup rolled oats, a tablespoon of chia seeds, and your choice of toppings. When ready to eat, fill mason jar to the top with hot water, allow to sit for 3 minutes covered, stir, and enjoy!
HOW TO STORE IT
Instant oatmeal bags (or mason jars) can be stored in your pantry for a month, but for optimal freshness, store in the freezer.
Pumpkin Date Energy Bites
Whether you call them energy bites or energy balls, these textured bites of deliciousness will satisfy all your morning desires—creamy, crunchy, and chewy—and are full of nutrients. All of their sweetness comes from whole, natural sources, and thanks to the addition of chia seeds, rolled oats, and pepitas, they offer up a bit of fiber and protein, too.
WHAT YOU'LL NEED
1 cup dates, pits removed
1 cup dry old-fashioned oats
1 cup toasted, unsweetened coconut flakes
1 cup pepitas
1 tbsp. chia seeds
2 tsp. pumpkin pie spice (cinnamon, nutmeg, cloves, ginger)
1/4 cup pumpkin puree
Pinch of salt
HOW TO MAKE IT
Combine the dates, pumpkin puree, chia seeds, and spices in a food processor and pulse until the mixture becomes smooth and well combined. Transfer the mixture to a large bowl and stir in the remaining ingredients. To make the mixture easier to work with, cover and refrigerate for 20 minutes. Then, using your hands, roll the mixture into energy balls.
HOW TO STORE IT
Store energy bites in a plastic container in the fridge for up to one week.
Traditional muffins taste mighty fine, but they're made with too many refined carbs, like refined sugar and white flour. When you flood your system with these simple carbs in one sitting, your body will store excess food as body fat—rather than using it as fuel. Although a muffin isn't thought of as the healthiest breakfast choice, there are some simple tweaks you can make to your favorite recipe that makes the treat worth it.
WHAT YOU'LL NEED
Makes 12 muffins
2 1/4 cups rolled oats
2 ripe bananas
3 eggs
2 tablespoons virgin coconut oil, melted and cooled
1 cup 2% Greek yogurt, unsweetened
1 tsp baking soda
1 tsp baking powder
1 tsp vanilla extract
1/4 teaspoon kosher salt
1/2 teaspoon cinnamon
Mix Ins/Toppings:
½ cup chopped walnuts
Ground flax seeds
Rolled oats
HOW TO MAKE IT
Preheat your oven to 350°F and grease a 12-cup muffin tin. Combine all ingredients except nuts into a blender and blend on high until rolled oats have broken down, about 3 minutes. Stir in the chopped walnuts. Scoop into each muffin cup with liner, top with rolled oats and flax seeds. Bake in the oven for about 15 minutes, or until a toothpick stuck into the center of the muffin comes out clean.
HOW TO STORE IT
Muffins can be kept at room temperature for up to four days. Line a plastic bag or container with a paper towel (to help absorb moisture) and add muffins once they've cooled entirely after sitting on a wire rack. Muffins that you know won't be eaten in those first four days should be frozen in a plastic bag and can be reheated in a toaster over or thawed at room temperature.
Photo courtesy of The Cooking Jar.
Eggs and potatoes are a breakfast classic, but unless you work from home, they're not really plausible to make as you're hurrying out the door. This recipe doubles down on the easiness factor: not only can you meal prep them, but they also utilize pre-packaged products you can just pick up from the store. Contrarily to what many believe, having a starch (such as a potato) in the morning shouldn't be skipped. Starches provide glucose, the primary source of energy that helps our brains get focused and prepared to tackle the day.
WHAT YOU'LL NEED
Makes 12 egg muffins
1 dozen eggs
Bacon
Block of cheddar cheese
Bag of frozen hash browns
Cooking spray
Muffin tin
HOW TO MAKE IT
Spray muffin tin with canola oil. Shred a cup of cheddar cheese and combine with thawed hash browns. Fill each with a mixture of hash browns and cheddar cheese and bake in a 425°F oven until crispy. Lower oven to 375°F. Then, crack in eggs whole or scrambled—whatever your preference—into each nest. Cook for 12 minutes or until eggs are set. Top with crumbled bacon. Follow the entire recipe from The Cooking Jar.
HOW TO STORE IT
If you intend to eat two eggs each morning, you can set aside 8 of the 12 eggs in a plastic container and store in the refrigerator up to four days. The remaining 4 eggs (or all the eggs) must be stored in the freezer. Let cool completely, then add each egg cup to a large freezer zip lock bag. Freeze up to one month. To serve from frozen, eggs can be warmed up from frozen in the microwave or oven. Looking for more early morning options? Don't miss our exclusive report: 50 Best Breakfast Foods for Weight Loss—Ranked!
Olivia Tarantino
Olivia Tarantino is the Managing Editor of Eat This, Not That!, specializing in nutrition, health, and food product coverage.
Read more about Olivia