50 Best Chia Seed Recipes for Weight Loss
Get inspired with these creative ways to add one of the most super of superfoods to your diet.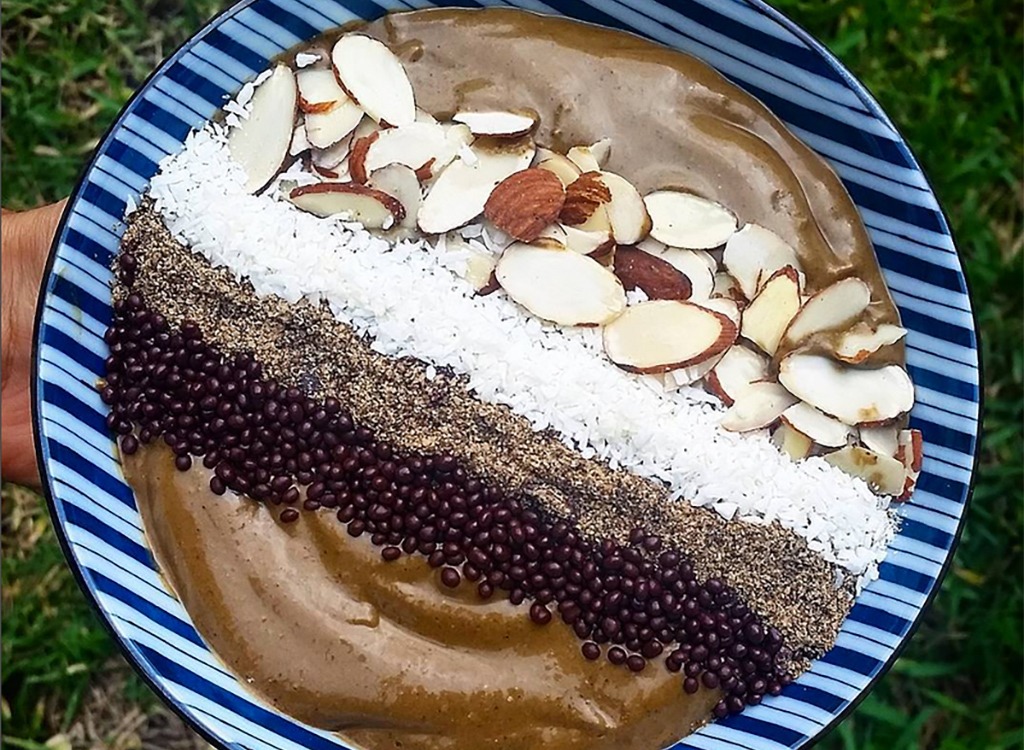 Acclaimed but mysterious, chia seeds are the Tesla of superfoods: You've probably heard a lot about them in passing but don't fully understand what they're all about. Well, in short, they're something you should run-don't-walk to the store to get.
One ounce of chia seeds provides 11 grams of fiber and 4 grams of protein, with only 129 calories and 9 grams of fat. They're one of the best plant-based sources of omega-3 fatty acids, which quell inflammation through the body and can help you lose inches of belly fat. The seeds' rich fiber content can suppress appetite and prevent afternoon hangries and midnight snacking. Their unique balance of protein, fats and fiber give you long-lasting energy. Coolest of all: They absorb water, expanding to up to 10 times their weight in liquid, helping you feel full and fueled. (They're a great pre-workout food.) As chia seeds are digested, they actually release water, keeping you hydrated!
Pretty sci-fi, huh? Now it should be clear why we call chia seeds a superfood. The best part: They're incredibly versatile. Yogurt and smoothies are natural companions, but you can put them in literally anything, even drinks. We surveyed Instagram for our favorite chia seed recipes that combined chia seeds with many of our favorite superfoods. Get inspired.
PEANUT BUTTER POWER CUP SMOOTHIE WITH CHIA SEEDS
Why we love it: It looks like an indulgent milkshake, but greens topped with fat-burning peanut butter and cocoa nibs is a shortcut to weight loss.
CHIA SEED LAYERED BREAKFAST PUDDING
Why we love it: It looks crazy-good. But this layered breakfast pudding also makes good use of berries (one of the superfoods you should eat daily).Try making your own chia pudding with 1/2 cup chia seeds, 2 cups unsweetened almond milk and vanilla extract to taste. You can also add Greek yogurt, and get creative with combinations of fruit and spices like cinnamon–just be sure to avoid too much added sugar.
CHIA SEED PUDDING WITH FIGS AND ACAI
Why we love it: This chia seed pudding incorporates acai and fiber-packed figs, both of which have demonstrated fat-burning benefits.
Why we love it: This gluten-free bread is made of quinoa and chia seeds, olive oil, sea salt, and—that's pretty much it. Whole foods, beautifully simple.
MINT CHOCOLATE CHIA SEED PUDDING
Why we love it: This indulgent-looking chia pudding rings in at 277 calories, 10 g of fat (the good monounsaturated kind, from the chia seeds) and ⅓ of your daily RDA of fiber.
EGG WHITES, BERRIES AND CHIA SEED PROATS
Why we love it: These proats (oatmeal with a protein boost; in this case, egg whites) will boost satiety thanks to their slow-digesting fiber. Plus, they're topped with flab-frying berries.
BLACKBERRY POMEGRANATE CHIA PARFAIT
Why we love it: This Greek yogurt parfait is topped with pomegranate seeds and blackberries. Packed with powerful antioxidants, they're both healthy foods that live up to the hype.
Why we love it: Sprinkling chia seeds over salad is an easy way to amp up omega-3s and protein. In this salad, tomatoes add lycopene, a powerful natural compound that can reduce your risk of cancer and coronary artery disease.
Cucumber, Hemp Seed and Chia Seed Salad
Why we love it: This quick salad incorporates cucumbers, which are 95% liquid and will boost your weight-loss efforts thanks to their high water content and low calorie count. One medium-sized cucumber contains only about 45 calories, so you can chomp away guilt-free. (Just retain the skin—it has most of the nutrients).
FROZEN BANANA AND RASPBERRY SMOOTHIE WITH LOWFAT QUARK
Why we love it: Frozen berries and bananas—two weight-loss staples—are blended with quark, a super-protein-rich yogurt (twice the protein of Greek yogurt on average)! Yogurt's high protein content can leave you feeling fuller longer and contributes to lean muscle building. The more lean muscle you have, the more calories you burn at rest!
SWEET POTATO OATMEAL PARFAITS
Why we love them: These healthy parfaits are packed with fat-burning layers: Chia seeds, berries, pomegranate and dark chocolate. The star of the show is sweet potatoes, which are sky-high in satiating fiber, stabilize blood sugar levels and lower insulin resistance, which prevents calories from being converted into fat.
EGGS AND TOFU WITH CHIA SEEDS
Why we love it: A protein packed breakfast, via eggs, tofu and chia. One ounce of chia seeds contains almost 5 grams of protein!
CHIA SEED BREAKFAST COOKIES
Why we love it: These oat-based breakfast cookies are vegetarian and sugar free.
COCONUT MACA CHIA SEEDS SMOOTHIE BOWL
Why we love it: Smoothie bowls make a creative meal replacement or snack; this one uses coconut and cacao dark chocolate, two of the best fatty foods for weight loss.
MUESLI CHIA SEED LUNCHBOX
Why we love it: This creative portable lunch (easy to plan and pack well ahead of time) makes chia seeds as a fundamental part of the meal.
CHIA SEED YOGURT POWER BOWL
Why we love it: This "power bowl" has five fat-burning ingredients. Quinoa puffs and blackberries add satiating fiber, and yogurt with chia seeds provides a double protein punch.
POMEGRANATE ORANGE CHIA SEED SALAD
Why we love it: Pomegranates reduce oxidative damage to the vascular system; because of this, they're called "Nature's Viagra."
BERRY BANANA SPINACH SMOOTHIE BOWL WITH CHIA SEEDS
Why we love it: A simple veggie salad includes chia for protein, chili pepper for fat burning and olives for good fats.
MARGHERITA PIZZA WITH CHIA SEEDS
Why we love it: You can sprinkle chia seeds on just about anything for a nutrient boost: To wit, this margarita pizza.
BERRY BANANA CHIA POPSICLES
Why we love it: This low-cal dessert has flab-frying berries (one of our fruits to eat every day) and potassium-rich banana.
EGG ON TOAST WITH CHIA SEEDS
Why we love it: A near-perfect breakfast idea, this has egg for fat-burning choline and satiating avocado in addition to chia seeds, all of which can keep you satisfied and energized all morning.
GREEN SMOOTHIE BOWL WITH CHIA
Why we love it: Smoothie bowls with a base of greens (go for spinach and/or kale) are an excellent nutrient-rich idea. You can achieve the smoothness with Greek yogurt.
NO-BAKE CHOCOLATE BARS WITH THREE KINDS OF SEEDS AND NUT BUTTER
Why we love it: A plant-based dessert you can enjoy guilt free. Thanks to hemp, flax and chia seeds and healthy nut butter, a satiating source of protein.
PEANUT BUTTER RAISIN ENERGY BITES
Why we love it: These healthy energy balls include nut butter, almond flour, protein powder, and chia seeds—a superfood buffet.
AVOCADO PUDDING WITH VANILLA CARAMEL PROTEIN POWDER
Why we love it: This sensational-looking bowl is a protein avocado pudding with chocolate-covered chia seeds (a double nutrient punch; the antioxidants in dark chocolate can improve heart health and reduce belly fat).
SALMON AND AVOCADO TOAST WITH CHIA SEEDS
Why we love it: Salmon packs a rich store of omega-3 fatty acids; avocado has healthy monounsaturated fats whose oleic acid can stave off hunger pangs.
Whole Grain Waffles with Peanut Butter, Unsweetened Coconut & Chia with Concord Grapes, Star Fruit & Strawberries
Why we love it: Whole grains are an essential fat-burning food—in one study, people who ate three or more daily servings of whole grains had 10% less belly fat than people who ate the same amount of calories from processed white carbs!
ALOE VERA DRINK WITH HONEY, LIME AND CHIA SEEDS
Why we love it: Proof positive of chia seeds' versatility, this refresher incorporates aloe vera juice, which balances the digestive system and helps regulate female hormones. Sprinkle chia into your own detox waters or healthy low-calorie cocktails.
CHIA PUDDING WITH PEACHES
Why we love it: Another good-looking chia seed pudding, this one is topped with peaches, which help ward off belly-fat-making metabolic syndrome. It's why peaches are one of our favorite fat-burning fruits.
GOJI PASSIONFRUIT AND COCONUT SMOOTHIE BOWL
Why we love it: This vegan bowl has a goji berry topping; the plant from which goji berries are harvested has been shown to have a slimming effect. Eat them whole or sip them in a weight loss tea.
MATCHA OATS WITH PEACHES AND CHIA SEEDS
Why we love it: Matcha is an awesome addition to any smoothie or bowl. Why? ECGC, the compound in green tea that burns fat and actually stops it from forming, is 137 times greater in matcha than ordinary tea!
PANCAKES WITH BANANAS, REDCURRANT SYRUP AND CHIA SEEDS
Why we love it: Pancakes don't have to be sinful if you make them with whole-wheat flour, top them with chia seeds and fat-burning fruits like berries and banana.
APPLE CINNAMON OVERNIGHT OATS WITH CHIA PUDDING
Why we love it: This overnight oats recipe looks as delicious as it is easy, adding fat-burning cinnamon and apples to chia seed pudding.
SPICY CARROT COCONUT RAMEN WITH CHIA AND FLAX SEEDS
Why we love it: Chia seeds are an easy addition to any soup, like this spicy ramen.
PASTA SALAD WITH CHIA SEEDS
Why we love it: This inspires us to sprinkle chia on pastas and salads, or as in this case, a combination of both.
CHIA SEED PUDDING WITH QUINOA PUFFS AND PEAR
Why we love it: Quinoa puffs are a great way to add the whole grain's serious health benefits to smoothies, yogurt and and chia puddings.
SPINACH BANANA KIWI SMOOTHIE WITH CHIA SEEDS
Why we love it: Kiwi is an excellent smoothie add-in: One medium fruit has 100% of the vitamin C we need in a day. Having enough vitamin C can help the body burn 30% more fat during moderate-intensity exercise, according to a study published in the Journal of the American College of Nutrition.
QUINOA SPINACH AND TURMERIC SALAD WITH CHIA SEEDS
Why we love it: Here's a superfood bonanza: quinoa, spinach and chia seeds, with the secret weapon of turmeric, one of the healthiest spices on the planet because it quells inflammation through the body and boosts brain power.
PUMPKIN PIE CHIA SEED PUDDING
AVOCADO AND VEGGIE SALAD WITH TAMARI AND CHIA SEEDS
Why we love it: Avocado is the perfect weight loss food because of its healthy monounsaturated fats, and we love to use tamari (a lower-sodium substitute for soy sauce) to make any dish more flavorful. It's one ingredient we use frequently in the new Zero Belly Cookbook!
SWEET POTATO RAVIOLI WITH CHIA SEEDS
Why we love it: Sweet potatoes are a good carb (they should be called an "awesome carb") because they digest slowly, keeping you fuller and energized longer. Chia seeds give this some omega-3 and protein heft.
CHIA SEED PORRIDGE WITH BANANA, FIGS AND YOGURT
Why we love it: A great breakfast option that includes figs, a high-fiber food that's one of our favorites for weight loss.
CHIA SEED PUDDING WITH STRAWBERRIES AND COCOA CHIPS
Why we love it: Strawberries and dark chocolate chips: Two fat-burning superstars. (With the chia seeds, make that three).
PIZZA WITH EGG, PEPPERS AND CHIA SEEDS
Why we love it: You don't have to be restricted to plain-cheese pizza if you want a flat belly. Eggs add the fat-burning compound choline, plus protein.
AVOCADO TOAST WITH CHIA SEEDS
Why we love it: Avocado toast is the best kind of fad: Nature's butter adds heart-healthy monounsaturated fats that'll keep you satiated for hours.
ROASTED RAINBOW CARROTS WITH CHIA SEEDS
Why we love it: Packed with nutrients, rainbow carrots are one hybrid superfoods you've never heard of. This dish was cooked in coconut oil and dusted with ginger, both superfoods. Sprinkle chia seeds over any veggie side dish to add omega-3s.
SUPERFOOD MELON FRUIT BOWL WITH CHIA SEEDS
Why we love it: This literal fruit bowl is indeed brimming with superfoods: Chia seeds, blueberries, goji berries, quinoa puffs and coconut.
BANANA COCOA SMOOTHIE WITH CHIA SEEDS
Why we love it: Now here's a cocktail we can get behind: Fiber-rich banana, fat-burning cocoa and a chia seed topper. Double points for presentation.
Eat This, Not That!
Inspired by The New York Times best-selling book series, Eat This, Not That! is a brand that's comprised of an award-winning team of journalists and board-certified experts, doctors, nutritionists, chefs, personal trainers, and dietitians who work together to bring you accurate, timely, informative, and actionable content on food, nutrition, dieting, weight loss, health, wellness, and more.
Read more about Eat This