Breakfast Tacos With Bacon and Spinach Recipe
Start your day with a hearty morning meal that'll fuel you.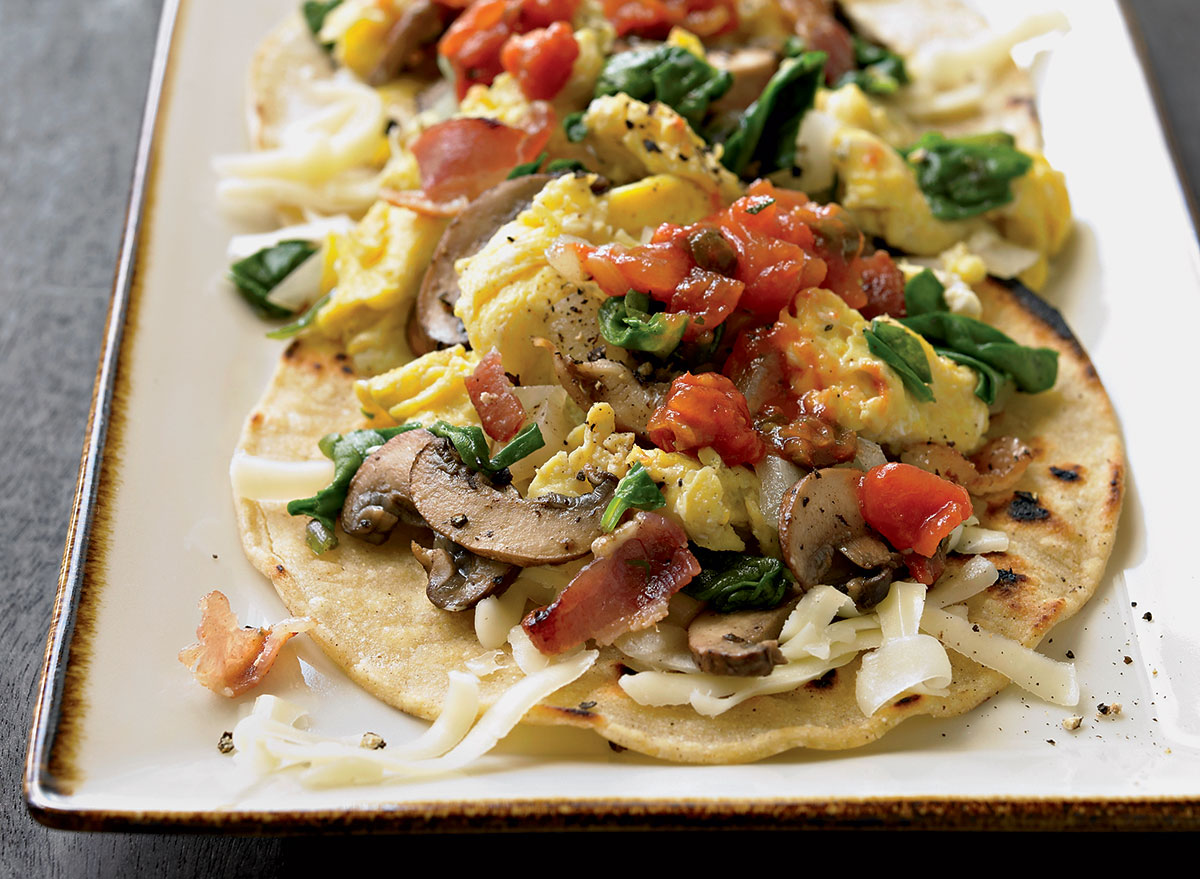 Americans have been taco crazy for decades, yet most of us have never thought of the tortilla as a breakfast food. Not the case in Austin, Texas, where 99-cent tacos stuffed with scrambled eggs, beans, and salsa mark the beginning of the day for many a local. Infectiously delicious, to be sure, but also a perfectly healthy start to your day, assuming you stick to corn tortillas, which have half the calories and twice the fiber of their flour counterparts.
Nutrition: 360 calories, 17 g fat (6 g saturated), 450 mg sodium
Serves 4
You'll Need
4 strips bacon, chopped
1⁄2 onion, chopped
2 cups sliced mushrooms
11⁄2 cups frozen spinach, thawed
6 eggs, beaten
Salt and black pepper to taste
8 corn tortillas
1⁄2 cup shredded Monterey Jack cheese
Pico de Gallo or bottled salsa6254a4d1642c605c54bf1cab17d50f1e
How to Make It
Cook the bacon in a large nonstick skillet over medium heat for 5 minutes, until the fat renders out and the bacon begins to crisp. Remove with a slotted spoon and reserve on a paper towel.
Discard all but a thin film of the bacon grease from the pan.
Add the onion and mushrooms and cook for about 3 minutes, until the onion is translucent. Add the spinach and continue cooking until the spinach is heated all the way through. (If any water has accumulated in the pan, carefully pour it out into the sink.)
Add the eggs and use a wooden spoon to consistently scrape them from the bottom of the pan as they set. (The goal is to have light, fluffy eggs, and constant movement of the spoon will help you achieve that.) Season with salt and pepper.
Heat the tortillas in a pan over medium heat. (Or, if short on time, wrap in a damp paper towel and microwave for 30 seconds.) Divide the cheese among the tortillas, top with the eggs, and spoon over as much salsa as you'd like.
Eat This Tip
Corn tortillas trounce their floury cousins in the nutrition department, but most people still have a problem making the jump to the more authentic taco base. The main issue? Texture. A cold corn tortilla is worthless, but a hot, toasty one is incomparable. If you have a gas stovetop, you can warm the tortillas directly over a low flame for 20 seconds a side, or use a cast-iron skillet or nonstick sauté pan set over medium heat. Working with a few tortillas at a time, cook until the surface of each tortilla is lightly browned, about 30 seconds per side.