The One Breakfast Trick for a Flat Belly All Day, Say Experts
How you start your day can make a big difference in successful weight control.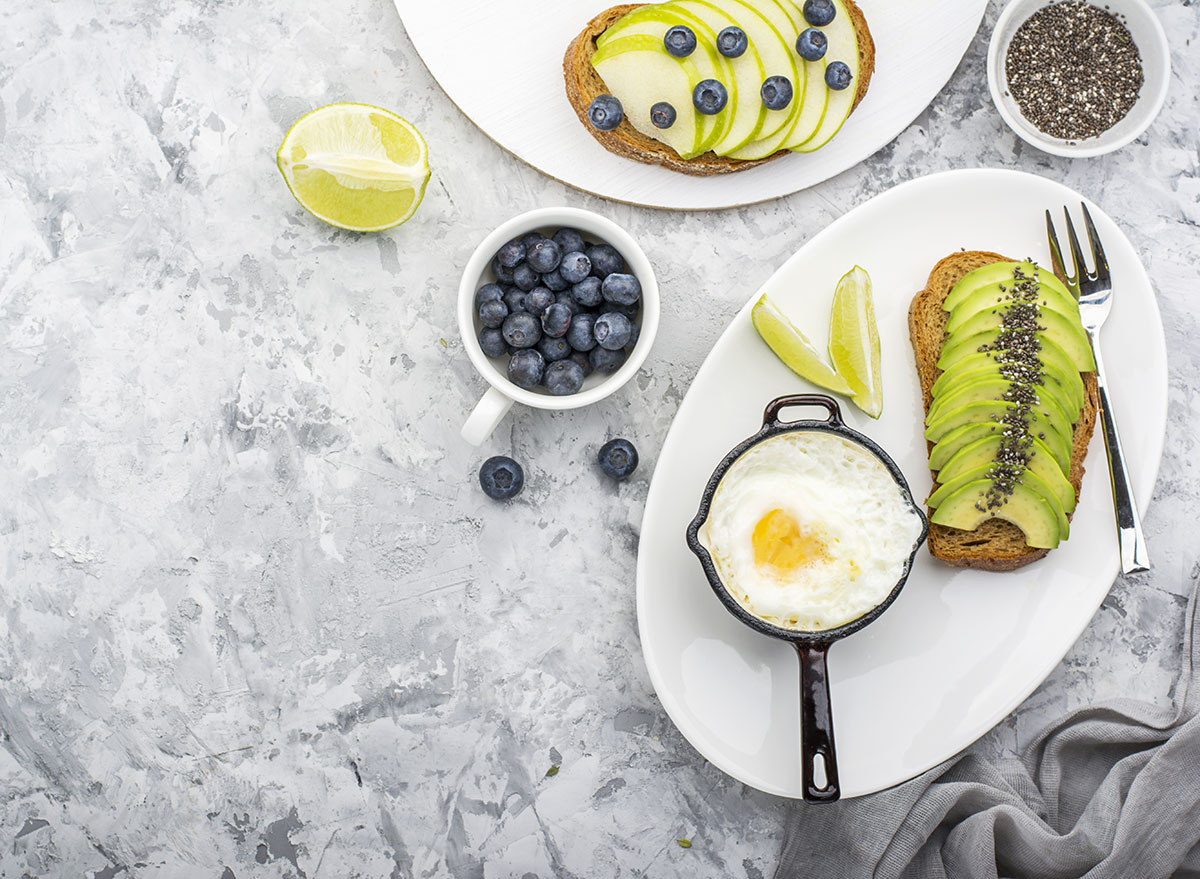 Even if there are weight loss programs that say you need to skip breakfast in order to slim down, many experts agree that the one breakfast strategy to lose weight and get a flat belly is to actually eat breakfast, not skip it. Studies have observed that people who eat a protein- and/or fiber-rich breakfast regularly tend to have a lower Body Mass Index (BMI) and consume fewer calories later in the day. Another trial published in the Journal of Nutrition offered another reason to eat every morning. Researchers found that skipping breakfast was associated with a higher risk of type 2 diabetes.
However, many nutrition experts and weight-loss doctors say that while there are certain strategies that work for most people like portion control and calorie restriction, there are many effective ways to slim your belly. The one best breakfast trick for a flat belly all day is the one that works best for you. So, test out these specific tactics on how to eat breakfast and lose weight from experts. Then, read up on these 50 Worst Ways to Lose Weight.
Focus on the long term.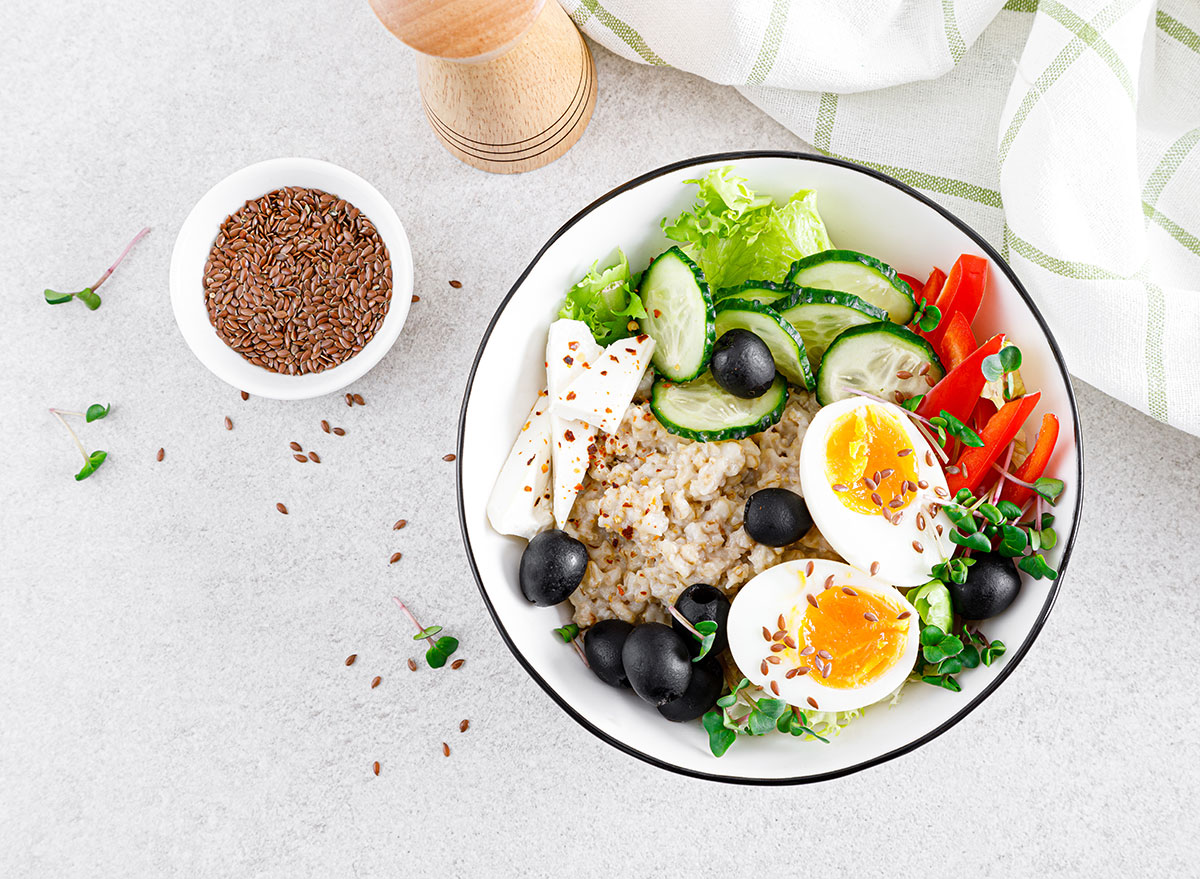 "There are no magic foods or strategies that can make your belly appear slimmer immediately," says Stacey Krawczyk, MS, RD, a registered dietitian for the Grain Foods Foundation and President of FoodWell Strategies. "However, eating in the morning does help with long-term weight management because it sets the tone for the day."
If there's a trick to weight loss, it's establishing a purposeful eating plan.
"Good habits help to create future good habits, so eating a balanced breakfast with fiber-rich grains (including foods made with both whole grains and enriched grains), lean protein, and some fruit or veggies can help keep you satisfied to avoid the 'mid-morning slump' and help you stay on track," says Krawczyk.
Establish good morning eating patterns with our 26 Healthy Breakfast Habits to Jumpstart Weight Loss.
Breakfast on nutrient-dense foods.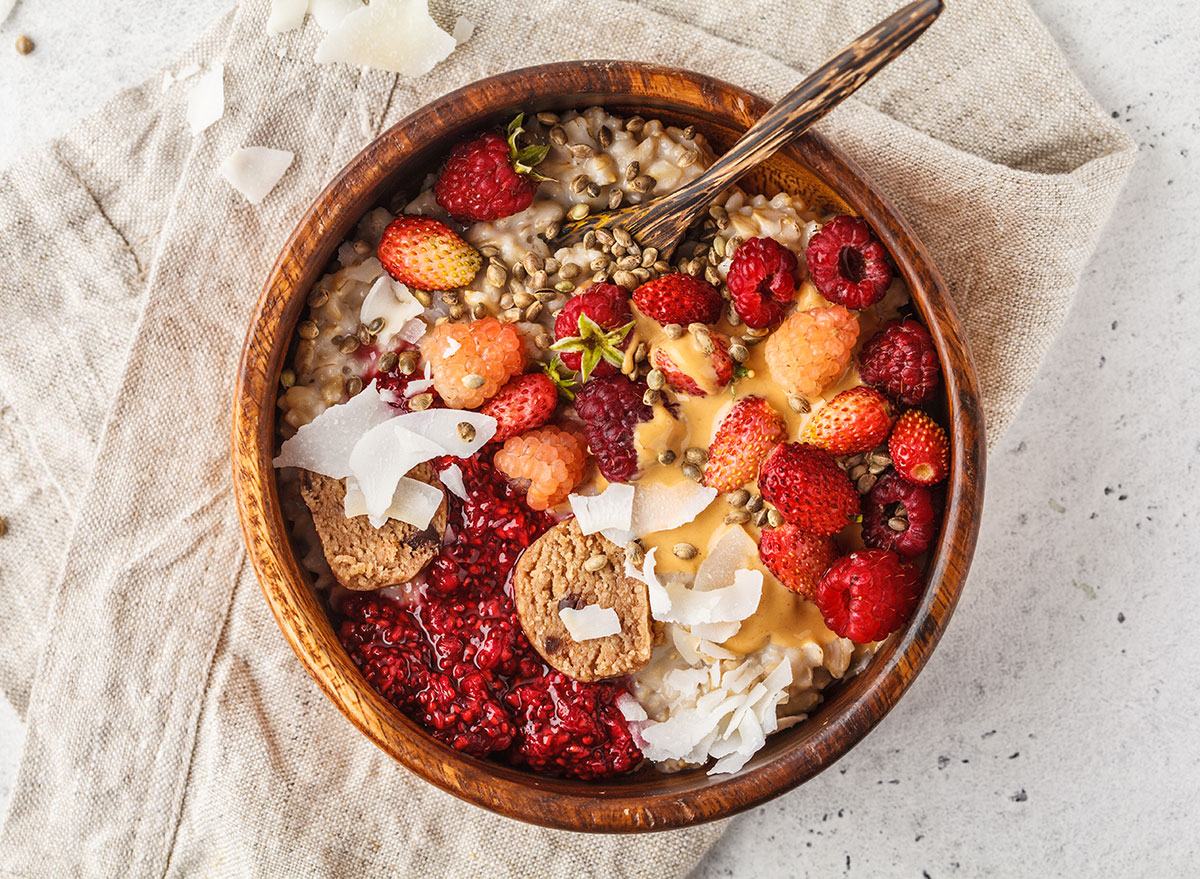 Eating breakfast helps you lose weight because it creates a feeling of fullness.
"You don't need to eat much at breakfast if you have a combination of nutrient-dense food ingredients," says Lisa Young, RD, PhD, author of Finally Fully, Finally Slim. "Because your stomach feels full, you don't need to eat another snack before lunch. The key to feeling full longer after breakfast is a combination of protein, healthy fats, and fiber-rich complex carbohydrates that'll keep you energized all day long."
Think eggs, oatmeal, fruit, peanut butter and whole-grain bread, and vegetables. Need some recipes? Try these 10 Weight-Loss Breakfasts That Satisfy.
Make breakfast plant-heavy.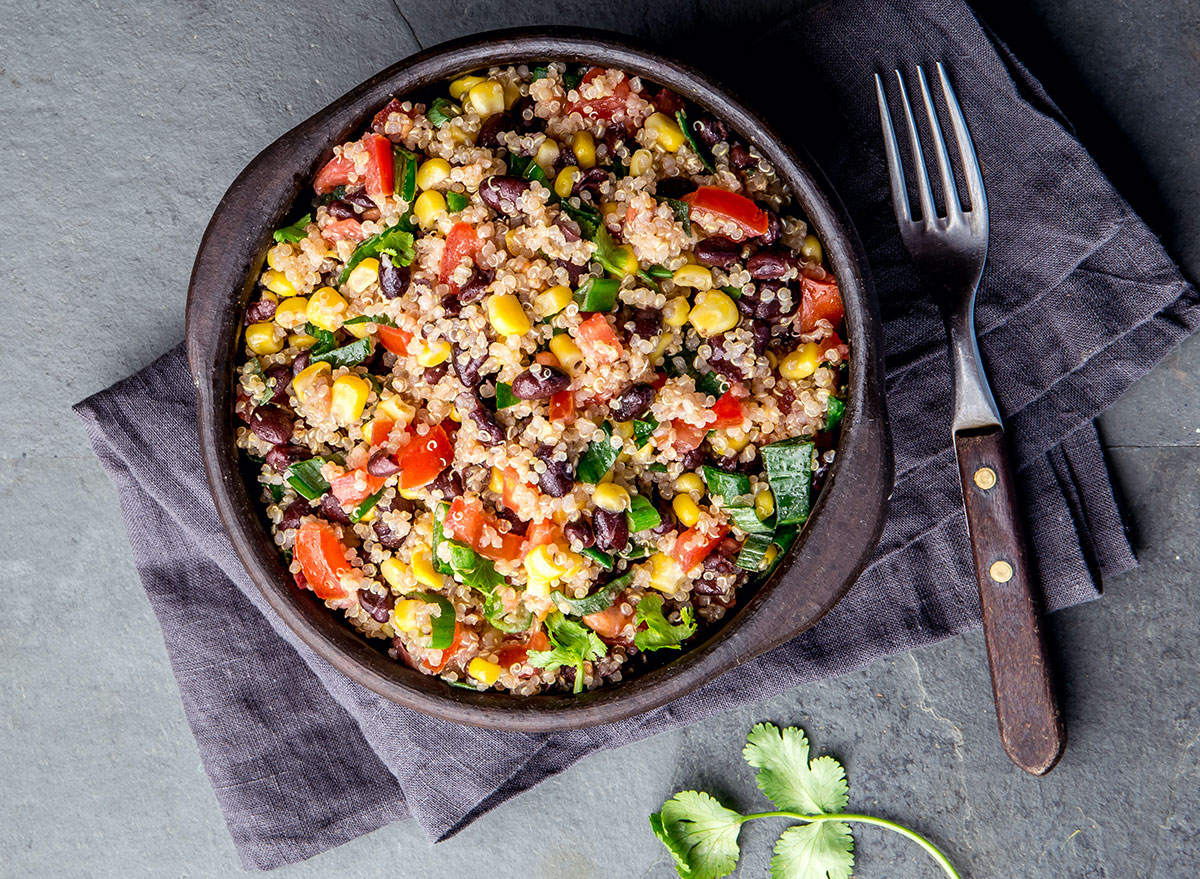 Beachbody Super Trainer Autumn Calabrese believes breakfast is the most important meal of the day because it jumpstarts your sleepy metabolism. To keep your belly flat, you have to "keep your metabolism revving, and breakfast will ramp it up for about 3 hours," says Calabrese, author of Lose Weight Like Crazy Even if You Have a Crazy Life, now available in audiobook through Apple Books, Audible and Google Play.6254a4d1642c605c54bf1cab17d50f1e
"That's why I tell [others] to eat every 2 1/2 to 3 hours," says Calabrese. "I just saw a lecture by a doctor who was telling us that a plant-heavy breakfast with a lot of fiber can boost your metabolism by up to 16%."
Calabrese says it's best to stay away from super-processed muffins, cereals, and pancakes. Instead, go for whole grains and vegetables, tofu, nuts, and seeds.
"Make it plant-based and make it the most important meal of the day," says Calabrese.
You could also try incorporating these Healthy Breakfast Foods Dietitians Say You Should Be Eating.
Choose the right protein supplement.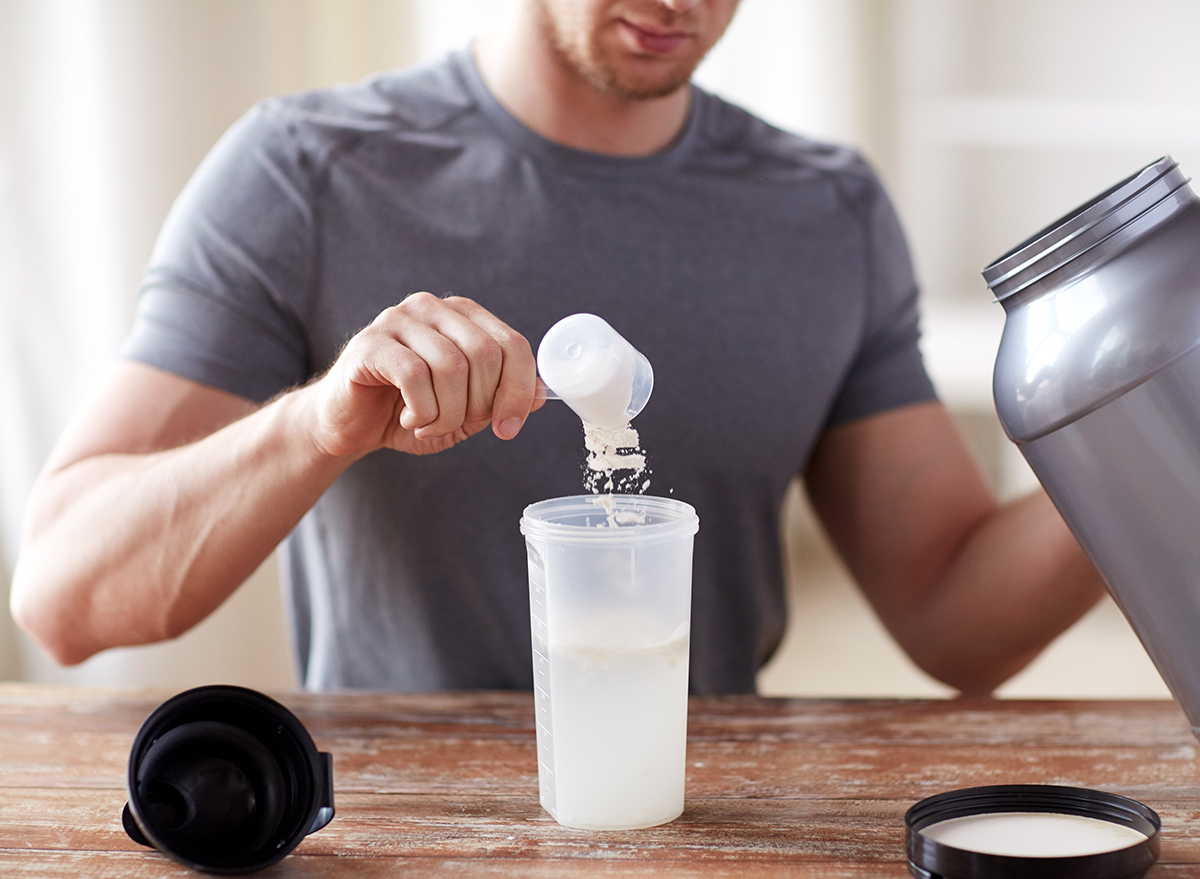 For many people, breakfast means a smoothie or shake made with protein powder or a packaged protein breakfast bar. If you're looking to keep your belly flat, paying close attention to the ingredients in your protein supplements is key because many are overly processed, says David Sautter, a National Association of Sports Medicine-certified fitness nutrition specialist and contributor to Top Fitness Magazine.
"Select a grass-fed protein that contains digestive enzymes for better absorption," he says. "The low-quality shakes and protein bars are usually packed with sugar alcohols that can cause gastric distress and bloating."
If you're blending up a shake at home, try this 1 Best Protein Shake to Drink, According to a Dietitian.
Drink a glass or two of water before breakfast.
There is no downside to drinking water when you get up in the morning. Your body needs fluids, and water is a proven appetite suppressant. Studies show that drinking water effectively reduces your daily calorie consumption by filling your stomach, reducing your intake of sugary beverages, and drowning cravings. Also, thirst is often mistaken for hunger, so drinking water can crush hunger pangs, too. One study in the Journal of the Academy of Nutrition and Dietetics involving obese older adults found that participants who drank about 16 ounces of water 30 minutes before breakfast reduced their calorie consumption during the next meal by 13%.
Water in the morning can also help you avoid bloating later in the day.
"I drink two glasses of lukewarm water every morning before I have my coffee," says Alabama-based family physician Akil Taherbhai, MD, author of Open Heart. A gastroenterologist once advised him to drink warm water in the morning to avoid constipation, and he has been doing it for years.
If you don't like drinking water, eat fresh cantaloupe, which is "super high in water so it's perfect in the morning," says Young. "Cantaloupe is rich in vitamins A, C, potassium, and fiber. The suggested serving size for cantaloupe is one to two cups, but this fruit is so low in calories that you don't need to worry about how much you eat."
When you're ready to make a meal, try one of our 19 High Protein Breakfasts That Keep You Full!
Jeff Csatari
Jeff Csatari, a contributing writer for Eat This, Not That!, is responsible for editing Galvanized Media books and magazines and for advising journalism students through the Zinczenko New Media Center at Moravian University in Bethlehem, PA.
Read more about Jeff