20 Most Underrated Burger Toppings
If all you use are lettuce, tomatoes, and onions, you're doing it wrong.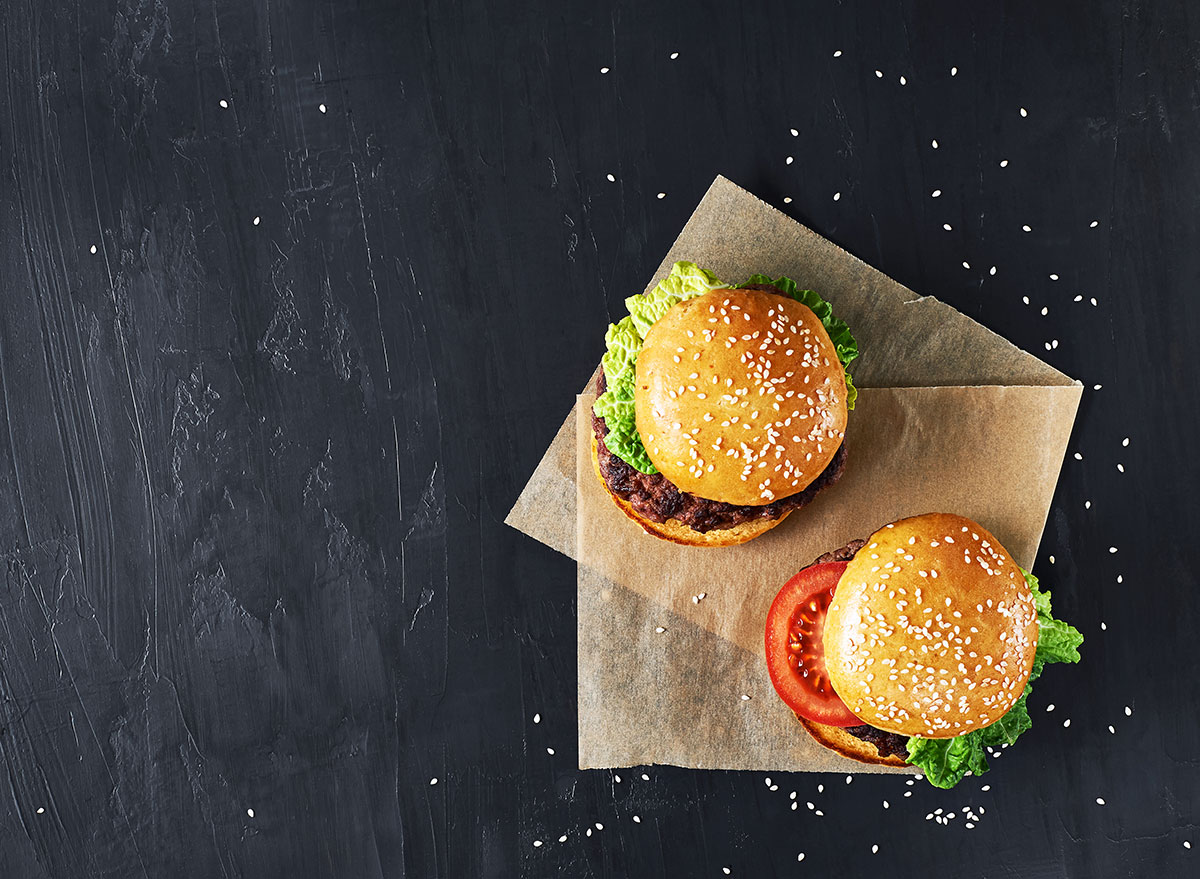 What makes burgers so great is their versatility. Not only can you use any kind of meat you want, but you can also get creative with the bread and let your imagination run wild with toppings. Bacon, onions, and American cheese are all pretty standard burger toppings. But what happens when unique toppings like kimchi, feta cheese, and pineapple join the conversation?
While Institute of Culinary Education chef and Top Chef season 15 finalist Chris Scott is more of a purist—"I usually go ketchup, mustard, pickles, and raw red onions, and that's pretty much it"—he helped us break down some of the more underrated burger toppings and why their flavor profiles work well on a classic burger. Keep reading for some hunger-inducing burger inspiration.
And for more, don't miss these 15 Classic American Desserts That Deserve a Comeback.
Beets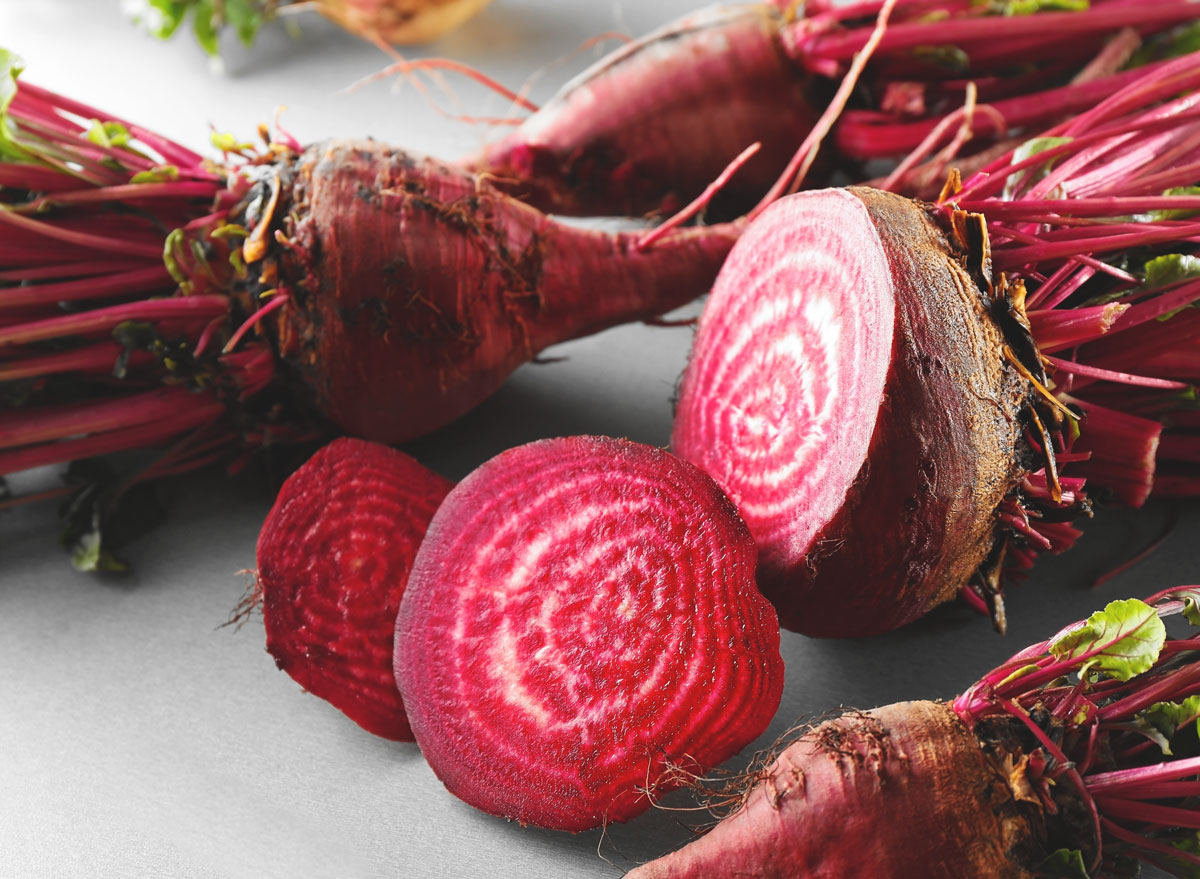 Roasted beets add a lot to a burger, but Scott suggests slicing them thinly and marinating the vegetable before cooking. This way, you'll have more control over the flavor profile.
And for more tips, sign up for our newsletter to get daily recipes and food news in your inbox!
Guacamole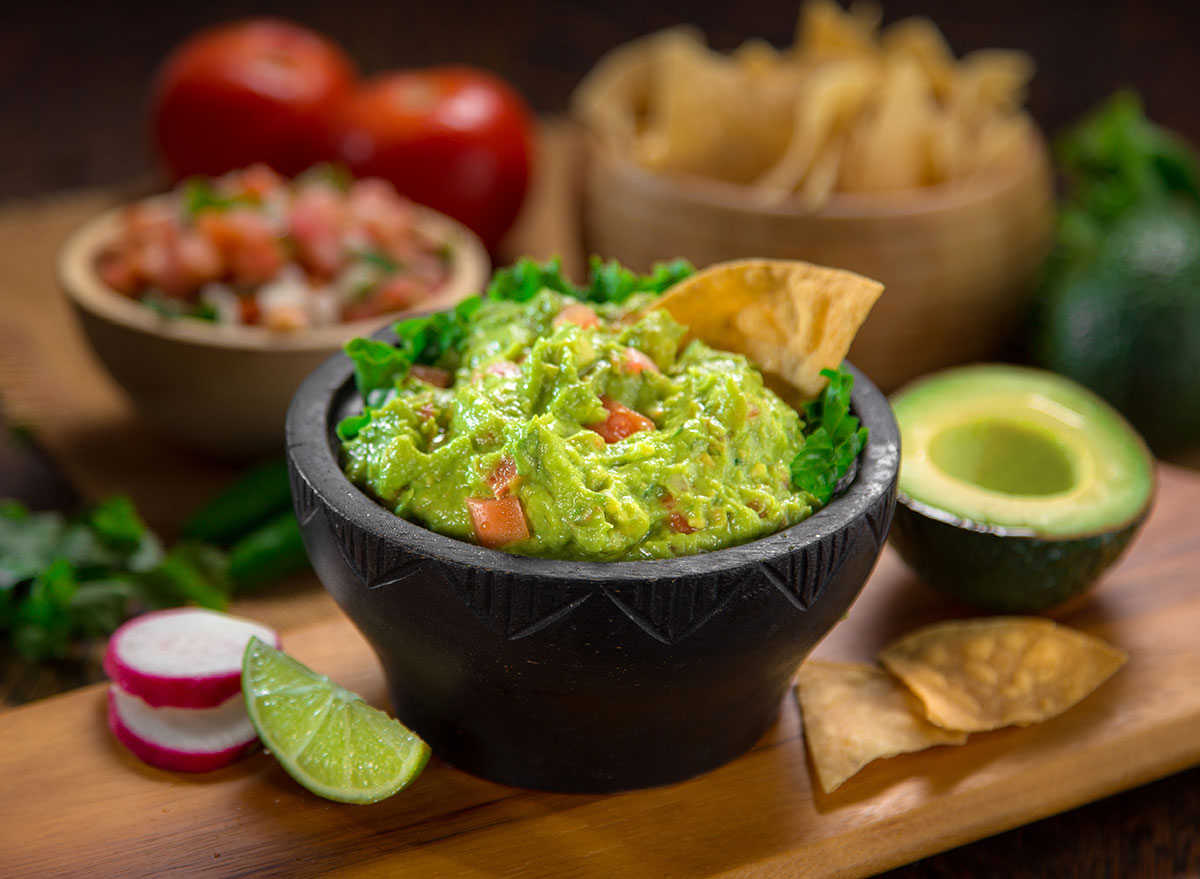 Guacamole can add a ton of flavor to an otherwise bland burger, but it doesn't come without the mess. Be prepared for this topping to ooze out.
Cream cheese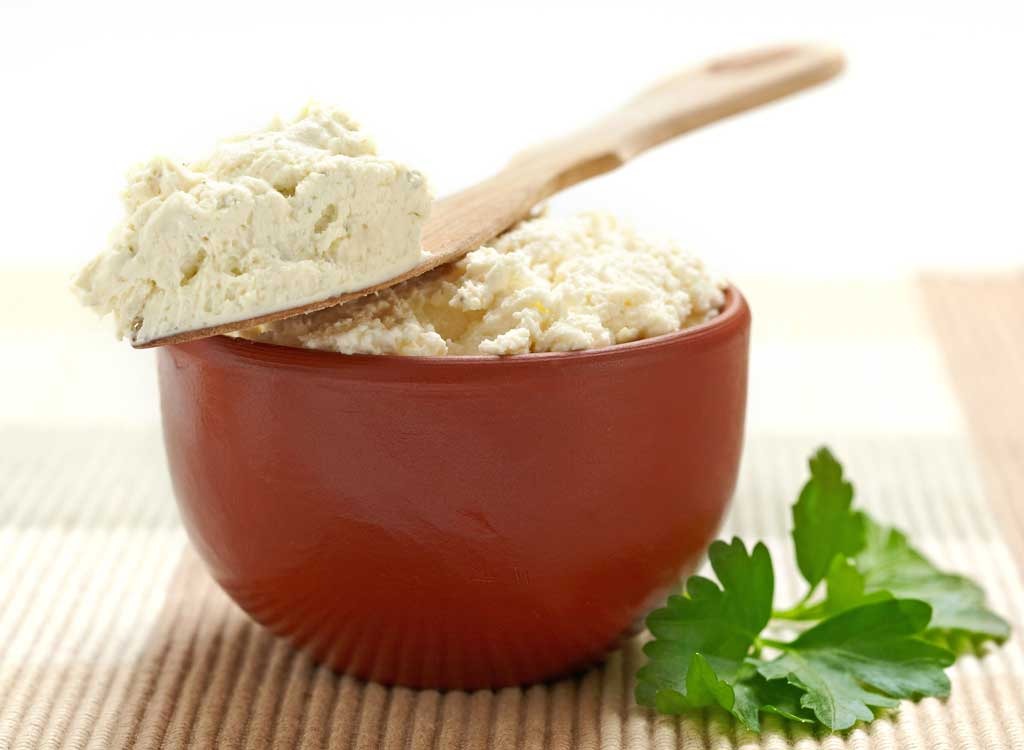 Though Scott hadn't thought of putting cream cheese on a burger, he's pretty impressed with the idea. "I wouldn't put so much that it's bagel-ish, but a little cream cheese with some nice herbs, maybe shallots [would work]," he says.
And whatever you do, be sure to avoid these 17 Burger Mistakes.
Apple slaw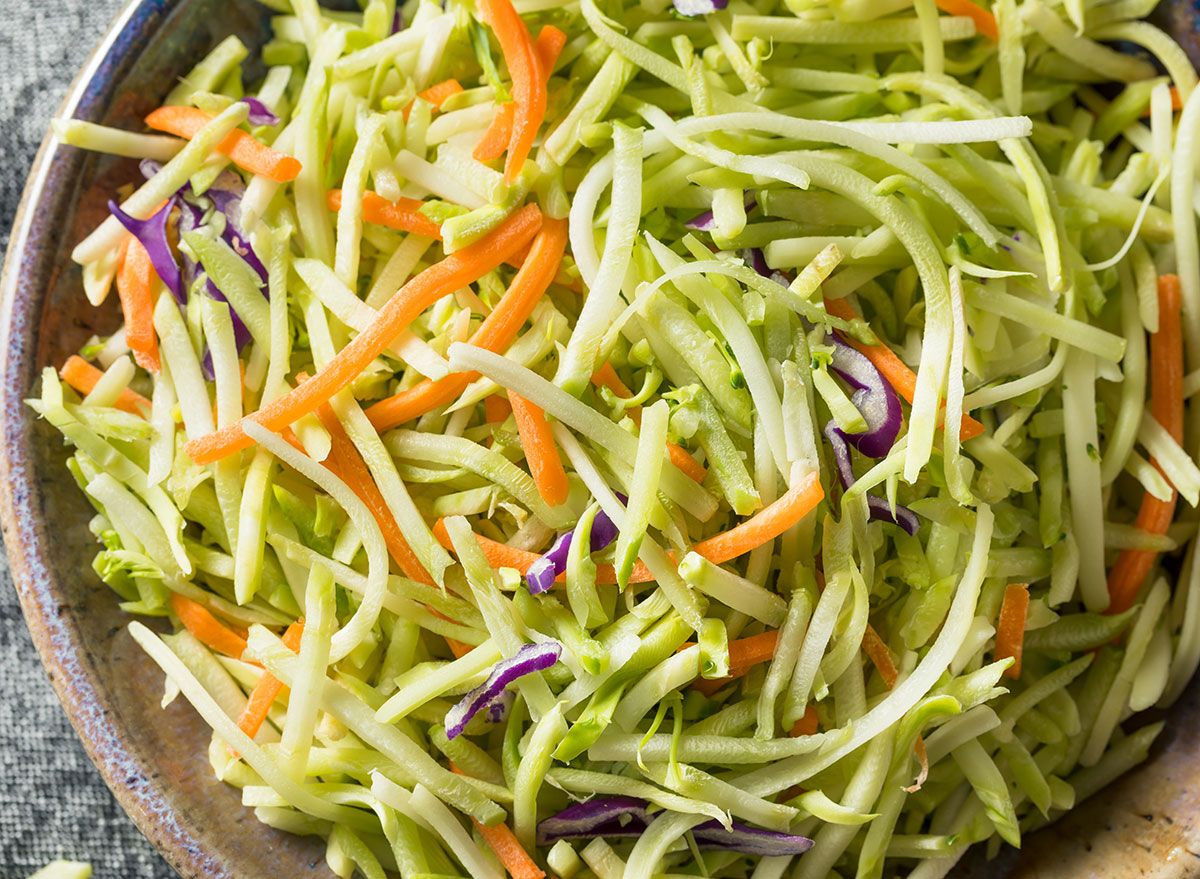 As apple picking season ramps up, you might find yourself with a surplus of the fruit. Apple slaw goes great on a burger, as the sweet and pickled topping adds an explosion of flavor.
Peanut butter
Diehard burger fans swear by this pantry staple. When we posed the question on social media, one burger lover, Chas Truslow, insisted that the combo of crunchy peanut butter and bacon adds flavors and textures that are "fatty, little sweet, some tart, and crunch." Sometimes, more is more!
Love peanut butter? Don't miss these 9 Hacks for the Best PB&J Ever.
Fried, sweet plantains
You've seen Cubano-style burgers using sweet plantains as the bun, so why not keep that fluffy bread and stack your plantains up top? The sugary, crispy plantain offsets the savory burger for an ideal combination.
Cheese curds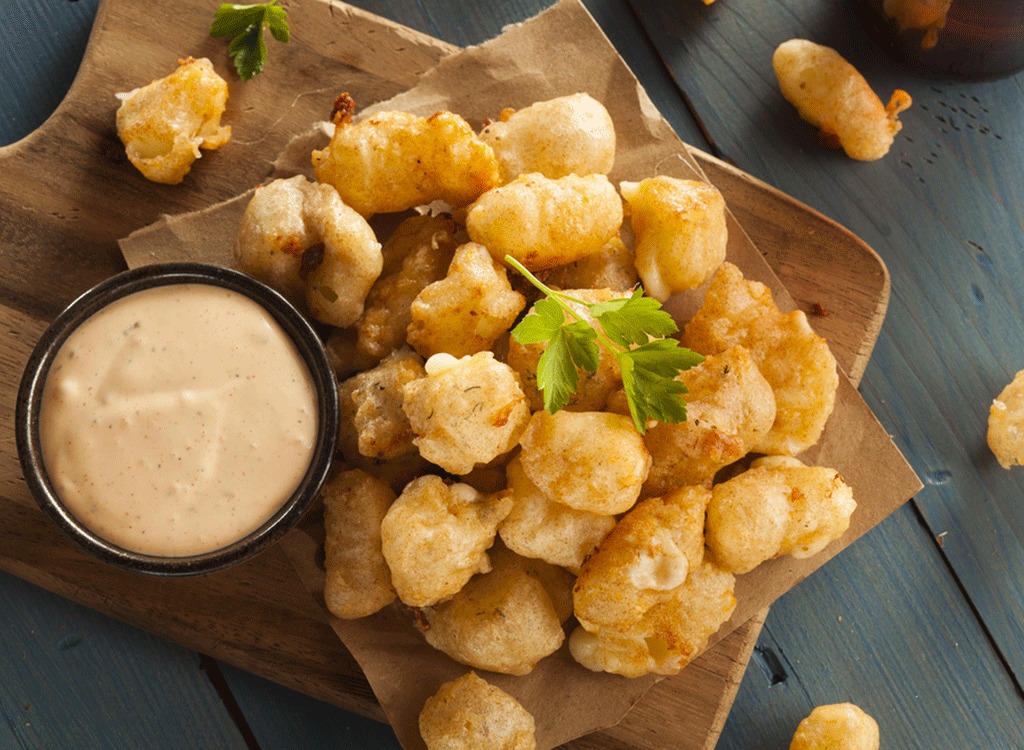 More commonly found in Canada and the midwest United States, cheese curds are the insanely delicious pieces of curdled milk that happen as a byproduct of cheese-making. They're salty, tangy, and perfect as a burger topping.6254a4d1642c605c54bf1cab17d50f1e
Refried beans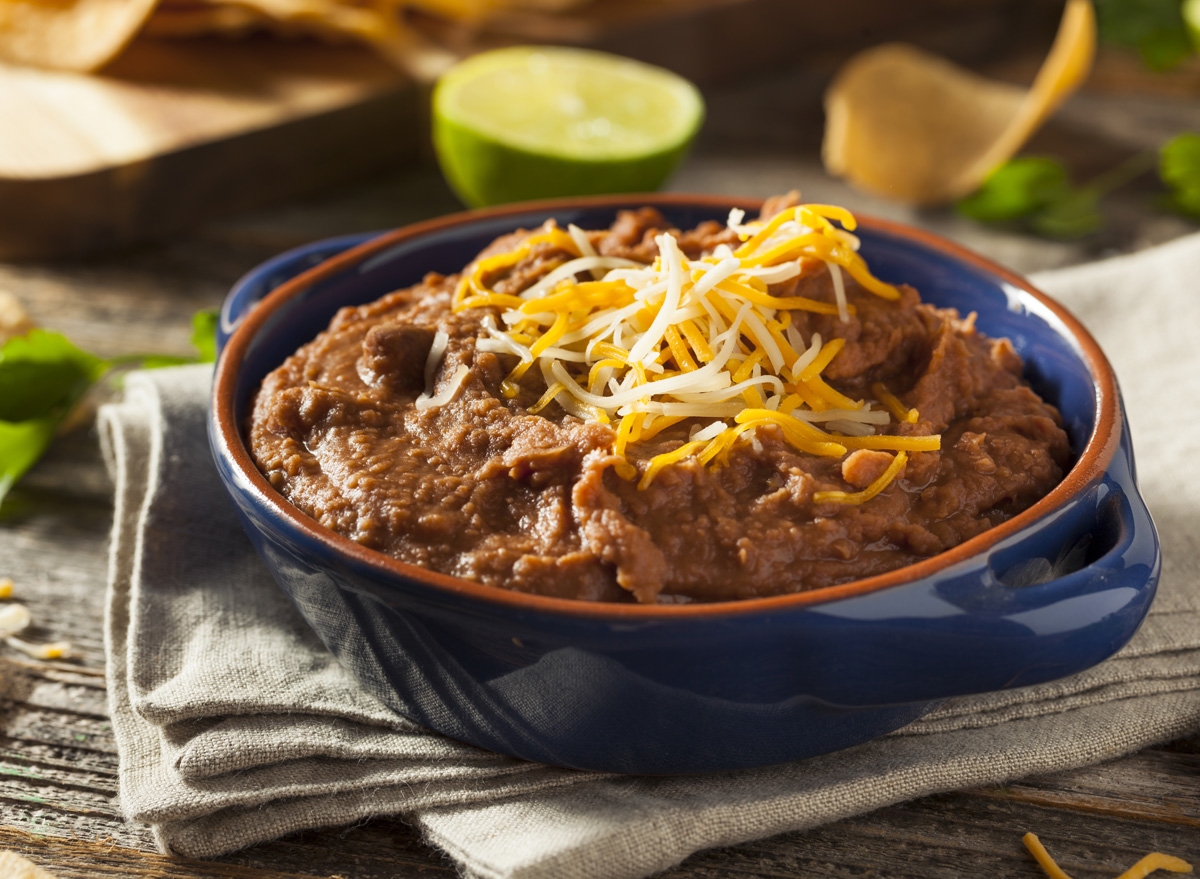 Bean burgers are a hugely popular staple amongst the vegetarian and vegan crowds, which make refried beans a natural fit as a burger topping. Try spreading them on your bun to add a slightly sweet and earthy flavor to your patty.
Grilled pineapple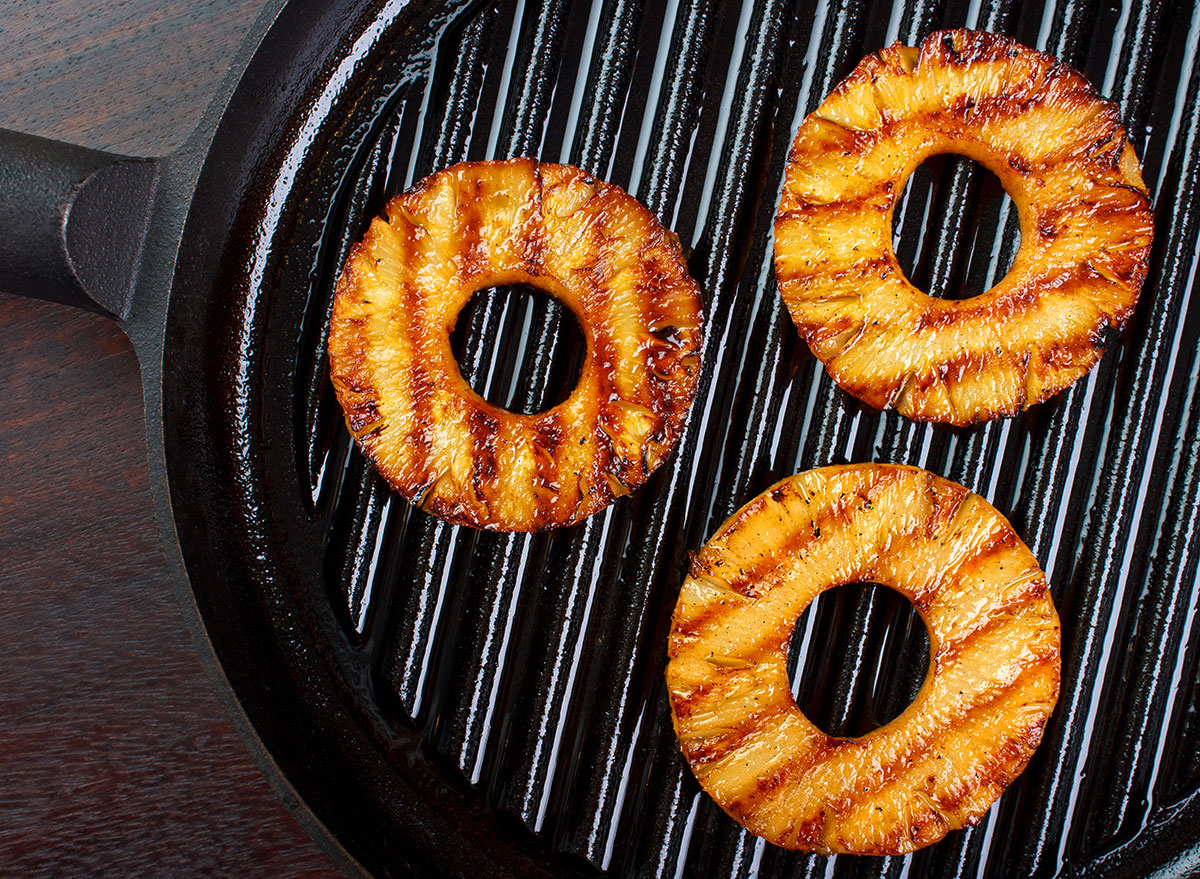 While it might be a topic of debate when it comes to pizza, pineapple is a beloved burger topping. However, Scott cautions about preparation so you don't end up with a "sugar bomb." Instead, use thin pineapple slices and marinate them in something salty and savory before grilling.
Mac and cheese
Scott cautions that this one is a little gimmicky, but we can see it working perfectly at a cookout that's run out of cheese. If you're looking for that creamy flavor, just top your burger with some cheesy noodles, and you'll be good to go.
Mustard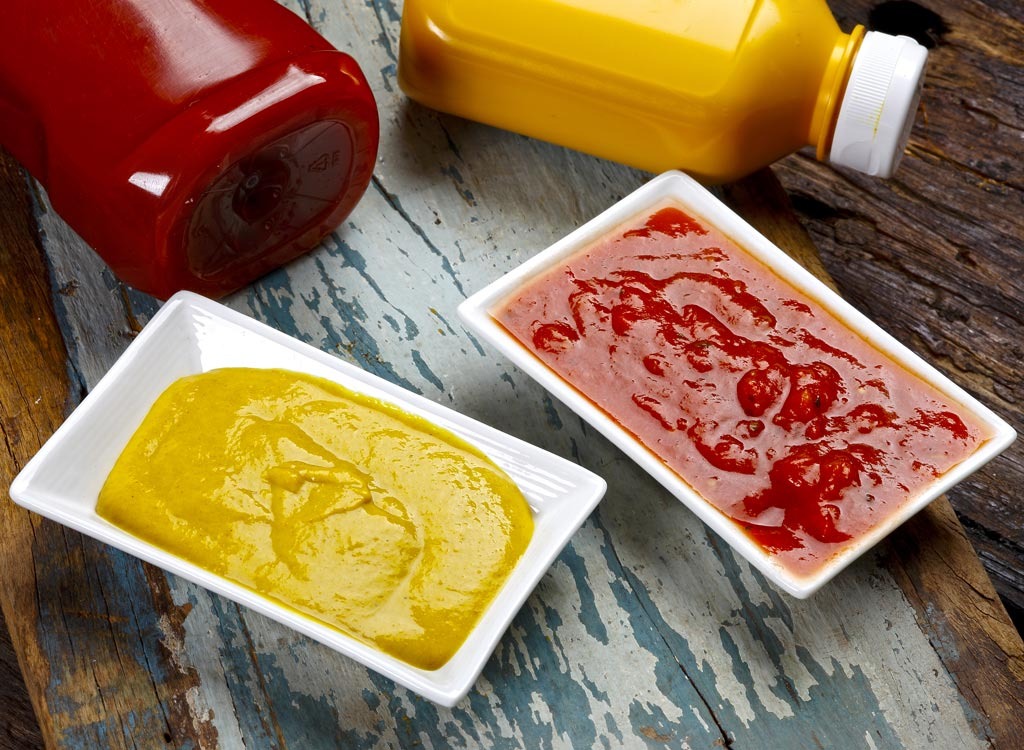 It's come to our attention that many people think mustard is reserved for hot dogs. This is simply not true. Whether you prefer yellow or brown, add mustard to your burger. Your life will be forever changed.
Jalapeño
It may not be groundbreaking, but adding some diced jalapeño to a mild spread could change your burger for the better. Scott warns that "anything overly spicy could take away from a good burger," so use them in moderation.
Chips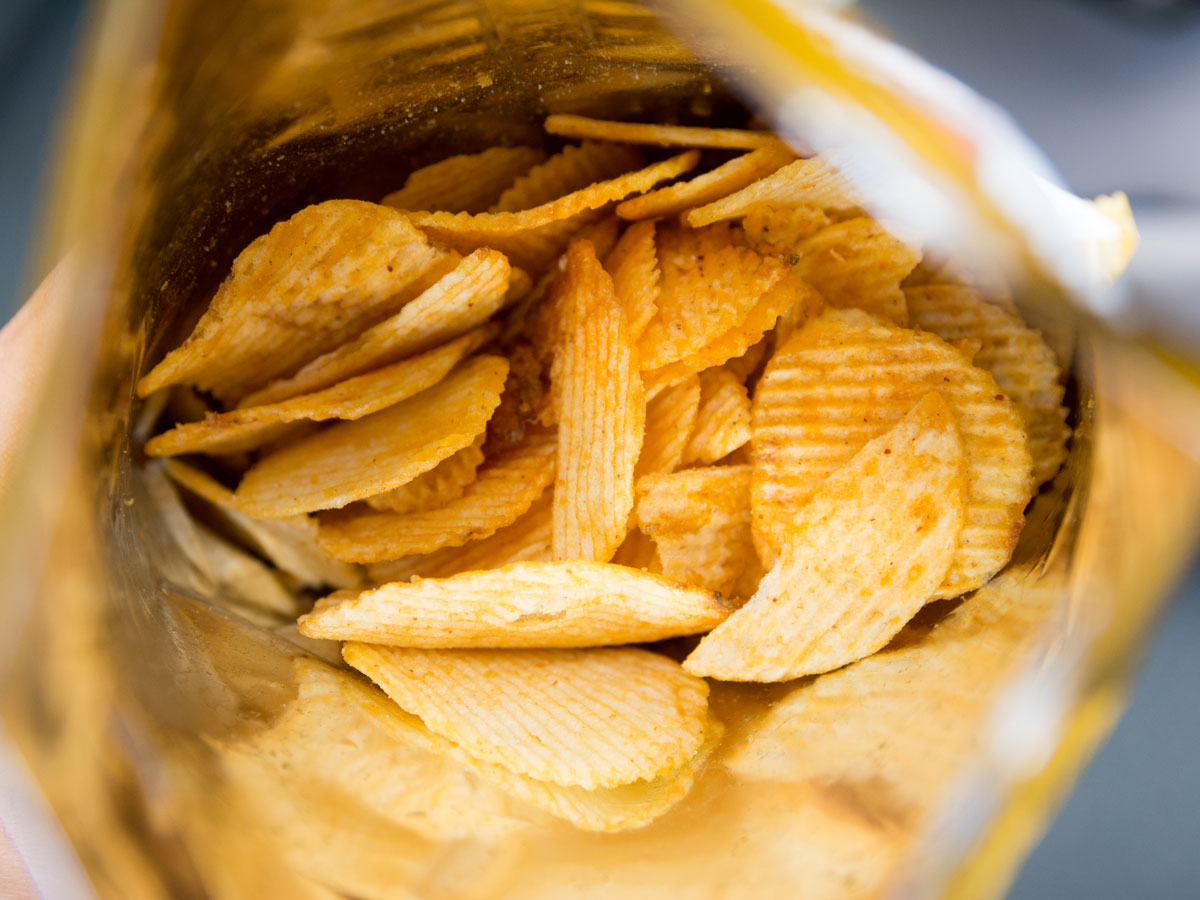 Crushed chips make any sandwich better, so the same principle should apply to your burger. Get creative based on your burger's flavor profile and try barbecue chips or Cool Ranch Doritos—the options are endless.
Pimento cheese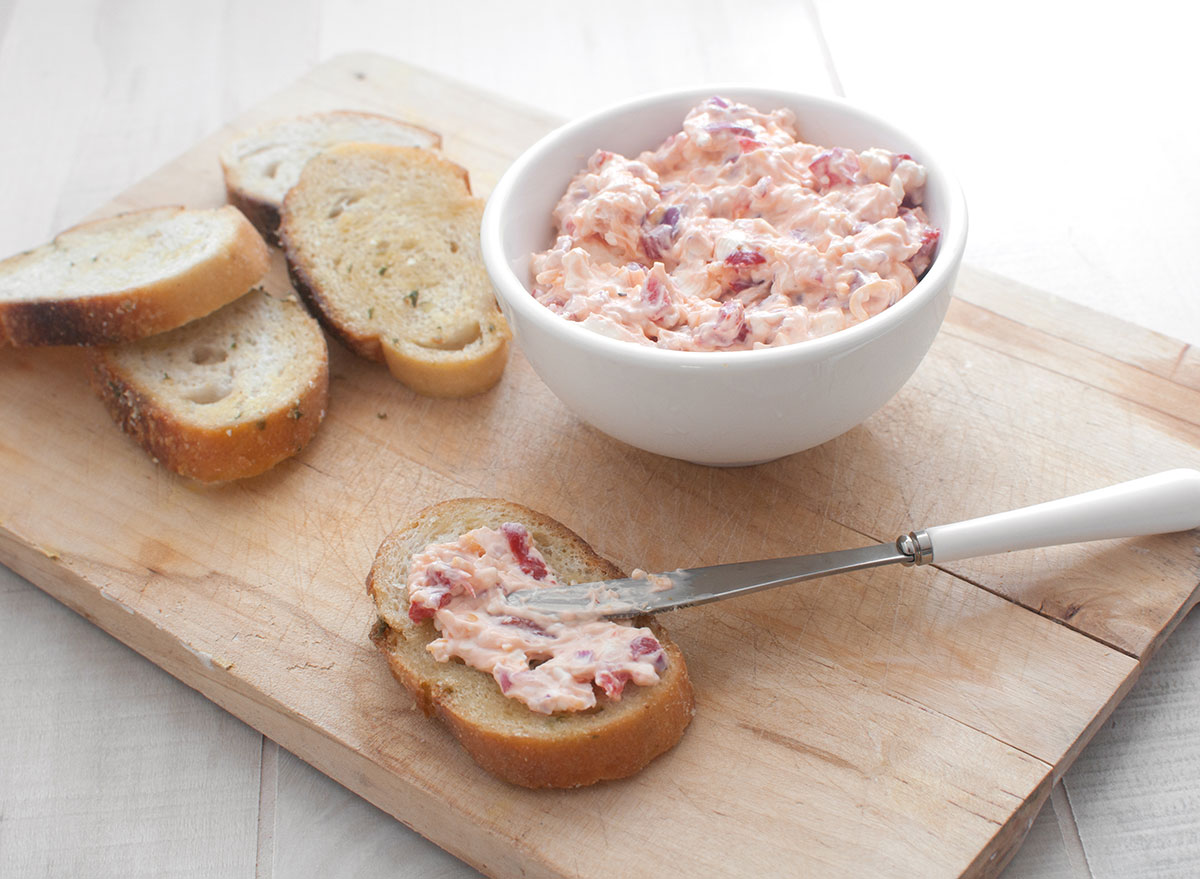 Let's break down the logic here: You'd put cheese on your burger. You'd put mayo. You'd put relish. Why not just put pimento cheese?! Scott says the Southern delicacy paired with a crispy shallot would be a great combo.
Honey
A popular dipping sauce for chicken nuggets, honey can work well on burgers, too. Add a bit of the sweet elixir to finish your patty—you won't be sorry.
Crabmeat
Surf and turf burgers are a perfect summer/fall dish and a great alternative to pricey and difficult lobster rolls. Crabmeat comes pre-packaged and is filled with flavors that will take your meal to the next level.
Kimchi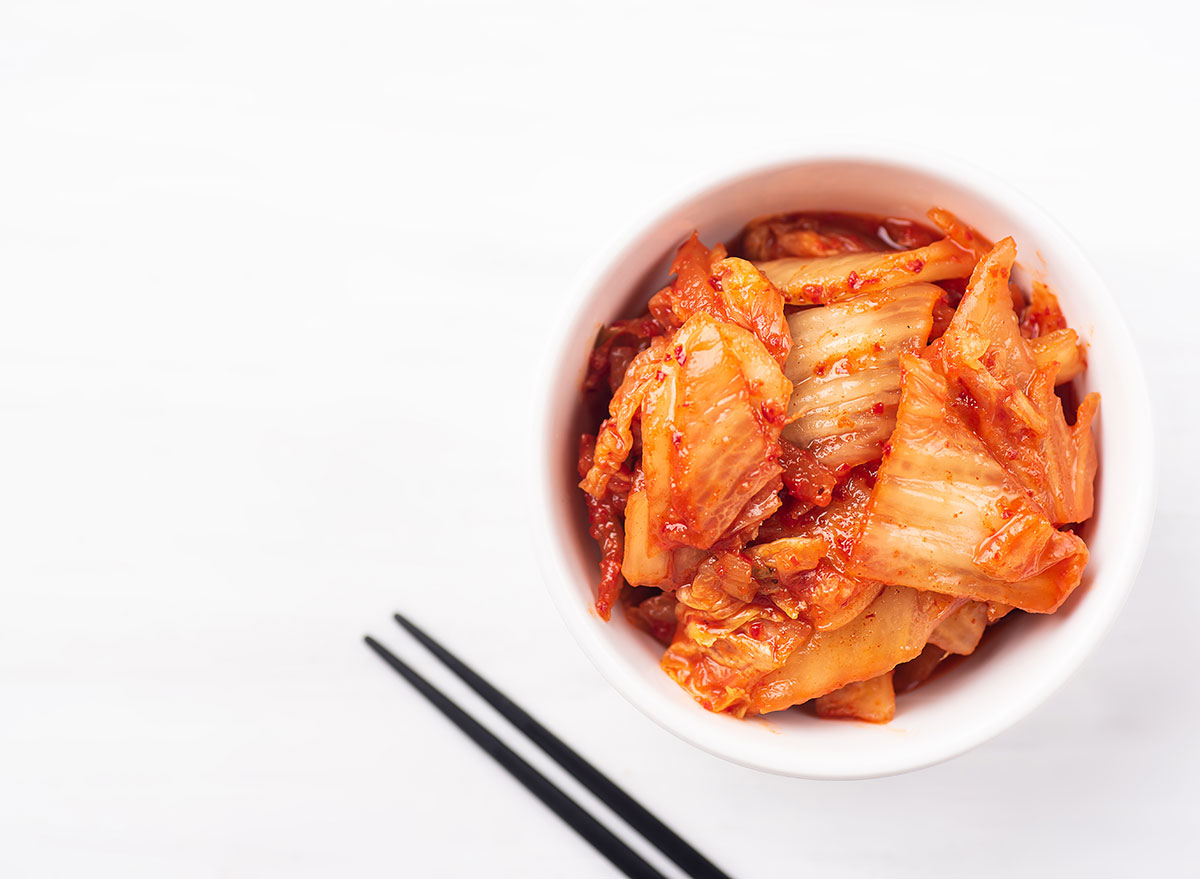 Scott is a big fan of kimchi, the Korean staple of salted and fermented veggies, on a burger. "Because kimchi comes in so many different forms—there's cucumber, there's daikon—there's a wide range of kimchis that would work really, really well," he says.
Pâté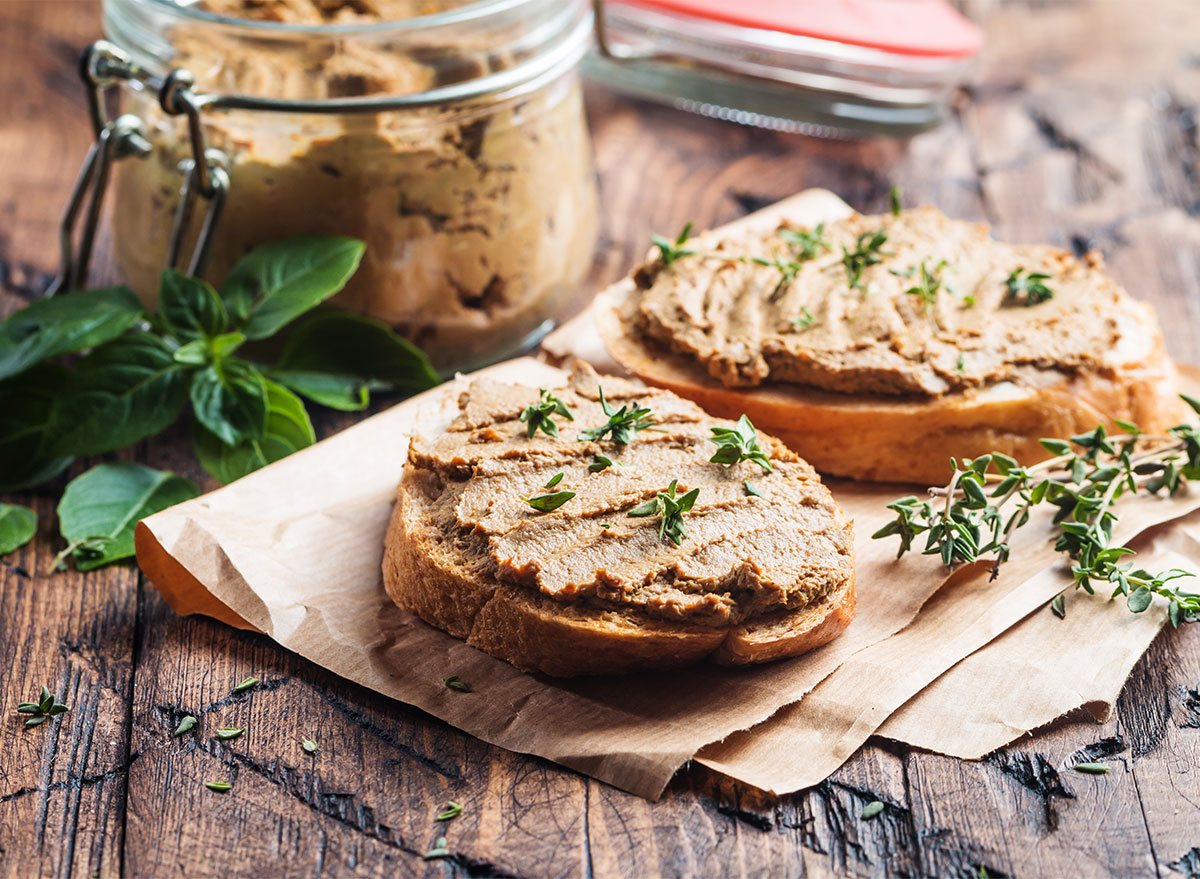 Hear us out. What could be bad about a creamy duck liver pâté spread on a savory delicious burger? It's an indulgence to the umpteenth power—and we're here for it.
Pickled tomatoes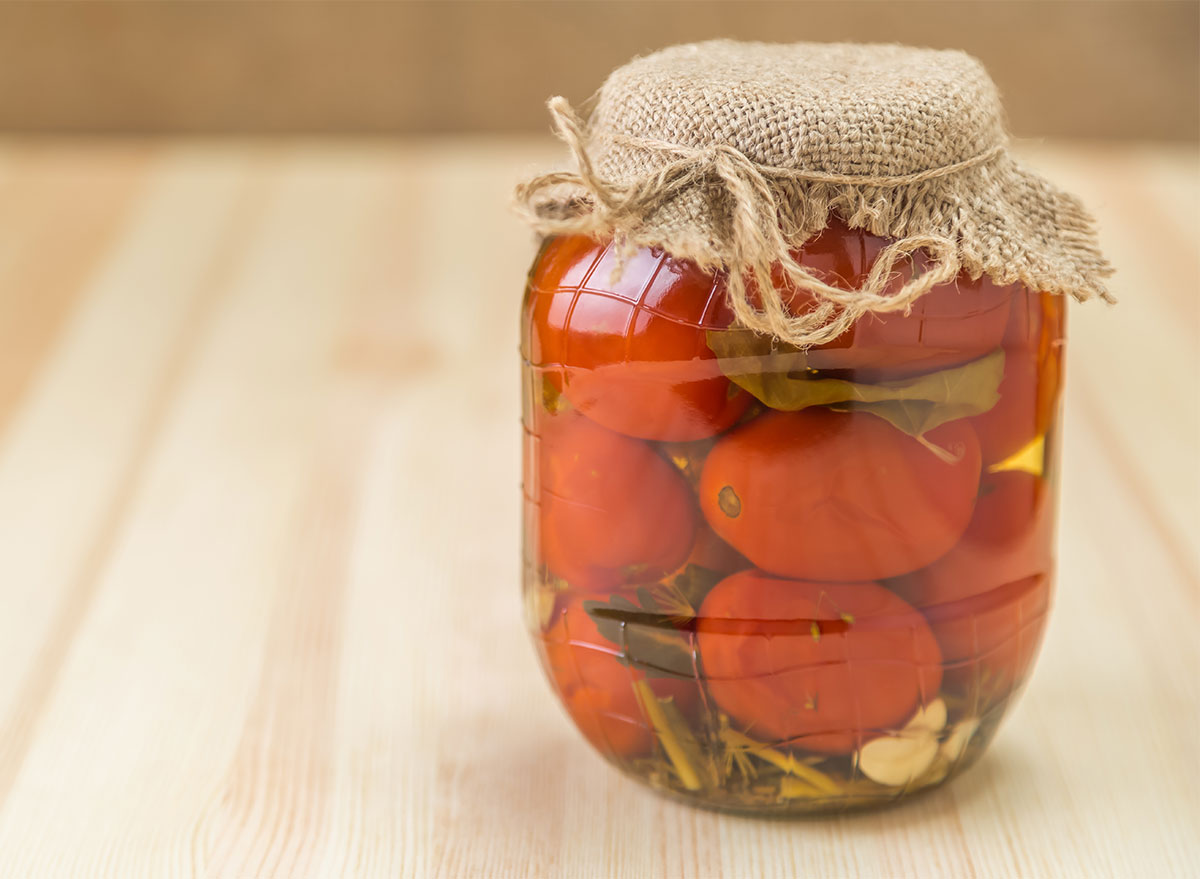 Tomatoes don't add much to a burger—but pickling them is an entirely different story. A thin-sliced, brined tomato adds some much-needed juice and tang. Plus, it does the job of two toppings in one.
Hummus
Hummus goes great on pretty much everything, including burgers. Though Scott's never tried it himself, he agrees that because "hummus comes in so many different types, it's one of those things you have to experiment with." We volunteer as tribute!
Now that you know all of these underrated burger toppings, you'll never settle for plain old lettuce and tomatoes again.
And for more, check out these 108 most popular sodas ranked by how toxic they are.
Rebecca Strassberg
Rebecca Strassberg is a Brooklyn-born and based writer/editor who's worked for Us Weekly, Thrillist, and more.
Read more about Rebecca