How to Cook Cabbage as a Classic St. Patrick's Day Side Dish
We're taking this classic Irish side dish to the next level.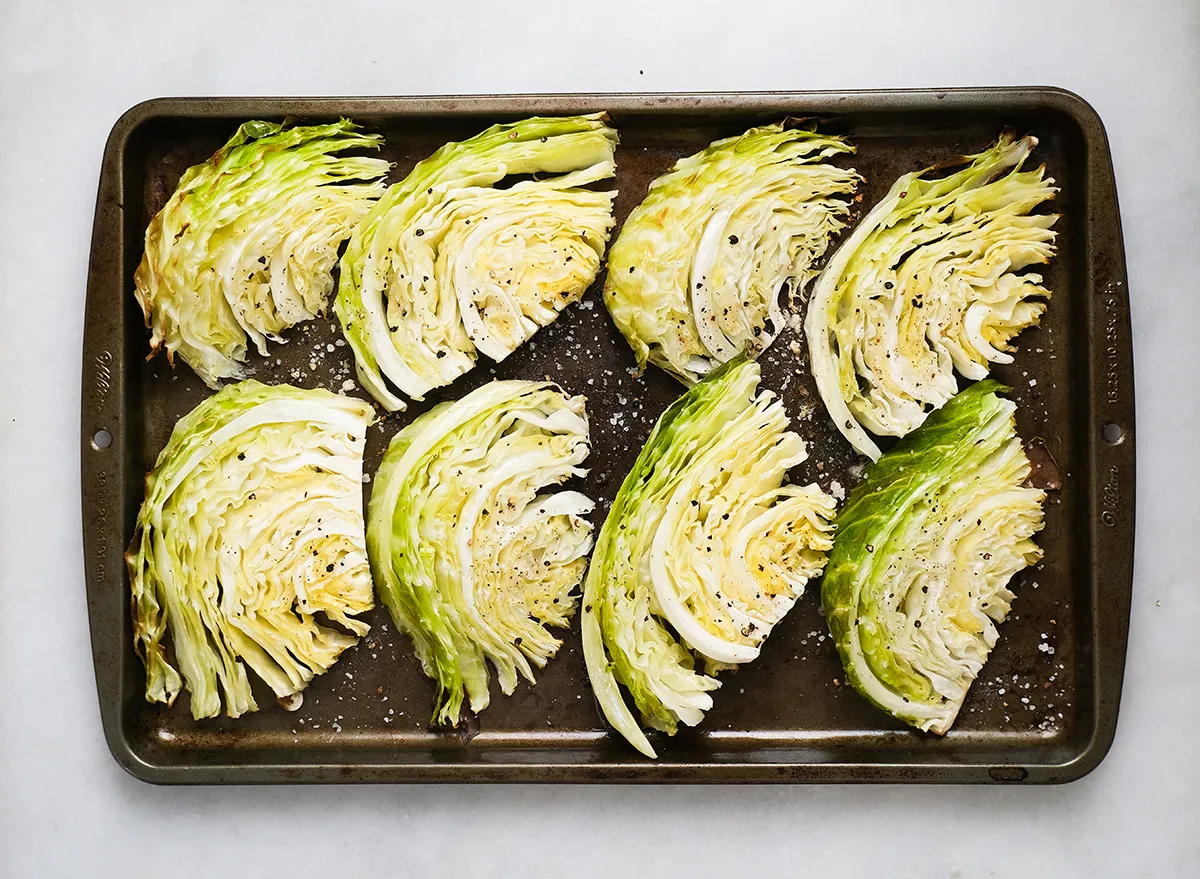 Corned beef and cabbage is a classic Irish dinner—especially around St. Patrick's Day. Between the salty beef and the crunchy cabbage, there's no question that this meal is a cultural favorite. However, as I looked at different recipes on how to cook cabbage, I found that most recipes call for the cabbage to be boiled or even thrown in during the last 45 minutes of cooking corned beef. While I do love boiling or steaming some vegetables, having boiled cabbage didn't exactly sound appealing to me. So I decided to try something new.
Instead of boiling this vegetable, I decided to roast it. Roasting is one of my favorite way to cook vegetables and I couldn't resist the opportunity to roast cabbage wedges as well.
So while the traditional way to cook cabbage is to simply boil it, I would say roasting it gives it a whole new flavor that's hard to resist. Especially when you have it with that corned beef.
Here is an easy step-by-step tutorial for you to follow!
Makes 16 servings
Ingredients
1 head of cabbage
2 Tbsp. olive oil
1 tsp salt
1/2 tsp pepper
Cooking spray
How to Make It
Cut the cabbage in quarters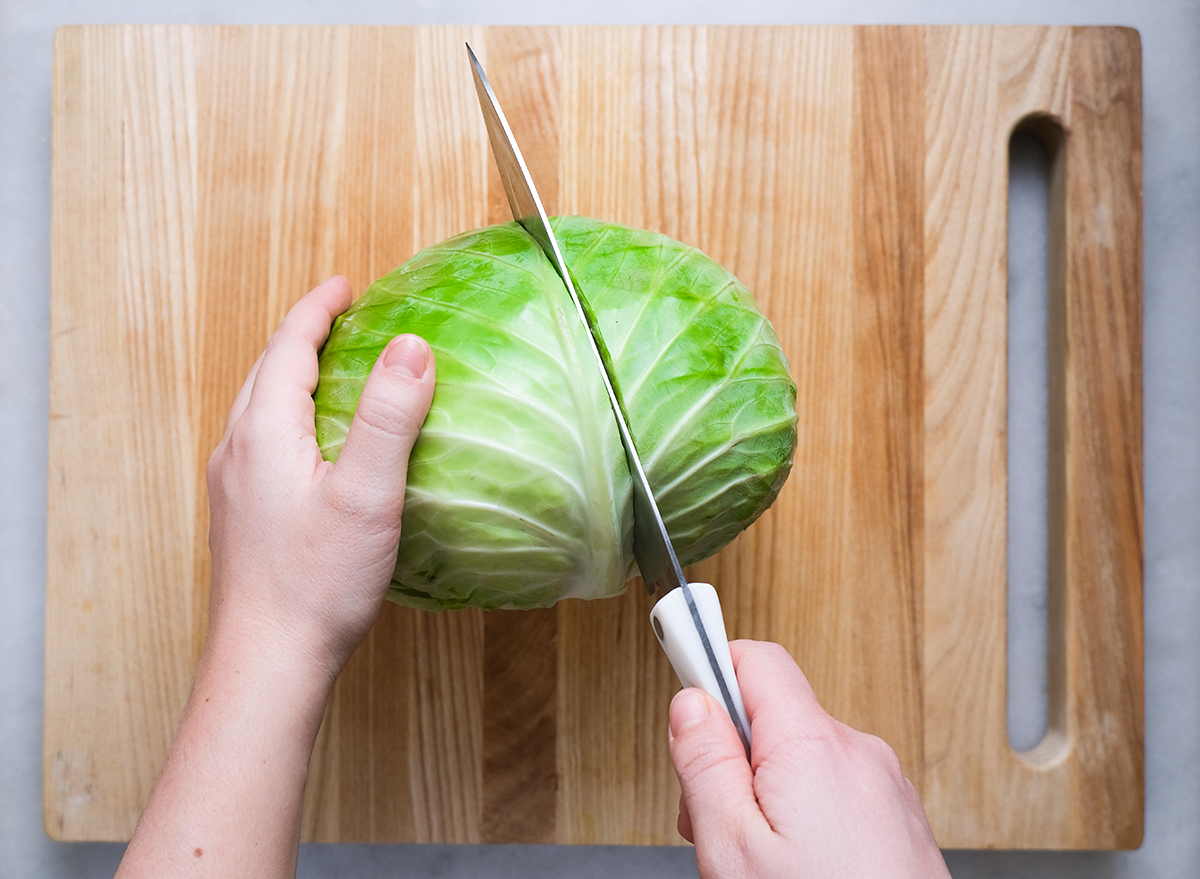 Using a chef's knife, cut the cabbage from the side, first alongside the stem of the leaf. Then chop each half in half again, flat side facing down.
Slice each quarter into wedges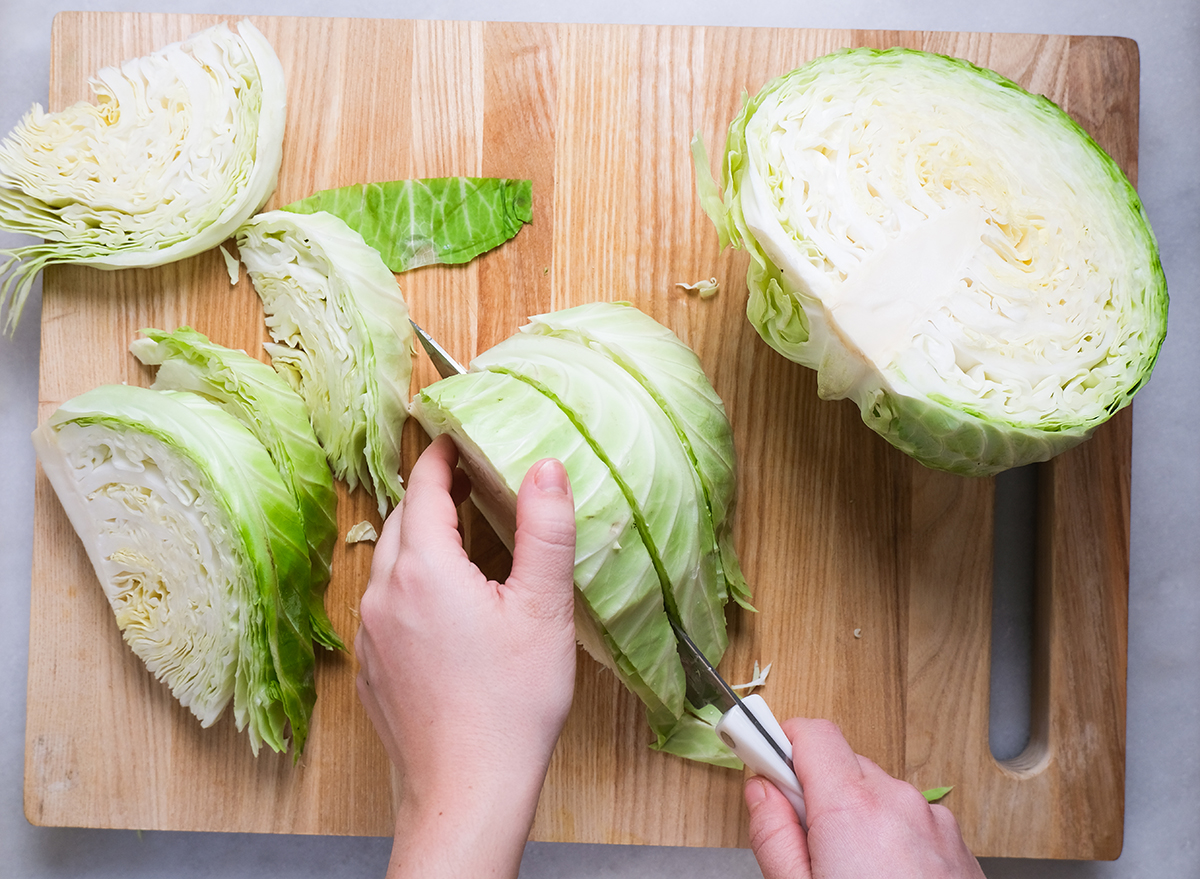 Cut the cabbage into smaller wedges from the quarters.
Place the wedges on a greased baking sheet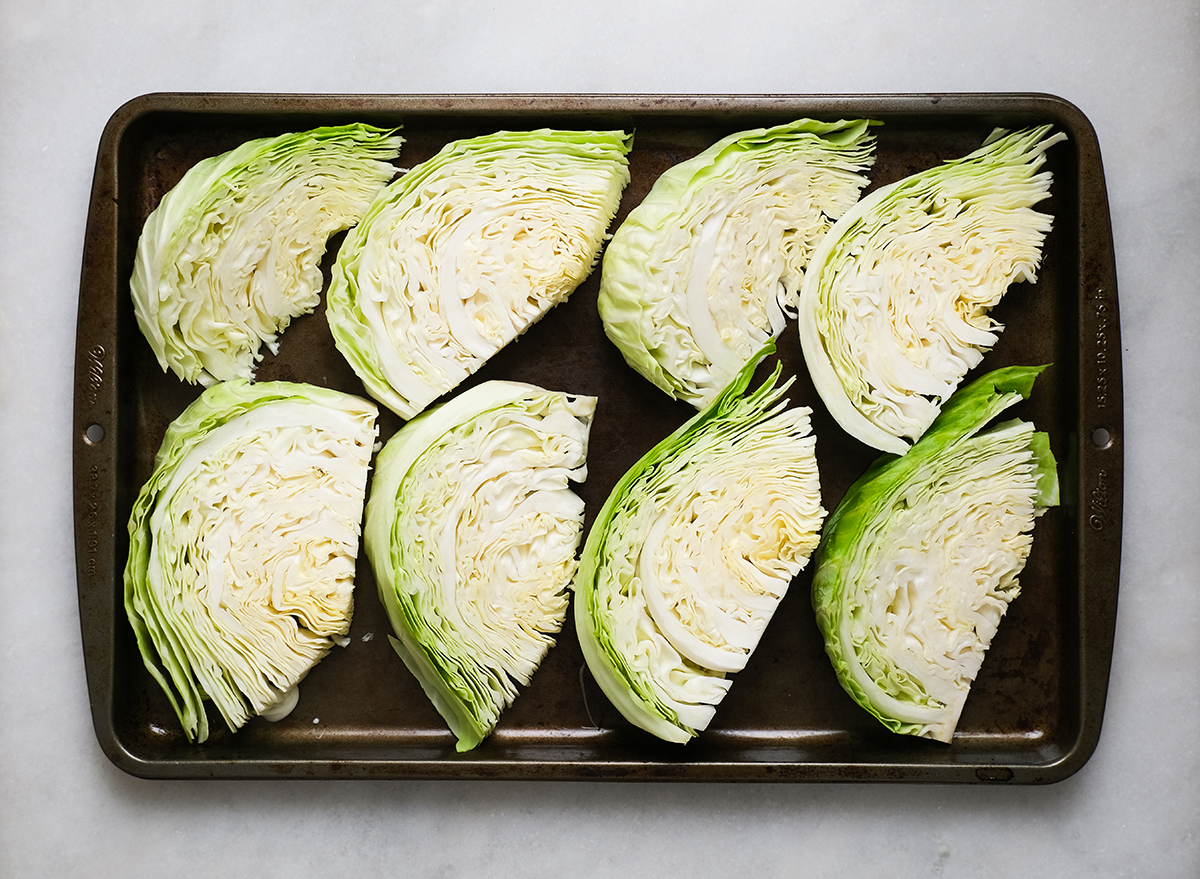 Spray down the pan using a cooking spray, or wipe it with extra olive oil. Place the cabbage wedges on the pan. You may need to roast two pans of cabbage wedges, depending on the size of your pan and your oven.6254a4d1642c605c54bf1cab17d50f1e
Brush the wedges with olive oil
Brush the olive oil onto the cabbage wedges. Don't have a pastry brush? Dip a clean paper towel into the oil and wipe the oil on each wedge.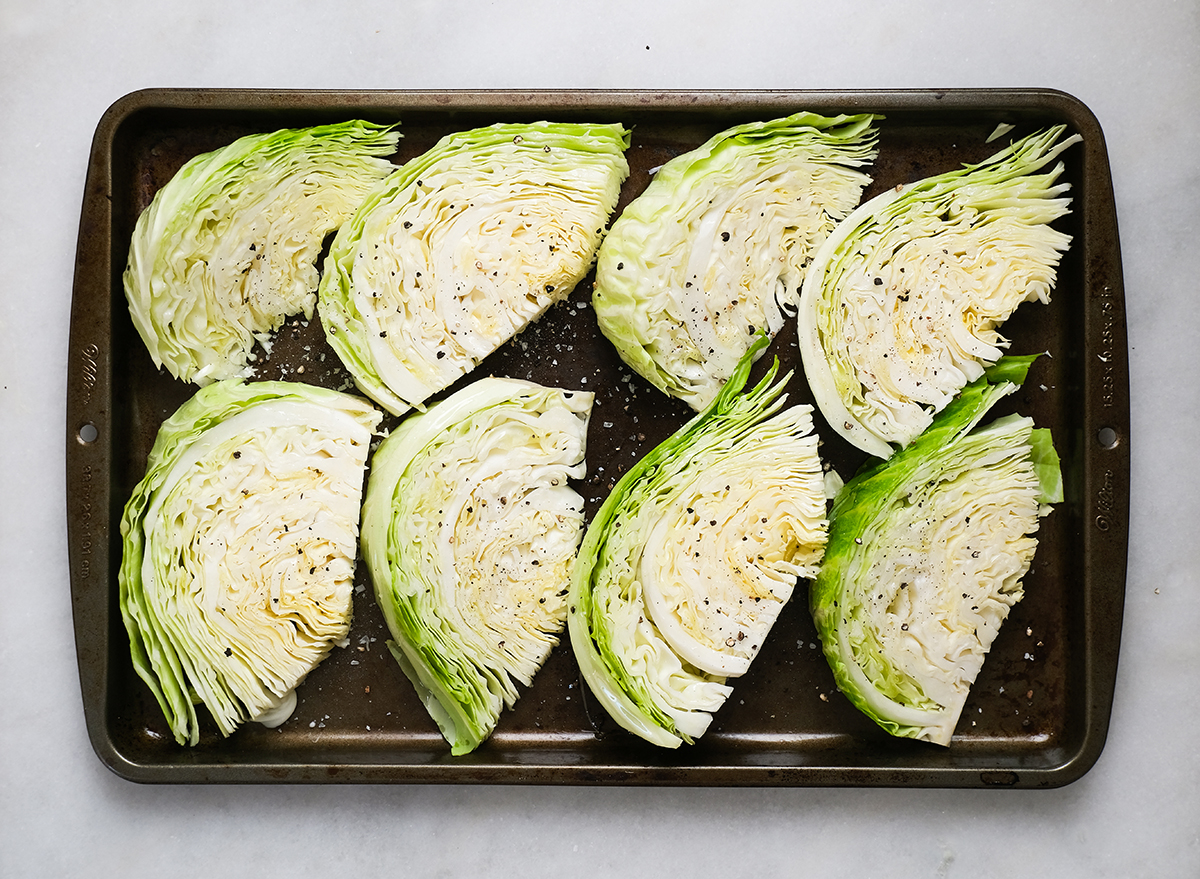 Season the wedges with salt and pepper. The amount in the recipe is what you should use total, not for each wedge. 1 teaspoon of salt per wedge is way too much!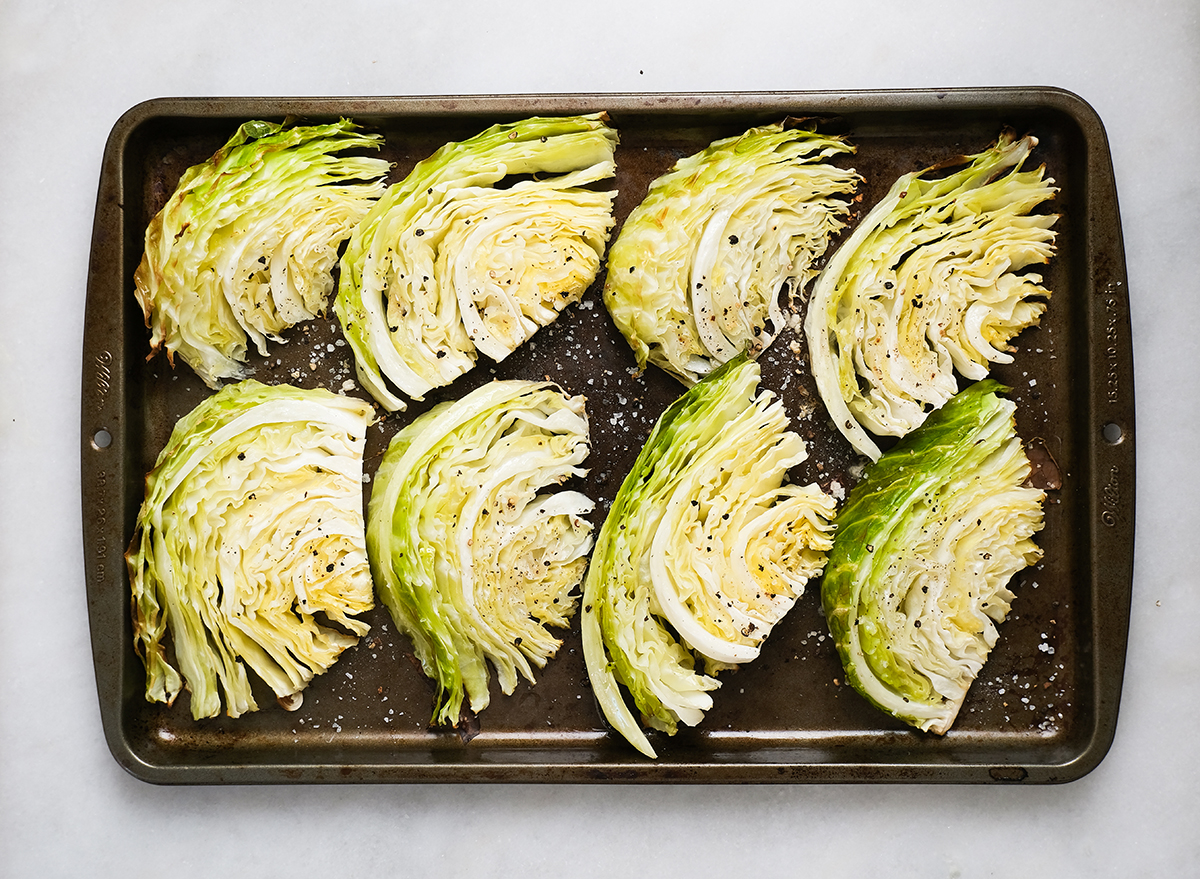 Roast the cabbage for 25 minutes in an oven at 400 degrees. Want it crispier? Keep the cabbage in the oven for longer, until it is cooked to your liking. Or switch the oven to broil for a few minutes.
Full Cabbage Recipe
Preheat the oven to 400 degrees.
Cut the cabbage into quarters
Slice each quarter into small wedges
Grease down a cookie sheet with cooking spray, then place the wedges on it.
Brush the tops of the cabbage with the olive oil, then season with the salt and pepper.
Roast in the oven for 25 minutes.