How to Cook Corned Beef for a Traditional St. Patrick's Day Feast
With the help of your handy-dandy slow cooker, you can effortlessly make this classic Irish dinner right at home.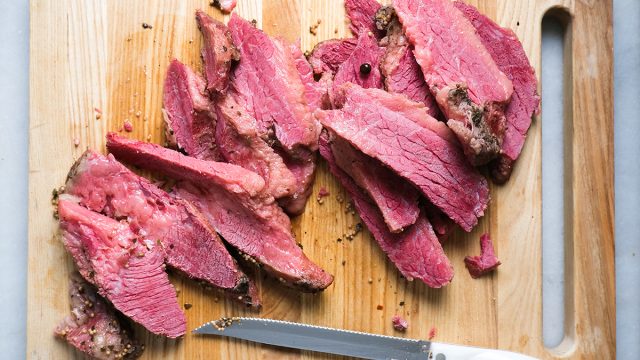 Here's a fun fact for you. Did you know that corned beef is actually pickled brisket? It's true! A slab of brisket sits in salty water and "pickles" in a brine for a few days, then it's boiled to perfection. Hence why corned beef is one of the saltiest pieces of meat. Typically served with cabbage, this classic Irish dish is a staple around St. Patrick's Day—and delicious fried up with potatoes in a hash.
What's the best way to cook corned beef?
In order for corned beef to be cooked properly, it needs to sit in a slow boil for a few hours. However, trying to boil it at the proper temperature on the stove is challenging. That's why the best way to cook the corned beef (with almost no effort on your end) is to use your slow cooker. Cooking the meat on high in water (and beer) for four hours will properly cook the meat, without you having to worry about the temperature the entire time.
Here's the full process of cooking corned beef. And while you're at it, add a side of cabbage with it!
Here is an easy step-by-step tutorial for you to follow!
Makes 16 servings
Ingredients
1 bag of uncooked corned beef brisket, with pickling packet
3 carrots, peeled and cut into pieces
2 stalks of celery, cut into thirds
1 pound potatoes, cut into bite-sized pieces
1 yellow onion, sliced
6 cups of water
1 bottle of beer (Guinness, or another stout)
How to Make It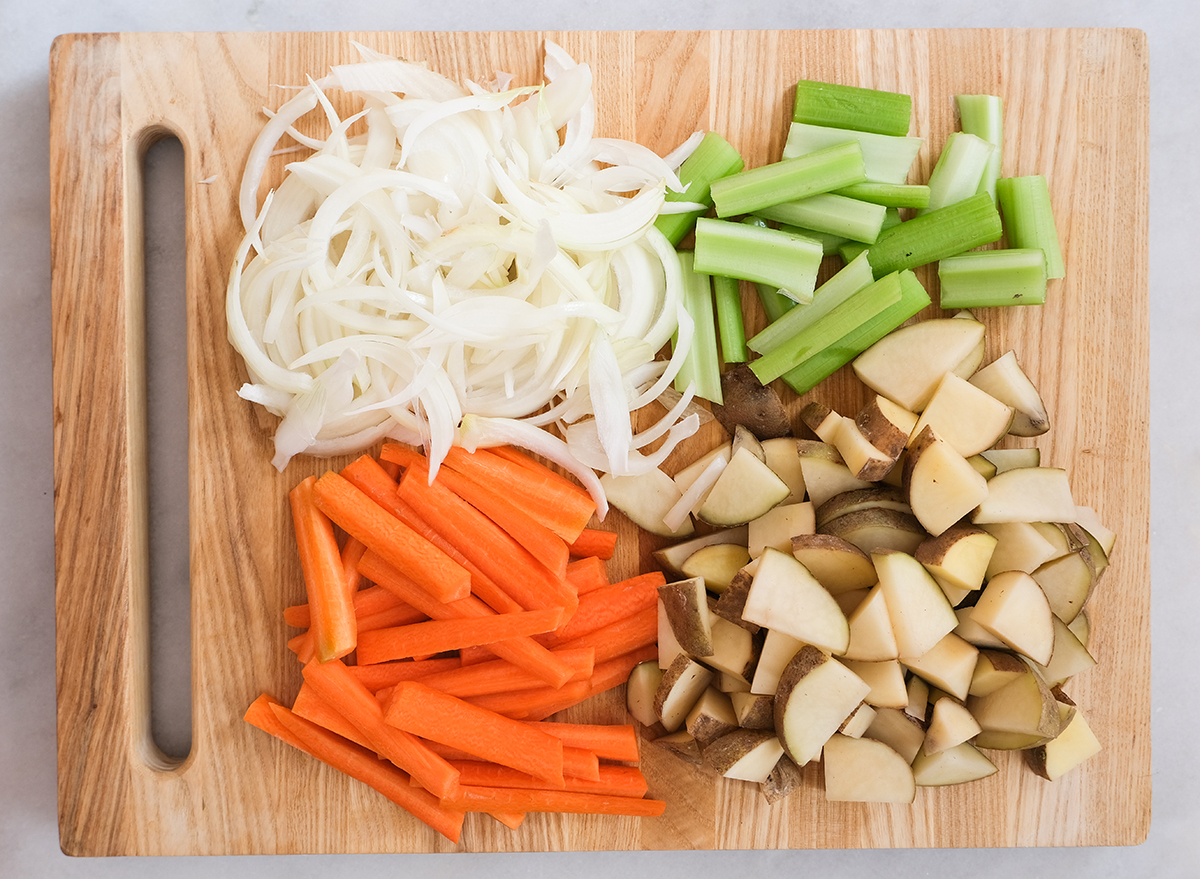 Prep the vegetables for the slow cooker. For this recipe, I cut up normal white potatoes (with the skin on). However, some people like to use baby potatoes. If you would prefer the small yellow potatoes, just cut those in half.
Place vegetables in the slow cooker
Place all of the vegetables at the bottom of the slow cooker.
Place the corned beef into the slow cooker. Make sure the lid will close, and there's room for water. If it's overflowing, take out some of the vegetables.
Sprinkle in the pickling packet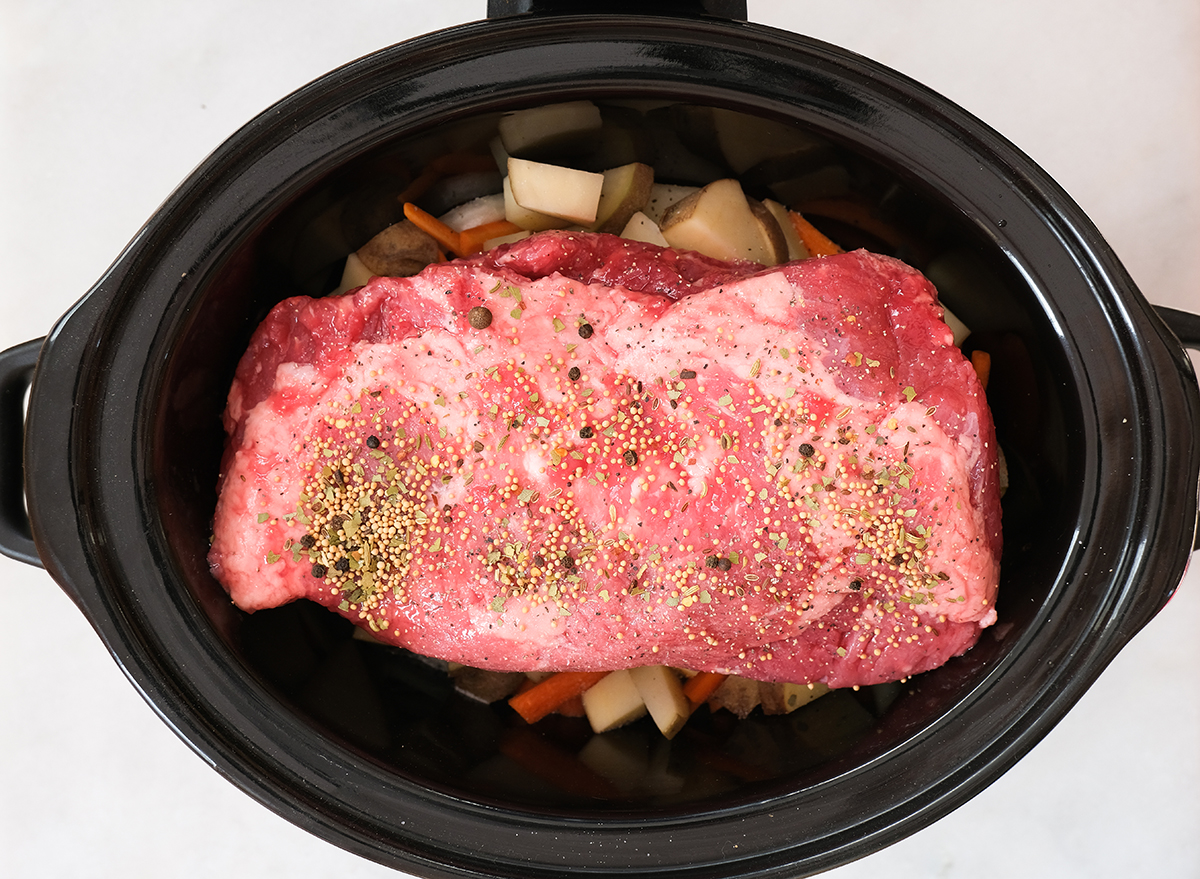 A bag of corned beef typically comes with a pickling packet (to give the meat that special flavor). If yours does not, you can make one yourself by sprinkling in a few whole peppercorns, a bay leaf, coriander, cloves, and mustard seeds.
Slowly pour in the water. Make sure the corned beef is almost fully immersed.
At this point, the slow cooker should be full ant the meat should be fully immersed in liquid.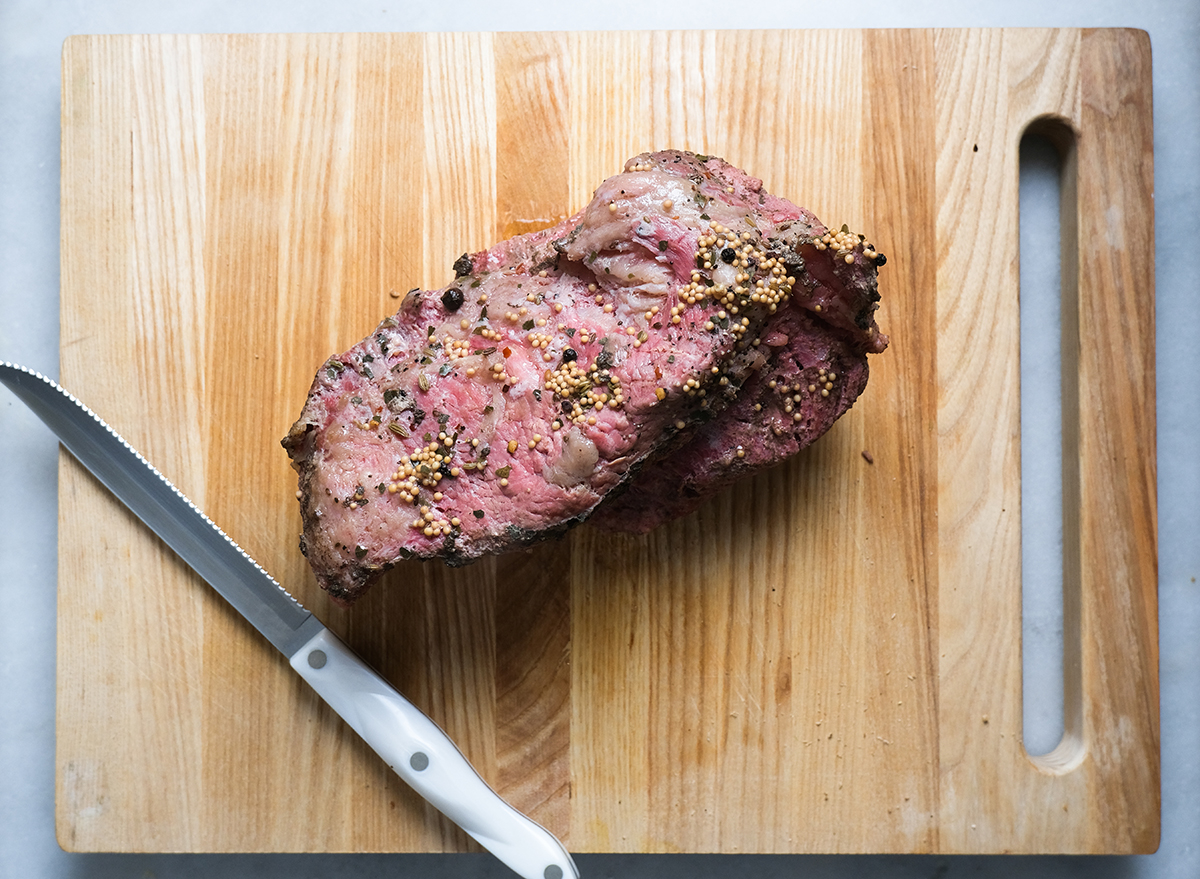 Cook the corned beef on high for four hours in the slow cooker. If it sits on warm for a few more minutes, that is okay! You just don't want to let the meat get too tough. Remove the corned beef from the slow cooker to slice.
If it's thick-cut, slice in half
Typically you'll see two styles of corned beef at the store: thick-cut and flat cut. Flat-cut is typically preferred since it's easier to slice. However if you find yourself with a thick-cut, you can flatten it out by simply cutting the meat in half. This will make slicing it into pieces easier.
Slice small pieces, against the grain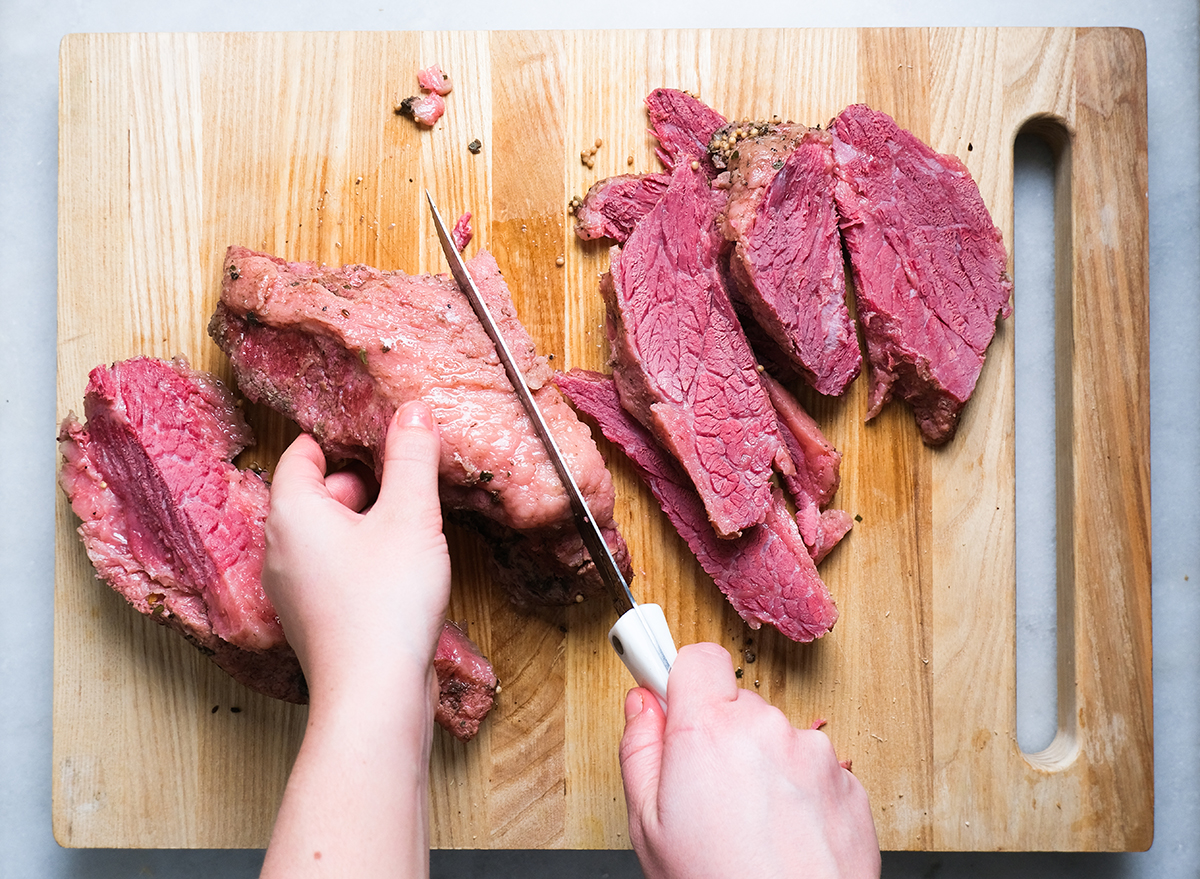 Make sure you aren't slicing the meat in the same direction that the grain is moving on the meat. This way the slices will stay intact and not fall apart. Cut thick slices—about 16 of them.
Serve with vegetables and cabbage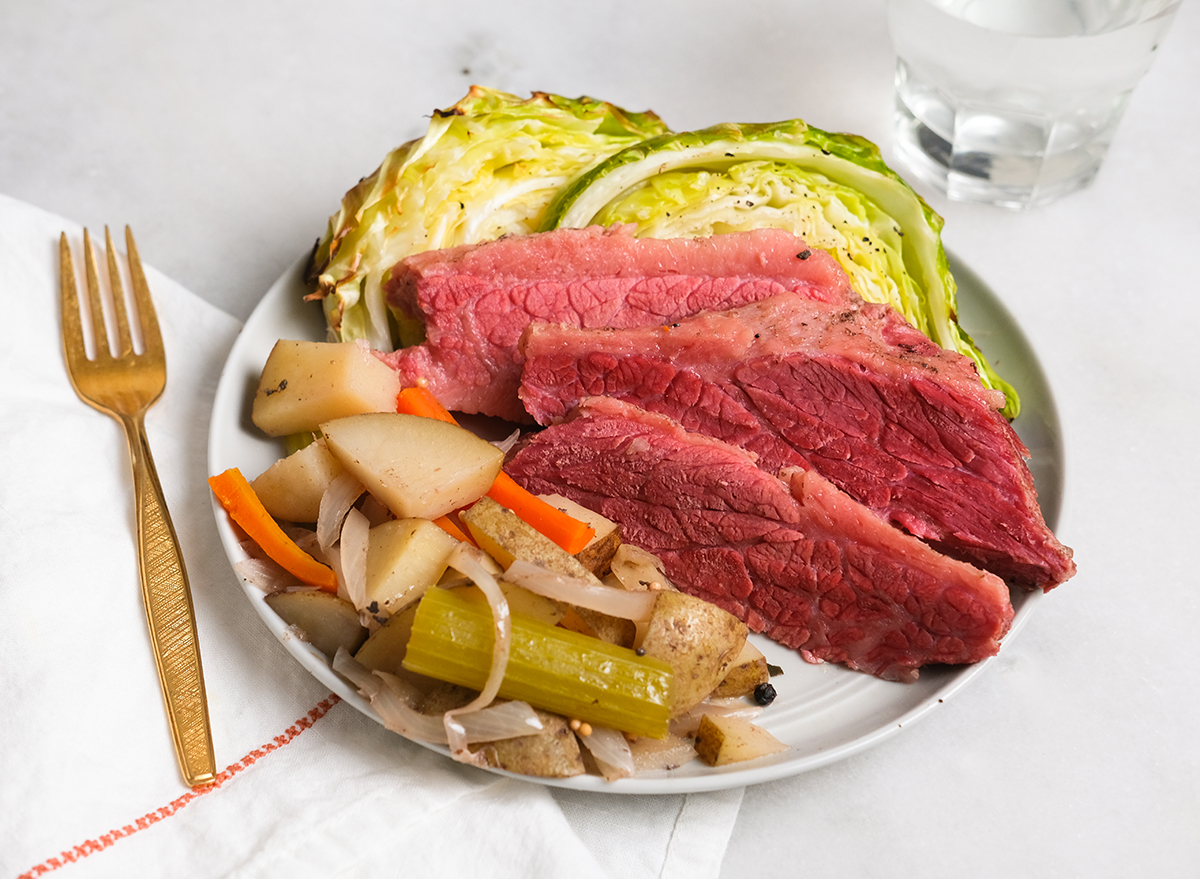 While the vegetables add a particular flavor to the meat, you can also serve them on the side! Enjoy it with roasted cabbage for a classic Irish feast.
Full Corned Beef Recipe
Prep the vegetables. Add the onions, carrots, celery, and onion on the bottom of the slow cooker.
Place the meat on top, then sprinkle in the pickling spices.
Fill with water and beer, then close the lid.
Cook on high for 4 hours.
Carefully remove the meat to a cutting board. Slice against the grain into 16 pieces. Serve immediately.
RELATED: The easy way to make healthier comfort foods.
Kiersten Hickman is a senior editor at Eat This, Not That!, with a main focus on food coverage, nutrition, and recipe development.
Read more