9 Coffee Chains That Experts Say Serve the Best Quality Coffee
One chain was overwhelmingly favored by our panel.
For many, drinking coffee is part of a daily routine. Whether you love iced lattes, or consider yourself more of a pour-over kind of person, a good cup of coffee can make a big difference in your day. You may have your own coffee shop go-to, but have you ever stopped to wonder where the coffee experts go to pick their morning coffee, and more importantly, which cafe chains they think have the best quality drinks?
From cafes that have thousands of locations throughout the country to smaller upcoming chains that have quickly become neighborhood favorites, here are nine cafe chains that serve top-quality coffee across the country, according to the experts.
Blue Bottle Coffee
Blue Bottle Coffee is an overwhelming favorite among coffee experts. The popular coffee chain, which was started in 2002, has over 100 locations throughout the U.S. and Japan, so if you're ever near one be sure to check them out.
"In my opinion, the best coffee chain is Blue Bottle," says Sara DeLuca, founder and owner of Invita Cafe, based in San Diego. "They have been able to scale without losing the importance of hospitality and human interaction. To me, the coffee flavor profile always comes second to how a barista greets you or connects with you as their guest. No matter which location you go to for a blue bottle, the majority of the time I find the barista engaging with their guest while passionately working away at preparing a craft cup of coffee!"
"You can't go wrong with any items on their menu!" adds Lisa Yala, founder of Transcendence Coffee.
Casey Allen, owner and CEO of Barista Warrior, an e-commerce company selling coffee-related products, echoes this sentiment. "My favorite coffee chain is Blue Bottle Coffee," shares Allen. "The spaces are always light and bright, the baristas are always friendly and knowledgeable, and the coffee selection is consistently on point."
Allen's favorite drink to order is a cold brew with coconut milk. "The coconut milk gives it such a creamy smooth flavor—amazing."
Starbucks
With over 30,000 locations in over 70 countries, it's no surprise that Starbucks is a favorite even among some experts.
"Starbucks is known for its signature espresso-based drinks and for its commitment to high-quality coffee," says Oli Baise, barista and founder and managing editor of the coffee blog, Drinky Coffee. "They also offer a wide range of other drinks and snacks, from tea to pastries."
Whether you like to order one of their seasonal drinks, or prefer to enjoy their sweet treats, Starbucks consistently hits the spot.
Costa Coffee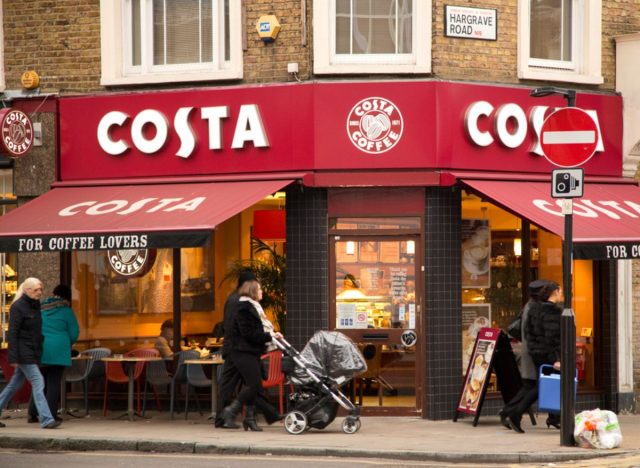 Baise is also a fan of Costa Coffee, the U.K.-based chain that has thousands of locations throughout the world.
"Costa Coffee is known for its high-quality espresso-based drinks and for its commitment to sustainability," comments Baise.
Costa Coffee has become famous for its iced lattes, so be sure to try one out from Costa if you're nearby.
787 Coffee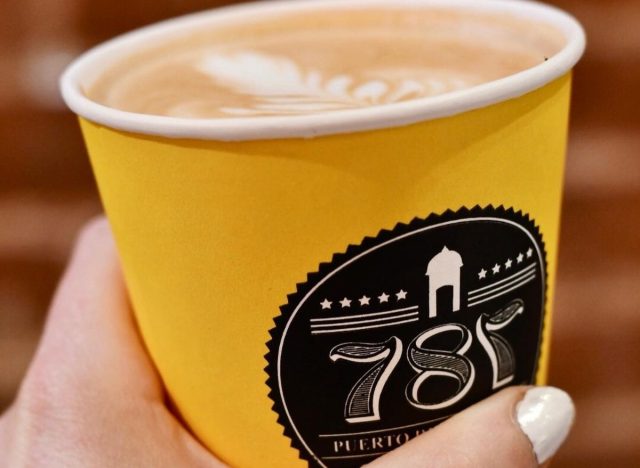 787 Coffee, the New York City coffeehouse chain that serves single-source coffee from Puerto Rico, is another favorite of Yala.
"Since moving to NYC, I've been frequenting 787 Coffee," says Yala. "They have a couple of different espresso types, all of which are amazing."
787 Coffee currently has 17 locations and counting.
Five Watt Coffee
If you're in the Midwest you have to give Five Watt Coffee a try, the Minneapolis-based coffee chain that's been serving up delicious coffee since 2014.
"When I lived in Minneapolis I was obsessed with this chain," says Yala. "I still think about their Kingfield latte to this day."
Five Watt Coffee's drinks are inspired by cocktails, so expect to see creative twists on old caffeinated favorites—such as the Pollinator, which is espresso with honey-lavender syrup, cardamom bitters, and milk, and the Northeast Fog, which is Earl Grey tea served with vanilla, milk, Five Watt coriander, and fennel bitters.
Sightglass Coffee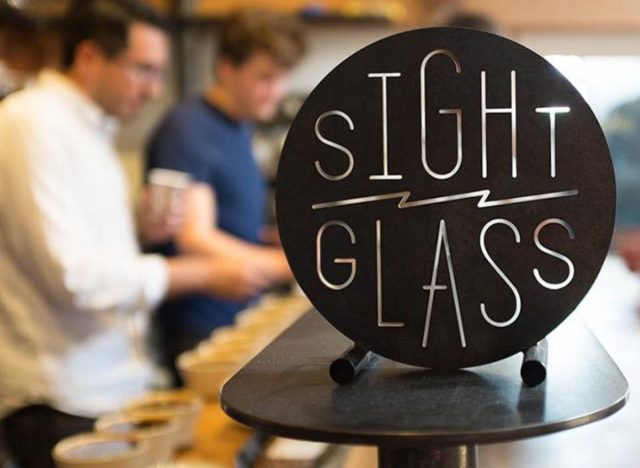 "When I was living in California, I fell in love with Sightglass Coffee," shares Mitalee Bharadwaj, founder of Transcendence Coffee.
Sightglass, which has been churning out delicious coffee since 2009, currently has four locations throughout San Francisco and Los Angeles. You can expect favorites, including flat whites, espressos, and iced lattes, alongside tasty sweet and savory pastries, such as ham and gruyere croissants, gluten-free donuts, and blueberry scones, on their menu.
Go Get Em Tiger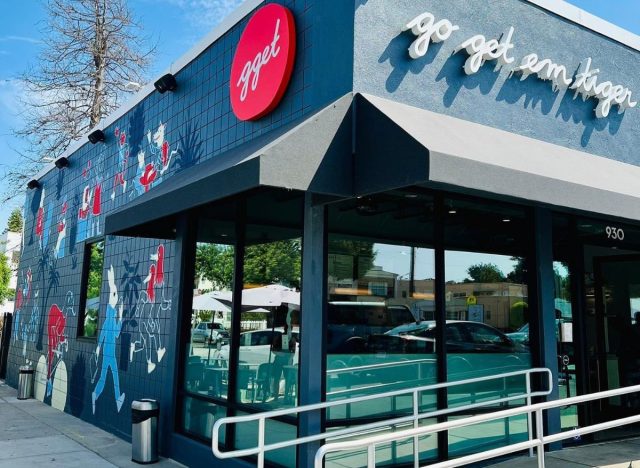 Go Get Em Tiger, which has 9 locations in Los Angeles, comes recommended by Eric J. Grimm, founding partner and Director of Relationships for Ghost Town Oats, an oat milk company. Grimm has an extensive background in coffee, which includes emceeing the 2022 World AeroPress Championship and working as VP of Brand Management for The Chocolate Barista, Director of Positive Outcomes for Glitter Cat Barista, and Catering Manager of Joe Coffee Company.
"Go Get Em Tiger always proves with a visit to any location that coffee and hospitality can be consistently excellent as you scale up," says Grimm. "Go Get Em's baristas are all expertly trained to crank out a massive amount of drinks while providing great service to everyone from coffee novices to aficionados. They also secretly have the best food program of any coffee chain in the US."
Onyx Coffee Lab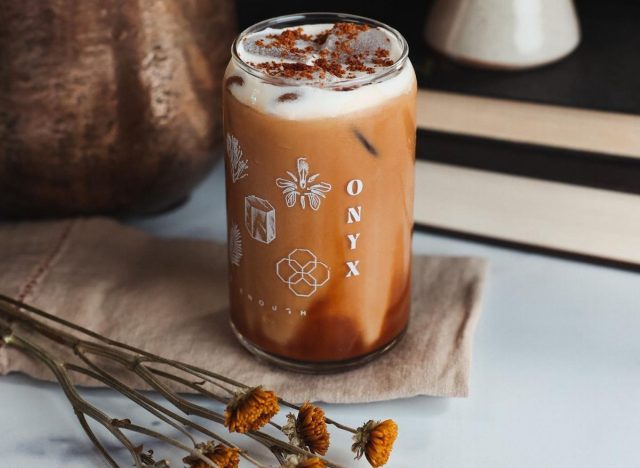 "Consider yourself lucky if you live near an Onyx Coffee Lab location," says Jasmin Tétreault, barista and founder of Café Fabrique. "Their cafes offer a carefully crafted menu that includes pour-over coffees, espresso drinks, and cold brews."6254a4d1642c605c54bf1cab17d50f1e
Tétreault points out that Onyx Coffee Lab's Arkansas cafes are designed to create a welcoming and comfortable atmosphere for visitors "where customers can relax and enjoy a high-quality cup of coffee".
Dune Coffee Roasters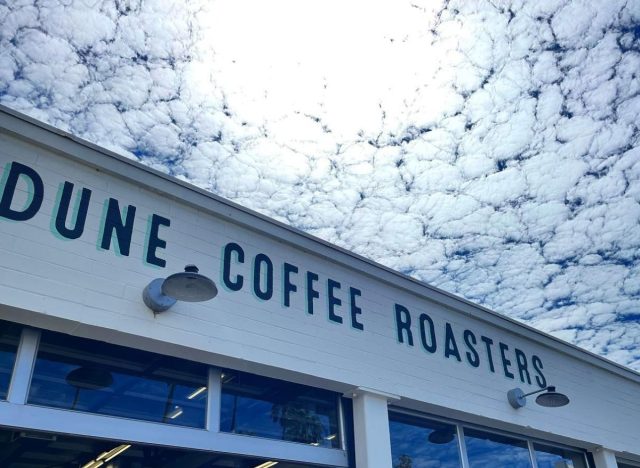 If you're in California, then make sure to pay a visit to Dune Coffee Roasters.
"Dune Coffee Roasters is known for building sustainable partnerships with coffee producers," says Tétreault. "This is the reason that they can serve these beautiful coffees year in and year out."
Dune currently has locations around Santa Barbara, and serves up high-quality coffees, matcha lemonades, bagels, granola, and more.
"Their cafes offer a carefully crafted menu that includes modern pour-over coffees, espresso drinks, and milk beverages," adds Tétreault.