5 Dessert Chains Customers Are Flocking To
Cookies, cheesecake, and ice cream, oh my!
On average, Americans eat seven billion chocolate chip cookies total per year and four gallons of ice cream per person. Long story short—desserts are very popular in the U.S.  However, not everyone has the baking skills of a pastry chef or wants to make their own ice cream, prompting them to look elsewhere to satisfy their sweet tooth needs.
Dessert chains sell everything from fresh baked cookies to handmade candy, ice cream, cheesecake, and cupcakes—and they're wildly popular. In fact, three dessert chains topped the YouGov list of the most popular dining brands in America for Q3 2022.
It's a profitable business too, Future Market Insights projects the frozen dessert industry (specifically) to reach revenues of around $176 billion by 2032. That being said, there are a few stores that customers are strategically picking when they're in the mood for something delightful.
Here's a look into the 5 dessert chains customers are flocking to right now.
REALTED: The Biggest Fast-Food Chains Are Increasing Prices But Hope You Don't Notice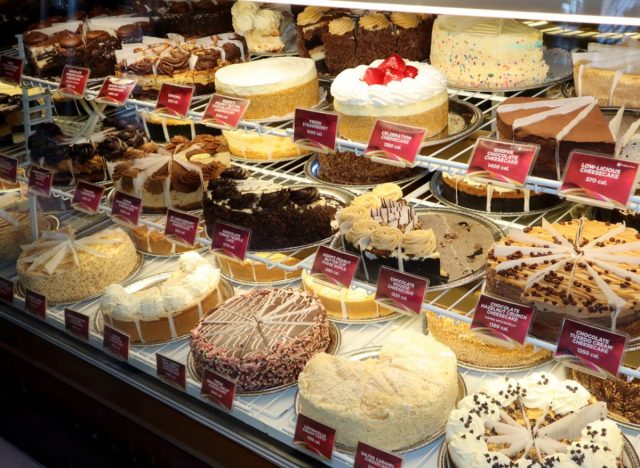 The Cheesecake Factory has one of the largest menus in the business—including well over 35 different dessert options, from cheesecake to frozen sweets—and its fanbase is continuously growing with it. The restaurant chain has seen an increase in overall sales by 14% compared to 2019 and the dine-in business is steadily becoming popular again, Businesswire reports.
Delivery and takeout have also played a big part in The Cheesecake Factory's recent success. In 2021, the casual-dining restaurant offered a "Treat or Treat" promotion where off-site diners could receive free cheesecake slices with an online pickup or delivery order of $40 or more, which FSF Magazine claims, was one of the many attempts to make the brand even more appealing with core guests and the younger generations (such as Gen Z).
The Fresh Strawberry Cheesecake has been the most popular slice for over 40 years, according to The Cheesecake Factory. And in terms of customer satisfaction, there's an endless stream of praise that follows the company name these days. Taste-test videos surface on Tik Tok regularly, where fans savor every last bite. Plus, the reviews on Yelp and Tripadvisor left by happy customers keep it simple with, "We're Big Fans of Cheesecake Factory."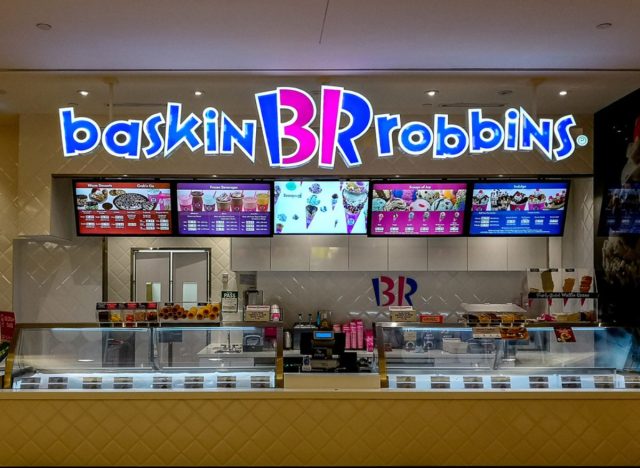 After franchising in 1948, Baskin-Robbins soon became famous as one of the best places to get "31 flavors" of delicious ice cream. In recent years, the dessert chain rebranded with a new, modernized logo and store design model in order to regain some momentum since a drop in sales during the beginning of the pandemic. Baskin-Robbins doesn't publicly disclose its exact earnings, CNN Business explains, but the company's president, Jason Maceda, says sales grew by 10.9% as of last year.6254a4d1642c605c54bf1cab17d50f1e
To expand its fan base further, the company spent nearly 60% of its marketing budget on online and social media opportunities, Raghav Ravichandar, the General Manager of Marketing for Baskin-Robbins, said in an interview. Appealing to ice cream lovers has taken quite a turn, so, the dessert spot launched festive menu items like a turkey-shaped ice cream cake and holiday-themed, build-your-own-sundae fun packs. The ice cream chain also brought back the fan-favorite deal "Celebrate 31", where customers are invited to relish in 31% off all scoops on the 31st of every month this year. All of which has been a hit for consumers in the past, giving Baskin-Robbins a bright future going forward.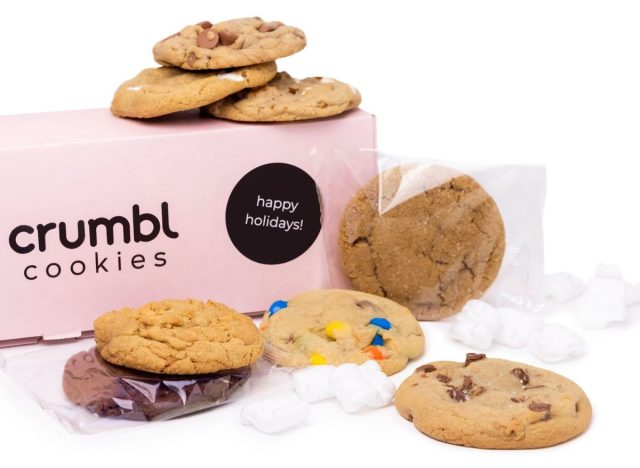 One of the most talked about dessert chains in the industry right now is Crumbl Cookies. Its rise to fame has been speedy since the first store opened in Logan, Utah in 2017. The unique business model of having rotating cookie flavors appear on the menu on a weekly basis has made Crumbl Cookies a review-worthy phenomenon across various social media platforms.
The giant-cookie chain grew from 84 stores in 2020 to an explosive 600-plus stores within 47 states nationwide today. In addition to spreading locations far and wide, Crumbl Cookies' fast service and over-the-top flavors attributed to $53.4 million in sales during 2020, which was a 93% increase from the previous year. The brand mainly reaches customers through its Tik Tok account, with over 1.8 million followers, enticing the desire for sweet comfort food and sharing baking tips with fans who want to try their hand at making the famous frosted cookies from home.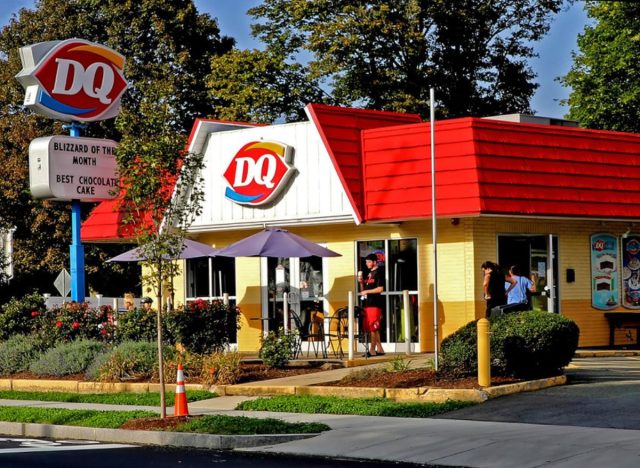 Dairy Queen may be an oldie, but it's always a goodie. In 2021, Restaurant Business ranked the dessert chain 17th in their top 500 fast food chains. Fans find themselves constantly making their way back to Dairy Queen in honor of the 24 tasty blizzard flavors and other frozen treats.
With an 18% revenue increase in 2021 to $224.7 million, CNBC reports, the dessert chain saw a record spike in business due to the majorly successful launch of the new Stackburger that customers were so fond of. However, Dairy Queen has told fans to stay optimistic as there will be more menu changes coming soon in the near future. Many Tripadvisor customers describe their experience as so: "Excellent desserts and customer service too!"
RELATED: Dairy Queen Is Suing This Company Over the Name Blizzard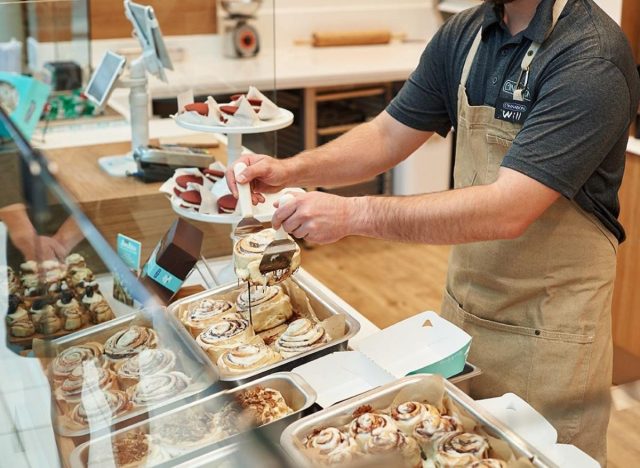 Without question, the smell of toasty brown sugar, cinnamon, and droopy icing lingers in the air when you're in the presence of a Cinnabon. Customers run towards the warm and cozy dessert chain for the top-tier cinnamon rolls and somewhat for the feeling of nostalgia.
According to YouGov America, Cinnabon ranks number 5 for The Most Popular Dining Brands in the 2022 Q3. Not only have 95% of Americans heard of the fast-food sweets brand, but 66% of people have a soft spot for it as well. And ever since Cinnabon made its first appearance in television, on the new Breaking Bad spin-off show, Better Call Saul, the love fans have for the establishment has only flourished further.
Jordan Summers-Marcouillier
Jordan Summers-Marcouillier was born and raised in San Jose, California and now works as a writer in New York, NY.
Read more about Jordan