7 Iconic Steakhouse Dishes You Have to Try At Least Once, According to Chefs
Take it from these experts—these steakhouse dishes are a must-try.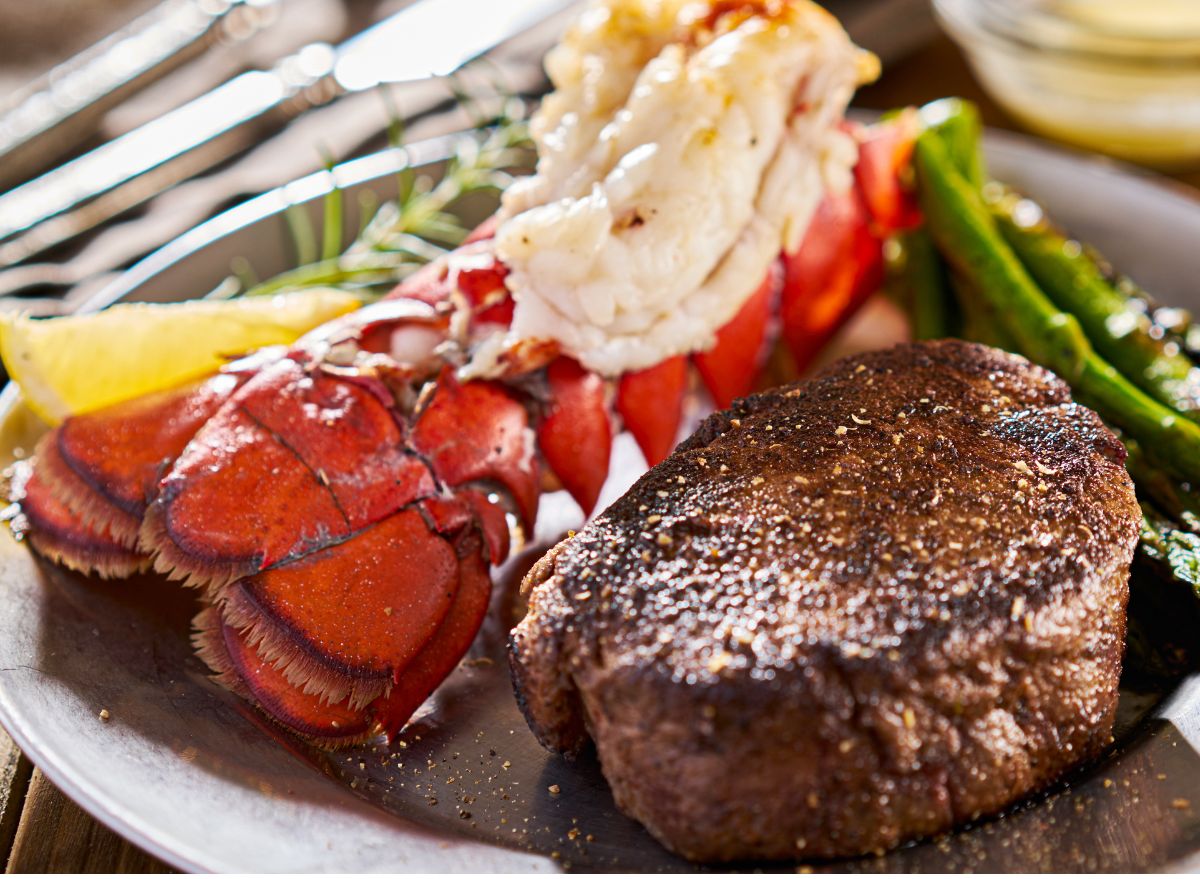 Whether you love prime rib or find yourself to be more of a Porterhouse steak kind of person, your favorite steakhouse meal always seems to hit the spot. Often made with premium cuts of meat and mind-blowing homemade sides, these dishes are all about quality, flavor, and experience, making them dishes you simply cannot miss. Even the experts and chefs can agree, nothing is quite like an amazing steakhouse.
Whether you are looking for inspiration for your next steakhouse order, or are interested in learning what the experts get while eating out, read ahead for eight iconic steakhouse dishes you have to try at least once. From unique brie-topped filets to steaks served with beef-dripping fries, you may just find your next favorite.
Prime rib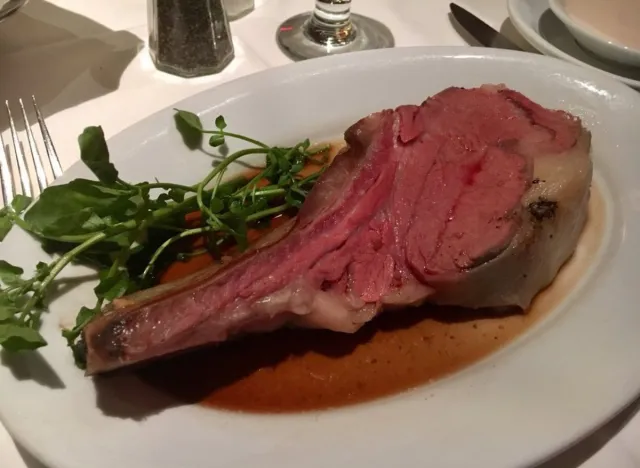 Although it's hard to pick just one, Vincent Fraissange, executive chef and owner at Pheasant NYC in New York City, lists the prime rib from Gallaghers Steakhouse as one of his favorites.
"It's hard to put a name on a favorite steakhouse dish—it's more about the old-world classic experience. It's like a quick trip back in time," says Fraissange. "I've recently been introduced to Gallaghers Steakhouse by a friend of mine who works nearby and it's become my fave. The food is really solid and if I had to pick one thing I like the most it would be the prime rib."
Fraissange mentions that the prime rib is "perfect in all ways." "The difference here to other steakhouses is they cook over charcoal. A real treat!" he adds.
4 Charles Prime Rib, the cozy West Village steakhouse supper club that is outfitted with plush leather booths and swanky chandeliers, is also a favorite among chefs.
"We're fortunate to have incredible steak options in New York," says Maayan Glass of 12 Chairs Cafe in New York. "For great ambience and some of the best steaks I've had, I love 4 Charles for the variety and presentation"
Surf & turf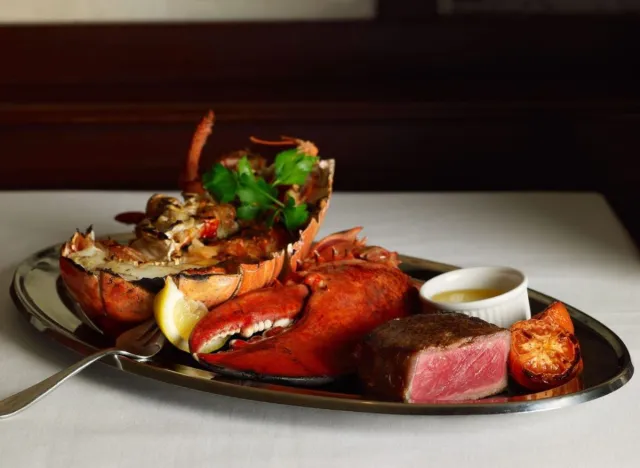 Steak served with something from the sea is a classic combo that can't be beat. And, don't opt for the common filet and lobster tail combo, try something unique.
Sylvia Finley, restaurateur and executive chef at Seafood Mania Oceanside in New York, shares that when you're in East Hampton, NY you must try out The Palm, a fine dining steakhouse chain that was founded nearly one hundred years ago.
"The pastrami-crusted prime rib and the lobster gnocchi is indeed my favorite meal on the menu," shares Finley. "It's surf & turf with perfect flair." Finley points out that this meal is "buttery and savory" and is always satisfying.
Glass also mentions St. Anselm, a popular Brooklyn spot for steak and seafood, as another favorite. "You can't go wrong," says Glass.
Porterhouse steak for two
Sharing a massive steak is the mark of date night done right. Crescent City Steaks, New Orleans' must-try steakhouse, is a favorite of Chef Isaac Toups, finalist for James Beard "Best Chef: South," Bravo TV's "Top Chef" Season 13 "Fan Favorite," and owner of Toups Meatery in New Orleans, LA.6254a4d1642c605c54bf1cab17d50f1e
"I go on date nights with my wife, Amanda, to Crescent City Steaks and love their stuffed mushrooms to start and the porterhouse steak for two," Toups says. "Also, you can't beat the creamed spinach there, it's delicious. You can get a good steak, a good glass of wine and it's old-school New Orleans done right."
Cheese-topped filet mignon
Filet with a tangy blue-cheese crust is a must-try, but be on the lookout for other types of cheesy crusts. If you're looking for a classic steakhouse that serves up old-school dishes with a twist then you have to check out Murray's in Minneapolis.
"Murray's has been in Minneapolis for a long time, and serving the same dishes for a long time. Why fix something that's not broken?" says Kam Talebi, CEO of Butchers Tale, an artisanal steakhouse in Minneapolis.
Talebi shares that the must-try from Murray's is the Brie-topped filet mignon. "They're famous for filets that can be cut with a butter knife, and the herbed Brie adds so much more to the experience. If you're in Minneapolis and looking for an experience that is both old-school, and unique, order the Brie Cheese Filet from Murray's."
Chateaubriand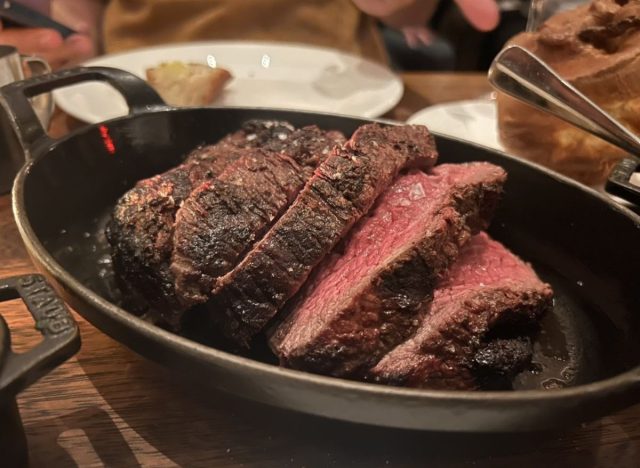 Chateaubriand is essentially a filet mignon roast. Hemant Bhagwani, chef and owner of the upcoming Goa New York in New York City mentions that the 6-ounce Chateaubriand with beef dripping fries from Hawksmoor in New York City is a steakhouse dish you cannot miss. Housed in a gorgeous dining room in New York City's Flatiron district, Hawksmoor got its start in London in 2006 and opened up its New York location in 2021.
Anything old-school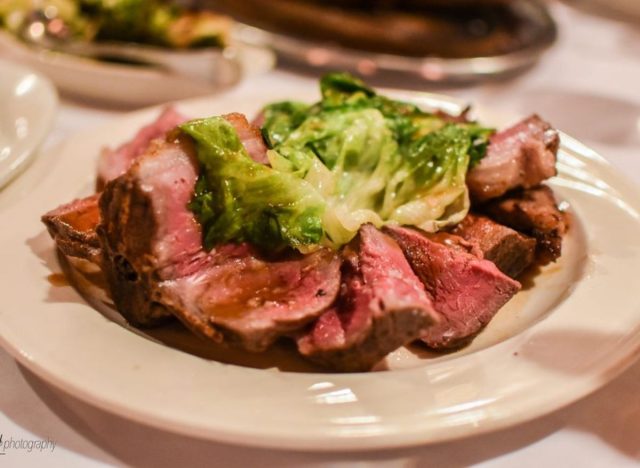 ​​Occasionally skip the new steakhouses and head to an old-school restaurant serving the throwback favorites. George Lambracos, chef at 9 Jones in New York City, likes Keens Steakhouse for its great selection of cuts, old-school ambiance, and modern plating. "I went there recently with my wife and even though I'm very picky with what I eat, I consider it one of the best steakhouses," says Lambracos.
Bananas Foster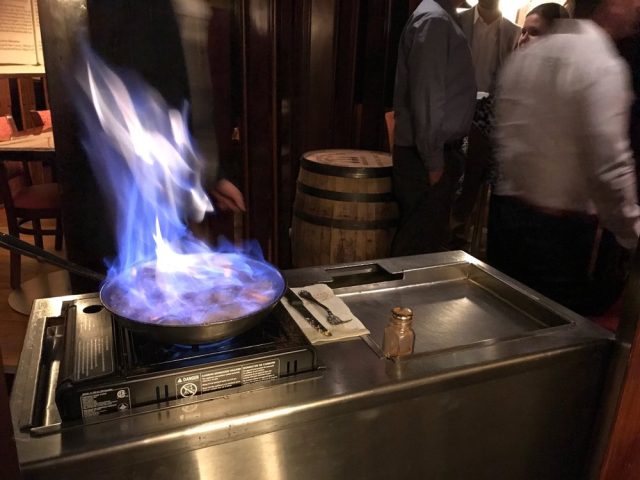 Sure, steakhouses are known for their great steaks and sides but you can't forget their tasty desserts. Bananas Foster, invented in New Orleasn at Brennan's is a must-try.
Sean Ferraro, chef-owner of Madison Avenue Pizza in Dunedin, FL, shares that a dessert you cannot miss is the Bananas Foster from Bern's Steakhouse in Tampa, FL, which has been dishing out the classics since the 1950s.
"My favorite steakhouse dish is actually a dessert—the bananas foster at Bern's Steakhouse in Tampa is incredible," says Ferraro. "They make the entire dish on a flambe pan on a cart next to the table, starting with brown sugar and butter, cooked down and caramelized, then bananas, liqueur, and then everything is put on vanilla ice cream," Ferraro continues. "There's nothing like the flavor and the presentation. We order it every time we visit them."