The Worst Restaurant Side Dishes
Don't even think about adding these to your main course.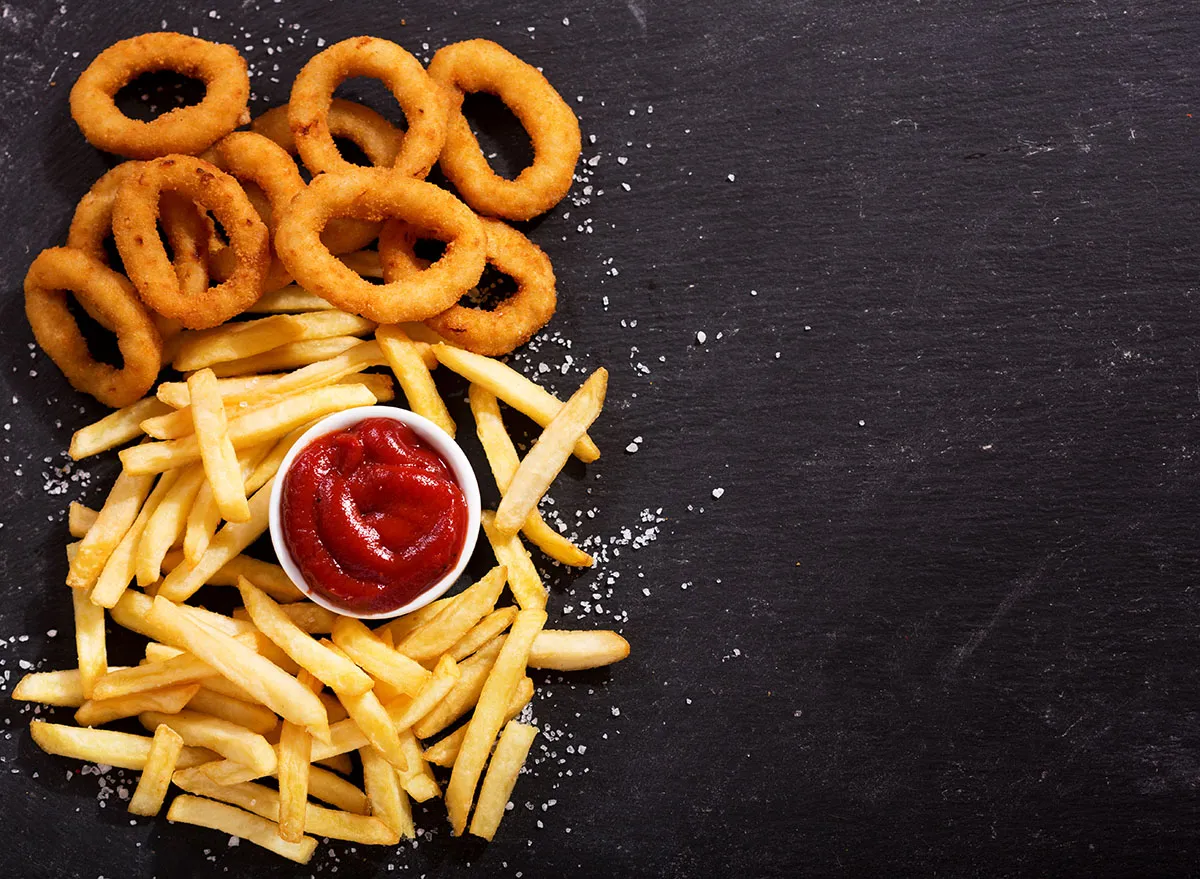 We're just going to go ahead and say it: when you're patiently waiting for your meal to come when you're at a restaurant, oftentimes, it's the side dishes you're more excited to eat. Think about it—who doesn't love a solid order of French fries? It often steals the thunder from that burger it is accompanying! Side dishes can make that main entrée a truly delicious meal, but there are some side dishes served up in your favorite restaurants that are just, well, terrible for you.
Have no fear, as we're here to help you out the best way we can. And that's by exposing which side dishes from popular restaurants you're better off not adding to your meal, as they'll just tack on more calories, fat, and sodium to what is (most likely) already an indulgent meal. These are the worst, unhealthiest restaurant side dishes you're going to want to avoid ordering. If you decide to cook up something yourself, be sure to check out any of the 21 Best Healthy Cooking Hacks of All Time.
Cheesecake Factory Macaroni & Cheese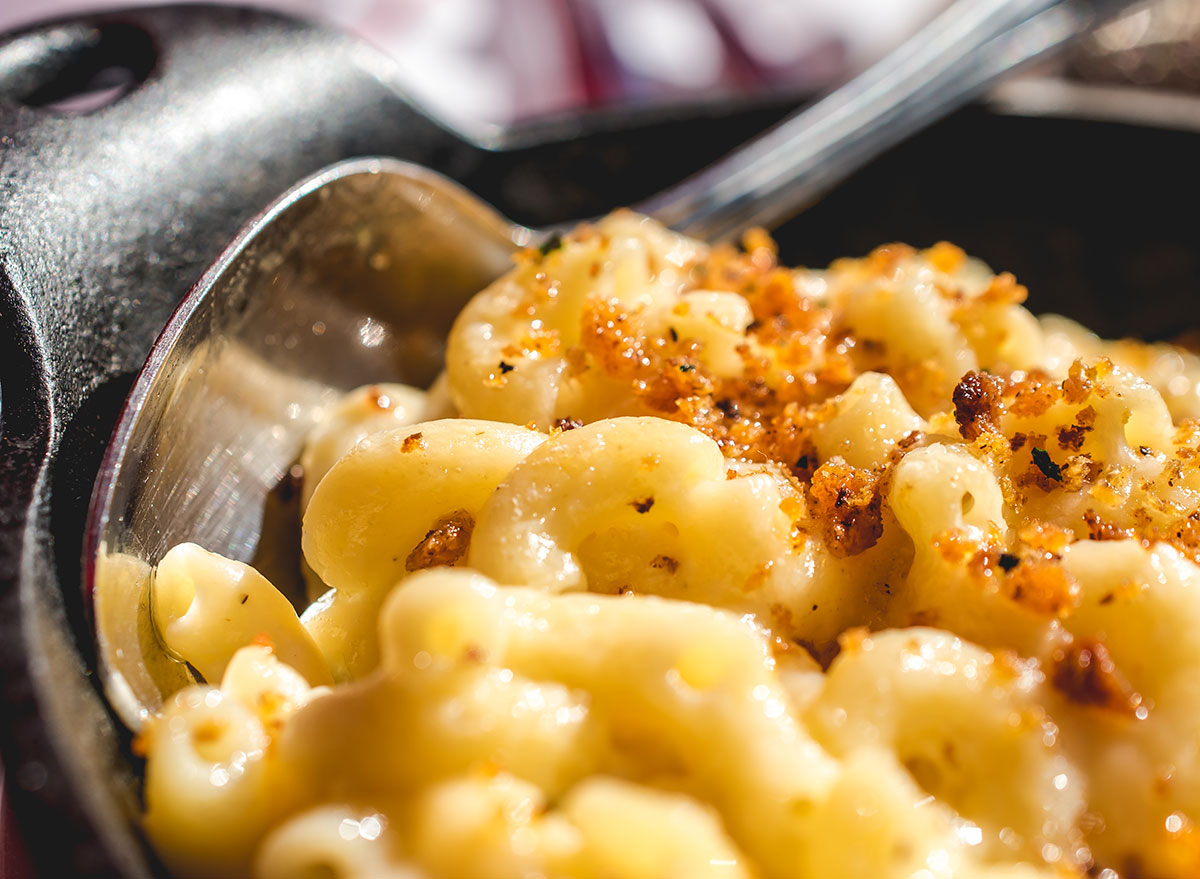 1,550 calories, 109 g fat (67 g saturated fat, 4.5 g trans fat), 2,690 mg sodium, 92 g carbs (5 g fiber, 9 g sugar), 50 g protein
There really is nothing quite like a warm bowl of macaroni and cheese. It's one of the most comforting foods on the planet, but it should come as no secret that every dish at The Cheesecake Factory is over-the-top. And a seemingly innocent side order of mac and cheese here packs a ridiculous amount of calories, fat (including saturated and trans fats), and sodium. Frankly, this dish is just downright scary. Instead, go for the grilled asparagus, especially if you're thinking of indulging in a slice of cheesecake!
Applebee's Crunchy Onion Rings
510 calories, 28 g fat (5 g saturated fat, 0 g trans fat), 1,070 mg sodium, 60 g carbs (3 g fiber, 6 g sugar), 7 g protein
Oh, onion rings. Another side dish choice that might bring on a wave of nostalgia, but it's doing nothing for your waistline! At Applebee's, the "crunch" factor is really emphasized, which yes, means they're grease-filled and are just a way to add on calories, fat, and more than 1,000 milligrams of sodium to your meal. It's no wonder they're on our list of 17 Menu Items That Are Total Health Red Flags!6254a4d1642c605c54bf1cab17d50f1e
TGI Friday's Whiskey-Glazed Ribs Half-Rack
620 calories, 25 g fat (9 g saturated fat, 0 g trans fat), 1,460 mg sodium, 81 g carbs (1 g fiber, 76 g sugar), 19 g protein
At TGI Friday's, there is the option to add a half-rack of ribs as a side dish. If you think a half-rack can't be nearly as bad as a full-rack, think again! A half-rack of the whiskey-glazed ribs has more sugar in one order than you would get if you ate seven Original Glazed Krispy Kreme Donuts. Plus, it contains more than half of a day's worth of sodium, which is far too much for one side dish.
If you're looking for some help whipping up tasty meals that are healthy for you right at home, be sure to sign up for our newsletter to get daily recipes and food news in your inbox!
Chili's Awesome Blossom Petals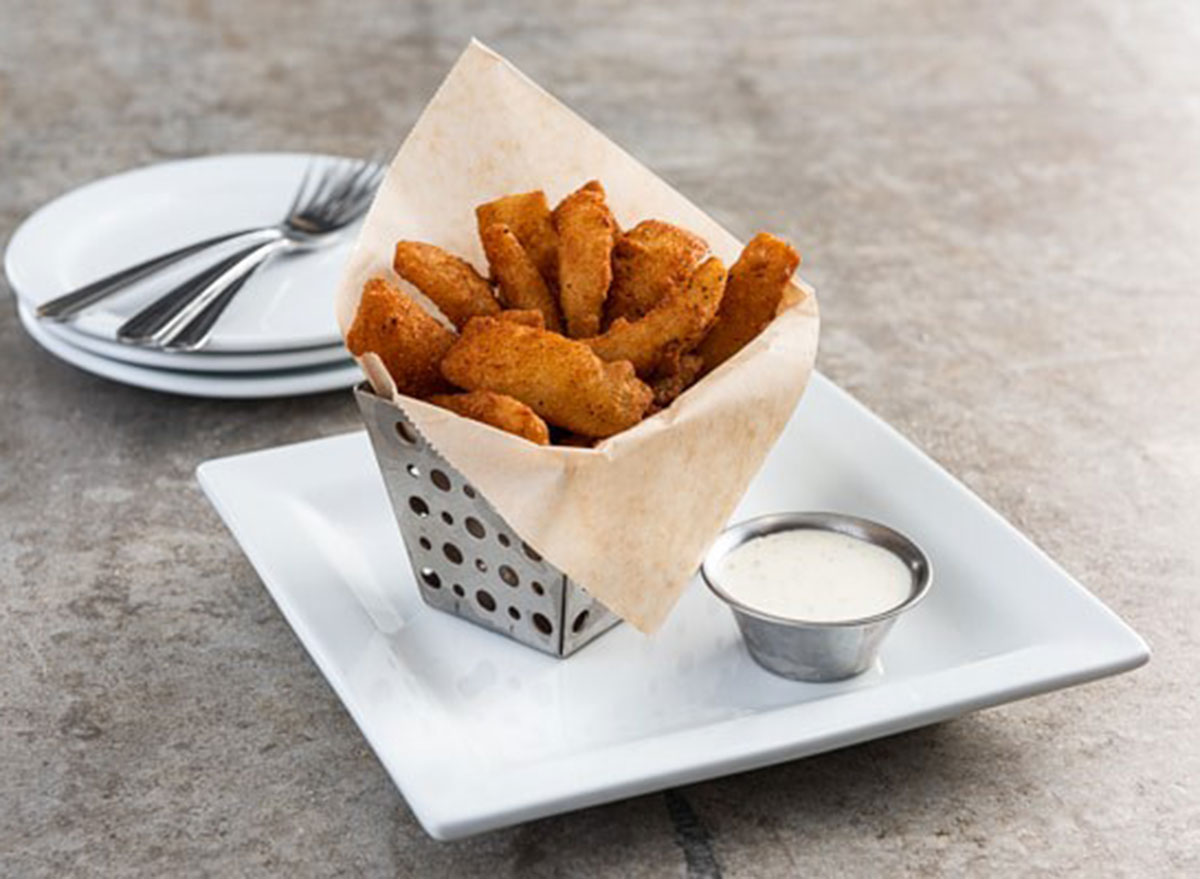 760 calories, 50 g fat (8 g saturated fat, 0 g trans fat), 1,650 mg sodium, 70 g carbs (5 g fiber, 10 g sugar), 9 g protein
What exactly is an Awesome Blossom Petal you might be wondering? Well, it's essentially Chili's version of an onion ring, as it's pieces of onion that are breaded and fried. Sorry, but you'll want to pass on these.
Romano's Macaroni Grill Parmesan Truffle Fries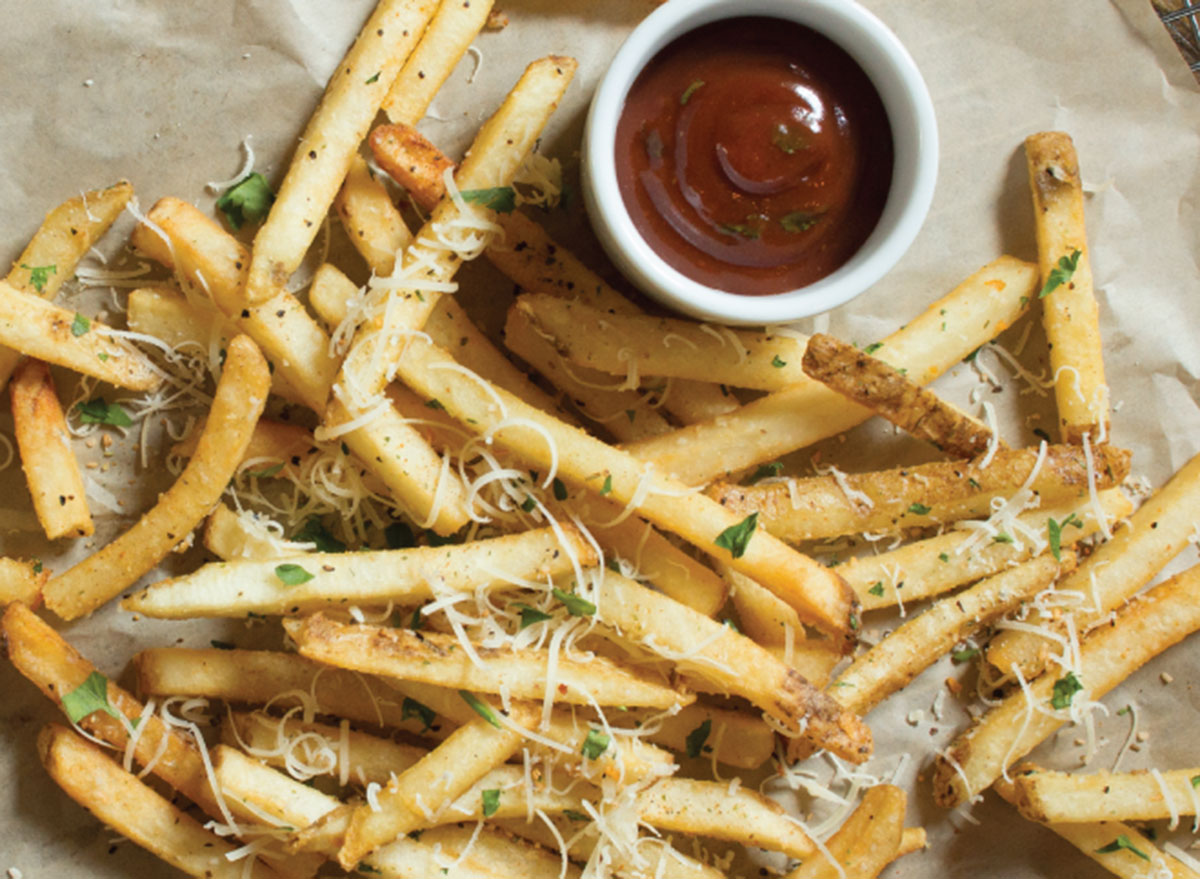 610 calories, 32 g fat (8 g saturated fat, 0 g trans fat), 1,680 mg sodium, 74 g carbs (6 g fiber, 12 g sugar), 10 g protein
Parmesan truffle fries sound simply fancy, but don't that fool you. French fries are still fries, no matter what they're topped with. At Romano's Macaroni Grill, it makes for the side dish that contains the most amount of calories and sodium out of any on the menu. Big yikes.
O'Charley's Classic Bleu Cheese Wedge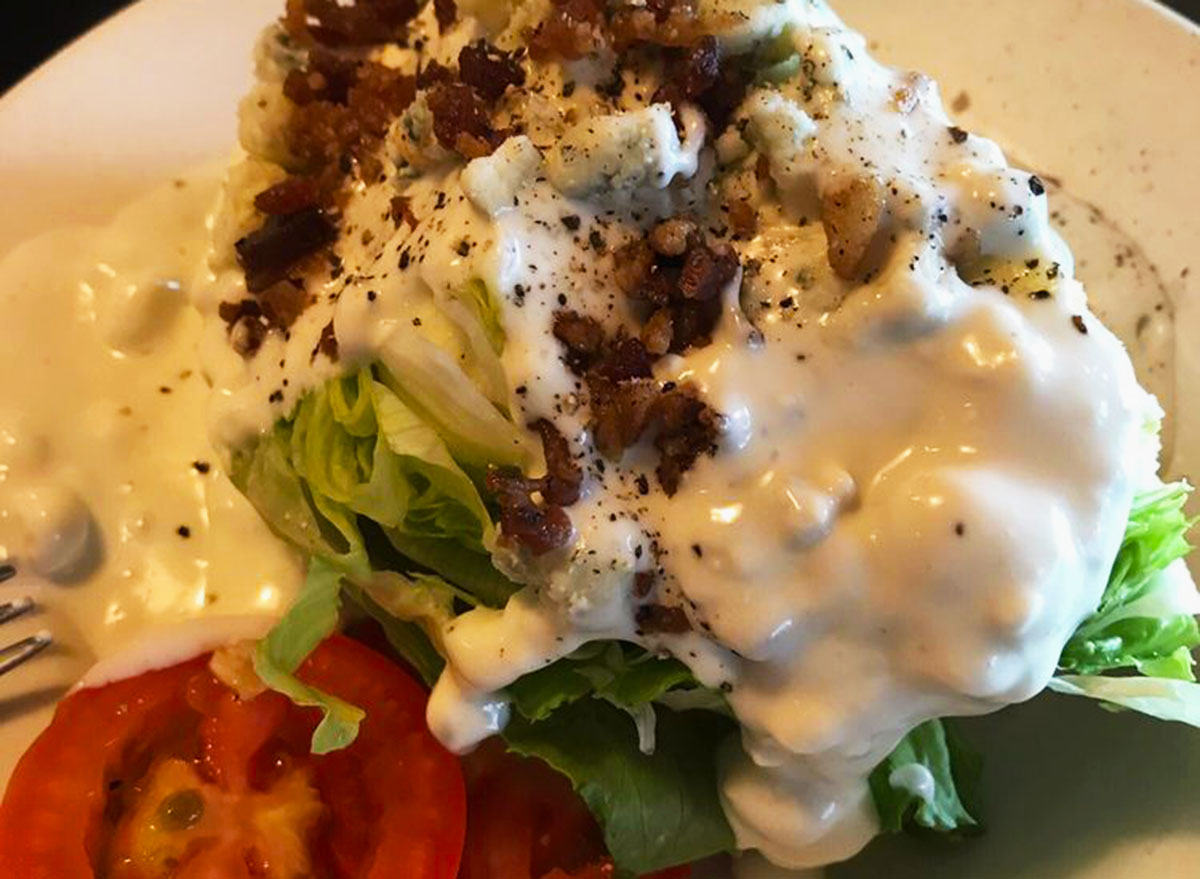 580 calories, 57 g fat (13 g saturated fat, 0 g trans fat), 1,370 mg sodium, 10 g carbs (2 g fiber, 7 g sugar), 13 g protein
At O'Charley's, one signature side option is the Classic Bleu Cheese Wedge. It's a salad, can't be all bad. Well, it's drowning in bleu cheese and has enough calories to be its own meal! You're much better off ordering a plain side salad instead of this wedge.
BJ's Restaurant & Brewhouse White Cheddar Mashed Potatoes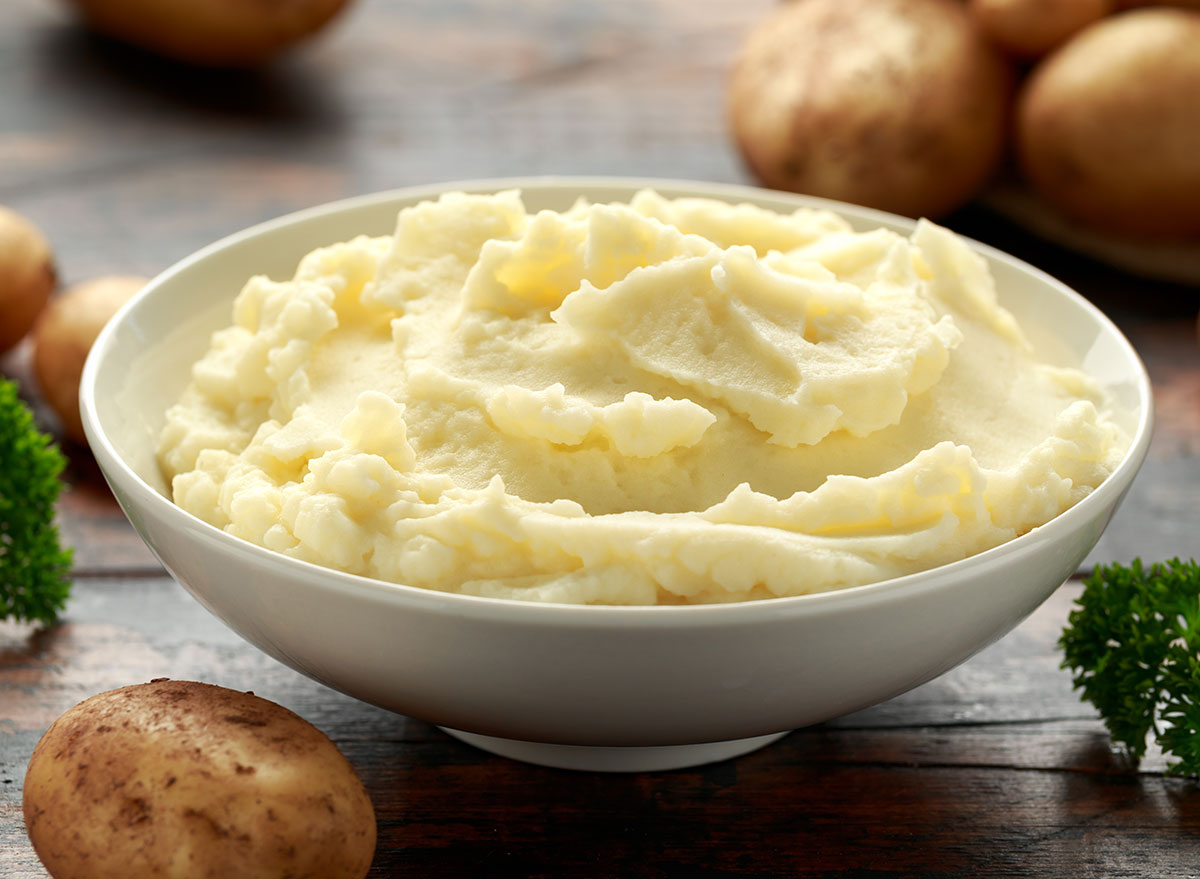 330 calories, 18 g fat (11 g saturated fat, 0 g trans fat), 1,097 mg sodium, 33 g carbs (4 g fiber, 4 g sugar), 7 g protein
Mashed potatoes always seem like a safe choice—it's better than eating fried spuds. At BJ's Restaurant & Brewhouse though, the white cheddar taters are—surprise, surprise—packed with sodium.
Bob Evans Bread & Celery Dressing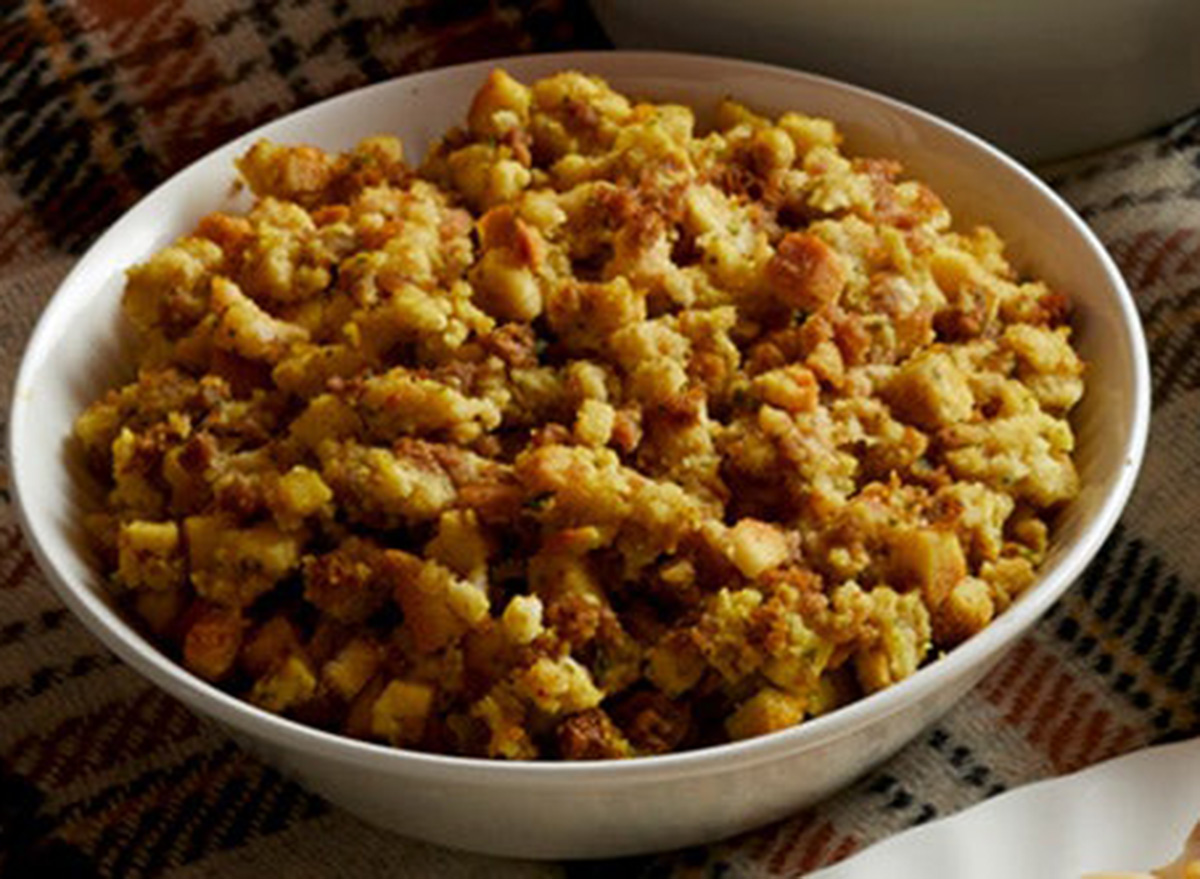 340 calories, 15 g fat (5 g saturated fat, 0 g trans fat), 1,000 mg sodium, 42 g carbs (2 g fiber, 6 g sugar), 7 g protein
Bread and celery dressing from Bob Evans is just another way of saying it's stuffing, which makes sense when you think about the type of food that is served up at Bob Evans. Yummy comfort foods are their specialty, but the fact that this little bowl has 1,000 milligrams of sodium makes it a no-go. You could eat 90 Lay's potato chips and that would have less sodium than this restaurant side dish!
Outback Steakhouse Loaded Homestyle Mashed Potatoes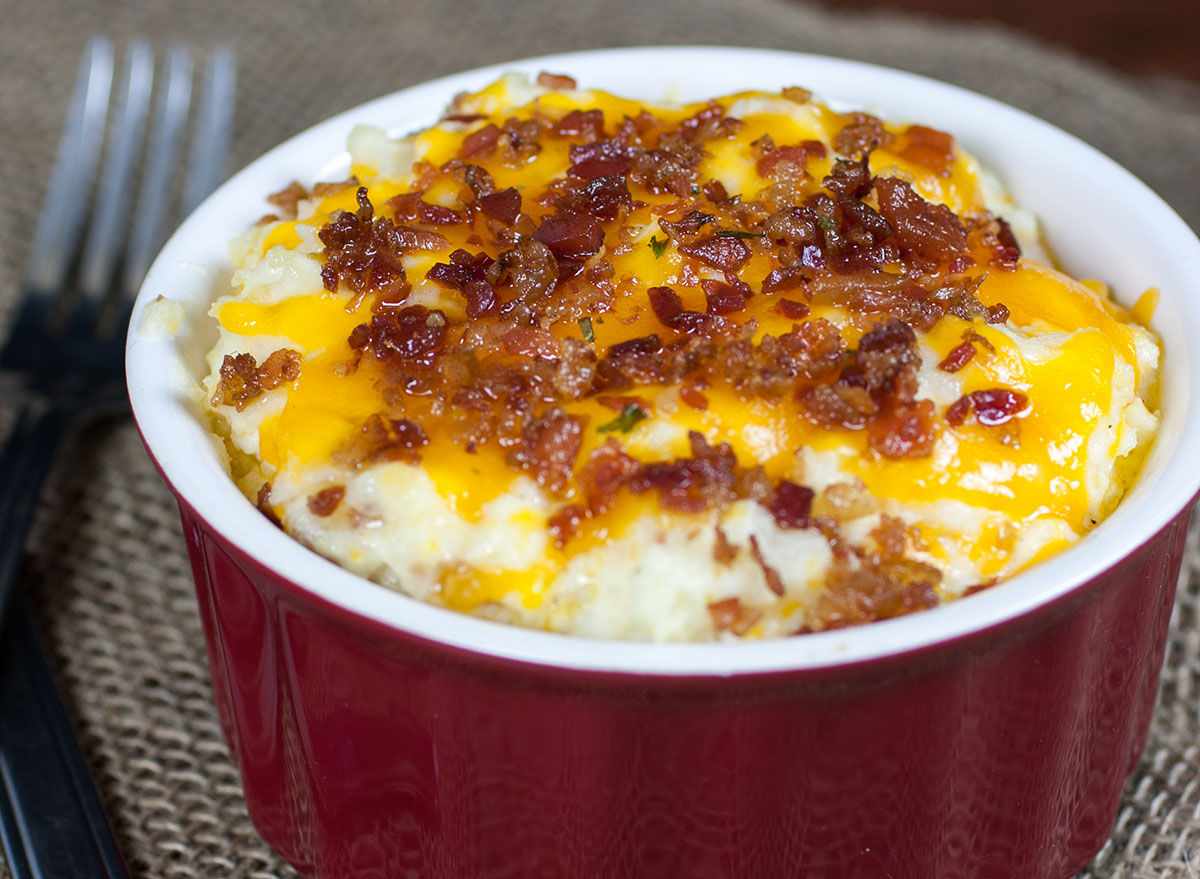 300 calories, 20 g fat (11 g saturated fat, 0 g trans fat), 1,420 mg sodium, 21 g carbs (4 g fiber, 2 g sugar), 9 g protein
"Loaded" is one of those menu words you always want to look for as that means the dish is filled with toppings that aren't necessarily the healthiest such as bacon, cheese, and sour cream. At Outback Steakhouse, you're much better off choosing the side of a sweet potato than the loaded homestyle mashed potatoes. It'll save you 1,040 milligrams of sodium.
Uno Pizzeria & Grill Garlic Rosemary Fries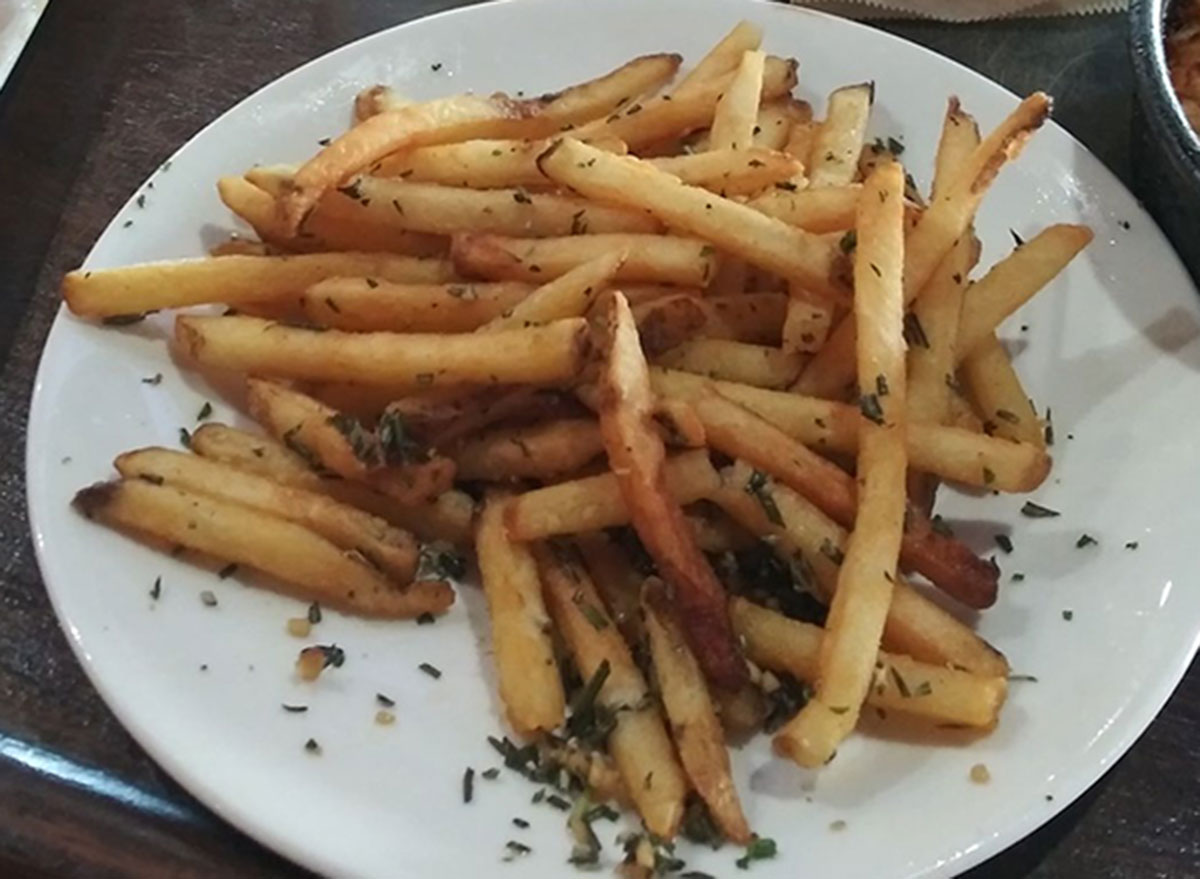 680 calories, 51 g fat (8 g saturated fat, 0 g trans fat), 1,600 mg sodium, 54 g carbs (5 g fiber, 0 g sugar), 5 g protein
These fries from Uno Pizzeria & Grill seem safe, but again, that pesky sodium is just far too high to justify eating all of these along with the burger or chicken sandwich they are accompanying. A side order of these fries is also 680 calories—that's more than some of the entrées like the herb Rubbed Chicken and the Chicken Caesar Salad. Now that's just not OK!
Longhorn Steakhouse Mac & Cheese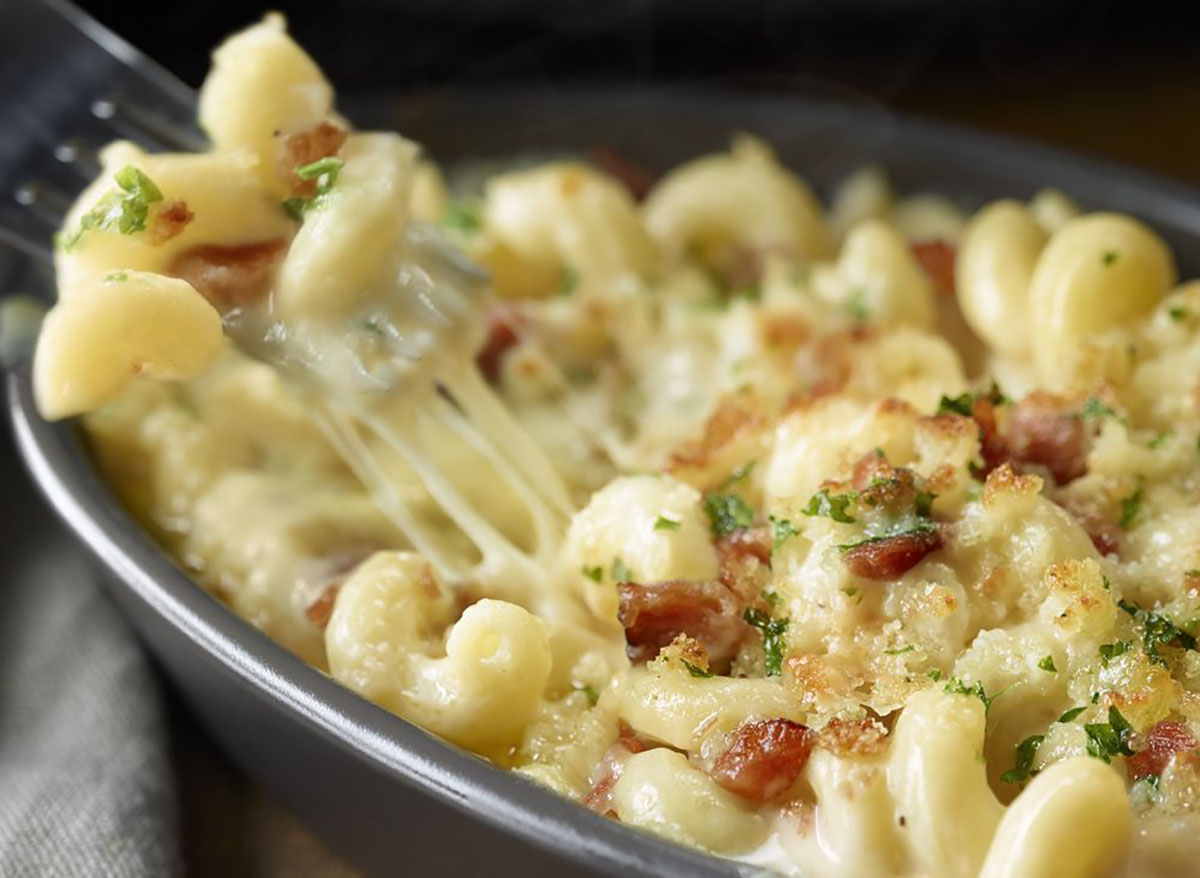 610 calories, 37 g fat (22 g saturated fat, 1 g trans fat), 1,210 mg sodium, 43 g carbs (5 g fiber, 3 g sugar), 26 g protein
Mac and cheese strikes again, this time at Longhorn Steakhouse. This side dish comes in at more than 600 calories and has as much sodium as 12 pretzel rods.
Carrabba's Italian Grill Fettuccine Alfredo
690 calories, 47 g fat (31 g saturated fat, 0.5 g trans fat), 860 mg sodium, 43 g carbs (3 g fiber, 3 g sugar), 20 g protein
At Carrabba's, you can add a side order of fettuccine Alfredo to your meal, if you're looking to load up on fat and sodium. Instead, go for the side order of steamed asparagus which clocks in at only 25 calories and has zero grams of sodium.
Jennifer Maldonado
Jennifer Maldonado is a senior editor at Eat This, Not That!, specializing in food and health content.
Read more about Jennifer