Cherry Berry Smash Mocktail Recipe
A drink so smashing, you'll want to drink it all year round.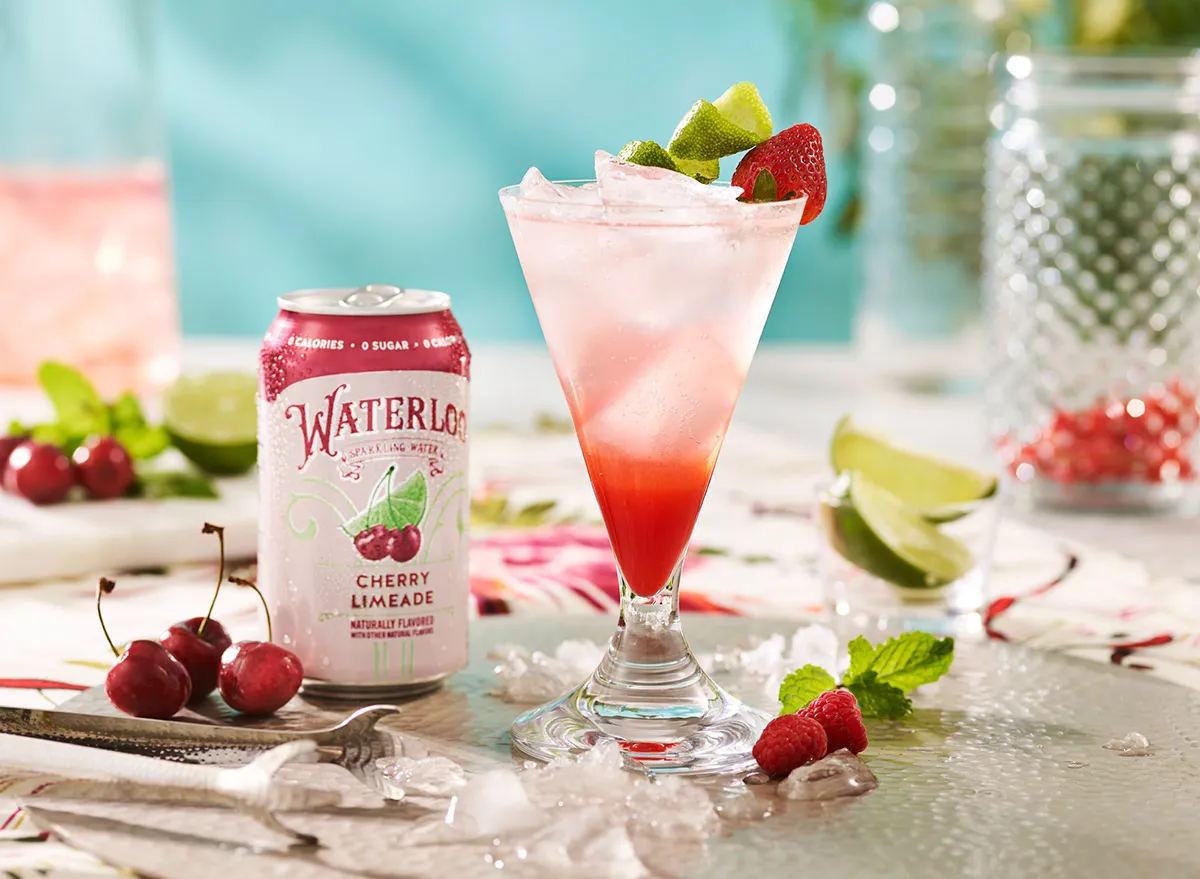 Want the feeling of a cool, refreshing drink that makes you feel as if you're sipping somewhere on a far-away island? Typically, when you picture this moment, there's some sort of alcoholic drink in hand. What if we told you that you can still enjoy that feeling of being on island-time without the booze?
Mocktails can be just as refreshing as cocktails, and with the right ingredients, you won't miss the alcohol. Waterloo Sparkling Water has come up with the perfect combination of refreshing with a light and fruitful taste, leaving you satisfied and looking for a second round. The colors from the berries give a bright, cheerful vibe, while the bubbles of the sparkling water give you a champagne feel. Read on to learn more about how to perfect this delightful concoction.
If you're looking to make this a low-sugar cocktail, just shake in 1 1/2 ounces of your favorite vodka.
You'll Need
Waterloo Cherry Limeade Sparkling Water
6 fresh raspberries
2 fresh strawberries
1/2 oz. fresh lemon juice
Splash of simple syrup (optional)
Lime wheel for garnish
How to Make It
In a cocktail shaker muddle raspberries, strawberries, and lemon juice; strain into a glass.

Add ice to the glass and top with Waterloo Cherry Limeade. Give a good stir and finish with a lime wheel for garnish.
For more fun with mocktails, try the Woodford Spire Mocktail Recipe.
Eat This, Not That!
Inspired by The New York Times best-selling book series, Eat This, Not That! is a brand that's comprised of an award-winning team of journalists and board-certified experts, doctors, nutritionists, chefs, personal trainers, and dietitians who work together to bring you accurate, timely, informative, and actionable content on food, nutrition, dieting, weight loss, health, wellness, and more.
Read more about Eat This