7 Classic Childhood Snacks You Can Make Yourself
Take your taste buds on a trip down memory lane by making some of your favorite lunchbox snacks at home!
Have you ever found yourself with a strong craving for those Cosmic Brownies that Mom used to put in your lunchbox? Or how about the bag of Chex Mix you used to snag at the school vending machine? Here at Eat This, Not That! we love to reminisce about all of our favorite childhood snacks, yet we know that those treats aren't exactly the healthiest foods for us to have. Which is why we decided to whip our own healthy copycat versions of our favorite childhood snacks!
So if you want to satisfy that Cosmic Brownie craving, or need a savory snack while you're stuck at home, here's how to easily whip up your favorite treats.
Copycat Kudos Bars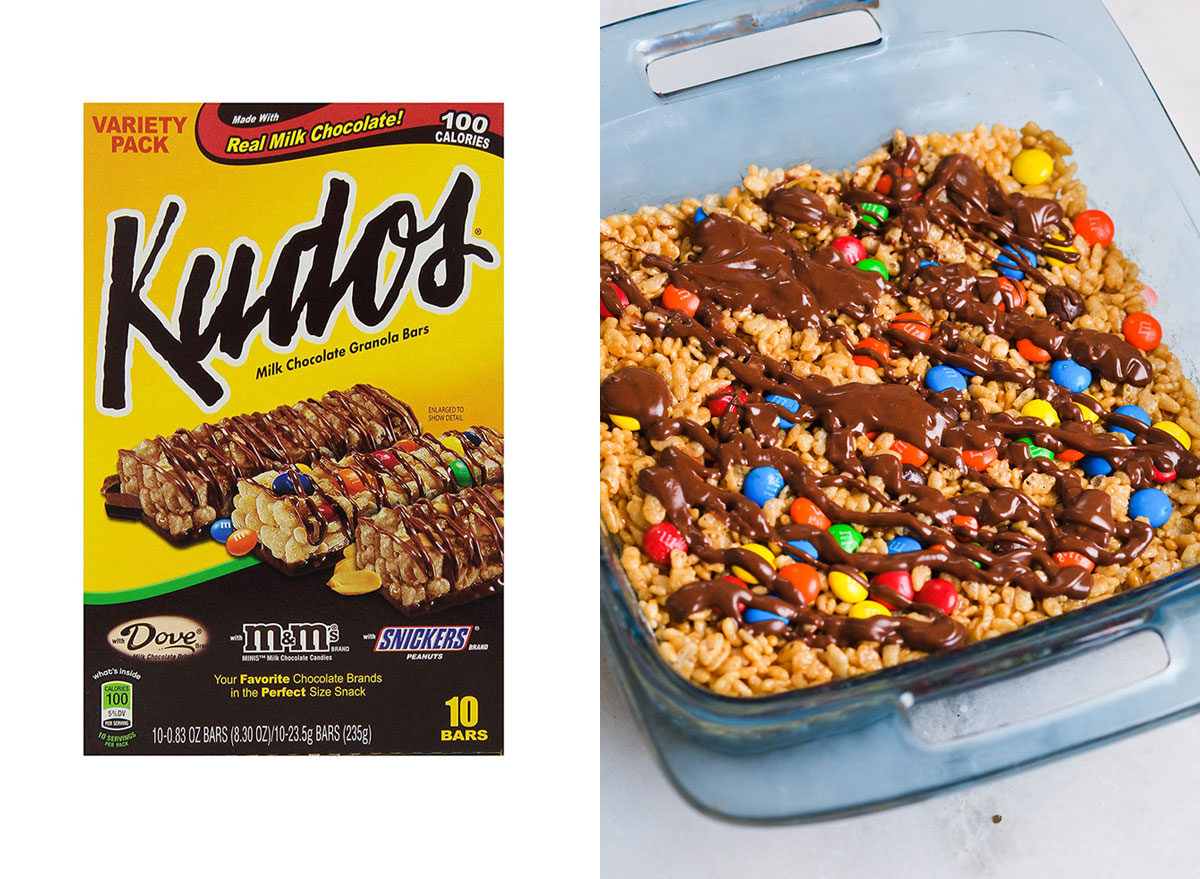 Snagging a Kudos bar is downright impossible these days, yet making your own version of this crispy treat is surprisingly easy to do. To make, add 1/3 cup of peanut butter and 1/3 cup of maple syrup to a large bowl. Microwave for 30 seconds on high, then whisk. Repeat this four times—microwaving the mixture for two minutes while whisking every 30 seconds in between. Once finished, pour in 2 cups of Rice Krispy cereal and mix with a spatula. Add the mixture to a greased 8×8" dish, then press down the mixture with some M&M's sprinkled on top. For the chocolate drizzle, add 1/4 cup of chocolate chips and 1 tablespoon of peanut butter in a bowl. Microwave for one minute, whisking at the 30-second mark. Drizzle on top and let the mixture cool completely before cutting into bars.
Copycat YoCrunch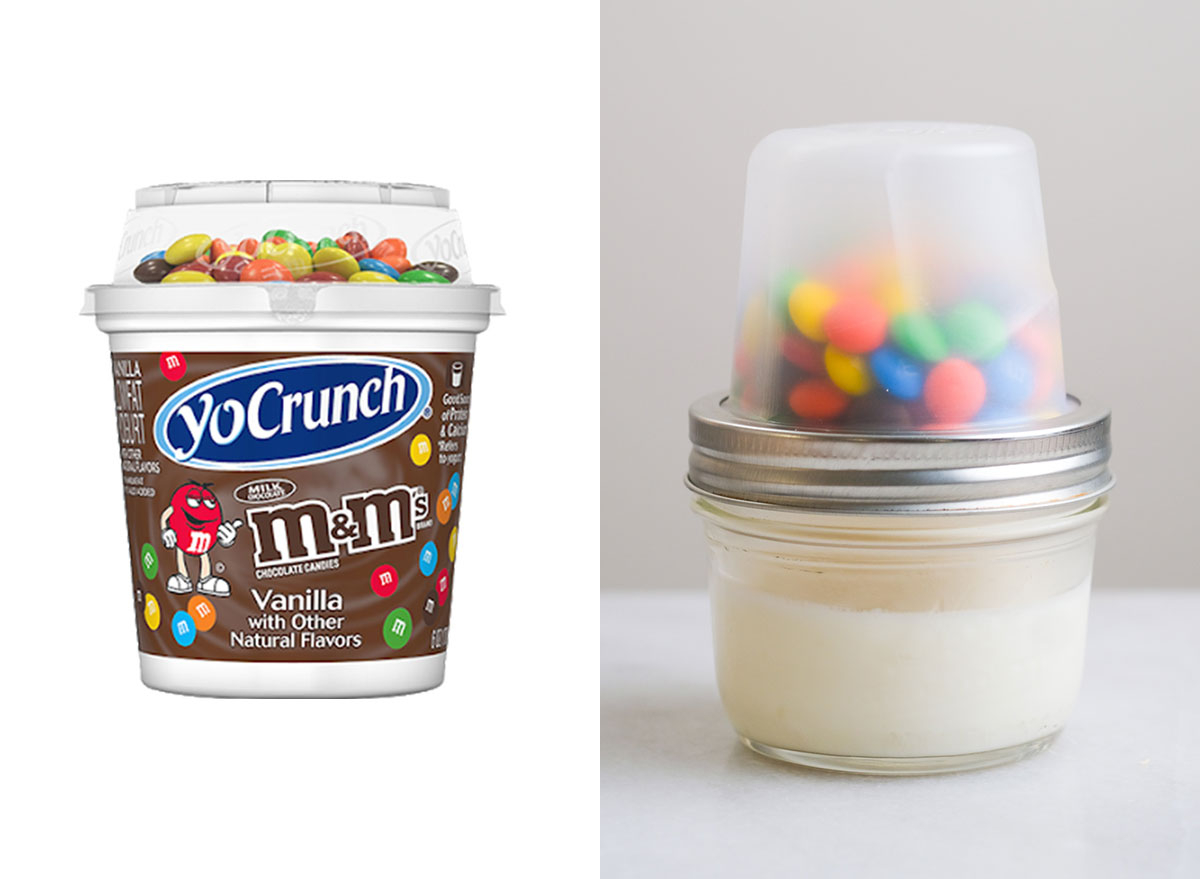 This sugary yogurt sure was a treat to have at school, but that doesn't mean you have to indulge in so much sugar in order to enjoy it! Instead, add 1/2 cup of plain low-fat yogurt to a jar with 1 teaspoon of honey and a splash of vanilla flavoring. Whisk together. You can either immediately add some of your favorite candy toppings (or granola!), or separate it with a small cup so you can get the full YoCrunch experience later.
Copycat Chex Mix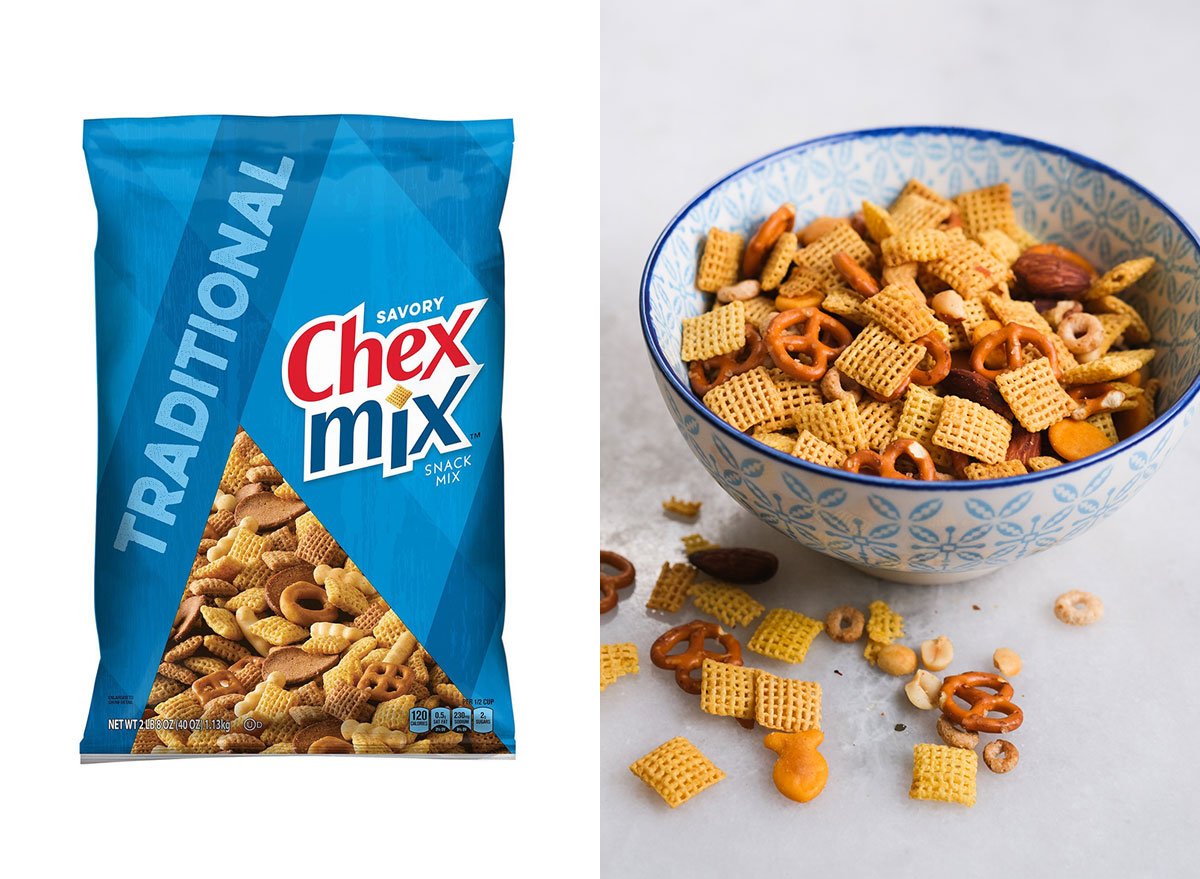 Why buy a bag of Chex Mix when you can make a huge batch of it at home? To make, preheat your oven to 250 degrees. Melt 1 stick of butter in the microwave and whisk together with 1 teaspoon of seasoned salt and 1 tablespoon of Worchestershire sauce. Spray down a large aluminum tin and add in 9 cups of corn Chex, 2 cups of pretzels, 1 cup of Cheerios, 1 can of deluxe mixed nuts, and 1/2 bag of Goldfish. Coat the ingredients with the melted butter mixture and mix. Bake in the oven for 1 hour, stirring every 15 minutes.
Copycat Lunchables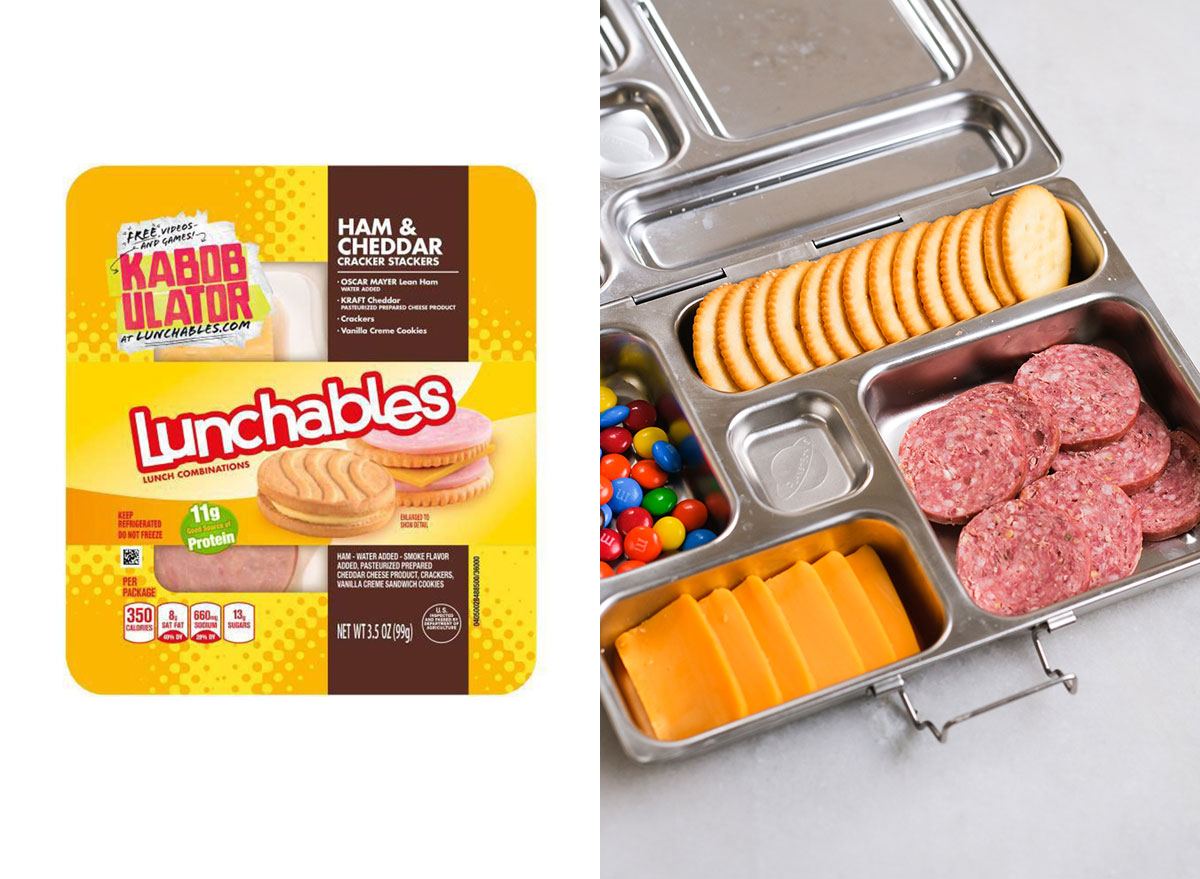 Who couldn't get enough of those Lunchables? Well, why not make your own version of one of your favorite childhood snacks with cleaner ingredients? Grab a block of cheddar cheese, slice up your favorite cured meat (like hard salami or summer sausage), and pack them up with a few crackers! And of course, you can't forget the best part—a small chocolate treat.
Copycat Cosmic Brownies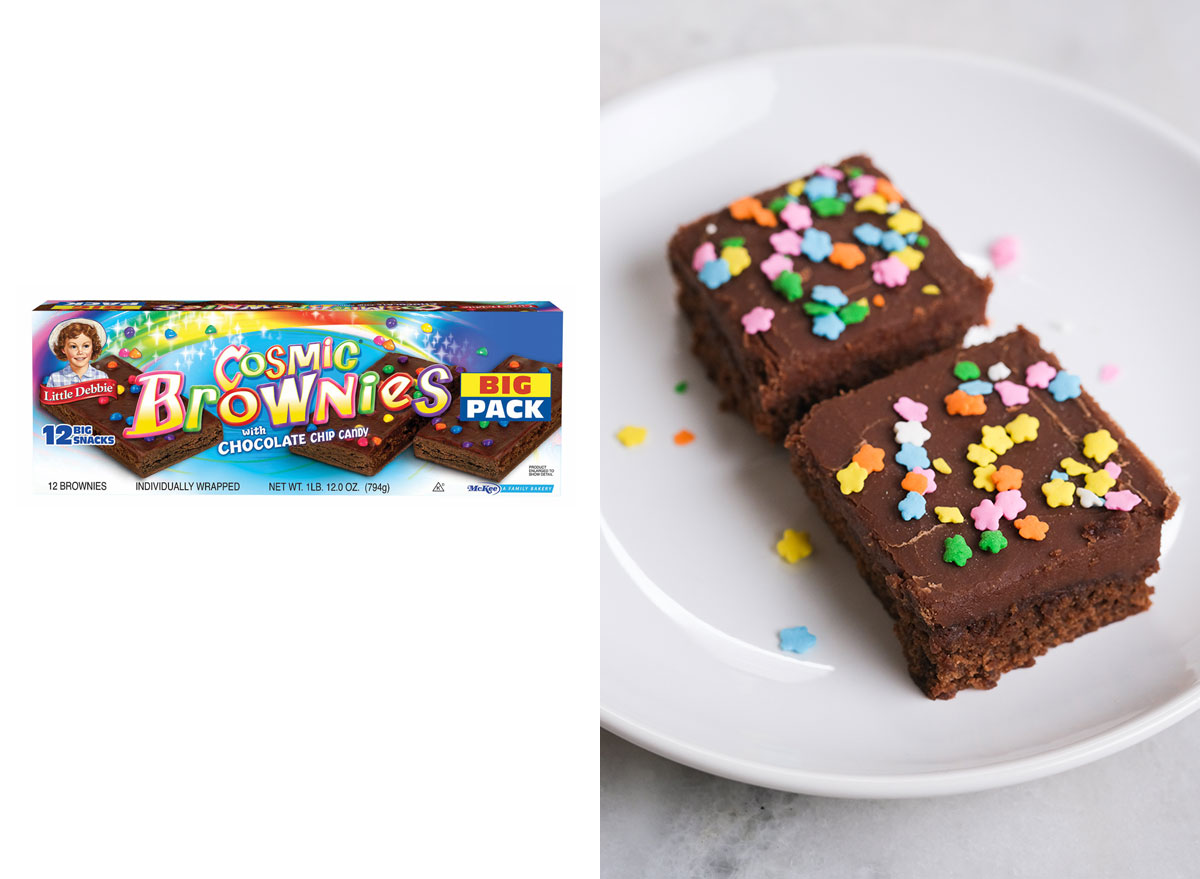 While it may seem like you can never enjoy those Cosmic Brownies again, it's just not true! You can easily make your own version by baking up a batch of brownies, frost with chocolate frosting (Simple Mills makes one with clean ingredients), and add sprinkles so you can get that full Cosmic Brownie effect!6254a4d1642c605c54bf1cab17d50f1e
Copycat Smartfood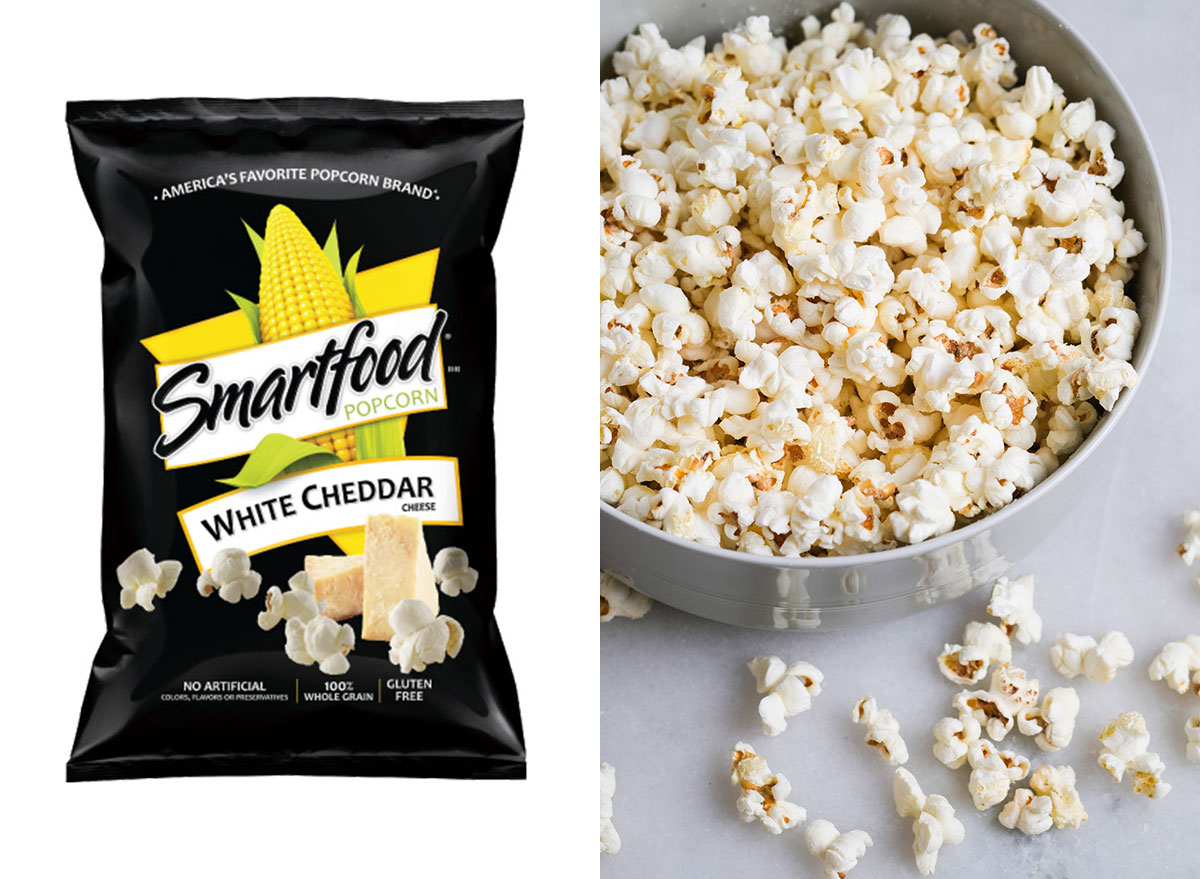 While Smartfood may sound like a smart healthy snack, you can easily make your own version of this beloved childhood snack with less fat and salt than the original. To make, heat up one tablespoon of olive oil in a large stockpot over medium heat. Once hot, add in 1/2 cup of popcorn kernels and cover with the lid. Using kitchen gloves, shake the stockpot every 15 seconds as the popcorn kernels start to pop—this avoids the popcorn form burning on the bottom. When the popcorn stops popping, it's ready. Pour into a large bowl and drizzle in 1 tablespoon of melted butter and 1/2 cup of grated parmesan cheese. If you can find powdered white cheddar cheese, even better!
Copycat Snack Pack Chocolate Pudding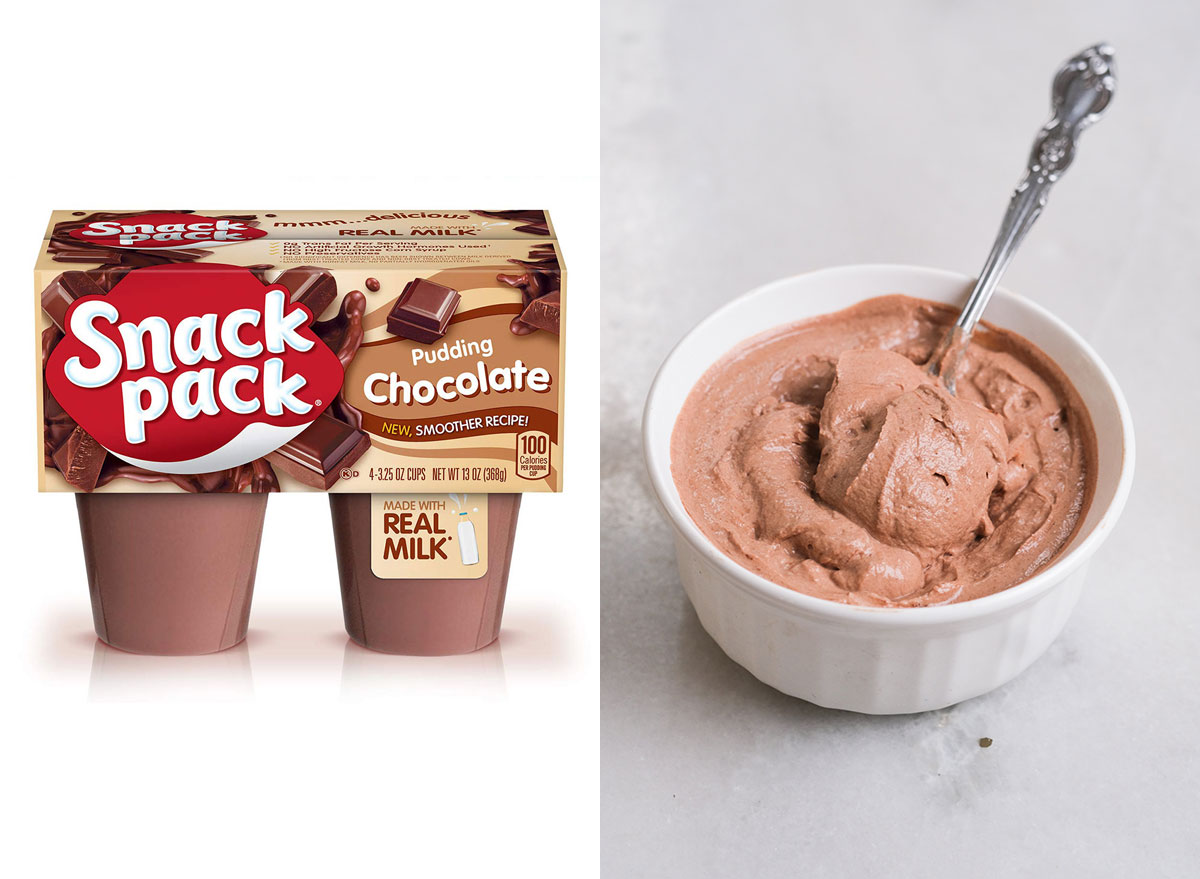 Need a little chocolate treat to get you through that afternoon slump? You can make your own version of Snack Pack's chocolate pudding with just three simple ingredients! Whisk together 1/2 cup of low-fat Greek yogurt with 2 tablespoons of dark cocoa powder and 1 tablespoon of pure maple syrup. Once smooth, place in the fridge for at least 15 minutes. Enjoy on its own, or with some granola sprinkled on top! Or why not whipped cream, just like how Mom used to serve it to you?