I Tasted the Chocolate Chip Cookies From 4 Cookie Chains & This One Gave Me Goosebumps
Ooey, gooey goodness I wish I could eat every single day.
Nothing trumps a simple well-made chocolate chip cookie. Dipped in a glass of milk or with a scoop of ice cream, I can't help but savor every last bite. And I'm not alone. More than 35% percent of Americans choose chocolate chip cookies as their favorite variety, according to a OnePoll survey conducted on behalf of Crumbl Cookies.
As more and more cookie chains pop up across the country, it can be hard to choose one to order that iconic cookie flavor from when you don't want to bake one yourself.  I set out to taste the traditional chocolate chip cookie from four of the most popular cookie chains to find out which one bakes the best-tasting chocolate chip cookie of all.
For this ultimate chocolate chip cookie taste test, I enlisted two co-tasters to help me judge the basic chocolate chip cookie from four different widely known cookie chains.
What we tested:
Crumbl Cookies
Insomnia Cookies
Levain Bakery
Mrs. Fields
We ranked the cookie from worst to best on overall look and taste. Out of all the competing cookie brands, there was one that absolutely gave me goosebumps and almost made me want to buy out the whole store!  Read on to find out which chain's chocolate chip cookie we would buy again and again.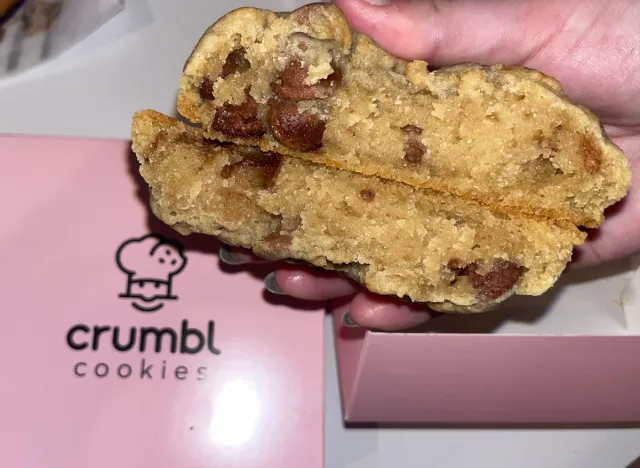 Crumbl Cookies began in 2017, with only one store in the small town of Logan, Utah. Co-founders Jason McGowan (CEO) & Sawyer Hemsley (COO) broke into the cookie game by starting with what they call, "the world's best chocolate chip cookie." Today the chain has 729 locations nationwide in 47 states. Each week at Crumbl there is a rotating menu of new flavors and unique takes on the simple dessert.
The look: This is one oversized chocolate chip cookie. It was pretty much as big as my whole hand (not just the palm) and it was very thick. Looking at the chocolate chips, I found they were much lighter than all the other cookies I tried since they were pure milk chocolate. All the little crinkles throughout the top of the cookie looked delicious and I couldn't wait to dive in.
The taste: From the first bit, I could tell this cookie was slightly underbaked and too sweet for me. While the chocolate chips are large and melted in my mouth (yum), the sugary milk chocolate is too much with the already sugary cookie dough. Plus, the milk chocolate wasn't rich and smooth, it had a chalky aftertaste that I wasn't a fan of.
When it came to eating small pieces of the cookie dough on its own (no chocolate chips in sight), it tasted good but something was off. A co-taster of mine pointed out that the cookie texture and overall dough tasted like pancake batter, and I couldn't have described this cookie better. It's a very sweet and cakey cookie—which is why I ranked it last—but it could be wonderful if that's the kind of chocolate chip cookie you live for!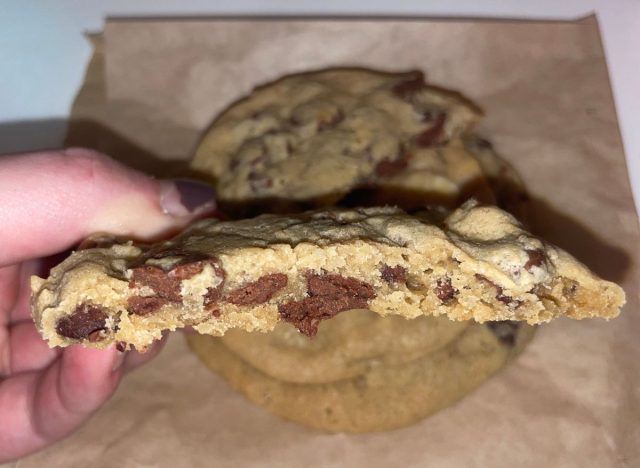 Mrs. Fields has been a cookie chain staple nationwide inside shopping malls and in the country's biggest cities since 1977. After opening her first store in Palo Alto, California, Debbi Fields found a following by selling "warm, freshly baked cookies right out of the oven."
Today, Mrs. Fields operates 250 franchised retail locations globally. The brand has also ventured into more than just cookies, selling brownies, cakes, berry-flavored desserts, and sweet gift products (such as pastry assortments and celebratory boxes of treats).
The look: Sadly, especially in comparison to the other cookies in this test, Mrs. Fields looked quite small and flat at first glance. However, I  was intrigued by the amount, quality, and placement of chocolate chips throughout the cookie. In addition to that, it genuinely looked like a homemade chocolate chip cookie and reminded me of the look and feel of my grandmother's recipe.
The taste: Mrs. Fields is an underrated classic and this chocolate chip cookie is pure proof of it. While my co-tasters and I agreed it's on the sweeter side, the chocolate chips are smooth, light, and taste like top-notch chocolate. This cookie was the softest of the bunch—it literally fell apart in my hands before I even got to take a bite. However, it was well-baked and its flavor took me back to being a kid looking for a good cookie fix at the mall. This one tied with the next cookie in this test.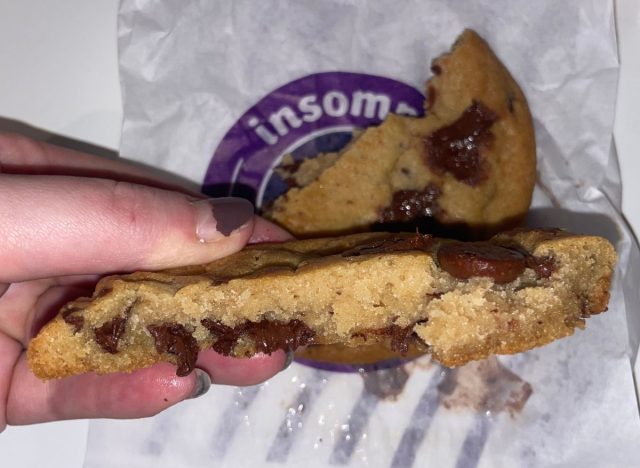 When you get the late-night munchies and are craving a fresh warm cookie, Insomnia Cookies is at the ready. With a focus on expanding late-night food options and making delivery even after midnight a guarantee, the Philadelphia-based cookie chain has become widely popular since opening its doors in 2003. Insomnia Cookies now operates over 200 stores in the U.S., many of which are conveniently located by college and university campuses, and even commit to staying open until 3 a.m.!
The look: This cookie was golden brown around the edges and had a mixture of ooey-gooey chocolate chips and chocolate chunks. It was the most average-sized (with a bit of extra chocolate sprinkled in) out of all the cookies in this test; not super large or super small, but also not too thick or too thin. Plus, even after traveling from cookie shop to cookie shop, Insomnia's cookie was still warm!
The taste: The way this cookie remained soft while also not crumbling or falling apart was astounding.  In terms of sweetness, this cookie isn't an overload like some of the others. While there's an excessive amount of chocolate chips and chunks, there are still a few bites of dough you can get on their own. The batter had a buttery, nutty flavor that didn't even need the chocolate because it was really tasty.
One co-taster specifically commented on the fact that this chocolate chip cookie carried a bit of a nutty flavor throughout, which isn't everyone's cup of tea. Altogether, Insomnia tied with Mrs. Fields because of its similarity in taste and likability, plus, the next cookie absolutely stole the show.
Levain Bakery is an NYC-based cookie chain that takes pride in its signature chocolate chip walnut cookie and attributes its continuing success to the chocolately masterpiece. In 1995, two friends and competitive triathlon swimmers, Pam Weekes and Connie McDonald opened the first Levain Bakery as a tiny little shop on West 74th Street. Since then, the cookie chain has become a neighborhood go-to and a must-see destination for tourists and travelers from around the world. The chain went from that one location in the late 90s to 12 stores in 2023, and there are more to come in the future, according to the chain's site.6254a4d1642c605c54bf1cab17d50f1e
The look: This large and misshapen cookie could be mistaken for a chocolate chip muffin top. Like Insomina's cookie, Levain's was crispy and brown along the sides and had tons of chips spread all around. This cookie looked large and dense like Crumbl's cookie.
The taste: Without question, Levain Bakery makes an outstanding chocolate chip cookie. The chocolate chips in this cookie were the richest of the bunch and they were so creamy and melty since the cookie was still warm. Also, the ratio of crunchy on the outside and chewy on the inside was 10 out of 10. It was clear the cookie was not over or undercooked, it was made with care and a whole lot of heavenly goodness. For chocolate and/or cookie connoisseurs, you'll have to take a trip to Levain Bakery. It won first prize in this chocolate chip cookie taste test by far and is truly unique.
Jordan Summers-Marcouillier
Jordan Summers-Marcouillier was born and raised in San Jose, California and now works as a writer in New York, NY.
Read more about Jordan