10 Best Collagen Supplements Hiding in Food Products
While our bodies naturally produce this structural protein, we can always use a little age-defying boost.
Collagen—touted for its skin-, joint-, and gut-healing properties—is making a cameo in everything from bottled coffee to upscale facial products. The structural protein is found in meat, eggshells, and fish, and can be consumed from whole foods or in collagen supplements: the more bioavailable form.
Collagen supplements can be found in food products fortified with collagen, as collagen powder, or as a pill.
Why should you consume collagen supplements?
Since collagen production decelerates in your 30s (likely when you first noticed those laugh lines lingering), upping your daily intake is your best bet for maintaining a healthy digestive system; nourished hair, skin, and nails; and even building and maintaining lean muscle.
Ingesting collagen supplements, specifically collagen in its hydrolyzed form, has been scientifically linked to:
Reducing aging-related changes
Protecting your skin from harmful UV rays
Reducing pain in patients with osteoarthritis and osteoporosis
Supporting cartilage health and joint flexibility
May have antihypertensive activity
May promote heart health by aiding the healing of cardiovascular damage
Many of these benefits are due to collagen supplements' antioxidant properties.
What are the best ways to consume collagen supplements?
When you consume collagen hydrolysate supplements, the collagen is readily absorbed in your intestines and can accumulate in cartilage. The method of consuming these supplements shouldn't matter much in terms of your body's absorption of collagen, but remember that real food contains healthy nutrients a pill can't give us. For that reason, we recommend consuming your collagen supplement in food form—and we have the healthiest products for the job.
To help you stay ageless inside and out, we've rounded up our go-to collagen products that will help you get your daily dose of collagen supplements in nutrient-dense food rather than a pill. Stock up on our picks below.
Bulletproof Vanilla Shortbread Collagen Protein Bar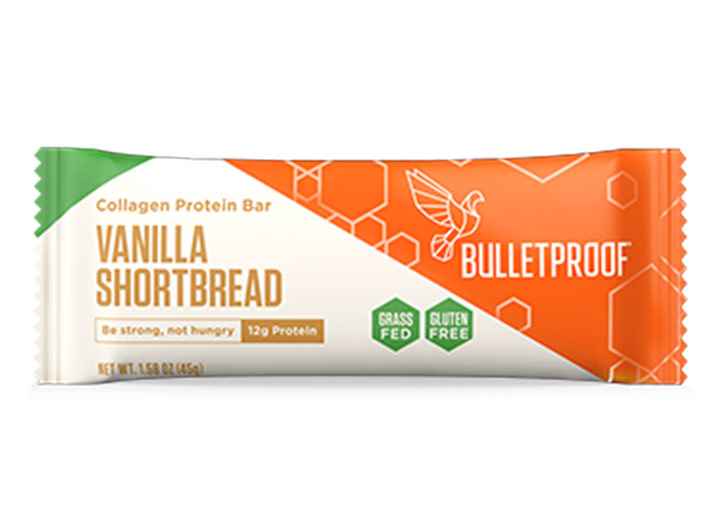 per bar
: 210 calories, 14 g fat (7 g saturated fat), 125 mg sodium, 13 g carbs (5 g fiber, 2 g sugar), 12 g protein
These satisfying bars are baked with ground vanilla beans, creamy cashew butter, and Brain Octane oil, which contains anti-inflammatory, immune-boosting caprylic acid from coconut oil. The portable pick contains all the cookie flavor you crave without any of the added sugars. Bulletproof maintains the snack's low-carb content by sweetening it with stevia. Not a fan of shortbread? Try the line's fudge brownie, mint chocolate chip, lemon cookie, and chocolate chip cookie dough flavors.
The Osso Good Co. Tomato Basil Paleo Soup
per 12 oz
: 160 calories, 9 g fat (8 g saturated fat), 670 mg sodium, 15 g carbs (4 g fiber, 10 g sugar), 5 g protein
This creamy soup is concocted with grass-fed and grass-finished bone broth—one of the best sources of collagen—and swaps heavy cream for coconut milk to add a rich flavor profile as well as brain-boosting MCTs. Sip on this soup on its own or pair it with a grilled cheese sandwich to complete the comforting classic.
Vital Proteins Collagen Creamer, Gingerbread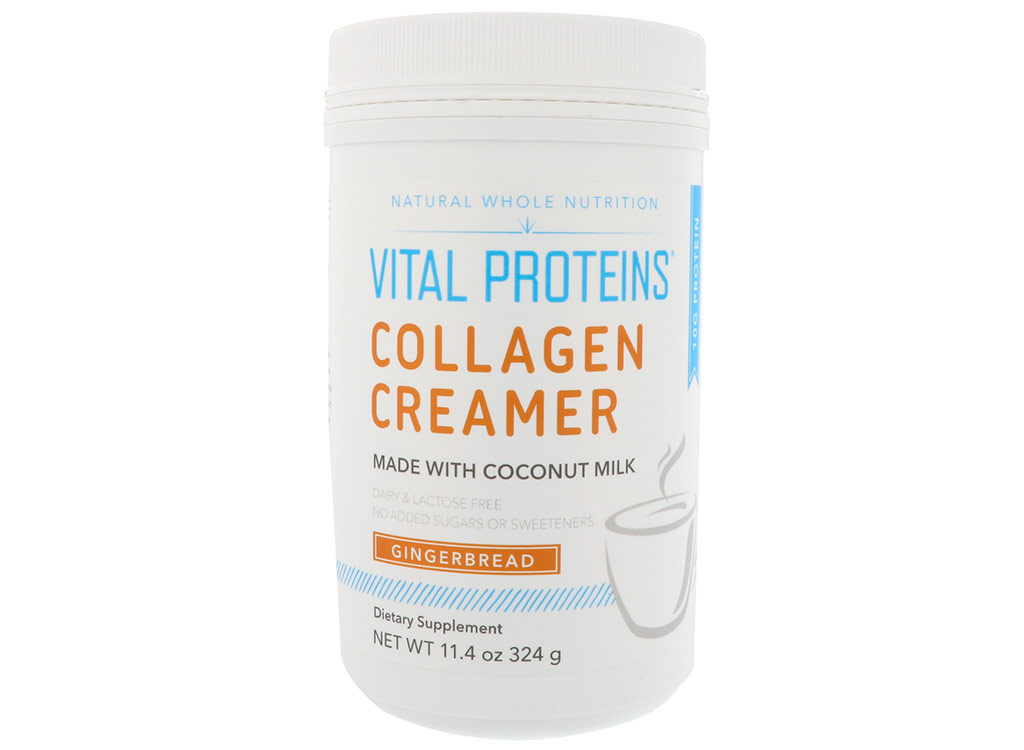 per 2 scoops
: 140 calories, 9 g fat (9 g saturated fat), 55 mg sodium, 4 g carbs (0 g fiber, 1 g sugar), 10 g protein
Give your morning cup of Joe a major boost with Vital Proteins' gingerbread collagen creamer. You'll benefit from 10 grams of protein from collagen powder, nine grams of fat-incinerating medium-chain triglycerides coming from coconut oil, and a warming gingerbread flavor that will transport you straight to the holiday season with every sip. Unlike many other flavored coffee creamers on the market, this additive-free pick shuns the use of carrageenan, dairy, soy, gluten, and artificial sweeteners, fitting the bill for many restrictive diets such as Whole30 and Paleo.
Bulletproof Collagen Protein Powder, Vanilla
6254a4d1642c605c54bf1cab17d50f1e
per 2 scoops
: 170 calories, 4.5 g fat (4 g saturated fat), 150 mg sodium, 9 g carbs (1 g fiber, 1 g sugar), 23 g protein
Upgrade your post-workout shake by switching your protein powder to collagen powder. Bulletproof's vanilla powder is a great choice because it contains 25 grams of hydrolyzed collagen, which is more bioavailable for absorption than regular collagen, to build and repair muscles as well as increase your skin's elasticity.
NeoCell Gummy Glow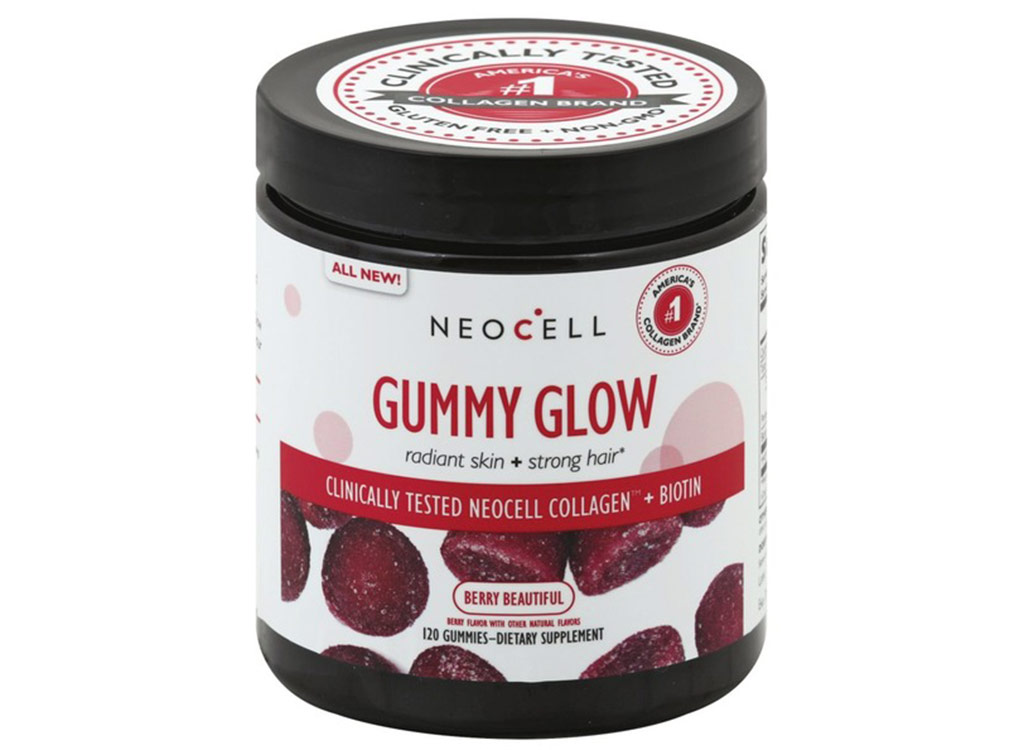 per 6 gummies
: 35 calories, 0 g fat (0 g saturated fat), N/A mg sodium, 7 g carbs (N/A g fiber, 2 g sugar), 4 g protein
Perfect for strengthening hair, skin, and nails, these berry-flavored gummies are formulated with an added dose of biotin in addition to hydrolyzed collagen. Each gummy is free of lactose, wheat, soy, yeast, GMOs, and artificial flavors.
HUM Collagen Pop
per 1 tablet
: 10 calories, 0 g fat (0 g saturated fat), 180 mg sodium, 2 g carbs (N/A g fiber, N/A g sugar), N/A g protein
All you have to do is pop one tablet of this collagen supplement into a glass of water, watch it dissolve, and gulp. These portable collagen tablets contain 500 milligrams of marine collagen as well as 100 percent of your daily value of calcium, the bone-building antioxidant that also helps increase collagen production. Not only will Hum's pop help you reach your daily water quota (which also increases skin hydration), it's great to grab and go with to office meetings and in-between commutes.
Primal Kitchen Dark Chocolate Almond Collagen Bar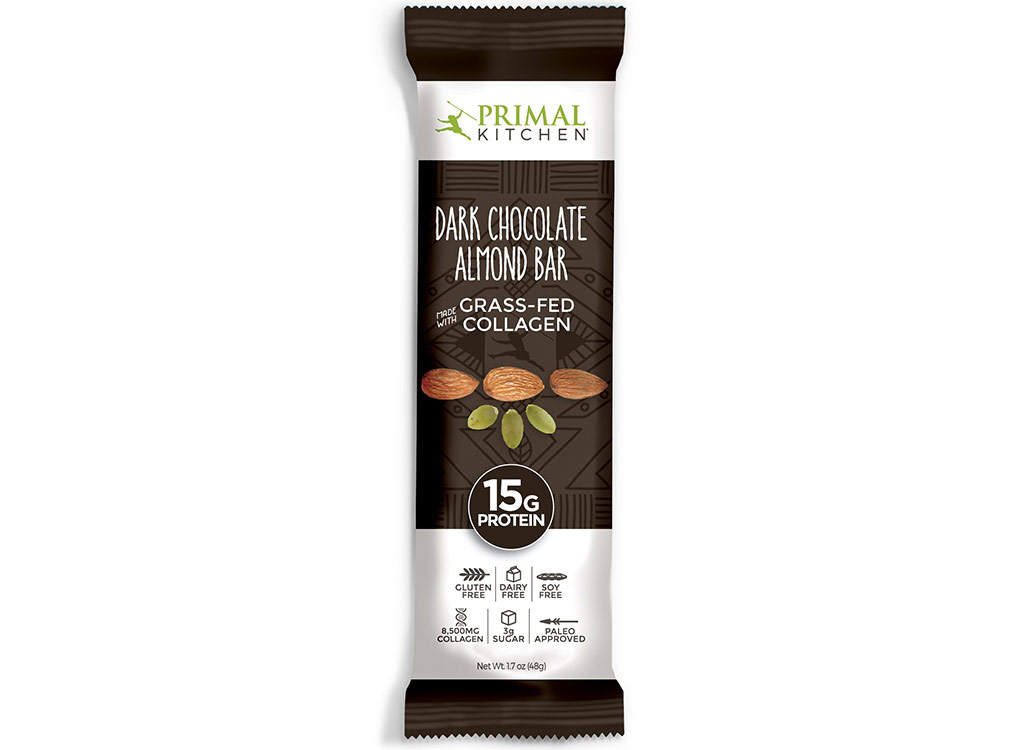 per bar
: 230 calories, 15 g fat (4 g saturated fat), 70 mg sodium, 14 g carbs (6 g fiber, 3 g sugar), 15 g protein
Primal Kitchen packs its bar with almonds, pumpkin seeds, coconut flakes, cacao nibs, and hazelnuts in addition to grass-fed collagen supplements for high-quality protein. Toss these bars into your gym bag for post-workout fuel or munch on it in between meals to stave off sugar cravings.
Bonafide Provisions Turkey Bone Broth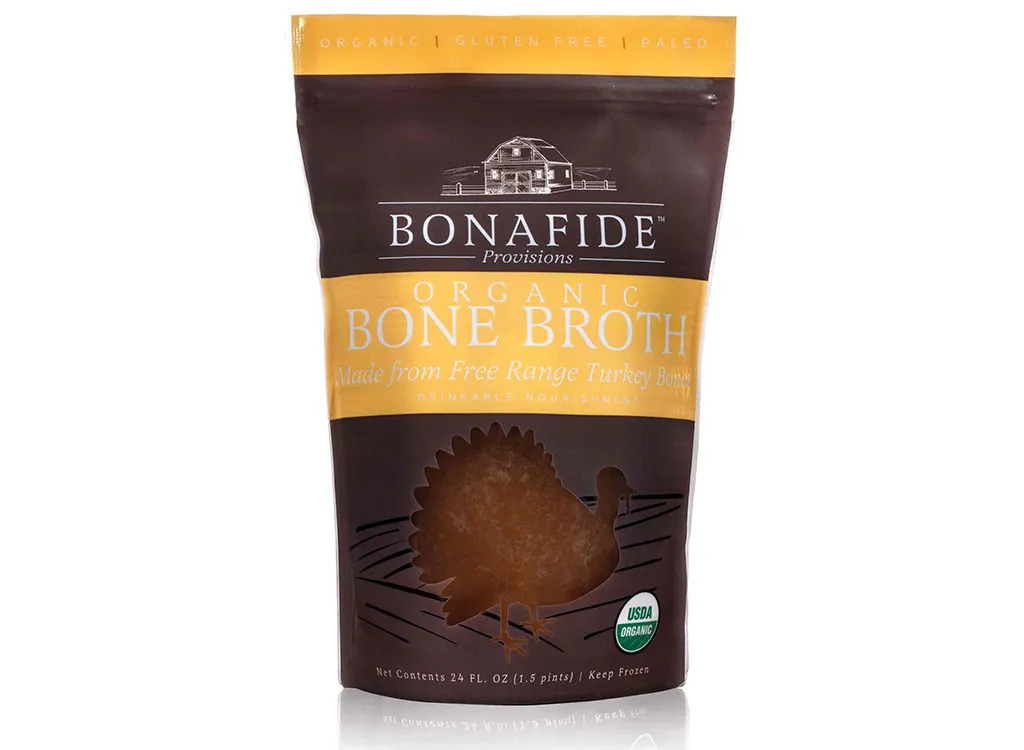 per 8 oz
: 35 calories, 1 g fat (0 g saturated fat), 240 mg sodium, 0 g carbs (0 g fiber, 0 g sugar), 7 g protein
Bonafide boils free-roaming, organic turkey bones in triple-filtered water before tossing in organic sage, onions, garlic, thyme, rosemary, apple cider vinegar, and sea salt. While you can totally sip on this on its own, you can also use this bone broth as a nutrient-dense base for all of your favorite soups. Just don't forget to add some broccoli or bell peppers for collagen-boosting vitamin C!
Kettle & Fire Thai Curry Soup With Bone Broth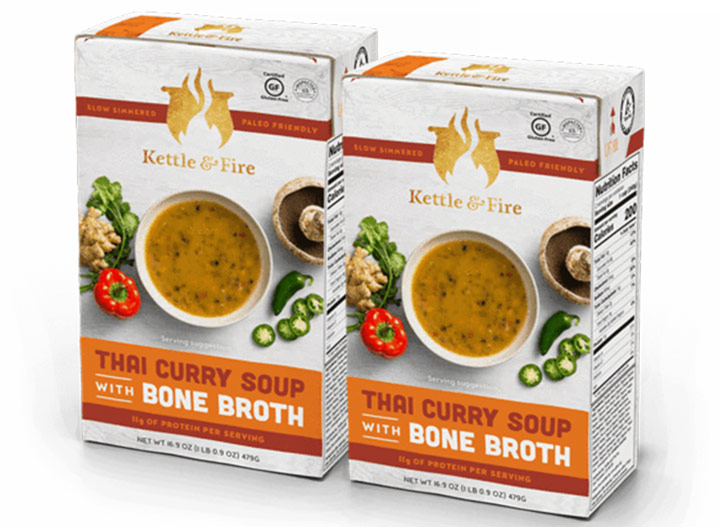 per 1 cup
: 200 calories, 10 g fat (8 g saturated fat), 590 mg sodium, 15 g carbs (2 g fiber, 4 g sugar), 11 g protein
Just a cup of this Thai curry soup will fulfill sweet and savory cravings as well as provide 11 grams of protein coming from grass-fed and collagen-rich bone broth. Kettle & Fire's entire soup line is made with antibiotic- and hormone-free bones and organic ingredients that are slow-simmered to extract the most amino acids and collagen from the bones and into the broth.
NeoCell Joint Bursts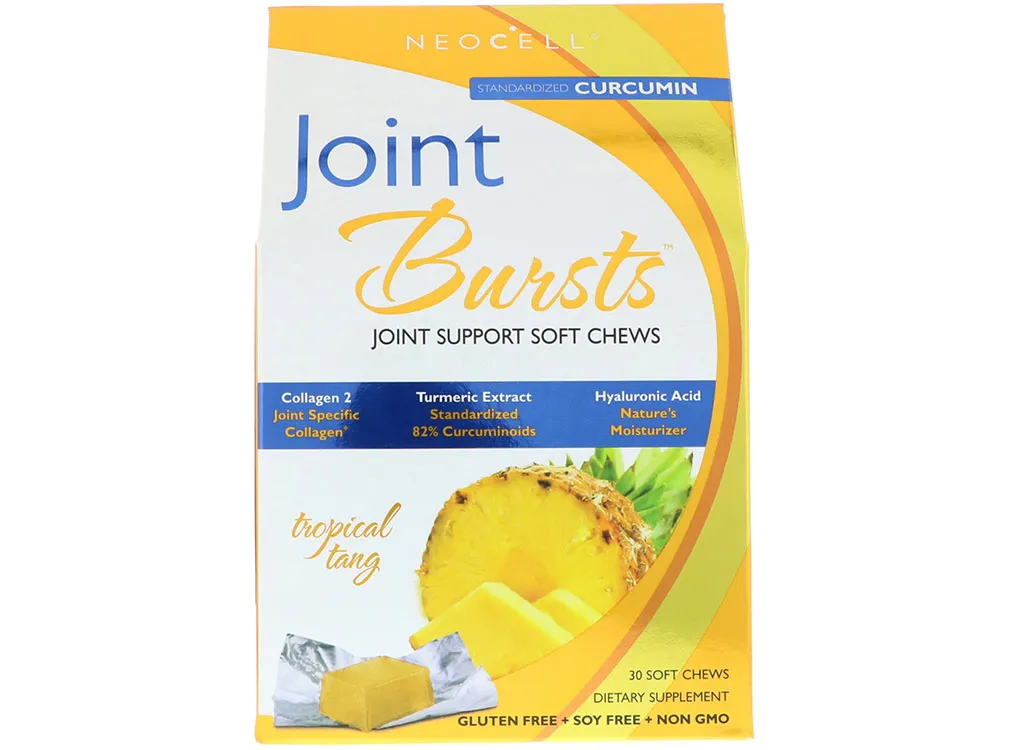 per 1 chew
: 20 calories, 0 g fat (0 g saturated fat), N/A mg sodium, 4 g carbs (0 g fiber, 3 g sugar), N/A g protein
When you're in the mood for something sweet but don't want to undo your weight-loss wins, grab a gummy collagen supplement instead of a breakroom doughnut. Collagen type-2 specifically targets joint function, and these tropical-flavored chews are bursting with the nutrient. What's more, this sweet pick packs in anti-inflammatory turmeric as well as joint- and skin-protective hyaluronic acid. Wondering what else this super-nutrient is good for? Don't miss our exclusive report, I Drank Collagen Peptides Every Day for 2 Weeks and Here's What Happened.
April Benshosan
April is a born-and-raised Brooklynite who has a passion for all things health, wellness, and tastebud-related.
Read more about April