6 Best Steaks To Buy at Costco Right Now, According to Chefs
Fire up the grill and get cooking with these top-quality, well-marbled cuts from Costco.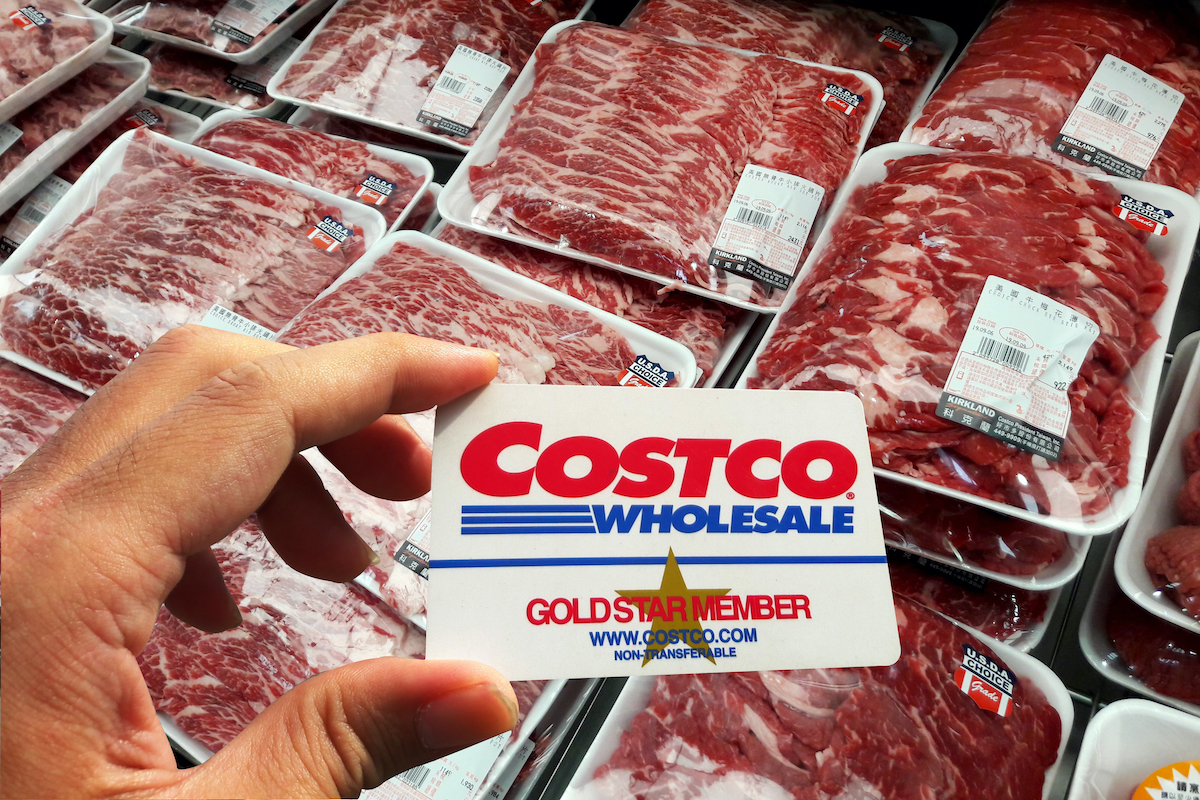 The product recommendations in this post are recommendations by the writer and/or expert(s) interviewed and do not contain affiliate links. Meaning: If you use these links to buy something, we will not earn a commission.
Calling all meat lovers! The summer season full of barbecues and outdoor get-togethers is upon us, and we can all agree our mouths have been watering in anticipation for a while now. But, what exactly will be taking over your grill in these upcoming months?
If you're a Costco member, the meat options are seemingly endless and when it comes to something even as simple as a good steak, it can become overwhelming to make your selection. It's helpful to have the counsel of an experienced chef and grill master on your side, and who better to give advice than Peter Rohn, the mastermind behind the blog The Steak Coach.
Rohn's blog is an essential guide to anything and everything you need to know about selecting and cooking the perfect steak. And, the top piece of advice he has to give is to understand the various steak grades that are available.
"From best to worst, USDA quality grades are: prime, choice, and select," Rohn says. "Of course quality grades do go below select, but we won't even look at those. Keeping quality grades in mind, there is also Wagyu and Kobe beef. These are not USDA quality grades but instead types of cows that must fit certain requirements. Wagyu is typically the most well-marbled, highest-quality beef money can buy."
With this taken into account, as well as other factors such as steak cuts, thickness, and marbling, Rohn has his own favorite Costco steaks which he deems the best of the best. Read on to find out which of the warehouse's selections have a "steak" in the game, according to Rohn and another trustworthy chef and meat enthusiast.
Japanese Wagyu Center Cut New York Strip Steaks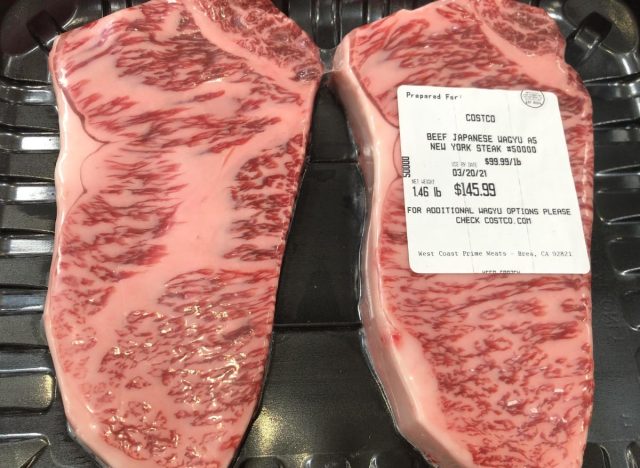 Rohn came out of the gates strong with one of the finest cuts of Wagyu that Costco has to offer—the Japanese Wagyu Center Cut New York Strip Steaks. "These are the cream of the crop," he says. "They are pricey, but if you're looking to cook one of the best steaks you have ever had, then these are the way to go."
Rohn explains that the magic of these steaks is in the marbling, which refers to the copious white flecks of fat which can be seen all over the meat. When the strips are cooked, this fat renders down and is evenly distributed throughout, making it "melt in your mouth like meat butter" and creating an "almost religious experience," according to Rohn.
The Japanese Wagyu Center Cut New York Strips found at Costco are A5-grade—the highest possible grade for Wagyu beef—and they are sold online in packs of four 12-ounce cuts.
Japanese Wagyu Filet Mignon
If filet mignon is more your cut of choice, Costco can accommodate you as well. Nearby the Wagyu New York Strips, you will also find smaller, yet thicker medallions that are known as Japanese Wagyu Filet Mignon Steaks. These are, of course, also A-5 grade but come in packs of eight six-ounce filets.
"Filet mignon is the most tender cut of steak out there, and adding the marbling of wagyu makes this an awesome cut of steak," Rohn says. "Because filet is typically leaner than most cuts of steak, this will have slightly less marbling than the wagyu strip steaks listed above. Still, these will be incredibly flavorful, tender, juicy steaks."
USDA Prime Bone-In Ribeye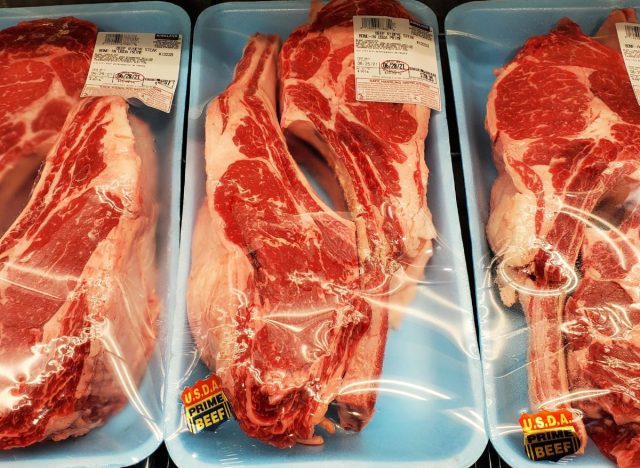 Chef Devon Ferguson says that the USDA Prime Bone-In Ribeye is one of the best steaks available at Costco right now. "USDA Prime is the highest grade of beef, and the bone-in ribeye cut is packed with flavor and tenderness," says Ferguson, a senior editor at the meat-focused website Carnivore Style. "The marbling on these steaks is outstanding, which means they'll be juicy and flavorful when cooked properly. They're also a great size for sharing, and they're perfect for special occasions or dinner parties."
Kansas City Steak Company USDA Choice Ribeye
Moving on from the lavish slabs of Wagyu, Rohn also had a lot to say about Costco's selections from the Kansas City Steak Company. With roots dating back to 1932, the company is a top distributor of tasty, high-quality steaks in America—and they're available online to club members.6254a4d1642c605c54bf1cab17d50f1e
Rohn had several top picks from the brand, but he kicked it off with its USDA Choice Ribeye–sold in whopping 18-ounce cuts in packs of either four, either or 12. "Everybody loves a ribeye," he begins. "Ribeyes typically have the most impressive marbling out of any cut of steak, and these choice-grade ribeyes fit the criteria. These won't break the bank as much as the wagyu cuts listed above and will taste more like traditional American steaks. With some nice marbling and rich ribeye flavor, these choice ribeyes are a fantastic option. If you're looking for quality, classic American steak, then this is the steak you want to buy."
Kansas City Steak Company USDA Choice NY Strip Steak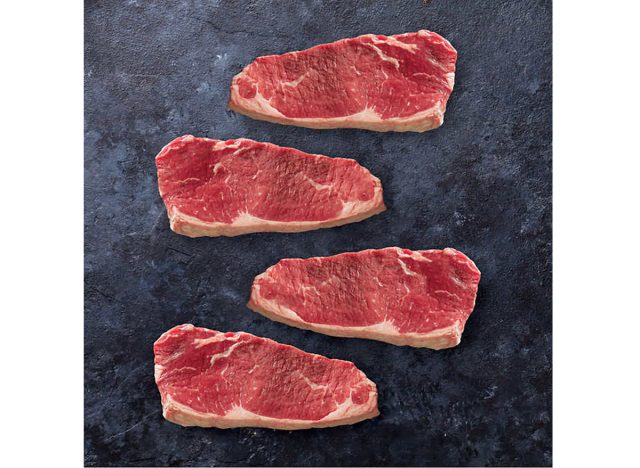 "Another standout choice from Kansas City Steak Company, these N.Y. strip steaks are excellent," continues Rohn, referring specifically to the company's 16-ounce USDA Choice New York Strip Steaks similarly sold in packs of four, either or 12 from Costco online. "In fact, I actually prefer a NY strip over a ribeye, but most folks prefer ribeyes so I had to rank the ribeye higher."
He says he personally has a soft spot for New York strips because they are a perfect crossover which combines the "the beautiful marbling of a ribeye, with the tenderness of a filet." There's also no excess chunks of fat in the strips, he explains, making for an overall cleaner dining experience.
Kansas City Steak Company USDA Choice Filet Mignon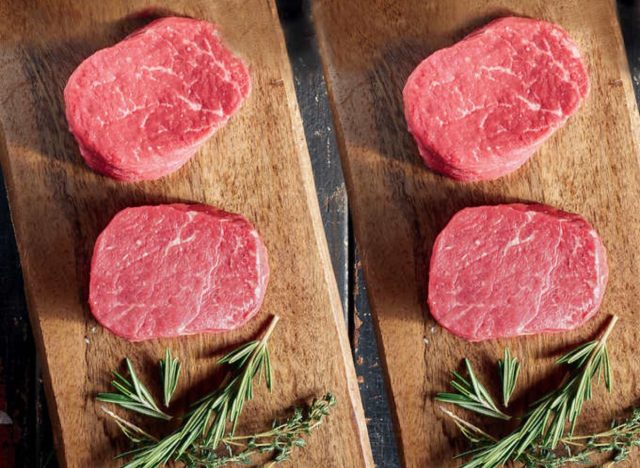 Fans of leaner, healthier cuts are going to love Rohn's final Costco steak recommendation. It's the Kansas City Steak Company USDA Choice Filet Mignon. Each 12-ounce steak is aged up to 28 days, similar to all of the company's selections, but is also served "super trimmed." This means much of the fat around the edges is pruned down. But, Rohn says what the steak lacks in fatty flavor, it makes up for in tenderness.
"Sear these up to a nice medium rare, and you've got an awesome piece of steak," Rohn advises. "These will have slight marbling, and a bright red, fresh appearance. Choice filet will be tender and lean, without any fat cap or excess fat."