6 Costco Meat Products With Tons of Customer Complaints
These Costco items aren't living up to the expectations.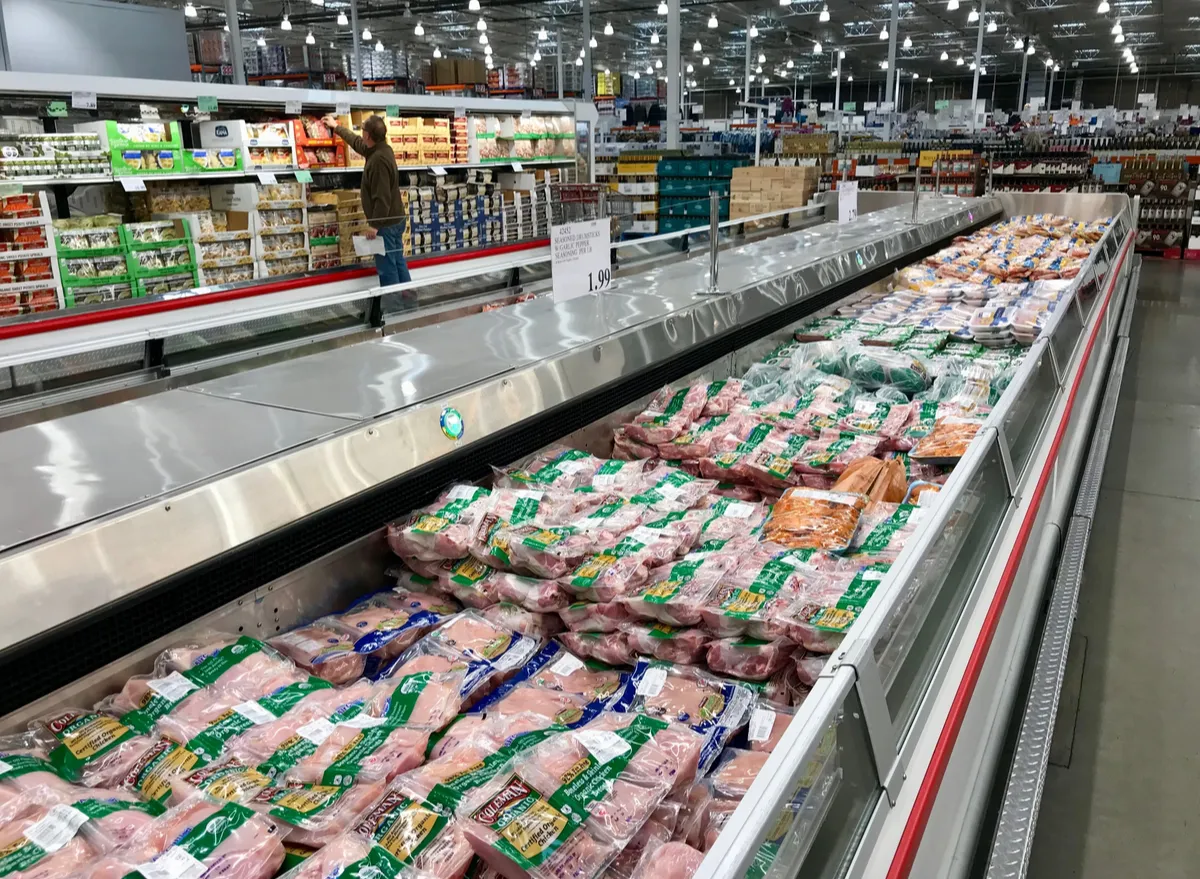 Costco is known for its bulk offerings, affordable prices, and cult-followed food court items. People love Costco and what it has to offer, and many loyal customers stay active on online forums like Reddit to talk about everything Costco-related.
But sometimes, this mega-popular store gets it wrong, and when this happens, Costco enthusiasts don't hesitate to share their frustrations online. In recent months, Reddit users have shared some complaints about specific Costco meat products due to things like recalls, smaller packaging, or just an overall change in quality.
Read on to learn more about the meat products that have been getting the most complaints from Costco customers lately.
Foster Farms Frozen Chicken
If you recently purchased Foster Farms' frozen chicken, then you should be aware of Costco's recent recall on its fully cooked frozen chicken patties. According to the USDA, Foster Farms recently recalled over 148,000 pounds of these chicken patties due to their exposure to contaminants, including pieces of hard plastic found inside the meat.
Reddit user @CookieButterLover informed people online about the recall this past week, and many users commented saying they were able to return their bags of chicken without any issues.
"Some patties in that batch might be embedded with plastic. I called Costco and they said they'd return them no problem," user @thanksbank commented is the Reddit thread.
Kirkland Chicken Thighs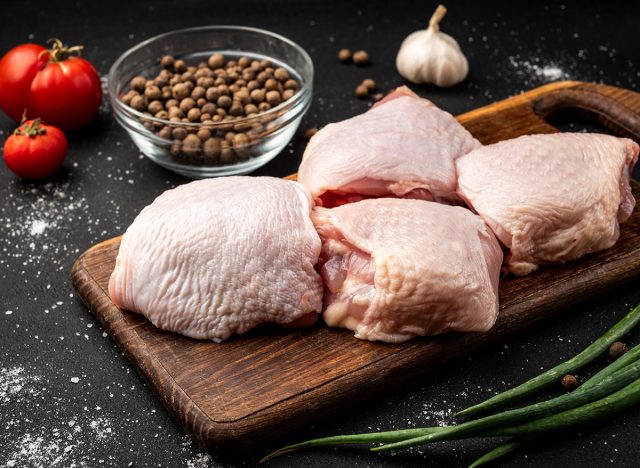 One complaint within the last few months about Costco Kirkland Chicken Thighs got over 1,000 up-votes and over 300 comments on Reddit. The Costco user snapped a picture of a Kirkland bag of chicken, saying that the chicken had been switched from "air-chilled" to "water-chilled." This may not seem like a big deal, but many Costco customers care about products that are water-chilled, as it often changes the price and value.
"The meat absorbs the moisture affecting the texture and you pay for water weight. Air chilling is more expensive, but a superior product," user @verash commented in the Reddit thread.
Not only that, but the Reddit user who originally posted the complaint added, "They also now use the nasty oversized birds, so a pack that previously would contain six thighs now averages four."
The majority of the comments seemed to share in these frustrations. "I have noticed the quality of Costco chicken has gone down as well," Reddit user @ahtasva chimed in.
Jones Dairy Farms All Natural Uncured Canadian Bacon
Costco customers who purchased uncured Canadian bacon from Jones Dairy Farms in recent months likely experienced a gross, slimy residue on this meat product. So many complaints came in about this slime that Costco sent a letter to members addressing the issue.
Reddit user @affectionaterespect7 posted the letter to the main Reddit Costco thread, commenting, "Did anyone else get the flyer in the mail? I'm glad they're finally addressing it."
The letter assures customers that this inconvenience isn't a food safety concern, but most users in the thread expressed that they'd be returning the products regardless.
"I didn't get the flyer, but just purchased this last week and pitched it. The slime was disgusting," said user @ewc1701.
Food Court Chicken Bake
Costco food court fans have been recently disappointed in the famous Chicken Bake. Reddit user @IvanTheElephant recently posted a photo of the product, while also sharing their disappointment in the apparent reduction in size.
"Chicken bake is absolutely tiny now:( ignore the 2 bites) lmao," @IvanTheElephant said.
"I won't buy them anymore due to then being pre-made/frozen, followed by a price increase. The old ones were worth a dollar more, but not these," one user posted in a follow-up comment in this thread.
Another user communicated similar frustrations. "Noticed the same thing the other week. Even after they switched to frozen, they still stayed a decent size. Now they're way thinner and a bit shorter, and more expensive. I'll stick to the hot dog," user @ThatThar wrote.
Perdue Frozen Chicken
Costco sells its fair share of Perdue products, but one customer recently posted about the Perdue Panko Crusted Chicken Breast Nuggets. The user wrote, "The calorie and fat increase out of the blue??" with a photo of two different Perdue packages depicting conflicting calorie counts.6254a4d1642c605c54bf1cab17d50f1e
"Most likely 'production price increase' so they switched to cheaper ingredients," one user commented.
"Protein went down and fat went up. Guess which one costs more?" another wrote.
Rancid Rack of Lamb
Some customers have been taking home rancid meat from Costco, and they're not happy about it. The original Reddit post came from a user about two months ago who posted, "Rack of Lamb with a sell by date of 9/29, purchased today. Gagged when I cut the package open."
Based on the comment thread from the post, it seems that other people have experienced similar issues, as well.  "I just got some bad lamb shoulders in NC too. Sell by date was 9/19, it was green and stinky as soon as I opened it," one user commented.
"Always get the 2 rack pack of ribs ..last month opened up -stank to high heaven ..got bone in pork chops 2 weeks ago – same stink …never had a problem previously," another user added.