6 Genius Ways to Use a Costco Rotisserie Chicken, Customers Say
Costco members have a treasure trove of tips on the best ways to eat, store, and cut those famous birds.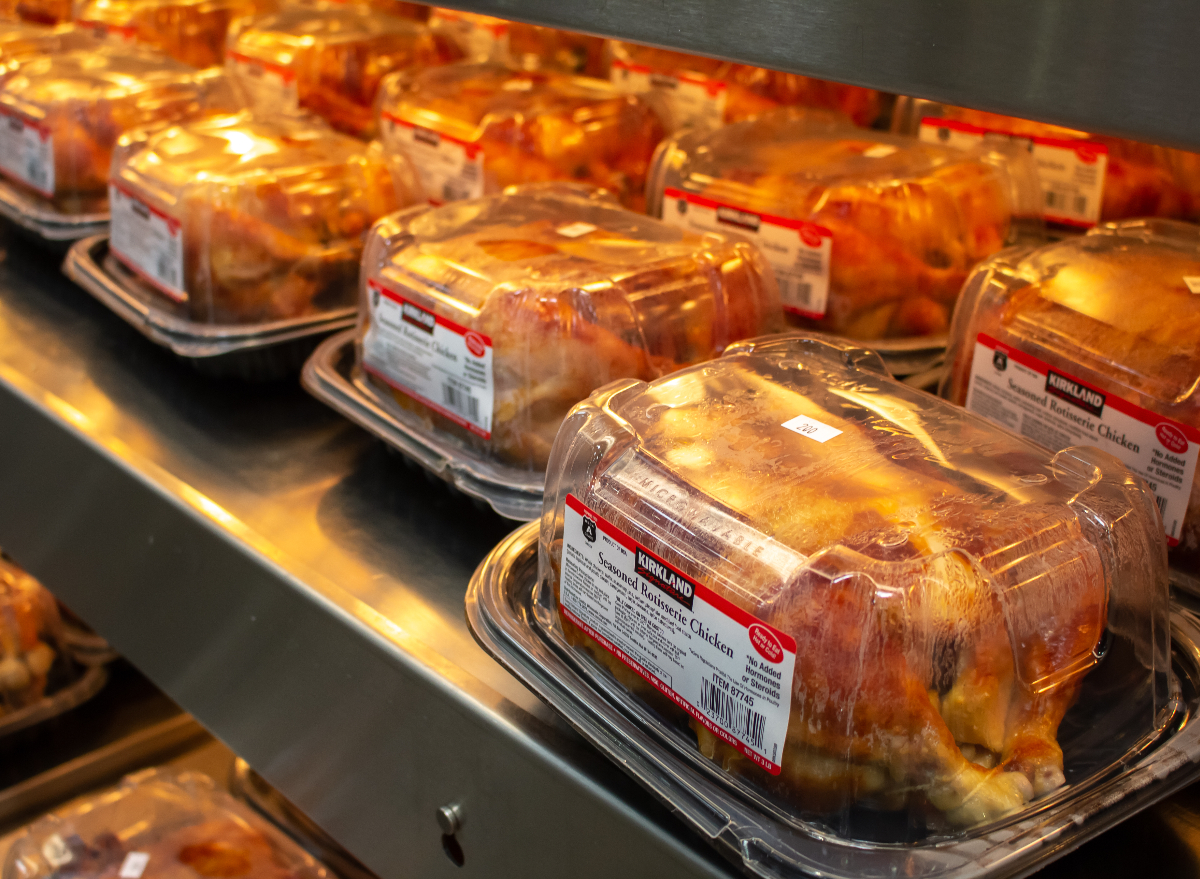 The product recommendations in this post are recommendations by the writer and/or expert(s) interviewed and do not contain affiliate links. Meaning: If you use these links to buy something, we will not earn a commission.
Is there any grocery store bird quite as iconic as Costco's rotisserie chicken? The famous roasted fowl is undoubtedly one of the most beloved Costco items of all time—and it's not hard to see why.
Members adore the product for the taste and convenience of having hot, fully-cooked protein ready to slip into their shopping carts during every Costco trip. The cost of these birds is also a major factor in their popularity. The retailer has stubbornly kept them at the surprisingly low price of just $4.99 for over a decade, per CNN, even as prices for many grocery staples have skyrocketed in recent years.
Simply picking up a Costco rotisserie chicken is only the first step in taking advantage of this stellar deal. So, if you want to get the absolute most out of those chickens, take notes from the people who know the product best: the customers. Costco members have a treasure trove of knowledge on the best ways to eat, carve, and store the roasted birds—and they love to chime in with all their best tips on social media.
Consumers who don't shop at Costco can also put this expertise to use since plenty of other grocers also sell rotisserie chickens, though they don't have quite as much star power as Costco's version.
Here are six genius tips from Costco shoppers on how to get the most out of your rotisserie chickens.
Start with the white meat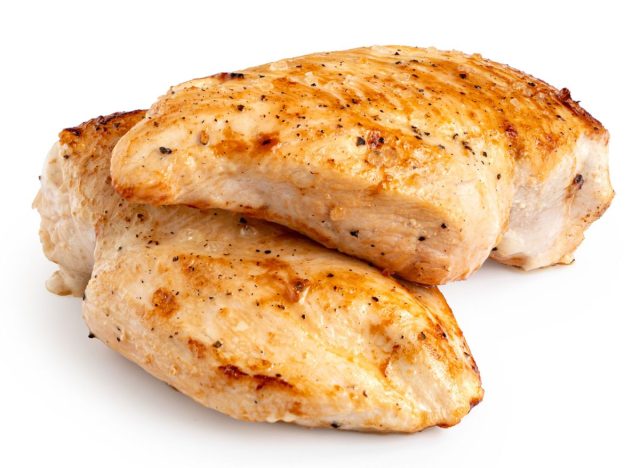 There's a right way and a wrong way to chow down on a Costco rotisserie chicken, at least according to the retailer's customers.
Members encouraged anyone who stretches their rotisserie chicken over the course of a couple of days to eat the white meat first, which tends to dry out more quickly than the fattier dark meat. For the uninitiated, you'll find white meat in the chicken breast and wings, while the thighs and drumsticks are the dark meat portions of the bird.
"Eat the white meat aka the breasts first. They're going to taste best the first day and will taste significantly drier the next day. The dark meat has enough fat to render it succulent even after reheating," a customer explained on Reddit.
Shred the meat by hand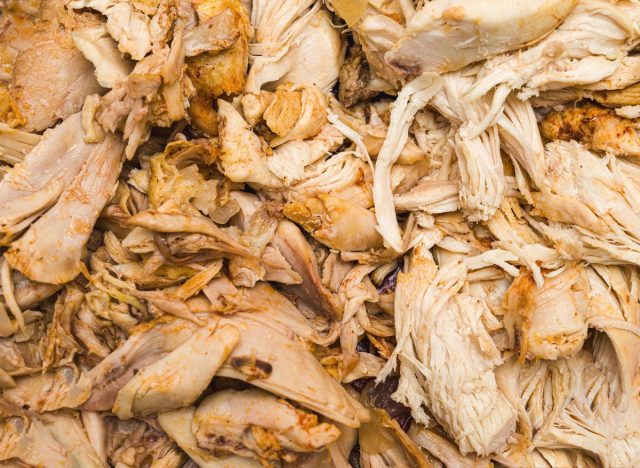 If you're willing to get a little messy, skip the knife the next time you go to strip the meat off your Costco rotisserie chicken. 
Costco shoppers say that pulling the meat off and shredding it with your hands is not only easier, but also results in less food waste because you can pull off all the morsels you can't reach with a knife.
"You can pull off entire sections—breast, tenderloin, wings, thighs, legs—and lose way less meat than you do trying to slice it off with a knife," a customer explained on Reddit.
Even actual Costco employees (aka the ultimate rotisserie chicken experts) have been seen stripping rotisserie chickens with their hands rather than forks and knives.
Portion and freeze for the future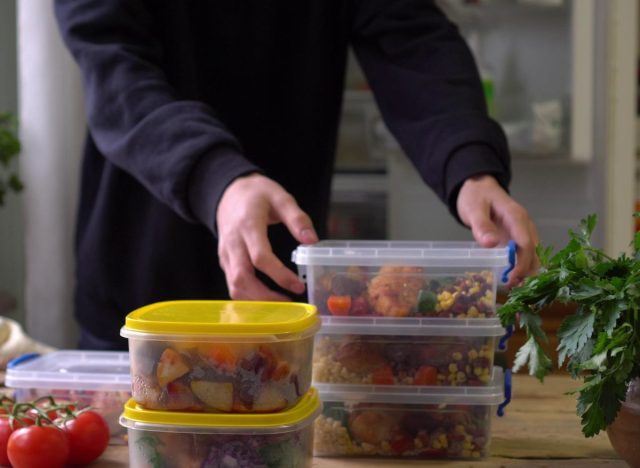 Costco shoppers highly recommend portioning and freezing your rotisserie chicken meat, assuming you don't prefer to devour the whole thing the second you get home. Not only can this method ensure that your poultry stays fit for eating longer, but members also say it makes for superbly convenient cooking experiences.
"I buy 3 at once, cut it all off, semi-shred it, and freeze it in 1 lb packs. I pack my lunch every day, it makes great sandwiches," a Redditor wrote.
Customers who plan to eat their rotisserie chicken leftovers within a couple of days can probably get away with storing them in the fridge. But if you want to keep the portioned meat around for a longer period of time, the freezer is the way to go.
Turn the skin into a snack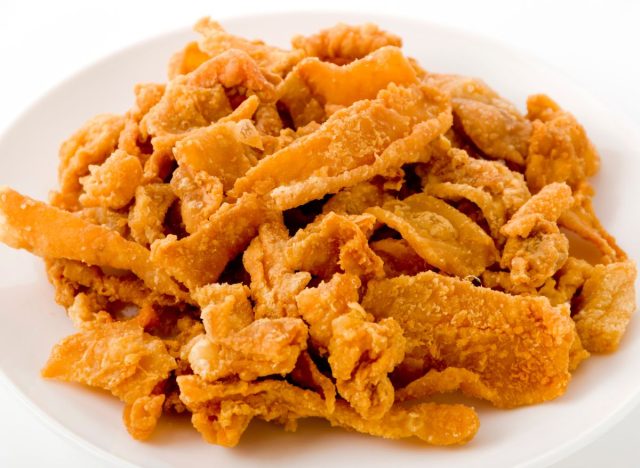 Some people swear that the skin of a rotisserie chicken is the most delicious part of the whole bird, but inventive Costco shoppers have discovered a way to make it even tastier. If you can resist eating it right after pulling it off the chicken, members suggested seasoning the skin and crisping it up for a crunchy, savory snack. 
Some cook it in the air fryer. Others do it in a pan or the oven. Whichever method you choose, you'll end up with a unique and homemade nosh with minimal effort.
Save the bones for stock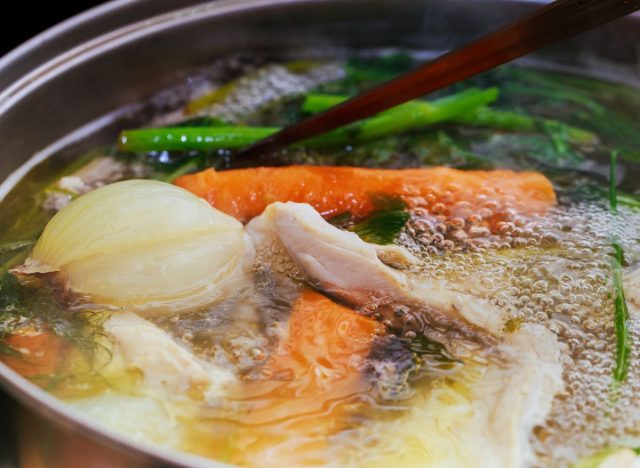 There's not necessarily anything wrong with store-bought broth, but it is hard to beat the taste and quality of broth you make yourself. Luckily for Costco fans, you can repurpose the bones and carcass left over after you devour your rotisserie chicken to make a stellar stock.6254a4d1642c605c54bf1cab17d50f1e
Costco shoppers said that they place the leftover bits in a large pot, Instant Pot, or Crock Pot, then add water, veggies, and other flavor enhancers before letting it stew for hours.
"One carcass in the Instant Pot makes about seven pints, which then get pressure canned and put on the shelf," a Redditor noted.
And once you have your delicious homemade stock, you can put it to work in a plethora of different recipes that call for broth. Costco members suggested using it for homemade chicken noodle soup, rice, or chicken and dumplings.
Add to a plethora of recipes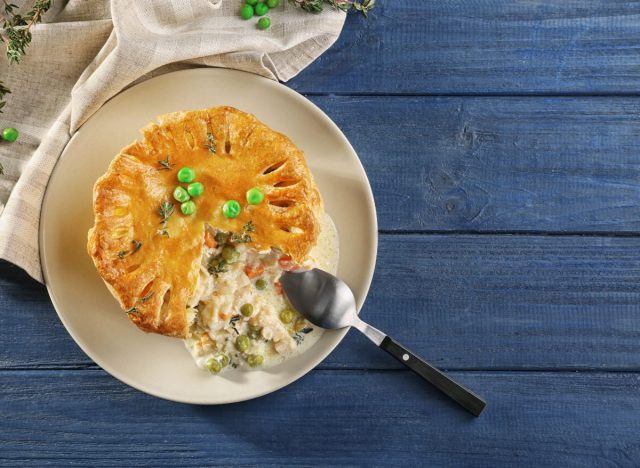 There's no denying that Costco's rotisserie chickens are delicious as is. Many a Costco shopper has admitted to snacking on a leg in the parking lot simply because they couldn't wait to get home before sneaking a taste.
Still, one of the absolute best ways to get the most out of your Costco rotisserie chicken is repurposing the actual meat in a nearly endless range of recipes.
Chicken salad and chicken pot pies are some of the more obvious ways to put the meat to use. However, pre-cooked chicken translates well to so many different meals that you can get as creative as you want. Costco shoppers said they add rotisserie chicken meat to fried rice, tacos, casseroles, quesadillas, soups, salads, and plenty of other dishes.
"It's amazing how many different meals you can make using a $5 chicken," a shopper noted.
Zoe Strozewski
Zoe Strozewski is a News Writer for Eat This, Not That! A Chicago native who now lives in New Jersey, she graduated from Kean University in 2020 with a bachelor's degree in journalism.
Read more about Zoe