25 Best Costco Foods of All Time
The warehouse club is chock-full of items that keep customers talking.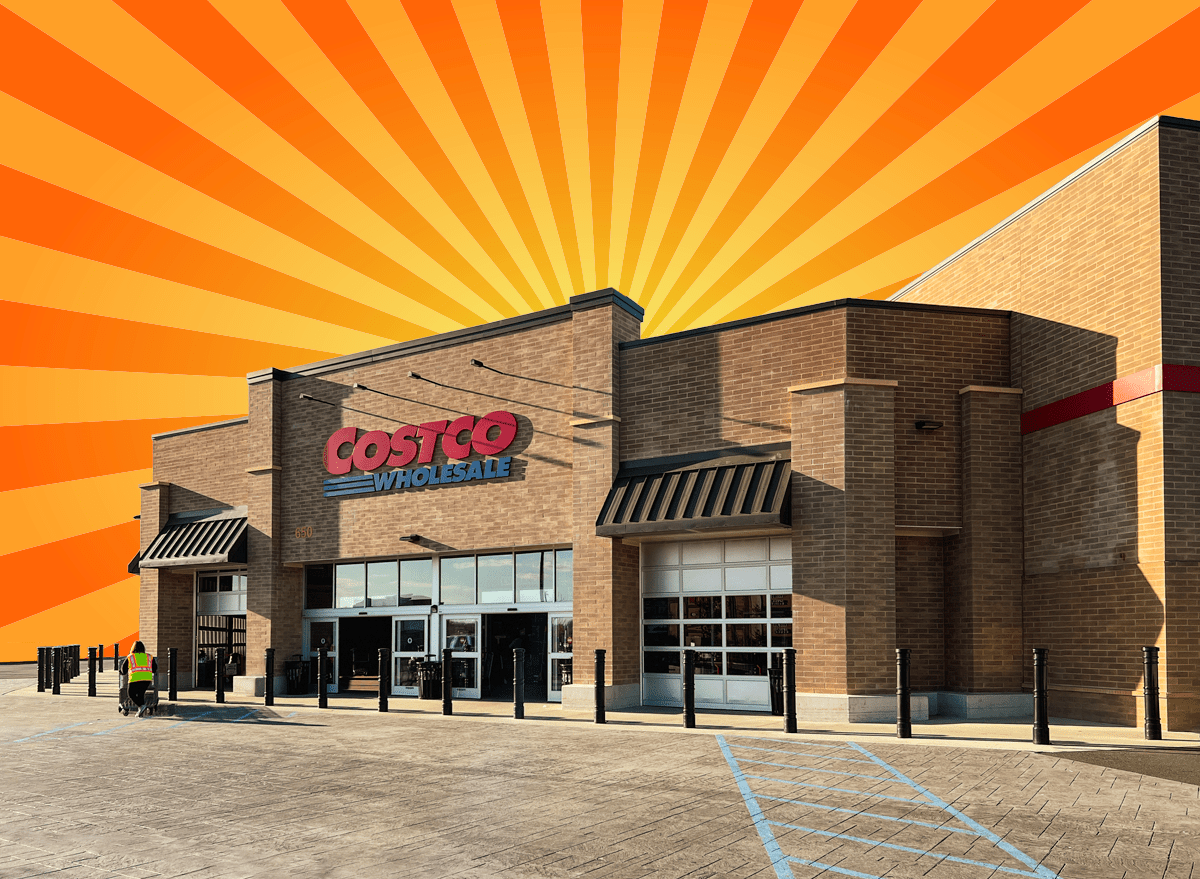 The product recommendations in this post are recommendations by the writer and/or expert(s) interviewed and do not contain affiliate links. Meaning: If you use these links to buy something, we will not earn a commission.
Costco has gained a cult following for a reason. Thanks to its highly publicized food court, copious amounts of free samples, and plethora of products ranging from outdoor furniture to engagement rings, the big-box retailer can satisfy just about every want and need. 
Although Costco's curated item selection constantly evolves, there are several products that have left lasting impressions on customers. Among its discounted private-label buys are items that have become an integral component to Costco's business model. (We're looking at you, rotisserie chicken). The retailer has even infiltrated pop culture, with its diverse assortment of bulk goods and food court menu being parodied on Saturday Night Live.
If you recently joined the club, are interested in shaking up your weekly grocery list, or simply want to reminisce about Costco's most prized products of yore, here are some of the best foods at the warehouse over the years.
Rotisserie Chicken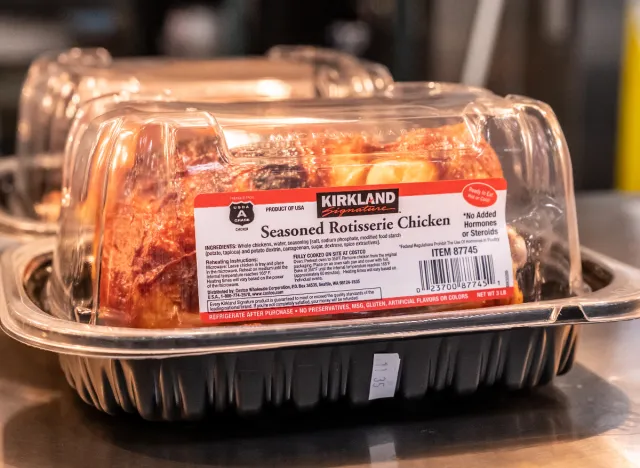 If there's one item that's emblematic of Costco, it's the $4.99 rotisserie chicken. Despite ongoing inflation, the retailer has maintained the price of the crispy bird since 2009 as part of its effort to drive membership and sales. At a lower-than-average price, the deli department item continues to bring customers to the warehouse, with Costco selling more than 100 million birds annually since 2020.
Chicken Street Taco Kit
Costco's deli section is full of prepared meals that can quickly feed a crowd. The Chicken Street Taco Kit is a good example, packed with 12 corn tortillas, pre-cooked chicken, shredded cheese, cabbage slaw, salsa, cilantro lime crema, and lime wedges.
Asked to name their favorite Costco deli item, one Redditor wrote, "The Chicken tacos SLAP. 🌮." Another one agreed, "This is the correct answer."
Mac and Cheese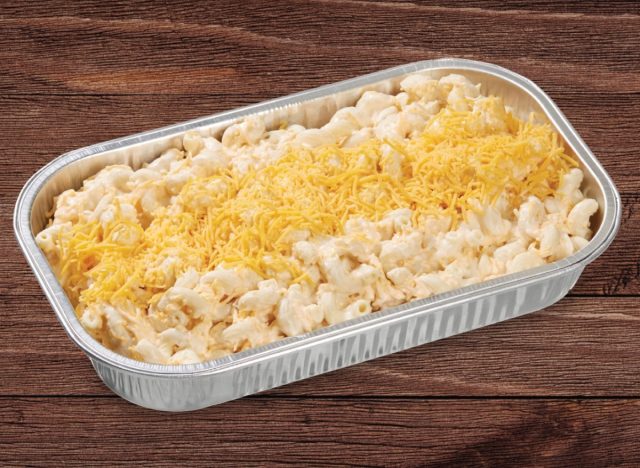 What's more comforting than a good ol' bowl of mac and cheese? I'll wait. Costco puts its mark on this proven crowd-pleaser the same way it does with so many other things—in bulk. The club's ready-to-bake variety, made with Alfredo sauce and three types of cheese, regularly weighs in around 3.5 pounds or more. One Redditor wrote. "I'm single and can eat the whole pan." Another commenter claimed to work in a restaurant where the "customer favorite" was "literally costco mac and cheese." To elevate the classic dish, Redditors recommended adding more cheese, sprinkling it with bread crumbs, or topping it with French's fried onions.
Stuffed Bell Peppers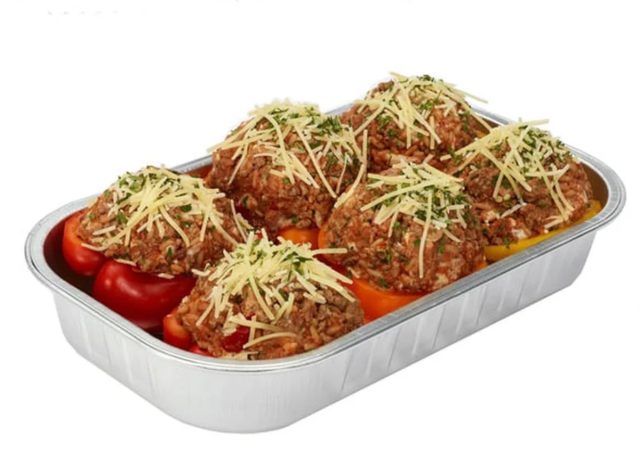 For another hearty, cheesy dish, Costco sells a 6-count tray of stuffed peppers that makes mealtime a breeze. "I keep thinking I'm going to make my own and save a ton of money but its so easy to just grab them and throw em in the air fryer already prepped," one Reddit user said. While the packaging instructions say to bake the peppers in the oven for 50-55 minutes, other Redditors swear by the air frying method. One person suggested, "Air Fry at 350°F for 12-15 minutes. The meat and cheese develops a nice crust, and the insides stay moist and juicy. Delicious!"
Yakisoba Stir Fry Kit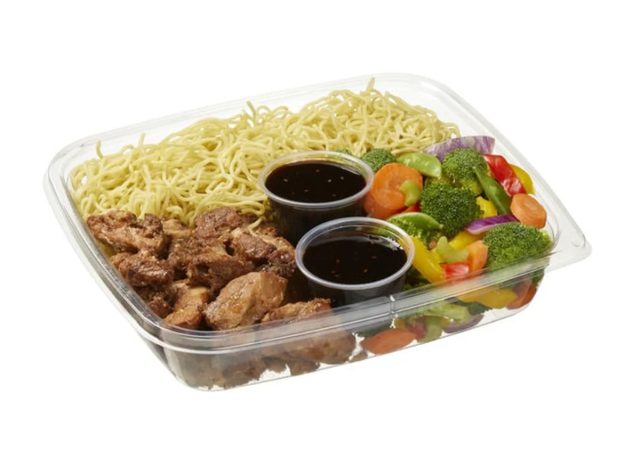 Blogger CostContessa raved about Costco's ready-to-cook Yakisoba Stir Fry Kit as a "cheaper and healthier" alternative to takeout that can quickly and easily feed a family of four. The kit comes with seasoned sous vide chicken, yakisoba noodles, and mixed vegetables including broccoli, snap peas, bell peppers, onions, and carrots. Each kit also includes two containers of yakisoba sauce.
"The stir fry is my go to whenever I shop there. Quick. Easy and delicious," one commenter wrote on a recent Instagram post from @costcobuys.
$1.50 Hot Dog & Soda Combo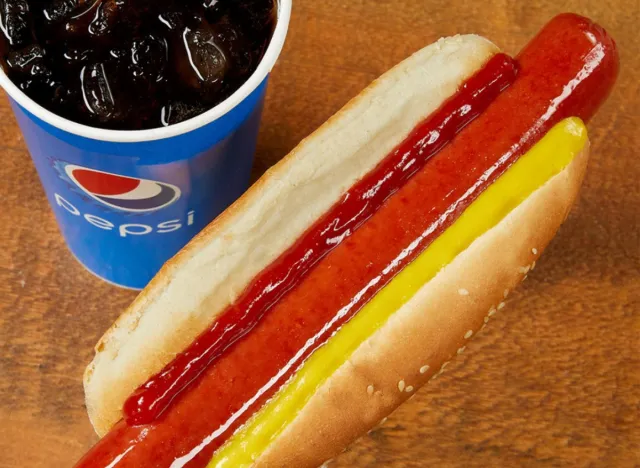 Arguably Costo's most famous food court offering is the $1.50 hot dog and soda combo. The deal has been the same price since its introduction in the 1980s—and Costco doesn't plan on increasing it.
Back in 2018, Craig Jelinek, Costco's CEO, shared during a presentation that Jim Sinegal, Costco's co-founder and former CEO, once said, "If you raise the [price of the] effing hot dog, I will kill you. Figure it out."  So, to maintain the low price, Costco built its own hot dog factory in Tracy, Calif., in 2011 and eventually added another plant in Chicago in 2018.
Chicken Bake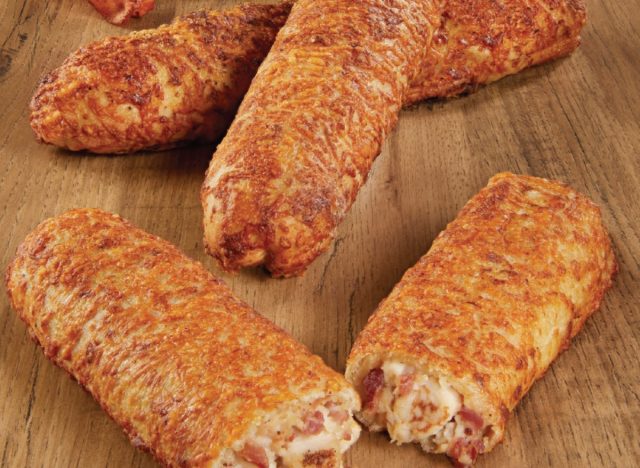 Costco's Chicken Bake is another food court mainstay that's garnered quite the following. The item consists of a hand-rolled crust stuffed with chicken, mozzarella, provolone, and parmesan cheese, along with bacon and Caesar dressing, as listed on the package of the frozen version.
To give the Chicken Bake extra oomph, some shoppers have stuffed it with a food court hot dog, transforming it into what's known as a "Forbidden Glizzy." Others have gone as far as placing a churro inside of it, or wrapping the "Forbidden Glizzy" in Costco's pizza.
Combo Pizza
Although Costco cut this pizza from its food court menu a couple of years ago, its impact on customers remains strong. "The combo pizza was a thing of beauty," one Reddit user wrote. "It was something special. I specifically remember many Costco trips [solely] because of this pizza," another one lamented.
The treasured food court item included a combination of pepperoni, sausage, and veggies. One Redditor, who submitted online feedback about the discontinuation, said Costco responded to them via email by writing, "A difficult decision was made to simplify our business and unfortunately, the Combo Pizza was removed from our menu line up." In an effort to revive the popular item, several people have even started online petitions.
Just Bare Lightly Breaded Chicken Breast Chunks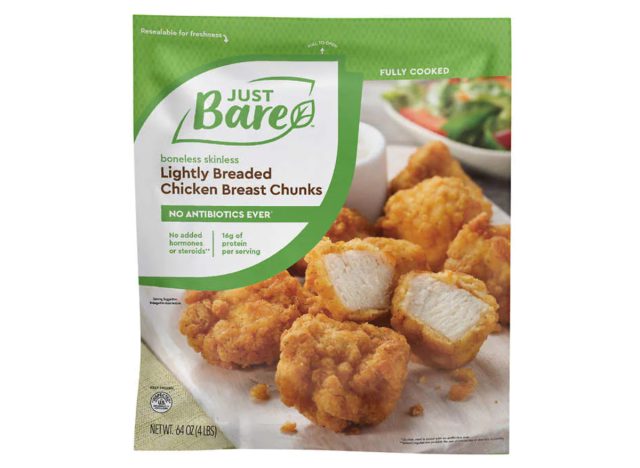 After being compared to Chick-fil-A's chicken nuggets in January 2021, Just Bare's Lightly Breaded Chicken Breast Chunks have stirred up countless social media conversations, gone out of stock, and experienced price fluctuations.
Currently clocking in at $17.99 at the warehouse ($22.99 online), the four-pound bag of frozen chicken is still attracting plenty of shoppers. "I swear I've gone through over 30 bags by now," one Redditor shared.
Bibigo Chicken & Cilantro Mini Wontons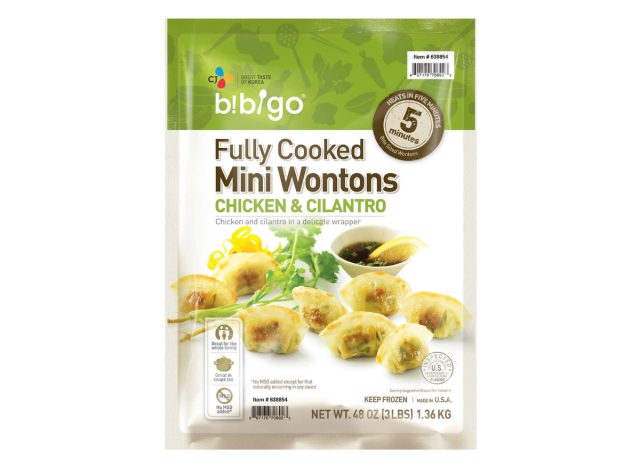 When you need something to hold you over until dinner, nothing beats a frozen appetizer. Bibigo's Chicken & Cilantro Mini Wontons grant customers the creative freedom to prepare the item in multiple ways, prompting Reddit users to share how they typically cook the frozen food. Responses ranged from air frying and heating the wontons in a skillet to steaming and then cooking them in a wok on high heat.
"These are soooo good!! I make a wonton soup that's super filling: dashi/soy/mirin broth, and add some Costco frozen broccoli and these dumplings. 🤤,"one Reddit user shared.
Kirkland Signature Italian Sausage and Beef Lasagna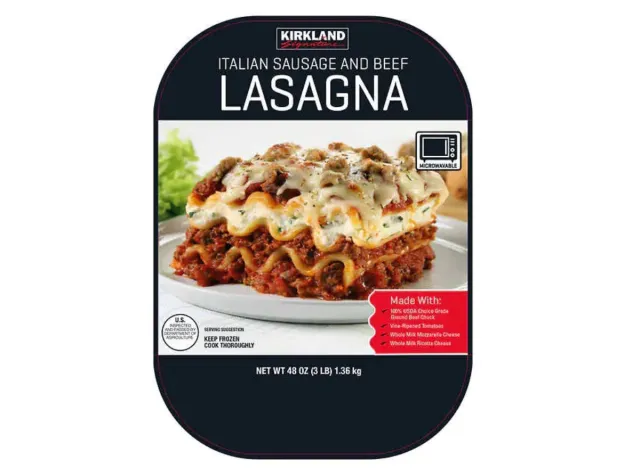 A frozen meal can be a lifesaver when you're too lazy to cook or short on time—and Kirkland Signature's Italian Sausage & Beef Lasagna appears to be a winner among customers. After one Reddit user started a thread about the product, multiple people shared their love for the item, with several calling it the "best frozen lasagna."
Kirkland Signature Supreme Cauliflower Crust Pizza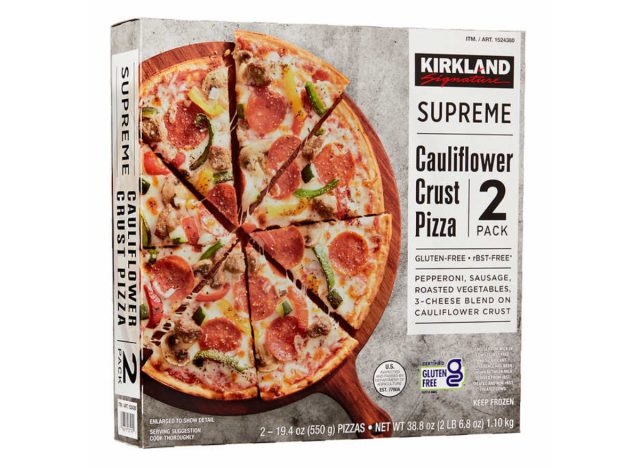 This gluten-free cauliflower crust pizza has taken the internet by storm, as many social media users have delighted over the product on Reddit. The frozen pizza consists of a cauliflower crust topped with tomato sauce, a three-cheese blend, pepperoni, sausage, and roasted vegetables.
While some have noted their fondness for the pizza despite not following a gluten-free diet, others called the product "the best frozen pizza"—with some preferring it to regular pizza.
Kirkland Signature Super Premium Vanilla Ice Cream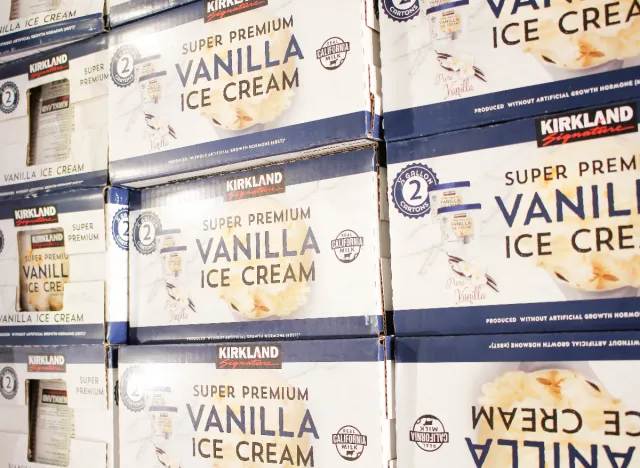 While you're in the freezer aisle, be sure to grab a box of Costco's Super Premium Vanilla Ice Cream. According to the International Dairy Foods Association, "premium" or "super premium" products tend to have low overrun (air) and a high fat content. This makes the ice cream's consistency extra creamy. "It is undeniably the best ice cream out there," one Redditor wrote.
Ribeye Caps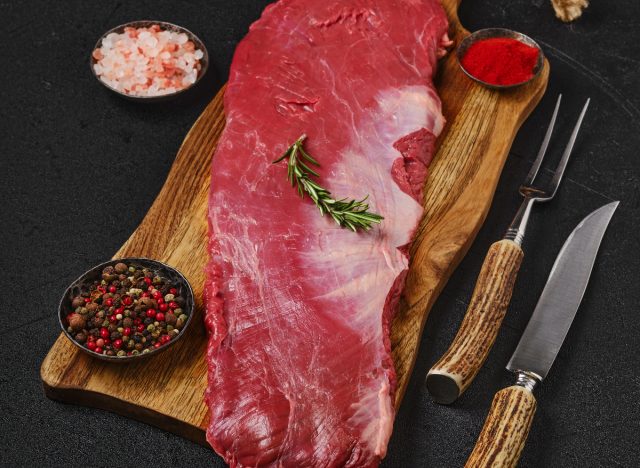 This cut of steak isn't regularly found in Costco's meat department, but it remains one of the most sought-after items at the warehouse. "Best part of the ribeye," one Reddit user raved. "Delicious, worth every penny," another one said. "I've looked for them every time I go to Costco, still yet to spot them in the wild," added one unlucky commenter.
As Chicago Steak Company points out, the rib cap comes from the curved top end of the ribeye, an area that is not involved in a lot of the cow's movement, which helps to create a "fantastic melt-in-your-mouth texture." In another Reddit thread, users offered recommendations for cooking the steak, including grilling, reverse searing, and sous vide.
Butter Croissants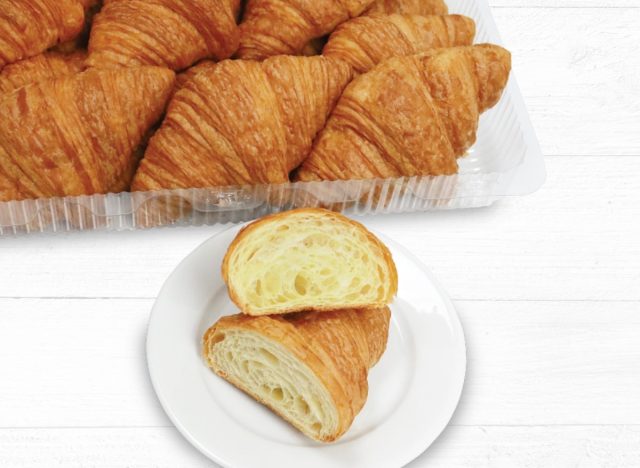 Buttery, flaky, and incredibly versatile, Costco's croissants can serve as a blank canvas for numerous recipes. While some shoppers have opted for sweeter creations by turning the croissants into French toast or bread pudding, others have used the pastries to make savory sandwiches. The fan-favorite bakery item is made fresh daily and sold in packages of 12, according to Costco.
Almond Danishes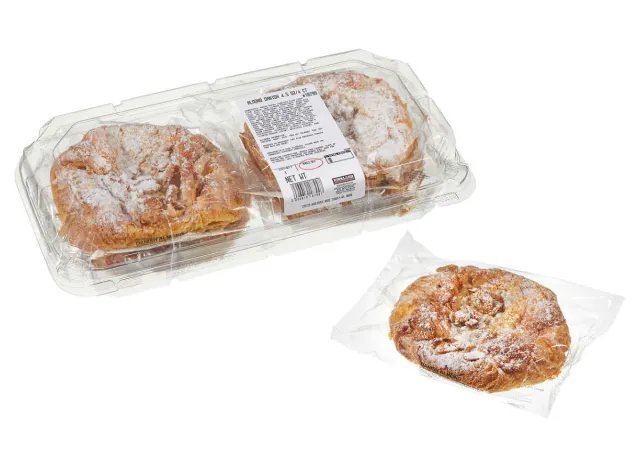 This baked good consists of flaky pastry dough filled with sweet almond paste and dusted in powdered sugar. Multiple Reddit users have categorized this sweet treat as their favorite bakery item, with one saying, "The Almond Danish are better than most I've had from expensive bakeries." Another one commented, "If you like marzipan, you're going to love the almond danish things. They're too good!"6254a4d1642c605c54bf1cab17d50f1e
Cinnamon Pull-Apart Bread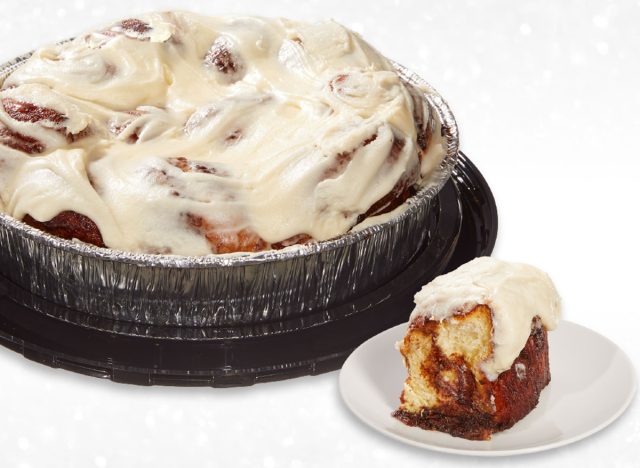 Craving something sweet for breakfast? Warm cinnamon rolls are sure to hit the spot. Costco's Cinnamon Pull-Apart Bread features 12 cinnamon rolls baked together and generously topped with cream cheese icing. After Instagram user @costcobuys announced the bakery item's recent resurgence, one commenter claimed these cinnamon rolls are "better than Cinnabon!"
Tuxedo Chocolate Mousse Cake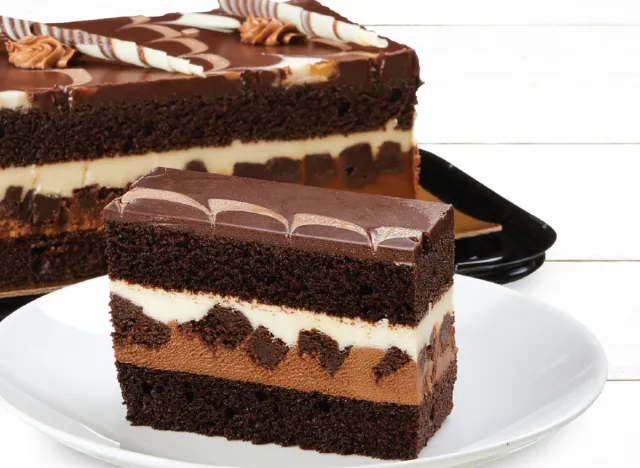 If you're a chocolate lover, you're going to want to pick up one (or two) of these cakes. This decadent dessert is layered with chocolate cake, chocolate mousse, white chocolate mousse, brownie chunks, and a chocolate ganache topping. To further jazz up the cake, Costco decorates it for the holidays, having sold Christmas, Easter, and St. Patrick's Day versions.
Pumpkin Pie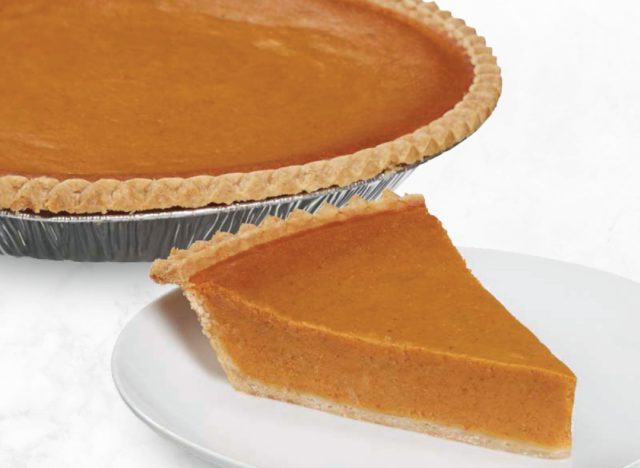 Available in stores as early as the end of August, Costco's Pumpkin Pie is a highly-anticipated fall treat. Come Thanksgiving time, customers will even stand in lines that extend to the back of the store.
After Instagram account @costcosisters announced the seasonal product's return, one user commented, "I LOVE costco pumpkin pie!!!!! Only pie we eat on Thanksgiving and Christmas 😍😍😍😍." Meanwhile, taking the bakery item's price into account, one Redditor wrote, "I mean at $5.99 it's a steal! No wonder they sell out. Can't make one that big for the price."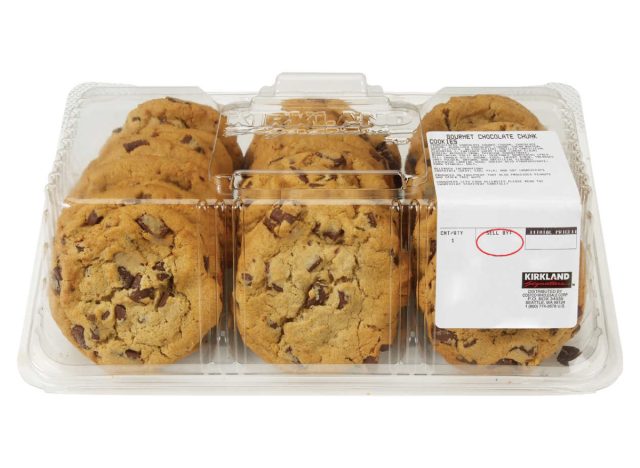 Simple, sweet, and oh-so-delicious, Costco's Chocolate Chunk Cookies have been winning customers over for years. While the cookies can be found in a 24-count package, they also come in the Chocolate Lover's Cookie Pack, which includes White Chocolate Macadamia Nut and Triple Chocolate Cookies, as well. After purchasing the variety pack, Costco food reviewer Costcuisine described the cookies as "soft and chewy in the middle and slightly crisp on the outer edges."
Kirkland Signature Mini Thin & Crispy Chocolate Chip Cookies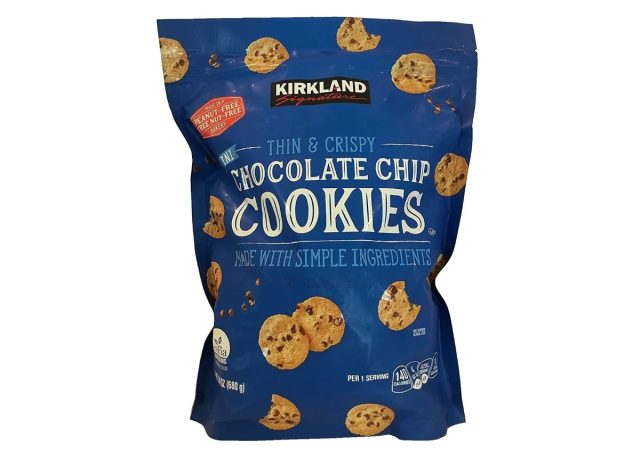 If soft cookies aren't your thing, Costco has a crispier option available. Kirkland Signature's Mini Thin & Crispy Chocolate Chip Cookies have generated plenty of online buzz over the years. Several commenters on Reddit have called the product "addicting." Others have taken the cookies up a notch by enjoying them as cereal in a bowl with milk.
Kirkland Signature Organic Maple Syrup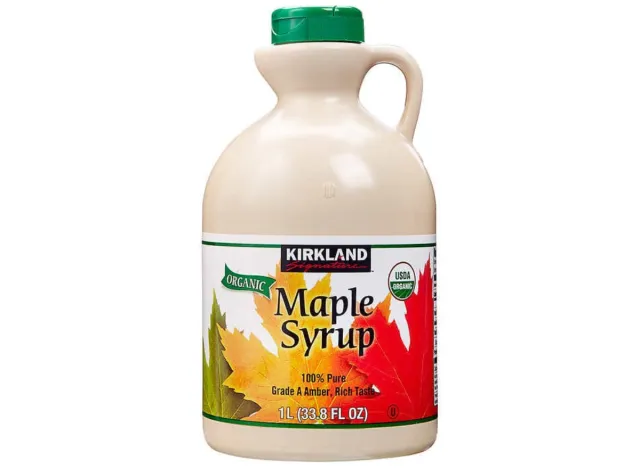 Pancakes, anyone? Costco's beloved breakfast topper is made with just one ingredient: 100% Grade A amber rich maple syrup. In a product review, Costcuisine wrote that the Kirkland-brand maple syrup, "has a slight hint of molasses flavor and hints of vanilla and caramel," adding that it "tastes pretty much the same to me as the high quality, glass bottle maple syrup you would buy at a specialty Canadian gift shop."
Kirkland Signature Organic Extra Virgin Olive Oil
Receiving rave reviews is nothing new for Costco's Kirkland Signature Extra Virgin Olive Oil. Author Samin Nosrat notably recommended the product in her popular 2017 cookbook Salt, Fat, Acid, Heat. Its name also comes up in a Reddit thread focused on shoppers' "favorite Costco purchase of all time," receiving nearly 120 upvotes.
According to Costco's website, the two-liter bottle of olive oil "[d]isplays a full-bodied elegant aroma with a distinctive, rich taste." The retailer also sells a 100% Italian version, which is produced from Italian-grown olives.
Kirkland Signature Basil Pesto
This Kirkland condiment can be added to a variety of dishes ranging from pasta and pizza to sandwiches and eggs. The 22-ounce item is made with Genovese basil, sunflower oil, parmesan cheese, pine nuts, extra virgin olive oil, and pecorino romano cheese.
Keeping the product's size in mind, Reddit users suggested freezing the pesto. One person wrote, " …I freeze them in ice cube trays then keep a bag of those in the freezer. Super easy to store long term and use as much or as little as you want."
Kirkland Signature Organic Peanut Butter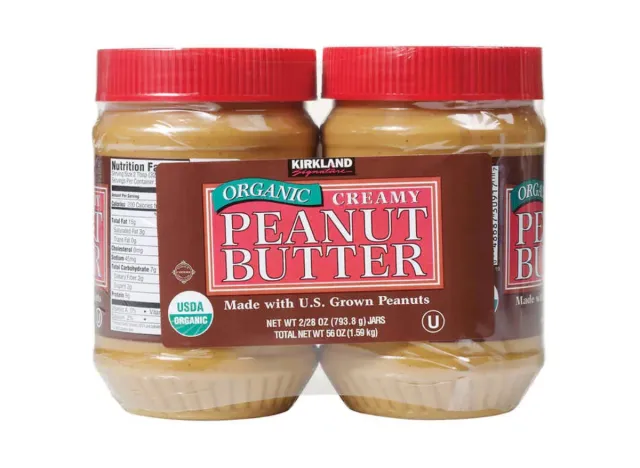 Classic and creamy, this popular spread only has two ingredients: dry roasted organic peanuts and sea salt. In a Reddit thread centered around Costco members' favorite Kirkland products, one user said Kirkland's Organic Peanut Butter "​​tastes way better and more natural than [the] name brand."
Brianna Ruback
Brianna is a staff writer at Eat This, Not That! She attended Ithaca College, where she graduated with a degree in Journalism and a minor in Communication Studies.
Read more about Brianna