Costco Members Are Sharing the Bad Shopper Behaviors That Drive Them Crazy
Some members seem to be fed up with their fellow shoppers.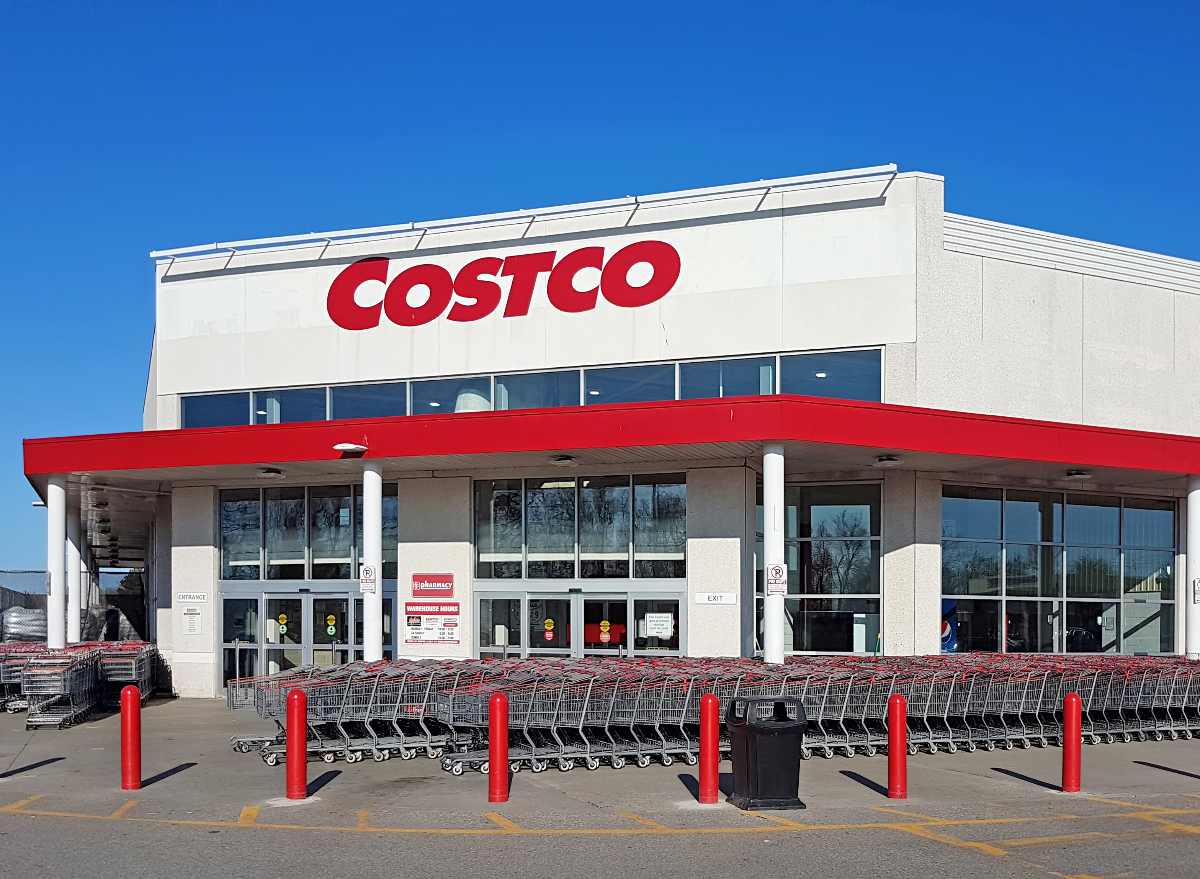 Even if you prefer competitors like Sam's Club and BJ's, you can't deny the love that Costco shoppers have for the popular warehouse club.
Costco became the third largest retailer in the U.S. by sales in 2021, and the company had accrued 123 million cardholders as of February 2023. Some Costco members are so passionate about the grocery chain that they keep tabs on when products are leaving or coming to shelves, and rate certain items to help their fellow shoppers.
But some customers have been finding their Costco experiences to be less than perfect recently because of poor behavior from other shoppers. Members have taken to Reddit to air their grievances against fellow customers, and several major themes have emerged among these complaints. Here are five of the bad shopping behaviors that are driving other Costco members crazy.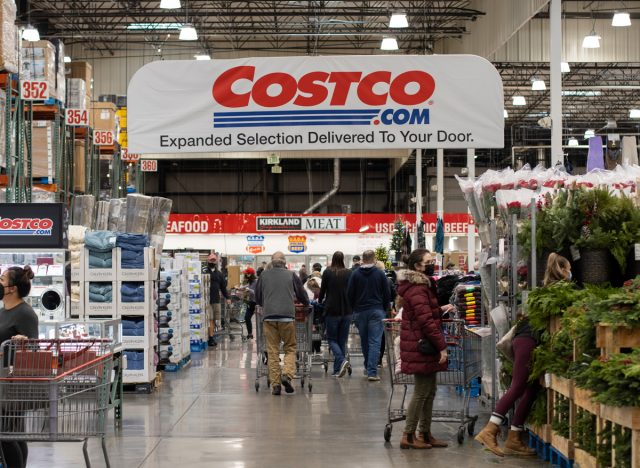 Navigating Costco, especially during busy shopping times, has the potential to be extremely aggravating. And according to Reddit users, shoppers who block aisles with their shopping carts are only making the issue worse.6254a4d1642c605c54bf1cab17d50f1e
"People who leave their carts in the middle of the aisles are my biggest annoyance," one user commented on a Reddit thread this week.
Others pointed out that when shoppers stop to pick up a free sample, they should move away from the stand before eating it so that other shoppers can also get close enough to grab one.
2
Failing to Have Membership Cards At the Ready
Costco is a member-only retailer, so shoppers are required to present their identification cards every time they enter a warehouse. But some Costco shoppers seem to have missed this memo, according to Reddit users.
In one Reddit thread this week, one Costco customer chastised those who aren't prepared to present their membership cards as soon as they enter the warehouse. The shopper said that having to wait for another member to dig through a purse or wallet to find proof of membership clogs up the doorways and causes lines of people to build up behind them.
"Being PREPARED IS COURTEOUS!" the Reddit user wrote. "Get it done & move along. (This also means DON'T stop in the middle of the doorway, 5 feet inside the entrance to re-holster the membership card you'll also need again at checkout, where you'll likely repeat the exact same behavior.)"
Other members vehemently agreed with this take in the comments section under the post. 
"Going to Costco is a test in patience from soup to nuts," a Reddit user commented.
3
Leaving Trash Around the Store
It's easy to build up a pile of trash when you can't resist picking up all the free samples Costco hands out to customers. But that doesn't mean shoppers should discard trash from those samples anywhere they please.
In another thread on the Costco subreddit this week, one user shared a picture of disposable cups and spoons that were abandoned in a Costco aisle instead of being thrown away.
"For the love of Costco, please don't," the user captioned the picture.
Fellow Reddit users chimed in to share how much this type of behavior frustrated them. Some even suggested confronting shoppers who don't throw away their trash.
"I wish it was acceptable to just grab someone by the face and shake them when they do something like this," one commented.
4
Returning Items to the Wrong Shelves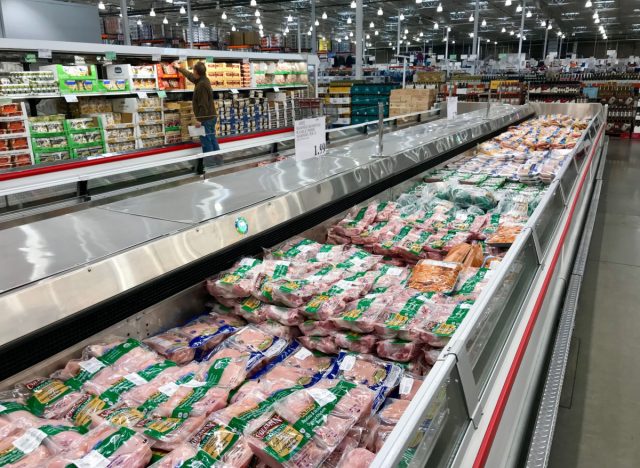 To say that Costco warehouses are large would be an understatement. The buildings range in size from 80,000 to 230,000 square feet, encompassing 146,000 square feet on average, according to the Costco website.
But while some members may be tempted to leave a product somewhere it doesn't belong in order to avoid a long trip across these sizable warehouses, fellow shoppers are urging them to avoid this type of behavior.
When a Costco shopper shared a photo on the Costco subreddit this week showing a package of shrimp shoved into a display of eyeglasses, Reddit users were not amused.
"I think they should automatically revoke membership for stuff like this," one user said.
"This irks me to no end," another commented.
Others pointed out that Costco likely has to discard refrigerated foods left out in the open for too long, so failing to return these types of products to where they belong could cause unneeded food waste.
5
Clogging the Parking Lot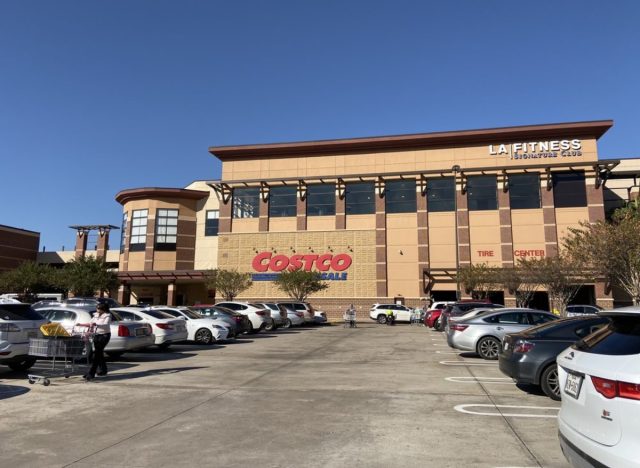 Good Costco etiquette starts before you even enter the warehouse, and that extends to searching for a parking spot, according to shoppers. 
In another post in the Costco subreddit this week, a customer criticized drivers who stop in the middle of a parking lot row to wait for a shopper to load groceries into their car and give up the spot. This leaves any other drivers behind them stuck until they're able to pull into a spot.
"Find a parking spot that is vacant, not soon to be vacant," a Reddit user commented below the post.
And while this sometimes can't be avoided if every single spot in the Costco lot is already taken, Reddit users encouraged anyone who chooses to wait for a spot to at least leave room for others to get by.
Zoe Strozewski
Zoe Strozewski is a News Writer for Eat This, Not That! A Chicago native who now lives in New Jersey, she graduated from Kean University in 2020 with a bachelor's degree in journalism.
Read more about Zoe