Cracker Barrel Is Losing Customers—Here's Why
The company reported "meaningful" traffic declines in the most recent quarter.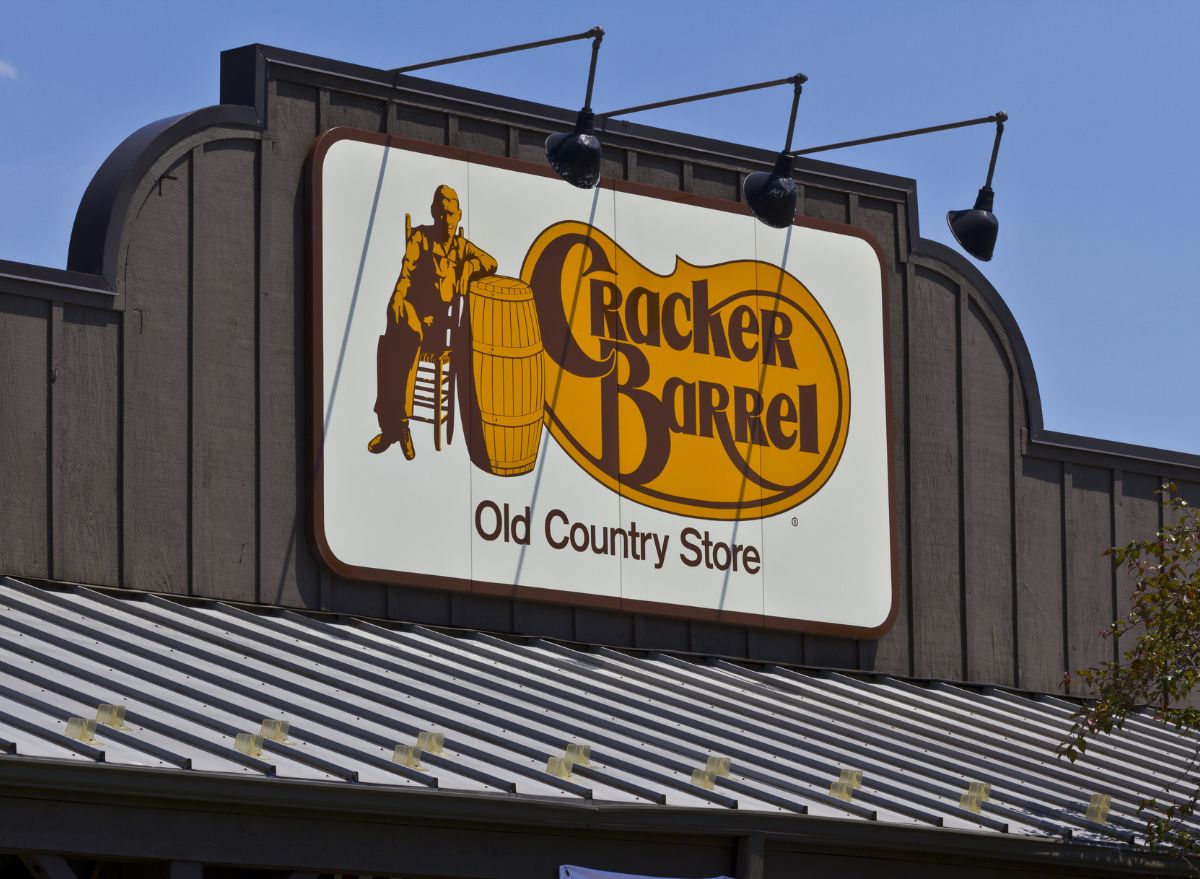 Whether it's because of the eclectic decor or southern-style comfort food, Cracker Barrel has grown into an American destination for consumers seeking a convenient roadside meal with a side of down-home charm. But not even the nostalgia and cozy reputation associated with Cracker Barrel's name have been enough to keep bringing in customers in the last few months as elevated prices and other financial woes make eating out much less affordable.
This week, the Southern-themed American restaurant chain reported a 3.2% drop in customer traffic in their latest financial quarter that ended on April 28. Cracker Barrel's president and CEO Sandy Cochran said during a June 6 earnings call that this "meaningful" traffic decline "negatively impacted our sales and profits, both of which came in a bit below our expectations."
So why are customers cutting back on Cracker Barrel visits? According to Cochran, it's because of economic pressures and "weaker" consumer sentiment, which Investopedia defines as an economic indicator that assesses how positively consumers feel about the economy and their finances.
Supply chain snags and inflation have raised costs for food, labor, and other commodities in recent years, making running restaurants much pricier as a result. Certain chains, like Chipotle and Domino's, have passed those elevated costs onto customers by raising their menu prices in order to offset the financial pressures. Cracker Barrel is no exception to this trend—Chief Financial Officer Craig Pommells revealed during the earnings call that prices were up about 8.8% in comparison to where they were a year ago.6254a4d1642c605c54bf1cab17d50f1e
Cracker Barrel's chief marketing officer Jennifer Tate said that they haven't seen "significant pushback" from guests regarding the elevated prices. Still, Tate suggested that higher prices throughout the wider restaurant industry have spurred customers to visit chains like Cracker Barrel less and less.
"We believe they're cutting back not on check, but rather on the number of visits that they opt to spend on our category. So that seems to be where they're pulling back," she said.
Though traffic, sales, and profits were not as high as Cracker Barrel hoped during the quarter, the company hopes to increase guest visits by leaning into value deals like its $5 take-home meals and 20 meals that are all under $12. The company is also planning the beta launch of a new loyalty program in July that it believes will drive more guest traffic.
"I'm excited about the program, which incorporates all of our channels, including retail and features fun gaming elements. We believe the loyalty program will drive higher frequency, increase brand loyalty, and customer lifetime value and provide robust actionable guest data," Cochran said.
Overall, Cracker Barrel is confident that its performance will improve in the long run. The company reported a 7.4% increase in same-store sales in the quarter, which it said was driven by the higher prices, and a 5.4% increase in revenue compared to the prior year.
"Although we expect continued pressures and choppiness in the short term, we feel good about our positioning over the medium and longer term," Cochran said.
Zoe Strozewski
Zoe Strozewski is a News Writer for Eat This, Not That! A Chicago native who now lives in New Jersey, she graduated from Kean University in 2020 with a bachelor's degree in journalism.
Read more about Zoe