The Absolute Worst Dishes at Cracker Barrel
Keep your eyes on the triangle peg board... not the steaming chicken pot pie your mom just ordered.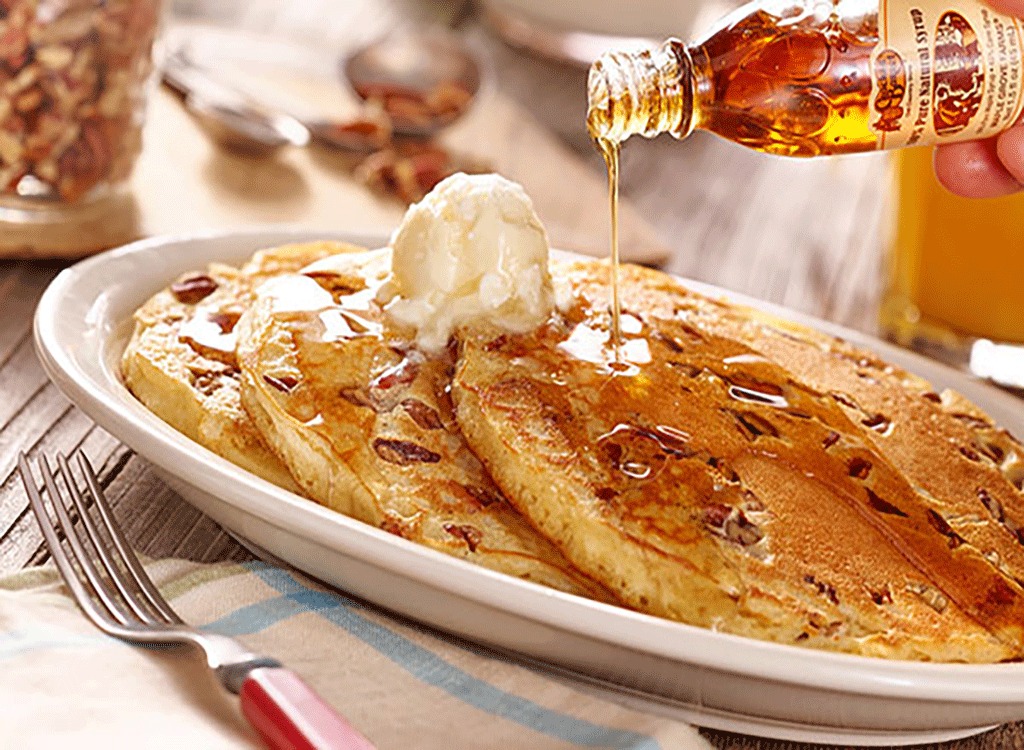 It's not every day you find a restaurant where you can shop and eat at the same place, but that's exactly what Cracker Barrel has to offer. And if you've ever ordered off of their menu, you know they also offer comfort food in enormous portions. With fan favorites like double fudge Coca Cola cake, chicken n' dumplings, and fried apples, it's a difficult spot for dieters to dine — but not impossible.
Here at Eat This, Not That!, we figured out how to navigate the rich, fat-filled menu at Cracker Barrel so you don't have to. Hopefully, one look at this list will scare you away from the bad stuff — no matter how great it smells going by your table. Your body will thank you afterward, especially if you keep up the good work by avoiding the #1 worst menu option at 41 popular restaurants while you're at it.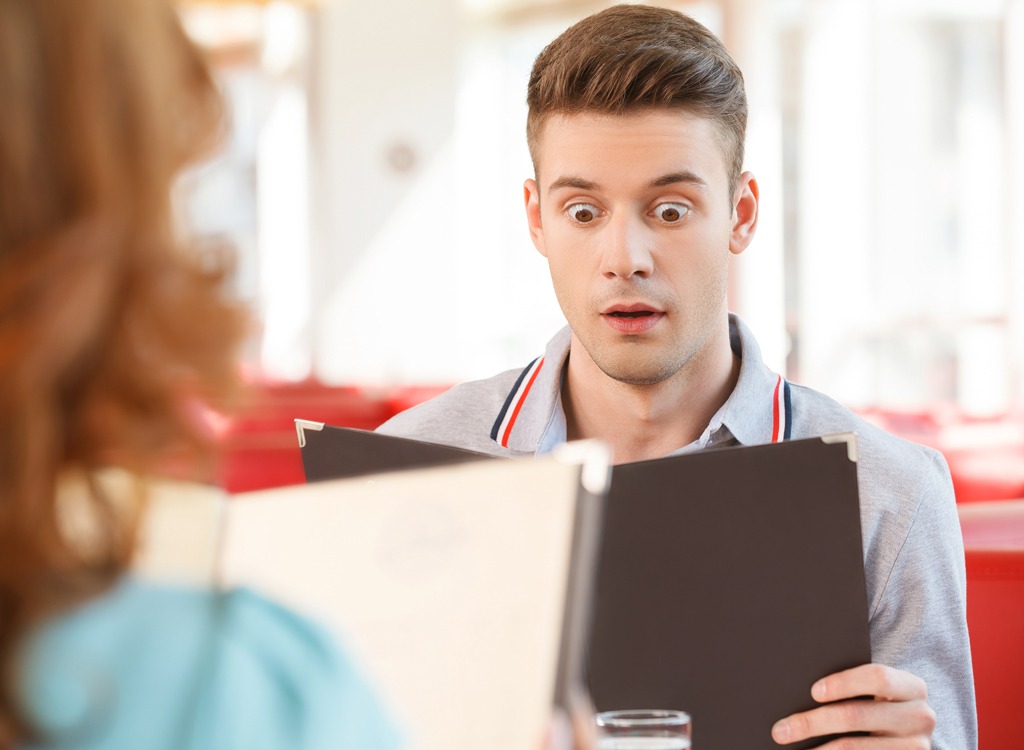 Prepare yourself. As much as some of these nutrition facts may look like typos, we promise you, they're the real deal.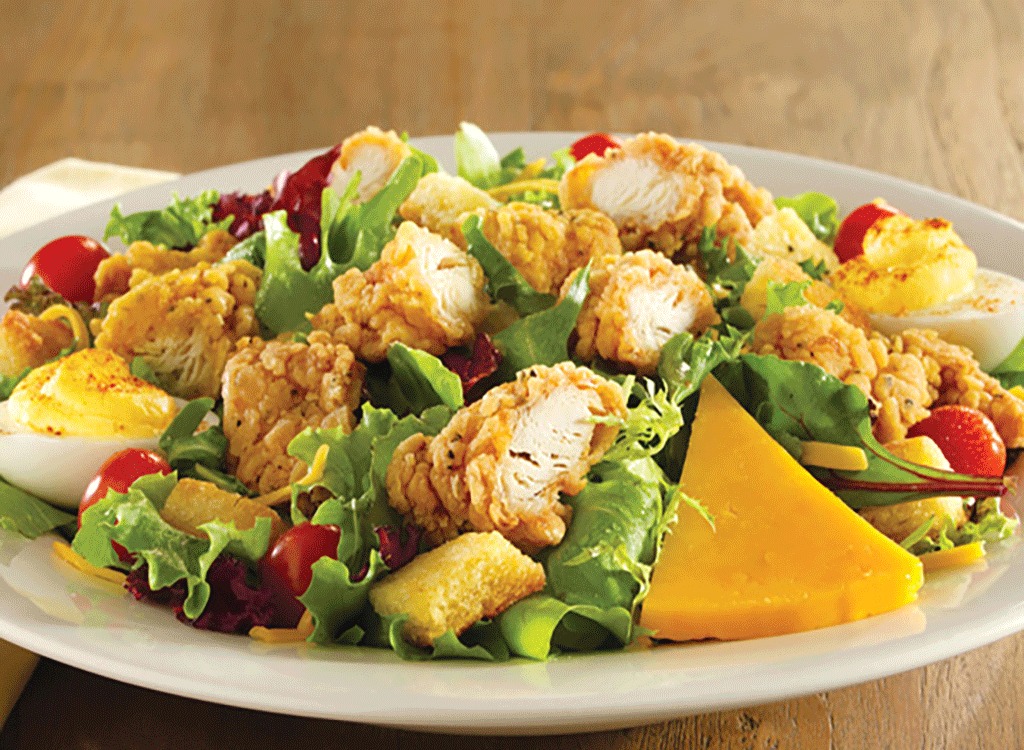 790 calories, 40 g fat (15 g saturated fat), 2,080 mg sodium, 62 g carbs (5 g fiber, 7 g sugar), 47 g protein
Ordering a salad doesn't always earn you a pat on the back. Just because there's greens, grape tomatoes, and egg slices on this plate doesn't excuse the fact that Cracker Barrel has topped all of it with fried chicken. Even 47 grams of protein can't justify being 220 milligrams shy of the daily sodium limit, which is like scarfing down 24 McNuggets. And to make things worse, adding all but one of their dressing options will easily push you over 2,300 milligrams. Consuming that much salt could be one of the weird reasons you're gaining weight so fast.
Maple Jam N' Bacon Double Cheeseburger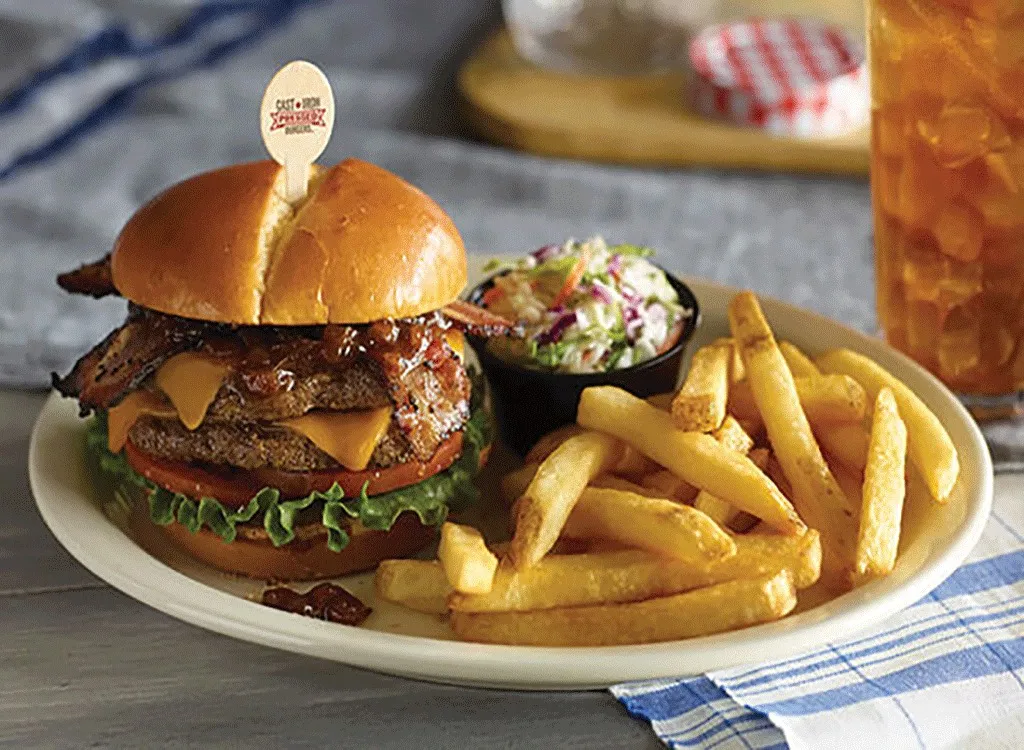 903 calories, 51 g fat (23 g saturated fat), 1,230 mg sodium, 49 g carbs (2 g fiber, 18 g sugar), 66 g protein
There are so many problems with this burger, and that's not even counting how hard it would be to get your mouth around it. With two beef patties, bacon, and maple jam, anyone polishing off a cheeseburger of this size is looking at just barely missing the 1,000-calorie mark, as well as consuming three more grams of saturated fat than the daily recommended amount. And those nutritionals above don't even count the homestyle fries, cole slaw sampling, and buttered corn muffin that come on the side, which collectively will bump the entree up another 770 calories. If all of the above sounds excessive to you, just keep scrolling.
Grandpa's Country Fried Breakfast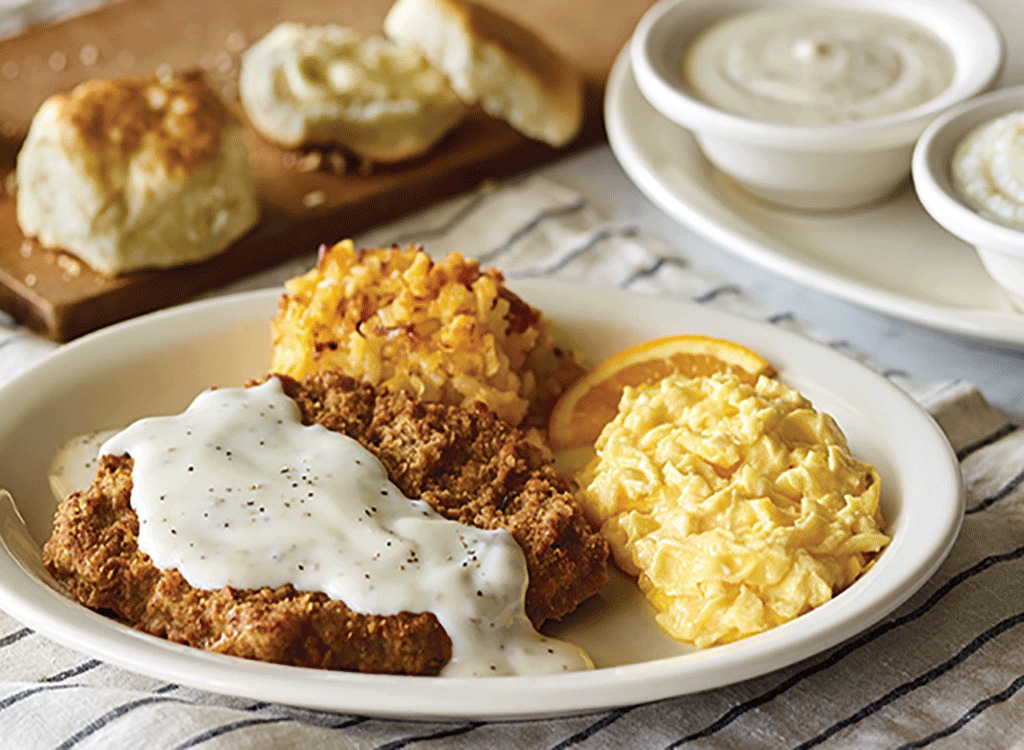 1,040 calories, 49 g fat (14 g saturated fat), 2,030 mg sodium, 93 g carbs (4 g fiber, 3 g sugar), 57 g protein
We know this entree is called Grandpa's Country Fried Breakfast, but if you love your grandpa, you'd never let him anywhere near this. Eating over 1,000 calories first thing in the morning would definitely be starting your day off on the wrong foot. Besides two eggs and cheese grits, the menu gives you options for filling the rest of the plate, but none of them are even slightly good for you. Choosing the country fried steak and hash brown casserole will send your sodium soaring.
1,020 calories, 57 g fat (7 g saturated fat), 2,640 mg sodium, 119 g carbs (8 g fiber, 12 g sugar), 15 g protein
Granted you're even able to finish three pancakes bigger than your face, this breakfast entree at Cracker Barrel will set you back over 100 grams of carbs. And don't even think about slathering them in butter and syrup, which will boost your breakfast to more than half the daily recommended intake. This stack of empty calories — 1,020 to be exact — is a perfect example of why pancakes belong on our list of worst carbs in America.
And The #1 Worst Cracker Barrel Dish… is Homestyle Chicken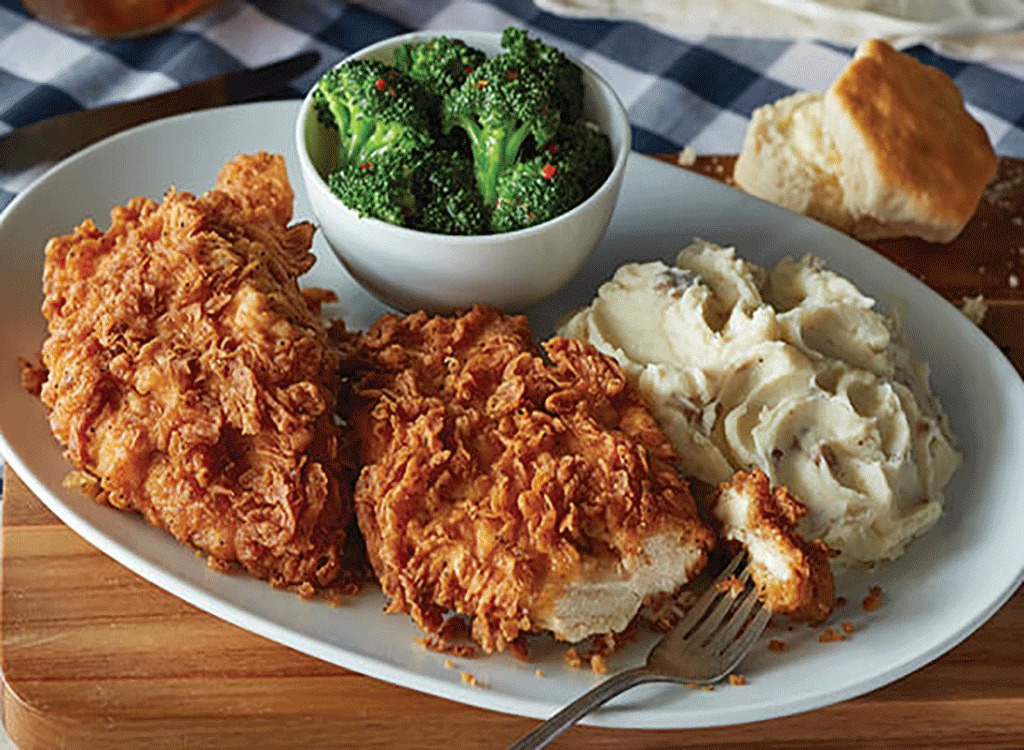 1,350 calories, 92 g fat (19 g saturated fat), 3,200 mg sodium, 65 g carbs (6 g fiber, 2 g sugar), 66 g protein
Congratulations, Cracker Barrel. You've managed to knock out an entire day's worth of sodium (and then some) with just one plate of breaded and deep-fried chicken. Anyone ordering this not only needs to stay away from the two sides and biscuit that come with it, but the drink menu as well. Instead of the iced tea and lemonade, chug as much water as possible to combat this amount of salt.
Feeling hopeless yet? Don't. The Cracker Barrel menu is a big place and hiding amongst the fatty, salty calorie bombs are some deceptively healthy options.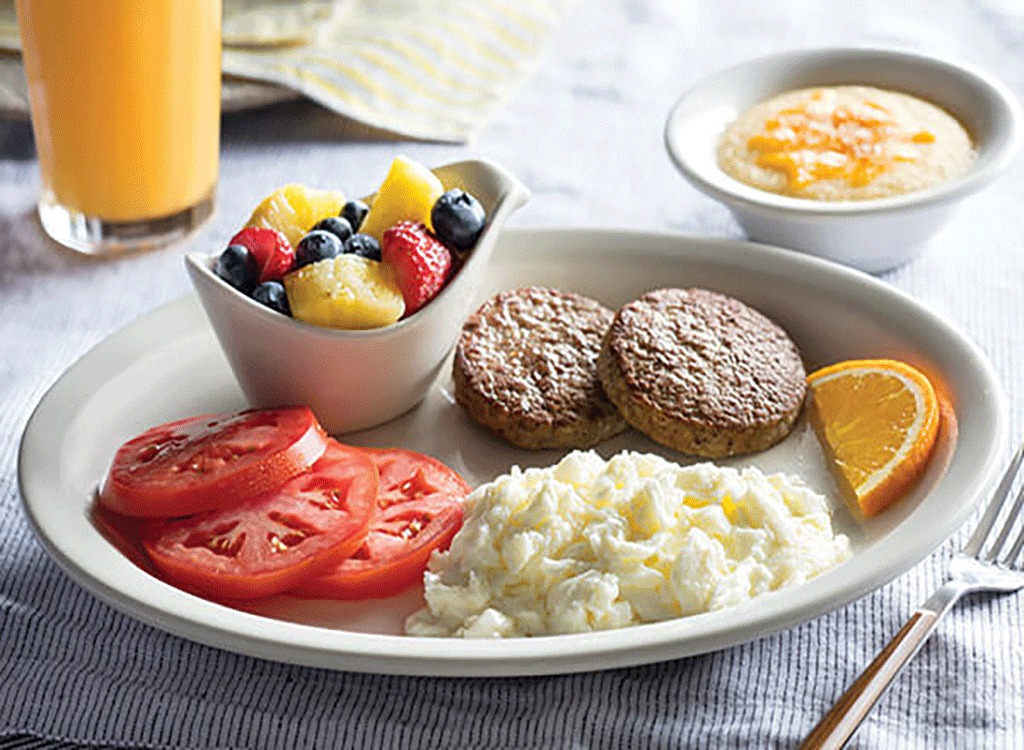 370 calories, 14 g fat (6 g saturated fat, 1,000 mg sodium, 32 g carbs (3 g fiber, 12 g sugar), 31 g protein
Good morning, indeed. While the breakfast section of the menu is full of countless traps to fall into, a plate this colorful is your best bet. Although the sodium content may not be ideal, it does come with the territory. And after eating egg whites, cheese grits, tomatoes, and fruit, you can feel good about starting your day with over 30 grams of protein.
Country House Salad With Grilled Chicken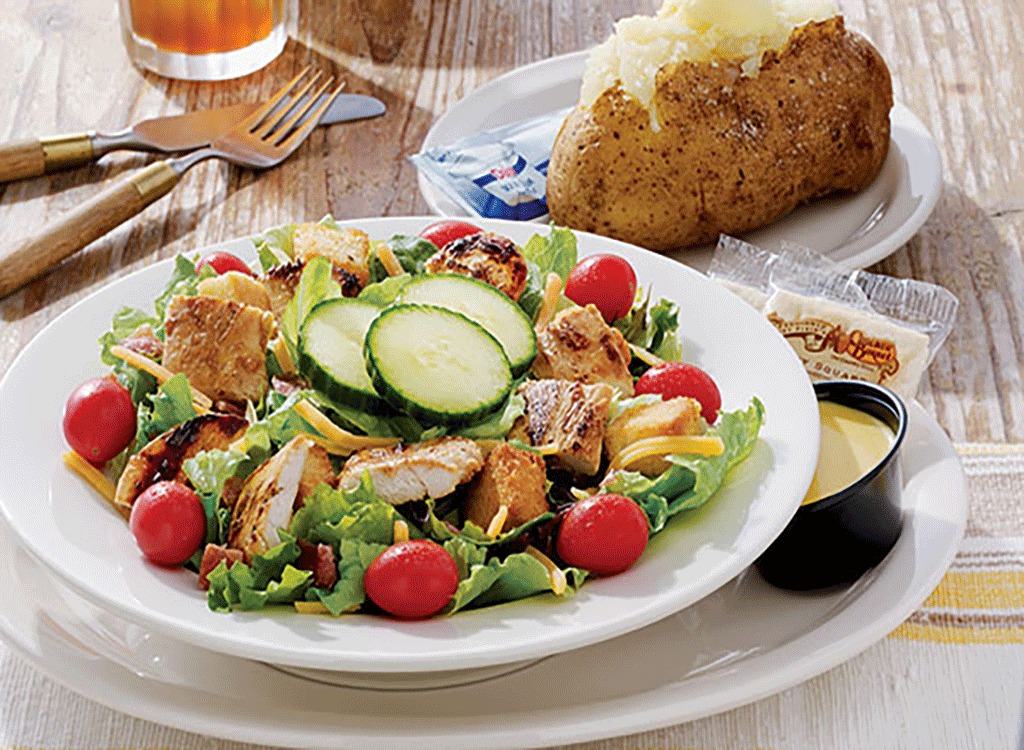 6254a4d1642c605c54bf1cab17d50f1e
340 calories, 17 g fat (6 g saturated fat), 890 mg sodium, 23 g carbs (3 g fiber, 8 g sugar), 24 g protein
Remember that artery-clogging chicken salad from before? This is the same exact dish, except you're swapping fried nuggets for grilled. A painless switch that gives you so much more freedom in the dressing department. Ask for it on the side and drizzle sparingly.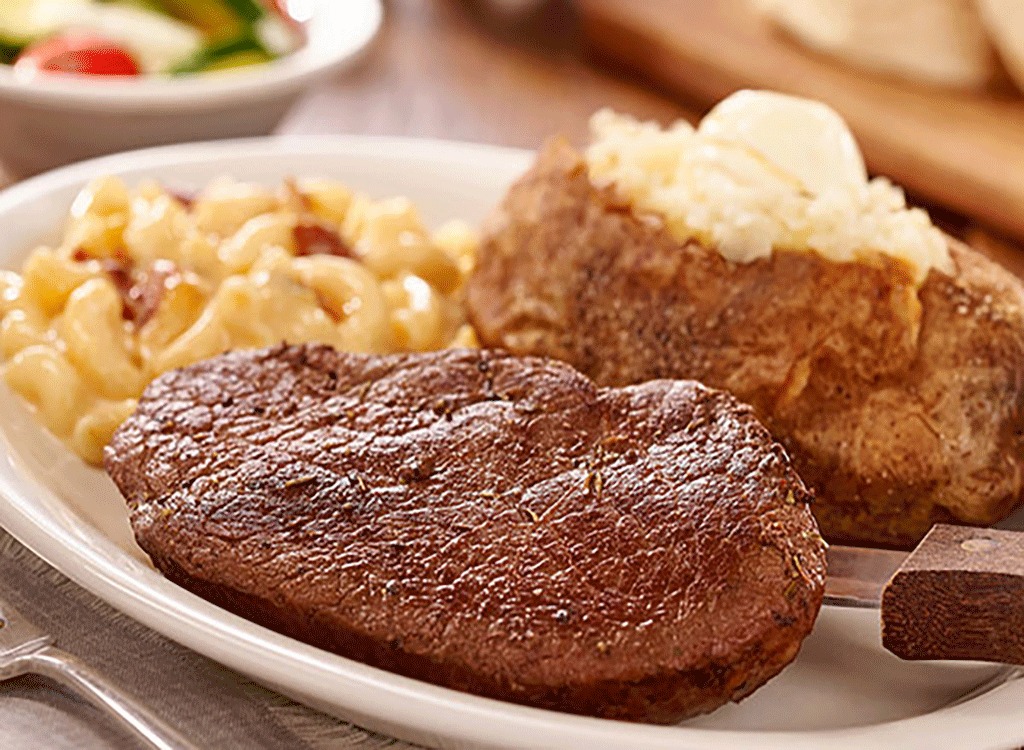 400 calories, 20 g fat (9 g saturated fat), 480 mg sodium, 1 g carbs (5 g fiber, 0 g sugar), 53 g protein
This eight-ounce steak may not be nearly as salty as most other menu items, but ordering it comes with a catch: Cracker Barrel will try serving it to you with three sides, an easy way to crank up the calories on this protein-rich meal. So, don't just choose wisely when it comes to your entree, but your sides as well. Any of the veggie options — unless they've been fried — can do the trick. Just remember, you don't have to order all three, and you definitely don't have to finish them.
Spicy Grilled U.S. Farm-Raised Catfish
260 calories, 11 g fat (3 g saturated fat), 650 mg sodium, 2 g carbs (1 g fiber, 0 g sugar), 18 g protein
Finding something low-cal and low-carb at this restaurant takes work, but tread carefully when ordering the catfish. While its nutrition panel may look great, it's served two ways — spicy grilled or fried with hushpuppies and tartar sauce — and the second option will cost you triple the calories and double the sodium. That's not even counting the three sides it comes with. So order with the care unless you want to be stuck with an entree that belongs in the other category.
And The #1 Best Cracker Barrel Dish…Grilled Chicken Tenderloins
150 calories, 4 g fat (1 g saturated fat), 570 mg sodium, 5 g carbs (1 g fiber, 0 g sugar), 24 g protein
We know four grilled chicken tenderloins aren't enough to fill anyone up, but that's the beauty of this guilt-free dish. It allows you to have a little fun when you're picking the two sides that'll come with it. Whether you use it as an excuse to splurge on some macaroni and cheese or stay clean with steamed broccoli and baby carrots, you really can't go wrong here. Keep it in mind next time you're at Cracker Barrel, and don't forget to read up on the 10 things you didn't know about Cracker Barrel before you go.
More content from
Restaurants