The Absolute Worst Dishes to Order at Cracker Barrel, According to Dietitians
Experts say these are the Cracker Barrel menu items to strike off your list.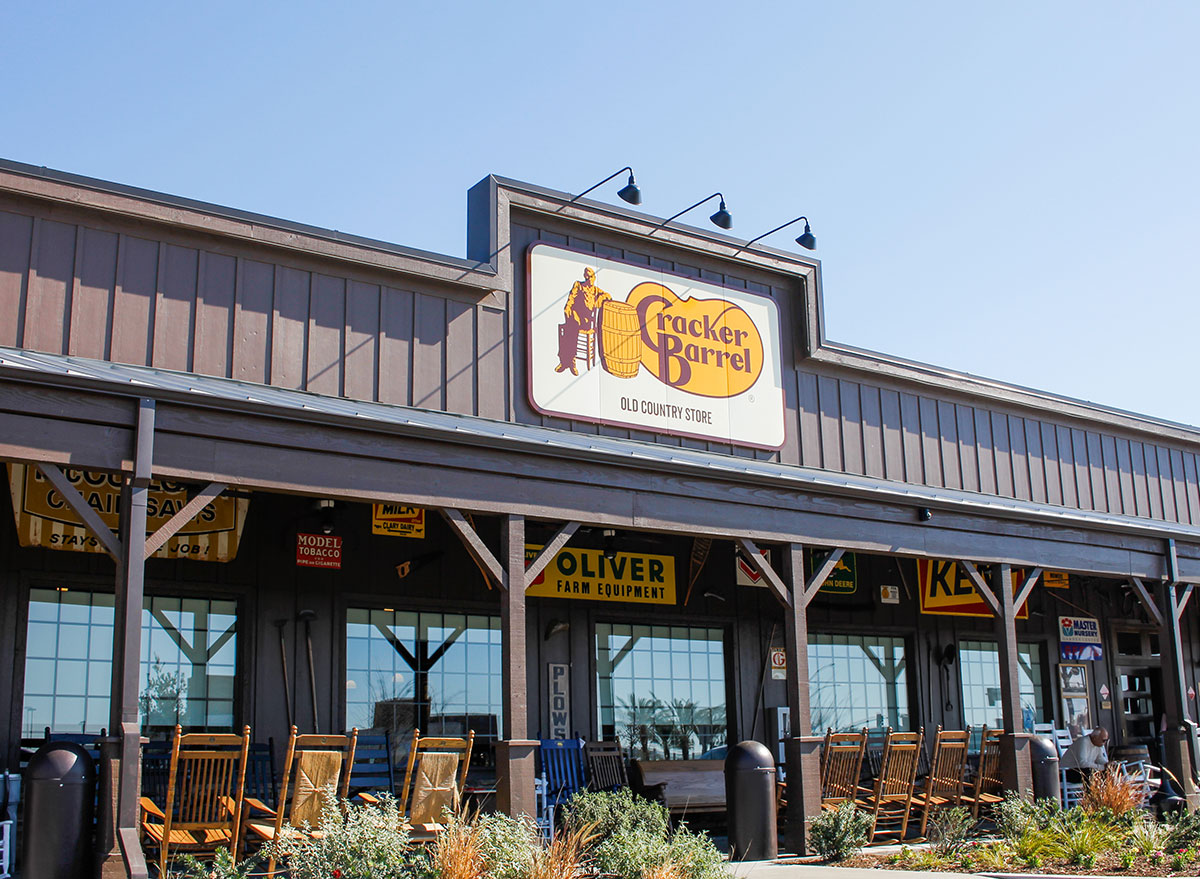 Cracker Barrel is notorious for its family friendly environment and country-style meals, but there are some menu items that you may want to avoid for your health. We spoke to dietitians and nutrition experts to bring you a list of meals to avoid while eating out at this chain. These meals were evaluated based on total calories, sodium, saturated fat, and more. Whether you are watching your blood sugar, or worried about heart health or blood pressure, these are the menu items to strike off your list next time you're at Cracker Barrel.
Some of the menu items may be obvious, like the fried food options or the extra large breakfast platters. However, some may surprise you. Remember, when eating out at restaurants, foods are going to almost always be notoriously higher in sodium, fat, and calories—as that's what makes restaurant food taste so good!
So, let's find out exactly which items these nutrition experts caution against, and keep in mind that this is a short list of menu items, and there are likely dozens of healthier options for you to choose from at Cracker Barrel. Then, for even more healthy tips related to eating out, check out the 22 Unhealthiest Restaurant Salads in America.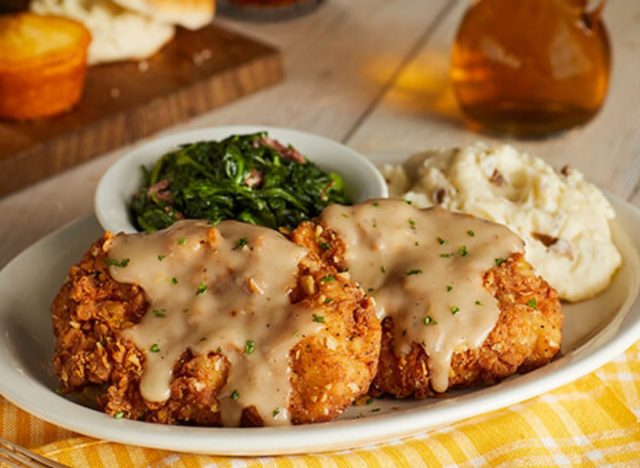 Per meal
: 1,040 calories, 72 g fat (17 g saturated fat), 2,400 mg sodium, 43 g carbs (3 g fiber, 2 g sugar), 53 g protein
With 1,040 calories, the Country Fried Pork Chops are one of the highest calorie options on the Cracker Barrel menu. When you consider that they are also served with two sides and either buttermilk biscuits or corn muffins, the total calories add up really fast.
Every once in a while, a breakfast like this is no big deal in the grand scheme of a healthy diet. If you pair your pork chops with collard greens and pinto beans for a lighter side, you can fare pretty well overall. Your meal will still be high in sodium and added oils, but you'll likely be able to cut back on total calories.
Stuffed Cheesecake Pancake Breakfast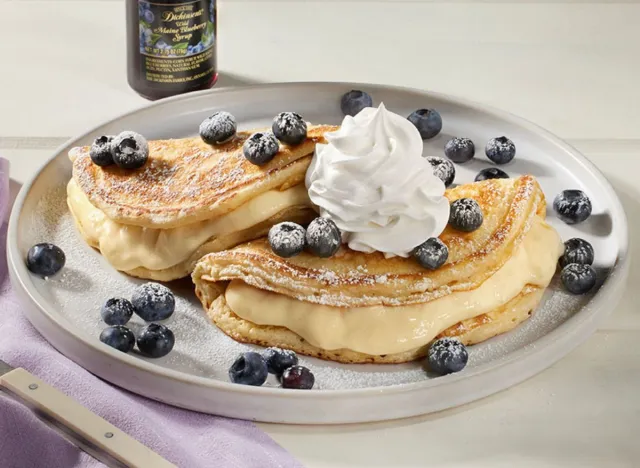 Per meal
: 1,250 calories, 54 g fat (26 g saturated fat, 1.5 g trans), 2,240 mg sodium, 152 g carbs (2 g fiber, 73 g sugar), 27 g protein
One of the least nutritious menu items is the Stuffed Cheesecake Pancake Breakfast, according to Jocelyn Rodgriguez, RD, CLC. "Based on the nutrition facts, this breakfast item contains 73 grams of sugar. Although this item does have some protein from the eggs and bacon/sausage, the cream cheese-filled, strawberry syrup pancakes skyrocket the sugar & fat content. Consider having traditional pancakes with a serving of eggs or another protein of choice to consume fewer calories from sugar," Rodriguez states.
Sharon Puello MA, RD, CDN, CDCES agrees: "The all-day breakfast menu is most definitely appealing, but some of the items pack almost a day's worth of calories in one meal. The Stuffed Cheesecake Pancake Breakfast is a sugar-laden, calorie bomb. At 1,250 calories even before you add a choice of sausage or bacon, this is a meal you would want to consider sharing instead of enjoying on your own. This is not a diabetic-friendly meal, and overall not a favorable choice for anyone eating at Cracker Barrel regularly and watching their cardiac and/or metabolic health."
Loaded Hashbrown Casserole Tots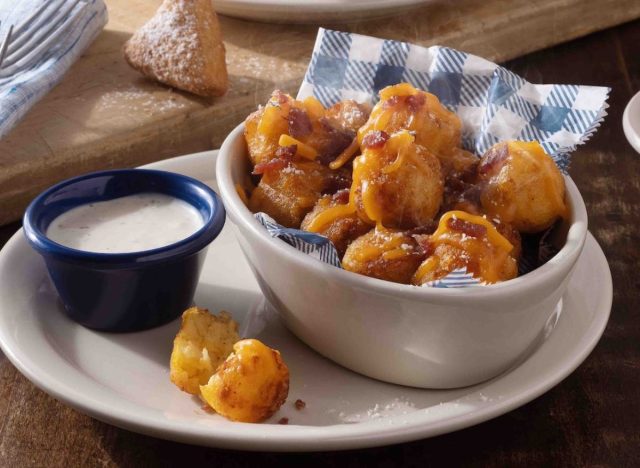 Per meal
: 610 calories, 40 g fat (15 g saturated fat), 1,640 mg sodium, 42 g carbs (<1 g fiber, 2 g sugar), 19 g protein
"The Loaded Hashbrown Casserole Tots are a popular item to order as an appetizer. However, they are loaded with saturated fat and sodium. It would be better to skip the tots and save room for your meal, rather than fill up before the entrée arrives. If you would like something before the meal, consider a cup of their chicken noodle soup for a healthier option," says Mandy Tyler, M.Ed., RD, CSSD, LD.
Bacon n' Egg Hashbrown Casserole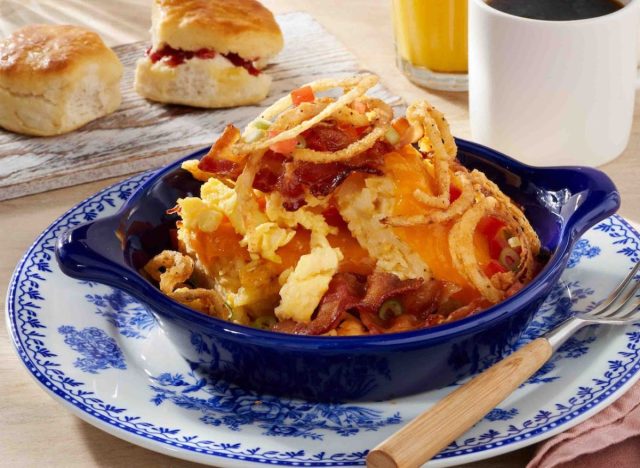 Per meal
: 980 calories, 61 g fat (25 g saturated fat), 1,820 mg sodium, 59 g carbs (6 g fiber, 3 g sugar), 49 g protein
"The Bacon n' Egg Hashbrown Casserole is one of the least healthy menu items available at Cracker Barrel," says Amanda Lane, MS, RD, CSR, CDCES. Although this meal may seem high in protein, Lane reminds us that bacon is one of the least healthy breakfast protein options.
"The casserole entrée is 980 calories and does not include a notable amount of fiber. With over 1,800 mg of sodium, nearly 80% of the daily recommendation, this casserole is one choice to pass on to protect your heart," Lane tells us. Instead, she recommends choosing a breakfast sandwich with multigrain bread with a side of fruit instead.
Sunday Homestyle Chicken BLT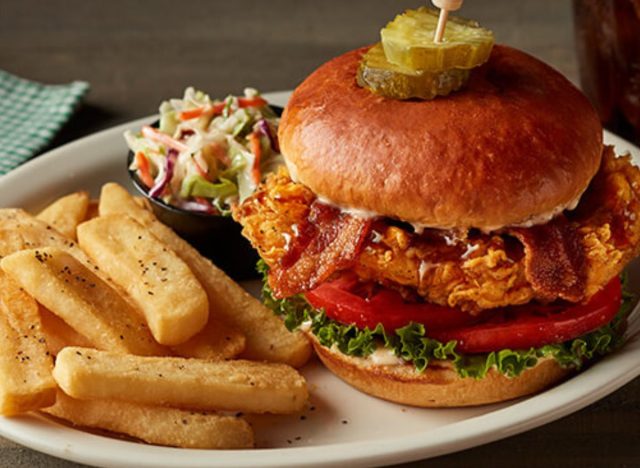 Per meal
: 1,180 calories, 60 g fat (13 g saturated fat), 2,560 mg sodium, 106 g carbs (4 g fiber, 29 g sugar), 55 g protein
Kelly Springer MS, RD, CDN, gives us her take on the least nutritious option at Cracker Barrel.  "The Sunday Homestyle Chicken BLT is one of the more unhealthy options on the Cracker Barrel menu. It provides over half of the average recommended calories at 1,180, almost all of your recommended fat at 60 grams, 13 grams of saturated fat, and 29 grams of sugar. Not to mention the 2,560 mg of sodium, which is higher than the recommended daily value of 2,300 alone," Springer notes.
"A diet high in blood pressure, cholesterol, and excess calories can lead to health issues such as high blood pressure, type 2 diabetes, and cardiovascular disease over time," Springer warns.
The Cracker Barrel Country Boy Breakfast
Per meal with ham and biscuits and gravy
: 1,310 calories, 56 g fat (24.5 g saturated fat), 3,230 mg sodium, 77 g carbs (3 g fiber, 12 g sugar), 99 g protein
Lisa Andrews, MEd, RD, LD recommends bypassing the Country Boy Breakfast at Cracker Barrel next time. "This meal is enough food for 3 people. In addition to 3 eggs, you get your choice of ham, steak, or pork chop plus, fried apples, hashbrown casserole, biscuits with butter and jam, and sawmill gravy."6254a4d1642c605c54bf1cab17d50f1e
Per meal
: 1,640 calories, 100 g fat (23 g saturated fat), 4,730 mg sodium, 78 g carbs (9 g fiber, 0 g sugar), 108 g protein
Kristin Draayer, MS, RDN explains her take on Cracker Barrel's menu. "Southern Fried Chicken is one of the popular dishes at Cracker Barrel, but unfortunately, it is also very energy-dense and high in sodium. Without the sides, the chicken alone contains 1,640 calories, 100 grams of fat, 23 grams of saturated fat, and 4,730 milligrams of sodium. Consuming high levels of saturated fat and sodium can increase the risk of heart disease, high blood pressure, and other health problems," Draayer claims.
She offers a solution: "While it's certainly okay to enjoy foods in moderation, this one likely won't make you feel too well. Consider splitting it with a friend and pairing it with steamed veggies or fresh fruit to add some micronutrients and fiber to the meal."
Caroline Thomason, RDN
Caroline is a women's health Registered Dietitian and diabetes educator based in Northern Virginia.
Read more about Caroline