The Best Southern Food Spot in Every State
Looking for BBQ, fried chicken, and cornbread? We have you covered.
The South is synonymous with cornbread, collard greens, and homestyle mac and cheese. Luckily, you don't have to go all the way down south to get a taste of that famous southern hospitality—and hopefully some mashed potatoes. We've gone (virtually) across the country to find the best spots for you to get some soul food without having to leave your state. Without further ado, here's the best Southern food spot in every state.
And for more, check out these The Best Seafood Restaurant in Every State.
ALABAMA: Mary's Southern Cooking in Mobile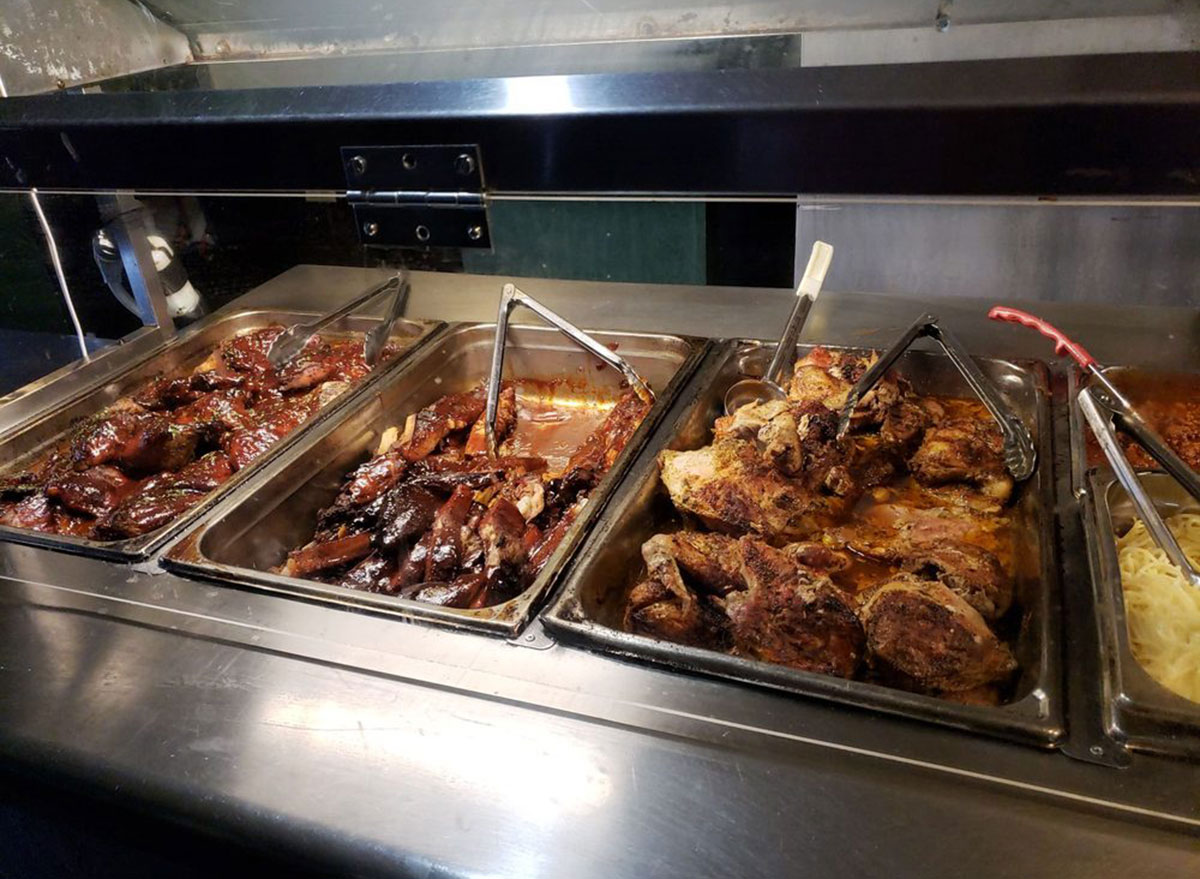 This green shack in Mobile serves up Southern staples cafeteria-style. Specials include turkey neck and pig's feet, alongside a wide assortment of homemade cakes, pies, and cobblers.
ALASKA: Roscoe's Catfish and Barbeque in Anchorage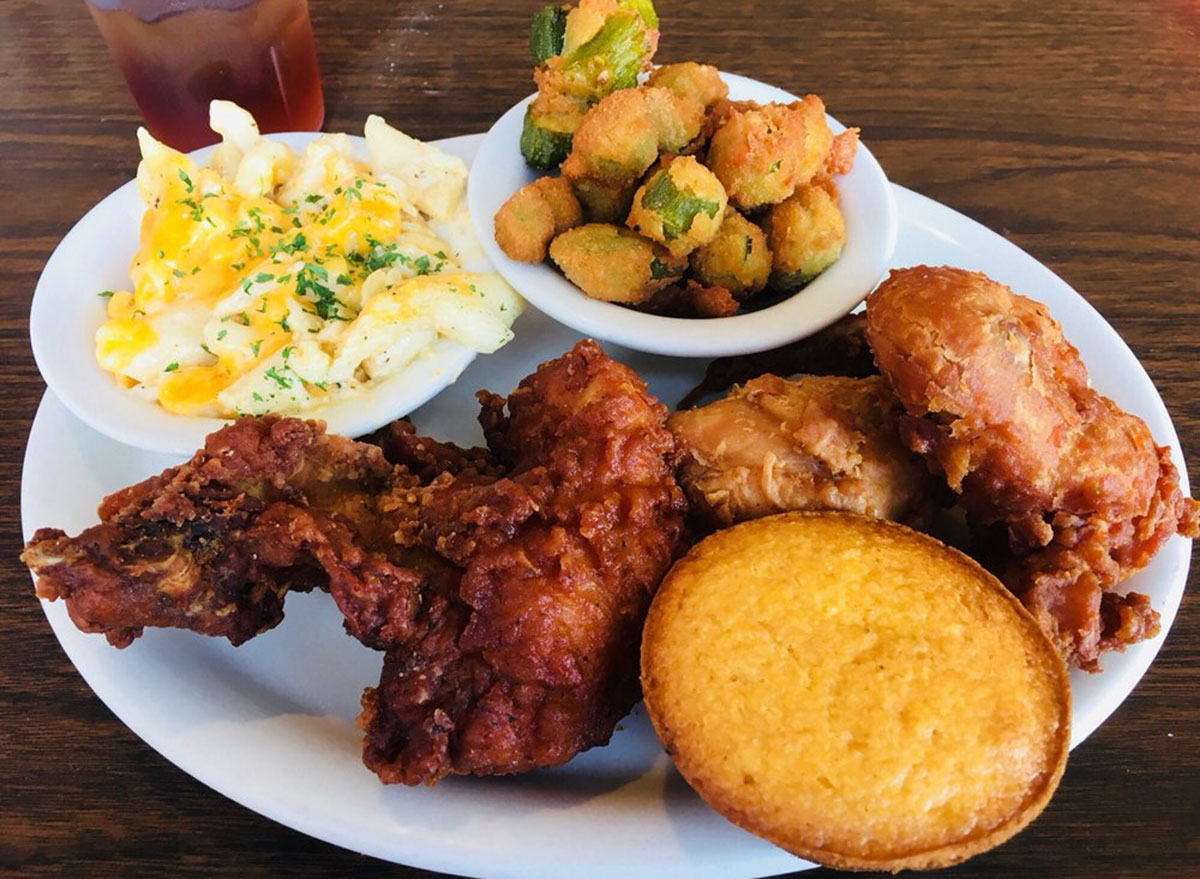 Soul food is such a phenomenon it's traveled 3,500 miles up to Alaska. Roscoe's brings the classics like catfish, jambalaya, and sweet potato pie all the way up to the Last Frontier, with big enough portions to last all day.
ARIZONA: Stacy's Off Da Hook BBQ and Soul Food in Phoenix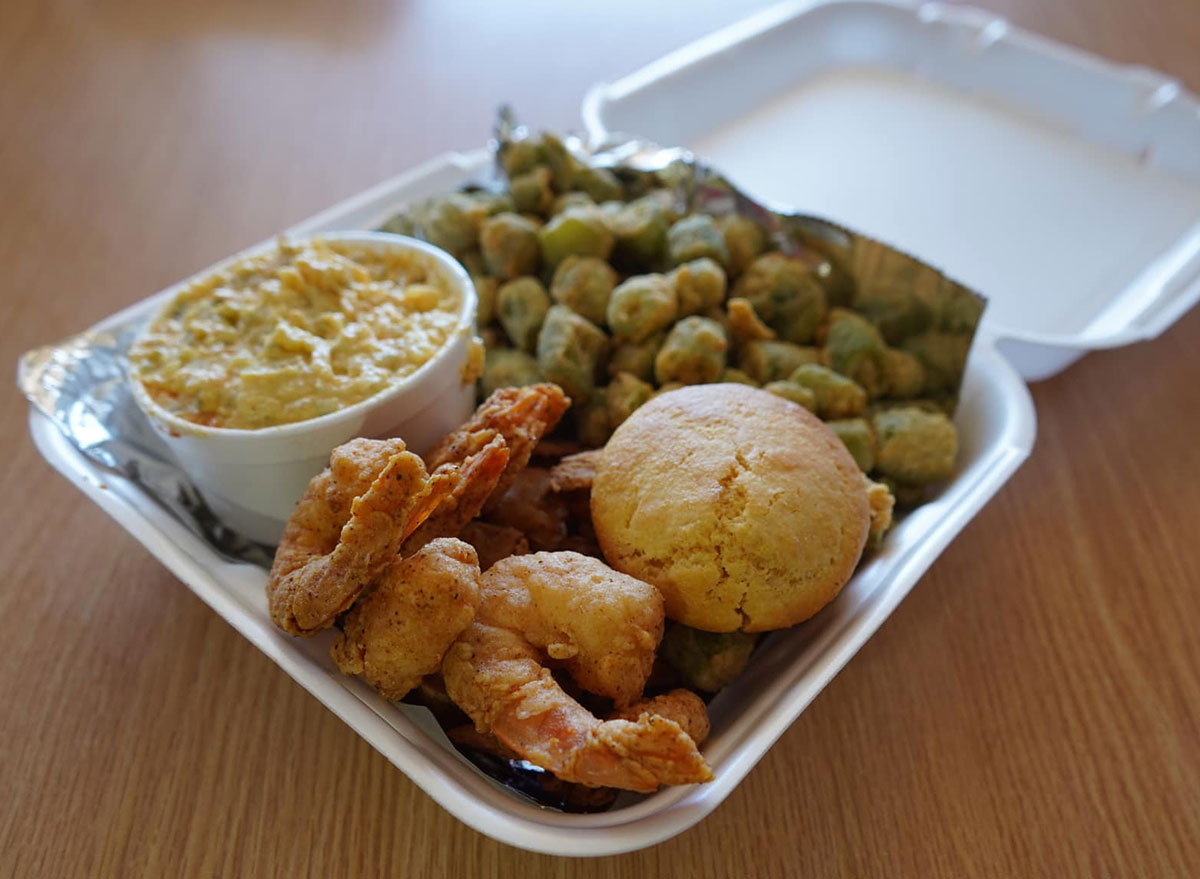 Based on the online reviews of Stacy's, the food is just as "off da hook" as it claims to be. The reviewers went crazy over the catfish and fried okra. You might say they "drank the Kool-Aid"—literally because Stacey's also serves Kool-Aid.
REALTED: The Best Themed Restaurant In Every State
ARKANSAS: Southern Food Company in Fayetteville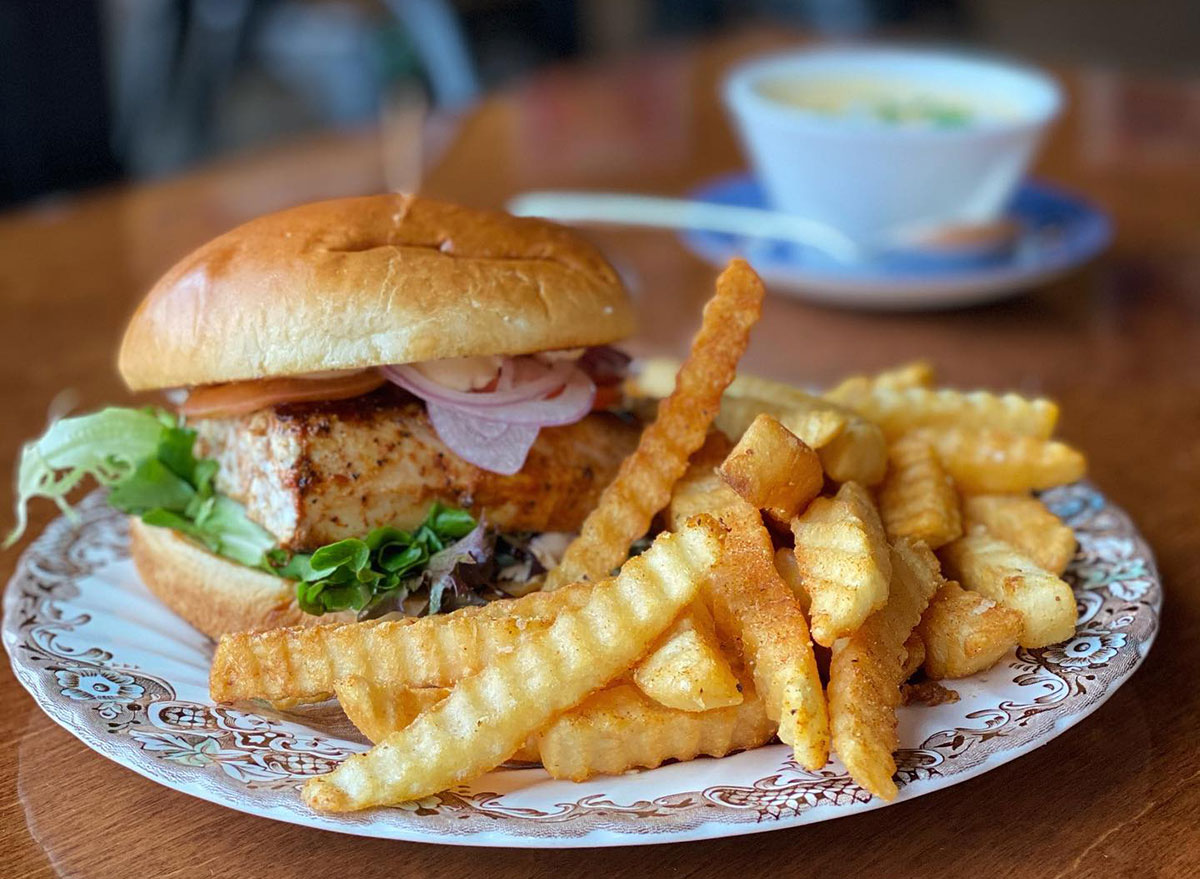 Southern Food Company boasts its "nouveau Southern cuisine," presenting modernized, more upscale takes on Southern classics. On their menu, you'll find an eggs benedict made with crab cakes and a BLT made with fried green tomatoes (BLFGT?) right alongside the classics like catfish and chicken fried steak. Chow down while sipping on a $2 mimosa or a $3 bellini.
CALIFORNIA: Dulan's Soul Food Kitchen in Los Angeles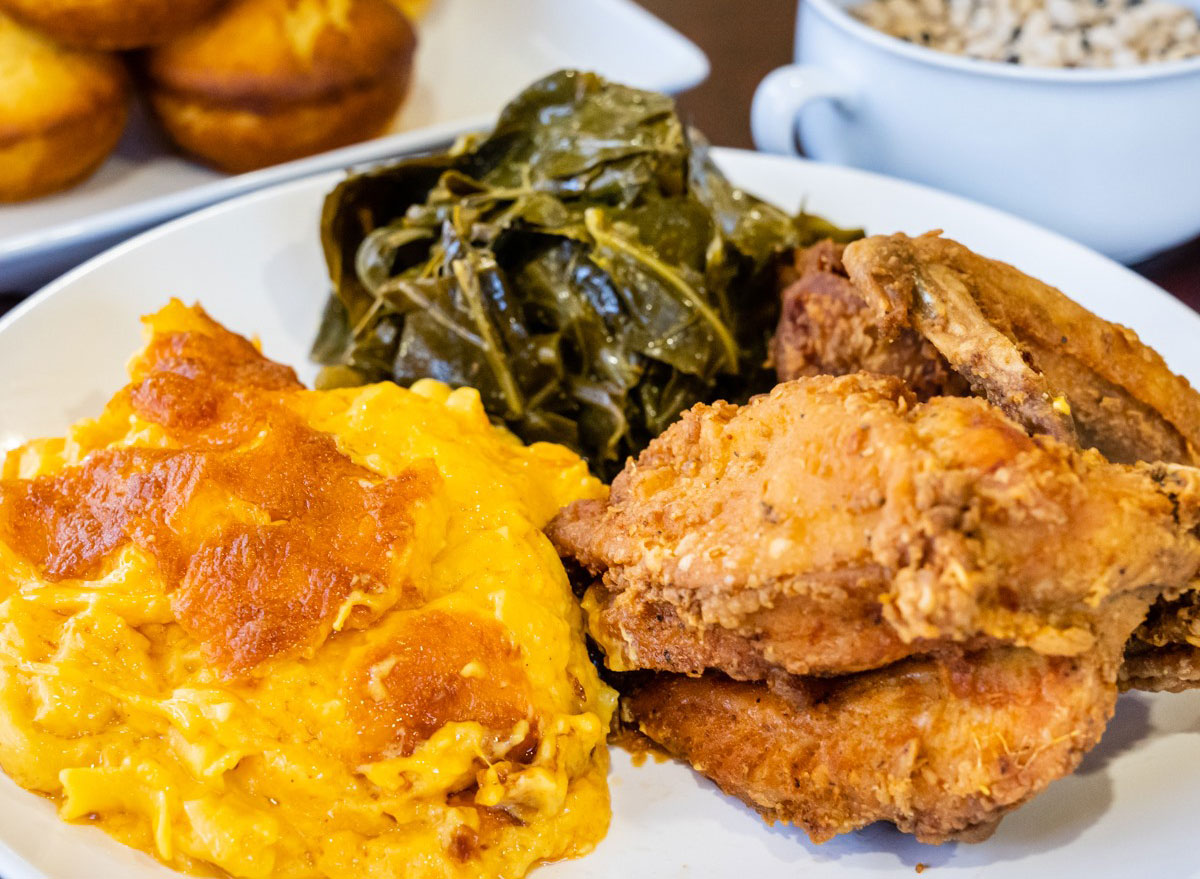 SoCal may be more known for its kale smoothies than for its fried chicken, but Adolf Dulan's kitchen brings all the soulful guilty pleasures to LA—and in huge portions, to boot. If you want to check it out, one reviewer recommends ordering online, as the line is usually pretty long.
COLORADO: Welton Street Cafe in Denver
Describing its menu as soul food with a Caribbean twist, Welton Street Cafe is so good Guy Fieri featured it earlier this year on Diners, Drive-Ins and Dives. The show gave us a sneak peek at the preparation process for its famous smothered pork chop—a pork chop fried to perfection and then smothered with creamy gravy—along with the collard greens, which a regular customer declared needed no extra seasoning.
CONNECTICUT: Black-Eyed Sally's in Hartford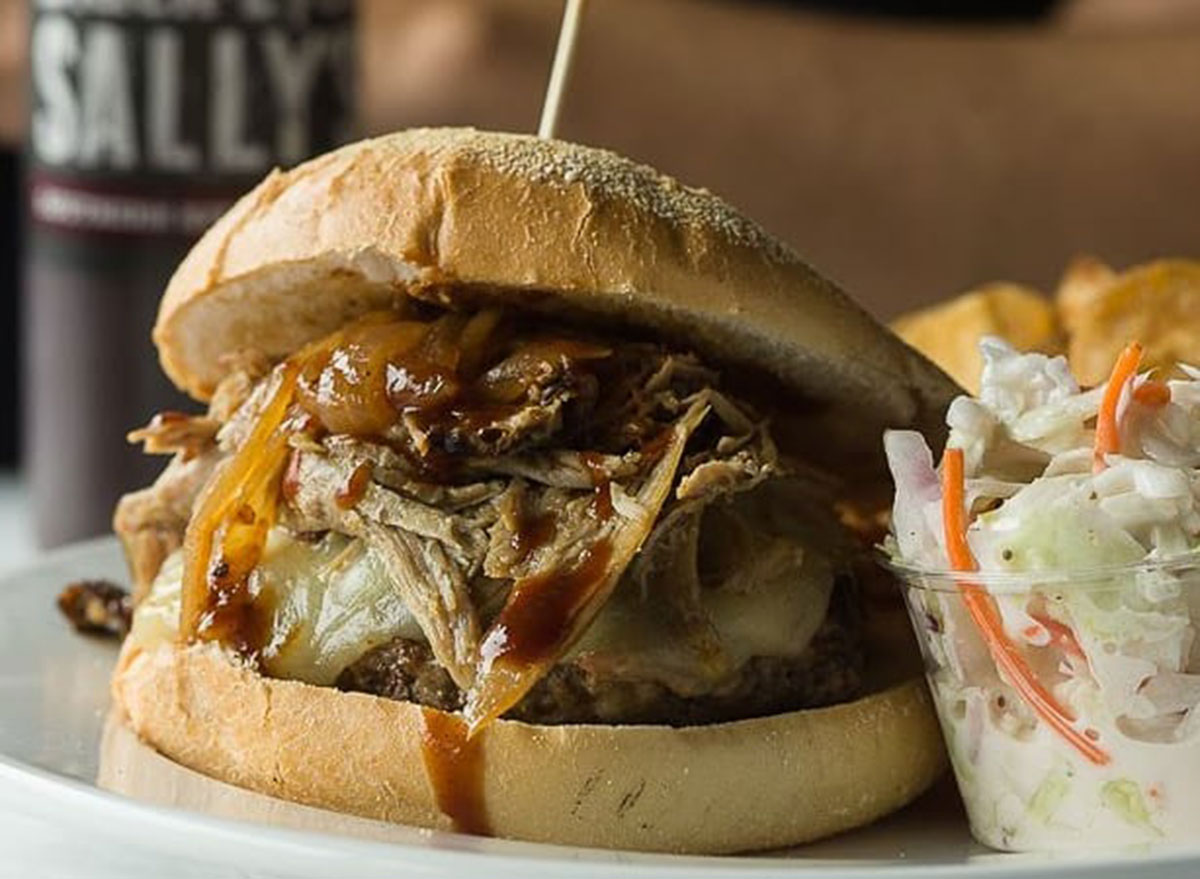 Black-Eyed Sally's is part Southern kitchen and part live music venue, evoking the spirit of Nashville's Broadway in the northeast. They host private parties and even cater. One Yelper goes to Black-Eyed Sally's to order their Thanksgiving turkey, which the restaurant will even deep fry for you.
DELAWARE: Russell's Quality Food in Wilmington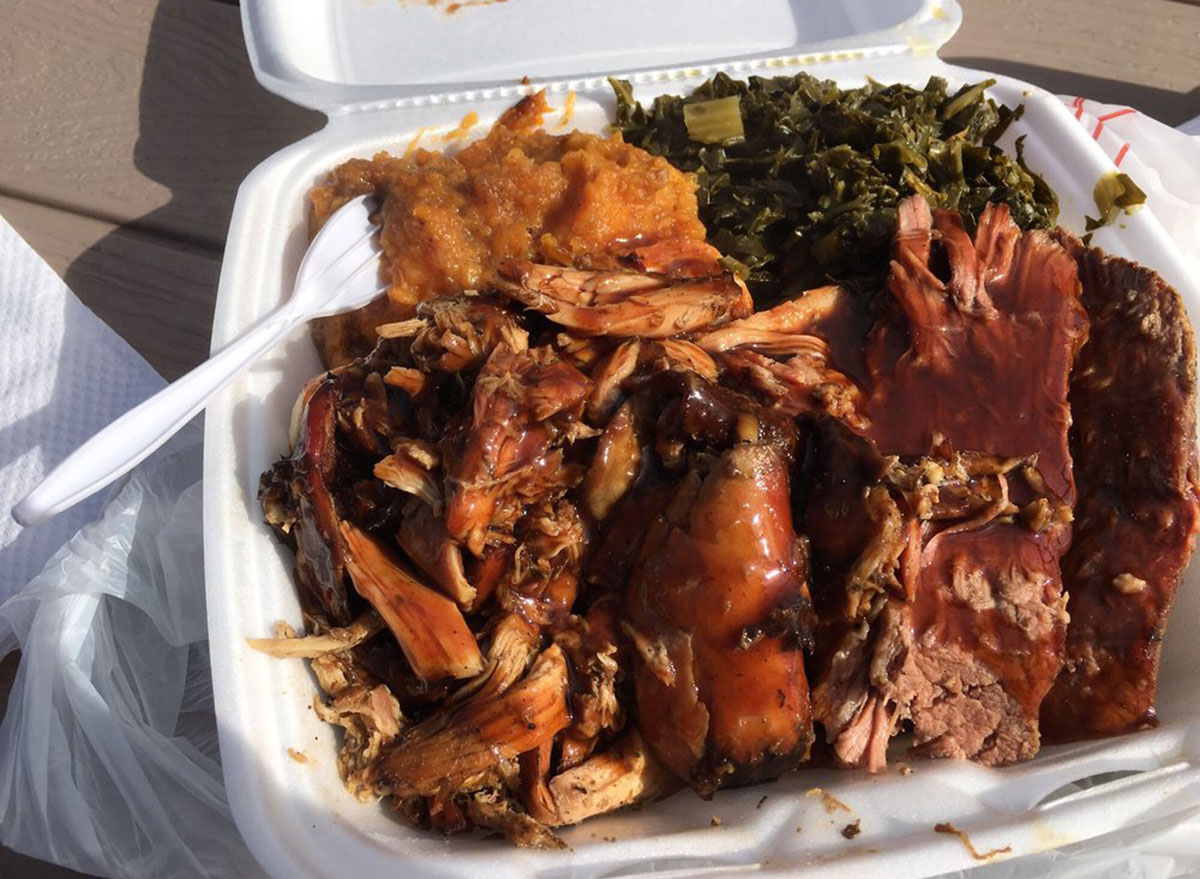 Serving breakfast, lunch, and dinner almost every day, Russell's combines its soulful specialties with local fare like cheesesteaks and Italian sausage sandwiches. Where else can you grab ribs, collard greens, mac and cheese, AND a cheesesteak, all for less than $20? Go ahead, I'm waiting.
FLORIDA: Mama's Southern Soul Food in Tampa
Mama's has a massive menu serving every classic comfort dish you can think of: jerk chicken, chicken gizzards, beef tips, pigs' feet, corn fritters, hush puppies … do I need to go on? Plus, they have an in-house bakery that makes custom cake couture as well as desserts available to eat right after your meal. Reviewers go crazy for the red velvet cake.
GEORGIA: RC's Southern Cooking in Marietta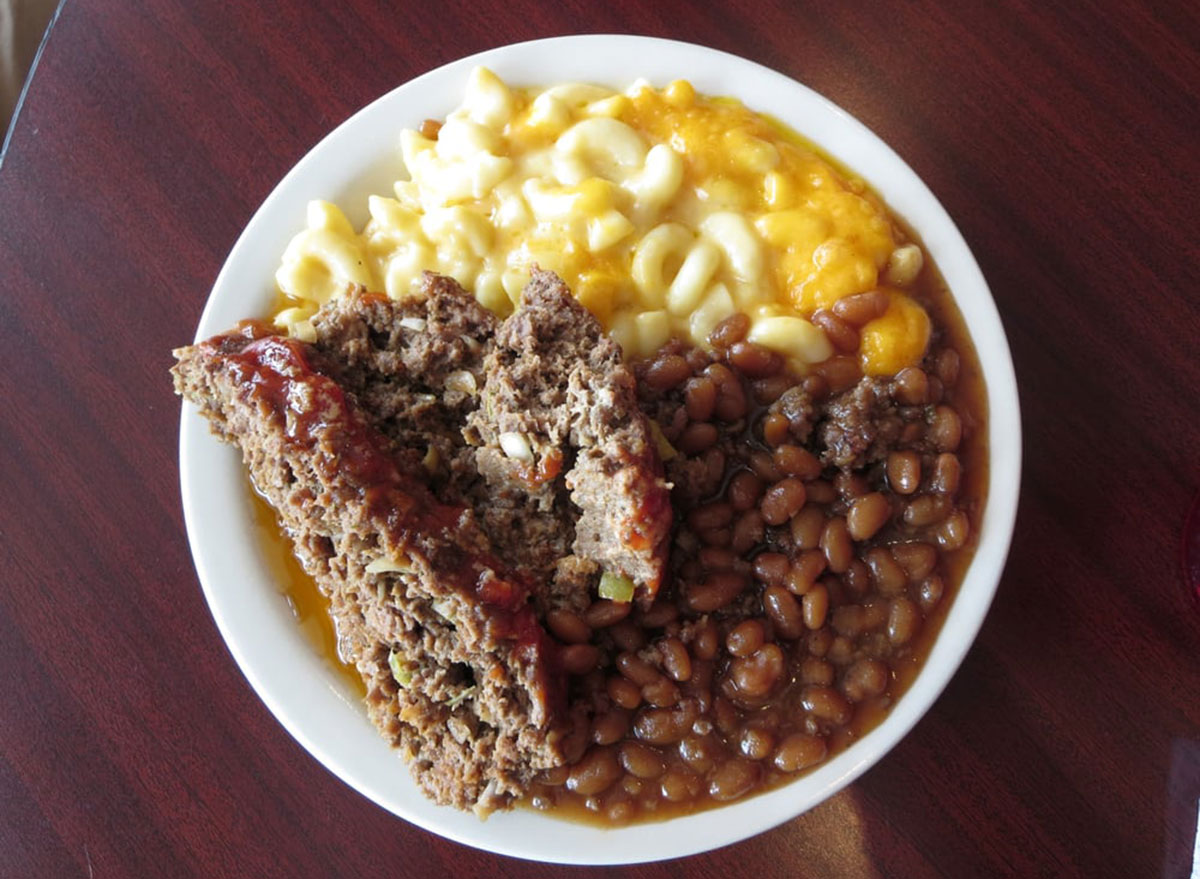 To be a popular soul food spot in Georgia, you have to be good. RC's, which stands for "real cooking," has been slinging comfort food for the better part of a decade. The menu features several turkey items like turkey wings and turkey meatloaf, as well as a plethora of homemade desserts from cobblers to cheesecakes.
HAWAII: Hughley's Southern Cuisine in Aiea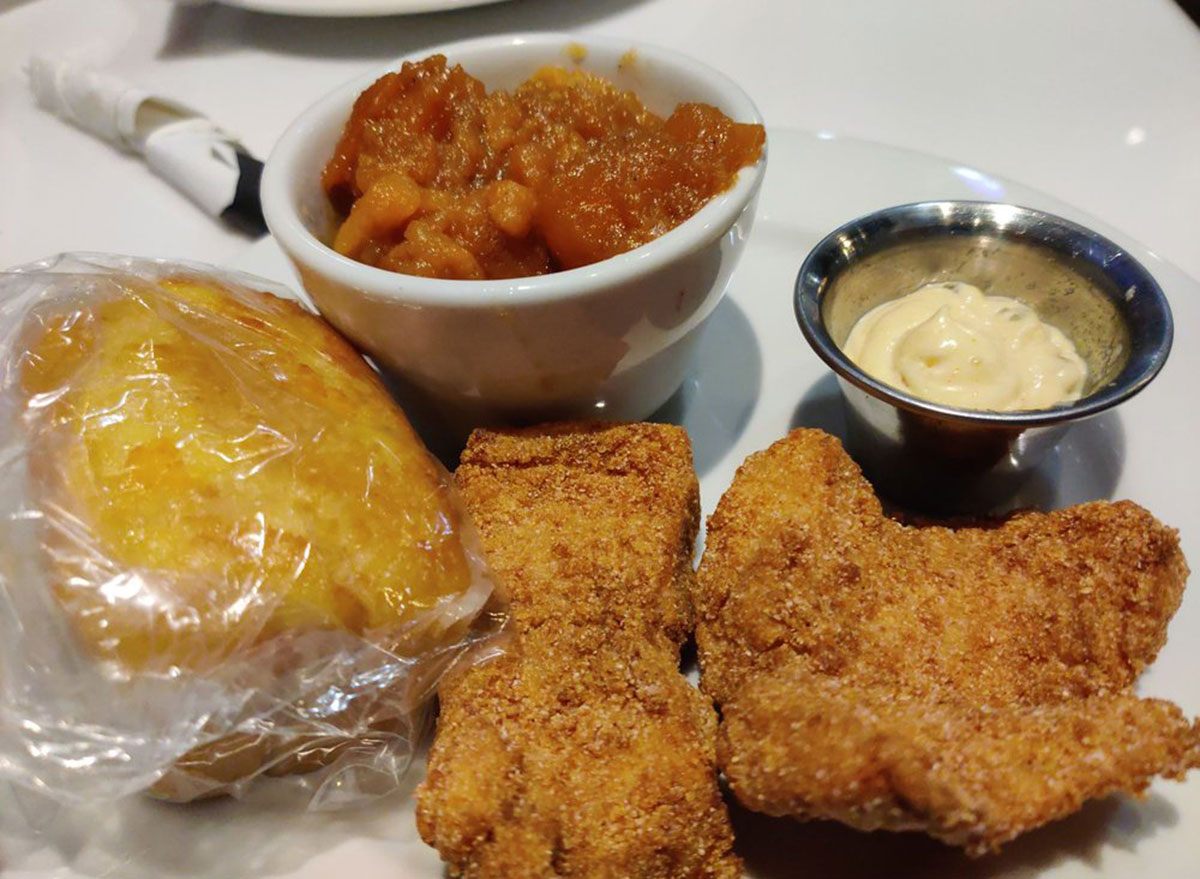 Believe it or not, there's a soul food restaurant in Hawaii. Hughley's has all the works: fried chicken, candied yams, and even peach dumplings. The vibe is super casual—no lei necessary.
IDAHO: Brown Shuga Soul Food in Boise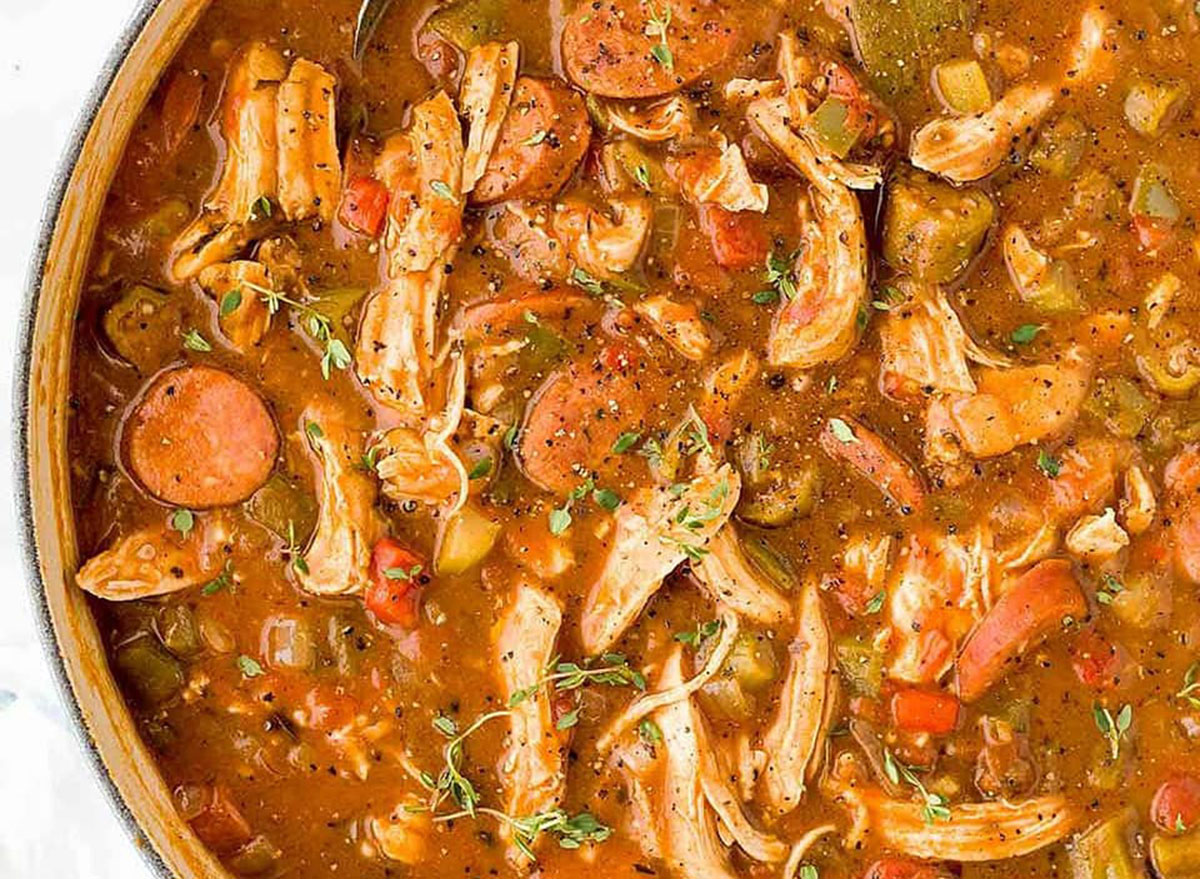 This food truck is one of the only places to get soul food in Idaho, with chef Yvonne Anderson-Thomas and her family cooking recipes that have been passed down through generations. Operating since 2011, Brown Shuga has been filling up Idahoans with massive turkey legs and sweet potato pies.
ILLINOIS: Luella's Southern Kitchen in Chicago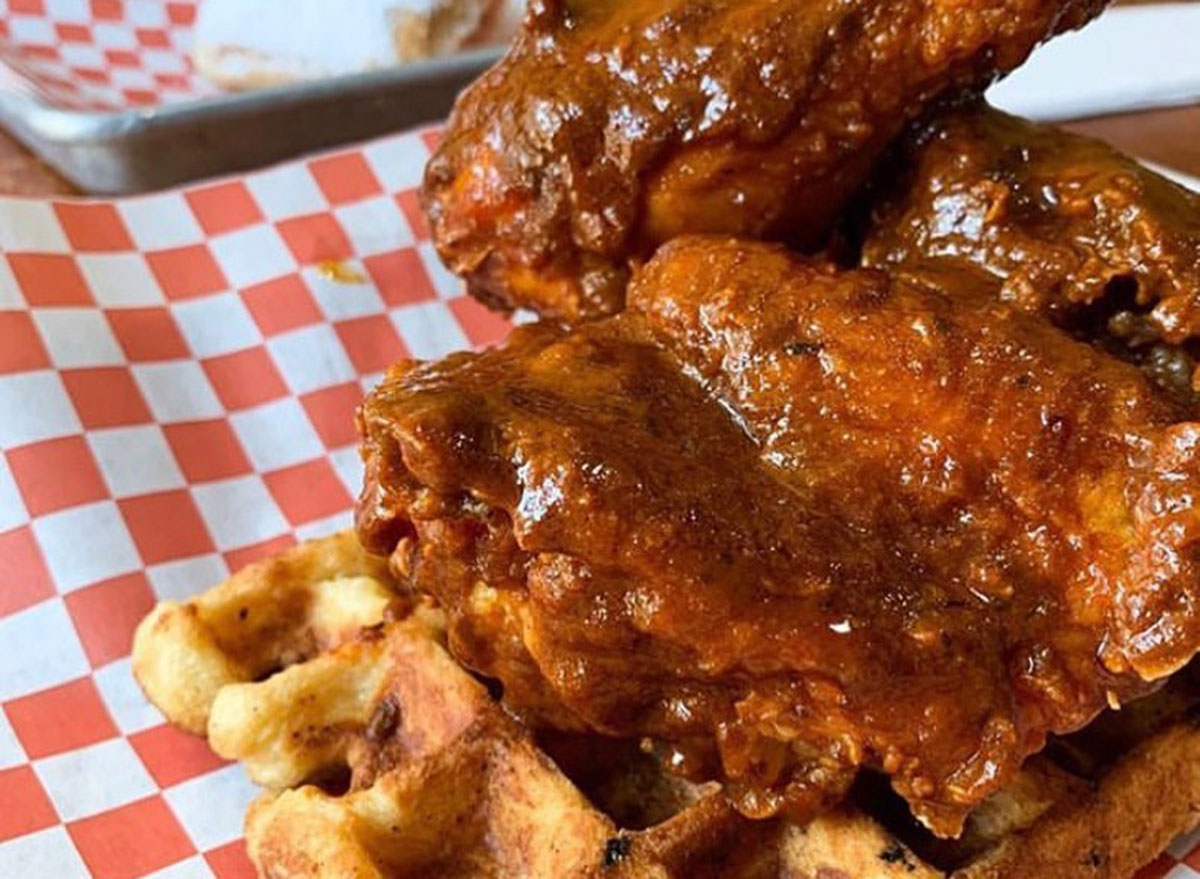 This hole in the wall located in Chicago's Lincoln Square neighborhood has all the Southern staples: fried chicken, catfish, and even made-to-order cornbread served in a skillet. The gumbo, based on Chef Darnell Reed's grandmother's recipe, was named Chicago's Best Gumbo by WGN in 2016. Beyond that, Yelpers love the pimento cheeseburger burger: a burger slathered in spicy pimento cheese and topped with a sunny-side-up egg.
INDIANA: Half Liter Beer & BBQ Hall in Indianapolis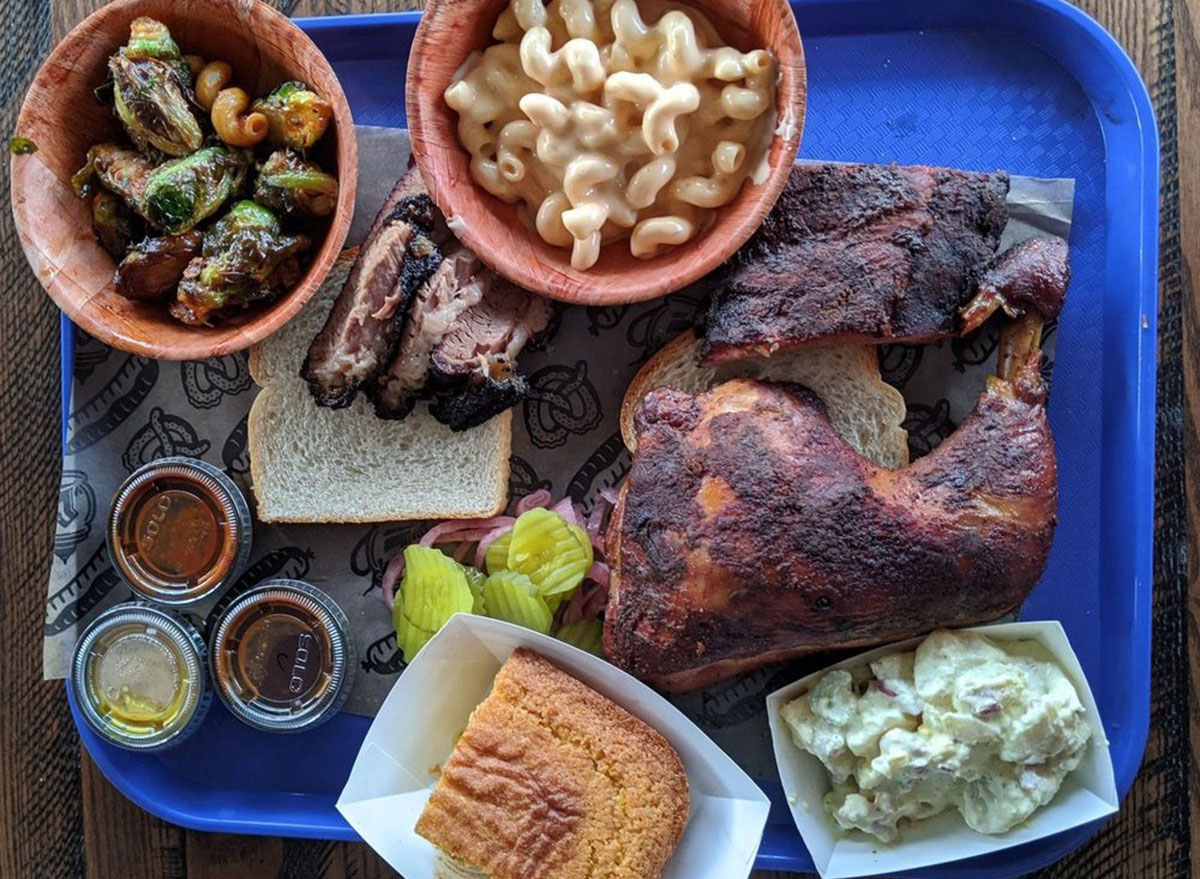 With its wide selection of house-made draft beers and dairy-infused "milk punch" cocktails, it might be even more fun to drink at Half Liter than it is to eat there. They've got all your barbecue staples—pulled pork, burnt ends, brisket—and a drink menu so expansive you'll be stumbling out the door.
IOWA: Vivian's Soul Food in Cedar Rapids
Vivian's provides updated, more upscale versions of traditional Southern comfort food. Jerk chicken egg rolls? Yes, please! They also offer daily specials and a rotating daily dessert variety.
KANSAS: Excellent Choice in Leavenworth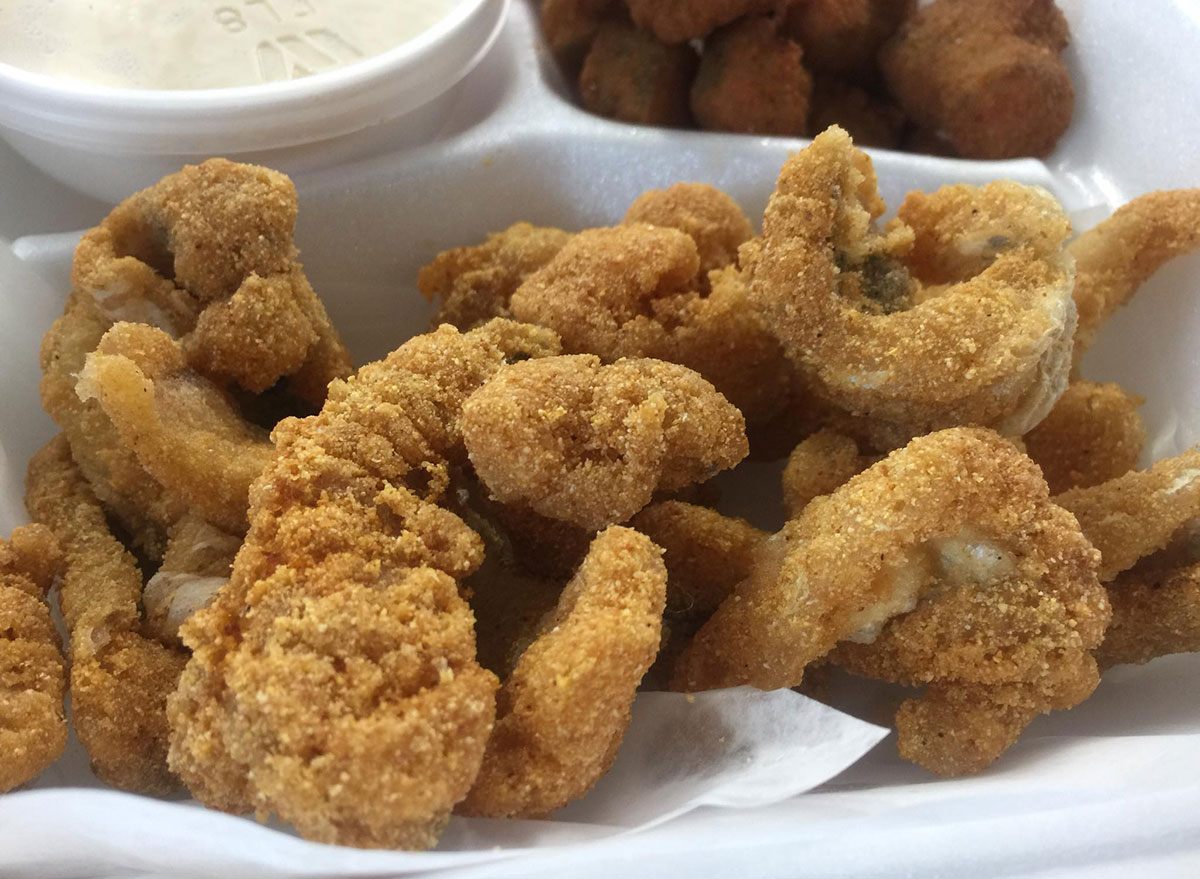 Excellent Choice is only open three days a week, but their undisputed five-star status on Yelp also proves that quality reigns over quantity. Reviewers rave about the lightly fried catfish, huge hunks of cornbread, and the Louisiana gumbo, which is only available on Wednesdays.
KENTUCKY: Homemade Ice Cream and Pie Kitchen in Louisville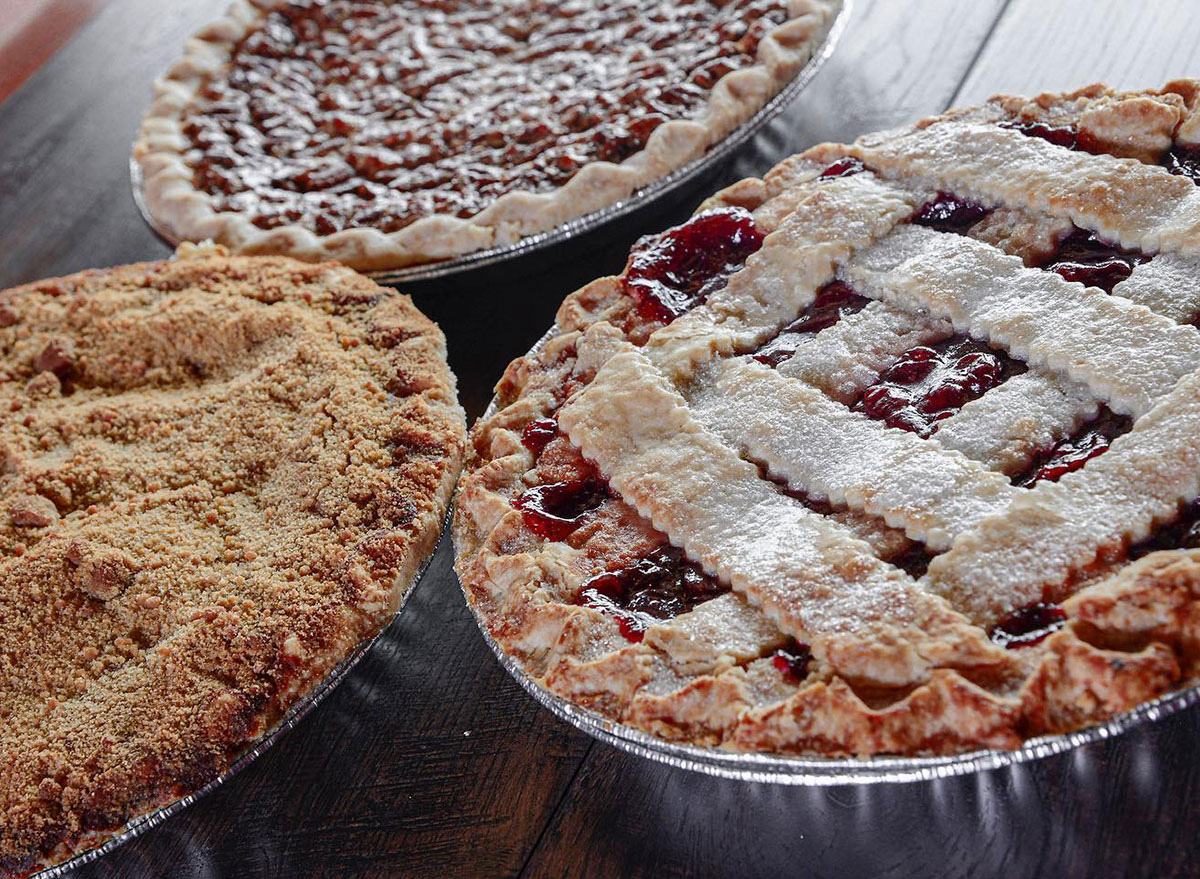 Pie Kitchen, as the locals call it, is Louisville's premiere dessert oasis. With homemade pies, cookies, cakes, and ice cream, there's something there for every dessert lover. Be sure to check out the chocolate chess pie, which one reviewer described as "like the best parts of a brownie."
LOUISIANA: Willie Mae's Scotch House in New Orleans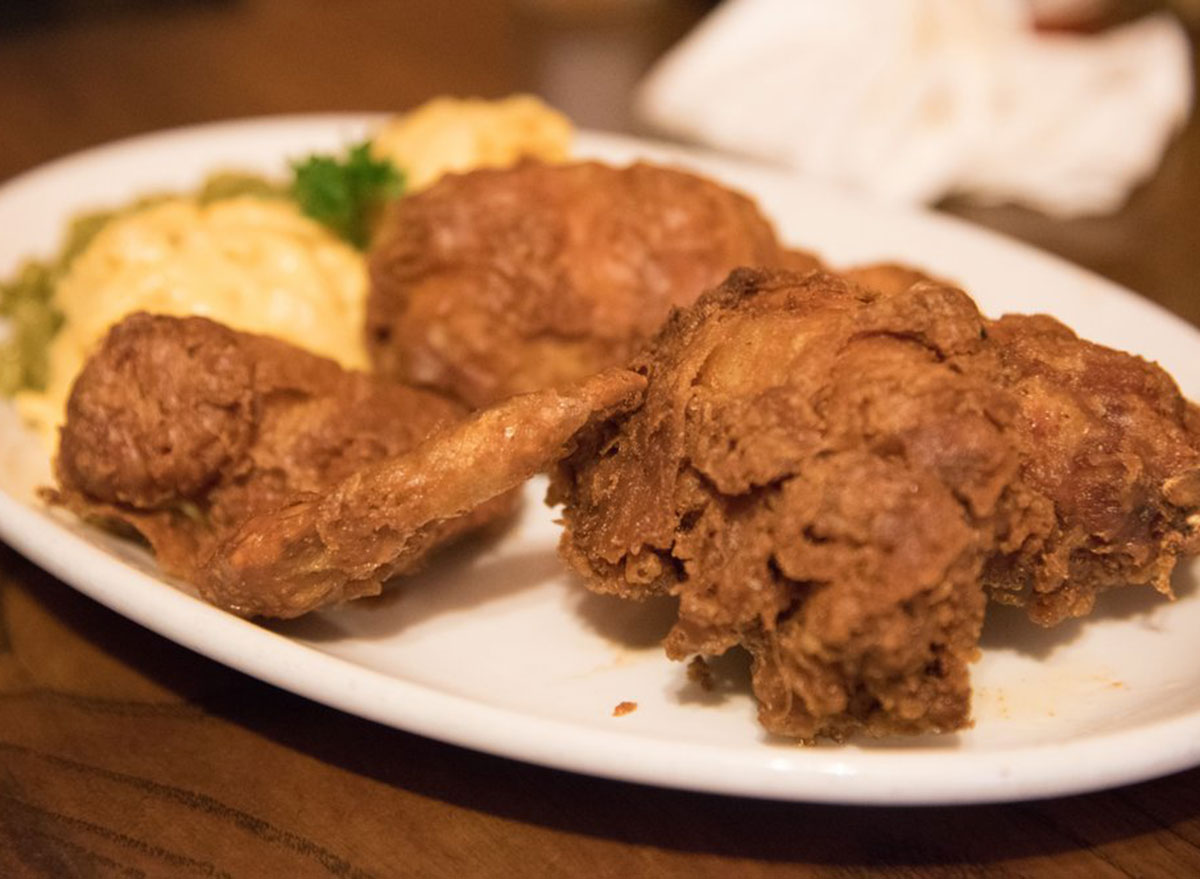 New Orleans may be the home of Creole cooking, but its most famous spot is best known for its classic fried chicken. Recognized as "America's Best Fried Chicken" by the Food Network and the Travel Channel, Willie Mae's always has a line wrapping all the way around the block. Rumor has it that the secret to their addictive fried chicken is brining it in Coca-Cola, keeping the skin stuck to the meat.
MAINE: Hot Suppa in Portland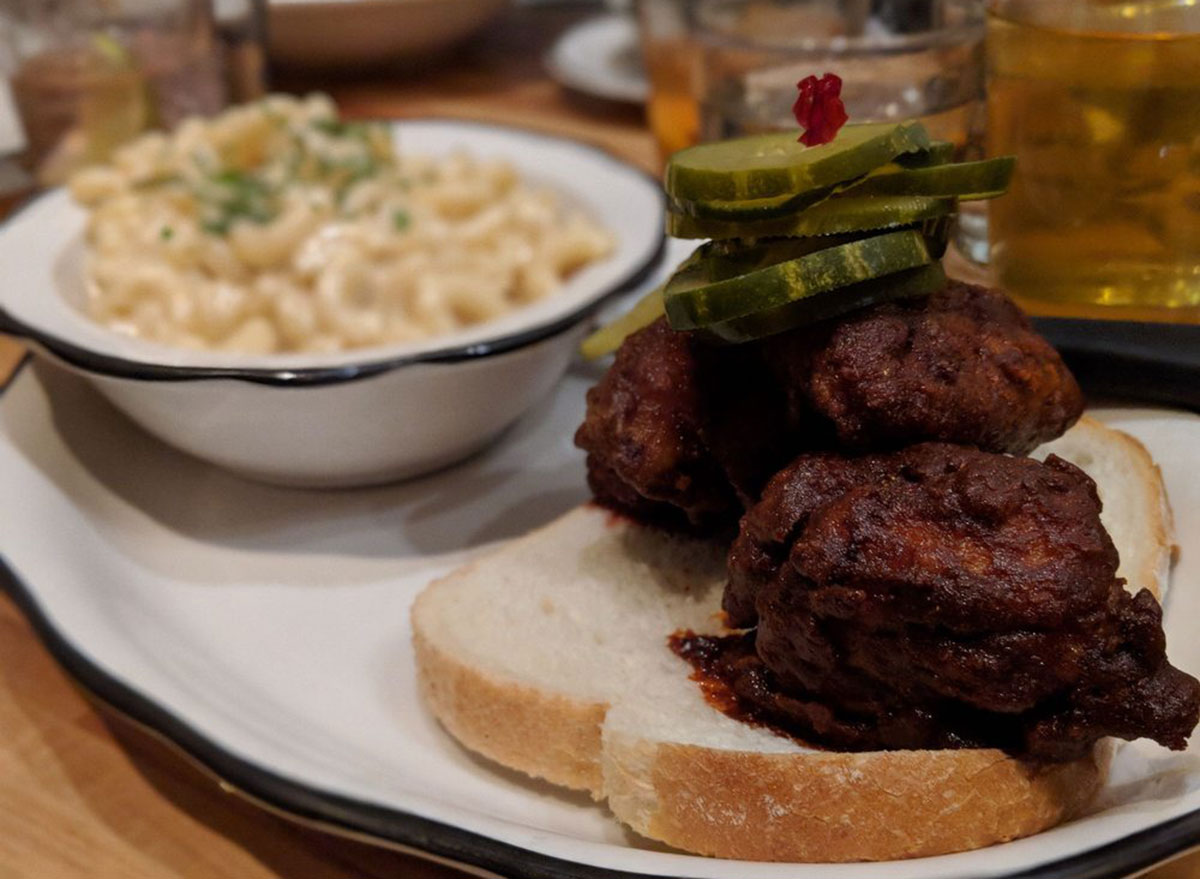 This Portland mainstay serves Southern brunch seven days a week, as well as many lunch and dinner concoctions. Enjoy a pulled pork egg sandwich for brunch and some Nashville hot chicken with a poutine baked potato for dinner.
NOTE: Hot Suppa is currently closed for dinner.
MARYLAND: Ruby's Southern Kitchen in Bowie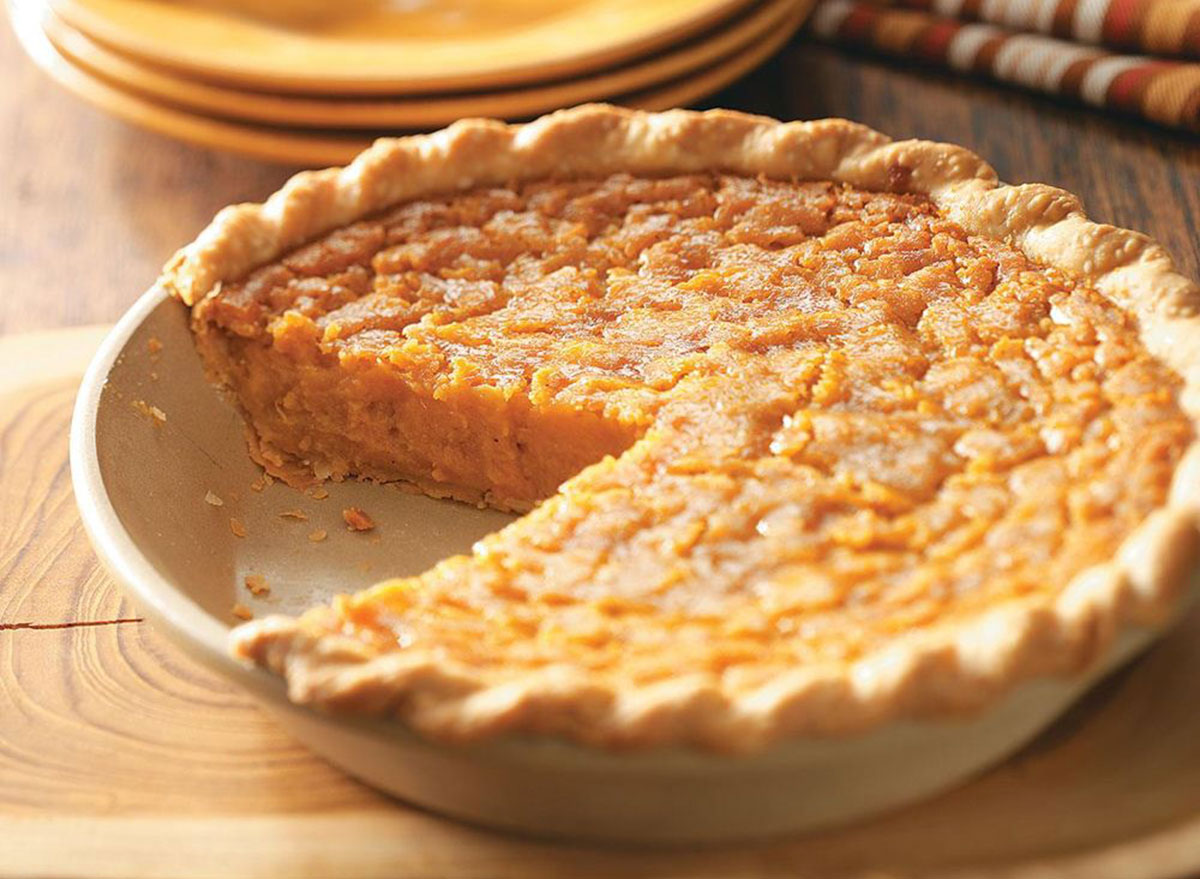 This cute, homey space offers a delectable array of soul food in a cozy atmosphere. Signature dishes here include Tyrone's Sweet Potato Waffles and Chicken and Ronnie's Blackberry Beef Short Ribs.
MASSACHUSETTS: Addie Lee's Soul Food in Worcester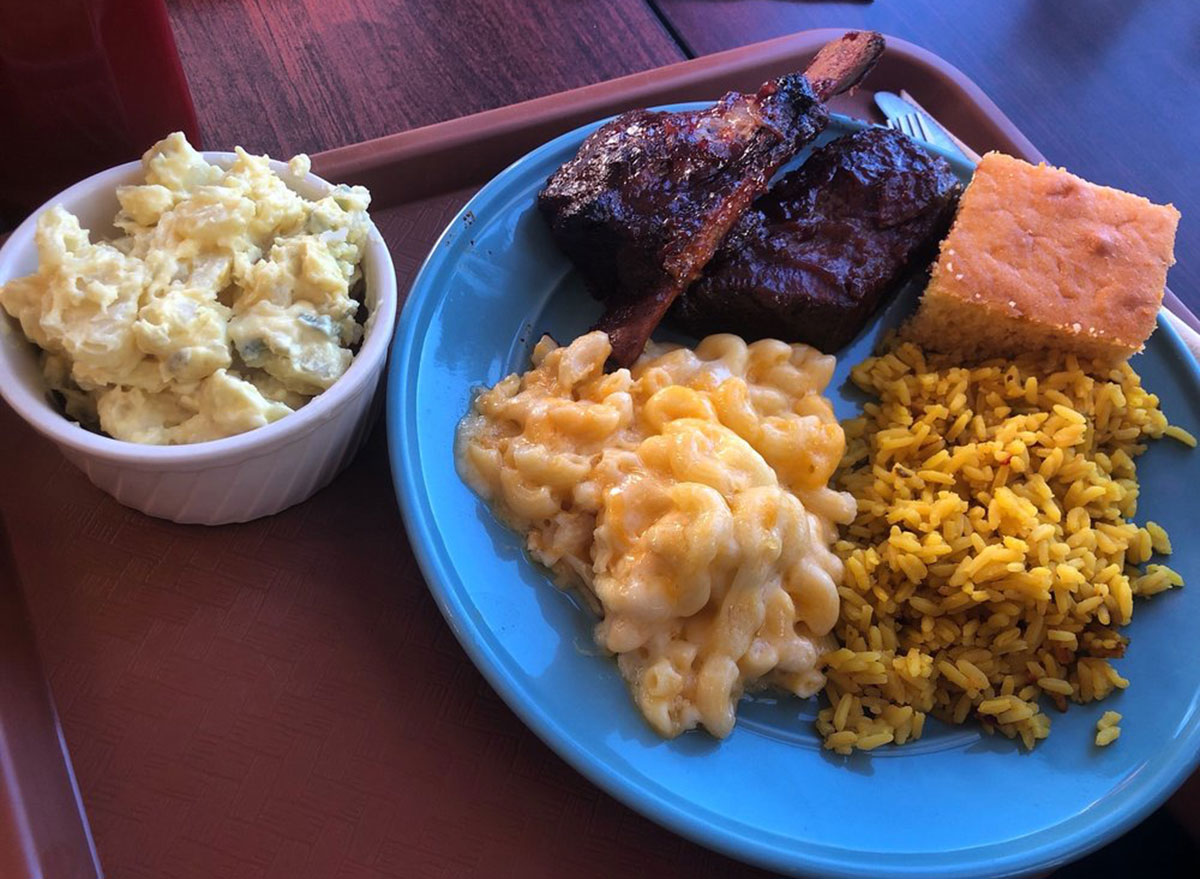 Whoever said you can't get soul food in New England has never been to Addie Lee's. With 4.5 Yelp stars and colorful plates to boot, Addie Lee's evokes all the sensations of good Southern home cooking.
MICHIGAN: A Taste of Soul by Biggie in Ypsilanti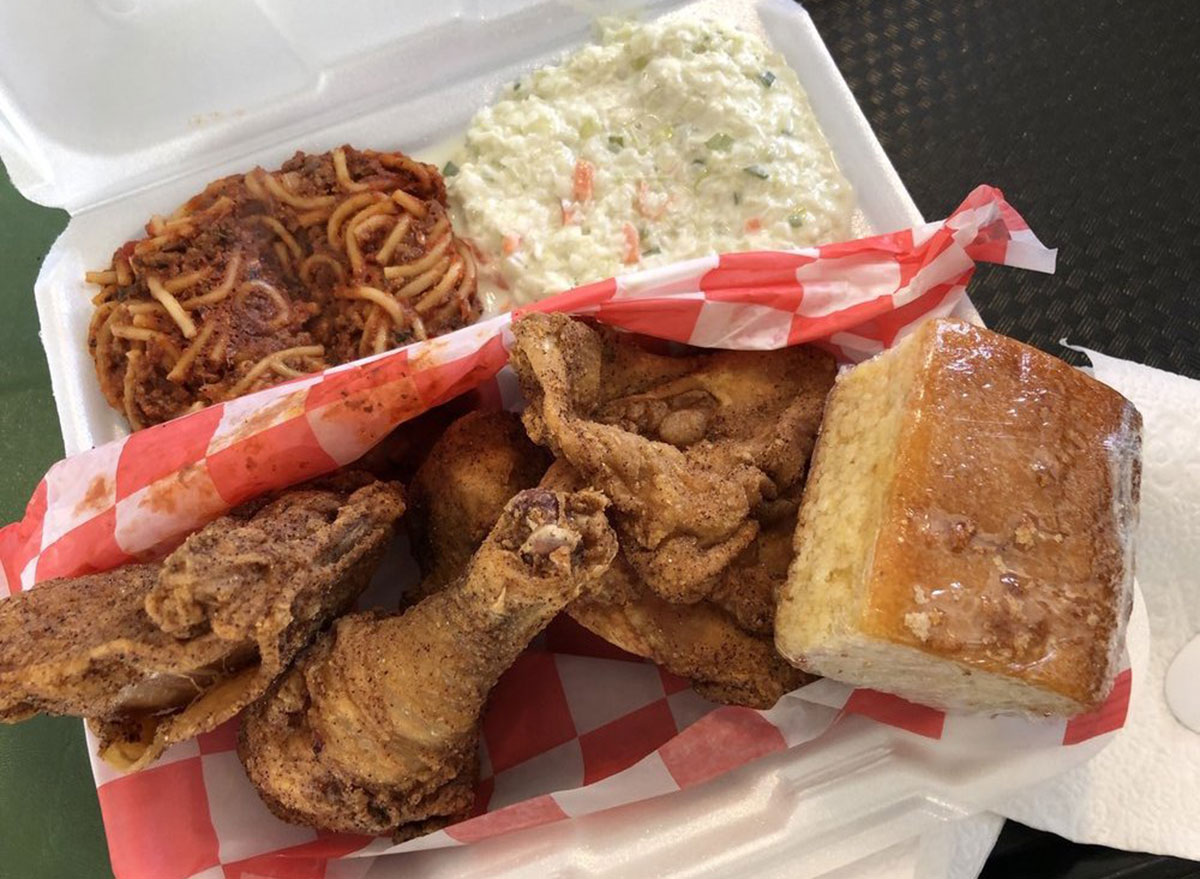 Biggie's boasts a massive menu that includes chicken wings, cheesesteaks (or as they're called here, Cheesey-Weeseys), and even a chicken pita sandwich. Of course, staples like ribs, catfish, and Kool-Aid are present too. One reviewer went loco for the lemon pound cake.
MINNESOTA: Revival in Minneapolis
Revival has truly revived traditional Southern cuisine and elevated it for the 21st century. Items like a fried chicken and waffle sandwich smothered in honey butter and topped with a fried egg have made this place a Minneapolis staple.
MISSISSIPPI: Pig & Pint in Jackson
Pig & Pint is part barbecue restaurant and part taproom, boasting 100 craft beers. Serving up barbecue-Mexican fusion with the classic Southern sides, The Pig & Pint was named among the best of Mississippi by Mississippi Magazine.
MISSOURI: King's Table Soul Food in Kansas City
With everything you'd expect from a soul food restaurant alongside burgers and alfredo pasta, King's Table has something for everybody, including slices of cornbread so big they take up the entire plate.
MONTANA: The Sassy Biscuit in Billings
This Southern-inspired bruncherie is a full-blown tribute to the almighty biscuit. From waffle-pressed biscuits to biscuit french toast to knife-and-fork biscuit sandwiches, eat here and you'll never look at biscuits the same again.
NEBRASKA: Mouth of the South in Omaha
Mouth of the South brings Southern and Cajun-inspired soul food to Omaha. They serve barbecue, steak, seafood, po boys, burgers, gumbo, and even deep-fried gizzards for the adventurous.  Diner rave about the food, one saying, "The portions were huge. Our service was great and overall we had a great experience."
NEVADA: Gritz Cafe in Las Vegas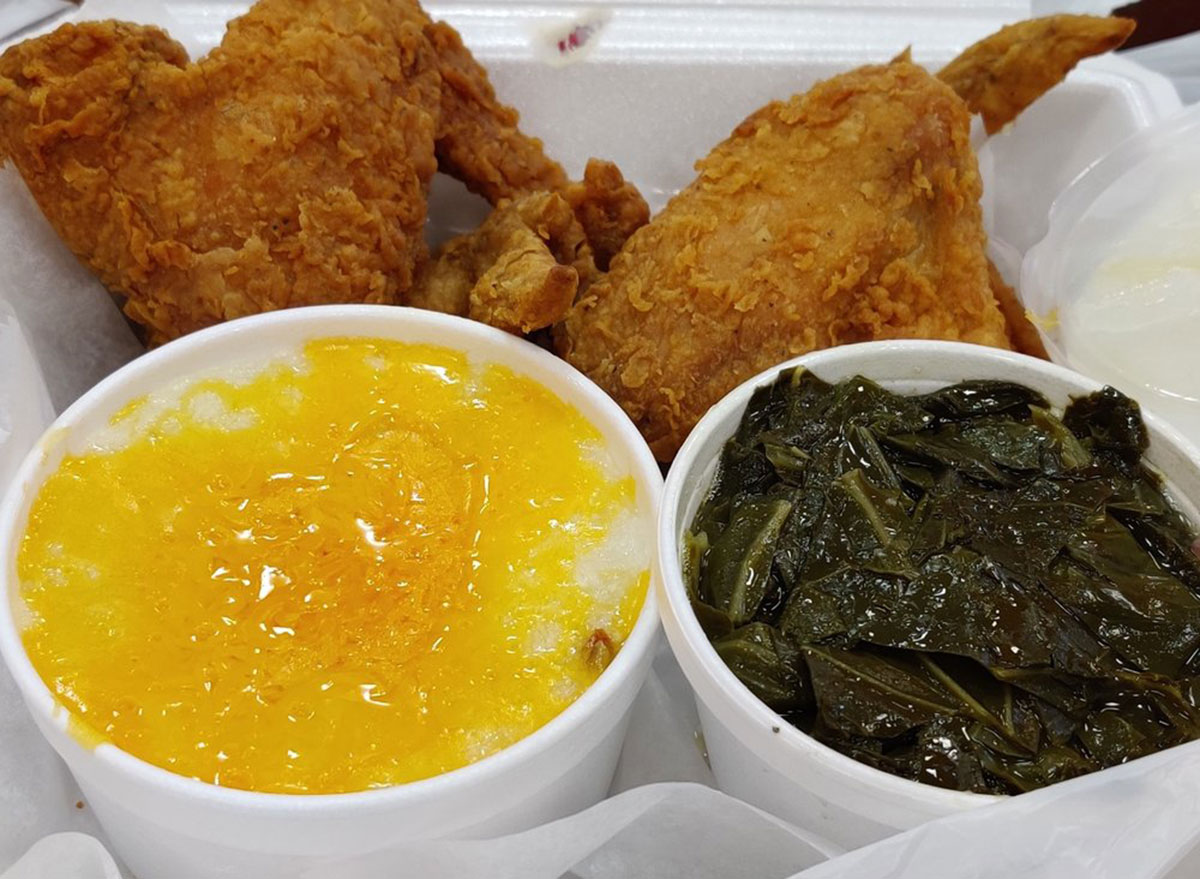 Hungover from all those free drinks at the casino? Sop up the booze with some gritz, with a "z." Open only for breakfast and lunch, Gritz Cafe has a menu filled with sandwiches, omelets, and waffles—all served with gritz.
NEW HAMPSHIRE: KC's Rib Shack in Manchester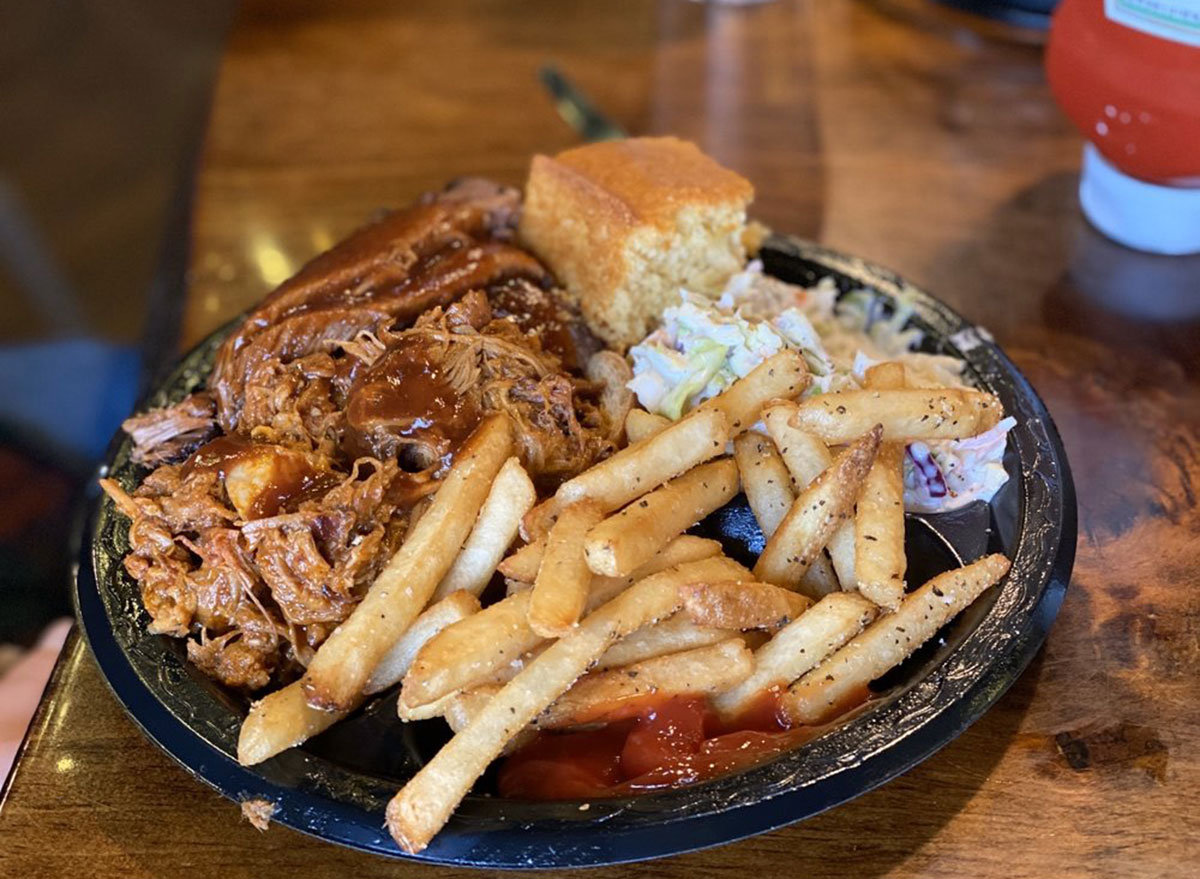 KC's Rib Shack claims to have "the world's finest hickory-smoked ribs" and has been featured in enough local media to give the claim some credence. With four homemade barbecue sauces and a full outdoor tiki bar, KC's gives diners a million reasons to come back.
NEW JERSEY: Corinne's Place in Camden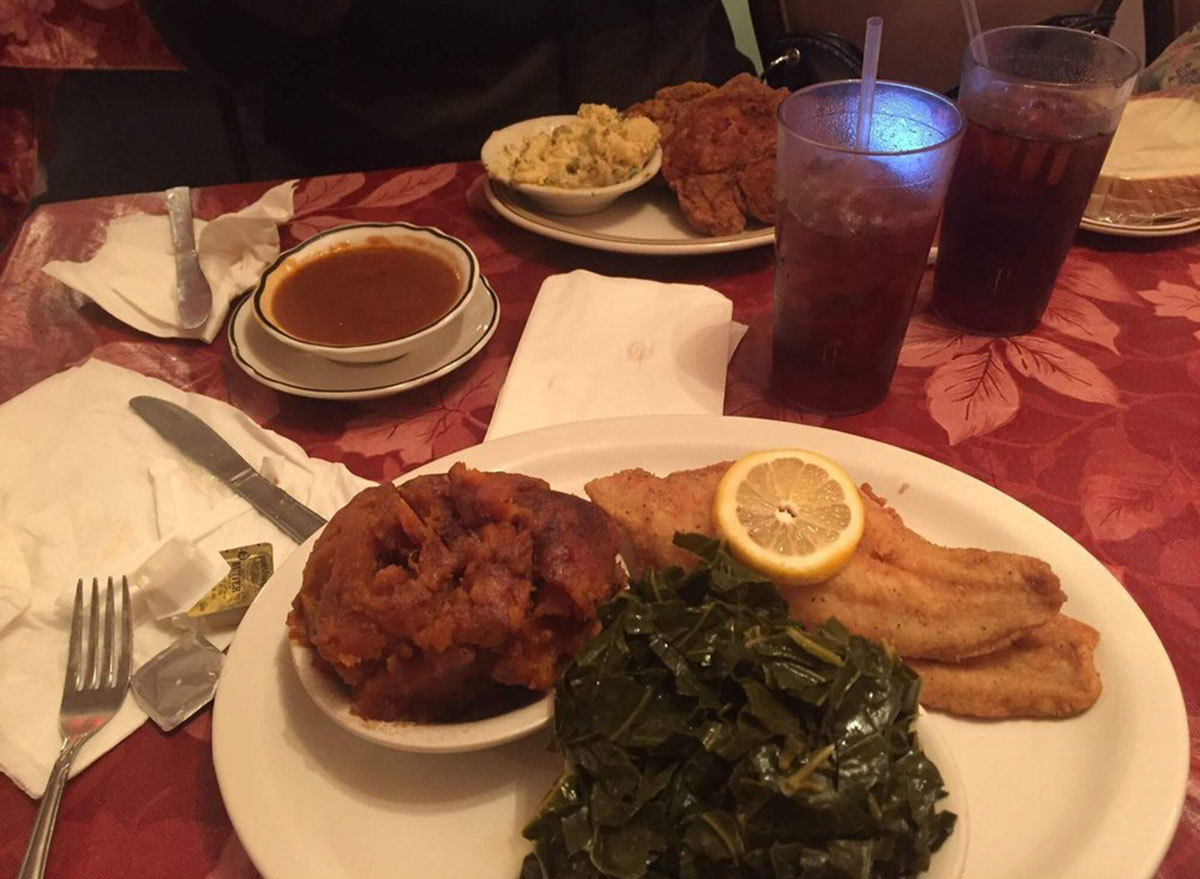 Corinne's Place is so good, it'll give you an excuse to go to Camden. For 30 years, they've been serving heaping portions of beans and mac and cheese in their banquet hall-esque space. Stop by on Sunday for a $15 buffet.
REALTED: The Best Deli In Every State
NEW MEXICO: Nexus Brewery in Albuquerque
Nexus Brewery is the second spot on our list featured on Diners, Drive-Ins and Dives, cooking up Southern comfort with a Southeastern flare. Take, for example, the New Mexico Hot Chicken, Nashville hot chicken "perfected for the [New Mexican] palate." Then, cool your mouth down with one of the brewery's craft beers.
NEW YORK: Sylvia's Restaurant in Harlem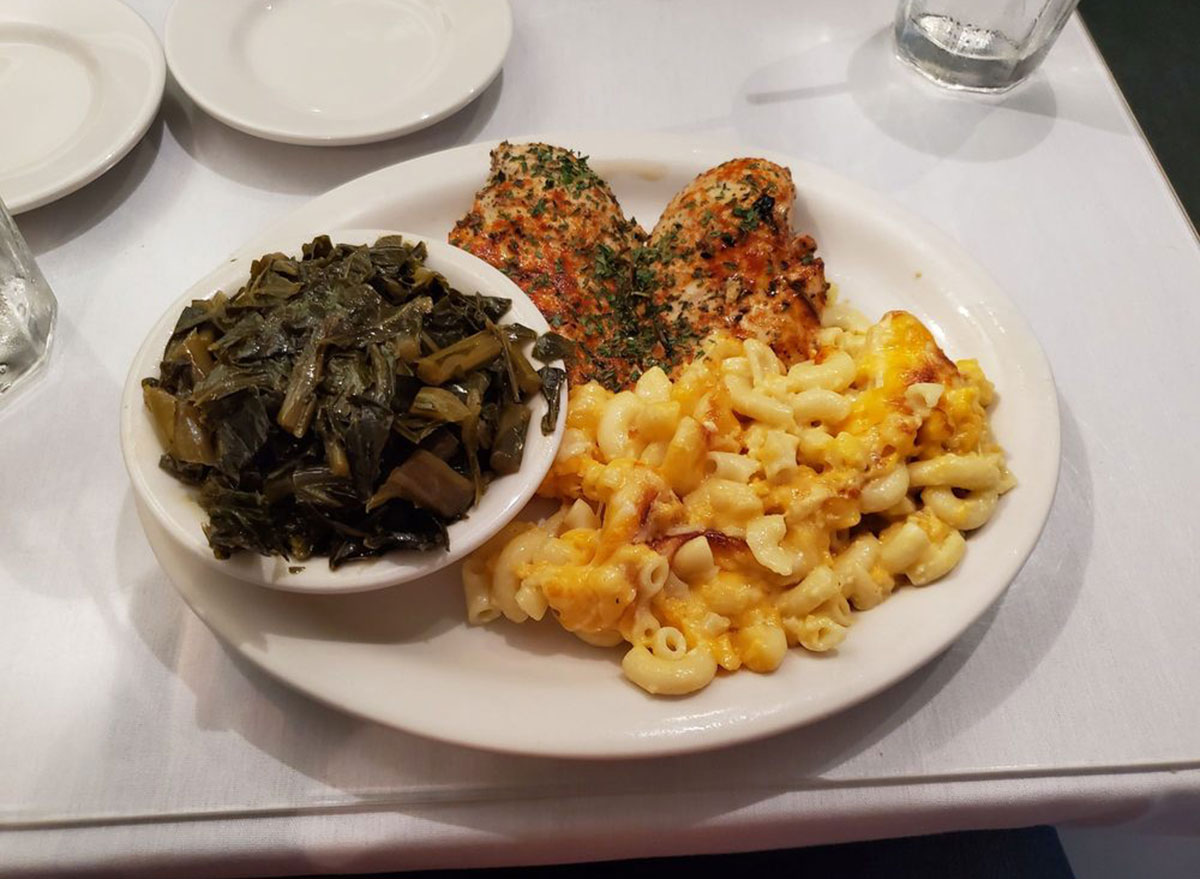 Arguably the most famous Southern food spot in New York City, Sylvia's has been serving up soul for nearly 60 years. Locals, tourists, and even celebrities from Whoopi Goldberg to Leonardo di Caprio have dined at this uptown institution. Stop by on a Wednesday night for live music or on a Sunday for Gospel Brunch.6254a4d1642c605c54bf1cab17d50f1e
NORTH CAROLINA: NOFO @ the Pig in Raleigh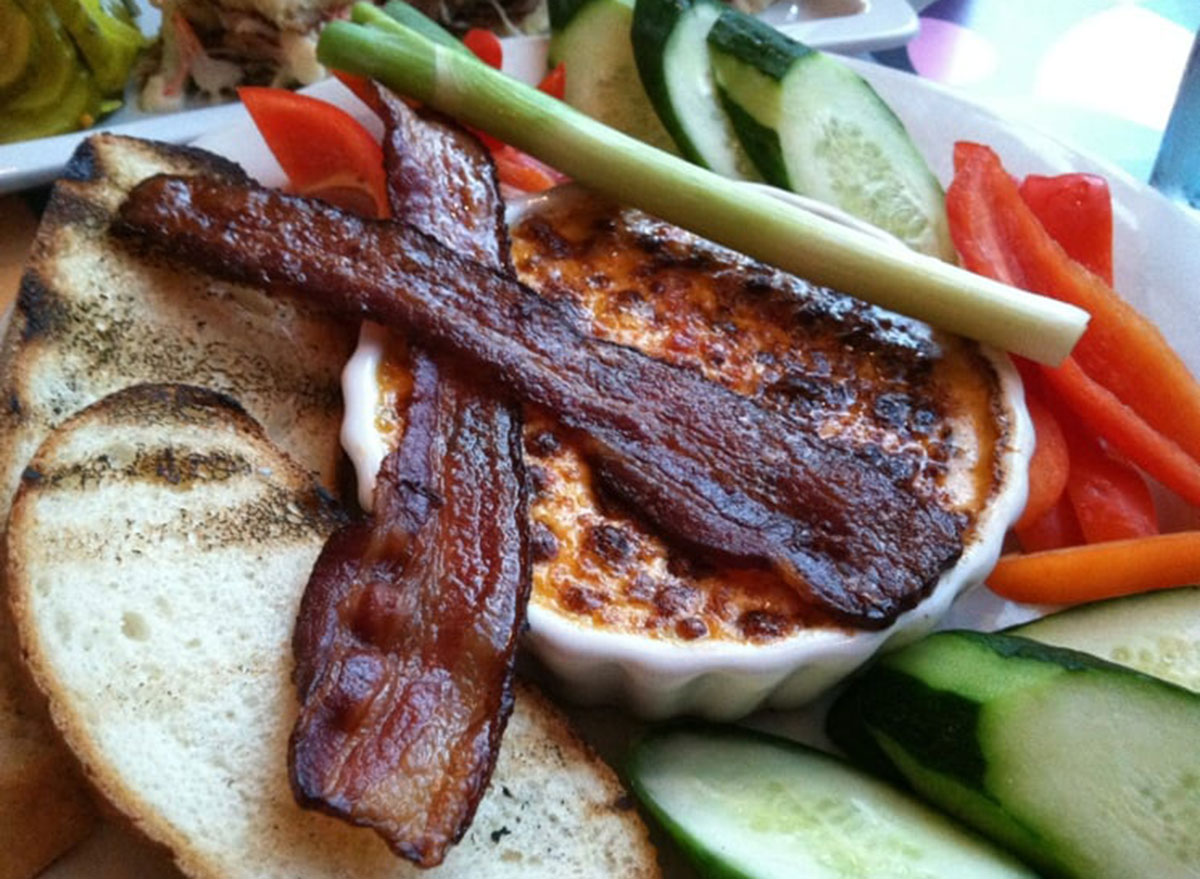 Part restaurant, part market, and part gift shop, this repurposed Piggly Wiggly serves as Raleigh's center for all things Southern. Nosh on some pimento cheese dip at the restaurant, do your holiday shopping at the gift shop, and pick up a casserole to take home at the market.
NORTH DAKOTA: Brew Bird in Fargo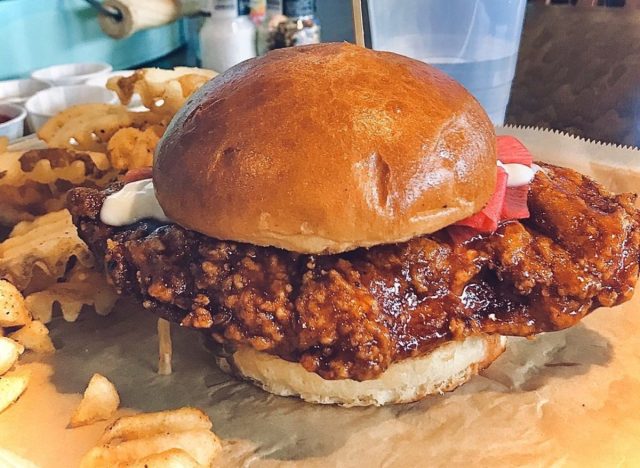 Some of the best Souther spots in North Dakota have closed, but if you love fried chicken sandwiches, head to Brew Bird in Fargo.
OHIO: Southern Cafe in Lakewood
Southern Cafe claims to be Cleveland's premiere Southern restaurant. With dishes like Soul Rolls (egg rolls stuffed with chicken, cheese, and greens) and chicken and red velvet waffles, it's tough not to agree.
OKLAHOMA: The Drum Room in Oklahoma City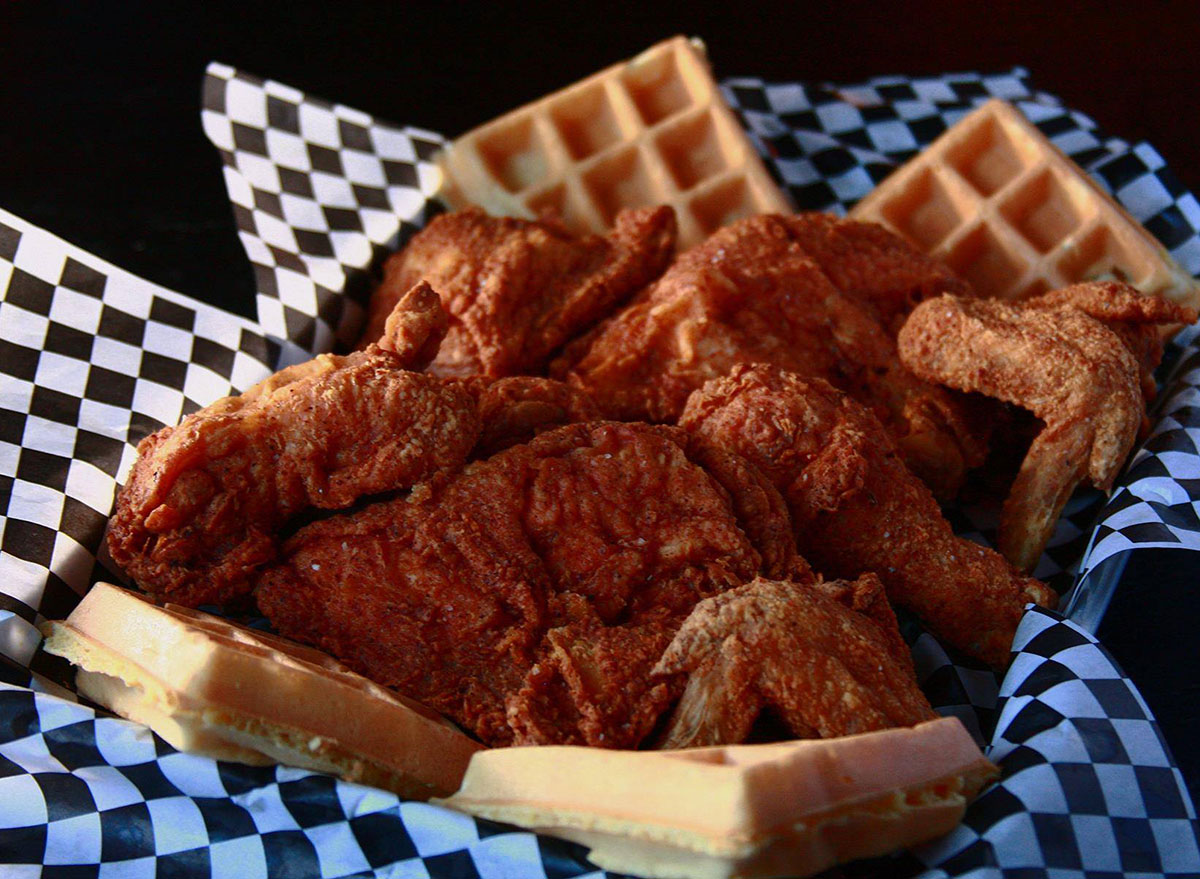 The Drum Room is all about two things: soul and rock and roll. They play all their music from vinyls, and if you bring your own vinyl, they'll even give it a spin.
OREGON: Screen Door in Portland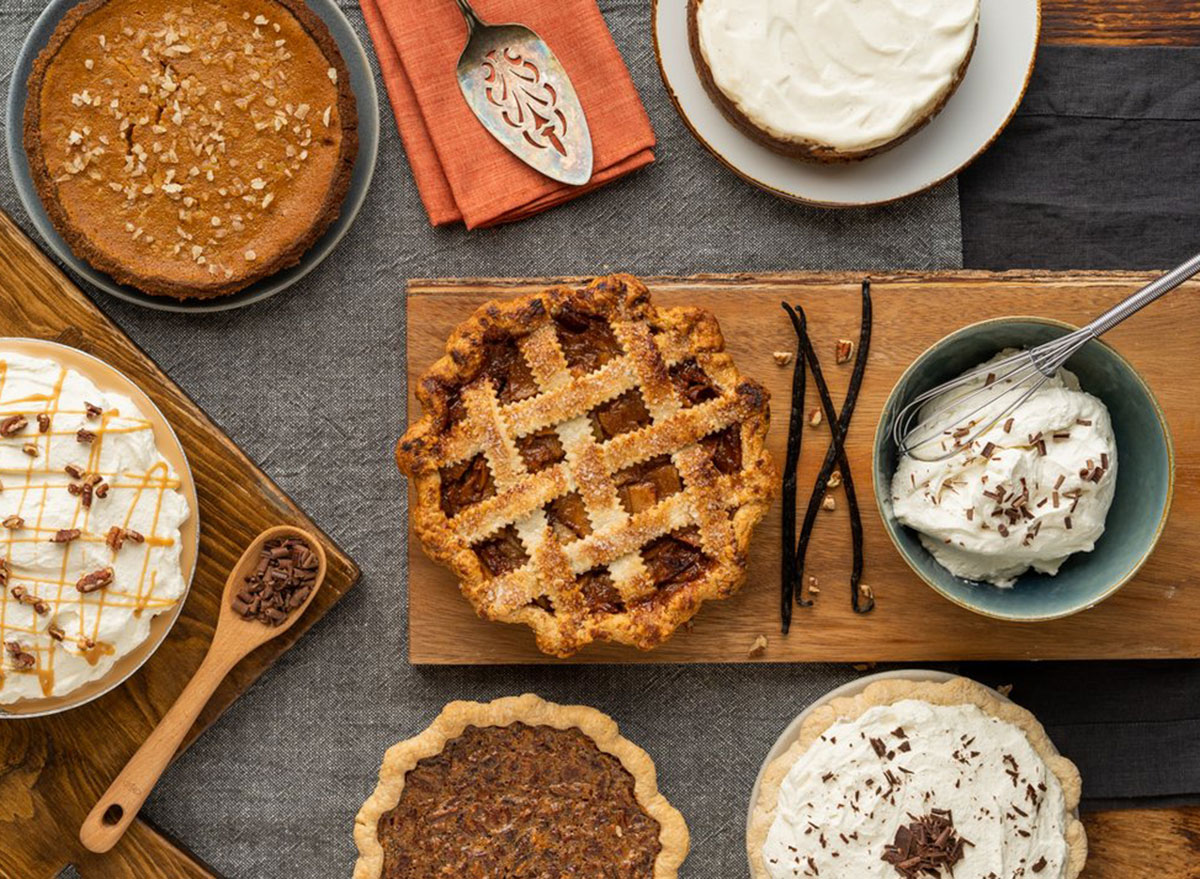 Reviewers love everything about Screen Door—except the line around the block to get in. But with a menu that includes items like fried oysters, praline bacon, and an in-house bakery, people are more than willing to wait.
PENNSYLVANIA: South Jazz Kitchen in Philadelphia
South is a 21st-century jazz club, giving visitors that timeless New Orleans charm alongside modern cuisine and cocktails. Reviewers rave about the deviled eggs and blue crab toast.
RHODE ISLAND: Food for the Soul in Providence
Food for the Soul is as no-frills as it gets. With its old-school pizza parlor vibe and sub-$10 dinner platters, this place is the perfect hole in the wall to go and fill up fast.
SOUTH CAROLINA: Big Mike's Soul Food in Myrtle Beach
At Big Mike's the dinners come with fries… and hush puppies… and coleslaw. And nearly all are under $10. Or instead of a dinner, opt for a classic meat + three. Or a fried bologna sandwich. The possibilities are endless.
SOUTH DAKOTA: Jambonz in Rapid City
With étouffée, muffuletta, and eight different kinds of po' boys, Jambonz brings coastal Creole charm to landlocked South Dakota. Reviewers go crazy for the speedy service and spicy food.
TENNESSEE: Miss Girlee Soul Food in Memphis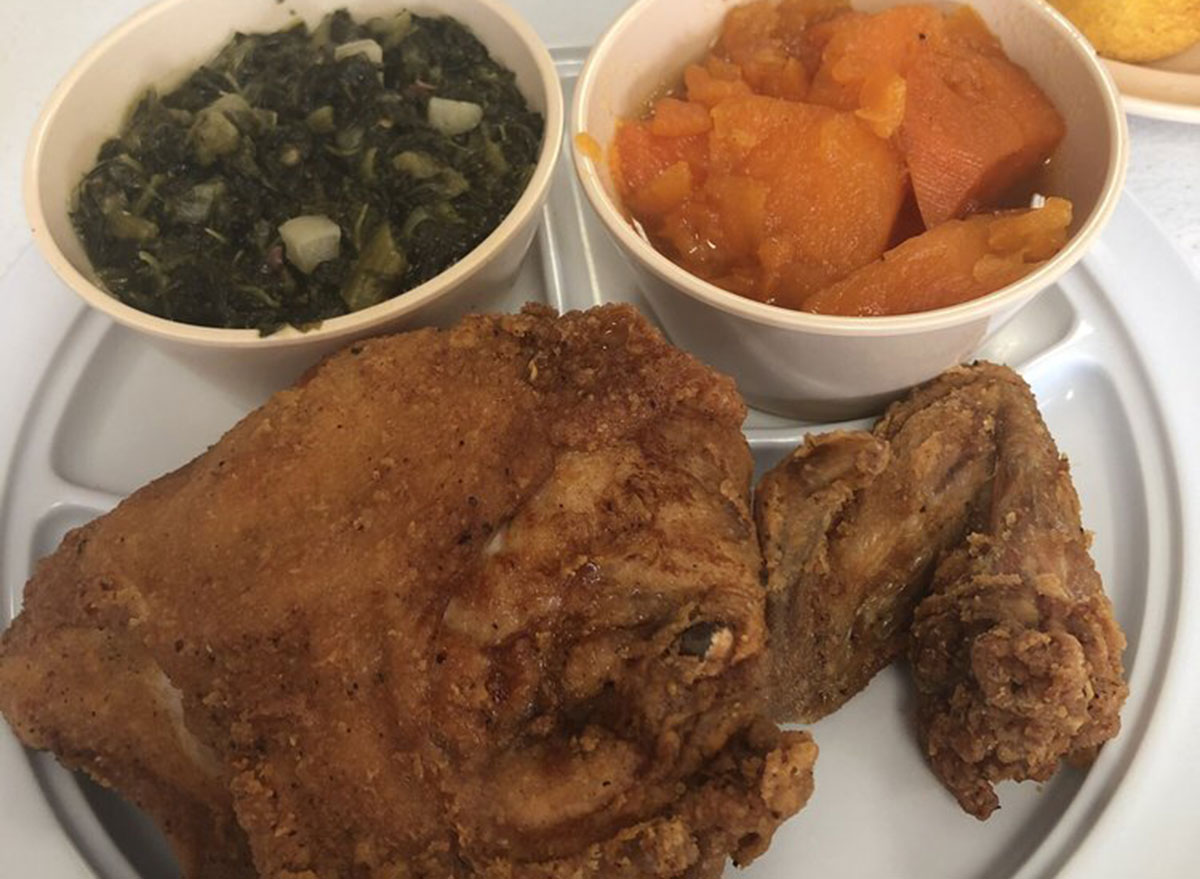 Described by reviewers as a hidden gem, Miss Girlee serves up some of the best soul food south of the Mason-Dixon. A massive menu and affordable prices keep diners coming back for more.
TEXAS: Stanley's Famous Pit Bar-B-Q in Tyler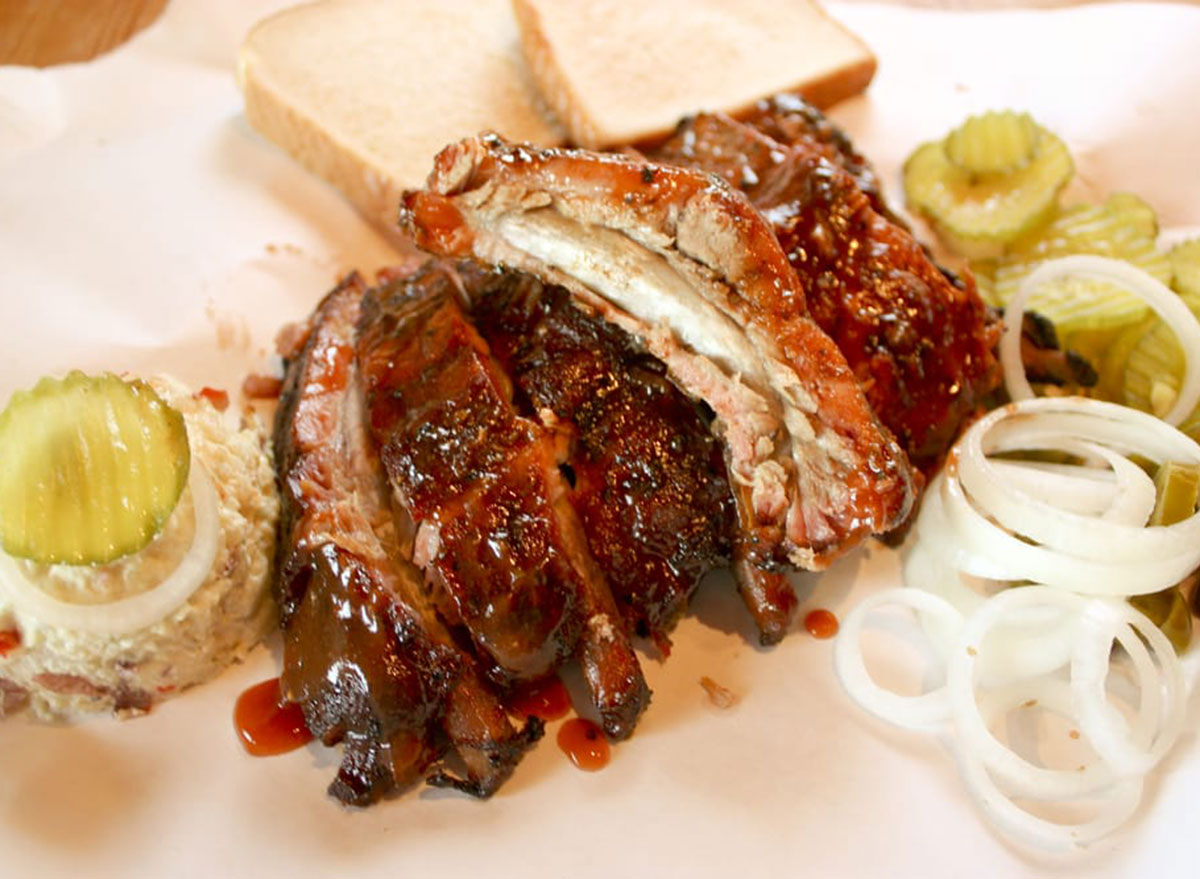 Open six days a week until they're sold out, Stanley's is the real deal when it comes to Texas barbecue. Try The Mother Clucker, their famous chicken sandwich, while sampling one of their 12 whiskey flights. Then head home with a bottle of their house-made barbecue sauce.
UTAH: Sauce Boss Southern Kitchen in Draper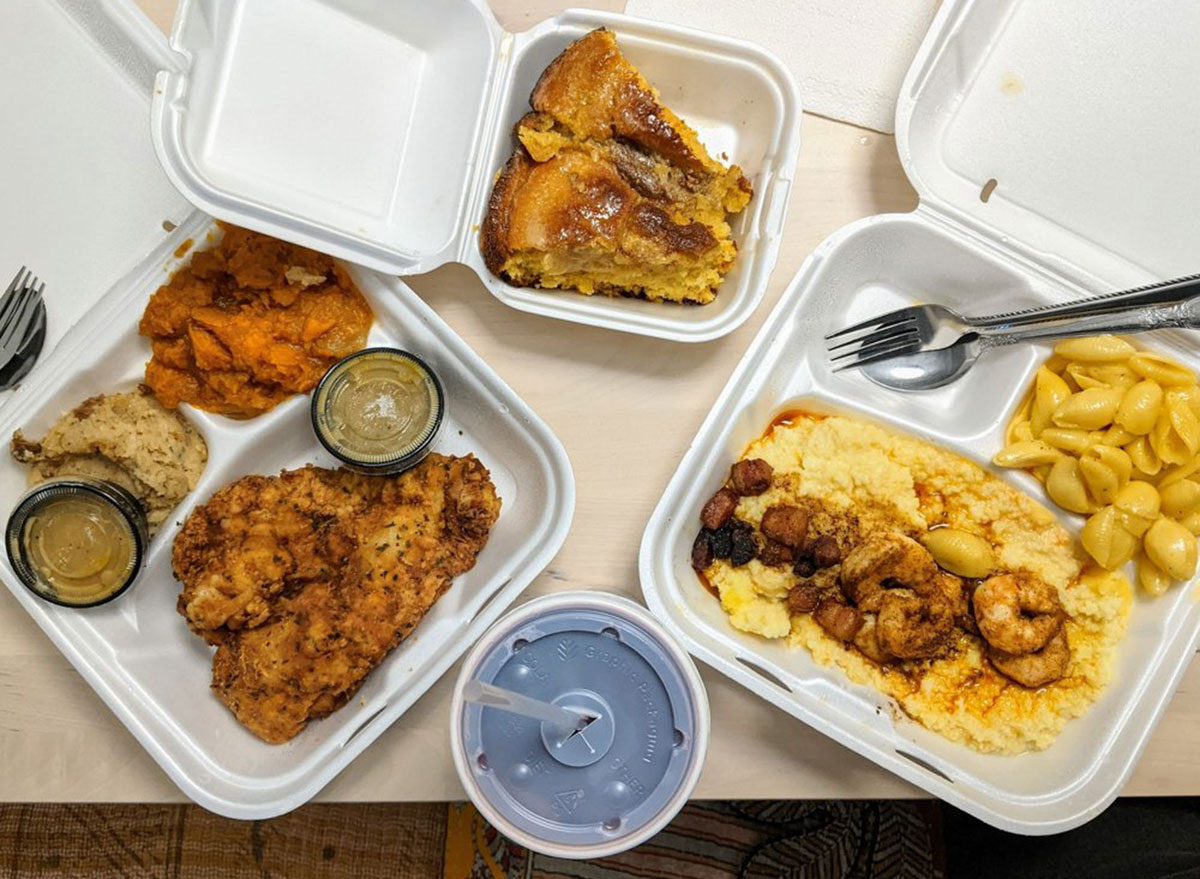 With its sweet and simple menu, Chef Julius Thompson's Sauce Boss brings real Southern cooking all the way to the beehive state. Reviewers love The Big Cheddar: shrimp and bacon served over shells and cheese.
VERMONT: Samurai Soul Food in Fairlee
Soul food meets sake at this small town hidden gem, serving up southern fried chicken with sesame noodles and a soy dipping sauce. The fish tacos and tuna sashimi nachos are also huge hits.
VIRGINIA: Johnny Ray's Sultry Soul Food in Sterling
Just a few miles from Dulles airport, Johnny Ray's ought to be the first place you stop. If you're lucky, you may even meet Johnny Ray himself.
WASHINGTON: Witness in Seattle
Witness is an upscale craft cocktail bar with strong Southern influence, where you can munch on traditional chicken and waffles while sipping an elaborate house-made cocktail.
WEST VIRGINIA: Dem 2 Brothers and a Grill in Charleston
This well-known West Virginia spot claims to be the best barbecue on the planet. It's a tall claim, but it just might be true. The restaurant's famous ribs have been featured on Food Network's Southern Fried Road Trip, and Chef Adrian "Bay" Wright shared the recipe online, so you can try it for yourself.
WISCONSIN: Daddy's Soul Food & Grille in Milwaukee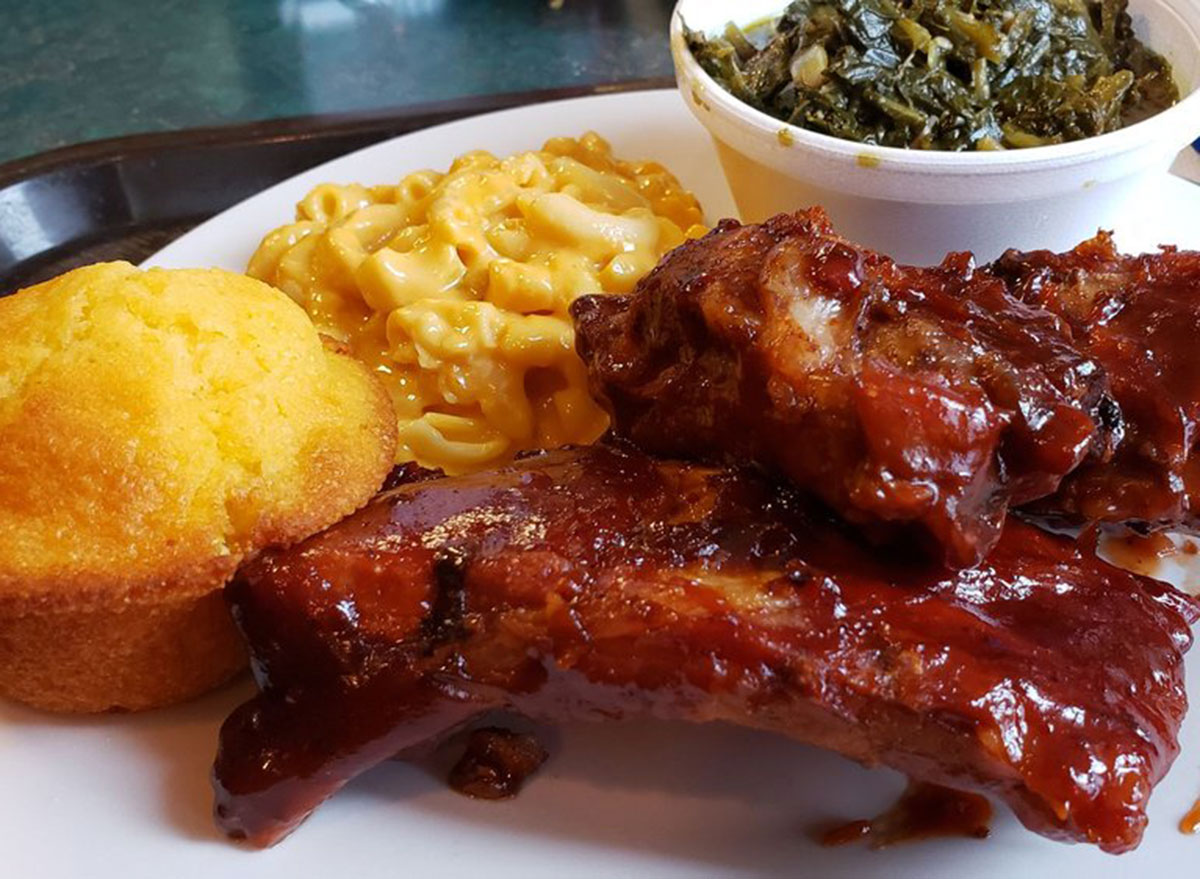 Serving a rotating buffet as well as burgers and vegetarian options, Daddy's is Wisconsin's premiere soul food destination. Fried chicken, catfish, and tilapia are available every day, as are a rotating selection of cakes and pies.
WYOMING: HQ Southern BBQ in Evansville
Situated in a former gas station, HQ is your one stop to fuel up before exploring the Wyoming wilderness. Come for the large portions and stay for the impressive selection of local beers and homemade barbecue sauces.
Plus, don't miss The Best Bar Food in Every State.
Luke Gralia
Luke Gralia is a food and lifestyle writer by day and a stand-up comedian by night in New York City.
Read more about Luke