Cranberry Mustard Mini Tuna Melts Recipe
We bet you've never made tuna melts this way before!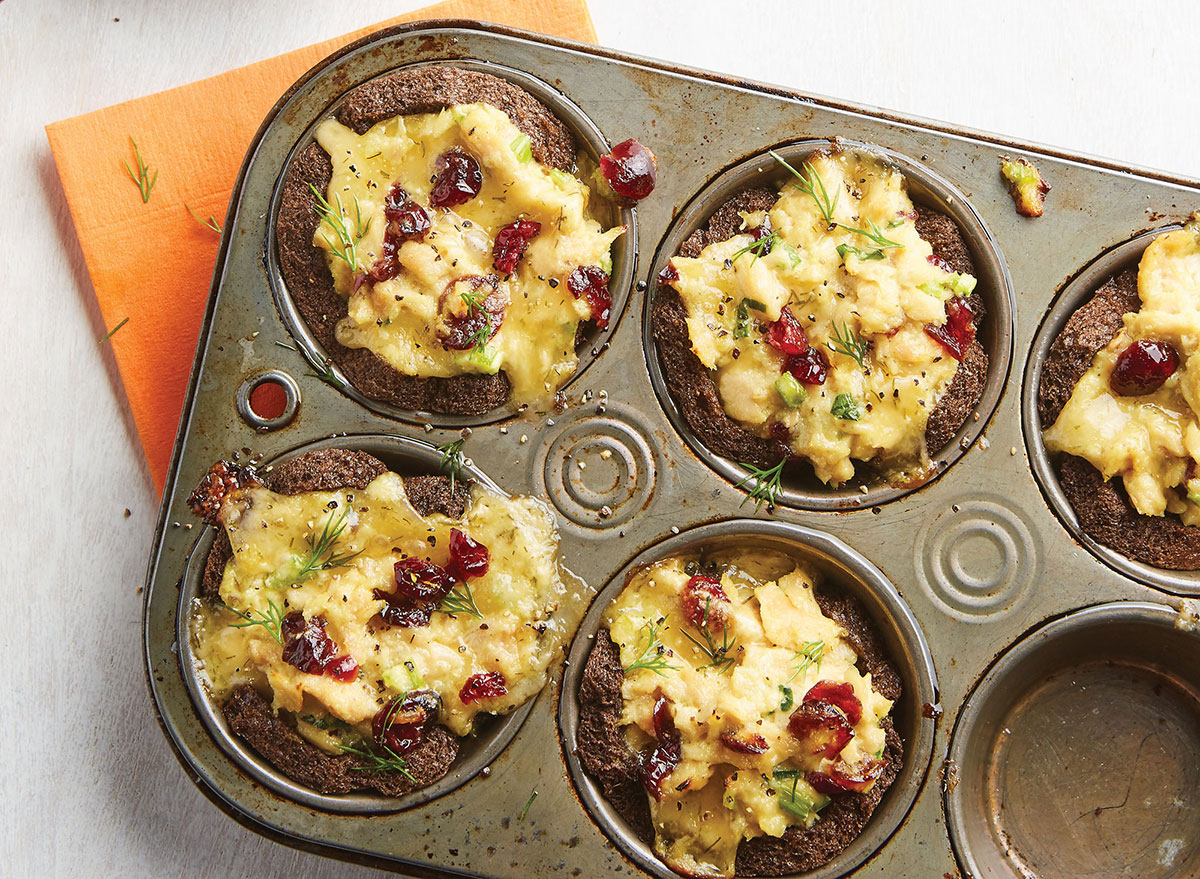 There truly are many ways to make a tuna melt. There's the classic tuna melt (like this Easy Italian Tuna Melt Recipe), made with mayonnaise and toasted on some delicious whole wheat bread. There's also the open-faced tuna melt, where you simply make the tuna melt open-faced to get the cheese all melty (or even make it over a skillet to save time). Tuna melts don't even need mayonnaise to be delicious, like this Healthy Tuna Veggie Melts recipe, which uses smashed chickpeas instead. But we bet it never crossed your mind to make a tuna melt inside a muffin tin before!
This tuna melt recipe is one of a kind, simply by the way it is made. Similar to an open-faced tuna melt, these tuna melts have a bread base with a cheesy, tuna salad filling on top. Assembling them is much easier than you think. After coating the pan with cooking spray, you simply press in some bread slices (with some slightly melted butter), add the tuna salad mixture, and bake away! It's the perfect food to have if you're hosting a crowd for lunch.
Nutrition: 367 calories, 16 g fat (8 g saturated), 870 mg sodium
Makes 6 servings
Ingredients
Nonstick cooking spray
12 slices dark pumpernickel bread, crusts removed
3 Tbsp butter, melted
2 (6-oz cans) water-pack chunk white tuna, drained
3 Tbsp light mayonnaise
1 Tbsp honey mustard
4 oz havarti cheese with dill, cut into small cubes
2 Tbsp finely chopped green onion (white and green parts)
1 stalk celery, finely chopped
1⁄4 tsp pepper
2 Tbsp snipped dried cranberries
Fresh dill, for garnish (optional)6254a4d1642c605c54bf1cab17d50f1e
How to Make It
Preheat oven to 375°F. Generously coat 12 standard muffin cups with cooking spray; set aside. Brush one side of bread slices lightly with melted butter. Press bread slices, buttered sides up, into muffin cups.
Combine tuna, mayonnaise, and honey mustard. Gently stir in cheese, green onion, celery, pepper, and dried cranberries. Divide tuna mixture among bread-lined muffin cups.
Bake for about 15 minutes or until filling is hot and bubbly. Remove tuna cups from muffin cups; let stand for 5 minutes before serving. Garnish with fresh dill, if using.
Eat This, Not That!
Inspired by The New York Times best-selling book series, Eat This, Not That! is a brand that's comprised of an award-winning team of journalists and board-certified experts, doctors, nutritionists, chefs, personal trainers, and dietitians who work together to bring you accurate, timely, informative, and actionable content on food, nutrition, dieting, weight loss, health, wellness, and more.
Read more about Eat This