25 Genius Ways to Use Leftover Halloween Candy
Cookies and brownies galore!
Once trick or treating is over, you're likely left with a slew of leftover Halloween candy. It happens every year.
Keeping all that candy around to snack on is fun. But no matter how strong your sweet tooth is, you'll probably get sick of it after a while. So, why not repurpose it?
There are lots of ways to turn your bags of candy into brand-new desserts and even cocktails. We've rounded up 25 genius ways to use your Halloween candy leftovers. Whether you're looking for cookies, pudding, or even candy pizza, you'll be grateful for all those fun-size candy bags.
And for more, don't miss these 15 Classic American Desserts That Deserve a Comeback.
Candy-Filled Cookies
A fun way to mix up the classic chocolate chip cookie is to replace the chocolate chips with chopped-up mini candy bars, M&M's, Skittles, or anything else. You can also freeze the cookie dough and pop a few in the oven when your sweet tooth strikes.
Get the recipe from The Baker Mama. 
Edible Cookie Dough with Candy Bars
Cookie dough is a delicious treat, but it's usually not safe to eat because it contains raw eggs. However, you can actually whip up your own edible version and pack it full of your favorite leftover Halloween chocolate.
Get the recipe from Chelsea's Messy Apron.
Sweet Hand Pies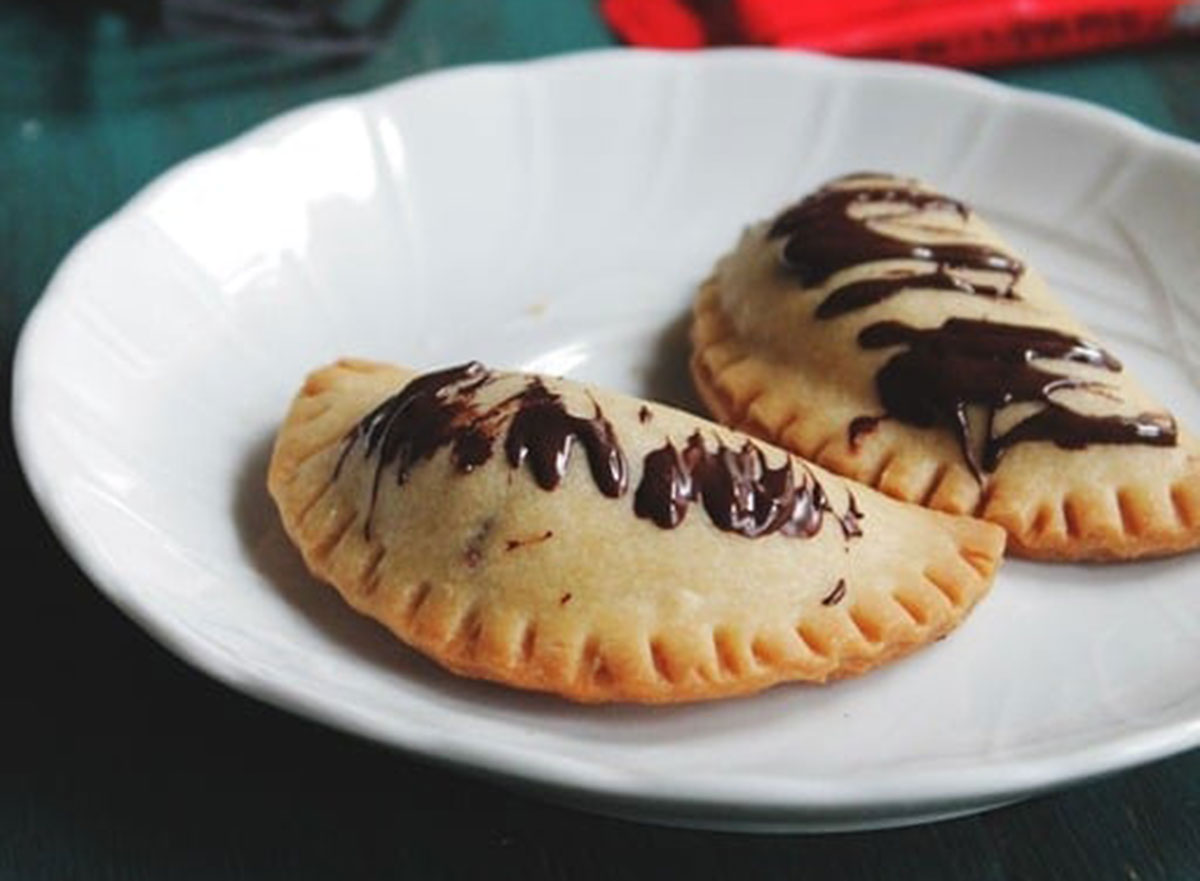 Leftover Halloween candy bars make a rich filling for sweet hand pies. Use store-bought pie crust to make an easy, brand-new dessert.
Get the recipe from Diethood.
White Chocolate Halloween Candy Bark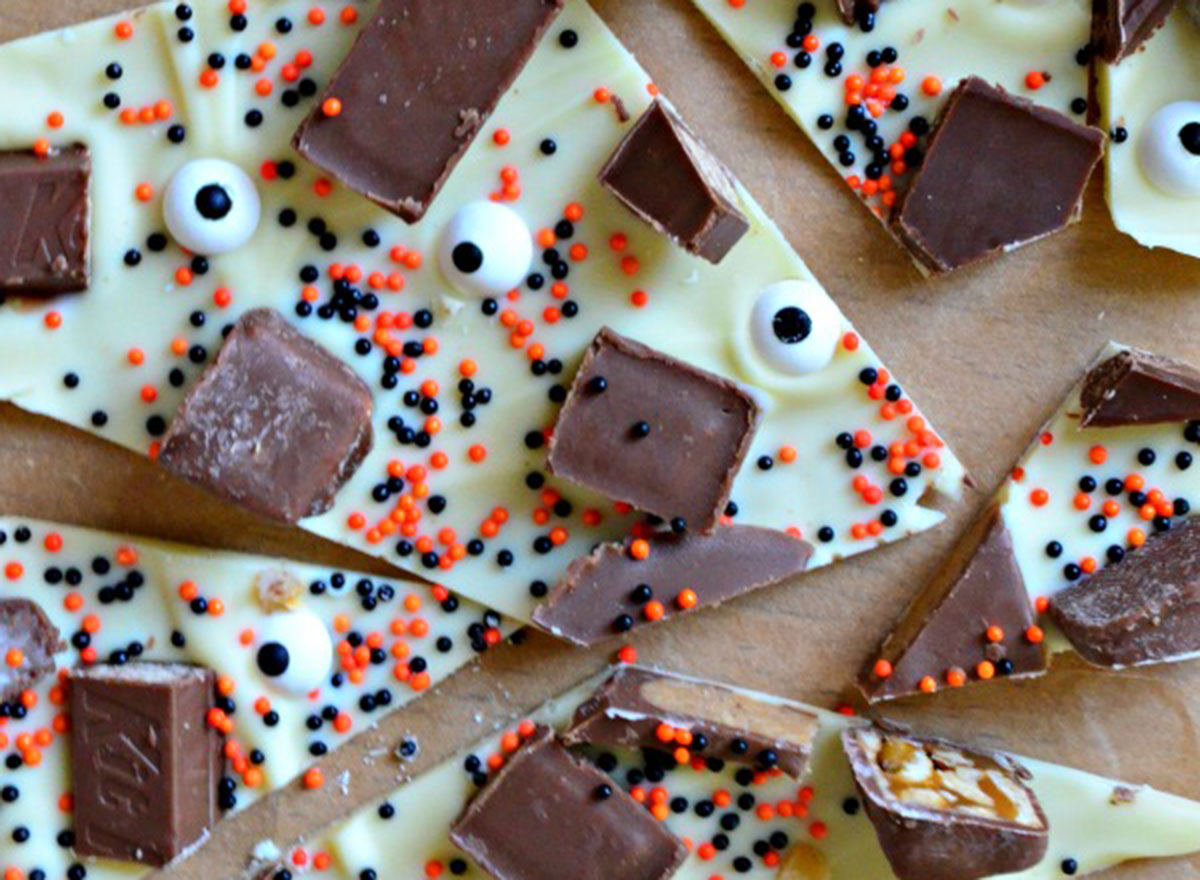 A quick way to repurpose all of your leftover Halloween candy is to turn it into a bark. This one has a thick white chocolate base and is topped with fun-sized candy bars.
Get the recipe from Katie's Cucina.
Candy Bar Blondies
Pack gooey, buttery blondies with mini candy bar pieces to make them extra decadent. Use a mix of different flavored candy, or use only peanut butter and chocolate candy, like Reese's Peanut Butter Cups, or caramel candy, like Milky Way bars.
Get the recipe from Sally's Baking Addiction.
PB and Nutella Candy Bar Brownies
Peanut butter, Nutella, and chocolate candy is a winning combination. Use up your leftover Reese's Peanut Butter Cups or any other candy to top this chocolatey dessert.
Get the recipe from How Sweet Eats.
Caramel Apple Dessert Pizza
Nothing screams "fall" like caramel apples. Use fresh apple slices and chopped-up Snickers bars to top this caramel apple pizza, which has a peanut butter cookie crust and caramel cream cheese filling.
Get the recipe from Show Me the Yummy. 
Butterscotch Dirt Pudding Cups
Gummy worms make cute toppings for dirt puddings. For an extra cozy fall treat, make a rich homemade butterscotch pudding with chocolate cookie crumbs.6254a4d1642c605c54bf1cab17d50f1e
Get the recipe from My Name is Yeh. 
Candy-Loaded Rice Krispies Treats
Make your Rice Krispies Treats a little gooier and crunchy by adding in leftover Halloween treats, like M&M's, candy bar bits, cereal, pretzels, and more.
Get the recipe from Averie Cooks.
Candy Corn Pretzel Fudge
Love it or hate it, candy corn is a Halloween classic. Not sure what to do with the leftovers? Mix it and crunchy pretzels into creamy white chocolate fudge for a sweet and salty treat.
Get the recipe from Lil' Luna. 
Bubble Gum Ice Cream
What's more nostalgic than bubble gum ice cream? It's easy to make a homemade version with just two ingredients: whipping cream and condensed milk. And there's no need for an ice cream maker! Mix in pieces of bubble gum (or any other candy).
Get the recipe from Gemma's Bigger Bolder Baking. 
Heath Bar Ice Cream Pie
Crushed Heath bars add a crunchy topping to this silky ice cream pie, made with toffee-flavored ice cream and an Oreo cookie crust. Plus, it's drizzled with hot fudge and caramel sauces.
Get the recipe from Gimme Some Oven. 
Gummy Candy Cocktail Stirrers
Skewer spare candy corn, gummies, or soft sour candies to create cute stirrers to decorate your favorite cocktail, mocktail, soda, or seltzer.
Get the recipe from A Beautiful Mess.
Popcorn Cake
For a new spin on a popcorn ball, coat popcorn and leftover candy corn, Skittles, or chocolates with melted marshmallows and mold into a bundt cake tin for a unique presentation.
Get the recipe from Taste & Tell.
Butterfinger Cheesecake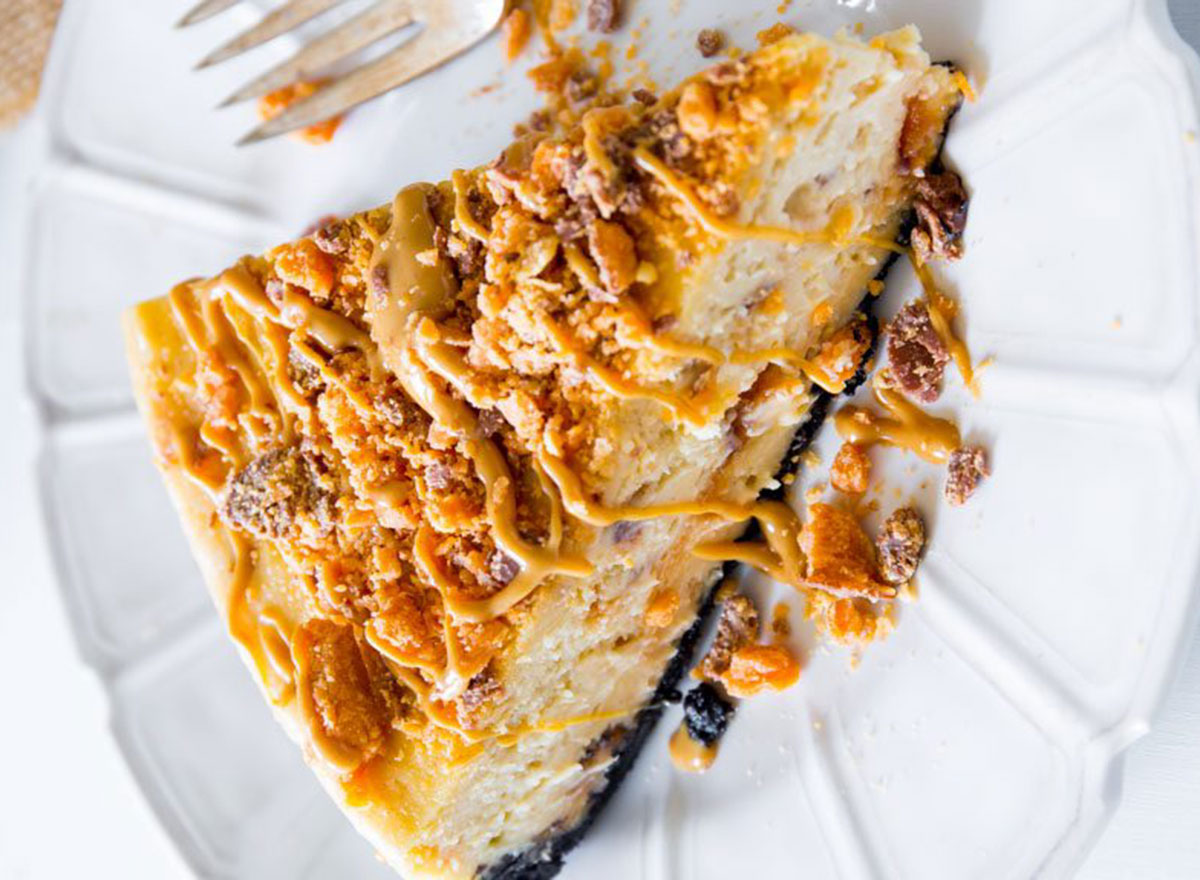 Peanut butter cheesecake is a classic dessert. Make your cheesecake extra decadent with pieces of Butterfinger candy bars (or Reese's Peanut Butter Cups) added into the mix.
Get the recipe from Sally's Baking Addiction.
Twix Trifle
Mini chocolate bars make fun-sized additions to any trifle dessert. Try layering Twix bars with salted caramel mousse, hot fudge, and whipped cream.
Get this recipe from Gimme Some Oven. 
Peanut Butter Cup Blizzards
Whether you call them blizzards or concretes, these creamy desserts are made even better with candy pieces mixed in. Soft Reese's Peanut Butter Cups are a near-perfect addition because they blend right in.
Get the recipe from Half Baked Harvest.
Sweet and Salty Popcorn Mix
A sweet and salty popcorn mix is a fun way to use up leftover Halloween candy and other snacks. Toss popcorn with M&M's, pretzels, and any other candy pieces in melted white chocolate and nibble away.
Get the recipe from Cooking Classy.
Snickers No-Bake Pie
No-bake pies offer a simple way to repurpose your favorite candy and enjoy an all-new treat. Snickers make a sweet and salty addition to no-bake pies with an Oreo crust and caramel cream cheese filling.
Get the recipe from Lil' Luna. 
Sweet and Salty Chex Mix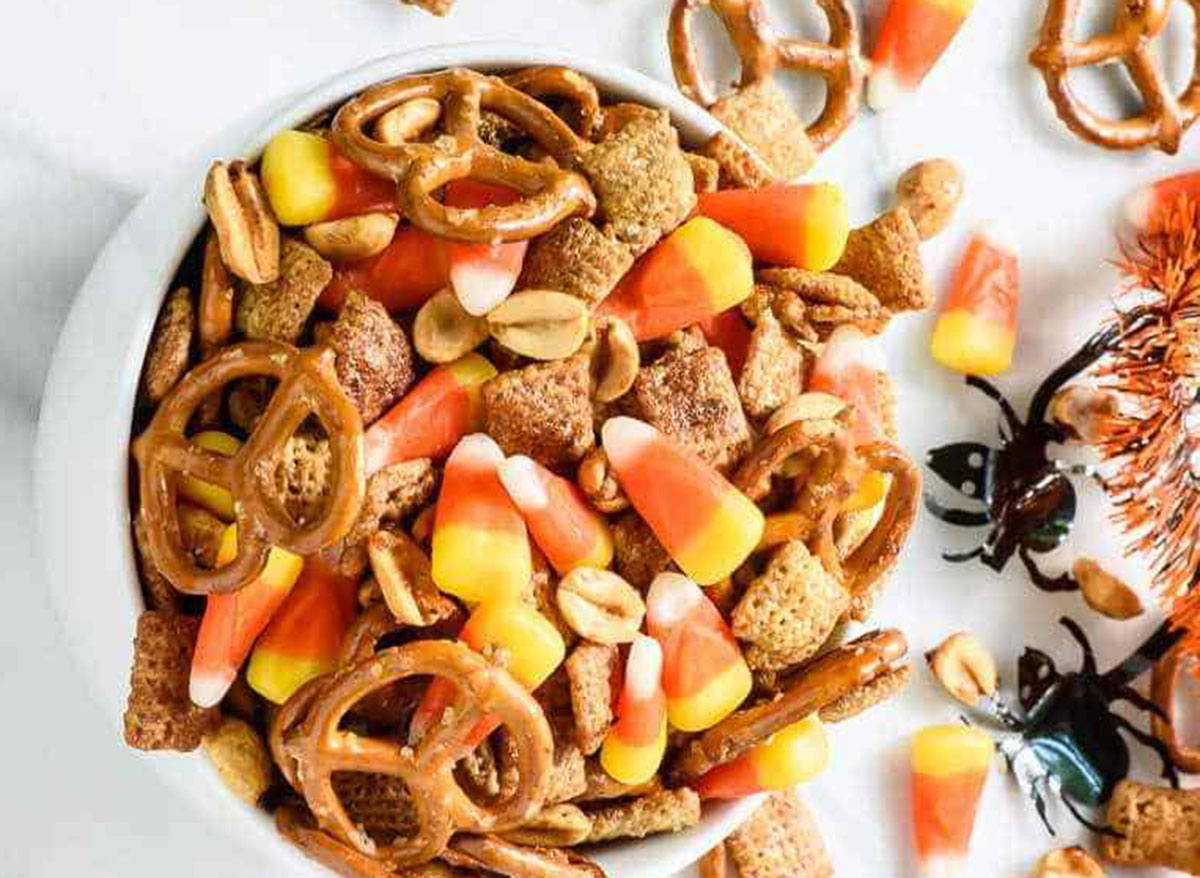 Homemade Chex Mix can be loaded up with all kinds of leftover Halloween treats, sweet and salty: pretzels, nuts, candy corn, M&M's, and really anything else.
Get the recipe from Well Plated. 
Gummy Bear Thumbprint Cookies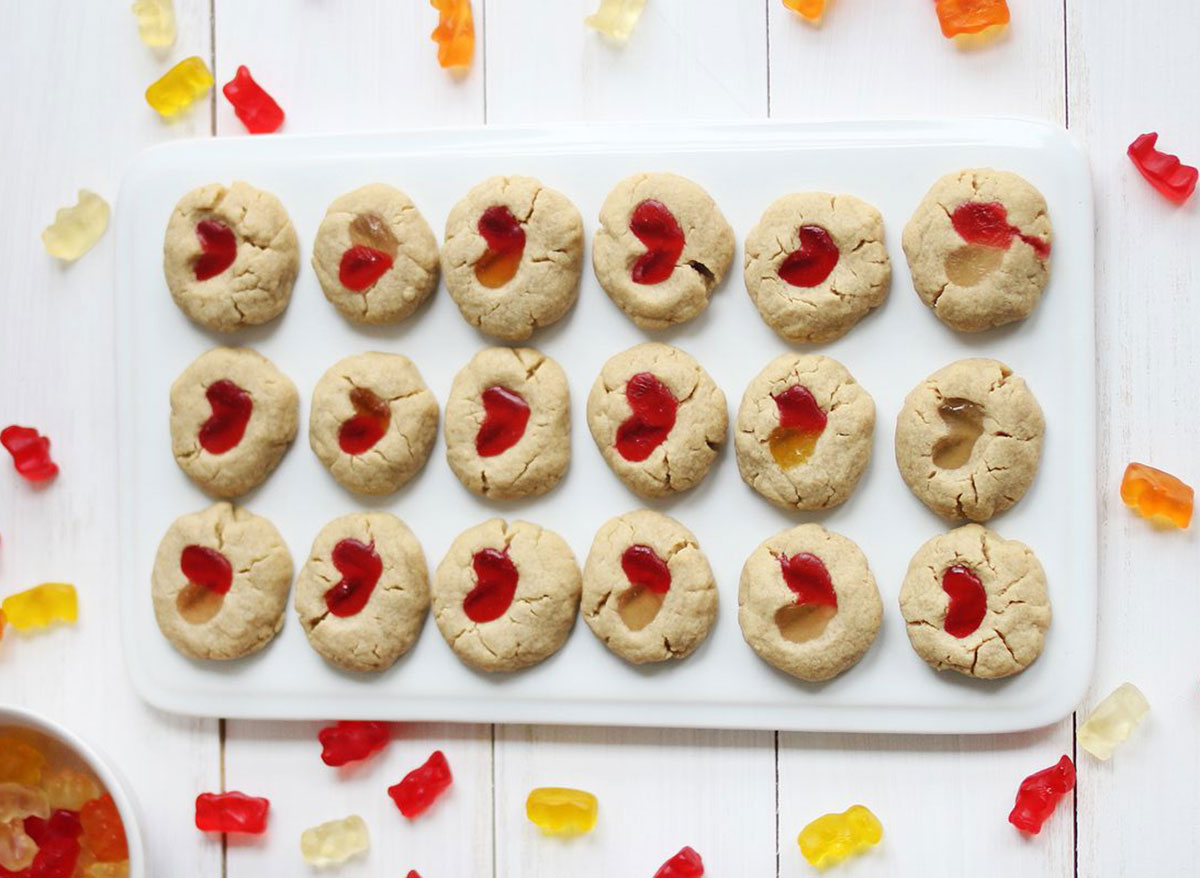 Baking with gummy bears may not be your first thought when you have leftover candies. But they melt right into the hollow spaces of thumbprint cookies, creating a cute and delicious effect.
Get the recipe from A Beautiful Mess. 
White Chocolate Candy Corn Cookies
Candy corn is always aplenty after Halloween. The colorful candies pair well with white chocolate in soft, chewy cookies.
Get the recipe from Averie Cooks.
Reese's Pieces Cupcakes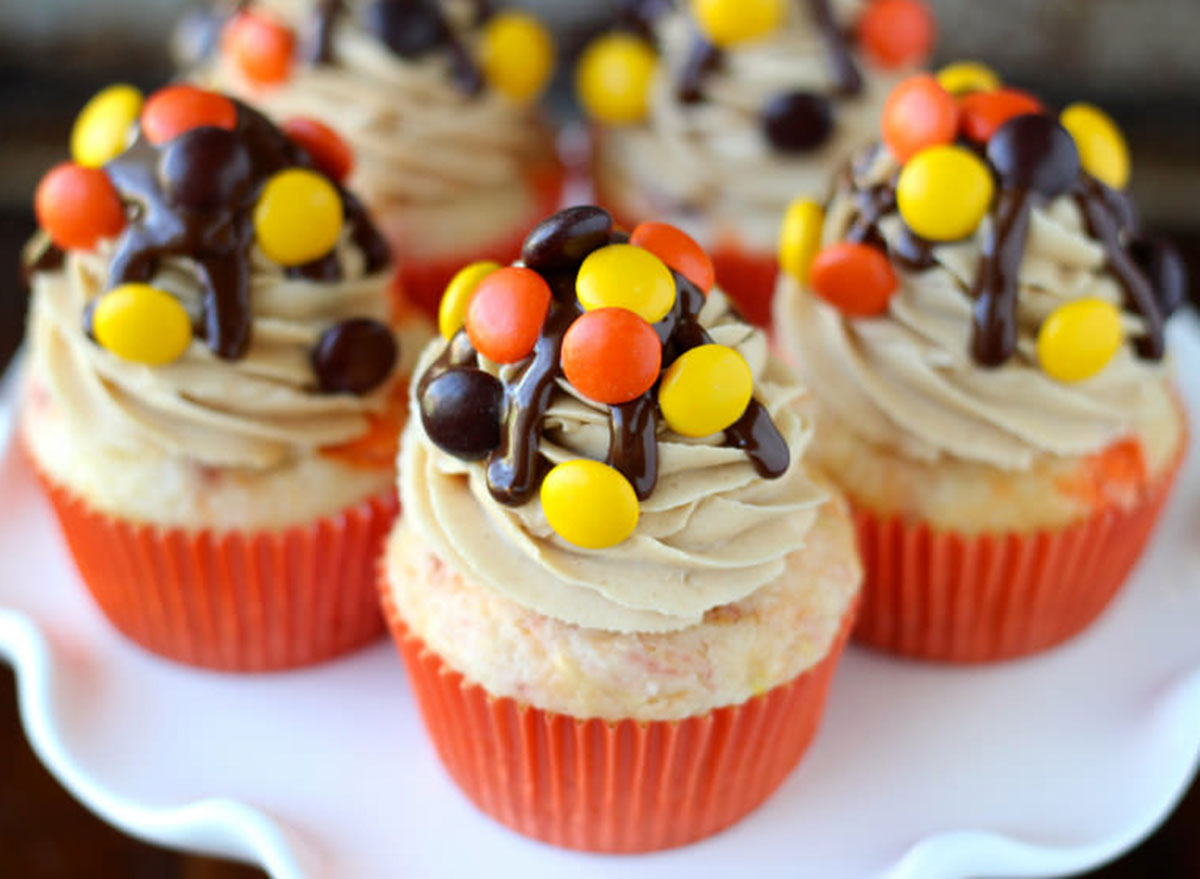 Peanut butter lovers will adore adding Reese's Pieces into vanilla or chocolate cake mix. Top the cupcakes with peanut butter frosting, chocolate ganache drizzle, and a few of the candies.
Get the recipe from Your Cup of Cake.
Snickers Apple Salad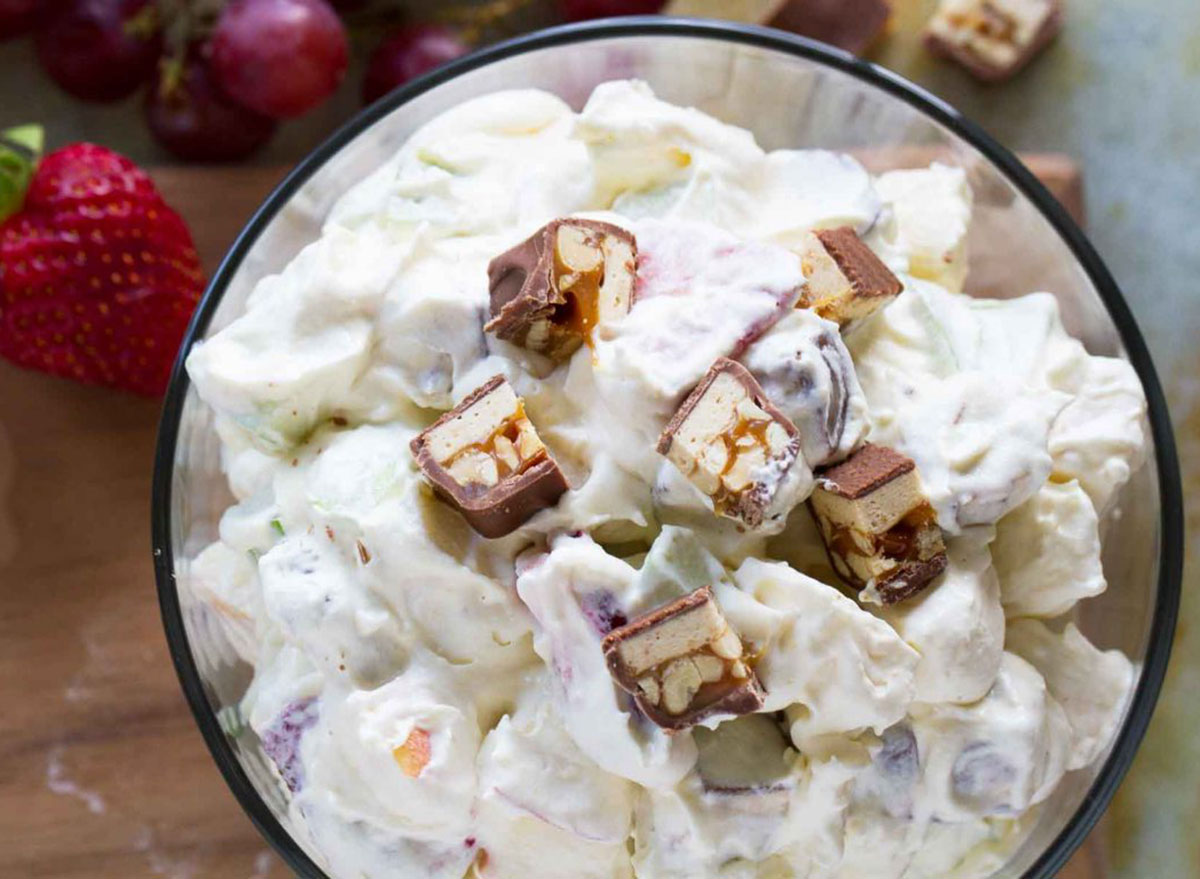 Candy in a salad? That sounds like our kind of salad. Snickers pieces, apples, grapes, and strawberries added to a vanilla pudding mixture offers a unique way to use the leftover chocolate bars.
Get the recipe from Taste & Tell.
Jolly Rancher-Infused Vodka
For a special adults-only treat, infuse vodka with leftover Jolly Ranchers. Toss about 10 candy pieces—either a mix of flavors or just one—into a bottle, fill it with vodka, and leave until the candies dissolve (about 24 hours). Serve the flavored vodkas with seltzer or create your own unique cocktails.
Get the recipe from A Beautiful Mess.
Now that you know all of the creative ways you can repurpose it, you might even be grateful for that leftover Halloween candy. And for more, check out these 108 most popular sodas ranked by how toxic they are.