What 100 Calories of Your Favorite Halloween Candies Looks Like
We calculated just how much 100 calories worth of 20 popular Halloween candies you can eat.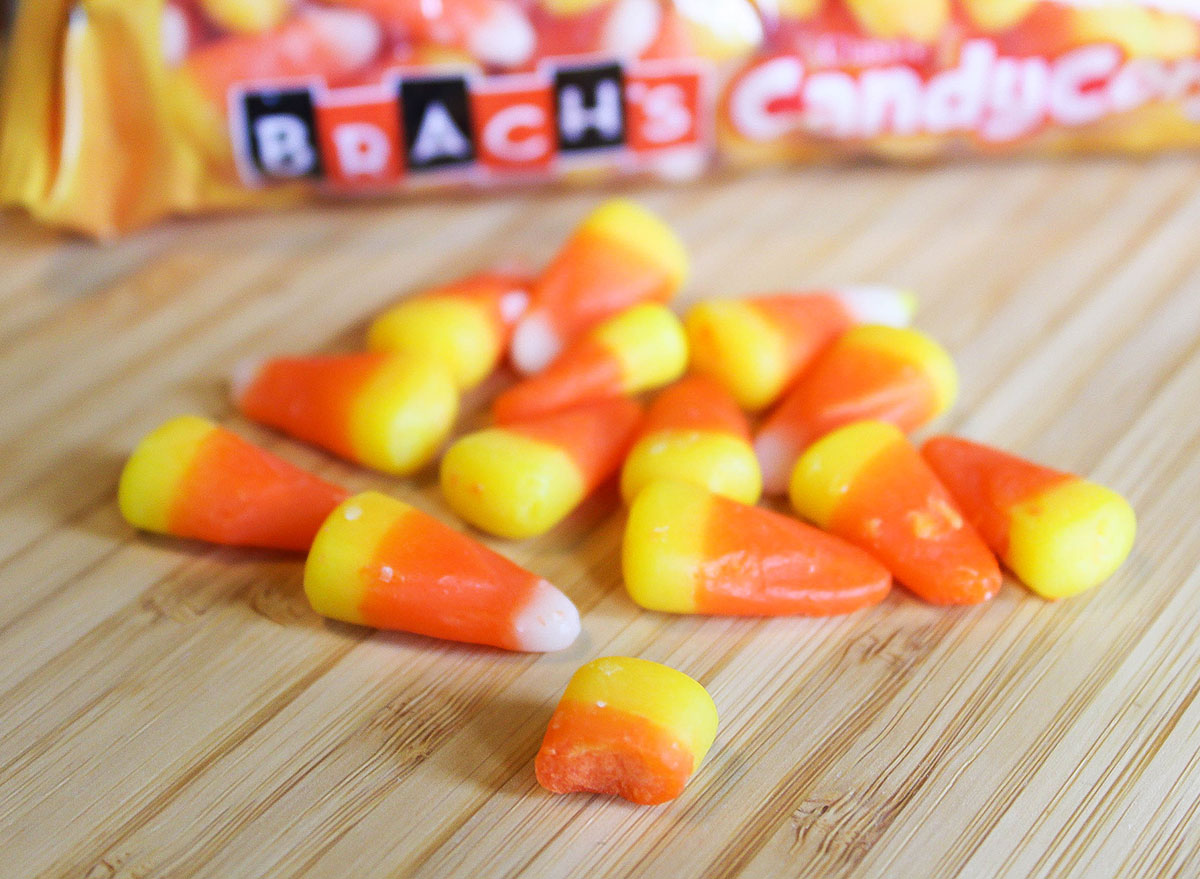 This post contains affiliate links. If you use these links to buy something, we may earn a commission.
Trick-or-treat! Yes, it's about that time, and with Halloween season approaching, we're not wasting any time cracking down on preparations for the spooky and sugary sweet festivities that are about to be underway. As you're perusing the candy aisle at your grocery store looking for Halloween candy to pass out to eager trick-or-treaters and put into bowls or goodie bags for your guests who come to your Halloween party, we wanted to give you an idea of just how many calories are in some of these cherished candies.
Warning: This information may slightly injure your soul and childhood memories, but know that we are exploiting these calculations in the name of health. It's time you know just how many calories these little, seemingly harmless candies are packing.
Here are 20 of your favorite Halloween candies broken into 100-calorie fragments so you know just how many calories you're consuming.
And for more, check out these 15 Classic American Desserts That Deserve a Comeback.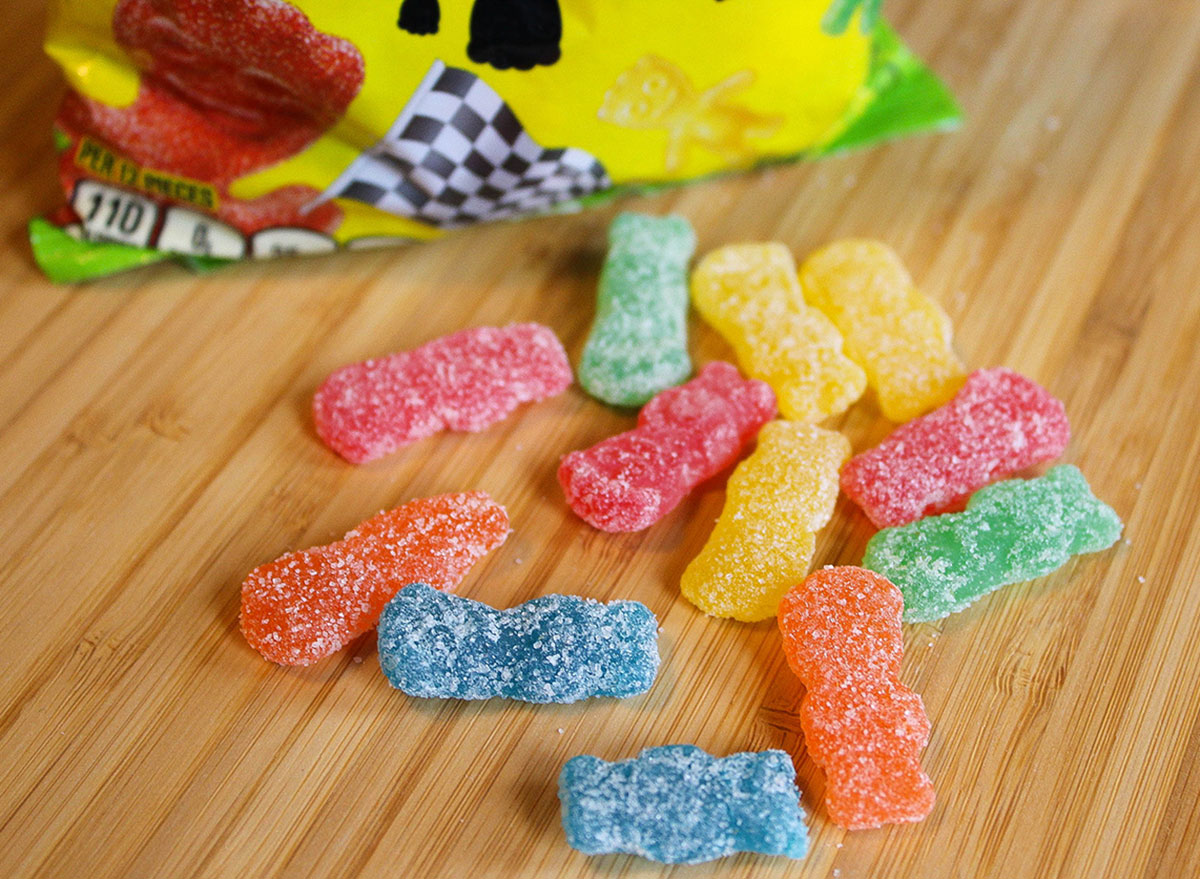 100 calories = about 12 Sour Patch Kids
First, they're sour, and then they're sweet. Twelve Sour Patch Kids amount to 110 calories, so tear off the head of one and that's about 100 calories. The question is, what's your favorite flavor: lime, lemon, orange, cherry, or blue raspberry?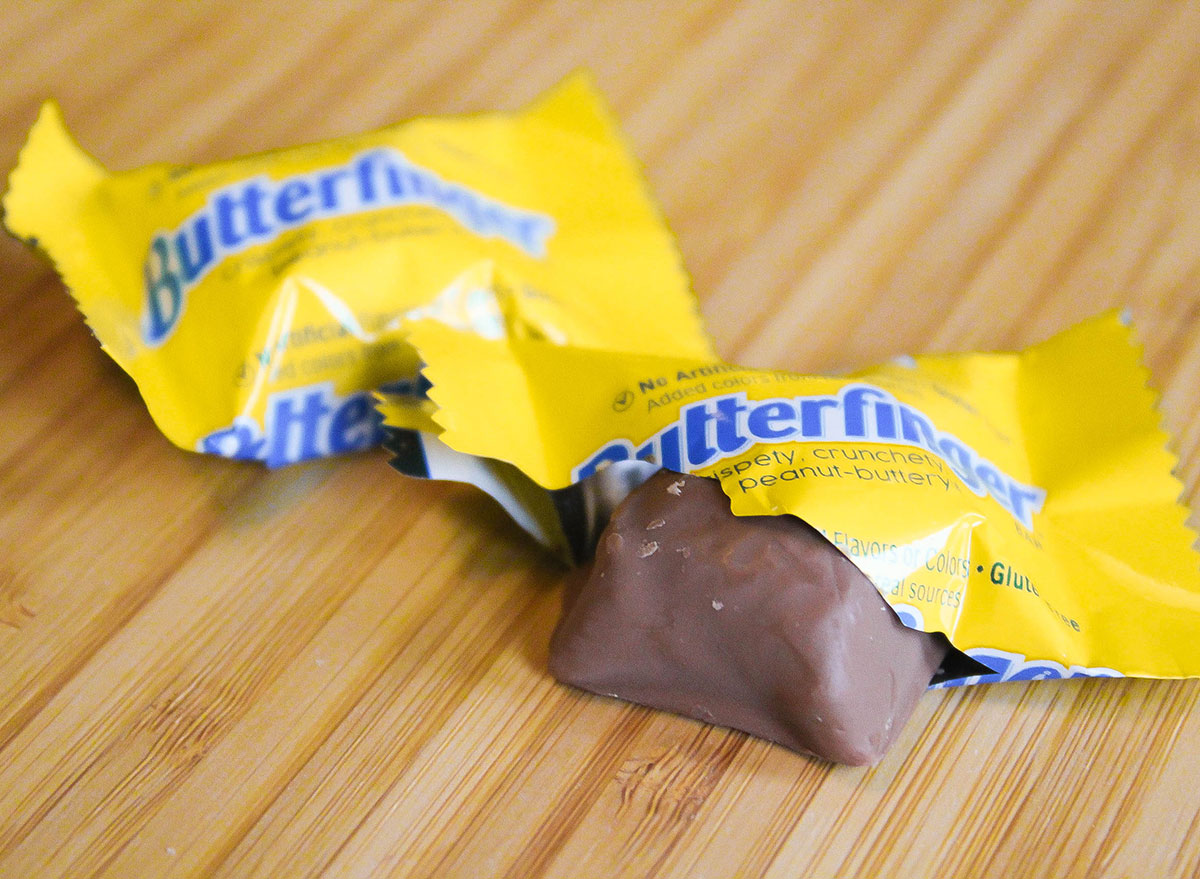 100 calories = about 2 pieces
There's something oddly pleasant about the sticky residue that coats the top of your molars after munching on this chocolate and peanut butter-filled treat. Two of these mini size treats totals to about 93.33 calories. For comparison, one classic Butterfinger bar (54 grams) is 250 calories. Don't forget to brush your teeth after nibbling on this "crispety, crunchety" chocolate candy.
100 calories = about 13.5 pieces
No Halloween-themed celebration is complete without a bowl of sweet candy corn. You can eat 15 pieces of Brach's Candy Corn for 110 calories, which means that each one is 7.33 calories. So, 13.5 pieces are equivalent to 99 calories. What's in candy corn exactly? Essentially, it's a little tri-colored triangle made of 10 different kinds of added sugars and food coloring, as well as gelatin and sesame oil.
Hershey's Bars (snack size)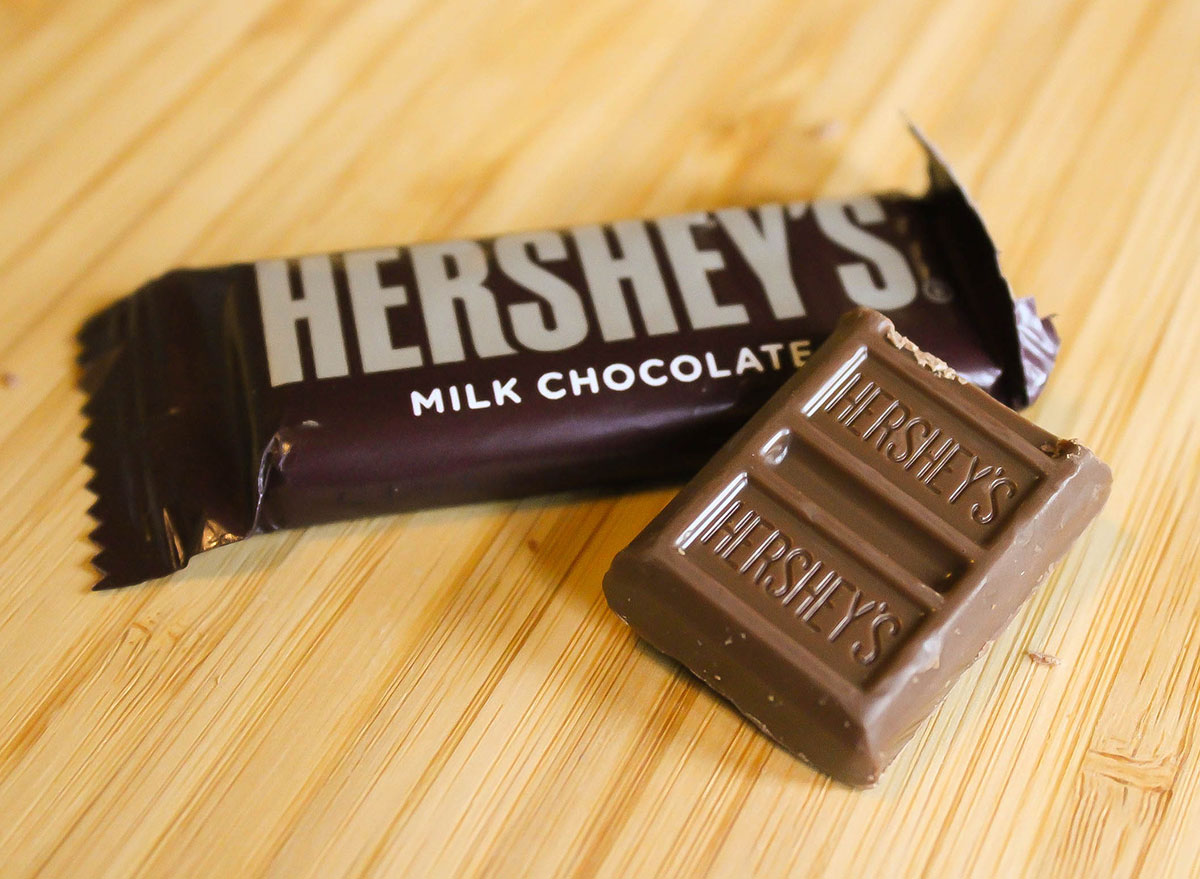 100 calories = about 1.5 bars
Hershey's is the most quintessential chocolate bar on the market, which means trick-or-treaters are bound to get several of the snack size bars in their sack by the end of the night. About 1.5 of Hershey's snack size bars is equivalent to 100 calories, so be sure to munch mindfully if you're trying to cut back on calories.
100 calories = 1 and 2/3 packets
If a rainbow actually tastes like Skittles, we're here for it—but only if it's 1 and 2/3 of the fun-size packets because we don't want to devote more than 100 calories to this sugary snack! Just one fun-size Skittles packet has 11 grams of added sugar.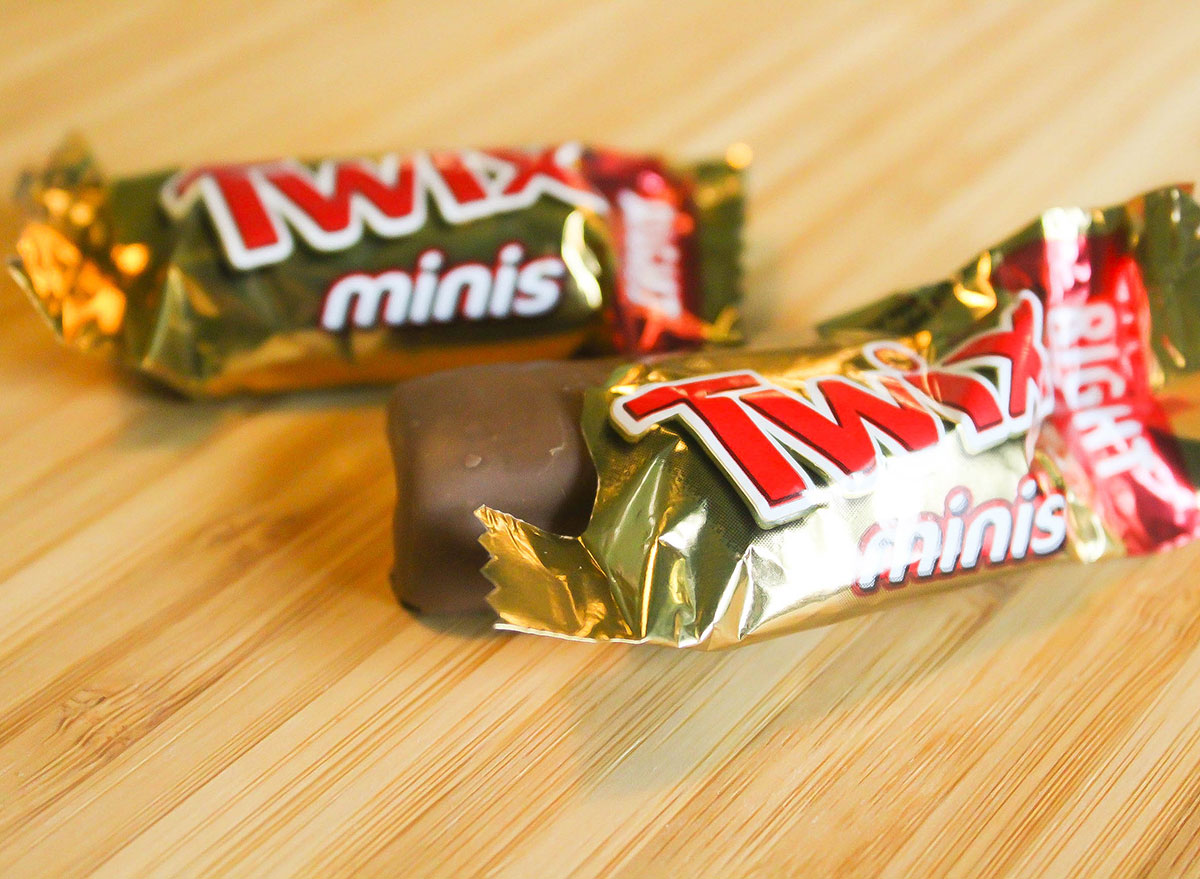 100 calories = 2 pieces
Twix Minis are the perfect way to get your fix of that special caramel, milk chocolate, and crunchy cookie combination. The math was fairly simple for this one, as three minis clock in at 150 calories, meaning each piece is 50 calories. To compare, two of the normal size Twix cookies amount to 250 calories, so opt for the mini size to cut more than half of the calories.
Brach's Mellocreme Pumpkins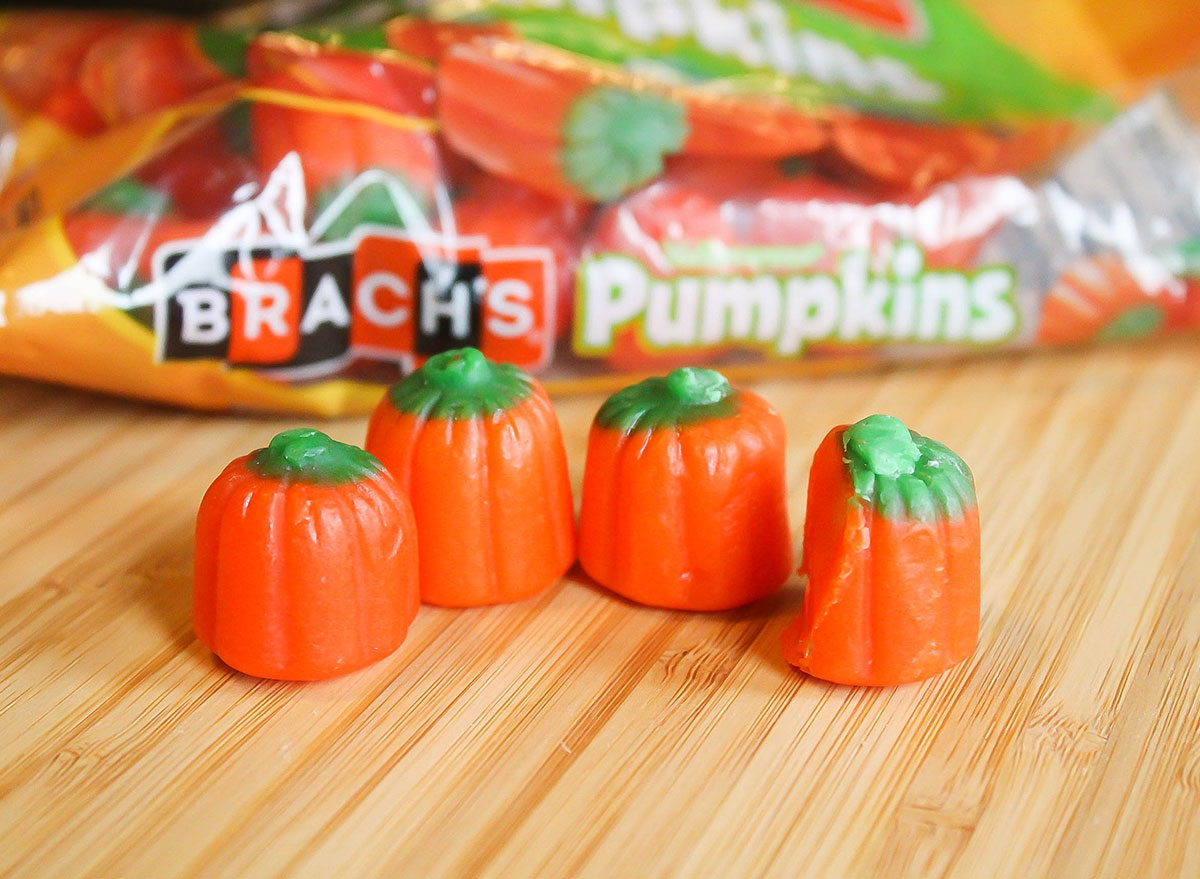 100 calories = 3 and 1/3 pumpkin candies
Mellowcreme Pumpkins are the brainchild of Brach's, and they are the only type of candy on this list that was specifically made for Halloween. Mellocremes are made with almost all of the same ingredients as their candy corn relative.6254a4d1642c605c54bf1cab17d50f1e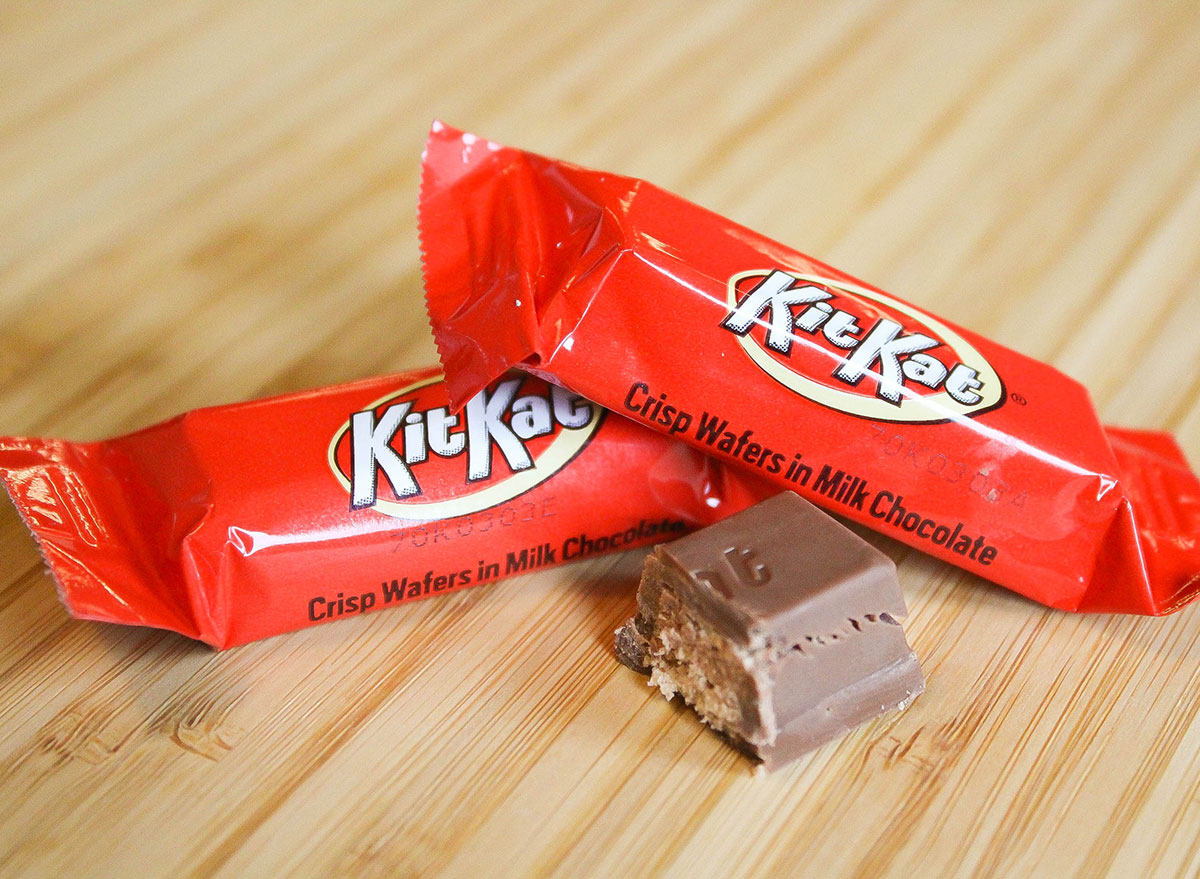 100 calories = 2 and 1/3 Kit Kats
Kit Kats give us a break on calories when they're packaged in miniature form. The fact that you can have two and then some is enough incentive for us to want to splurge on this airy, chocolate-covered wafer treat.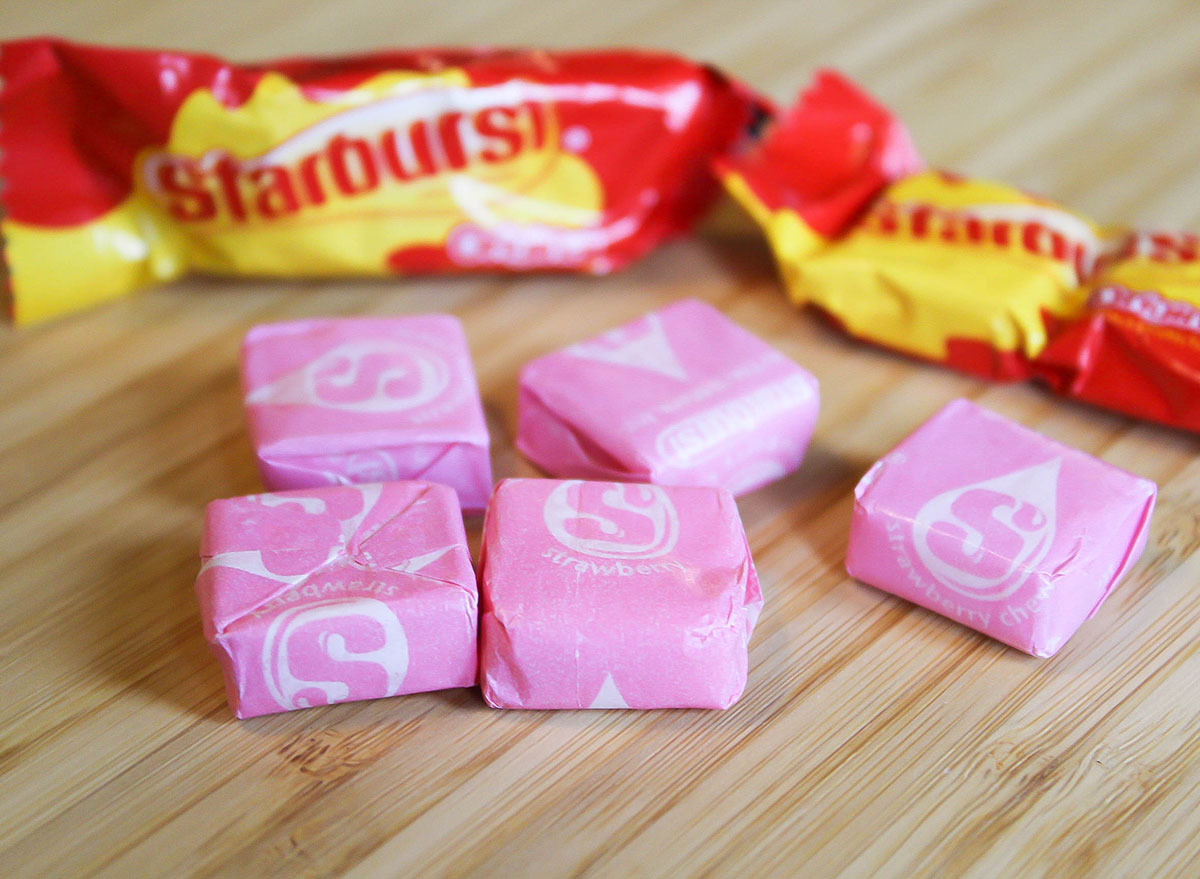 100 calories = 5 pieces
Starbursts are another Halloween candy that's easy to score a lot of during trick-or-treat. You can enjoy five of these chewy taffy squares for 100 calories.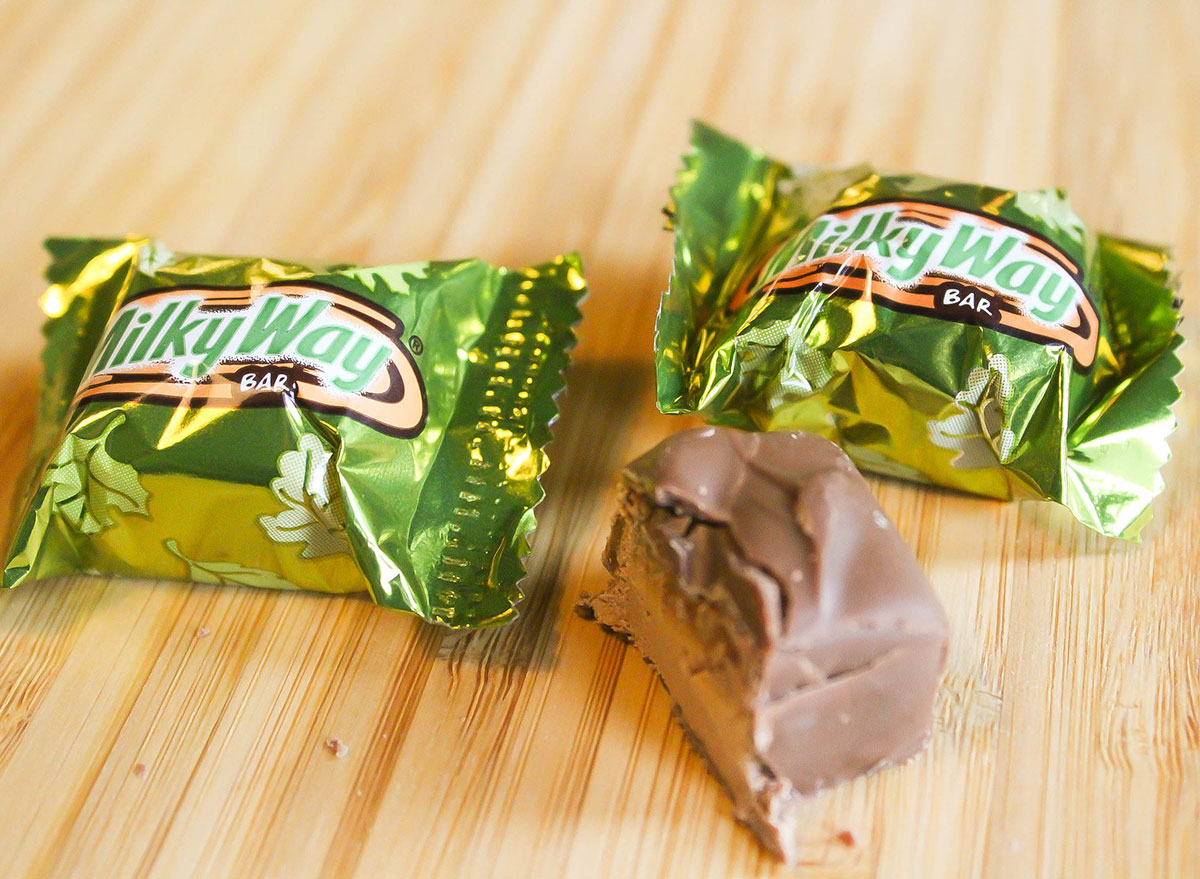 100 calories = 2 and 2/3 pieces
You can eat almost three of the miniatures bites for just 100 calories.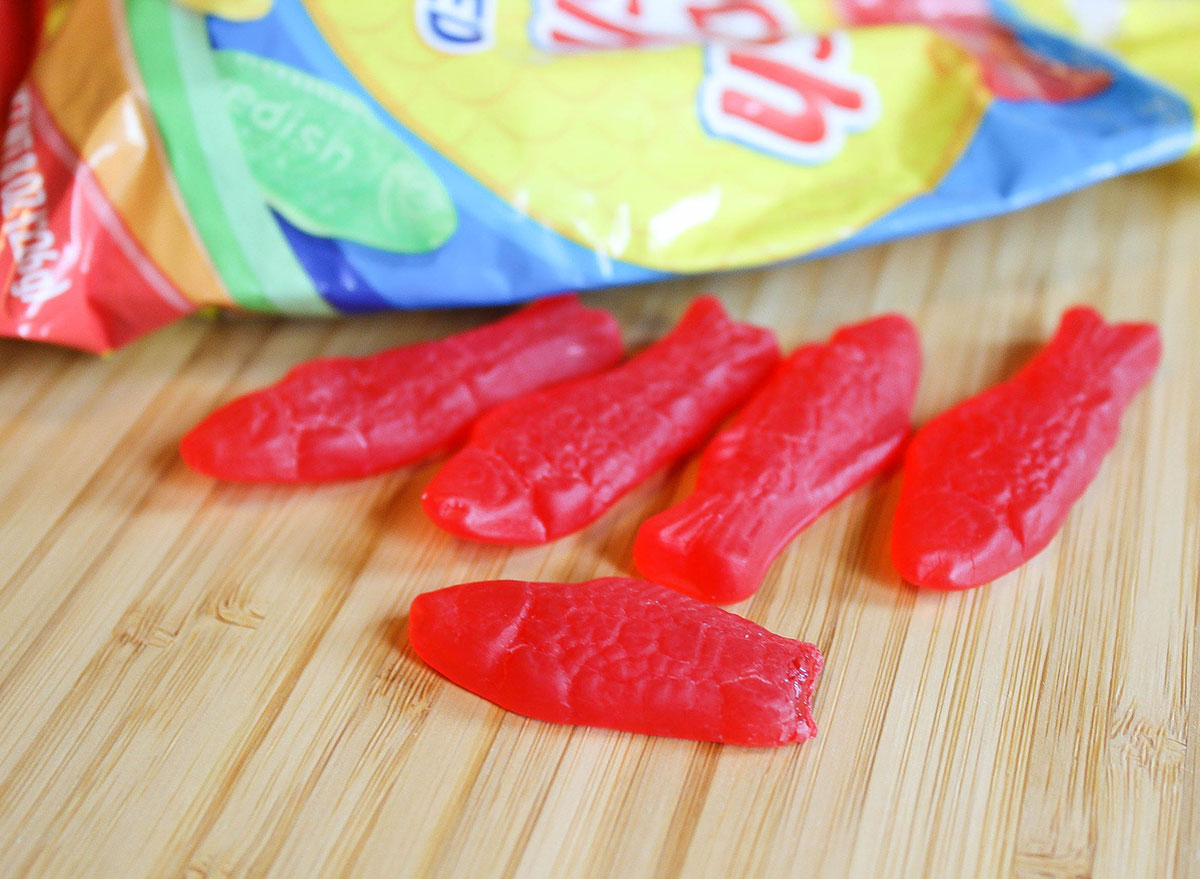 100 calories = about 5 pieces
Five pieces are equivalent to 110 calories, which is why the tail is missing on the fifth fish gummy that's front and center.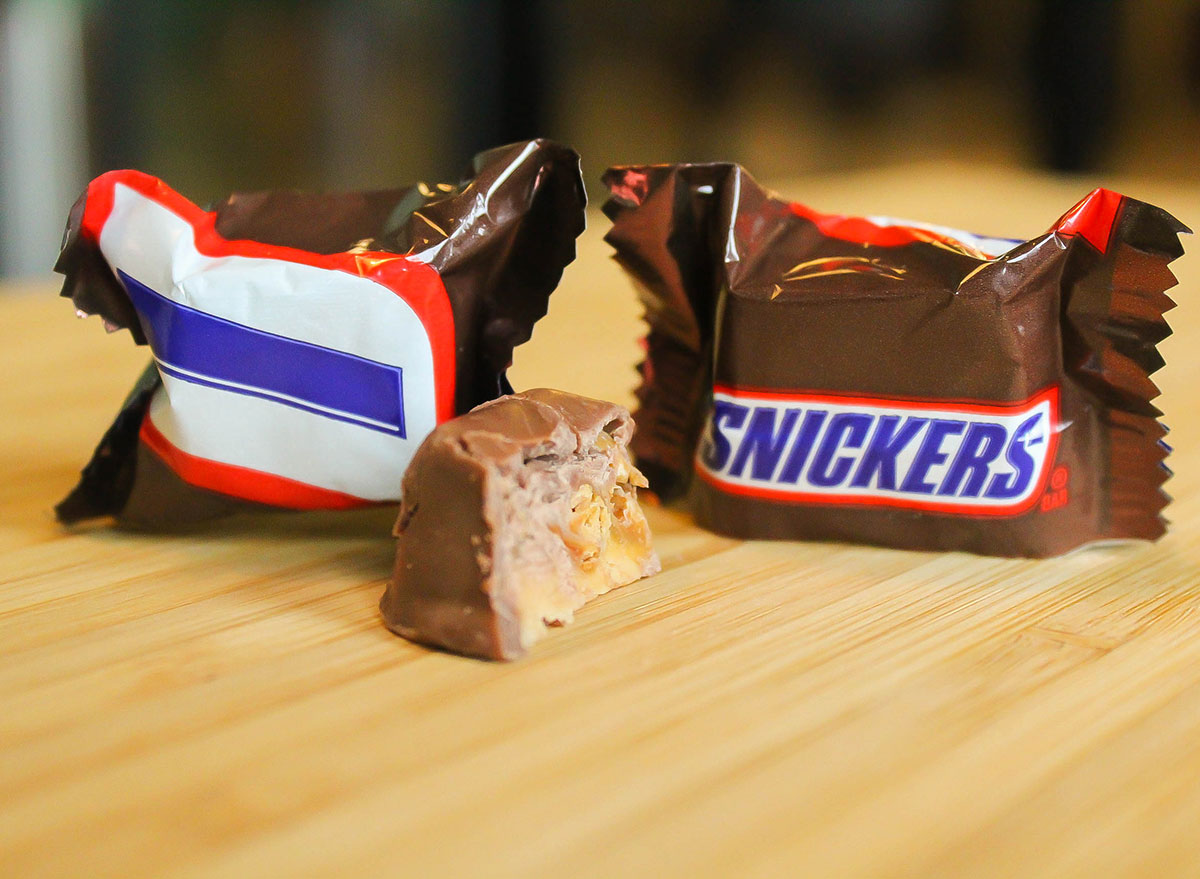 100 calories = 2 and 1/3 pieces
Whoever snickers at the idea of crunchy peanuts in a caramel-infused nougat treat is missing out because Snickers bars are one of our favorite candies from childhood. You can have a little more than two of the miniature kinds for just 100 calories.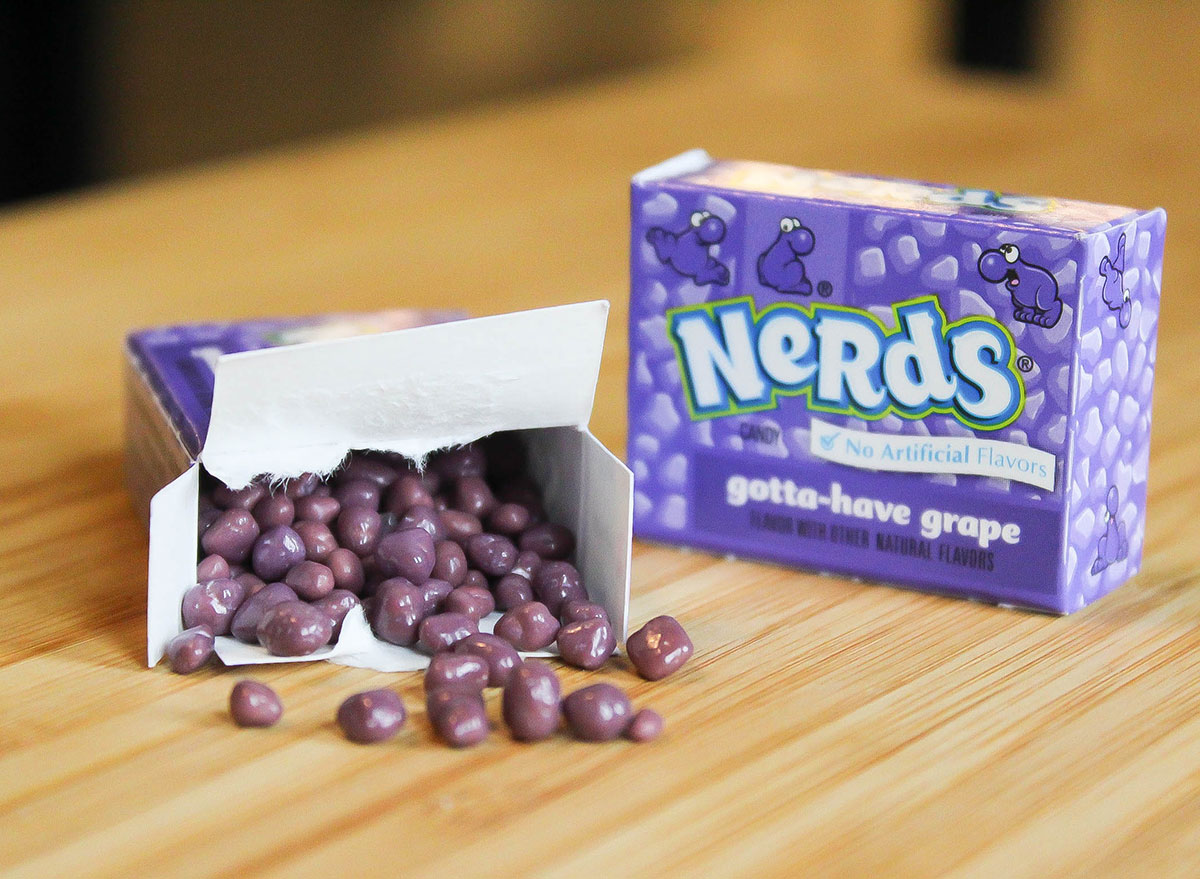 100 calories = about 2 boxes
One mini box of gotta-have grape Nerds has 45 calories, so two boxes slide in at about 10 calories under the 100-calorie mark, but you get the idea!
Reese's Cups (miniatures)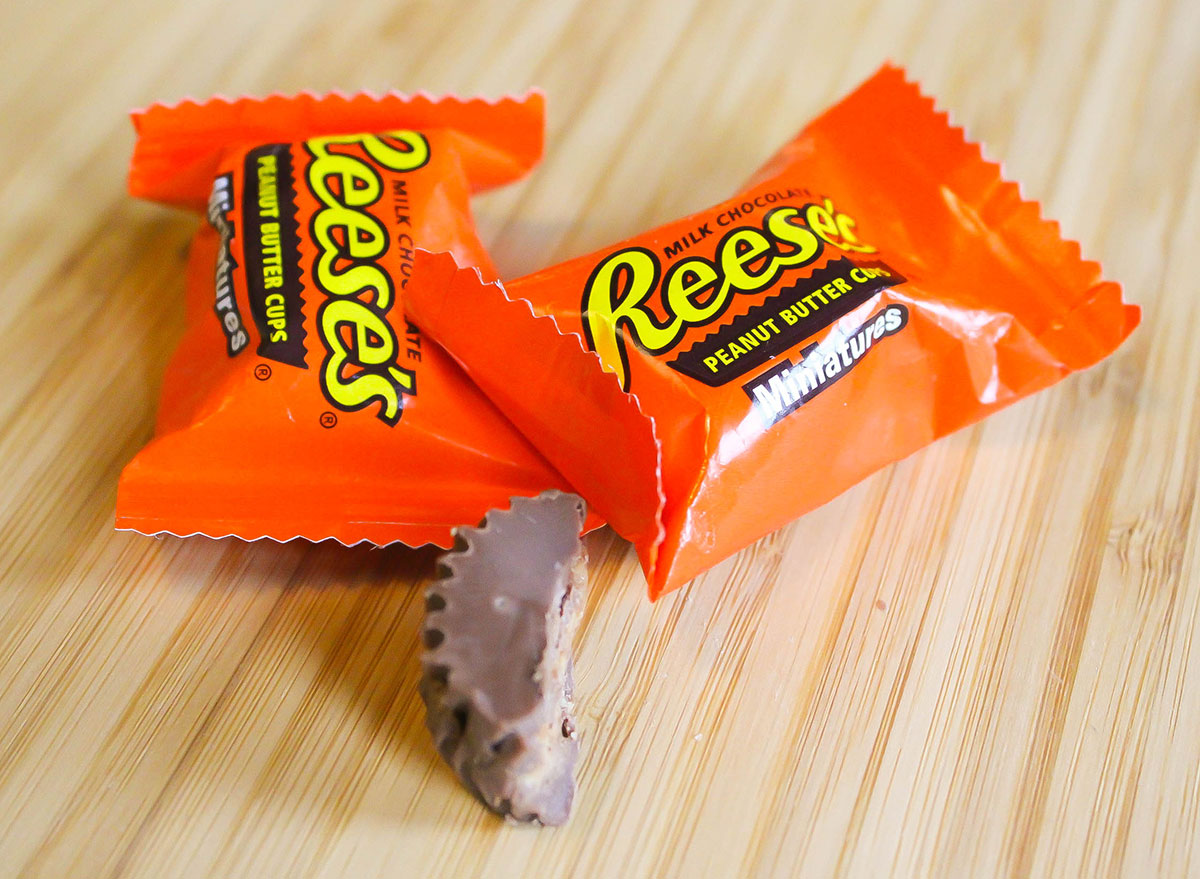 100 calories = 2 and 1/3 cups
Peanut butter and chocolate may just be the most irresistible combination known to humankind. If you're watching your calories, you'll be pleased to learn that you can snack on a little more than two miniature cups for 100 calories. This is much less than the 220 calories two normal size cups contain.
100 calories = about 4 pieces
For 100 calories, you can enjoy a Jolly Rancher of each flavor: blue raspberry, cherry, green apple, and grape. Just be prepared to have a colorful tongue!
Three Musketeers (mini size)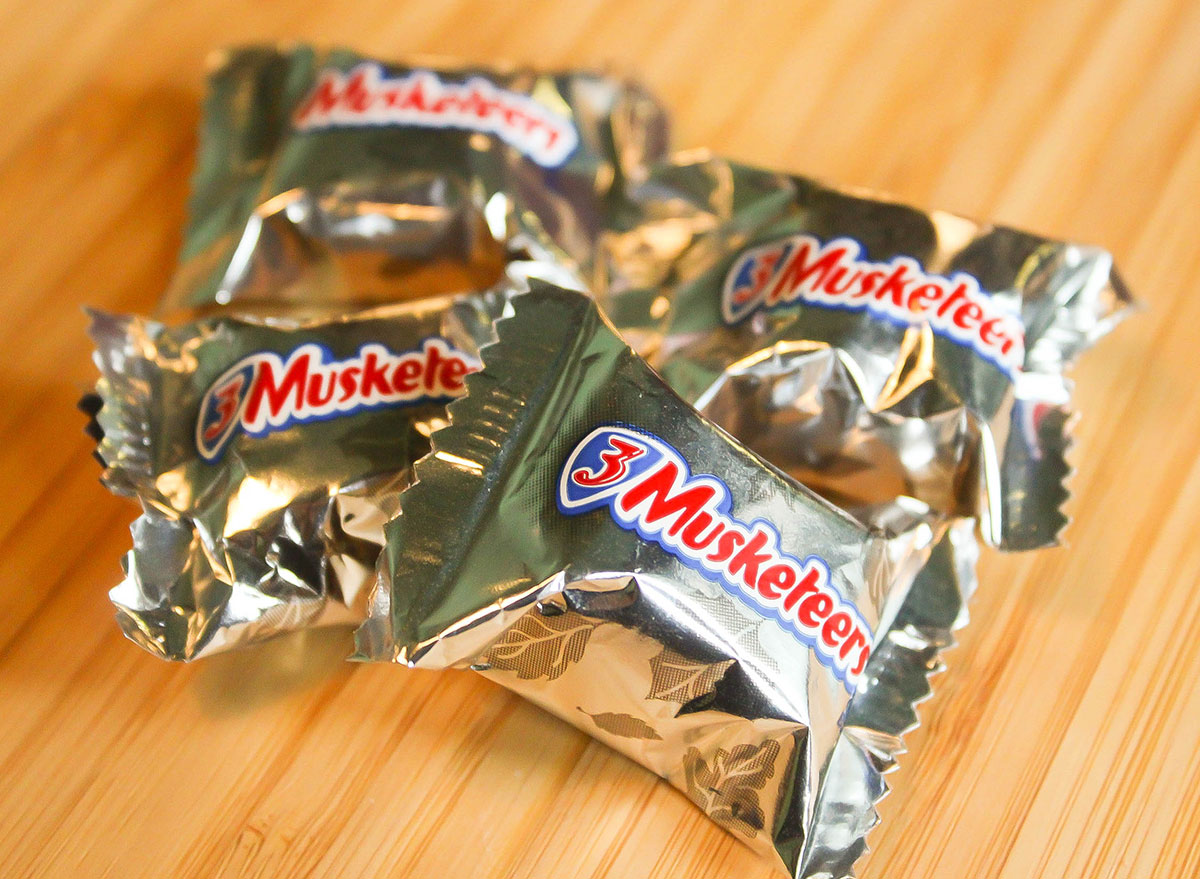 100 calories = about 4 pieces
Technically, four pieces amount to 104 calories, but we'll let those extra four calories slide.
Twizzler Twists (mini size)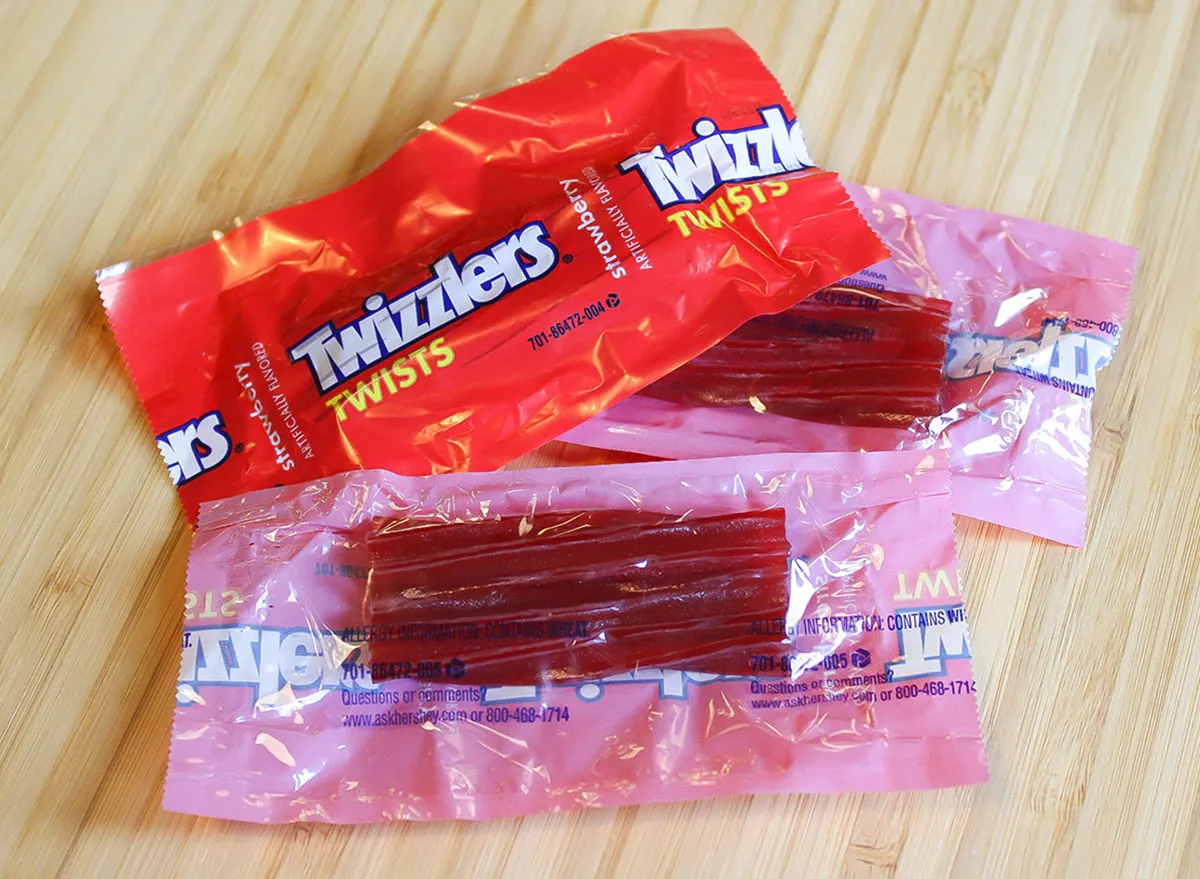 100 calories = about 3 pieces
Three pieces of these bite-size licorice candies clock in at 90 calories, so you can have the head of that 12th Sour Patch Kid for the additional 10 calories!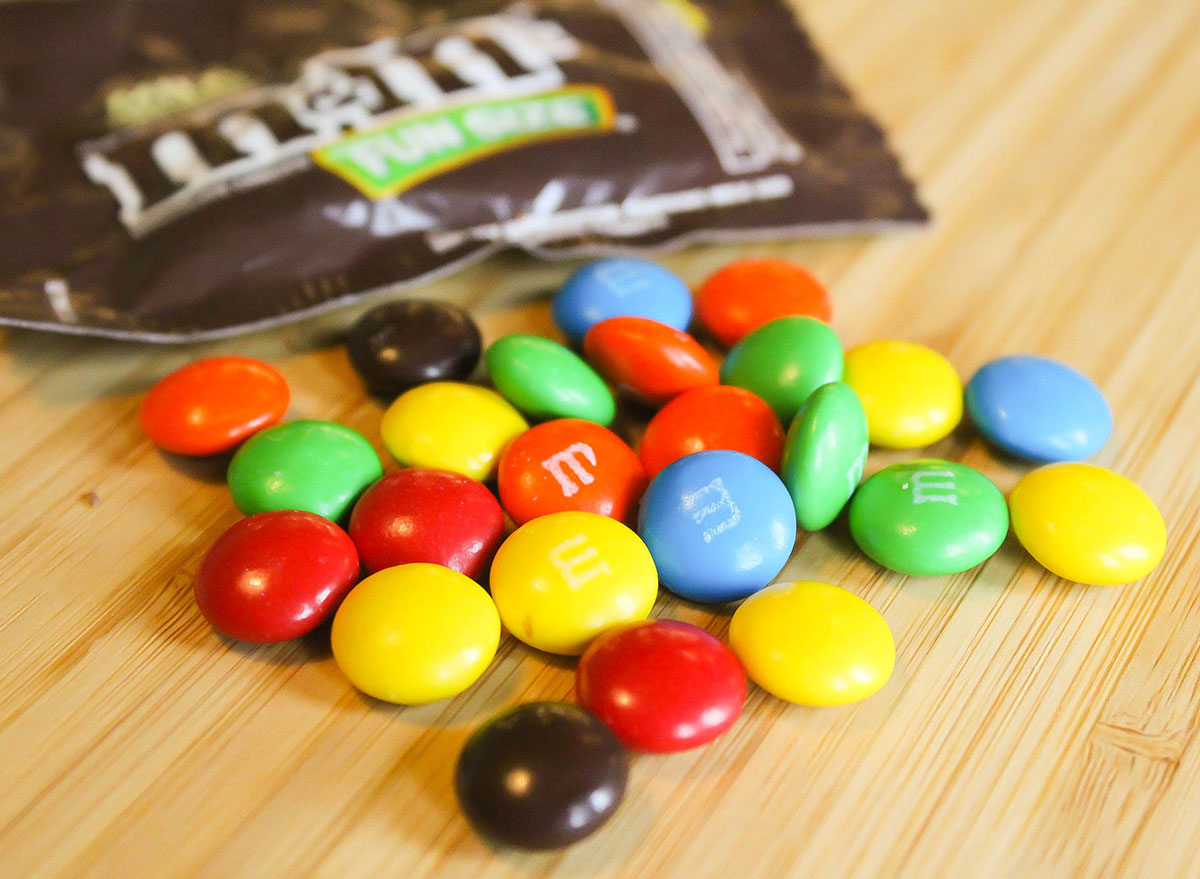 100 calories = 1 and 1/2 packets
Did you ever spell out "Boo" with your M&Ms or was that just a me thing? Well, you can probably spell the b and half of the first o with 100 calories worth of the coated chocolate candy.
100 calories = 4 rolls
You can have four rolls of Smarties for 100 calories, but does anyone like them enough to eat more than one roll?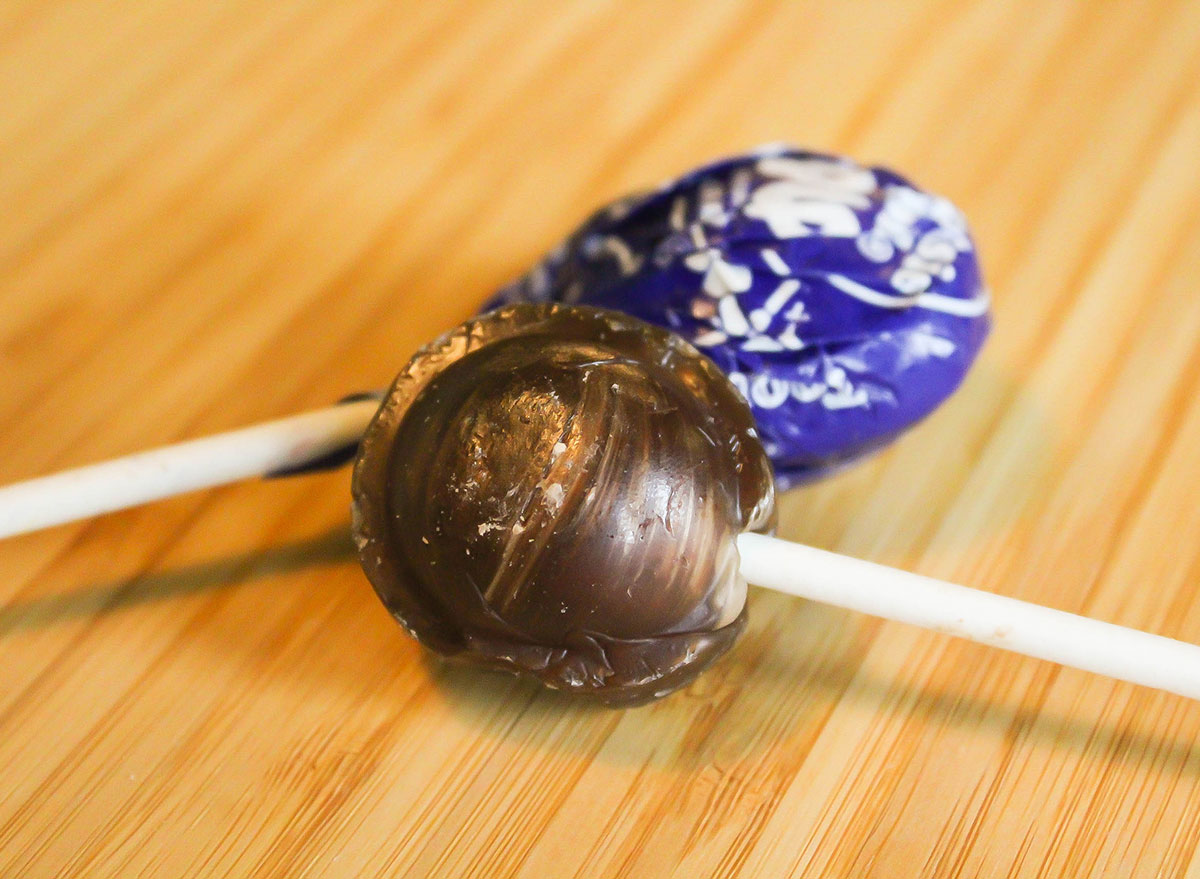 100 calories = about 1 and 3/4 suckers
How many licks does it take to get to the center of Tootsie Pop? OK, while the world may never truly know, what we do know is that about 1 and 3/4 of the Tootsie-filled sucker contains about 100 calories. How do you eat just 3/4 of a sucker?
The world may never know.
For more, check out these 108 most popular sodas ranked by how toxic they are.