Denny's Is Adding 5 New Comfort Foods to Its Menu
The breakfast (or all-day) items are warm and melty, but they have a lot of sodium.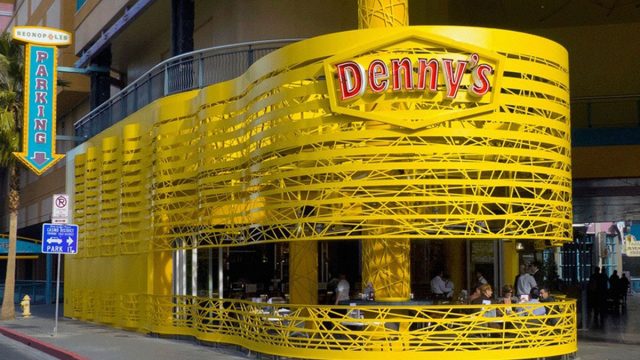 Fall is in full swing, and Denny's is embracing comfort food season by welcoming five additions to its classic American menu. At the chain's 1,500 locations across the great 50 states, you can find the new meals, all of which are guaranteed fill you up—and keep you warm—as it gets cold outside.
Each menu addition, including the All-American Patty Melt and Grand Slamwich, combines some of the best flavors of the season with melty cheese. They also have more than half of the calories you're supposed to consume in one day, plus a significant amount of sodium. The American Heart Association recommends an ideal daily intake of no more than 1,500 milligrams (but no more than 2,300 milligrams) in total.
The Grand Slamwich is a riff on Denny's iconic Grand Slam breakfast. It features scrambled eggs, sausage, ham, bacon, and American cheese between two slices of potato toast grilled with a maple spice spread. Along with wavy-cut fries, the meal comes out to more than 1,450 calories and 3,650 milligrams of salt.
The Chicken Biscuit & Gravy Bowl is up there with the Grand Slamwich in terms of calories and sodium. It includes two open-faced biscuits with chicken tenders, country gravy, cheddar cheese, and two eggs. The dish has 1,040 calories and 3,360 milligrams of salt. That puts the sodium counts for both dishes in play with our list of the 35 saltiest restaurant meals on the planet.
The All-American Patty Melt includes a beef patty, caramelized onions, Swiss and American cheeses, and All-American Sauce sandwiched between two toasted pieces of potato bread. Though it has more than 1,100 calories, it's lower in sodium than the first two items on the list with 2,020 milligrams.
Related: 21 Best Healthy Cooking Hacks of All Time
At 1,020 calories and 1,620 milligrams of sodium, the Chick 'N' Shroom Melt is a little bit lighter than the other meals. This melt has a seasoned chicken breast, sautéed mushrooms, spinach, Swiss cheese, and mayo on toasted potato bread.
Among the new menu items, the Steakhouse Deluxe Bowl is the one with the fewest calories. Without adding any sides, the bowl has 630 calories but still has 1,890 milligrams of sodium.
Two tips for cutting back on the sodium are splitting a meal with someone else or even eating half of your food and saving the rest for later. Another tip? Put the sandwich or your fork down between bites, which can help with overeating. For more, here are 35 tips for being healthy at restaurants.
There's more menu news where this came from. To get it all, sign up for our daily newsletter!
Amanda is a staff writer for
Eat This, Not That!
.
Read more