9 Rare Soda Aisle Finds That Have All But Disappeared
If you've struggled to locate your fave soft drink recently, you're not alone.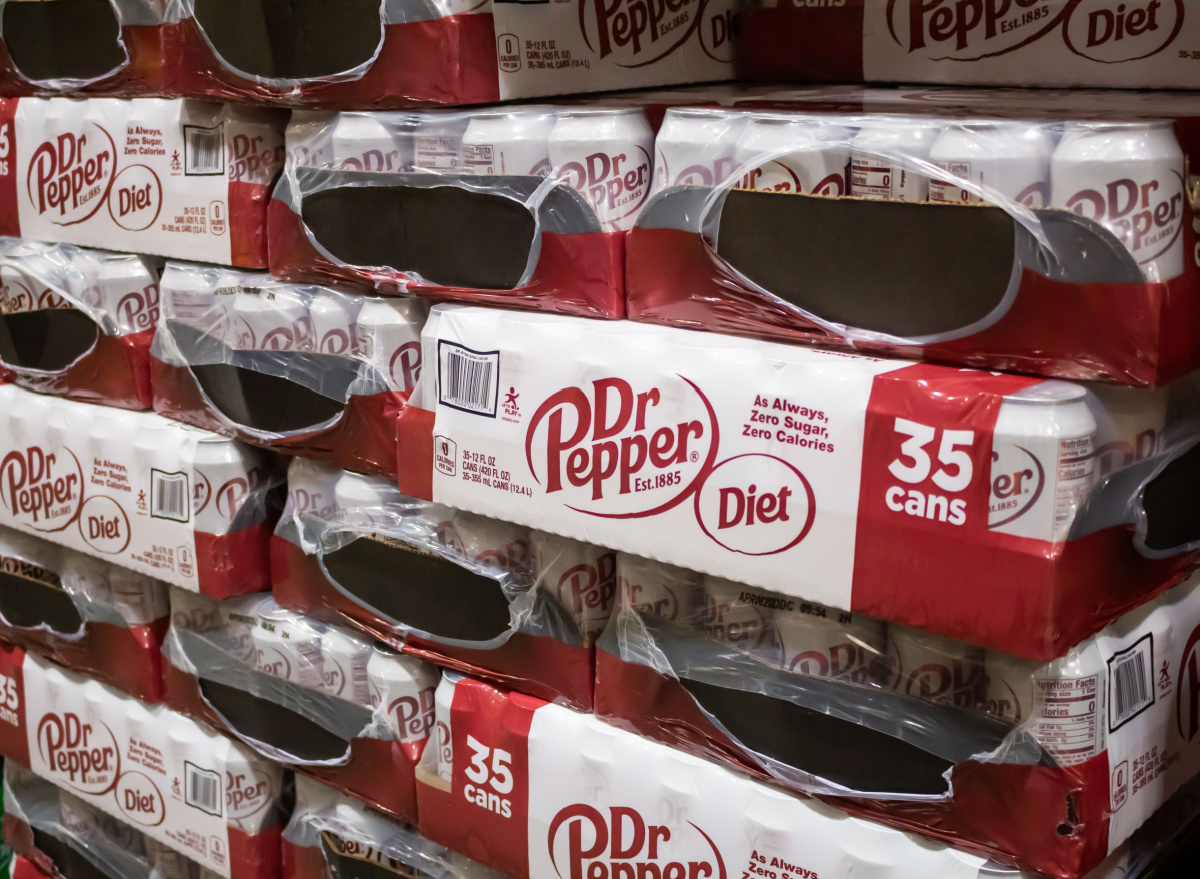 Where you're from, is it soda or pop? Soft drinks or cola? Or, maybe you're someone who refers to all of it as "Coke," even when it's not made by Coca-Cola at all. Whatever you call it, we can all agree that the fizzy beverages are a much-loved American classic, and a recurring item on the average weekly grocery list.
But, have you noticed a slow thinning of products on the soda shelf recently? As brands like Pepsi continue to experiment with every flavor under the sun (one of its latest being a S'mores trio), other beloved soft drinks have quietly slipped into the shadows, becoming nearly impossible to find. Challenges such as the pandemic, the aluminum can shortage, and simply increased demand, have all taken their toll on the soft drink industry. Even big name Sierra Mist met its demise just this year. It simply begs the question: is any soda brand safe?
Read on to discover which soft drinks have become rarities across the country. We hope the low stock is only temporary, but make sure to grab a can or bottle if you spot one in the wild, just to be safe!
Barq's Red Creme Soda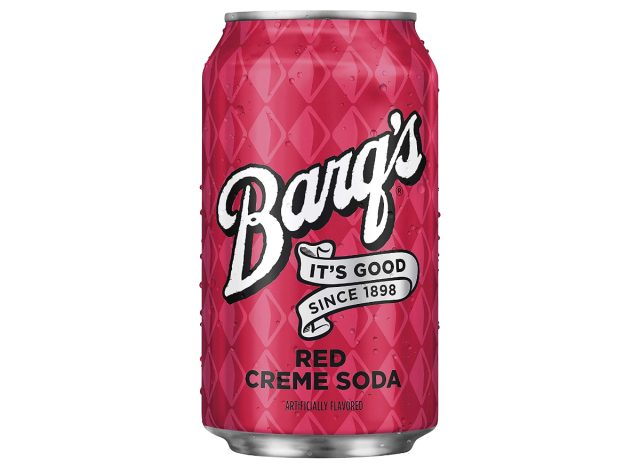 Cream soda is a perfect fusion of soft drink and dessert with its subtle yet refreshing vanilla notes. It has been highly adored across the country for decades, and depending on who you ask, you might hear that Barq's Red Creme Soda is one of the best in the business. But where has this creamy goodness been lately? According to fans of the soda, it's a tricky one to locate, and there is even a Facebook page dedicated to bringing it back to its former glory. The page reads, "I have recently learned that they still make Barq's Red Cream Soda. They don't distrubute nationwide, like here in DC, but they have it and I want it back. Join me in helping America see red. Let's bring back Barq's Red Cream Soda!"
But these Red Creme Soda enthusiasts may not get their wish. The Barq's company is supposedly aware of the drink's limited supply, and touts its "hard to get quality" directly on its website. The product page goes on to advise, "So, if you're lucky enough to spot it, call friends, stock up, and enjoy!"
Diet Dr. Pepper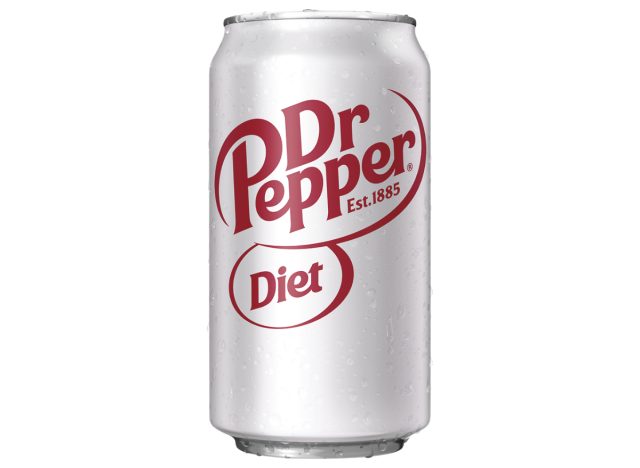 If you're a Dr. Pepper devotee, you may remember the great catastrophe of 2020. That's when all beloved Dr. Pepper flavors faced massive shortages due to the pandemic and its subsequent aluminum can shortage, leaving consumers thirsting for the brand's trademark 23 flavors. As the world has started to heal again, Dr. Pepper has slowly regained  its spot on store shelves—except for one specific variety: Diet Dr. Pepper is still largely MIA.
One consumer pointed out this travesty in a review of the product on the company's website: "Only pop that tastes like the original. Too bad I can't find it anywhere right now. What's up with that?!?!"
Brewmaster Dan of the blog UpThirst speculates that the low Diet Dr. Pepper supply could be due to a general boost in demand for diet products tacked on to lingering production issues. It also seems that the Diet Dr. Pepper saga was sparked shortly after the 2021 release of Dr. Pepper Zero Sugar, a fresh take on the classic beverage, altered slightly with different sweeteners. Coincidence or no?
Ruby Red Squirt
The citrusy and cleverly named beverage Squirt bubbled up on the soda scene back in 1938 and is now owned by Keurig Dr. Pepper. With its light and refreshing flavor, it has become a popular mixer for various cocktails and has gone head to head with Coca Cola's close equal, Fresca (which we'll get to later). But, what has Squirt fans currently in a tizzy is the low stock of its caffeinated Ruby Red flavor. On Reddit, u/Covert_Tactics shared, "Ruby Red Squirt seems to be hard to find in my area but I scored today!!" Another user added, "I used to have this all the time but I haven't seen it for years".
People have been searching high and low for the specialty beverage, along with its diet variation, most often to no avail. Good news is, if all else fails, you can order a 12-pack of 12-ounce cans from Amazon for the astounding price of $20.88!
Fresca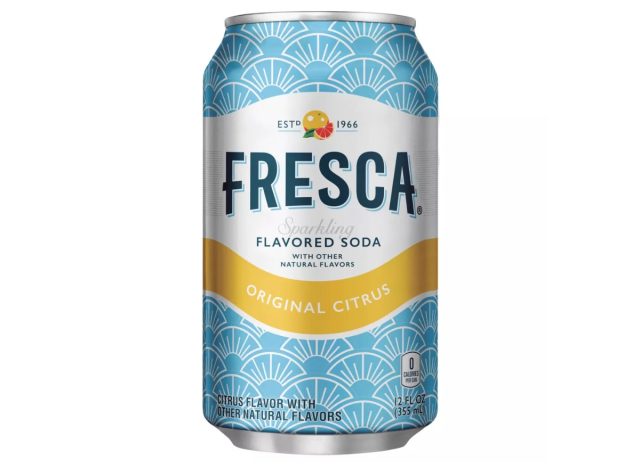 Fresca has been quite the shifty product recently, and many consumers have taken notice, including Today host and TV personality Carson Daly. Over the summer, in a long-winded Instagram post, Daly asked, "Where on God's green earth have you gone @frescausa?" He claimed to have perused four different stores for the refreshing, grapefruit-flavored soft drink and returned empty-handed.
Like Dr. Pepper, Fresca supplies were affected in 2020 by the aluminum can fiasco. But this appears to be a fresh, new problem which could be related to increased demand following the drink's rebranding. In response to an inquiry specifically about the peach Fresca flavor, the brand recently tweeted, "We know we've been hard to find lately, but don't give up! Head to http://fresca.com to see if there's any in your area."
Fanta Berry
Lovers of this Fanta flavor—which looks suspiciously like antifreeze, yet tastes like berries—were feeling blue when it was discontinued in 2004. Fanta Berry has been back on shelves since 2015, but the blue cans are evidently still playing hide-and-seek with pining consumers. Multiple search parties have emerged on Reddit over the last several years to find the "exotic sodas," as Redditor U/WranglerWarm6850 describes them.
As the hunt continues in America, however, another smug Reddit user admitted that the beverage is a common grocery find where he's from. "Wow, amazing you can't find this in the US? We only get it as a US import here in the UK but it seems like every corner shop and convenience store where I live stocks it!" the comment reads. Booking our flight across the pond now!
Faygo Firework
Have you ever left your red, white, and blue Bomb Pop popsicles out a little too long, and then drank the leftover juice anyway? Well, that's exactly what Faygo Firework tastes like. Unfortunately, for lovers of the sweet treat, it's reportedly been Fay-gone from stores across the country recently.
When consumers have been lucky enough to find it, it's as if they have stumbled upon a gold mine. U/wingriddengxd shared his own good fortune on Reddit with the caption, "Finally found a faygo firework, been looking for a fat minute."A commenter added, "Best faygo flavor imo." Just like a firework, this drink certainly leaves a lasting impression! If you really have a hankering for the explosive soda, use Faygo's Store Locator to get your fix.
Nehi Soda
The Nehi brand, later known as the Royal Crown Company, emerged in 1924 and is now owned under the Keurig Dr. Pepper umbrella. At one time the company boasted over 10 unique flavors from Nehi Cola to Nehi Blue Cream. But now, only a few signature flavors remain, including Orange, Grape, and Peach–and even those are a rare find.6254a4d1642c605c54bf1cab17d50f1e
Reddit users share that shoppers are more likely to find the fruity soft drinks across the Southeast and Midwest, and funnily enough one of the best places to snag one is a Cracker Barrel Old Country Store. Amazon also has Nehi sodas available in two liters, cans, or in the original long-neck glass bottles. How nostalgic!
Vernors Ginger Ale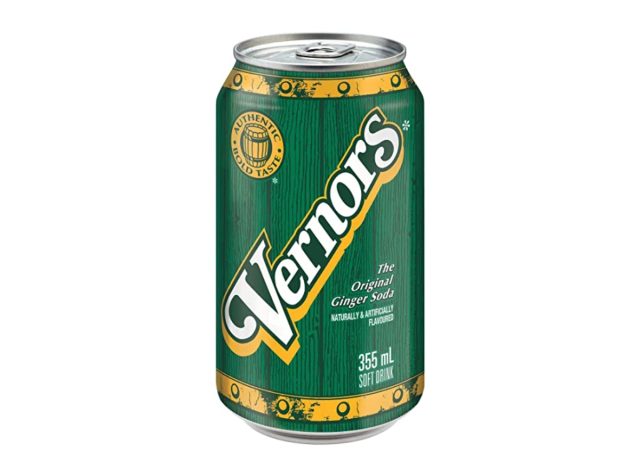 Ginger Ale is known to help with stomach aches, but what about the headaches people are getting just trying to find it? Fans of the Vernors variety—which happens to be one of the country's oldest soft drinks, first served in 1866—have been blowing up the brand's Twitter, demanding to know where they can rummage up a few of the recognizable green cans. One disgruntled Seattle FOX 13 news reporter recently tweeted, "Nothing pains me more when sick than the lack of @VernorsSoda around the PNW. I could have rebounded in half the time with a proper ginger ale."
The problem isn't confined to just the Pacific Northwest region, either. Stores in Michigan, Wisconsin, Georgia, and even Canada all appear to be in the same boat and are running low on the quintessential ginger ale. And, if you happen to be looking for Diet Vernors Ginger Ale… keep dreaming. It appears the more health-conscious version is even harder to come by than the original.
Mello Yello and Mello Yello Zero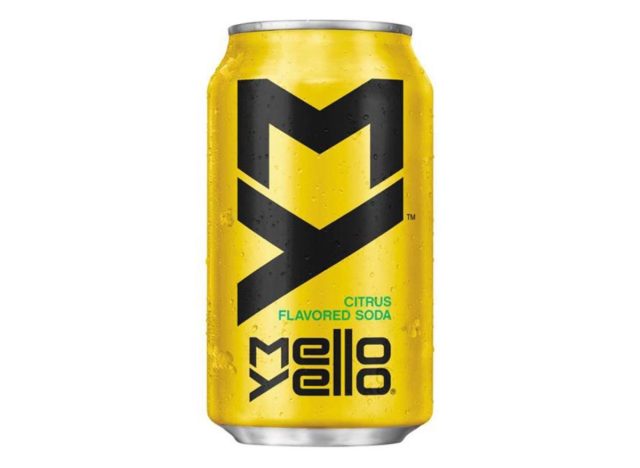 Americans are not feeling mellow at all after the news of this soft drink's disappearance. And, they have not been shy about voicing their concerns on social media. On Twitter, one Mello Yello enthusiast wrote, "@MelloYello why are you so hard to find these days. I'm a big fan (obviously)." And yet another inquired about the Zero Sugar option, "@MelloYello Has mello yello zero been discontinued? Y'all advertise it on your website but can't find it being sold anywhere:(."
To the first question, the brand replied, "Right now due to widespread demand, we will be temporarily shifting our focus in order to produce our most in-demand beverages. The Mello Yello inventory may be limited at this time. You can check your local supply on http://melloyello.com/products." The company's response to the second question, written in September 2022, carried on with the same tone, but also advised shoppers to "Be on the look out for other packaging alternatives as well as plastic bottle options in the meantime."