11 Discontinued Trader Joe's Items Shoppers Miss the Most
Fans regularly bemoan the loss of many beloved products, from sauces to snacks.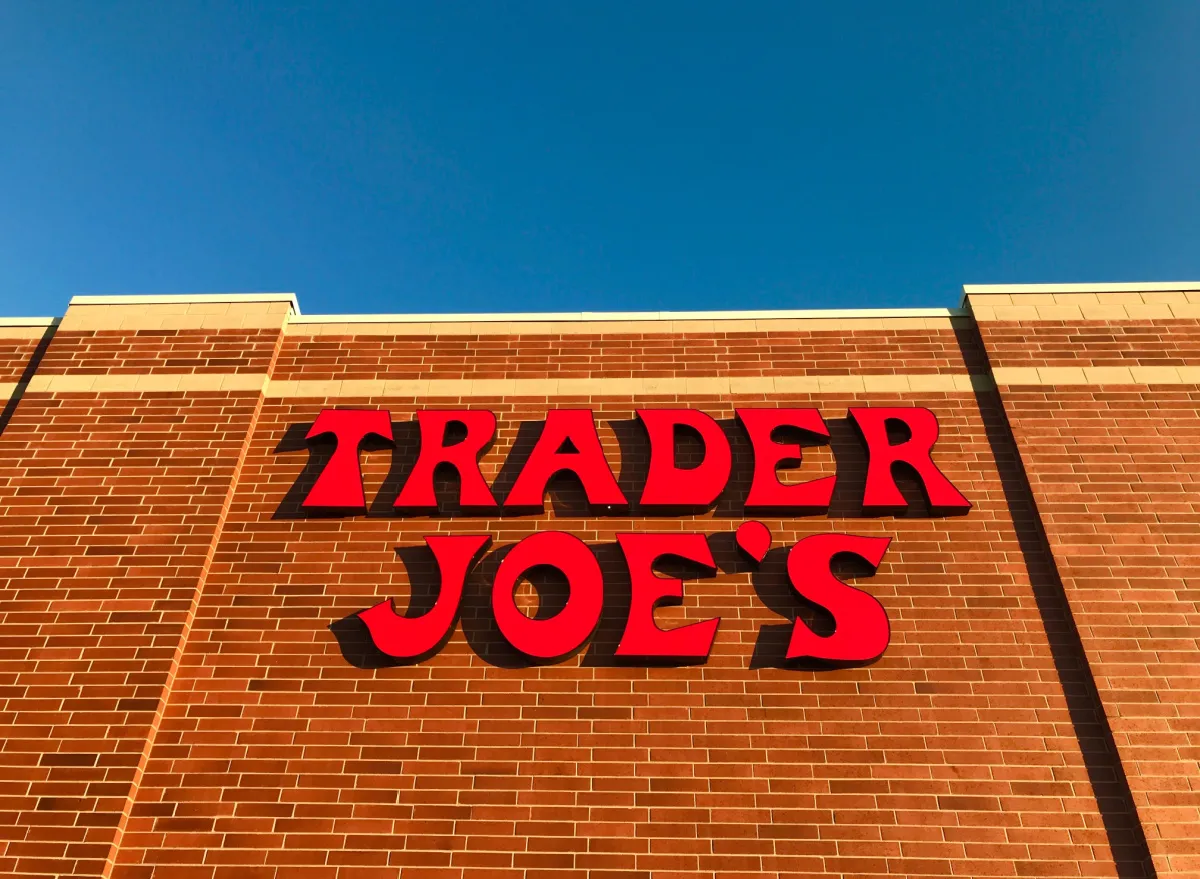 Trader Joe's is celebrated for its ability to form emotional connections with shoppers. Along with the outpouring of excitement the store receives when it releases new items, there is often a rush of disappointment when products get yanked from shelves.
Although some discontinued items end up making a reappearance in stores, others have shown no signs of returning, much to fans' dismay. "And yet, overwhelmingly, the reason for things to be discontinued at Trader Joe's is a lack of interest, slow sales," Matt Sloan, Trader Joe's vice president of marketing, said during a September 2022 episode of the "Inside Trader Joe's" podcast.
Despite "slow sales" being cited as the primary reason for Trader Joe's products getting the ax, customers haven't shied away from sharing their love for them. Here are just some of the many cherished items that TJ's has discontinued over the years.
Cocoa & Sea Salt Instant Oatmeal
While this instant oatmeal was only released in early 2022, its days on the store shelves have come to a close. The news was recently shared by a Reddit user and confirmed by a Trader Joe's employee at the grocery chain's Hoboken, N.J., location, who said the product was discontinued last month.
"Just fell to my knees," one Reddit wrote in response to the news. "What…. I don't need this kind of negativity in my life 😭," another one commented. Meanwhile, other Reddit users offered their alternatives for this breakfast staple, such as adding "flavorings" like cinnamon or almond butter cups to flaxseed instant oatmeal.
Chocolate Hummus
From roasted garlic to mediterranean style, Trader Joe's carries several different types of hummus in its refrigerated section to appeal to various flavor preferences. Sadly, for those who enjoy a sweeter spin on the chickpea dip, the grocery chain eighty-sixed its chocolate hummus flavor during the spring of 2022, according to the blog Aisle of Shame.6254a4d1642c605c54bf1cab17d50f1e
In a Reddit thread dedicated to discontinued TJ's products that shoppers "miss the most," multiple users named the grocer's chocolate hummus, with one writing, "I realize this is a controversial choice, but I actually loved the chocolate hummus. It was such a nice treat with fruit! I would get it every single time I went, so huge disappointment when it was canceled."
Fudge Sauce & Fondue
Instagram user @traderjoestobediscontinued announced this item's impending departure from stores back in February 2022—and fans were saddened, to say the least. Among the 90 comments on this Instagram post, one user wrote, "Absolute tragedy," adding that "[t]here is no replacement" for a hot fudge sundae. Someone else commented, "This is TERRIBLE!!! Please don't!" Others called it the "best hot fudge sauce."
Asian Style Spicy Peanut Vinaigrette
This sweet and spicy dressing said goodbye to shoppers last fall, and as expected, the farewell was met with customer distress. "NO this is a staple in my HOME why are they doing this to us 😭😭😭," one Instagram user commented on a post from @traderjoestobediscontinued. "This was hands down my favorite store-bought dressing. WTF Trader Joe's?!" another user wrote.
On Reddit, several users offered substitution ideas, including California Pizza Kitchen's Thai Dressing, a doctored-up version of Annie Chun's Thai-Style Peanut Sauce, as well as a homemade peanut sauce dressing recipe.
Arrabiata Sauce
2022 kicked off with the news of Trader Joe's Arrabiata Sauce leaving store shelves. While multiple Instagrammers called this spicy item "the best," one user noted that you can "closely replicate this sauce" by adding crushed red pepper flakes to TJ's Roasted Garlic Marinara Sauce.
Just last week, one Reddit user shared a photo of an empty jar of Trader Joe's Arrabiata Sauce, captioning the post, "A fond farewell to my last jar of Arrabiata sauce" to which someone replied, "The GOAT!" The user added that even the employees they discussed the discontinuation with "seemed genuinely sad."
"Just Sauce" Turkey Bolognese
After @traderjoestobediscontinued announced this product's discontinuation, multiple Instagram users lamented over the item, calling it their "favorite" and a "staple." While the news was announced in July 2022, the Instagram post continues to garner comments. About three months ago, one user wrote, "I am devastated about this – TJ's you're in the dog house for this one."
Aloo Chaat Kati Pouches
TJ's shoppers suspected that supply chain issues were causing the Aloo Chaat Kati Pouches to be MIA from stores last year only for @traderjoestobediscontinued to confirm the item's retirement in March 2022. "Amazing," "tasty," and "delicious" were just some of the words used to describe the frozen food, which consisted of a pastry stuffed with potatoes, chickpeas, chaat masala, and tamarind chutney.
"So freakin sad about this. I haven't been able to identify anything similar 😢," one Instagram user said. "This one hurts," someone else added.
Honey Butter Potato Chips
This sweet and savory snack got the boot from Trader Joe's stores in 2018, according to GOBankingRates. In a Reddit thread calling on the Trader Joe's community to share discontinued products they "still miss years later," a handful of Redditors expressed their fondness for the grocery chain's Honey Butter Potato Chips.
"I think about these almost daily, and how much I miss them. I got them once on a whim, and then never found them again," one Redditor wrote. Meanwhile, another user said you can get other honey butter-flavored chips—specifically the Haitai and Calbee brand—"at most Asian markets."
Gorgonzola Crackers
Another much-missed item among TJ's fans on Reddit is the store's Gorgonzola Crackers, which were announced as an upcoming discontinuation back in December 2020. "My heart broke a little when they discontinued these. They were the best!" one Redditor commented.
Although the news broke in 2020, social media users are still leaving comments on the Instagram announcement. One Instagrammer asked Trader Joe's to bring the product back in a comment from 15 weeks ago while another expressed six months ago that they're "[s]till mourning the loss of these."
Eggplant Cutlets
For a quick and easy eggplant parm, Trader Joe's once sold frozen breaded eggplant cutlets. However, during the fall of 2019, the grocery chain discontinued the product, leaving many shoppers heartbroken. One Instagram user who wrote, in all capital letters, that they "miss these so much," shared that they started making their own eggplant cutlets but "miss the convenience" of the frozen item. Someone else went as far as calling the product's exit "a tragedy."
Mushroom Turnovers
Last month, one Reddit user shared a photo of Trader Joe's Mushroom Turnovers, writing, "Does anyone else remember Mushroom Turnovers? I used to leave the store with no fewer than 5 boxes at a time. By far one of my favorite discontinued TJ items." A few users highlighted the product's role in their childhood, with one responding, "Remember? My ma and I practically cried when they disappeared. They were an appetizer staple growing up and we always had several boxes in the freezer."
Although it remains unclear when this frozen food was discontinued, one Reddit user shared that they haven't seen it since "maybe 2016."
Brianna Ruback
Brianna is a staff writer at Eat This, Not That! She attended Ithaca College, where she graduated with a degree in Journalism and a minor in Communication Studies.
Read more about Brianna