Trader Joe's Just Announced 15 New & Returning Products for Spring
From snacks and sweets to a bevy of beverages, Trader Joe's has so much in store this spring.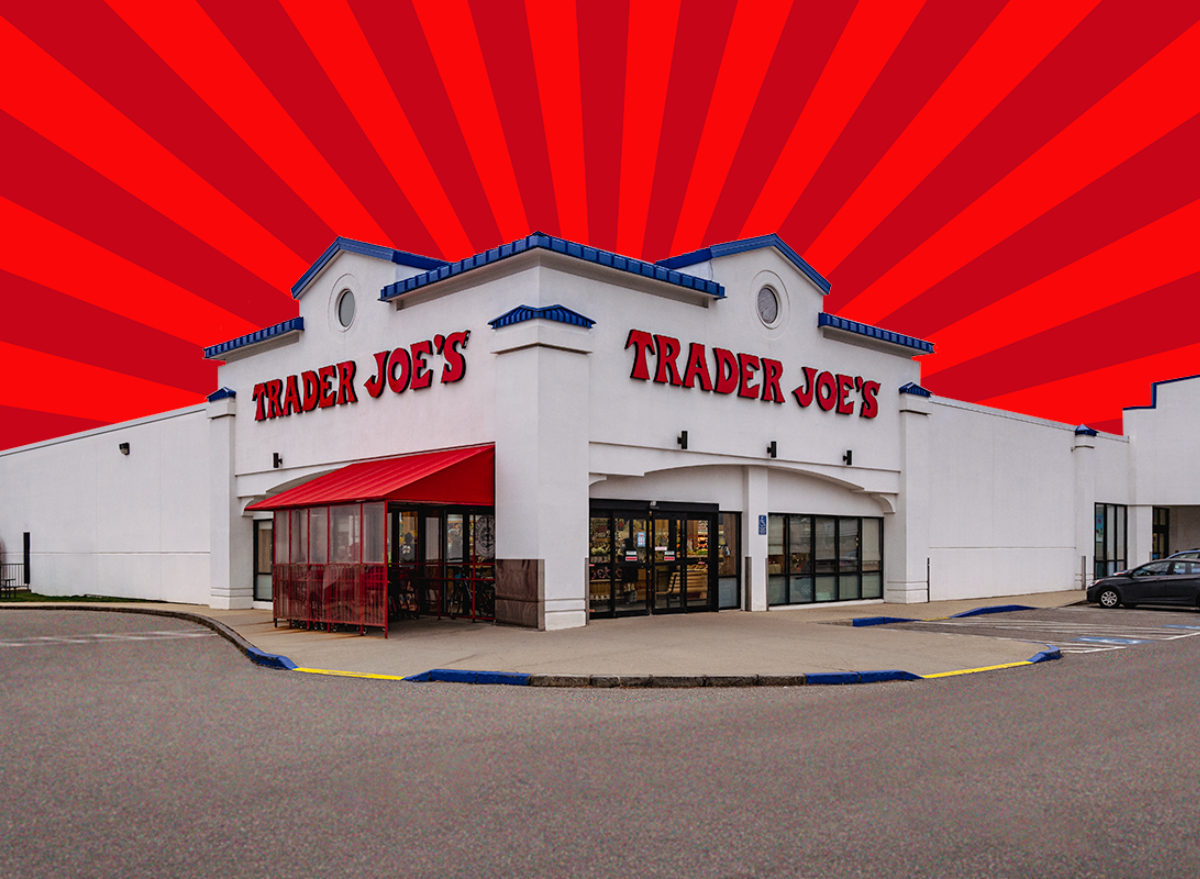 The product recommendations in this post are recommendations by the writer and/or expert(s) interviewed and do not contain affiliate links. Meaning: If you use these links to buy something, we will not earn a commission.
There are a host of reasons that shoppers love Trader Joe's, and the grocery chain's ever-changing and growing lineup of products is undoubtedly one of them.
The retailer perpetually keeps fans on their toes by launching new, one-of-a-kind items, and running a seasonal rotation of established products. Just last month, Trader Joe's gave fans a sneak peek into a handful of products that could potentially launch nationwide if they secure approval from the chain's tasting panel.
In the latest episode of the "Inside Trader Joe's" podcast, released on March 13, hosts and TJ's marketing execs Tara Miller and Matt Sloan revealed more than a dozen new and returning food items that are launching now or in the near future. These items include salty snacks, sweet treats, and beverages that can all make welcome additions to spring shopping lists.
Read on to learn which 15 Trader Joe's items will soon launch in stores or are already returning to shelves.
Blueberry and Lemon Hand Pies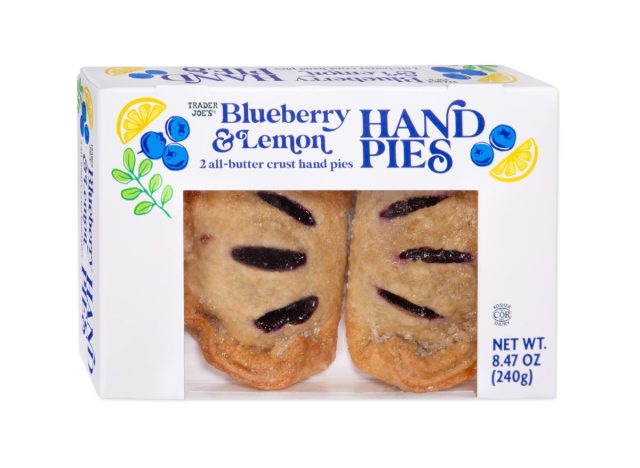 You can't go wrong with blueberries and lemon, and this returning bakery product shines the spotlight on the classic flavor combination by wrapping it all up in a buttery crust.
These are good straight out of the package, but the box also includes helpful instructions for heating them up in the air fryer, Miller said.
Mini Almost Everything Bagel Sandwich Crackers with Cream Cheese Filling
Trader Joe's Everything But the Bagel Sesame Seasoning Blend is one of the chain's most iconic spice offerings, so it's not surprising that the chain keeps incorporating those flavors into other products, like its Everything but the Bagel Seasoned Crackers.
Anticipated to hit Trader Joe's shelves in the coming weeks, the retailer's newest creation is a small sandwich cracker reminiscent of an everything bagel with cream cheese. The only element missing from the original seasoning mix is the sesame seeds because the manufacturer of these crackers doesn't process them, Sloan said.
Peanut and Crispy Noodle Salad Kit
The Peanut and Crispy Noodle Salad Kit is not a brand-new item, but Miller said that it would be returning to stores at the beginning of April after a temporary hiatus. The salad is inspired by Thai cuisine, featuring a blend of romaine lettuce, cabbage, shredded carrots, celery, chopped green onion, cilantro, crispy rice vermicelli noodles, chopped peanuts, and a zesty peanut and lime dressing.
According to Sloan, customers can upgrade this salad with some grilled Sweet Italian Chicken Sausage.6254a4d1642c605c54bf1cab17d50f1e
Bananas Bananas Candy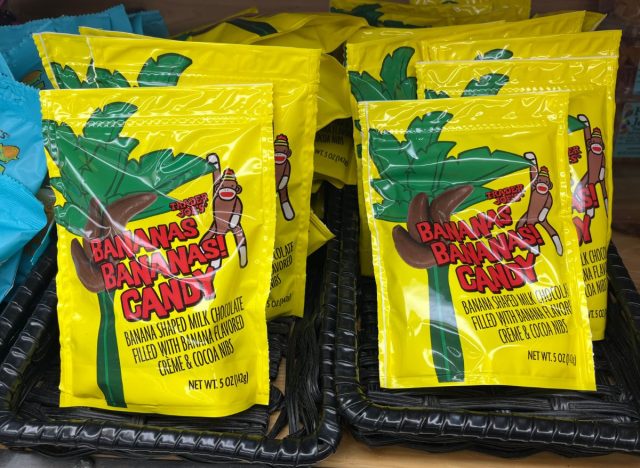 While customers await the potential launch of Banana Mousse Cakes , which the "Inside Trader Joe's" podcast revealed last month, the chain is debuting another banana confection in the meantime.
Sloan described this new product as a "chocolate-coated banana pulp candy," while Miller added that cacao nibs in the filling provide an extra crunch. The Bananas Bananas Candy has already debuted in certain locations, priced at $3.29.
Vanilla Cardona Goat's Milk Cheese
Trader Joe's already has a wide range of options to spice up any charcuterie board, but its lineup is about to get even bigger.
Sloan revealed that Trader Joe's will launch a new Vanilla Cardona Goat's Milk Cheese that is rubbed with vanilla sugar and is "very subtle flavor-wise." Unlike the softer, more spreadable types of goat cheese, this variety is hard-textured.
"This would be wonderful at the end of a meal. Wonderful with any kind of fruit. I even think just on its own," Sloan said.
Jalapeño Limeade
For consumers who want their beverages to be both refreshing and spicy, the Jalapeño Limeade is another seasonal item they can look forward to seeing on shelves soon. One Trader Joe's employee who appeared on the podcast recommended pairing this drink with tequila, while Miller suggested drinking it in a cup rimmed with the grocery chain's Chili Lime Seasoning.
Coffee Bean Hold the Cone! Mini Ice Cream Cones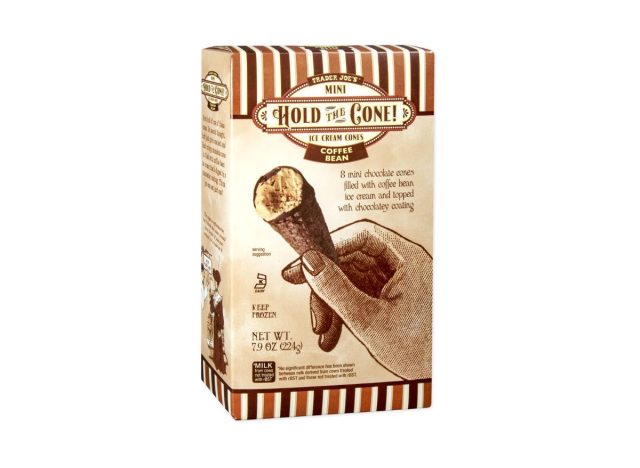 In a move that is sure to delight coffee lovers, Trader Joe's is bringing back the small but mighty coffee-flavored version of its mini ice cream cones.
Customers who are able to snag this returning product can get both a sweet treat and a caffeine boost. Miller said that these should be back in stores right about now.
Spicy Mango Lemonade
Offering yet another option for spice lovers, Trader Joe's customers will soon be able to add the Spicy Mango Lemonade back onto their shopping list once it returns to stores in the near future. Shoppers can enjoy this chilled, but Sloan said that he also uses this drink to make ice cubes that he sprinkles with Chili Lime Seasoning and drops into sparkling water.
Organic Cold Brew Black Tea Concentrate
Not only can customers use this 16-ounce bottle of concentrate to make a gallon of tea, but they can upgrade it with an array of customizations, such as adding sugar to make sweet tea and swapping the water for milk in order to make milk tea.
Miller said that this and the other two returning beverages would be back in stores around the middle or end of April.
Coffee and Dark Chocolate Joe-Joe's
Joe-Joe's are the quintessential sandwich cookie from Trader Joe's, so coffee lovers will surely want to give this new flavor a try.
According to Miller, this treat features a cream-filled cookie with a dark chocolate coating and coffee-flavored vanilla drizzle on top. She described the cookies as "rich" and "delicious," with an aroma akin to actual coffee.
Chocolate Mousse Eggs
While recent egg shortages have frustrated customers across the board, these issues have luckily not plagued egg-shaped treats.
Just in time for Easter, Trader Joe's is bringing back its Chocolate Mousse Eggs for another season. Customers can find three different designs in each six-pack of these chocolate treats.
Portuguese Custard Tarts
As Miller revealed that these small tarts would be coming back to Trader Joe's freezer aisles, she swore she could hear customers "peeling out of their driveways immediately to go get these."
Fans who can't wait more than a minute to eat these tarts can stick them in the microwave, but those who have a little more patience can heat them up in the oven or air fryer for optimal crispiness and texture.
Medium Roast Coffee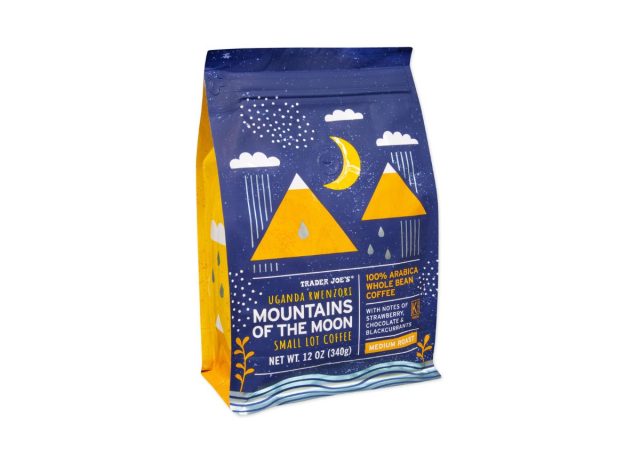 For customers who want to pair their Coffee and Dark Chocolate Joe-Joe's with a cup of coffee, Trader Joe's has you covered yet again.
The chain is launching a limited-edition medium roast coffee made with beans from Uganda's Rwenzori region. Miller said that this offering should be available on store shelves just about now.
Lemon Mini Sheet Cake
A citrusy alternative to Trader Joe's chocolate and vanilla mini sheet cakes, this lemon version will be launching in "the next week or two," following the release of the podcast, Miller said.
It features a lemony cake and cream cheese frosting, as well as bits of candied lemon zest sprinkled on top.
"It's so vibrantly lemony in the best possible way. It doesn't have any of that artificial lemon weirdness that sometimes lemon-flavored things have," Miller said.
Chromatic Celebration Cake and Baking Mix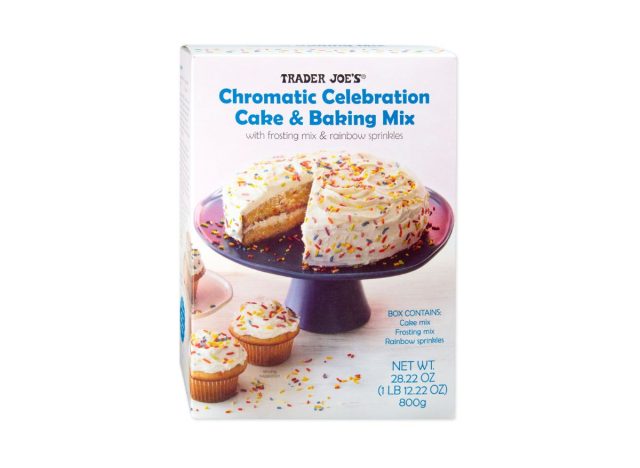 You can't go wrong with cake to begin with, but this new baking mix ups the ante with rainbow sprinkles. The sprinkles come in their own pack, so customers have the freedom to decorate or add them to the cake wherever they please.
Zoe Strozewski
Zoe Strozewski is a News Writer for Eat This, Not That! A Chicago native who now lives in New Jersey, she graduated from Kean University in 2020 with a bachelor's degree in journalism.
Read more about Zoe